Many who read this forum would be aware that I recently broke an ankle in a 'planned' slide from a motorbike. This post is supplied in an endeavour to assist anyone else facing a similar misfortune whilst travelling in Vietnam.
AT THE SCENE OF THE ACCIDENT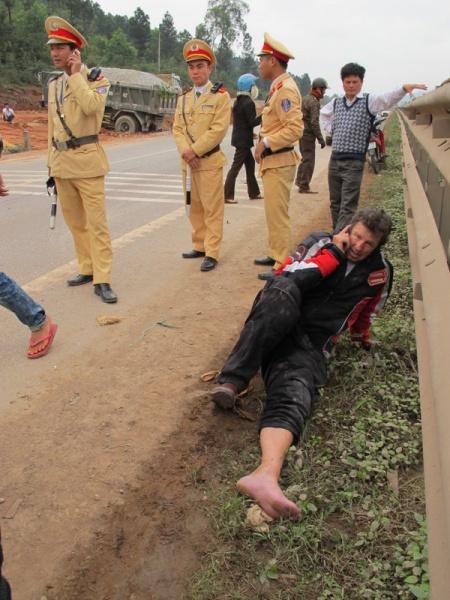 If you are involved in a serious accident in Vietnam you must call the police - experience shows that this will normally be done by a passer-by or someone else involved in the accident. The police will impound you bike (or car) until they complete their report (which basically means that all matters associated with the accident are settled - that you will not be suing any Vietnamese involved in the accident & that have met any expenses 'due to them' arising out of the accident. Be aware you will normally be expected to pay any Vietnamese suffering damage in the accident, irrespective of who's at fault, a nominal amount to cover any likely hospital costs or vehicle repair costs.).
To secure the release of your bike you'll be required to furnish the police with an attestation translated into Vietnamese detailing the accident, what claims if any you intend making against any third party, that you'll meet your own costs concerning any charges resulting from the accident and, need I add, thanking the police for their professionalism & assistance!
DECIDING ON A HOSPITAL & A COURSE OF ACTION
I was taken by ambulance to Vinh Hospital some 20kms south of the accident site - the ambulance fee was 800,000vnd. There was a general surgeon on duty. None of the medical staff spoke english (
this is a major problem to consider before travelling
). In a conference call between myself, the surgeon & my agent - having an agent is the best, if not essential (see below) way through the language issue - it was decided that I should take an ambulance to Viet Duc hospital in Hanoi almost 300kms north. Admission charges to Vinh Hospital amounted to 1,100,100vnd & the charge for the ambulance to Hanoi was 3,500,000vnd.
Viet Duc is regarded as the best orthopedic hospital in Vietnam. Viet Duc is a teaching hospital linked to the university medical school - I find this the most effective way to reassure oneself as to 'the best hospital' in case of doubt. Clean, though not glamourous; there's a certain pragmatic practicality to the hospital, typical in Vietnam where there's neither a comprehensive health insurance scheme (due in 2014) nor 'medical tourism'.
The ambulance staff took me to casualty then departed. An early challenge is that when you are moved from a sufficiently long ambulance stretcher to the beds used in admission, you'll find if you are tall (I'm almost 194cm) that your legs hang over at one end & your head at the other - its not a good position to be in with a broken ankle! Fortunately I was later moved to a bed of sufficient length.
Your admission is totally in your own hands &
this is a matter on which you should be clear
. Vietnamese patients are always accompanied by members of their family who attend to ALL administrative issues at the hospital; administrative issues necessary to be admitted. In the absence of your having this support around you, the system & indeed all those in it will be confused, almost mesmorised in their inablity to assist you further. Staff will come to determine your basic condition but not to treat you (until you are admitted!) & the almost universal language problem sees you left waiting, as the hospital staff wait 'for your family to arrive' to have you admitted. Its an uneasy circle.
My agent, Hang, came straight to the hospital, despite the hour, arriving around mid-night. The wisdom in having an agent is that the Vietnamese see such person as fulfilling the family role. Vietnam follows strictly a hierarchical structure - Vietnamese are loathe to make decisions on behalf of others, to have to take responsibility for those decisions. They will look to guidance from above & it continues upwardly endlessly! Having an agent made my admission move quickly.
I had explained to Hang by phone that my daughter, Moana, had taken my passport & wallet following the accident but given the condition of the roads & the poor visibilty at night it had been decided that she & Dan would stay overnight in Ninh Binh. This is the next matter on which you should be totally clear -
you will need identification & you will need to pay most charges in advance
. I was extremely fortunate that Hang and her husband were able to pool the resources needed to see me admitted - 4,5000,000vnd, a considerable amount for a Vietnamese couple (remember the charge rate is considerably inflated for westerners seeking treatment).
CASUALTY WARD
Most foreigners will be accommodated in casualty or the intensive care area; it is seen as a sign that the hospital is giving you their maximum attention! The abundance of doctors & staff on duty does not mean that things will progress as you may be anticipating. The hospital has a different anticipation - the anticipation that a family member will be there to make decisions on your behalf, be aware of hospital proceedures, know where to collect necessary paperwork & where to pay & gain the necessary receipt/s to ensure your treatment can proceed. This is an ever present problem if you are alone, unaware or unable to communicate.
Following my admission & Hang returning home I would find myself isolated in casualty awaiting the arrival of my daughter - "the family" - the next day. It would be a long night. There was little contact from staff, no offer of pain killers (not that I felt I needed them or asked for them), no offer of food or water - this is why your family is there; they get you food & water, get you comfortable. The medical staff attend uniquely to your medical needs, the rest is up to your family. Anyone hospitalised should be
acutely
aware of this; it is anything but the typical western approach.
I just wanted to sleep, but at 2am a doctor who spoke some english woke me up to a barrage of questions, before basically informing me that my case was not deemed as urgent & that maybe I'd like to move to another hospital to have the operation accelerated. With a change from the night to day staff at 6am I moved myself into a wheelchair & pushed my way into the doctor's area demanding that I speak to someone who could understand english. A 4th year medical student came forward. I explained that despite being admitted last night no-one had offered me any pain relief, that despite the hospital knowing that I had no family with me no-one had offered to get me a meal or something to drink & that at 2am a doctor had come to tell me my case was not deemed urgent & to consider another hospital. I said this was not the way to treat anyone, that if someone would simply explain 'the system' to me, explain what was required for my case to move forward I would comply so as to have my broken ankle attended to without further delay. I gleaned that as I had not paid (been unable until my daughter arrived) other than my admission fees (because I could not possibly know that they wanted x-ray fees, for example, paid in advance) they were concerned I might be determined not to pay at all & therefore looked to move me on.
It worked wonders - the 4th year medical student came to apologise & went to buy me some food & drink. Shortly thereafter a team of orthopedic surgeons headed by a man who spoke excellent english arrived & presented to me my options - initially the administrative options & then my medical options. He was most impressive, very thorough in his analysis & diagnosis & I felt in good hands. I recall that when we had agreed to proceed, he then advised that permission to operate on a foreigner in the hospital would still required from the highest authorities. (You should be aware that hospitals in Vietnam require permission to admit & treat foreigners & few hospitals in Vietnam have such authorisation).
I might add that it had become clear overnight that this was a hospital geared for work in the orthopedic area. There were a significant number of orthopedic surgeons on duty at all times, there were a number of x-ray facilities, areas for manipulation & rooms for the making of plaster casts. There was a clear sense of collegiality where surgeons would meet each morning & discuss the surgery ahead & every evening to discuss the operations performed that day. In the time I was in casualty I would have seen an average of ten people per hour admitted to hospital as the result of motorbike accidents & all requiring surgery.
ATTENDING TO THE FRACTURE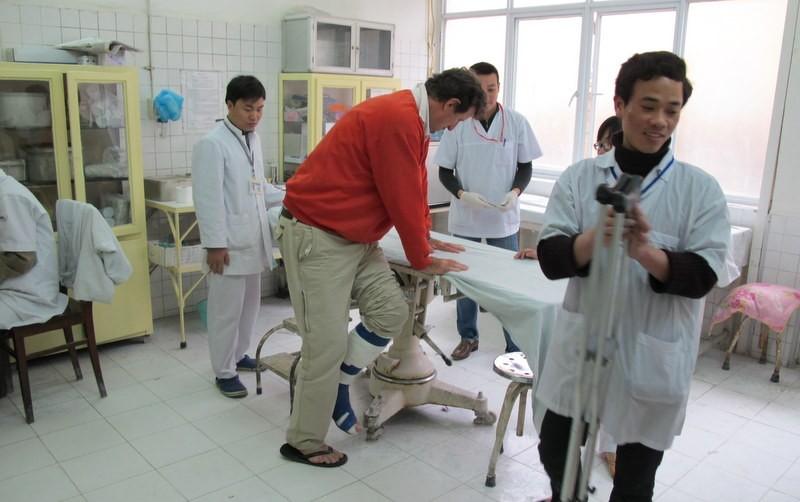 Moana & Dan would arrive, have the hospital proceedures explained & things would start to move forward immediately. Intrigueingly my doctor noticed that I held a French passport & I would find there were considerably more doctors who could speak french than english. Being able to communicate, needless to say, considerably improved matters.
I was taken for X-rays. My orthopedic surgeon then advised that a manipulation would be undertaken at which time a further decision would be made concerning surgery (which he felt at the time would be likely).
The manipulation merits detailing. I was taken to a room, placed on a far too short operating table covered in plaster & surrounded by several people in hospital attire none of whom spoke a word of english or french. I was terrified that the manipulation was about to be performed in the absence of any anaesthetic; no-one appeared to show any interest in what I had to say. Finally two needles were produced & I knew I'd been given a local anaesthetic. The 'manipulation team' waited several moments occasionally pinching my toes. There was a slight effect from the anaesthetic but my foot was anything but numb - it would appear they estimated my weight (although I dont believe they comprehend that tall westerners can weigh in excess of 100kl) then give you an added amount to that regularly given to locals. There's clearly no consideration of differing tolerance levels.
Anyway, the moment had arrived. The doctor or maybe nurse who was to perform the manipulation took up his position at the base of my foot before a strongly built Vietnamese woman stood by my lower legs with 2 yellow straps that she would use to tie down my legs to ensure I could not move. (It toughens you up - big boys don't cry in the face of a woman, & you understand fully that women given their greater tolerance to pain will not flinch!)
The proceedure is, well, painful, akin to torture really. Your leg is pulled down hard, bent backwards & forwards from the heel, your foot pressed upwards from the ball of the foot, all in an endeavour to improve the placement of the broken bones. The movements are repeated over & over again for a period I suppose of some 30 seconds to a minute. Vietnamese are known not to understand a westerners needs for space, for privacy & I'm told my yells saw a stream of people enter the room to observe.
The proceedure over - yes you definitely do get the impression that these people perform these manipulations with great regularity & are excellent at their work - I headed for fresh x-rays. To be brief the x-rays indicated such a successful manipulation that it was deemed that an operation would not be required. Within 3 hours of my treatment starting it had finished & I was heading back to my hotel in plaster armed with the largest available crutches in Vietnam, yet still a full foot too short & about as useful as a pair of chopsticks!
GENERAL OBSERVATIONS
Charges for foreigners are far greater than those applied to locals - it would appear that the hospital may well just add another zero to the normal charge. My first set of x-rays cost 1,000,000vnd but the next were only 250,000vnd & the final x-rays 100,000vnd. I recall my second plaster applied after the first week cost 800,000vnd. All up the total medical costs associated with the accident were around $600 (but around a third of this was ambulance costs & a further third were admission charges).
An extensive, fully detailed file is kept by the hospital but I was unable to get a copy despite several requests, despite advising it was required for insurance purposes for my own medical records or whatever. The surgeons would tell me that the hospital did not normally take in foreign patients & was therefore not geared to issue the paperwork required by insurance companies; that if the insurance company needed advice or information it should send the required forms to the hospital for completion. This potential outcome should be known to those travelling in advance.
One intriguing sideline in having a leg in plaster is that when flying you are boarded onto airplanes via a special 'hospitalised' shoot driven to the back door of the plane to permit you to take your seat: