Following is a trip report i posted over on ADVRIDER but thought i should share over here as well seeing as i read GT Rider and constantly wish i was living back there full time. Any how this is a report of a trip i have wanted to do for years in Australia - Cairns to Cape York. The report starts from near Cook Town, about 300km north of Cairns. I had driven up from Canberra in my Commodore ute (yeah im a true aussie) with my bike in the back and left the ute with my family in Cairns who had flown up for the whole barrier reef tourist experience. Anyhow the story starts when I hit the Battle Camp Road that leads up to Laura and Lakefied National Park. This part of Australia is remote and wild. Its 1000km from Cairns to Cape York and there's maybe 5 service stations and as many pubs along the way. Its mostly dirt and sand and very few bridges across the crocodile infested rivers and streams.
The ride starts off with pretty reasonable dirt out of Cooktown but quickly gets pretty remote. I spotted a dingo (Australian 'native' dog) in the bush, which I had never seen in the wild before. I don't really consider these things native as they're related to the Thai ridge back and other dogs from Asia and were brought over with Australia's first immigrants, albeit a few tens of thousand of years ago. I tried getting a photo but it ran further into the scrub and I couldn't get a decent shot.
You can just make out the dingo in the middle of the shot next to the termite mound.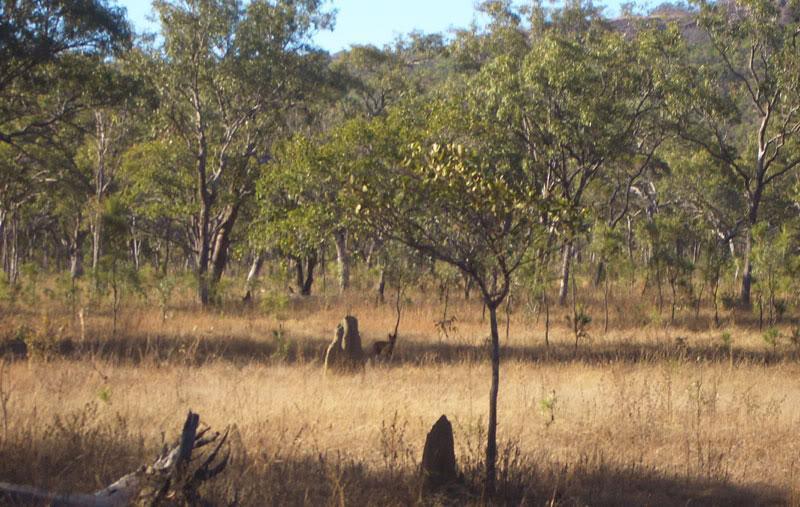 Battlecamp road is an easy ride and runs from near Endeavour falls up to the old Laura Station. From here there's a choice of going left to Laura and then up the development road to Musgrave Roadhouse or right through the Lakefield National Park. I went right. Riding through Lakefield was fine and involved crossing a number of creeks carved through old volcanic larva flows. This was also to be my first experience with sand on the trip.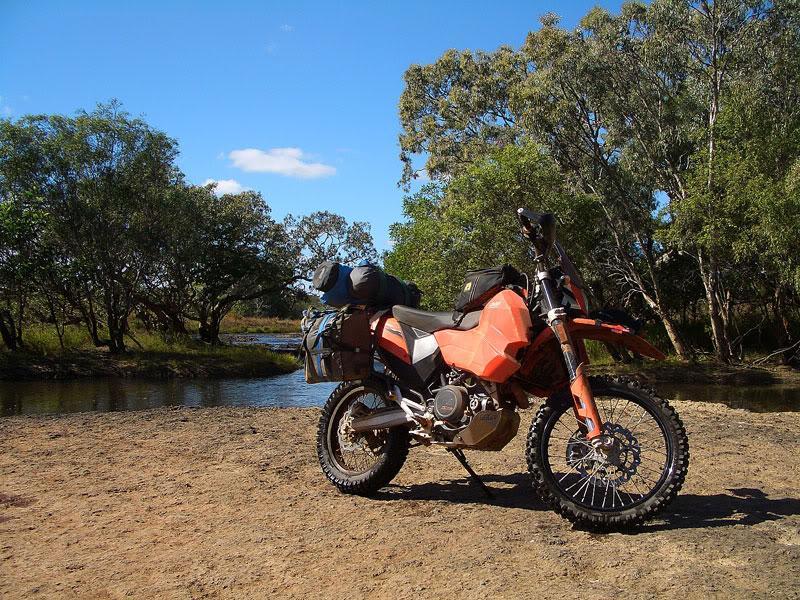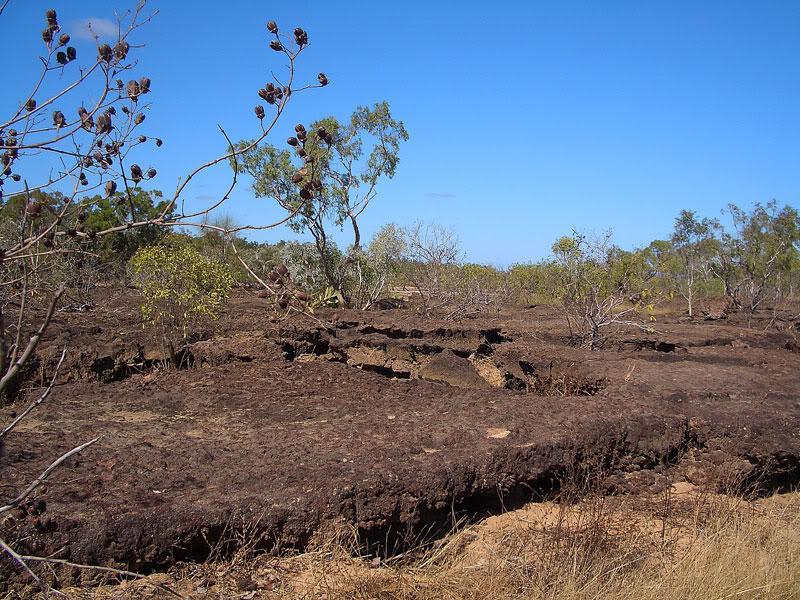 Old Laura Station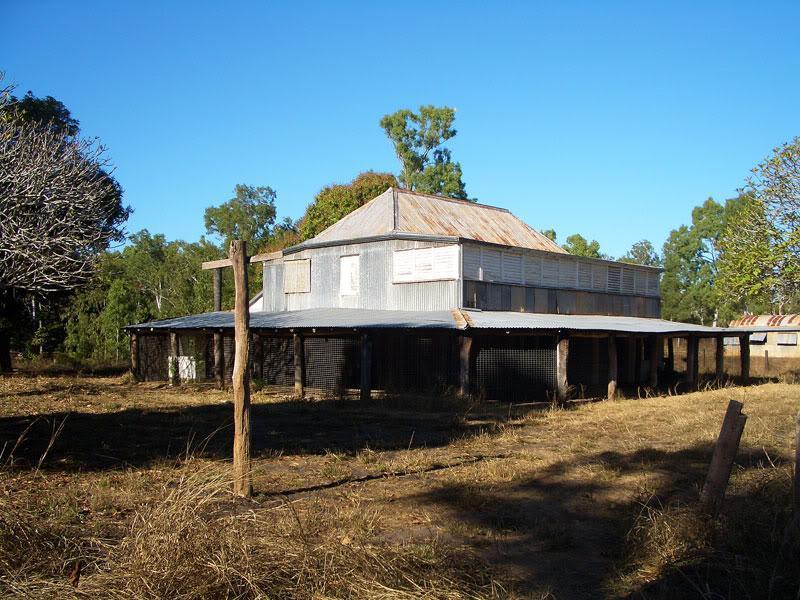 The meat safe at old Laura.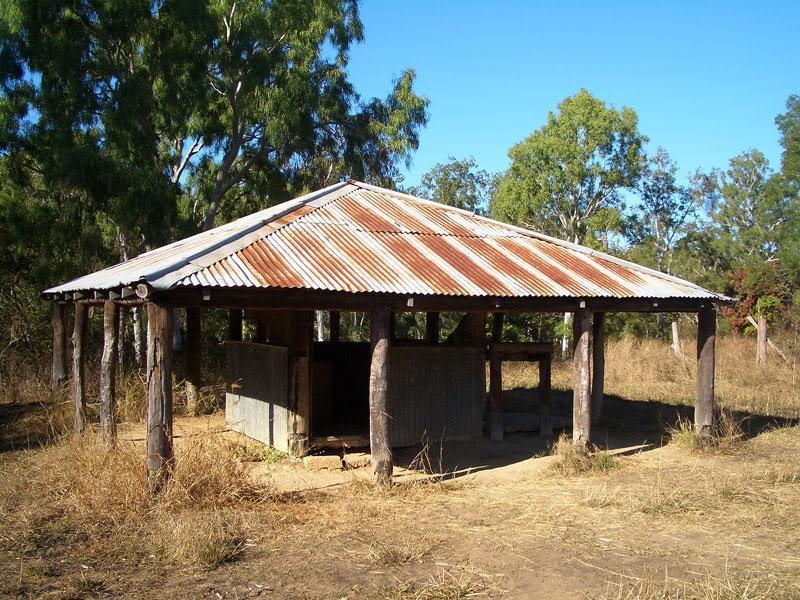 Looking back I wondered why I took this photo of the sand on the road. How naïve was I to think that this was all there was going to be. If you're thinking of riding to the Cape and are worried about your sand riding experience and skill. Don't worry. You will gain those skills on this trip. You get to practice on these bits of loose surface but they are nothing compared to what lies further down the track.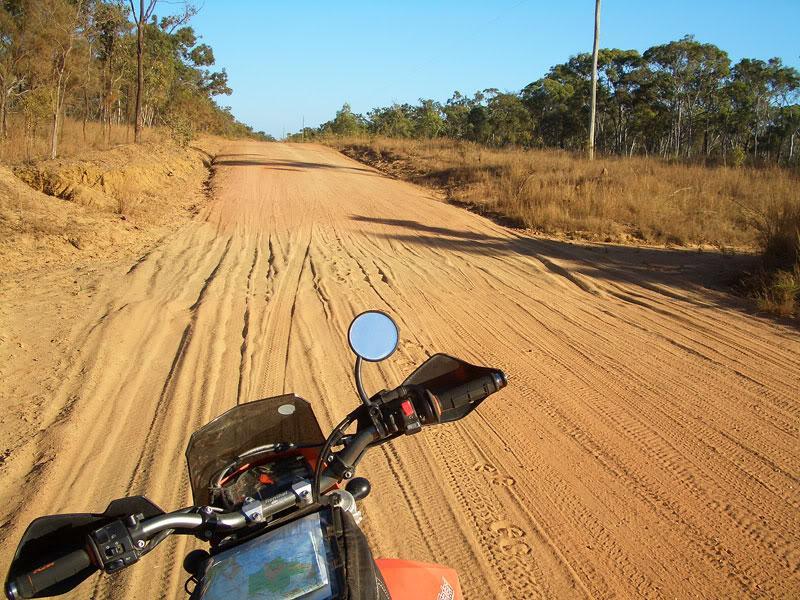 A word on sand riding. The technique of course is to get as much weight off the front wheel so that it doesn't bog down or dive into the sand. How do you achieve that? Keep your weight to the rear of the bike and keep the bike under acceleration. The boys with bravado just say – "Pin it" that's all fine if you're riding a 250 and pinning it means you're maybe gonna reach 90kp/h but when you hit the sand at 115kp/h pinning it means you might reach 150 before getting to the end of the sand section. I tried two approaches that worked for me (ie no crashing/bogging or having to walk the bike out of any sand sections). Firstly I would try and slow down before hitting the sand to give a good starting speed (maybe 50kp/h) then gently accelerate through the sand. This works but's a little boring. Option 2 was to hit the sand and pump the throttle. So you're accelerating fast and then quickly decelerating but not enough to bury the front wheel and then accelerating again. This works, provides a faster speed and is more fun but probably has higher risk of an off. And finally schools out on whether its best try ride in the wheel rut or on the ridge of very sandy tracks (ie if you stop you sink). On the ridge is often firmer but the surface can change quickly. In the rut is looser but often if you loose it you will only fall around 45% to lean on the edge of the rut. What doesn't work is going slow and sudden deceleration. The front wheel will dig in, stop while the rear wants to keep moving forward – result… fall down.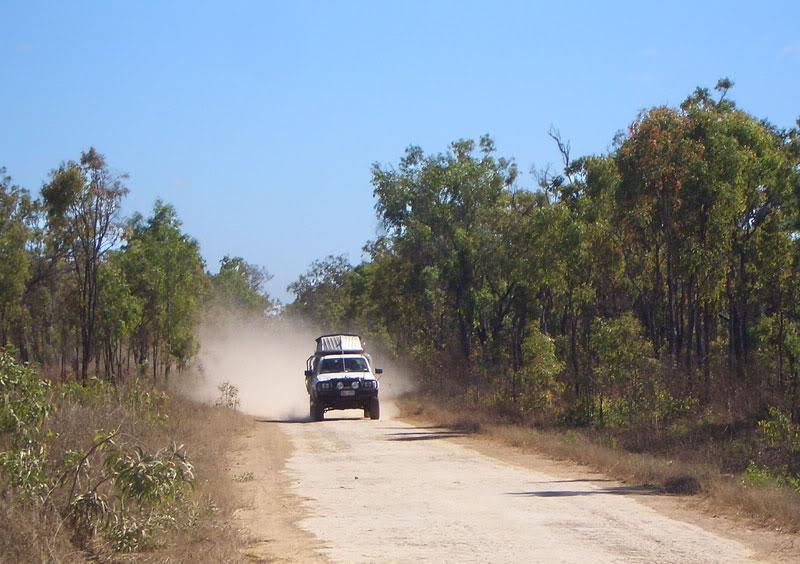 Termite mounds are the dominant feature in this area.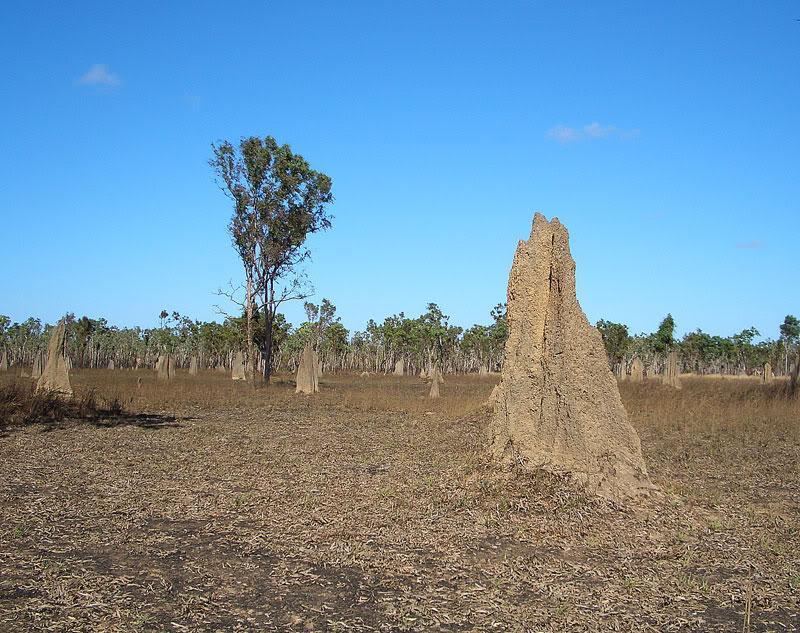 The country is wide open savannah, quite different to what you might expect, it you were expecting tropical rain forest that is.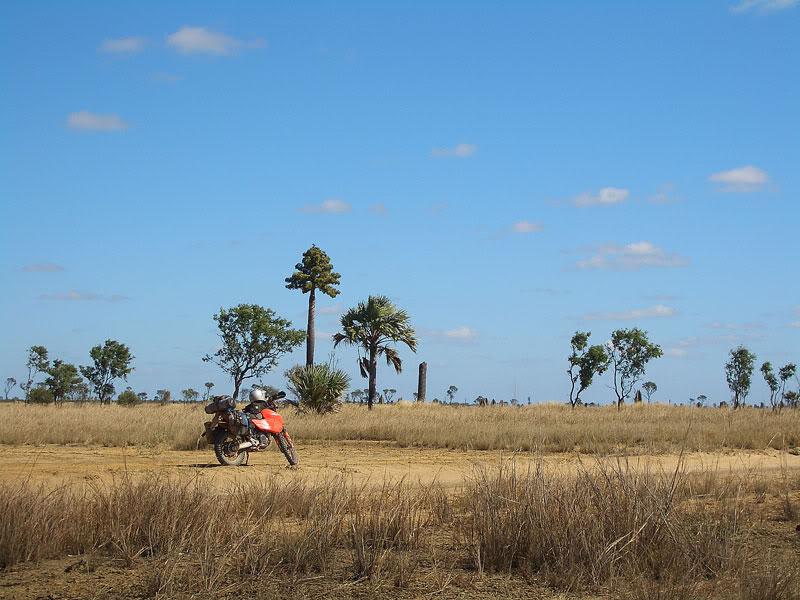 Exiting Lakefield National Park you pretty much land in Musgrave Roadhouse. The first of the string of roadhouses that mark this route. From here there's no choice but to pound the development road until Bramwell Junction roadhouse. A mixture of corrugations, sand, rocks, road trains and 4WDs kicking up dust.
Musgrave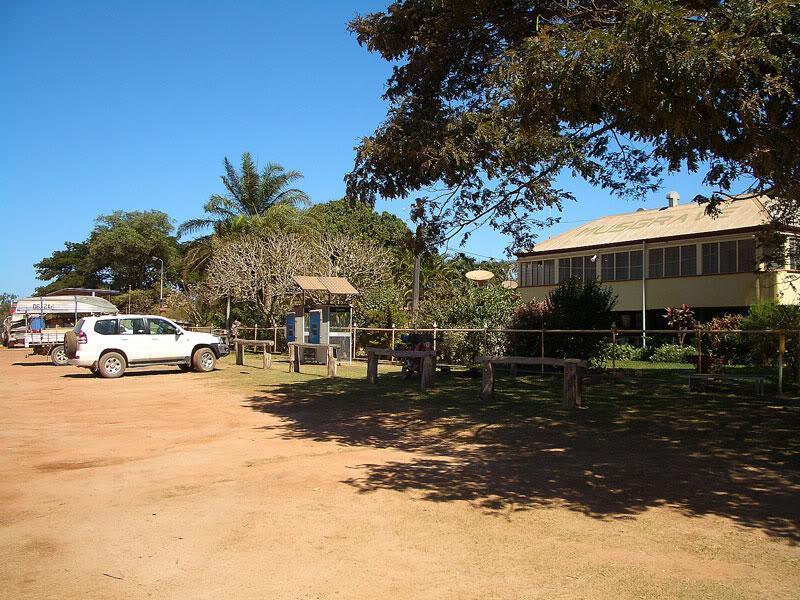 Archer River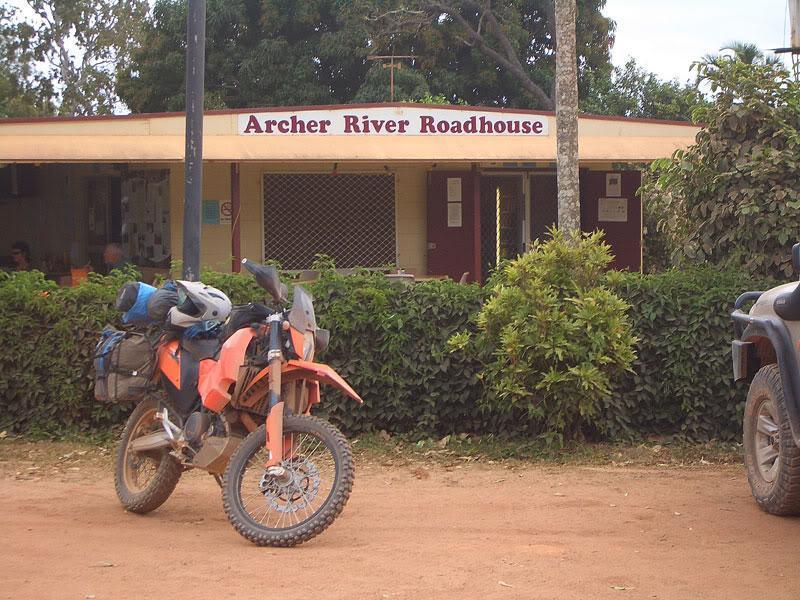 Bramwell Junction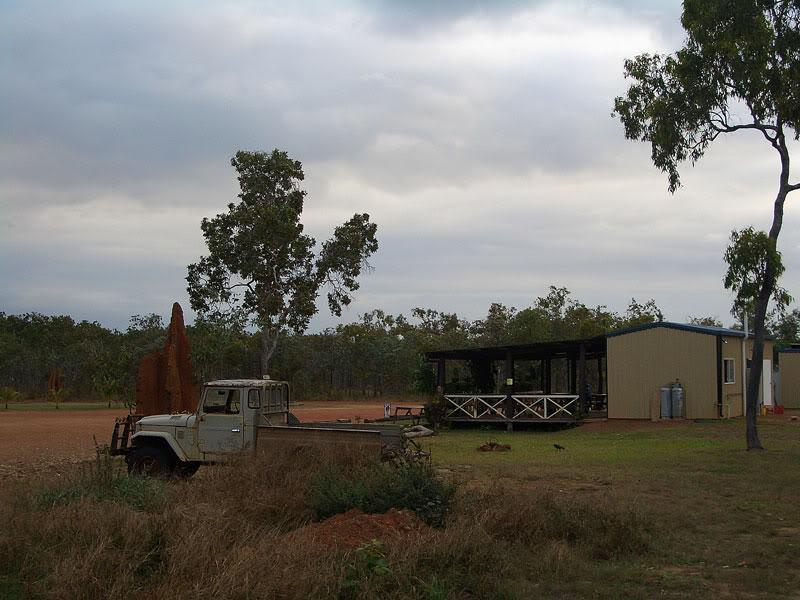 mmmmmmmmmm
From Bramwell Junction its onto the OTL .. The Overland Telegraph Track … The Telegraph Track …. THE TRACK. This is what everyone talks about, this is where Gunshot is, this the stuff of legends…
Yeah right. Anyhow, after an extremely bad nights sleep. In between trips to the toilet I managed to listen to most of the second last days test match between England and Australia, it looked like we had a chance to at least draw on the final day after things look pretty grim with 500 runs required in the last innings. So with no sleep I was packed and on my way.
The track starts off as a pleasant two wheeled path on a loose sand base. The first creek crossing appears pretty quickly and what a ripper. The initial drop is about 1 metre and then its mud then murky water. You're supposed to test each crossing for depth. I didn't bother with one as I could see a clear path. It was a literally a leap of faith over the drop and down into the creek and power up out the other side. All good.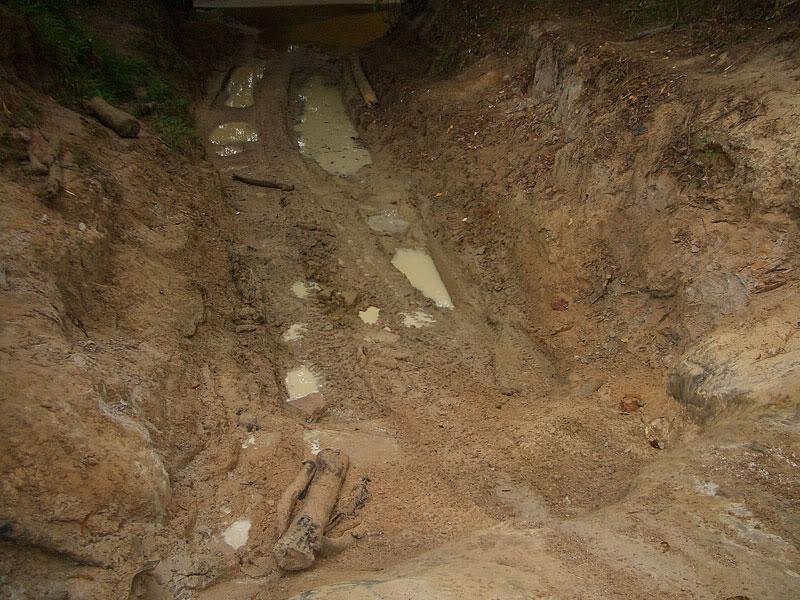 The southern section of the OTL continues in a similar fashion with a number of creek crossings , some easy and some really do require walking first to find the path through the deeper holes..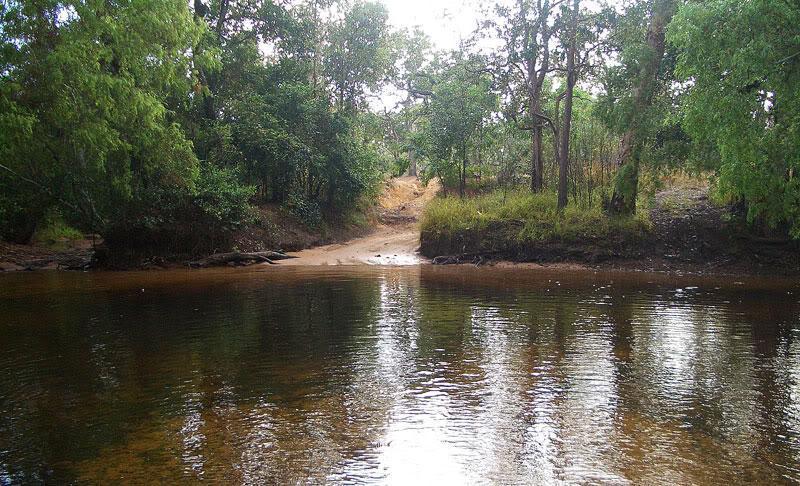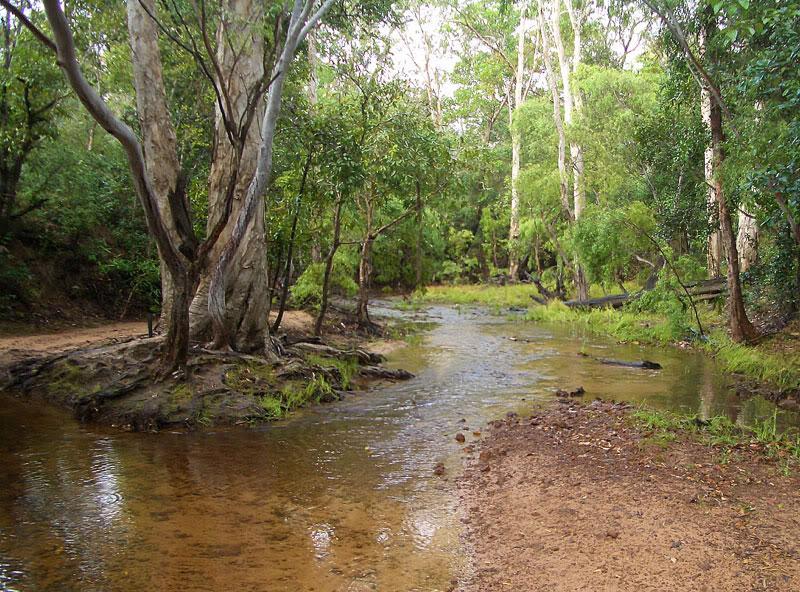 Did I mention that killer crocodiles inhabit the waters of the Cape? No? This is what they look like.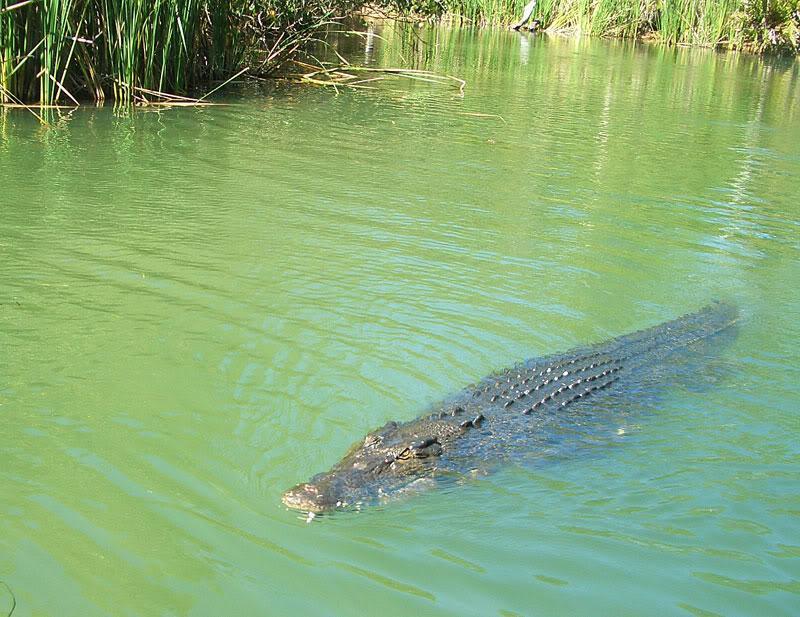 There are only a few remnants of the old telegraph line remaining and most seem to be a bit tired these days.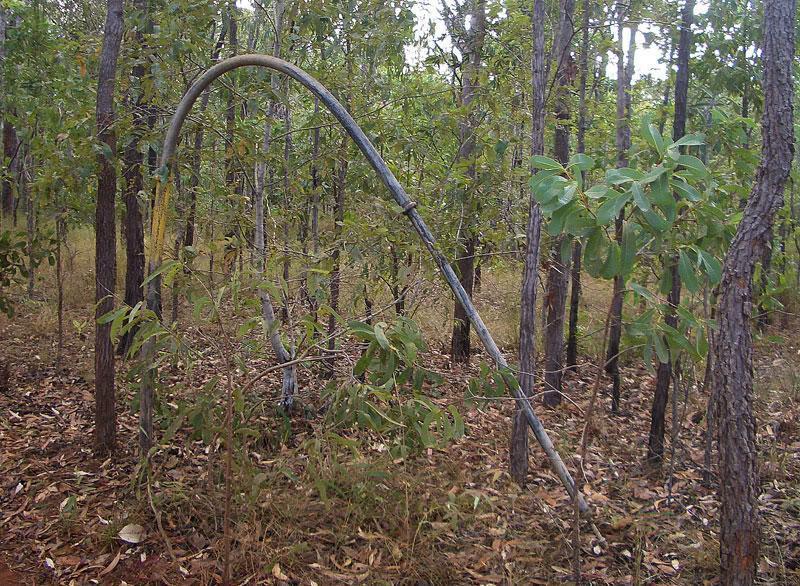 And again more termite mounds.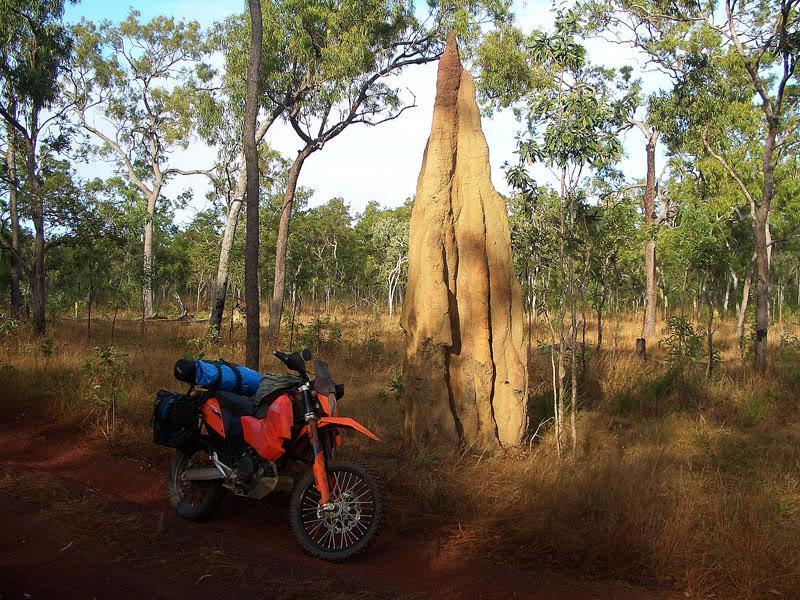 The track varies from very sandy sections to this hardpacked red stuff.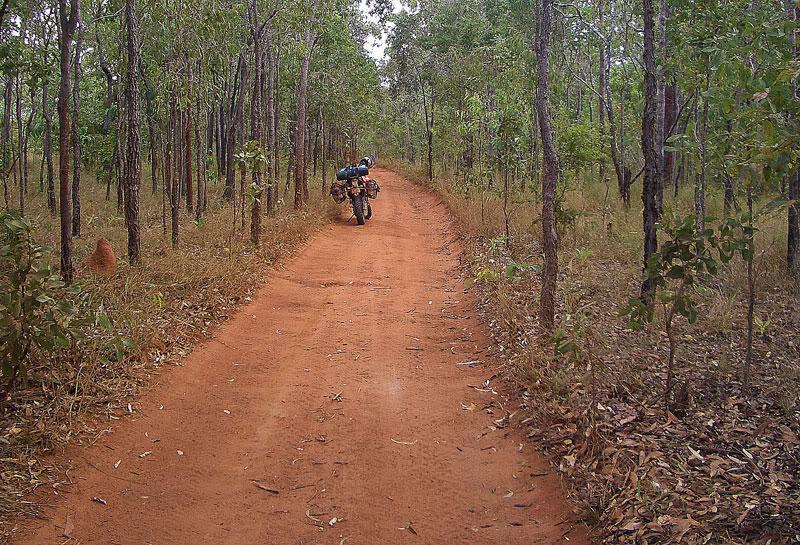 About halfway along the track its decision time again. Tackle Gunshot or take the bypass. If you're on your own it's something to consider. In a group I'd go Gunshot anytime. I had a look down the track towards the Gunshot crossing but turned back after the first two sections were quite muddy and difficult (I wasn't feeling to good by this stage). On reflection, and after riding the 30km bypass made up of soft white sand I think the Gunshot crossing would have been an easier choice.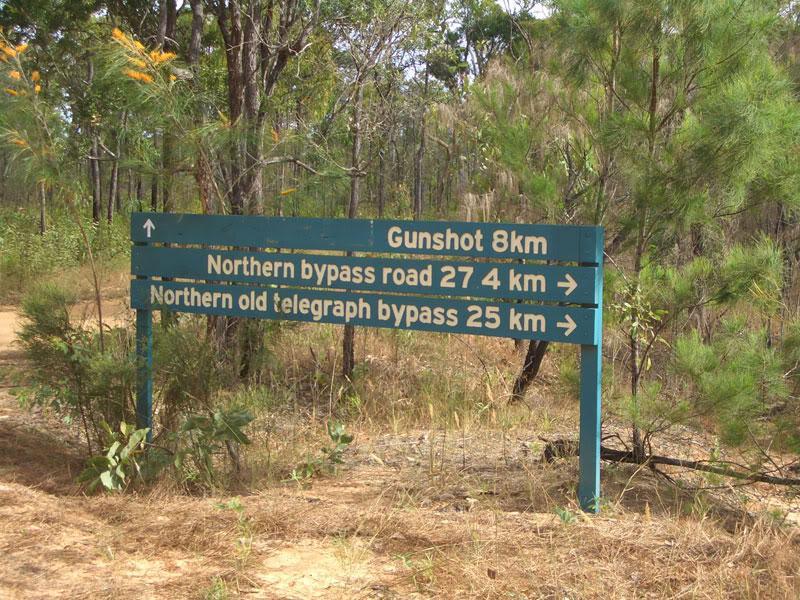 Shortly after returning to the track after the bypass I came upon the most difficult of the water crossings. I walked this one and it was deep, at least to my hips. I found a way through that involved navigating a S through the creek. This shot is looking south but to cross I entered top left, swung to the right where the car is and then exited parallel to the bank. There could be another way further down stream (to the right in the photo) that was shallower.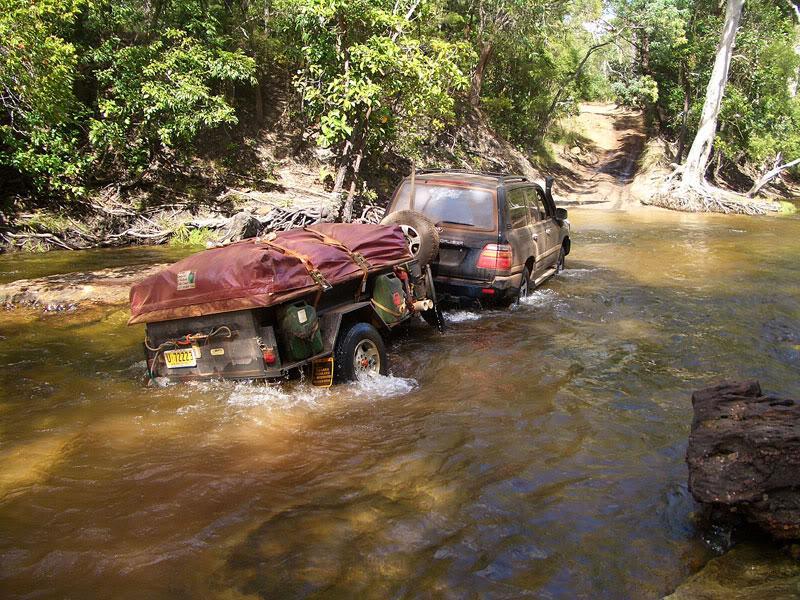 Shortly after the southern section of the OTL ends and you ride up the development road until the junction of the northern section and the Fruit Bat Falls turnoff. I checked out Fruit Bat Falls but had decided earlier that I wasn't going to tackle the northern section due to the rotten log bridge and even deeper creek that is along its path. Later when I spoke to other riders none had tackled the full length of the northern OTL but rather rode up as far as Elliot falls (not far) and taken the track west towards the northern bypass. I rode up the northern bypass to the Jardine river ferry.
Fruit Bat Falls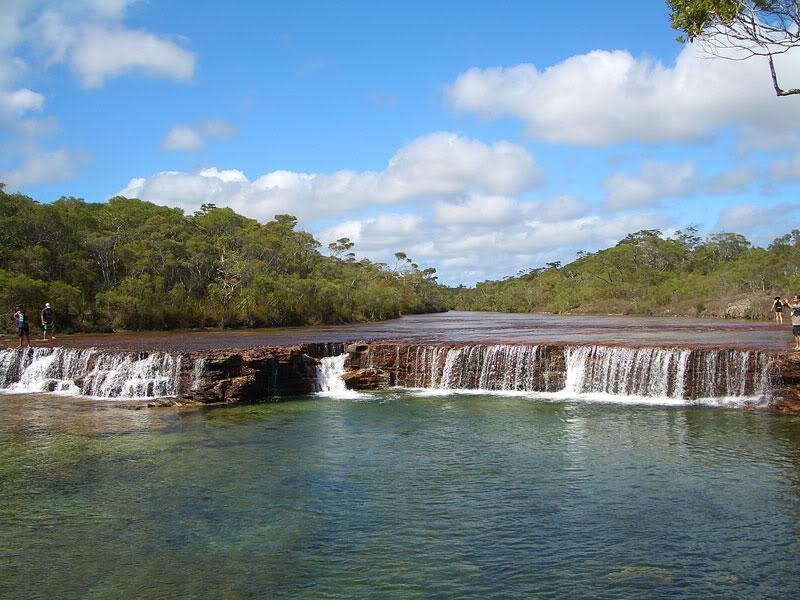 I arrived at the ferry at 12 noon. "Sorry mate we close for lunch until 1pm." No problems I needed a break anyhow. I was amused to watch the ferry driver walk 20metres from his craft to his 4WD and drive about 100metres to where he stopped for lunch. But more amusing was to watch the service station guy jump in his car and drive about 25 metres to the same spot for lunch. They both jumped in their cars and drove back after lunch. Must be something in their work contracts I guess.
Jardine River Ferry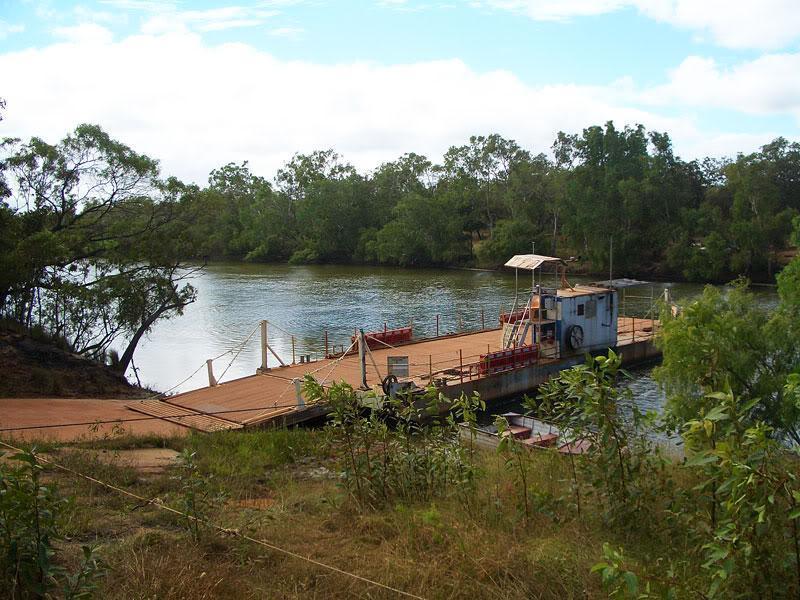 After the ferry its a quick trip to wherever you decide to camp at the tip. There's a few choices. I chose Punsand Bay.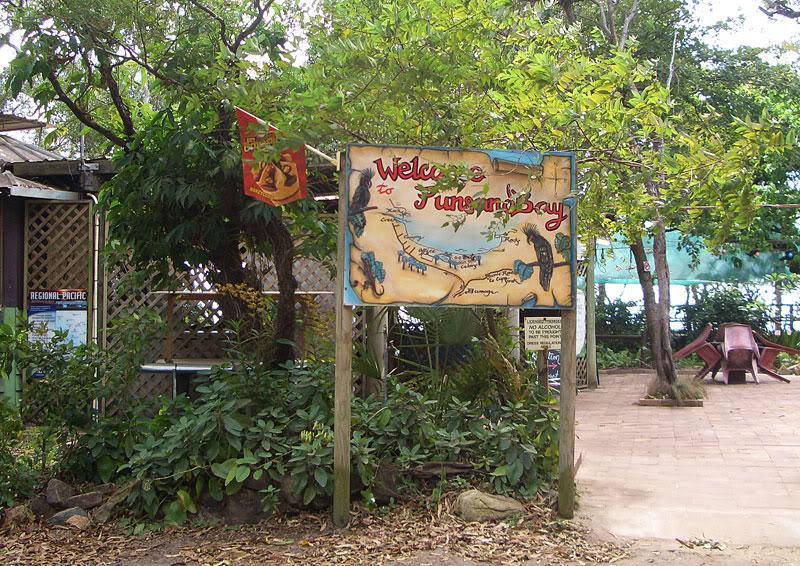 With some nice beach front camp sites.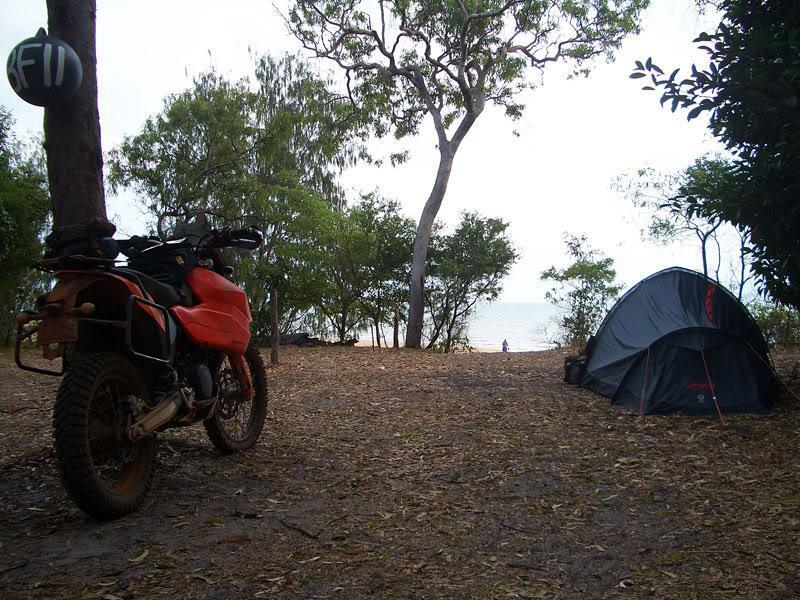 After another sleepless night it was time to go to the Tip. After all that is the whole point of the trip to the Cape. There was a sign to the Tip at the exit of the camp ground and I decided to take that route. This was an interesting track. Some pretty difficult crossings. This was was talked by riding through the bush, up the creek and then exiting back onto the track.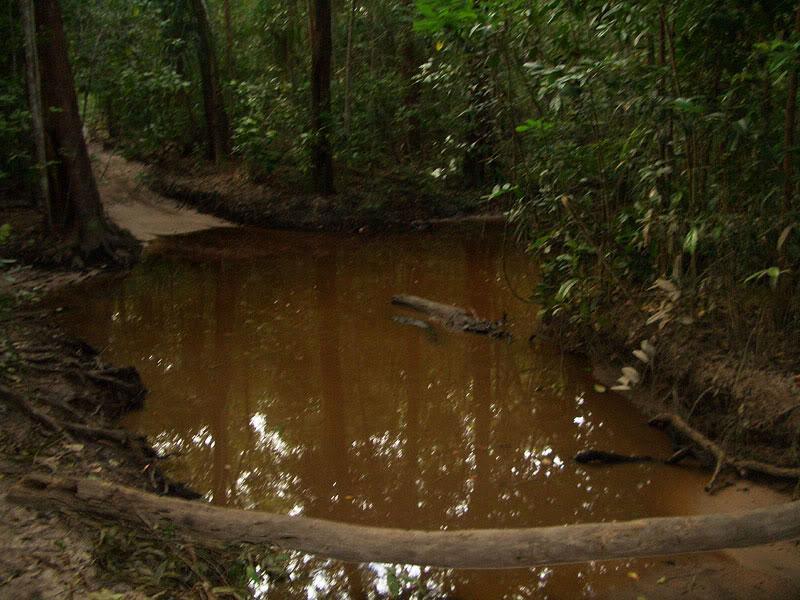 And sometimes there were track choices. I didn't matter which one you chose it was all just sand, sand and more sand. Did I mention you get a chance to practice those sand riding skills.
I was beginning to wonder how so many people make it to the Tip of Cape York if this is the road in. Then shortly after I popped out of the scub onto a well graded dual lane road. Ah ha, this is how.
This is what everyone comes to do.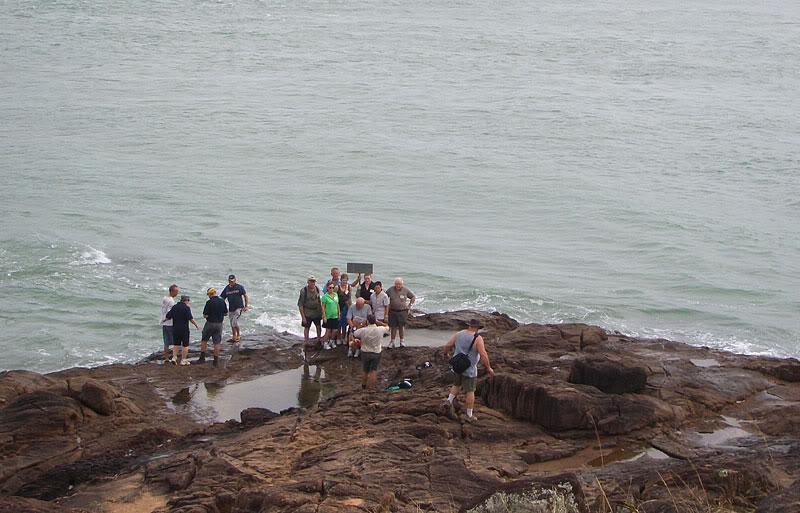 And I'm not going to make an exception.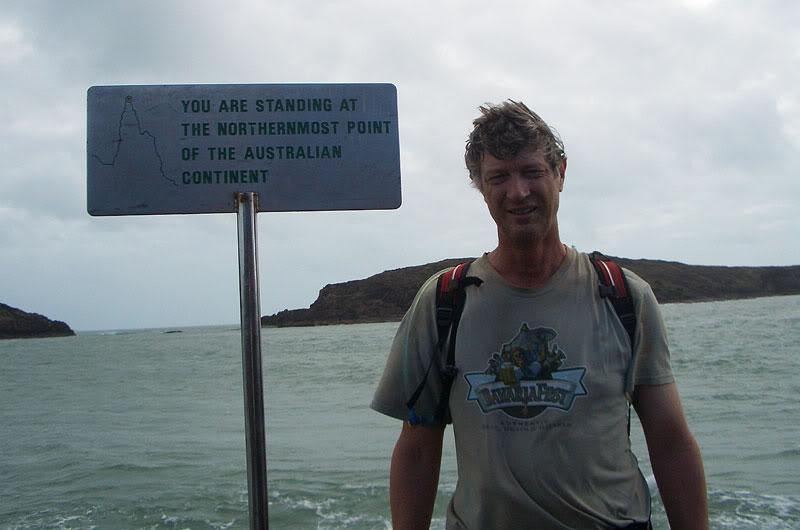 Here's the view east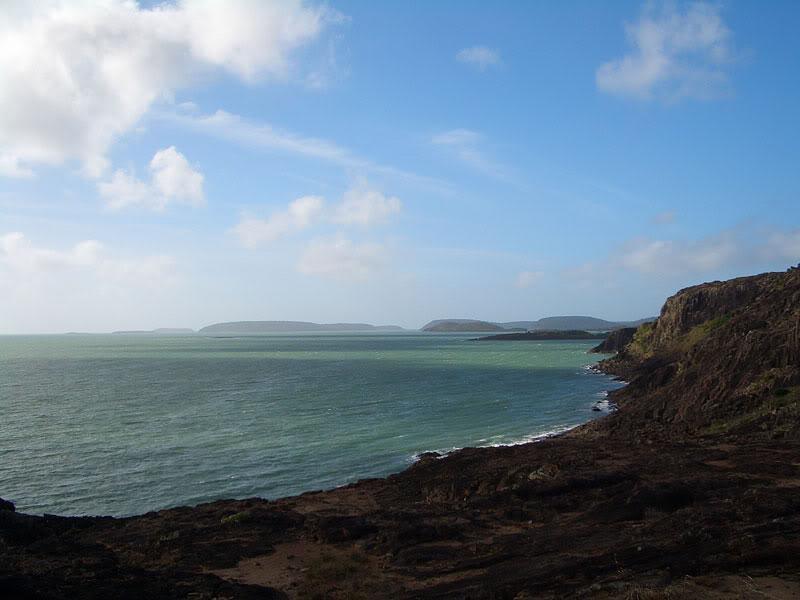 and here's the view west.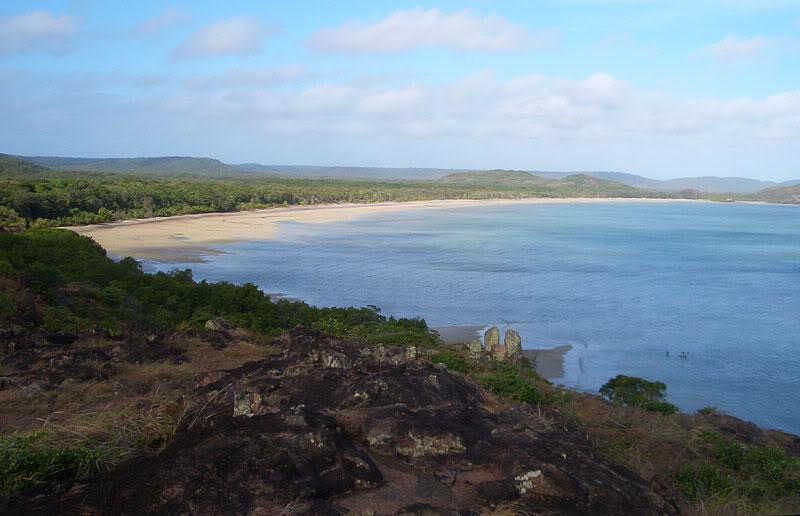 Nearby the Tip is a location called Somerset that has a memorial to the Jardines and a few old cannon.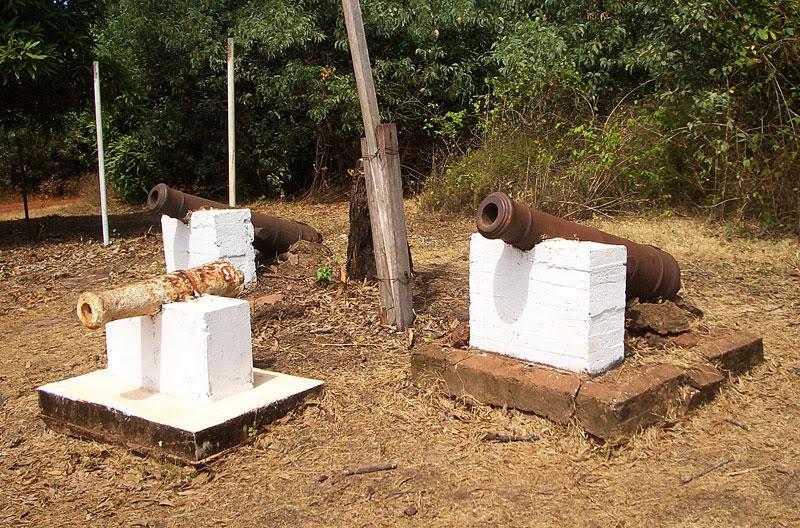 After my mornings ride to the Tip and climb over the hill I returned back to camp. And my final tip. Remember to remove your helmet before you throw up. Did I mention I wasn't feeling very well? Anyhow it wasn't pretty.
But this is much nicer. Sunset at Cape York.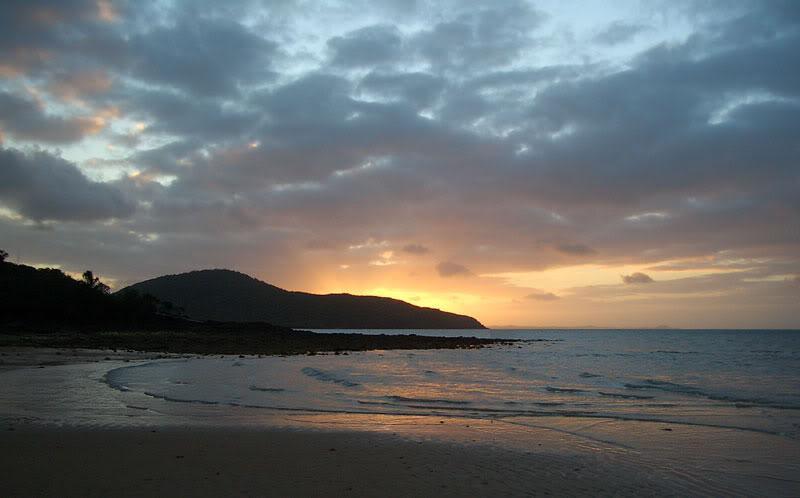 What with no food for two days I decided it was time to head back to Cairns in case I was really sick. So the return journey was quick run straight down the development road.
On the return journey I ran into a global traveller in Coen. His name is Matthaus and he's doing some long distances. He was on his way north and after Cape York was planning on heading over to Darwin via Normanton. He also expects to be in Phillip Island for the GP. I noticed a Paris Dakar sticker on his bike and he confirmed he had followed this year's Dakar for all of its 9,500km. A mighty feet in itself.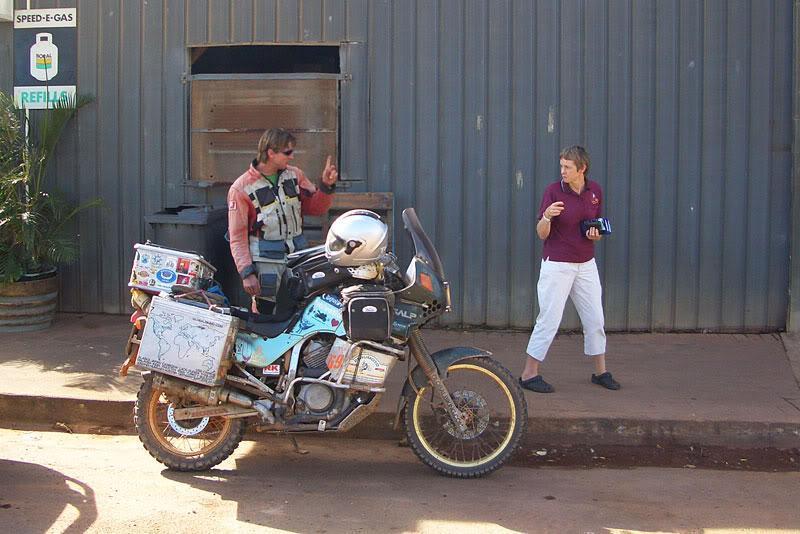 No Cape York trip seems to go without mentioning the Exchange Hotel in Coen. It has developed a reputation of some sort. I decided I had to check it for myself. As you may know some wag has added an S to the name on its roof so its now the Sexchange Hotel. I was expecting to at least find a lively bar with boxum pole dancers with maybe a Crying Game twist. But alas all I found were a few local lasses playing pool and making patterns in the condensation puddles of their XXXX gold stubbies. If I did actually miss something worthwhile please enlighten me.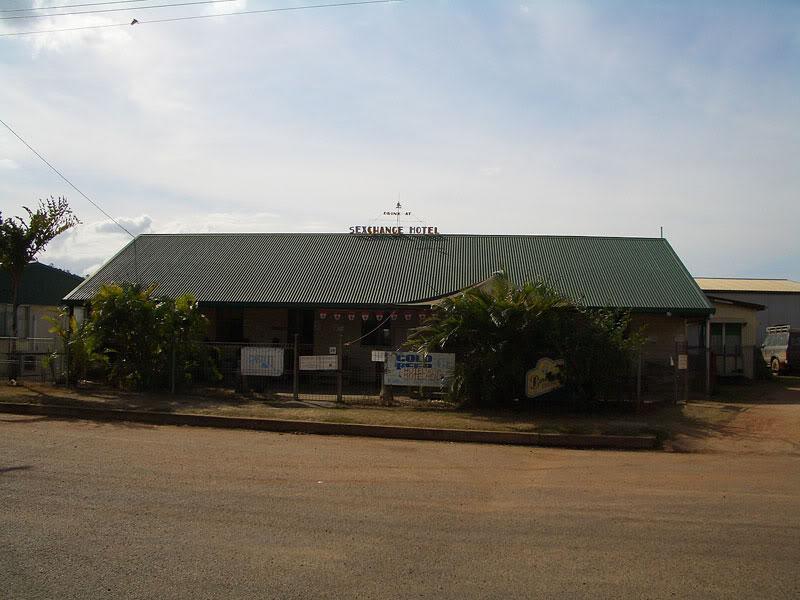 It was one more night on the road for me and a quick run into Kuranda to meet up with the rest of my family who where holidaying in Cairns. It was a bit of a surprise for them, especially my daughter as it was her 16th birthday.
After a rest day in Cairns I loaded up the bike and drove the next 3 days home. I decided to check out Lightning Ridge – the other opal mining town besides Coober Pedy.
Lightning Ridge Shack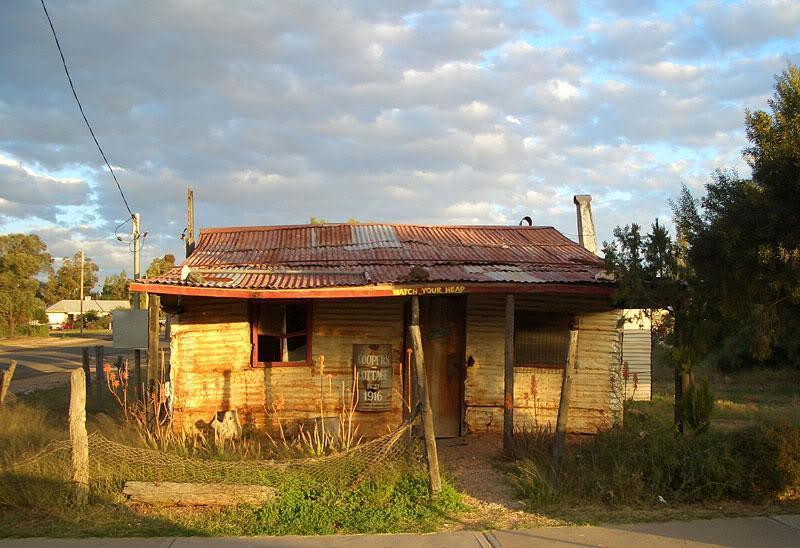 There's a bit of a scene with customising utes/pickups in country Australia. I think this one might be going just a bit to far with the size of his bull bar.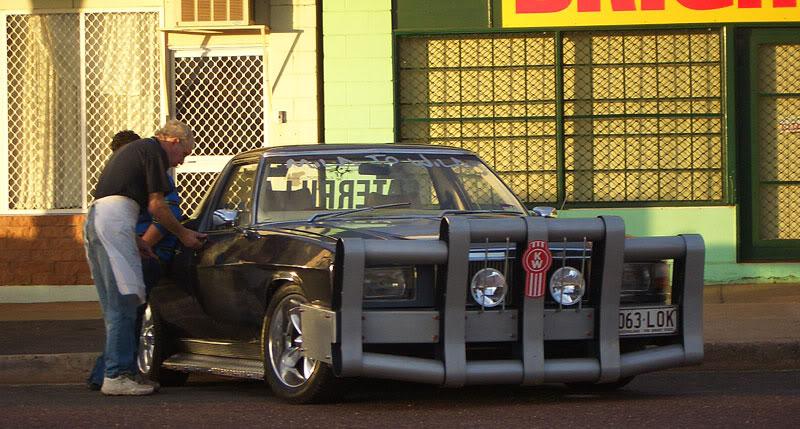 And to finish off this tale I did notice three different sets of drovers out near Roma and St George. Droving is the practice of walking cattle to sale yards down stockroutes or along major roads rather than trucking them in. I assume there must be some benefit in fattening the beast or its less stressful on them and they can yield a better price. It was interesting to see skill still be used and not just for tourism. Yet again I missed the photo of the ringer on horseback galloping to the front of the herd.
These sure looked tasty.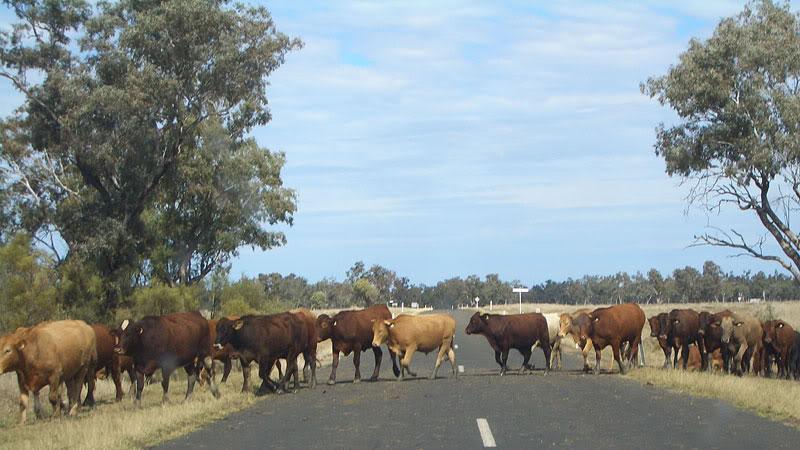 That's it for the story.