I feel I should say a few words about a ride I took with Jonadda on our last day in Chiang Mai..
The 400 Desperado (!) had to go back first thing in the morning so I decided to make the most of it and go for a bimble before the light failed. Hey, says John, I'll come with you.
So off we go across town and finally onto the Doi Suthep mountain road with John leading the way on his CBR150 and me roaring along on the mighty 400 Suzuki riding shotgun.
For those who haven't been up the mountain, here's a couple of shots to give you just a leeetle taste...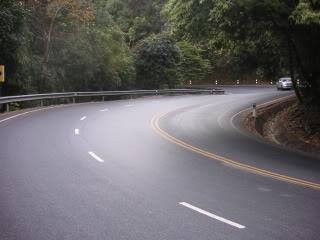 and the next corner...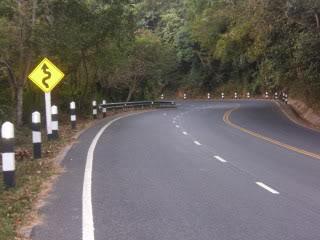 The sign doesn't really do it justice cos it's like this all the way to the top - and it's a long way!!
Anyway, John dissapeared into the distance leaving me sweating, swearing and grinding the odd footpeg on the endless sweepers.
Half way up, John appeared in my mirrors - I think he stopped for a fag at one of the viewpoints and I was so intent on avoiding the pickups coming down on my side of the road, I completely missed him waving at me.
Needless to say, he again tucked in and howled off. By this time I had given up hope of keeping him in sight and focused on merely surviving the experience.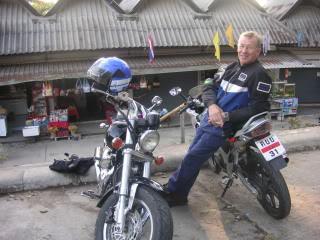 At the top we paused long enough to water the bike and myself (the bike was VERY hot - sorry Tony) before heading back down at a more liesurely pace. We'll stop at the viewpoint says John - great says I, I've got the camera!
So John turns into the lay-bye and I follow him in, marvelling at the view that I had missed on the way up and suddenly...John has stopped dead smack in front of me and bang - I've hit him!!
Turns out he's decided to do a stoppee but the front had slid which was probably just as well or there would have been a mating of the machines and possibly more embarrassment than there was....
Anyway, no harm done and it appears that the King was in residence as the road was closed and I had to wait for the royal convoy before leaving the next viewpoint.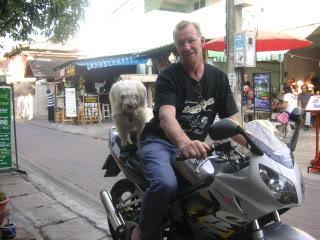 Missy chose not to accompany John on this particular ride which to my mind, was a smart call...
Great fun John.
Tomo.