DATE: Sat 27th May 2006
THE WAY:
(1) Chiang Mai - Den Chai-Uttaradit-Laplae Nan
THE ROUTES:
(1) 11-101 & 102-11-101 Loop
Riders: David Unkovich (Davidfl)- Honda Africa Twin
David Early (Silver Hawk)- Yamaha TDM850
After our usual breakfast at the Kafe (Chiang Mai) we got away pretty close to the planned time of 9:30AM. The weather was almost perfect for this time of year, varying cloud cover, sun but not too hot, and the ever present chance of rain.
We swept out of Chiang Mai on Hwy 11 at a good pace with light traffic and a clean road through Lamphun and Lampang. Leaving Lampang we headed up into the mountains. I hadn't been this way in a while it was nice to see the now green forests against a nice blue sky.
Our mission was to try and find some of the damaged areas from the recent flood and mudslides. Torrential rains has caused flooding and mudslides over a vast area in this region. Although the exact toll may never be known it is estimated at least 100 people are dead and missing and 100,000+ left homeless and entire villages wiped out.
We would then continue to Nan and do some GPSing the following day.
As we approached Den Chai we started to get a little rain and the roads were wet but nothing that warranted putting on rain gear. We could see where this little town had some minor flooding and there was a lot of damage to river banks but this was not what we were looking for. We grabbed lunch at a little restaurant and decided to loop back and south on Hwy 101 since the rain had passed.

We found this strange Temple just outside Den Chai
Hwy 101 is a great road twisting through jungle and pine forests and would be nice ride for sport bikers. The surface is good but rough in places though not much to worry about.
We cut east across Hwy 102 and turned north to the village of Laplae near Uttaradit. As we entered the village I could not understand all the traffic. The roads were dirty and covered in dirt and mud. Police were directing traffic as the electricity had been turned off in the region to prevent electrocution.
The further we went into town the more devastation was visible. And the traffic? People bringing food, clothes and water. Amazing.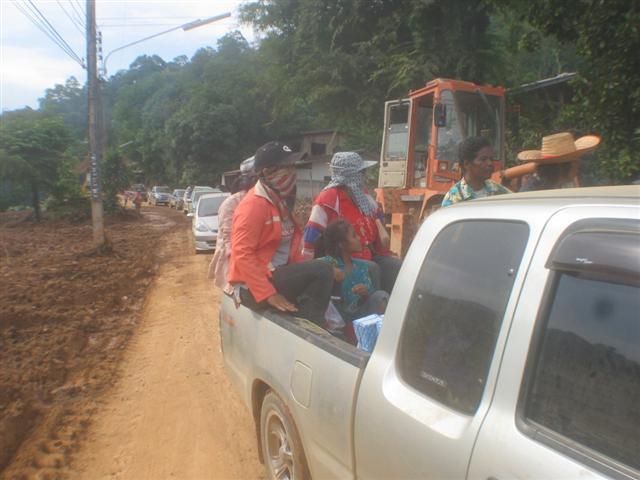 DavidFL seems to have a sense as to where to go. After driving through the main road of Laplae until we could go no further, we doubled back and took some side roads that I thought were of little interest. They turned out to be some of the most heavily hit areas.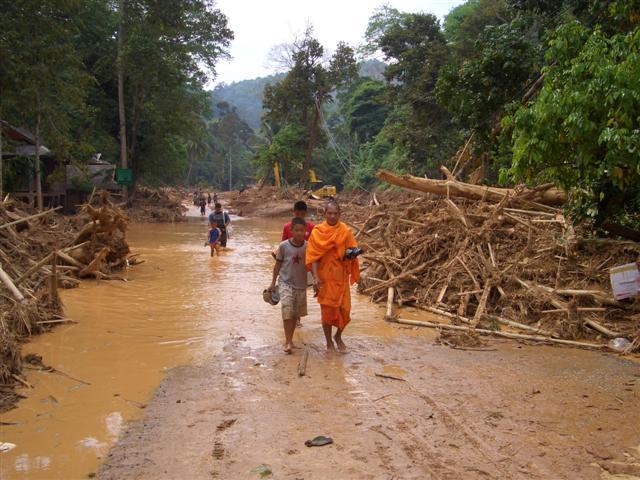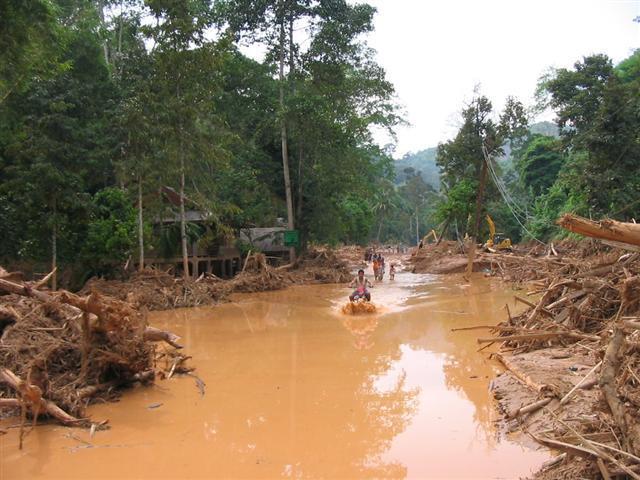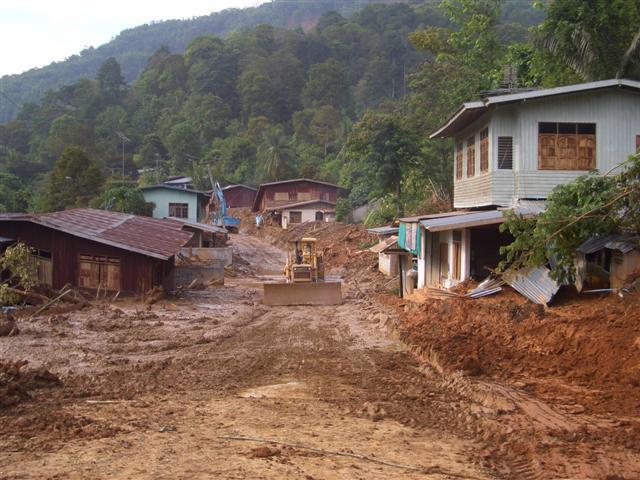 The losses are unbelievable.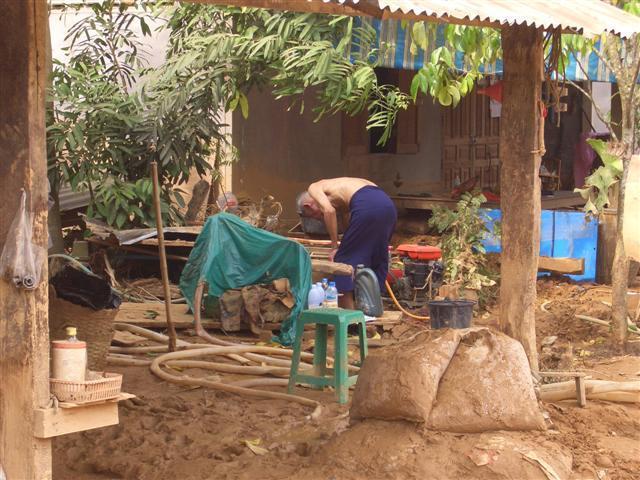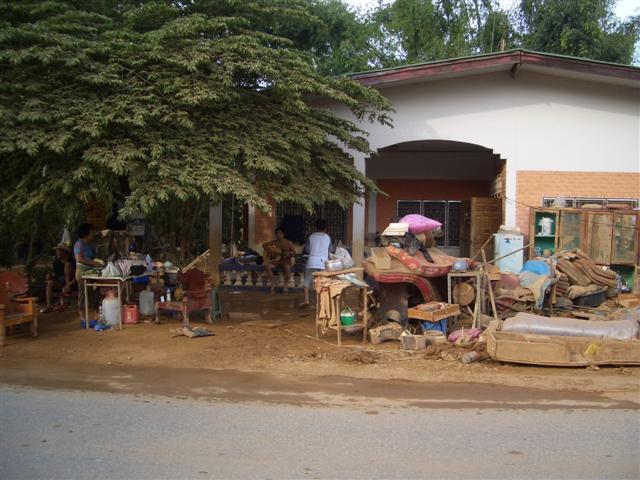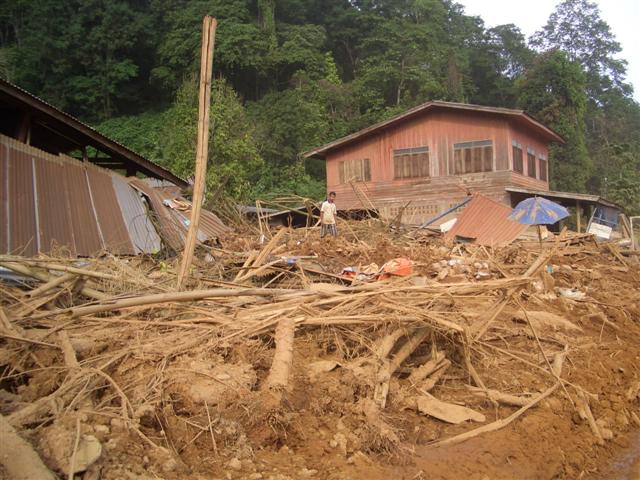 Young and old, cleaning, picking up and even playing music.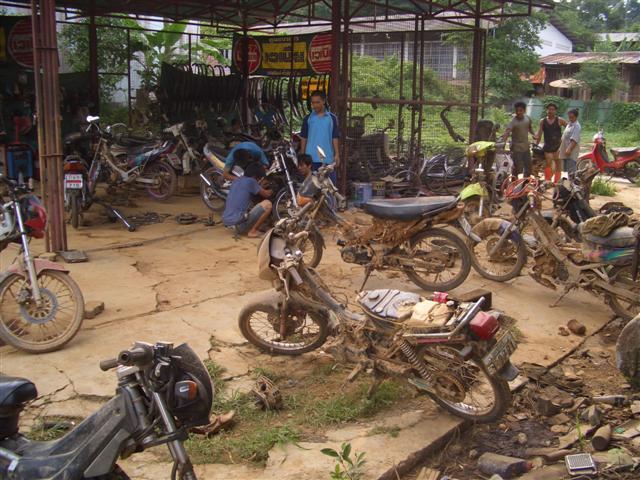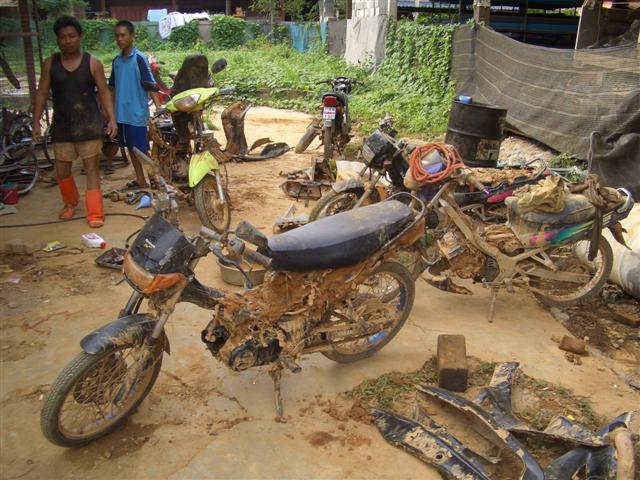 A motorcycle shop will be doing a lot of business. Some of these bikes I believe were in the shop and disassembled when the flood struck filling them with mud.
Here is a letter I wrote that was published in the Bangkok Post
> I have just returned from viewing the flood/mudslide damage in the Uttaradit area, specifically Laplae. I traveled there with my Australian friend on motorcycles. The devastation and loss of human property is hard to describe. I have seen the damage caused by the floods in both Chiang Mai and Pai, but this far exceeds those events in scope and area.

As we rode our motorcycles through the area and photographed the astonishing damage, we were even more astounded by the Thai people. With all their loss and suffering they still waved and shouted greetings to us. There was no fear of looting but instead neighbor was helping neighbor and friend helping friend. Instead of the region being cordoned off, line after line of cars and trucks entered the area. Not just gawking, but delivering food, water, and clothes from their personal vehicles. As we left, even more groups of people, four wheel drive clubs, and individuals were seen for many kilometers entering the area to deliver their goods and offer their services. .

Finally, two elderly Thai ladies, standing ankle deep in mud amongst their ruined belongings, were bowing and saying thank you and sawasdee to the line of departing vehicles. I wished we could do more.

The many complaints in these columns seem trivial when compared to what these people are experiencing. The strength and harmony of the Thai people is truly amazing.

David Early
Chiang Mai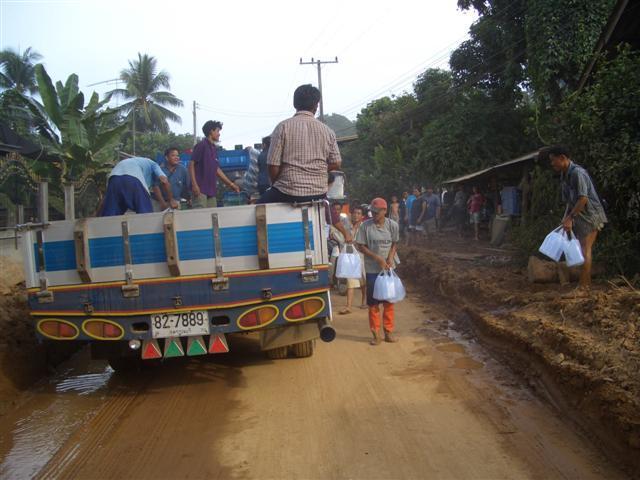 We saw flood damage all the way past Uttaradit and along the highway. Way behind schedule we continued up 101 on into Nan. Traffic was fairly heavy with people coming and going from the flood areas. We rode into the night and arrived about 8PM I believe. About 540k total riding for the day.
We checked into the hotel and had a hot shower followed by dinner at Da Darios Italian Restaurant. Exhausted from our day and awe struck by what we had seen, it was time for a good nights sleep. No night life this night.