Hi again
Day two and what a day this was. I promised myself (and my backside) an easy day today after the first days excursion. The gong did its stuff at 4 30 as usual but I did some work and called home from the confort of my bed thanks to skype. 7 30 am on the road for easy day. I decided to go to Chiang Dao. I'll try to edit the script to the photos when I have time.
Track follows. (by the way, I saved these tracks and if anyone is interested on the location of anything I have found here please ask and I'll send on to you)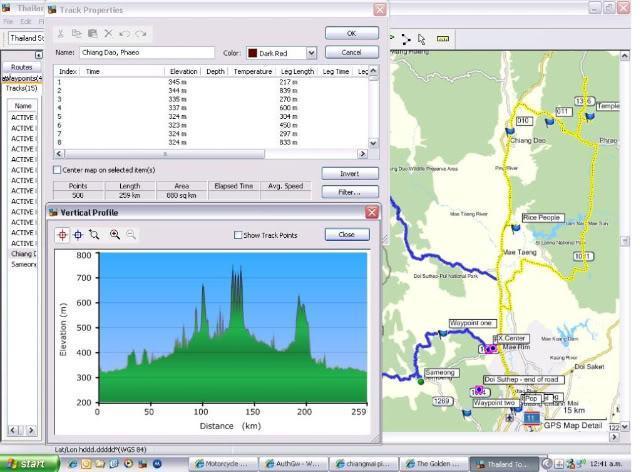 Headed North and decided to turn off the main road where I found a small village to have breakfast. Noodle soup and a glass of water for 20 baht, life just can't get better than that. Checked out the map and went back to the main road and headed North for Chiang Dao.
As i said before, I love to take the route that feels good at the time rather than the planned route and today it worked so well. First time, I saw a sign which I couldn't read but it felt right to explore. Sure enough I ended up in a village with really cool people there. I stopped outside one larger dwelling where there were a heaps of kids and some women. I got the gist that this was like the village kindergarten so I was invited in and checked the place out. Got a couple of pics and played with the kids a while.
Back on the road and driving past some houses there was a women on her front porch and she waved and smiled. The house was a neat loloking house too so I had to return to say hello. She invited me to sit down and although she did not speak much english and my thai doesn't go too much further than asking for another beer we communicated ok. She got me a cold coffee dring and some fruit (I forgot what it was called but it is in the photos) and we sat for a while. She told me about her family in the best way she could then as I was due ot leave I wanted to pay somehting for the hospitality and try as I might she wouldn't have any of it. Thai hospitality for you
Next i saw another road and took it where I ended up at a lovely temple. I have a laugh with the two neat nuns there who were obviously in charge. They were realy lovely ladies and showed me around the temple. Photos are here along with a waypointl. I would really recommend anyone give this temple a visit.
Then I carried on a while but realised I was heading north instead of to Phaeo (I really must concentrate) and I wasn;t going to get into the same pickle I got into the day before, o I did a U turn and headed for Phaeo. Fabulous run home, the roads are brilliant and I truly couldn;'t have wished for a better day.
I still did a few miles more than i intended and my butt aches something chronic (also sunburnt hands as I forgot to wear gloves) but a special day for sure.
Photos attached, hope yu like them. I will promise to sort them out soon.