0
Staff member
Subscribed
Jan 16, 2003
14,193
5,163
113
69
DATES: Depart Cnx 9 Jan / Return 21 Jan 2006.
THE WAY: Chiang Mai – Lampang – Uttaradit – Chat Trakarn – Nakhon Thai – Dan Sai – Loei – Chiang Khan – Nong Khai. Nothing new.)
ROUTES: 11 – 1246 – 1143 – 2013 – 203 – 201 - 211
Just another quick blast over to Luang Prabang via Vientiane & Nong Khai. Return trip 2,500 kms.
A full report is coming (albeit slowly) promised by Scotty 007, once he gets back to "work" in Saudi. And if you don't see one in 3 weeks - give him a wind up.
Meanwhile just a few notes from me on road conditions.
And basically they are all bloody good.
R1143 the fast short cut to Chat Trakarn from Uttaradit via R1246, is in real good nick & nicely resurfaced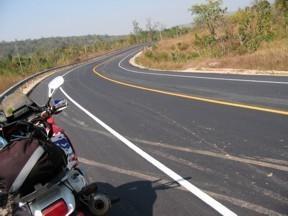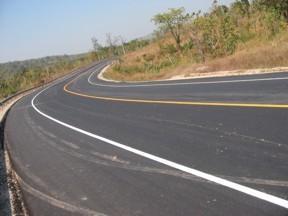 in a couple of spots.
The fast hilly undulating section between Ban Den intersection & Chat Trakarn is still an absolute delight to ride. You just have to watch out for that nasty decreasing radius corner, 4 kms "east' of the Ban Den intersection, heading towards Chat Trakarn. It really is a ripper, right on top of a small blind crest & will catch you out if you've got full throttle on & are cranked right over. I've been there before & done that - a couple of times as I could not quite remember which corner it was!
R2013 Nakhon Thai – Dan Sai is under going impressive road widening, and without a lot of damage to the main asphalt road.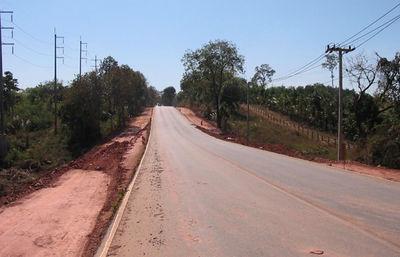 You just have to watch out for gravel spilt on the asphalt in some places. Once this is all done, R2013 really will be an awesome "fast-ish" steep hilly winding undulating ride!
R211 CHIANG Khan – Nong Khai still is a mega "tight-fast-undulating twisting" ride alongside the 'Khong.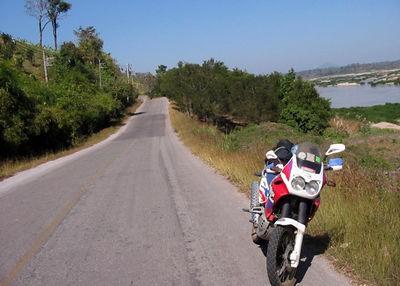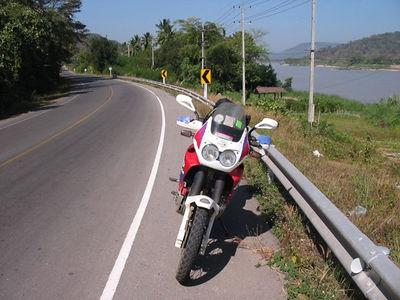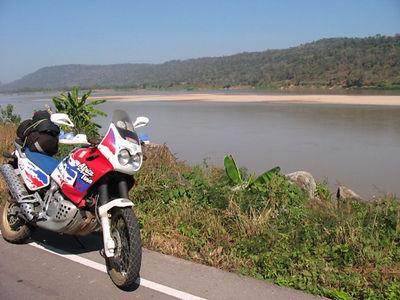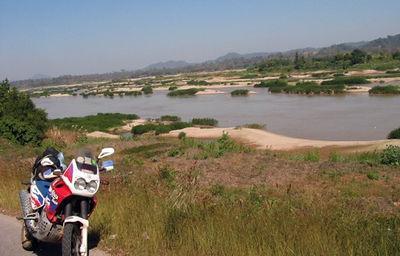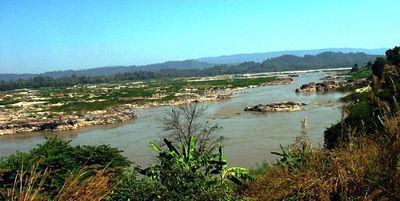 Although it's a bit boring at the east Nong Khai end with the long straights – approx 25 kms, which you can rattle off in a few minutes with plenty of throttle.
At the west Chiang Khan end the road improvements are going real well. On the way over from Chiang Mai there was about 8 kms of good gravel & on the return it was all race track asphalt.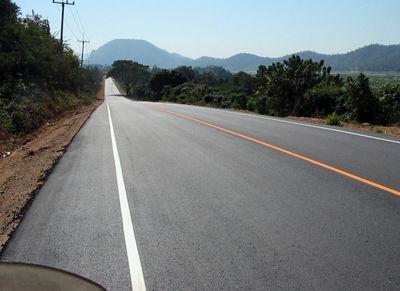 It aint all over yet, as they should start digging up more of the old bumpy asphalt thats left towards the west end. Otherwise this is another A1 ride.
The views of the 'Khong are also magnificent as usual.


"Laugh" on the return I had one real close shave. Cruising at a sedate 120kph going round a nice long sweeper on R1143, a wonderful fast flowing undulating deserted road, and there were two guys (the village idiots I thought) standing in the middle of my lane (not the middle of the road) having a conversation. I picked the bike up, closed the throttle, & grabbed a handful or brakes to work out a line to take. One guy started to dart back to the left & the other guy stayed stationary. Ok I thought swing through the gap. But no the guy on the right grabs the guy on the left & yanks him back to middle of the lane! I have to make yet another emergency change of line, & just brushed the 2 guys as they sprinted over to the right hand side of the road. It could not have been any closer. SHIT? Nope, fortunately I'd had a critical liquid bowel movement in the morning before leaving the hotel in Loei, otherwise it would have been serious multi colored skid marks on me undies! I was doubly lucky.
Davidfl
Keep The Power On