Old Blokes Tales-
MotoGP 2018 Sepang.
Here is a short snip of the trip we made with thanks to all that helped on GT Rider in the planning.
A full report can be seen
HERE
The bike ride this year is a hybrid trip to see the MotoGP in Malaysia. The original plan was to ride all the way on that trusty bike the Honda Forza but holiday allocations combined with the fact that bike hire shops in Chiang Mai did not, at the time of hiring, allow a hire to Malaysia meant we had to turn the trip into a whole variety of travel experiences.
This was the route we took down;
The trip down was to a time schedule as we had tickets for the train to Kuala Lumpur.
Day 1 was mostly highway, well all highway to Chai Nat. The hotel I had picked, the Chai Nat Thani did not live up to expectations and has since closed.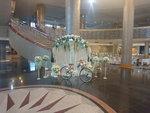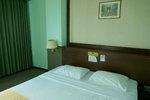 Day 2, Chai Nat to Bang Boet Bay Chumphon.
30/10/18 Day 2 and we wanted to get a fair way along the road to Hat Yai. We also needed to skirt around the west of Bangkok in order to avoid traffic and road restriction problems. We had spotted what appeared to be an idyllic resort right on the beach called Bang Boet Bay Resort. We made that our target.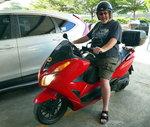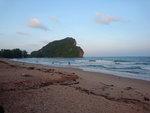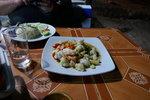 Bang Boet Bay Resort was what we hoped for and right next door was a cafe serving fantastic seafood.
Day 3 Bang Boet Bay to Hat Yai.
31/10/18 The ride on the final down ride was, to a large extent, uneventful.
There were a couple of light showers that enhanced the pleasure of the ride by cooling us. One looked like it would get us very wet as in a few minutes it soaked out T shirts but no sooner had we stopped under a tree to discuss putting on our wet weather bin bags and deciding no, as we were already wet it stopped, the sun came out and we were dry in no time.
Our destination in Hat Yai was Hay Yai Centara Hotel. The bikes parked underground right next to the parking security.
The hotel tried to ask us to pay for the days we were not guests in the hotel, the days in Malaysia but they had agreed to include it when I booked and I had a copy of that.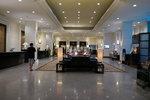 The bikes were parked until our return to Thailand.
Day 4 The Train to Malaysia.
Having been advised we needed to be there early we set off about 6.30 am from the hotel.
We needn't have worried, there were few people about.
We got out tickets, 40฿ each and wandered over to the train.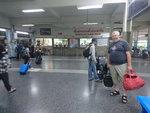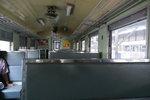 The Thai train took us to Padang Besar where we passed customs and immigration and waited for the modern Malaysian train to KL. We took a local train and were met by our hosts who took us to a local mall for an Bali style meal.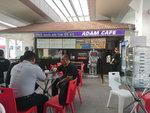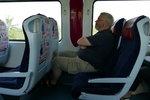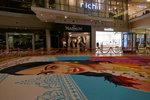 Day 5 Circuit day 1
2/11/18 After a restful evening and a nice spot of breakfast it was time for Chris to drive us to the Sepang circuit.
There was lot of activity, rider meeting, practise and a ton of product displays enhanced by some very pretty girls.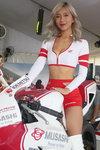 For the evening meal. Our host had picked Yong Thau Foo Leong Ya. What a treat!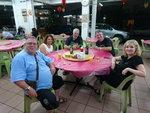 Day 6 Circuit for qualifying.
3/11/18 There was a good attendance for qualifying and it took a couple of minutes to get into the circuit with ticket bar codes being scanned and security.
We drank a couple of waters and a couple of beers as the pre qualifying and qualifying got underway when the heavens opened and the track had a few cm of water on it.
Upon reaching the exit we were required to scan out ticket bar-codes to exit, monsoon rain pelting down and we have to produce paper tickets with bar-codes on them!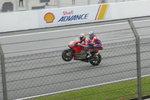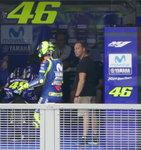 Day 7 Race Day
4/11/18 Even with setting off in good time, the traffic was heavy and often static going to the circuit. There was not too much trouble nipping out of the cat to the trees for a pee when required with the car hardly having lost any time.
By the time the car was parked the circuit was packed with more spectators arriving by the minute.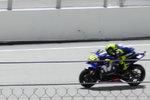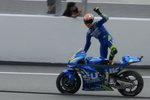 The race order had been arranged so the MotoGP was the first race. Rossi led from the start with Marquez in pursuit and catching him. The promising battle between the pair was cut short when Rossi came off.
Post MotoGP the clouds were starting to gather although the heat was oppressive and we once again decided for an early exit to beat the traffic. As it happens tens of thousands of other spectators had decided to do the same thing.
The crowds were bumping and jostling on the way out and I felt a quite firm jolt once. I carried on and to the exit where I reached into my pocket for my phone.
It had gone! The jolt! I have little doubt some thief took it although I do apportion some of the blame to myself. I was daft enough to have it in an open shirt pocket.
Day 8 Sightseeing
5/11/18 When we planned this trip we planned a day where we could see some sights.
To start we went for a sightseeing drive around Putrajaya, purposely built to house the government and its offices making it the administrative capital. It is a green (garden) city.
It's major interests include information technology and it is next to Cyberjaya.
After touring Putrajaya we went to another little gem, an open sided cafe this time serving Indian food.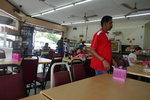 In the afternoon to the evening we went to Kuala Lumpur and the Petronas twin towers area.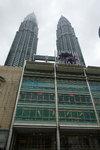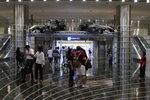 And our time in Malaysia was over.
Day 9, Back to Thailand
6/11/19 It was time to say goodbye to our friends as we climbed into the taxi and headed to KLIA terminal 2, the terminal that has replaced to awful "low cost terminal" which I am sure was modelled on a bus station.
Terminal 2 is modern, clean and has a host of facilities.
Our flight left just before scheduled departure time, Air Asia. It was a good flight lasting just over an hour before we were deplaned onto the tarmac and walked into the terminal for immigration.
Land side and we took one of the many car taxi services on offer at 200฿ and we were back at the hotel.
Having checked back into the Centara Hotel my overriding objective was to replace my stolen phone.
The Ride Back

to follow...