Su came up to CM by bus to meet me, me having ridden up the previous day. The purpose of this trip was to rent a few bikes for her to try out and see what is available to buy with legitimate plates. We hired a Honda Degree 250 from Mr Mechanic. Nice and low, too bad the engine had a carburettor problem, meaning it took its time to come down to idle speed. Not what you want for a novice rider.
Next we got a Honda Baja 250 from Joe's. This not only had the same carb problem, but also lots of others, including an almost not working rear brake and an almost dead battery. That's a pity as Joe is a nice bloke who readily gave out advice about the various bikes we might find to buy.
With this bike we went up to Chiang Rai to check out what ST Bikes had for sale. All they could offer us was a 16-year-old Degree in reasonably good condition for 150000B. We also tested a DR250 for sale privately. It's a nice little bike, but the engine made a strange knocking noise under load that may or may not indicate impending doom for the big end bearing, so I think we will pass on that one. After that we rode NE, mainly along minor roads to the "bulge" in the Mekong and down to Chiang Khong, then fairly directly back to Chiang Rai and the next day returned to Chiang Mai.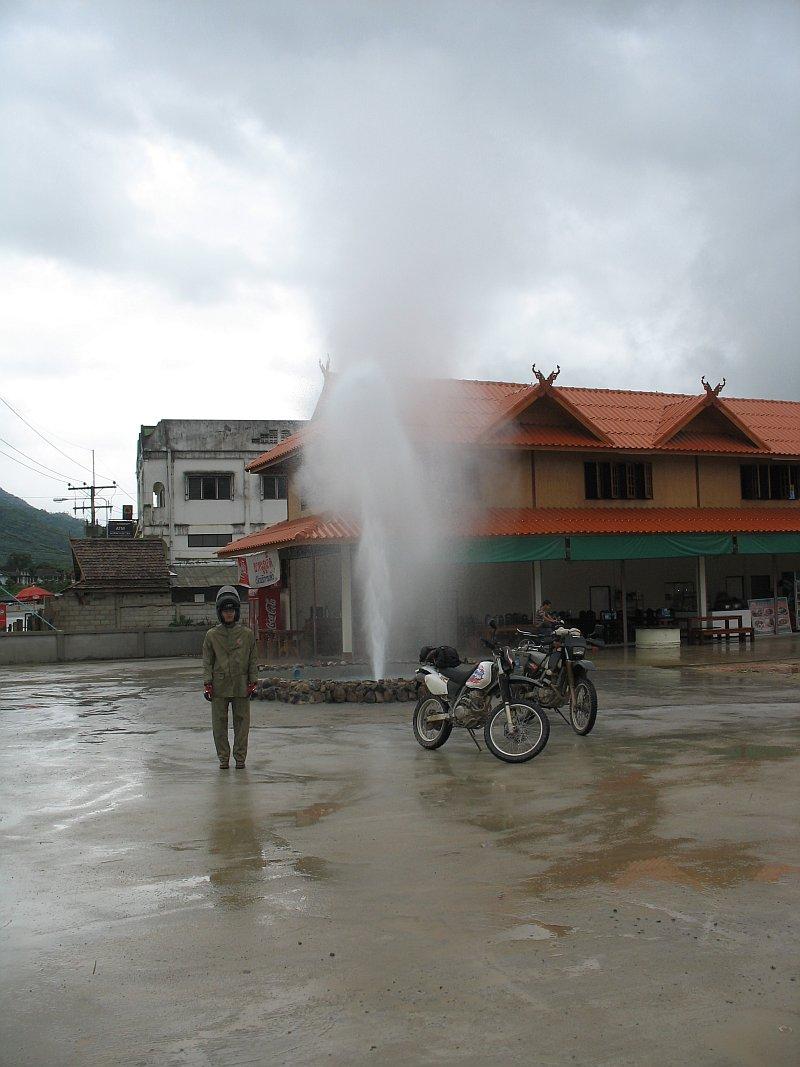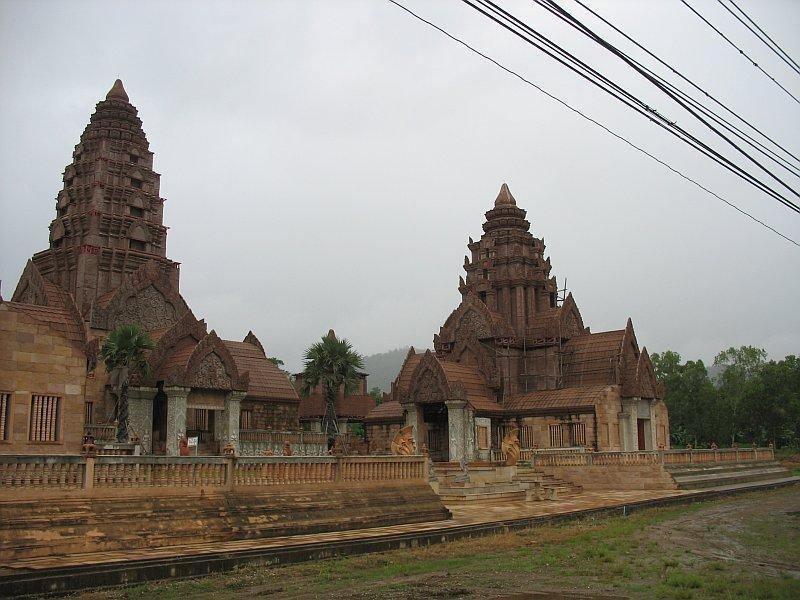 Somewhere along the main road there is a geothermal area and next to it somebody has build a kind of replica Khmer temple. At this point the electrics on my bike failed almost completely and we had to push start it, which was surprisingly easy. Luckily, it seems, the DR has magneto ignition, so it keeps going even with a completely flat battery, although pushing the horn button killed the engine while riding. There was just enough power for the stop light and the GPS, nothing more.
We made our way back to CM and Joe's, where the next day a connector on the alternator cable was replaced (corroded away completely) and the dead battery was replaced. I only bought it about 8 months ago in China... Su had to return to work, so left by bus the next day, after we did the rounds of the shops.
It was now Friday again, the sky was blue and it was hot. Rainy season and flooding? Not here... I decided to try and go home to Mae Sot by a slightly different route.
We have a saying in Germany: "Wenn dem Esel zu wohl ist geht er auf's Eis." (If the donkey is feeling too well he will walk onto the ice.) On the Berndtson Map I had spotted route 1099, branching off the 106 to Mae Sariang. It seems to end in Mae Teun, about 150 km to the South and tantalisingly close to Mae Salid, from where it's only 80km or so home. I asked Google Earth for directions and it plotted me a route clean across the mountains. On closer examination I could see that in one or two places Google's "road" actually went clear across forest, but there were other roads connecting with villages, eventually re-emerging on the 105, where I needed to go. Still remembering my last "adventure ride", the ill-fated attempt to ride from Sangkhlaburi to Umphang which ended after less than 9km in a river I swore to myself that I would turn around at the first sign of trouble and not risk anything.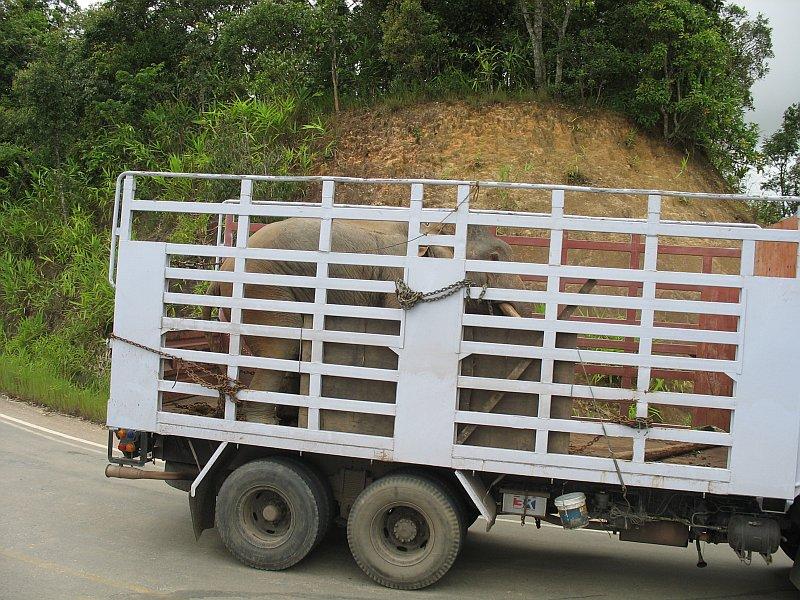 An elephant goes past, heading North and into the rain.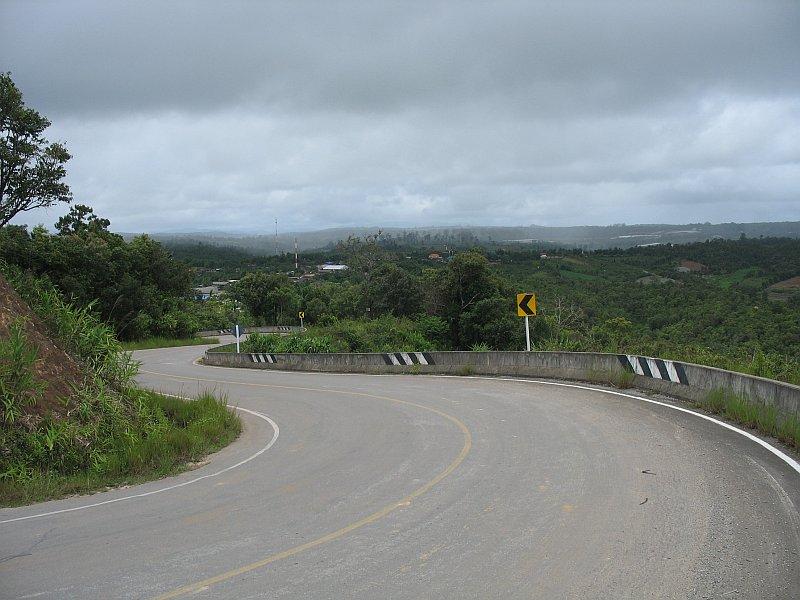 The ride down was very pleasant with good views, but not quite as good as what Capt. Slash reported on the old GTR board. The route 1099 is generally quite good, except for some stretches through the hills South of Ban Omkoi, where there are lots of pot holes. However, the tar sealing crews were busy at work before that.

I'm at over 1100 m and the monsoon is blowing hard.
I checked out that the highway does, in fact end in Mae Teun, then headed up the small concrete road that is exactly where my GPS tells me it should be. Oh, the wonders of technology and the internet.
After only a few 100 m the road turned into a dirt track, but it was dry. No worries here: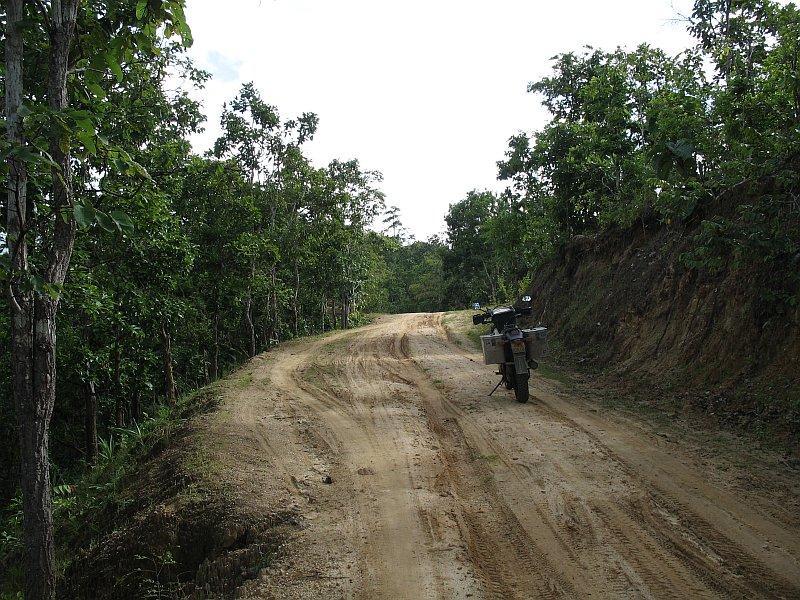 ... after just having navigated this bit without too much trouble: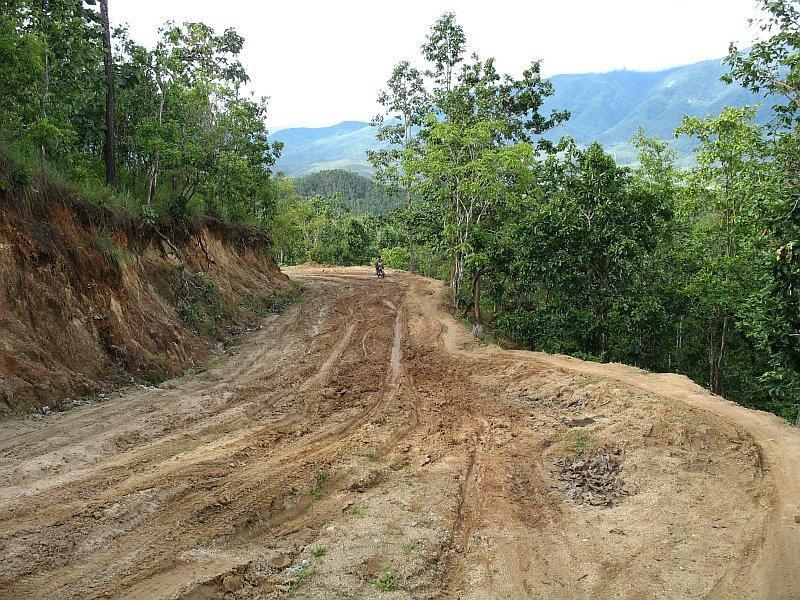 Even this wasn't difficult: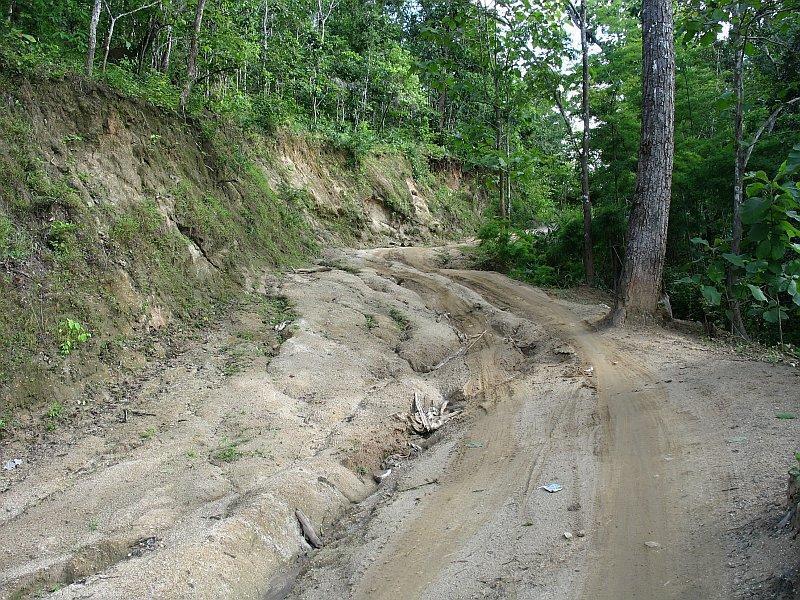 This bit didn't look particularly difficult, either, but the my foot ended up in the rut (luckily!) under the pannier and the right mirror broke: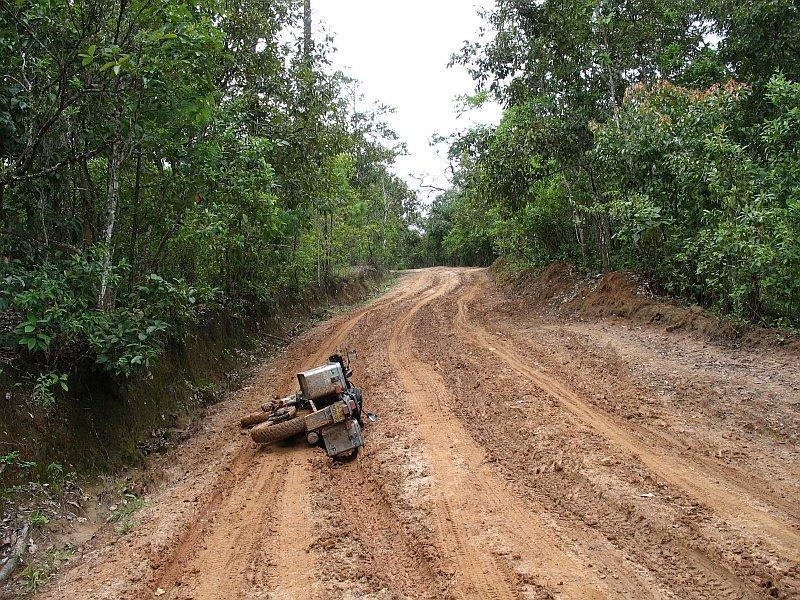 That's where I broke my own promise to myself and continued. The mud got thicker and the track steeper. Two falls later in really soft slushy mud I was exhausted and couldn't lift the bike up any more. The prospect of spending the night in the open here wasn't very appealing. Enter Nat, a local teacher who appeared on his small bike and helped me pick it up again. At this point I had enough, and so did the bike: it refused to start again. Full throttle, no throttle, drain the carb, try again - nothing. Nat suggested to push it up the hill. I guessed it was downhill on the other side of the crest, so I removed all the gear and we pushed it up about 300 m (in deep mud!) only to find there is another uphill section there! The bike started, but only just. We lugged the boxes up the hill and I re-attached them. Now the bike still didn't want to go, it wouldn't accept any throttle and threatened to stall again. It took about another 10 mins. before it would run, sort of. Nat invited me to stay at his school, an offer I gladly accepted at this point.
It seems I did about a quarter of the distance of dirt track and it was getting dark. Getting down to the village and into the school was another challenge, there was almost nothing but mud in the village.
Saved!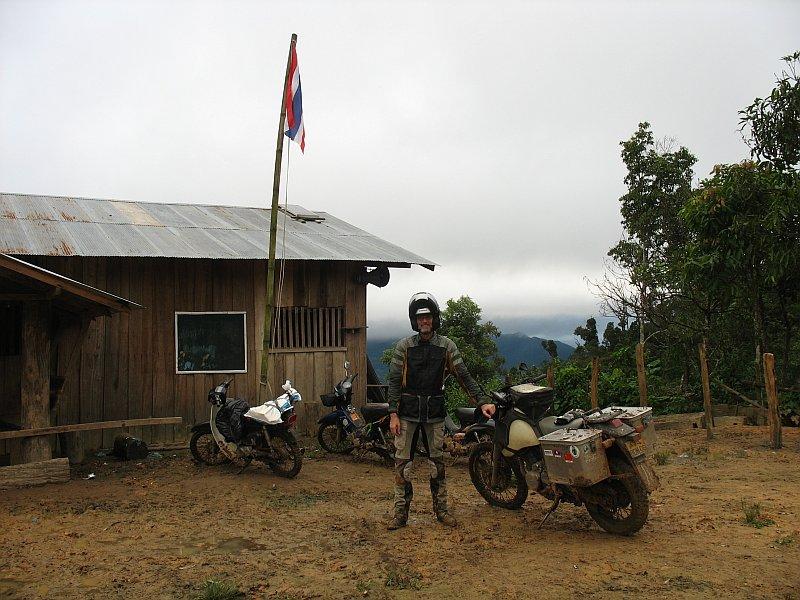 The next morning. This is where the teachers slept, concrete floor, tarpaulin and a mat: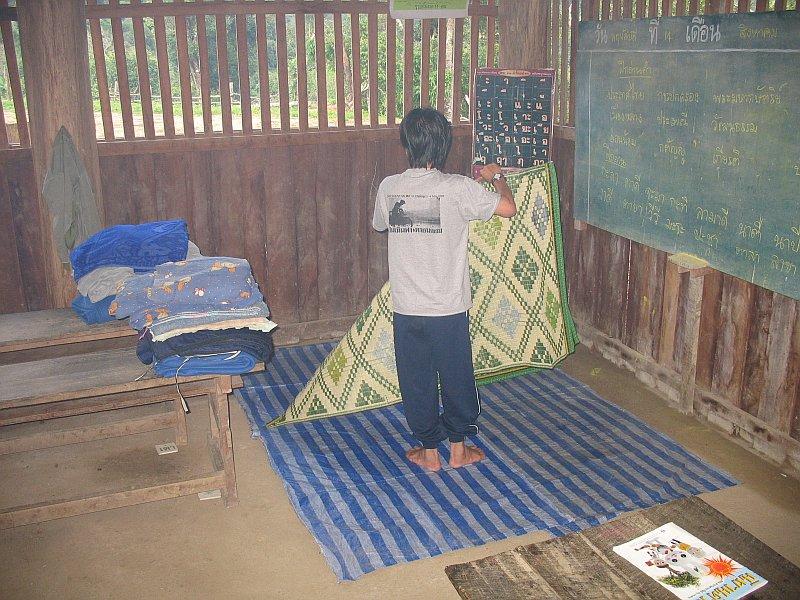 My "bed" for the night: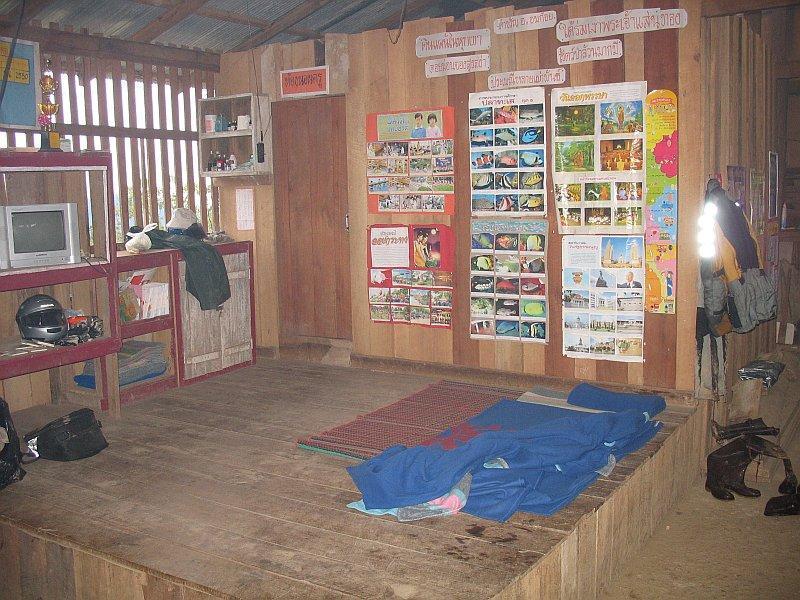 The kitchen: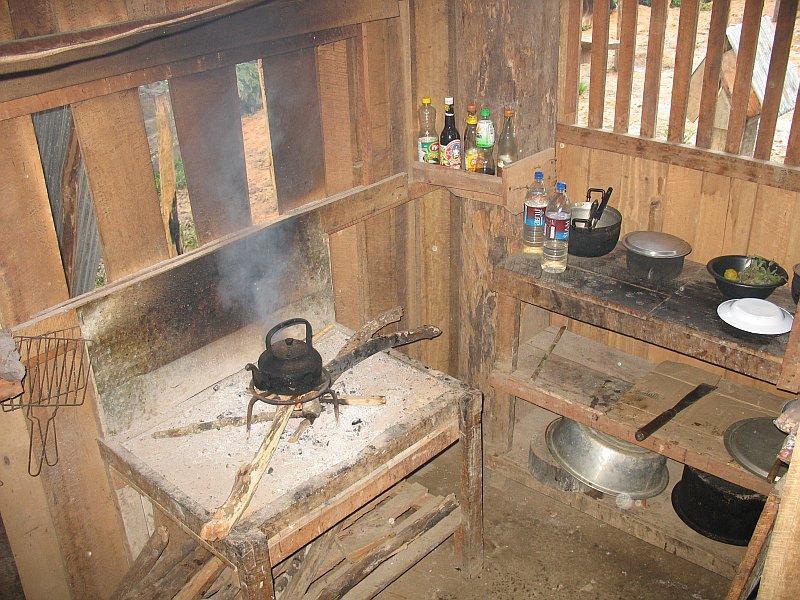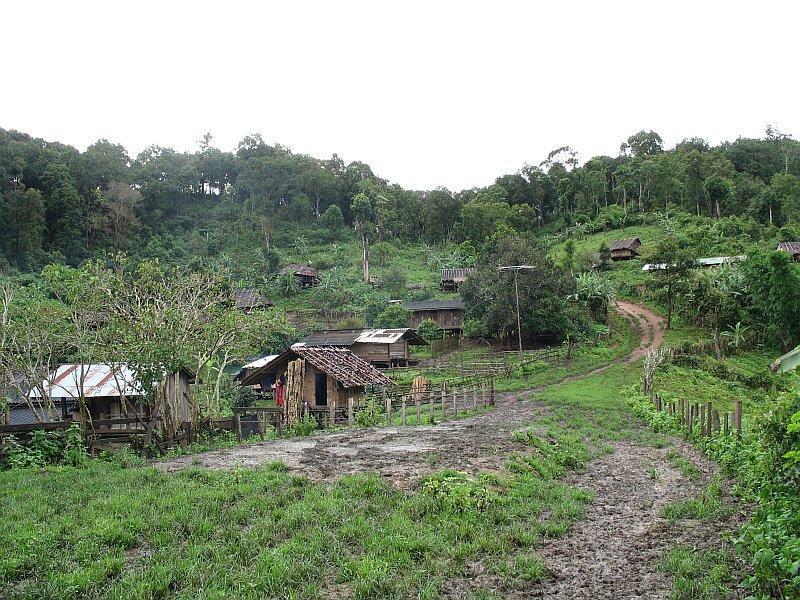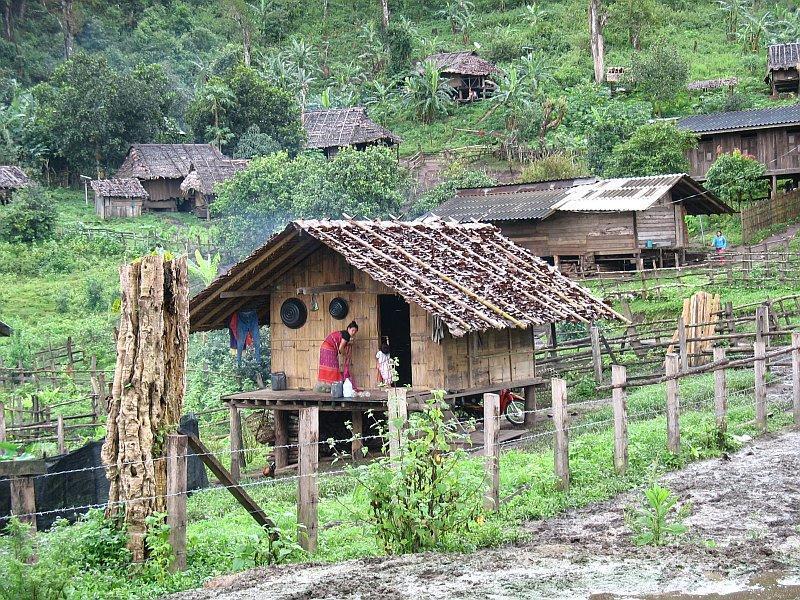 The Karen village has no phone, no cell phone reception and no electricity. They do have some solar panels, installed about a year ago, which powers the all-important TV.
At the top of the road I got my helpers to pose for a photo. I had to pay them 500B to help me push my bike up the hill through the steep muddy section. Back down I had three bikes for company and it's certainly a lot easier on a small bike rather than my overloaded rig that can't go slowly.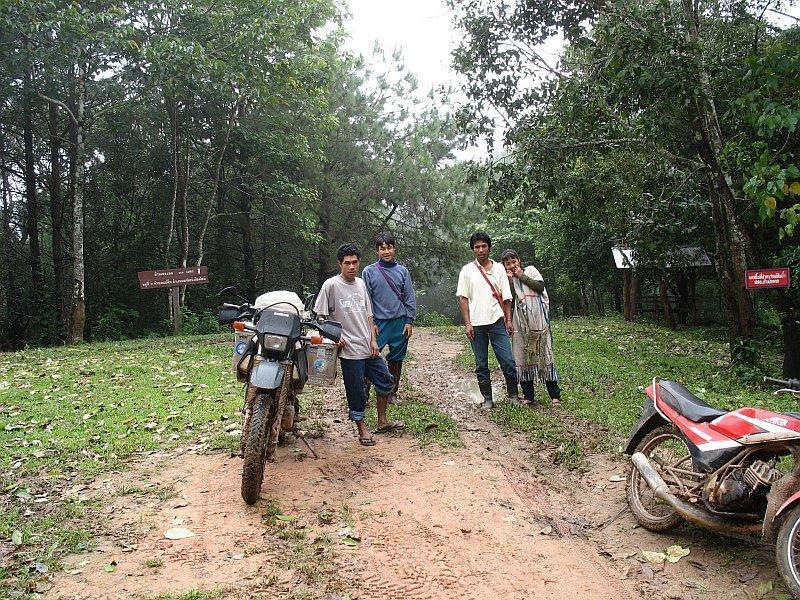 Back in civilisation I took a moment to admire the collection of mud on the bike, even on top of the panniers.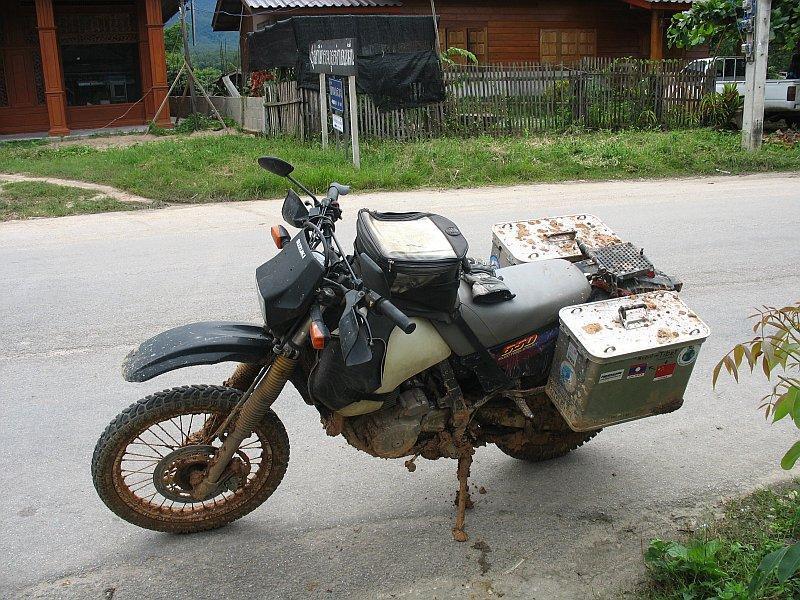 Back in Ban Omkoi the Honda shop sold me a new mirror and lubricated the chain. From here it was more or less plain sailing back up to route 106, West to Mae Sariang and down to Mae Sot, where I arrived more or less drenched, thanks to the piece of junk of German rain gear that didn't last 6 months. (Held brand) I did notice that on my GPS exactly where Google Earth said the track should rejoin the highway there was a concrete road.
I'd love to do this track again one day, in the dry season. Should be good fun.