I'm currently on a trip, but not sure were I'm going.
Left Chiang Mai after songkarn with the plan of crossing at Houei Xai, and riding through Laos for two weeks, then crossing into Cambodia at Veun Kham, spending a month riding around Cambodia before the rainy season starts.
But after four weeks I was still in Laos, and although Ive been on the road almost 8 weeks now, I still haven't made to Cambodia yet. (one thing lead to another)
Anyway, we pick up the story on day one.
This is the bike in chiang Mai, already to go. I got these small pannier bags from Australia for the light stuff, and in the bag on the pack rack I keep a few tools and tubes. Also have a small camel pack with laptop, phone and passbook etc.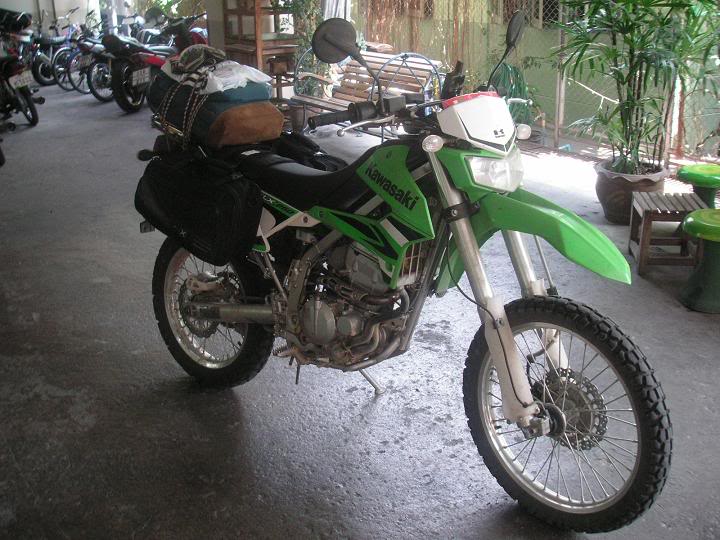 This track runs next to the mekong, and takes you to Pak Beng.
I rode this track with Happy feet a few months ago. More here.
https://www.gt-rider.com/thailand-motorc ... t5141.html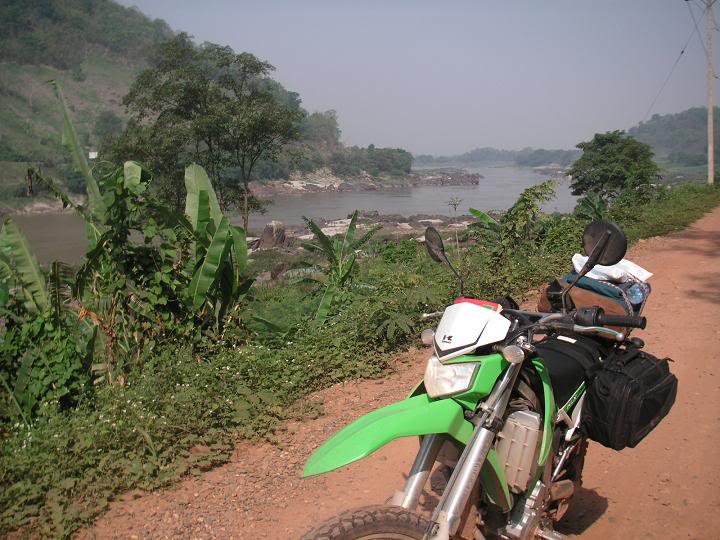 I give this young girl a bag with some clothes etc I got from a friends daughters in oz to give out. Thanks Katie and Bronte.
The smile on this kids face was amazing, although she did put on a serious look on for the camera.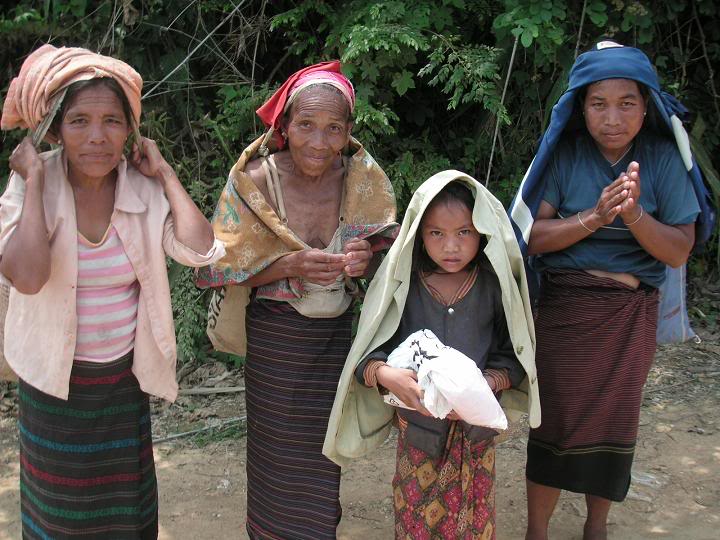 Lots of road works out of Pak Beng heading east. More here about this road.
https://www.gt-rider.com/thailand-motorc ... t5771.html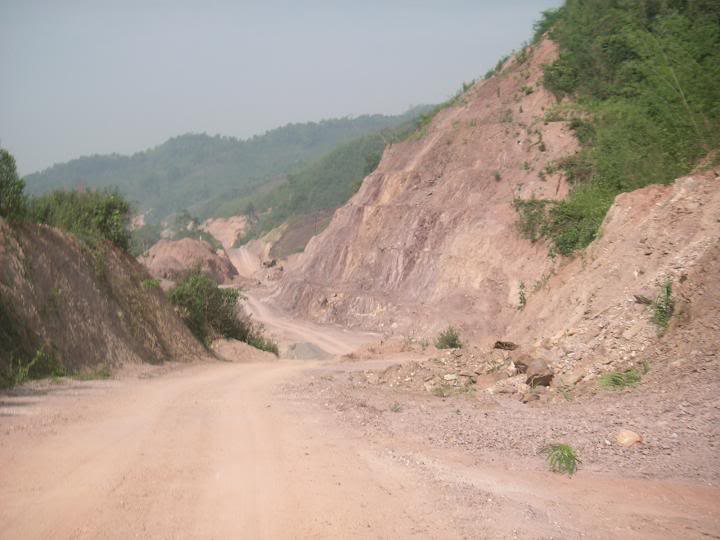 Looking down on the Mekong just before the river crossing 14 km's east of Pak Beng.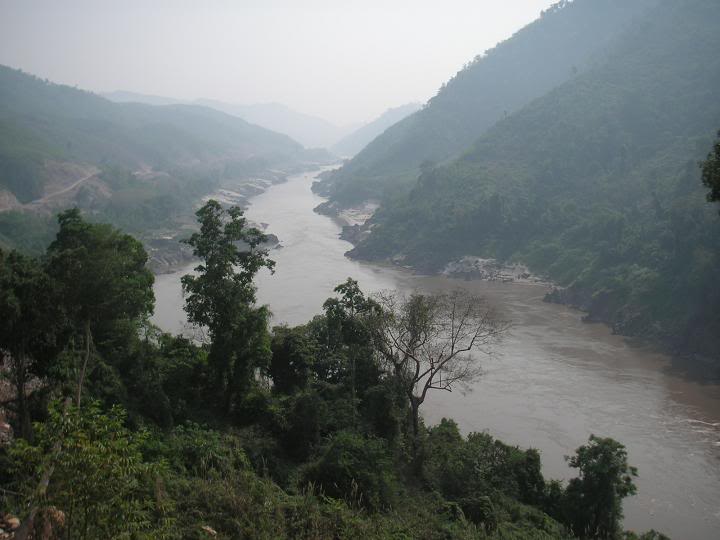 It was hot this day just out of Xayaboury, and the smell here was unbearable.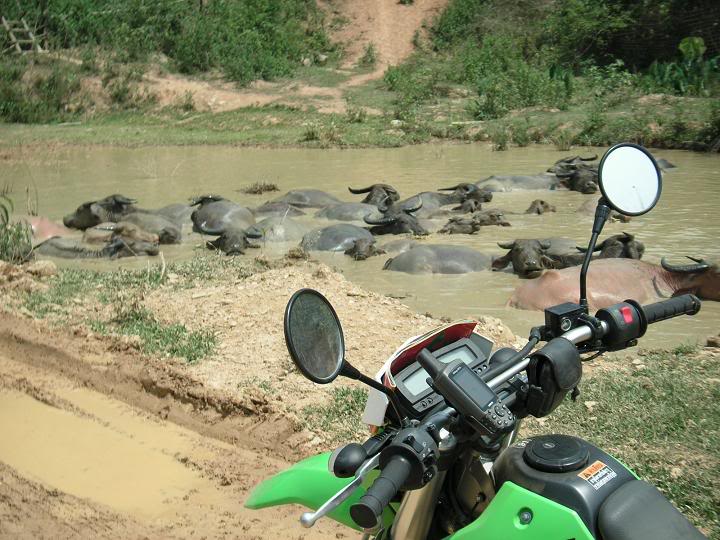 I was told about a track that went to a mysterious water fall and decided to try and find it.
After riding about 10km's down a narrow dirt track I came across some workers cutting a track through a rock mountain.
This rocky stretch went for about 300 meters. It was like trials riding.
I don't think workers could believe what they were seeing. Stupid farang.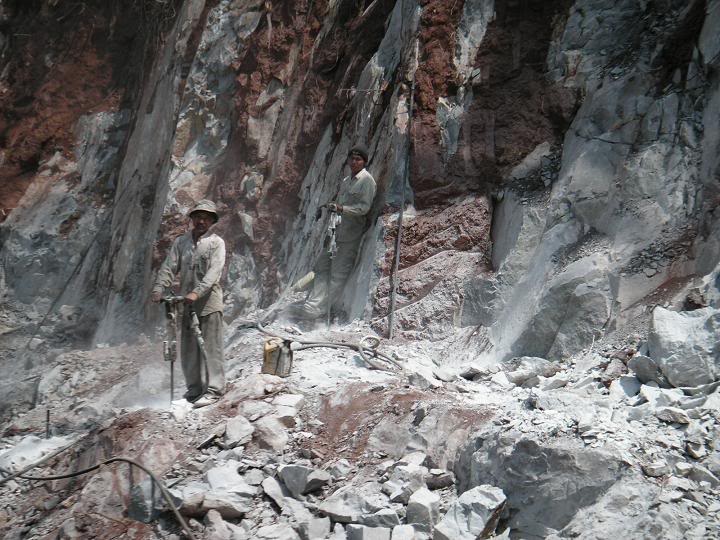 I stopped here at walked ahead to see if I could get through. Just after the excavator, was a beautiful dirt track, but to get to it was going to be a little tricky. But if the machine operator would just stop for a minute I could give it go. For over an hour I jested with hand singles that I wanted to ride passed, but he just waved at me to go back the way I came. In the end about 10 big boulders came rolling down the hill, now completely blocking the track. So I turned around and went back. But "Ill be back"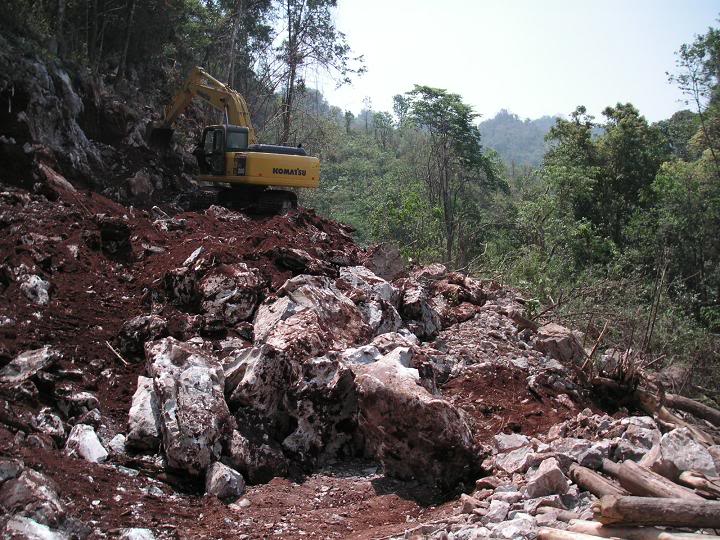 Small village near Luang Prabang on hwy13.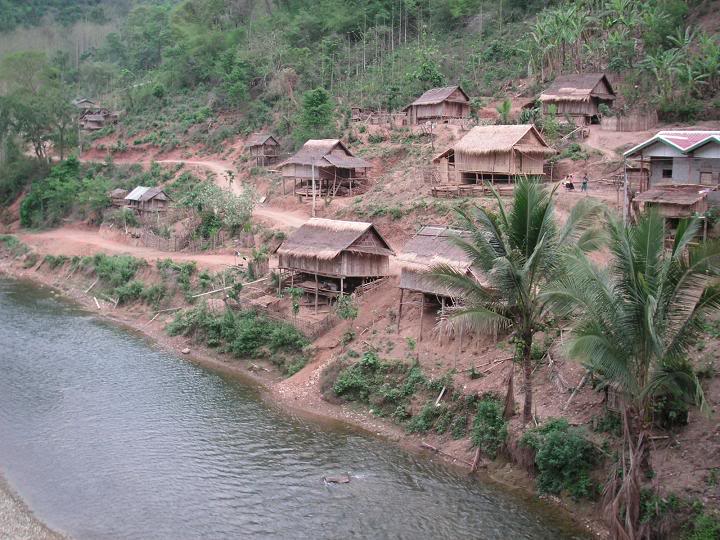 Big slab. The view point on hwy 13 near Luang Phabang. Hope they used plenty of rio.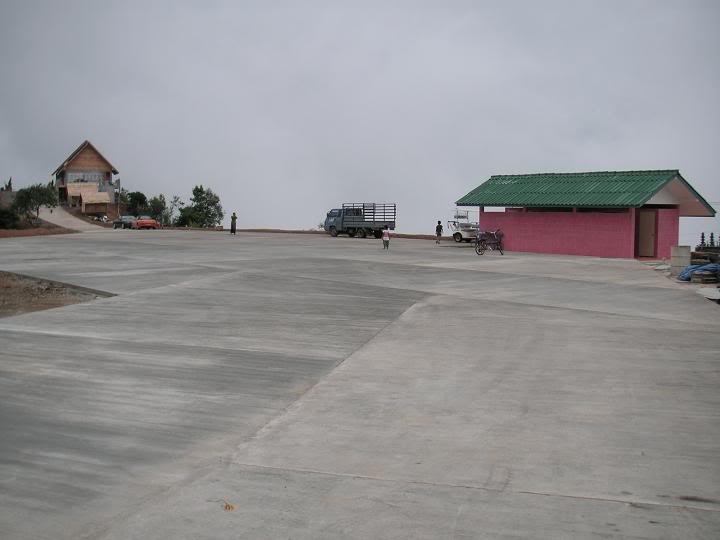 Some mountains on the Xang to Xanamkhan road. More here on that road.
https://www.gt-rider.com/thailand-motorc ... t5702.html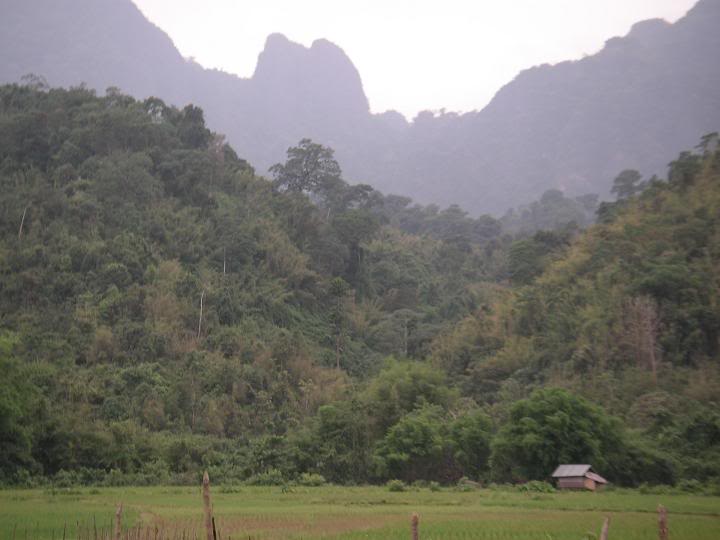 The road from Lak Xao to Mahaxay. Took this photo because the speedo turned over 20,000km's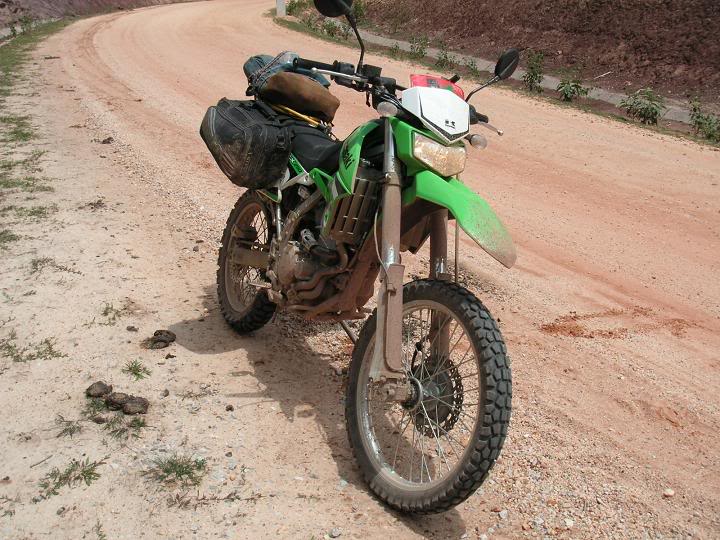 Almost run in.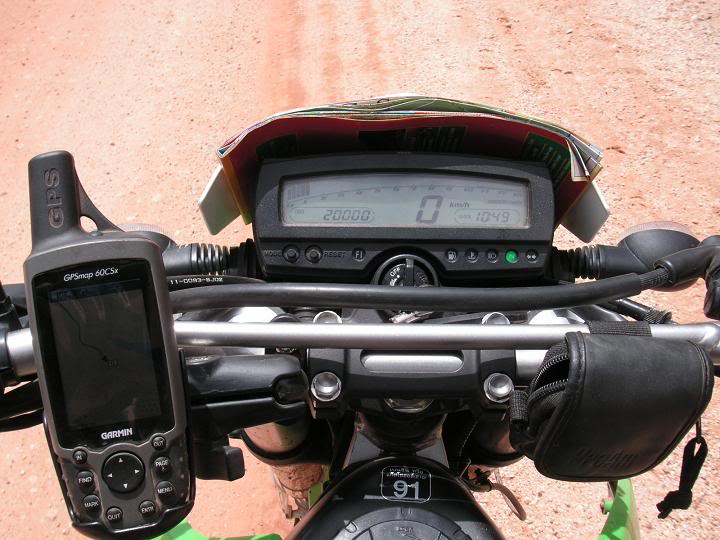 The next few photos where taken on the Mahaxay - Vilabury road/track.
Id say this area was the best riding Ive done in Laos. Next trip I would like to spend more time here.
Amazing villagers and lots of single track.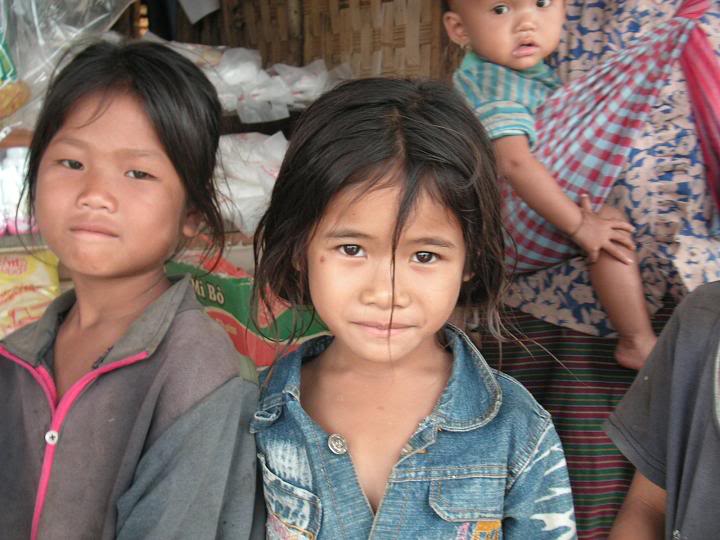 Came across this guy that was riding from Chiang Mai to Penon Phen on a mountain bike.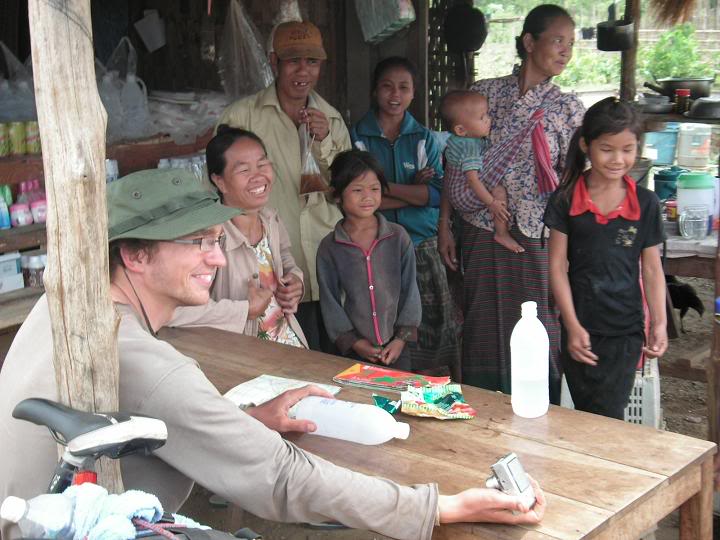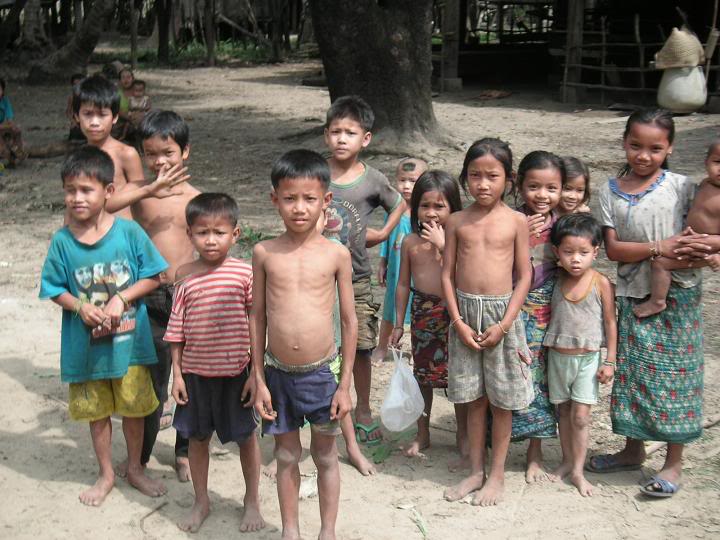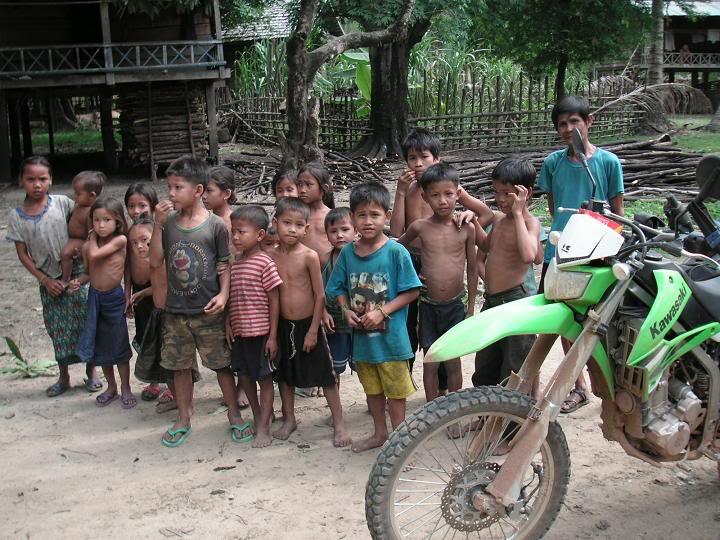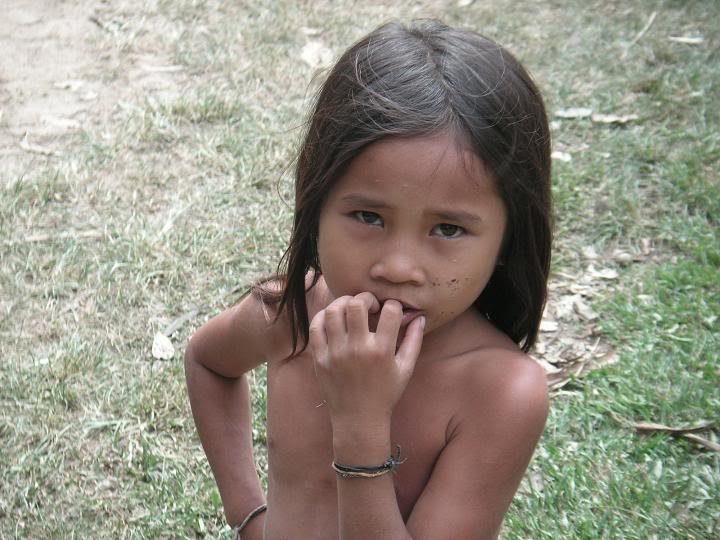 Great single tracks.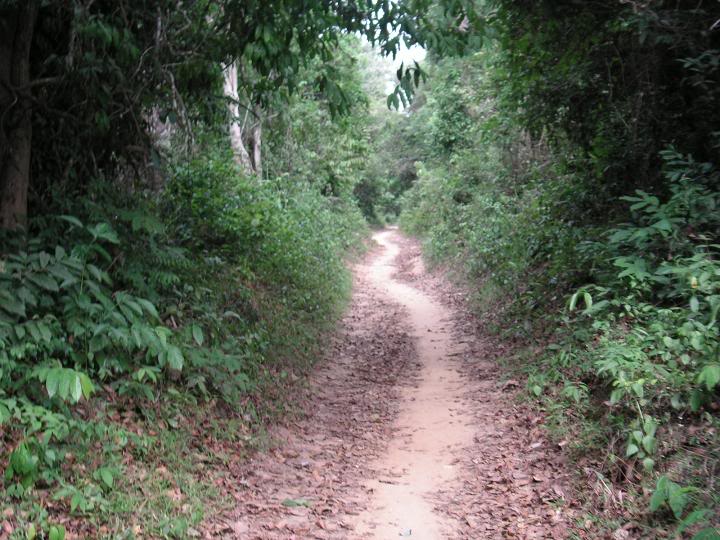 Local school bus.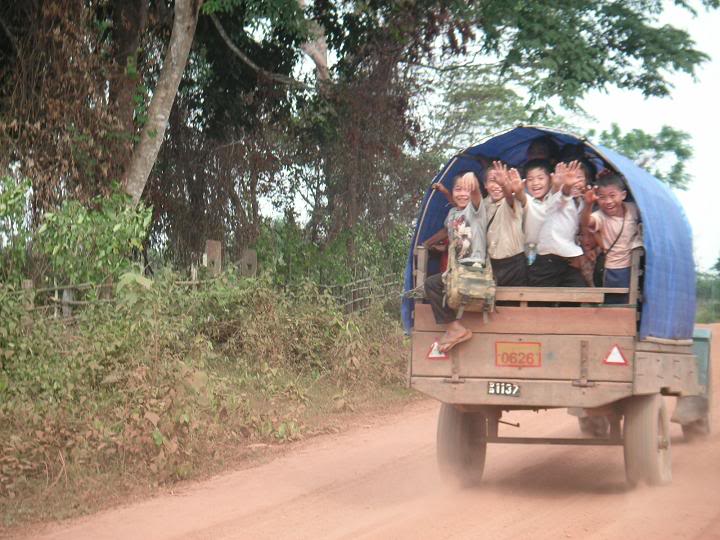 Dusty village.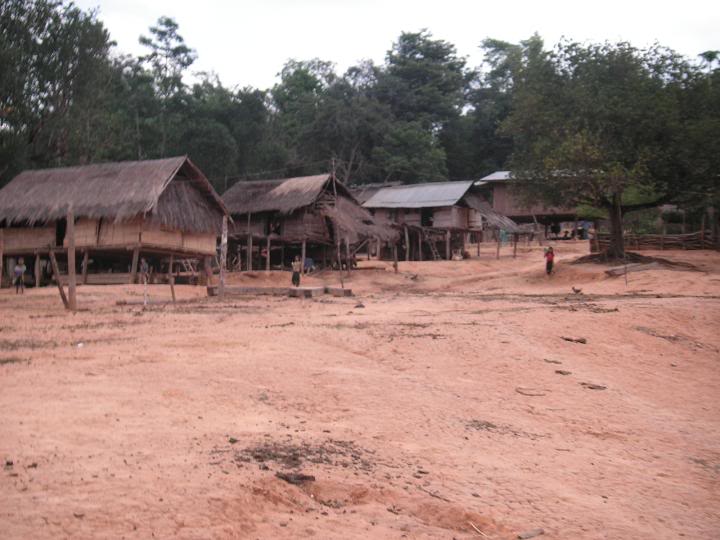 The biggest border crossing I ever seen.Lao Bao (VN) Dena Savan (laos)
I rode to take a photo, not realizing I had riden into no mans land. When I turned around to go back I was pulled over and asked for passbook etc, because they thought I had just come for vietnam.
There were cool, I just show my camera and said I take photo. And they let me go on my way.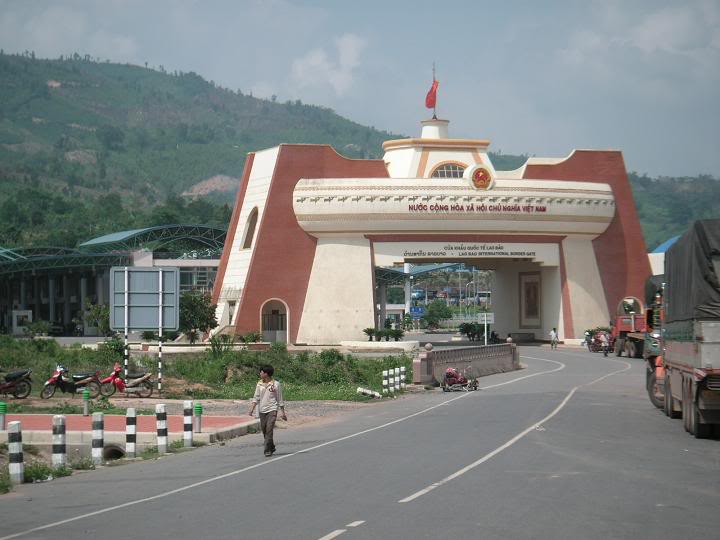 I spent a couple of nights in Savannakhet, and ran into gt-rider Jerome who rides an african twin and lives there.
He told me needed some help in drinking a special brew he had made, made with mostly with red wine, fruit and a few other ingredients that remain a secret. I did the right thing and helped him polish it off. Was a little second hand the next day.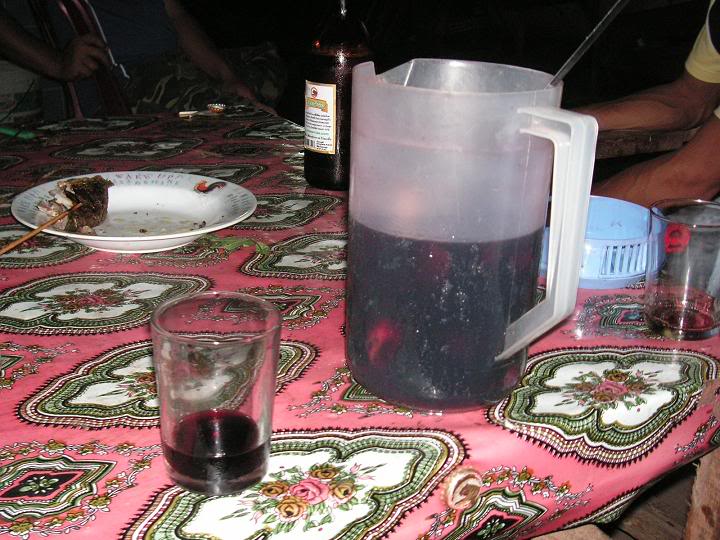 The main bridge that take you east from Salavan.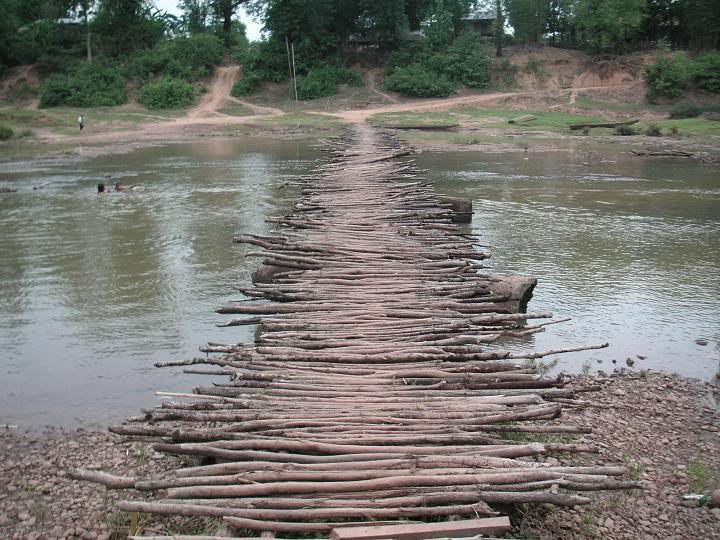 Once over the bridge, the next 40km's is some of the best off roads tracks Ive come across here.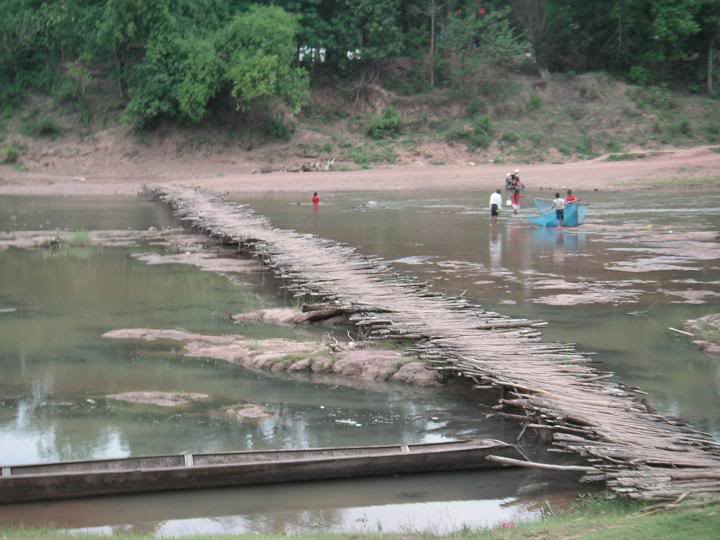 The local market in sekong.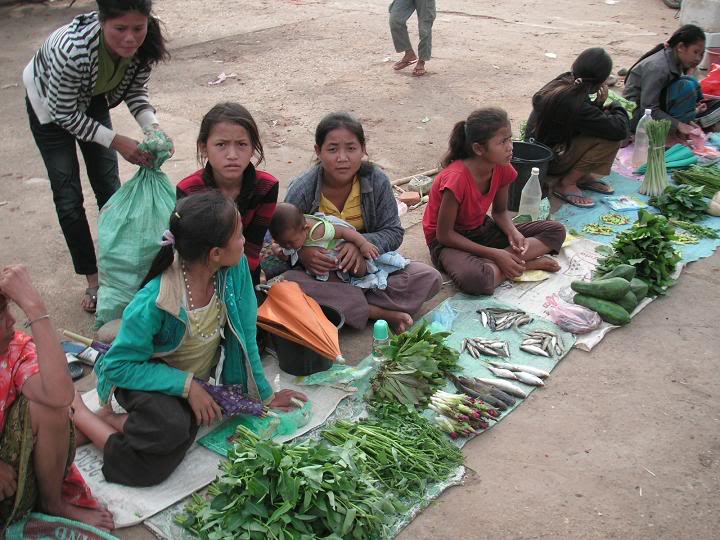 Soon to be heading for the meat department in that market.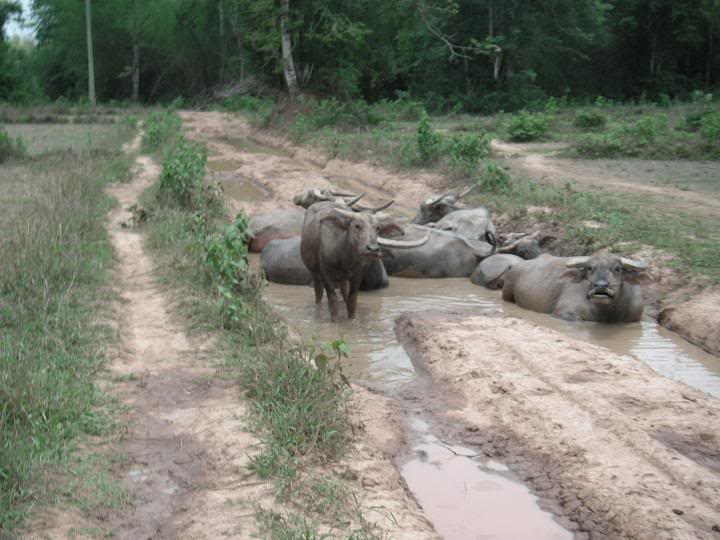 Soviet missile just outside Attapeu.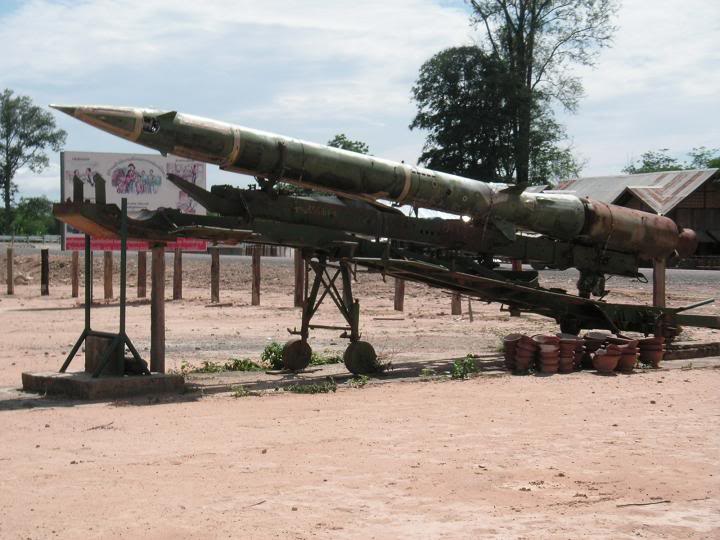 The famous Attapeu to Pathounghone road.
I read and herd lots of stories about this road, and consciences is you don't try it when its been raining.
But I thought Id go have a look anyway, since it was raining, and had been raining for the last 5 days.
Starts out quiet easy.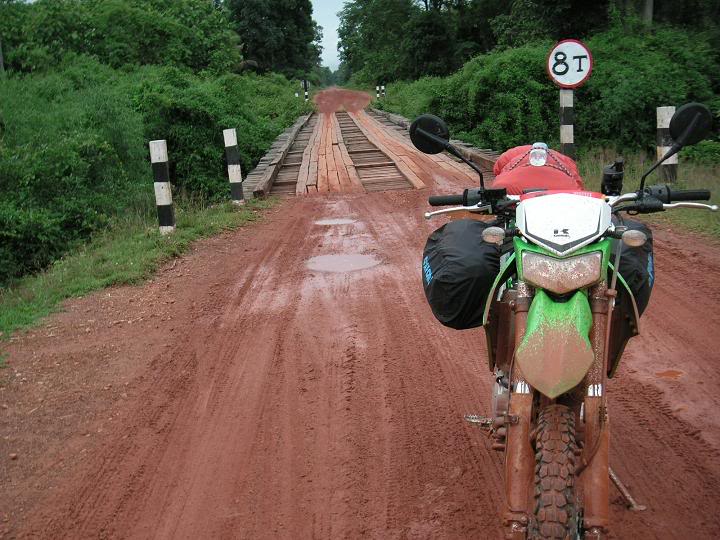 Think it will clear.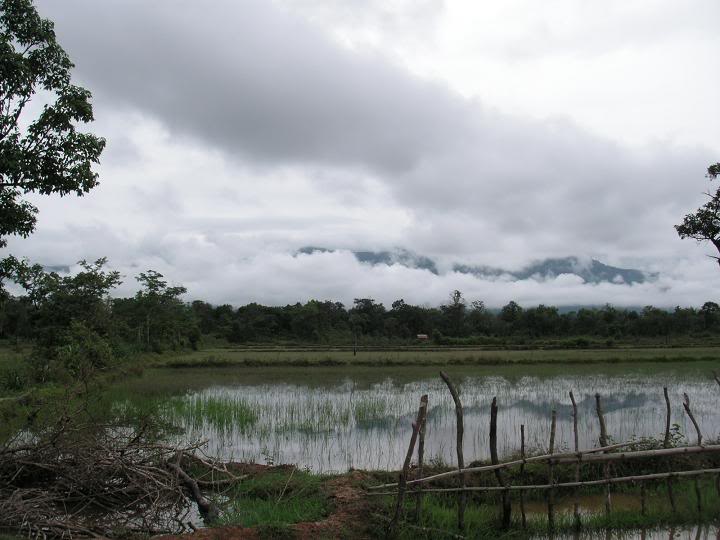 Maybe not.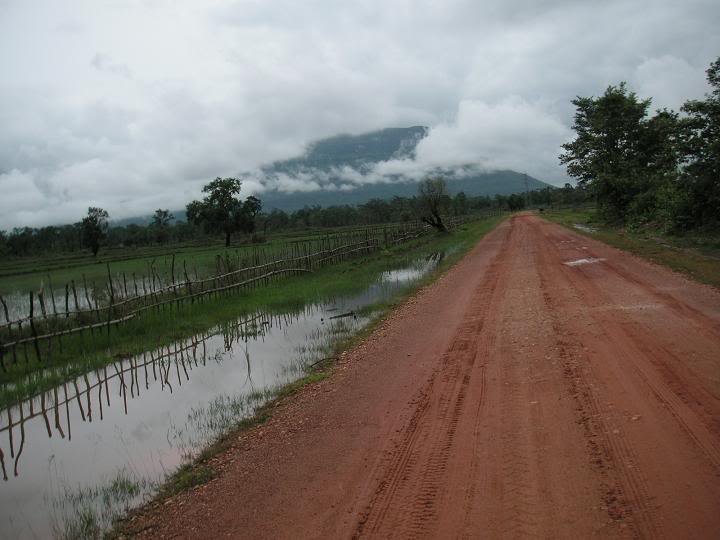 The first river crossing. Note the 4+4 bogged on the other side.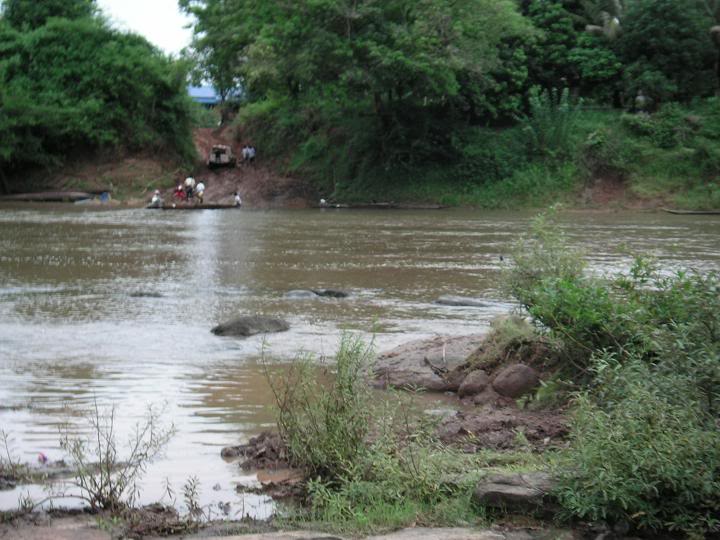 Getting across here was no problem.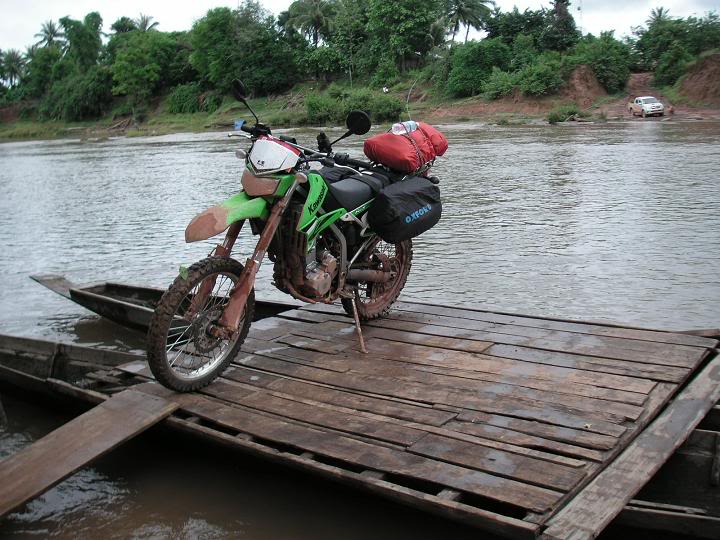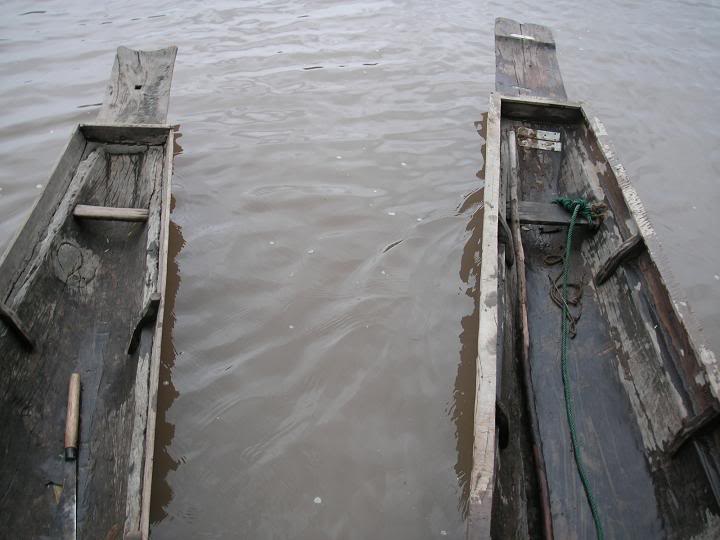 NGO's, making the shareholders of Toyota happy.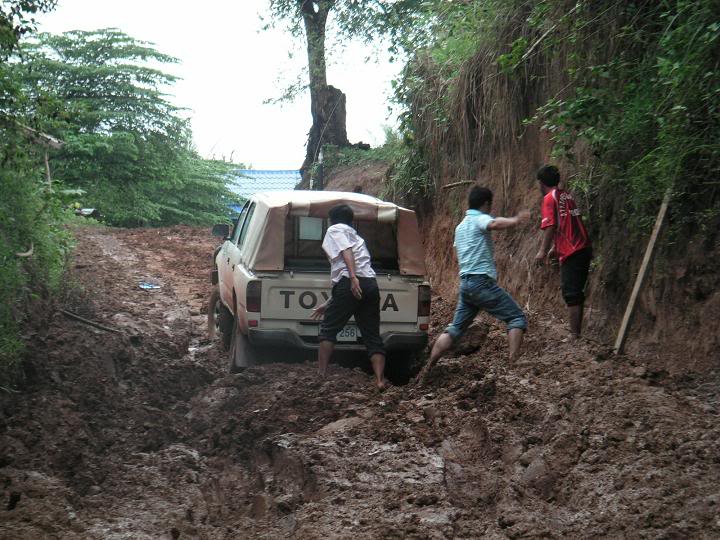 Once over the river, I continued east, for about 8km's, till the track had turned into a river.
Its was also raining quiet heavy, so turned back. Didn't really have any intentions on trying it that day. Just wanted to have a bit of a look.
So when the wet seasons over Ill go back. Its amazing how the conditions change in Laos with just a little rain.
Stopped up the road for some petrol.
Have a look at the girl on the left, god help the guy that marrys her. She's already got the "your been out drinking again" look down pat.
Anyway that was 4 weeks in Laos, from there headed to Korat to get new chain and sprockets at the Kawasaki dealer there.
Then headed to the Cambodian border were Thai customs said I couldn't leave Thailand with my bike. Read more here
https://www.gt-rider.com/thailand-motorc ... t5800.html
And then on the way to the poi pet crossing, I got side tracked again, and now I'm in Koh Chang.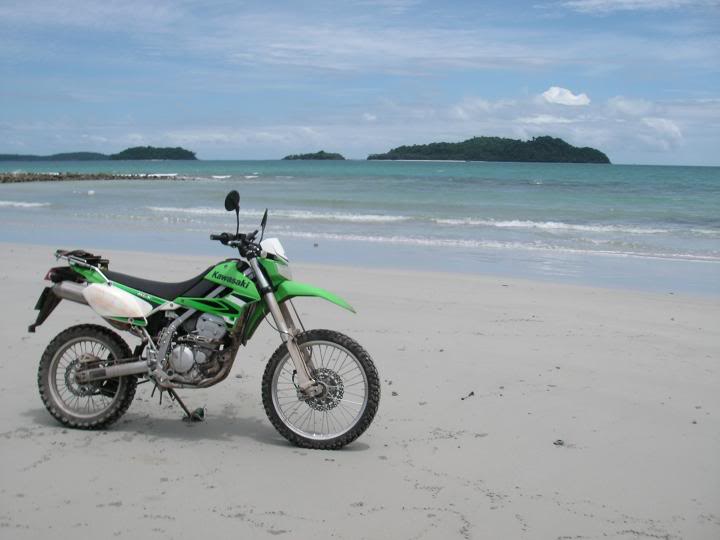 Got a few days to think were to go next.
The way.