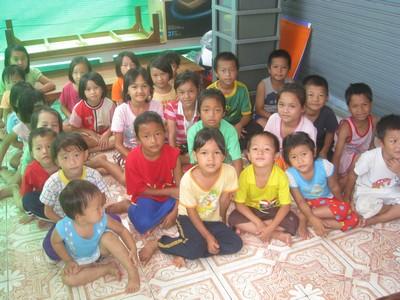 The Chiang Mai ToyRide is having a Give Away Event on June 18, 2011. We will ride from Tesco Lotus (Super Highway), departing at 10:30AM, to an orphans home in Doi Saket.
This home is literally just a house rented with money from individual donations, which houses 35 orphaned Hmong, Lisu and Karen children. Even so. the home is kept neat and clean, and the children are well cared for, as we discovered on a surprise survey visit. Their ages range from 4 years old to 12 years of age.
The Chiang Mai ToyRide has already provided new school shoes so that the children could start the school year without facing the stigma of not having proper shoes to wear. The CMTR has also purchased 10 bunk beds and mattresses, blankets and some wardrobes, which have already been delivered.
On June 18, we will bring toys, games and educational material to the children and have a small party along with our CMTR Clowns. Come and join us. If you wish to contribute additional items or toys for the children, please do. If not, just come along for the fun and to show the children some support and that people do care.
All sizes and types of motorcycles are welcome. If we have enough interest we may do an afternoon ride after the event. This is rain or shine, so meet us in the parking lot of Tesco Lotus near the Super Highway exit area.
If you can confirm that you will attend, it will help us with our preparations. See you there. :wave: