0
Staff member
Subscribed
Jan 16, 2003
14,190
5,161
113
69
The ol AT electrics are still being sorted out & we're off to Hongsa for the Laos Elephant festival in a couple of days, so time for another quick blast to sort out the short circuit, maybe?
DATE: 12 Feb 2007
THE RIDER: David Unk
THE BIKE: The young Africa Twin @ 178,000 kms.
THE WEATHER: Hot dry & sunny
THE WAY: Route 108 Chiang Mai – Chomthong & return.
THE MASTER PLAN: ride with high beam on , hard & fast to get the bike on the edge & shake out any short that still might be in the bike electrics????
I mean there's not much else left to go after a new
1. Fuel Pump
2. Battery
3. Regulator
4. Solenoid
5. New fuses & connectors
6. New main power lead from ignition to the solenoid
7. Hard wiring of the regulator
It's been a long story, & even includes the use of a borrowed regulator from off a "perfect Africa Twin" for a few days, that also turned out to be faulty & it still aint fully sorted, so what's the bloody problem?
Got away from the super about midday & sat on 145 kph down to Chomthong. Perfect & nothing wrong with the bike. Ok, lets cruise a few side streets of Chomthong, GPS a few sois & let the bike get hot to see if something packs it in. Proceeded to do so, nothing happened with the electrics, AND I spotted a new sign for an waterfall, unknown to me: Mae Tai / Tia / Thea (depending on which sign you were looking at.)
I could not resist so off it was……..and wow, what a wonderful little rural back road ride this one is.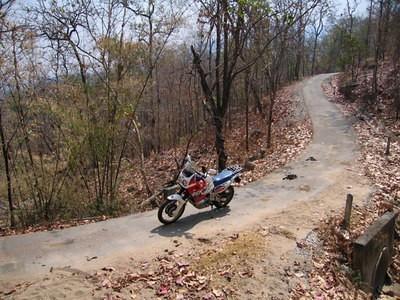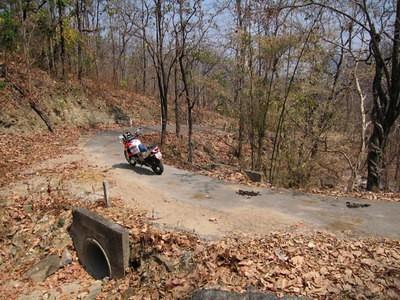 It heads W-S-W of Chomthong, & if you can follow the
confusing
signs &
confusing
village intersections, you'll end up going past a new Wat
Wat Arsom Prom Thada,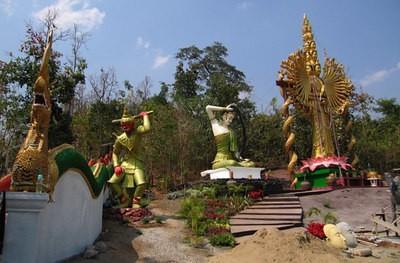 which looks a bit weird to me,
and entering Ob Luang National Park (& I thought I was going into Doi Inthanon National Park.)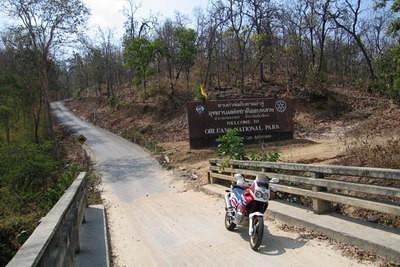 No stopping at the gate, just waved straight through & continue down a steep narrow hilly winding asphalt road. Eventually you end up in the Mae Thea waterfall car park & there off in the distance is the Mae Thea / Tia / Tai? Waterfall.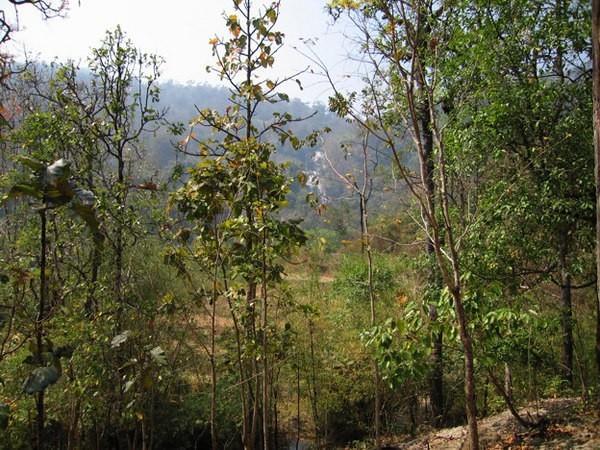 (Yeah the waterfall's way off in the distance & I was not going to walk there in the heat.)
Now the countryside is dry dry dry, but this waterfall is still flowing so I assume it's pretty awesome in the wet. Also the road there follows the Mae Tia stream & there are numerous dry waterfalls en route, and that's enough to make me go back for another look once the rain starts to come.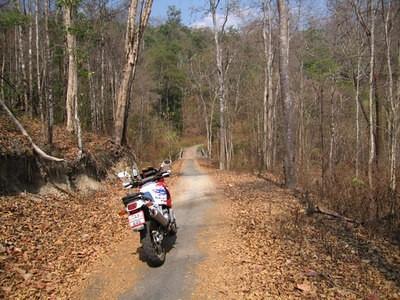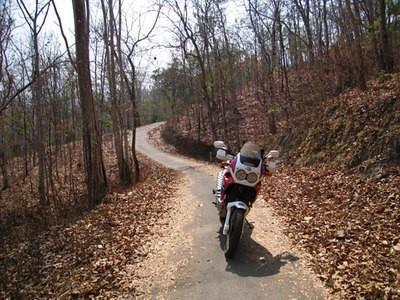 And what was even more interesting was that at the 2nd Nat park gate, closest to the waterfall there is a well used dirt road / trail, that goes off to the right / east-north-east, that I suspect is the "missing link' dirt road from Doi Pha Tang look out to Huai Som Poi (you'll have to look at the new MHS Loop map). And this baby is well worth checking out for all you dirt road adventurers, plus you'll have one on me if you're quick.