I got fed up with the discount shouting girls, loud speakers, windows at Central Plaza where we had shopped for the ostensible necessities of life. I had to go for a quickie. My Permanent Pillion is afraid of my quickies. Rode on 107 direction Mae Taeng, somewhere turning East off on one of the narrow side roads. Crisscrossed slowly down to 1001 enjoying the tranquil view of rice paddies, peasants planting rice. Hard to imagine that one is so close to the second largest city in Thailand. Crossing 1001 going further East, running parallel is a small but perfectly tared road close to Royal Chiang Mai Golf Court. A bit further North easily spotted on a hill is a picturesque temple.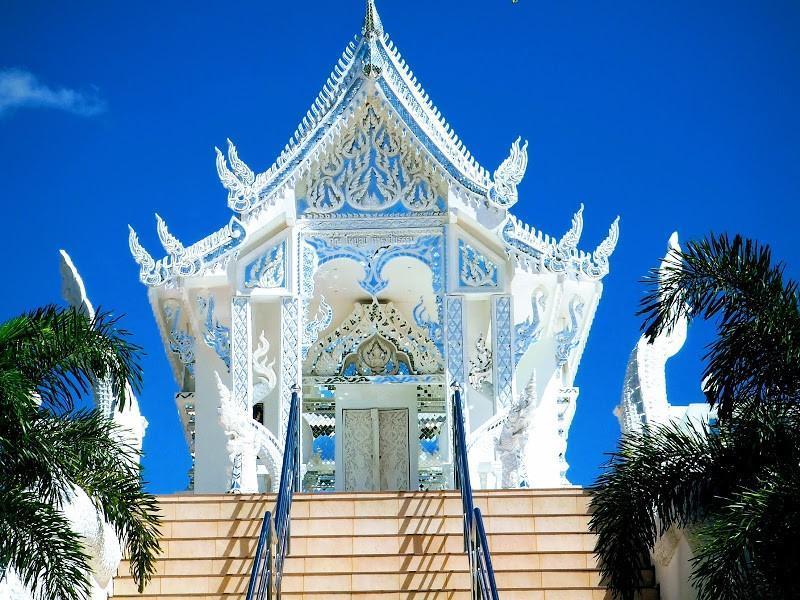 Went up, very photogenic view over the valley looking West to the mountain rim of Samoeng. On top a free standing beautiful white BOT with mirror glass filigree inlays giving the illusion of transparency of the walls, melting with the sky. For the first time I saw working monks, stonemasons, craftsmen doing welding. Instead of chants a portable radio was blaring mundane, profane music. Whatever helps to finish a great Buddha statute.
Once I start roaming I can't stop. Can go on for ever, always slow pace. Admiring these enormous big trees or the wide paddy fields. Even the tiny BANs however monotonous, all looking samesame, no individuality have their charm. At least they don't bore me, yet. Very clean, no plastic, different from Isaan.
Crossed back westwards over the 1001 staying on small roads, no traffic at all, direction North. Reached the dam at Cho Lae , riding to Ban Pao. Stayed parallel to 107 on tiny roads until Mae Tang. Turned into the small road leading along the Mae Taeng river to Keut Chang. Heading South to Ban Chang is an even smaller road, no traffic at all. It leads through a very charming valley. Charming in the sense it seems somehow like a doll's garden. Small mountain rims very close by. And very small fields with a vast variety of plants. A little garden Eden. Somehow Rural Rd 4020 hits 107 and happily exhausted we dash home.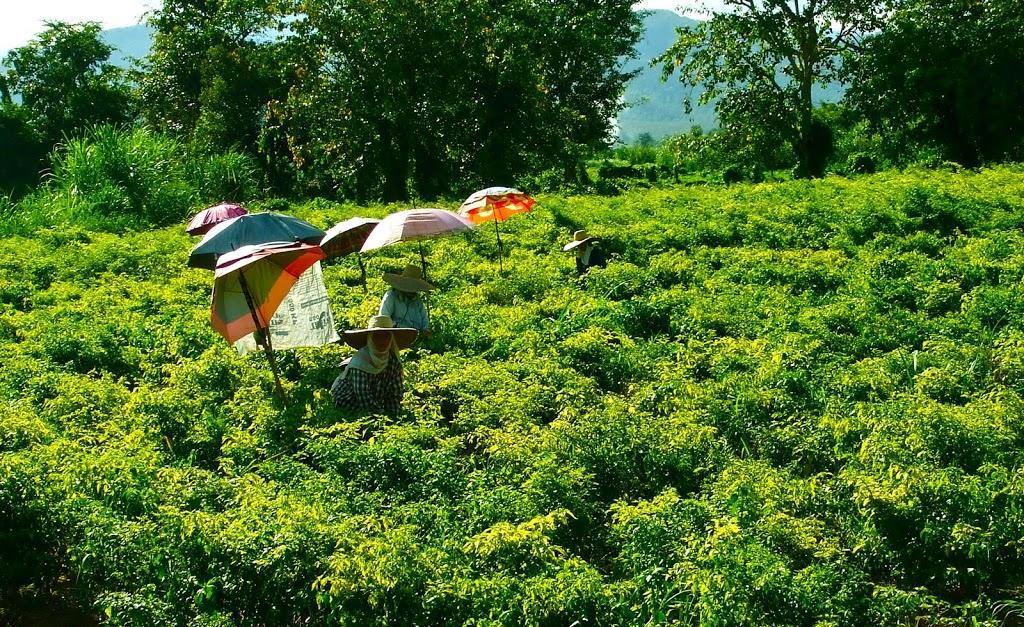 Km ? No idea, never record them. Time? Several hours.
Why roam......... when beauty is so close........... to MY bed.. where I will be dreaming about big roaming adventures.
Pico