Nothing too complicated on the 107 to Chiang Dao and the 1178-1322-1178-1340-1249 is well covered. What I did find excellent was the 1149 loop out of Mae Sai.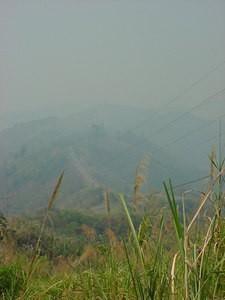 The fires were in full force around the little mountain stretch of the Myanmar outpost and lots of Thais were taking photos of the place burning up a kilometer down the way. I turned back onto the 1, then 1016. Nothing major here either.
1271 - 1098 - 1174 - 152 - 1214 - back to Chiang Rai was also easy with little problems.
Out of Chiang Rai on the 1020 to 1128 - 1126 - 1021 - 1148 link was a little hectic and smaller than most 1000 series roads for me. 1148 was very killer and again, loads of fires. I will post a pic of a fire about 15 km from Thung Chang that was massive and made it look like night during mid day.
The 1097 connection across to 1080 was swiss cheese holed all the way, very narrow. There were few good sections on this and all hairpins were in shambles. 1080 to Pua was excellent and fast.
Pua out over 1256, then up 1081 is well covered by HelenK and BobS and the condition of 1081 north from Bo Kluea to Chaloem Phra Kiat had only about 12 kms of good road almost at the end. It looks like there is some serious cracking on the road that I've seen before in VN and come rainy season here, caution is advised. One crack was all the way to the east lane shoulder and swooped back in a nice indent along the western side. Pretty much downhill on both sides where it was. One thing about 1256 - it was cool, the temp drop was refreshing. THe 1080 Down to Nan was fast and hot, most likely took a lot of rubber off the tires.
Nan out. 1169 up to 1225 was fine(ish) and 1243 down was also a bit ok. It did get a little grainy and slotted from time to time. I missed a Border Police man waving at me to stop, thought it was hello. The gate was up and I cruised thru. The road turned to some descent off roading for about 20kms and was way, way hot there. There are lots of rain drainway slots on the road and was a little more tricky on the Trans Alp than the 250 Degree. Hooking back up with paved roads, I was stopped by the Border Police and filled in my passport, number plate, route and misc details. Was given smokes and cakes all the while and it was not a bad stop indeed. The connect to 1268 was good and the road was hot and speed was not a big deal. Good sweeping turns in some places and a good spot to stop for a rest is Phu Soi Waterfall/National Park HQ. The rest of 1268 was fine and in some spots a little rough but manageable. Moving onto 2113 was a high speed run over to 2013 - 203 direct into Loei.
Left Nan at 10:00, arrived Loei 18:30. Fueled in Nan and again at Na Haeo (32 B/Liter)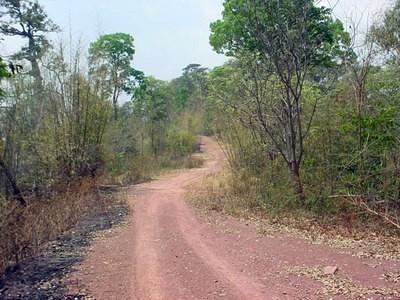 I do have a bitch and compliment about the Dhevaraj hotel in Nan. Rooms above the Kareoke are useless and I was moved across the courtyard to 221. At 02:00 a major cleaning went on with high pressure hoses, vaccums, 200 odd people and lots of noise. I also had difficulty checking in. I started with one man who for some reason left. The second man quoted me prices 200 B higher than the first man, he left, the first man came back, quoted prices even higher and then a woman came out and quoted the first man's original price. I was pretty comfused and it showed. They ended up giving me an AC room for 400 minus breakfast. On the hugely plus side - this place has the best water pressure anywhere in Asia. The shower is a Total Blaster and was worth every baht.
Ride Safe