Well, we all have a different idea of what makes a road wonderful and when people talk about the best roads/routes in Northern Thailand there are popular ones that spring to mind (such as Nan, Mae Hong Son Loop, The Golden Triangle). All are fantastic of course! But personally I love the quieter, rugged rural roads. The ones that surprise and sometimes shock. …and (based on my bike – a Kawasaki Dtracker 250cc and my love of tight technical twisties), this particular road is right up there as one of my top 10 of the most exciting roads to ride in the North! The route I took was in total a 585 km day ride…but the section that is one of the best roads in the north is just a mere 50 kilometres!
​
:
Paved and mostly smooth, but some broken up / pothole sections
The Ride:
GOOGLE MAP ROUTE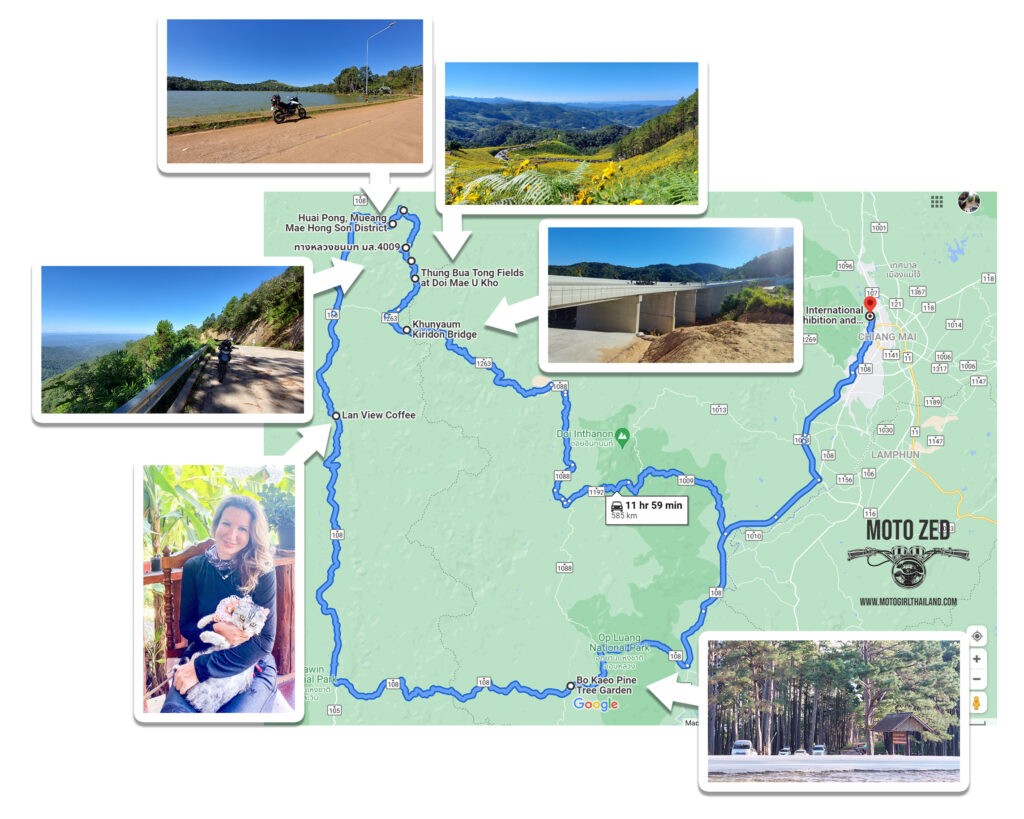 The ride out. I set off at first light on the R3035/R1009 to Doi Inthanon National Park and then continued along the fab Mae Chaem/Khun Yuam route. The weather was perfect and the views fantastic. There were only a few other drivers and riders on the road at this time, so it was a nice quiet ride. One Thai rider who was heading in the same direction intermittently stopped to take photographs, same as me. We nodded or waved to each other whenever we passed each other by. It is always a nice feeling. We riders have each other's backs.
​

As I came closer to the R1263- R4009 turn-off, the new and huge สะพานกิ่วลม (สะพาน ขุนยวมคีรีดล) / Kiridon Bridge lay before me. It was quite a spectacular sight! The bridge was constructed fairly quickly and apparently cost a whopping 70 million baht. It spans over 160 meters in length and is 13 meters wide but as for height, I am as yet unsure. The new bridge provides a safer and wider section on the R1263 Khun Yuam road, which has seen ongoing improvements over the years (but intermittently has issues with deteriorating road conditions). The current condition is good, with a few potholes here and there. (Which is dramatically different from the treacherous condition it once was 10 years ago – which is when I had my bad accident) . It was interesting to see the bridge being used as a landmark photo op by both cars and moto riders. Lots of happy cheery faces. I imagine the bridge area will soon see cafe's and eateries pop up over the coming year.
Kiridon Bridge:

​
I enjoyed the view for a while then headed back on the R1263 for a short 6-kilometre stretch, then took a right turn onto the start of the fabulous R4009.
​

This route starts off fairly tame. Soft undulating curves, slow traffic and a few herds of cows here and there.
You certainly have to keep an eye out for the unexpected on these kinds of routes, that's for sure!

With it being a weekend ride (a Sunday) and with the Mexican Sunflowers in full bloom, I knew to expect some traffic at the start of the route, but I also knew it would likely thin out the further up the R4009 I went. Most people only ride or drive on this route to visit the sunflowers then head back onto the main route. This being the main famous gem on the R4009.

I decided to ride straight to the viewpoint rather than stop off anywhere, and there was a fair bit of traffic to get past on the way.
​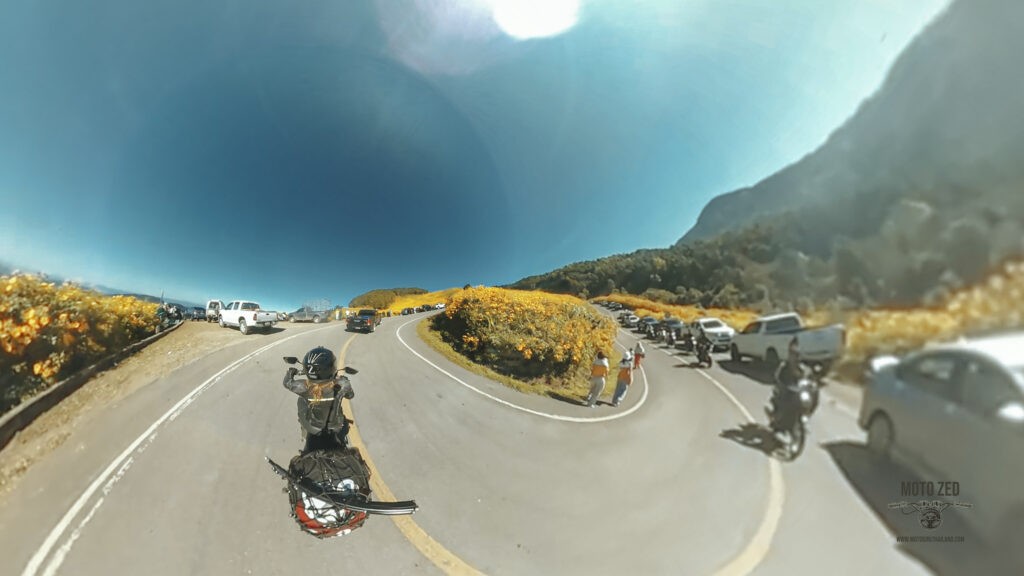 Despite the traffic and crowds, the view was incredible and I walked a little further up the mountain to escape from the main crowds.

The following video shows the epic views as well as the initial traffic.
I was able to get a few nice shots and a couple of unusual perspective shots too.
​
After my fill of sunflowers (and crowds), I got back on my bike and rode to Posaho Cafe, a gem of a Hilltribe roadside bamboo cafe that normally serves excellent local fresh brewed coffee. The cafe was built as a way of helping the local village and also to give young students an opportunity to interact with visitors. On this occasion though (I imagine due to Covid), there were no children helping and the only coffee available was pre-made. So not as much of a little gem without the kiddies, it was still a welcome stop away from the crowds.
How the cafe looked on this ride: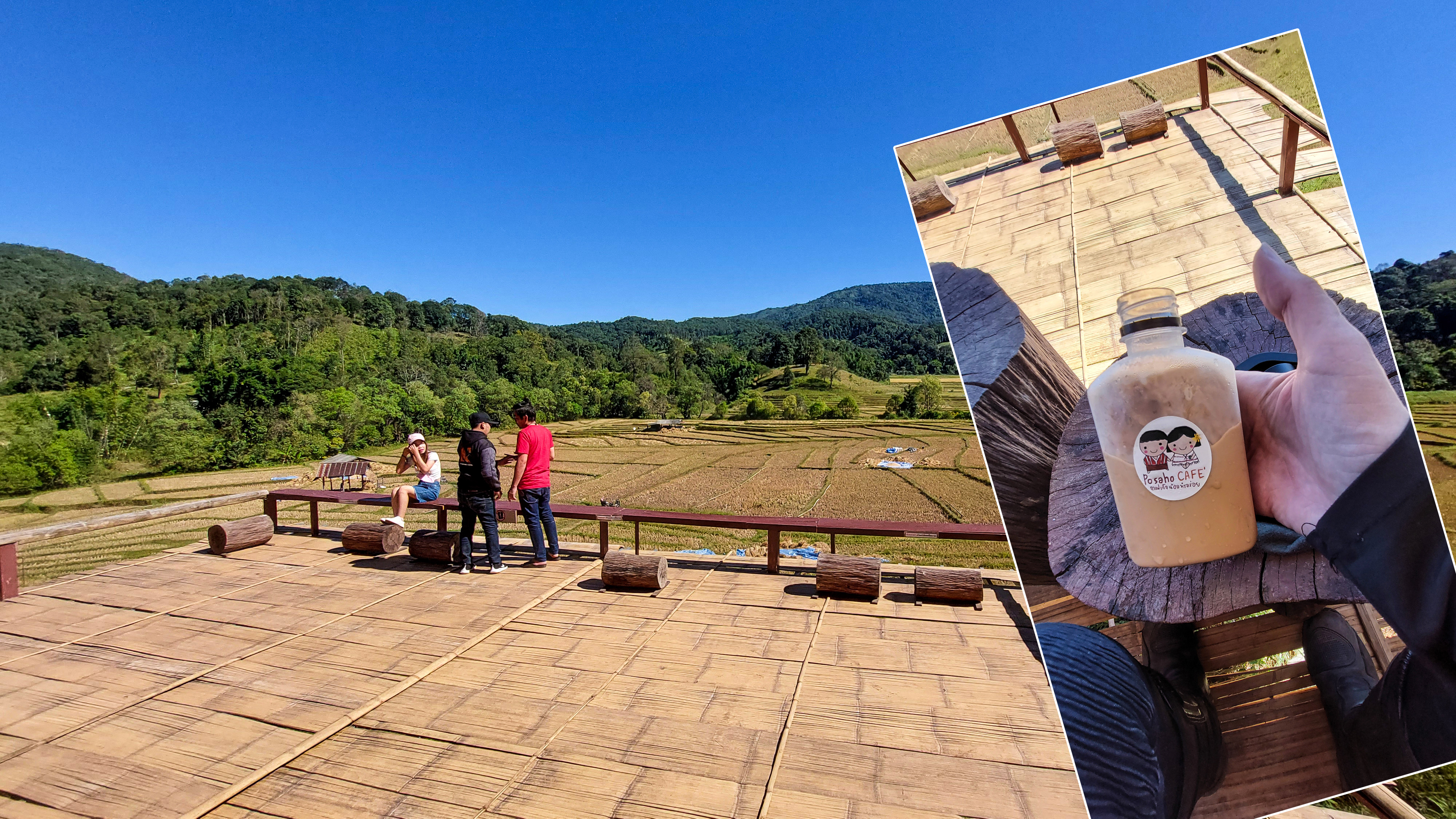 How the cafe looked on a previous ride:

​
Whilst I was at the cafe I asked a local man where the nearest fuel station or pump was or if there were any small shops selling some out of bottles. I had forgotten to fuel up before the sunflower fields and didn't want to backtrack. He told me that there were no other fuel stations on the route except for one further back. I hate backtracking, so took a moment to consider how much fuel I likely had in my bike (I have no fuel gauge, so have to set a kilometre timer each time I fuel up) and how many kilometres I had left to ride on this route before it popped out on the main R108. The route still had about 37 kilometres to go and I likely had about 30 kilometres of fuel left in the bike. Given that it was a mountain route I decided to wing it. I could always just freewheel down part of the route if it came to it.

Lucky me though, because just a little further along I came across this rural fuel pump station owned by a lovely lady with a sparkling smile. It turned out to actually be the highlight of this whole ride in fact because she was so warm and friendly and interested in what I was doing. She asked to take my photo and I asked to take hers. She wanted my photo because she was impressed that I was a woman riding on my own (and I asked her to take this one of me too), and I wanted her photo because I was impressed that she was a woman running a small rural shop with a baby attached to her hip! A shared moment between two women, with totally different lives. I love moments like this and feel very lucky. I also took a short video. The expression on the face of her baby is priceless, haha!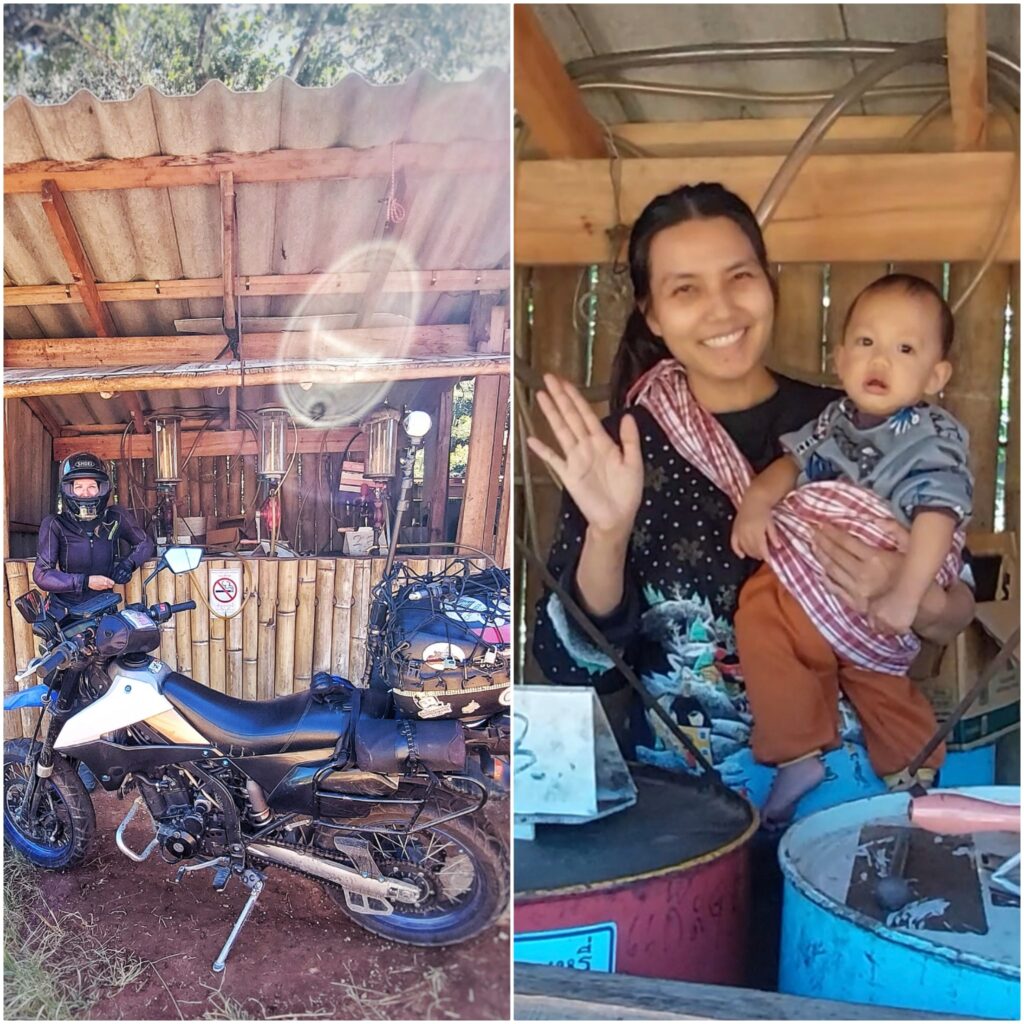 (Please note…I am acutely aware of opportunities I have been given due to where I was born, which has provided me with more choices in the paths I can take. She seemed very happy and tranquil in her own path though and I certainly would never think my life is in some way superior! I mentioned this purely because I don't wish backlash for painting what may seem like a chocolate box picture of life
I am always aware of this aspect
)
After the lovely exchange was over I continued along my merry way, enjoying the fantastic tight twists of this fabulous route. My first short stop was at pretty Hua Pong Lake. Yet another fab gem on the R4009!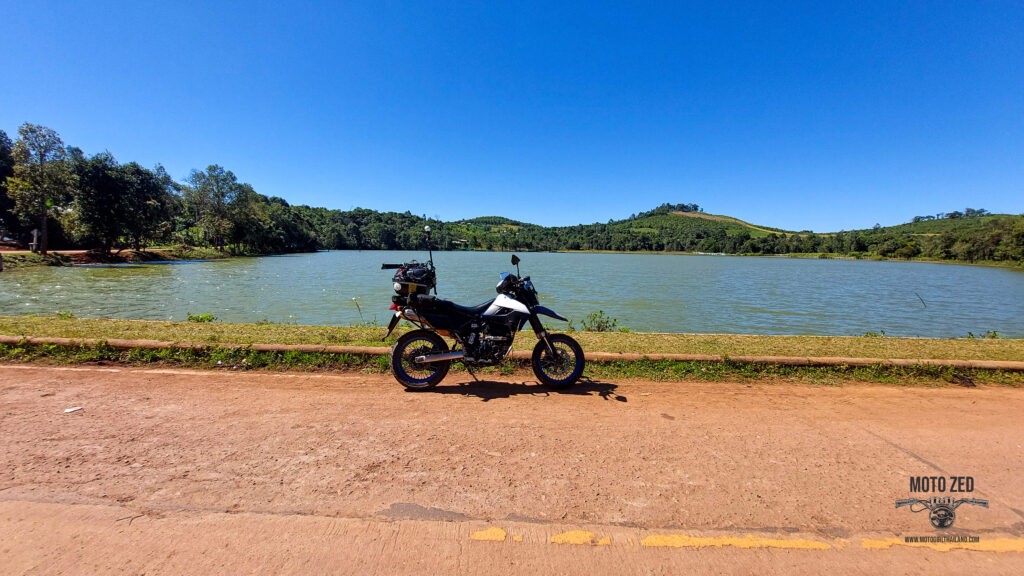 Another gem! The next fab stop is not far from the lake, at a stunning viewpoint. This is when the route takes a fabulous helter-skelter twisty turn with one tight twist after another after another ..after another! This gem of a route just gets better and better!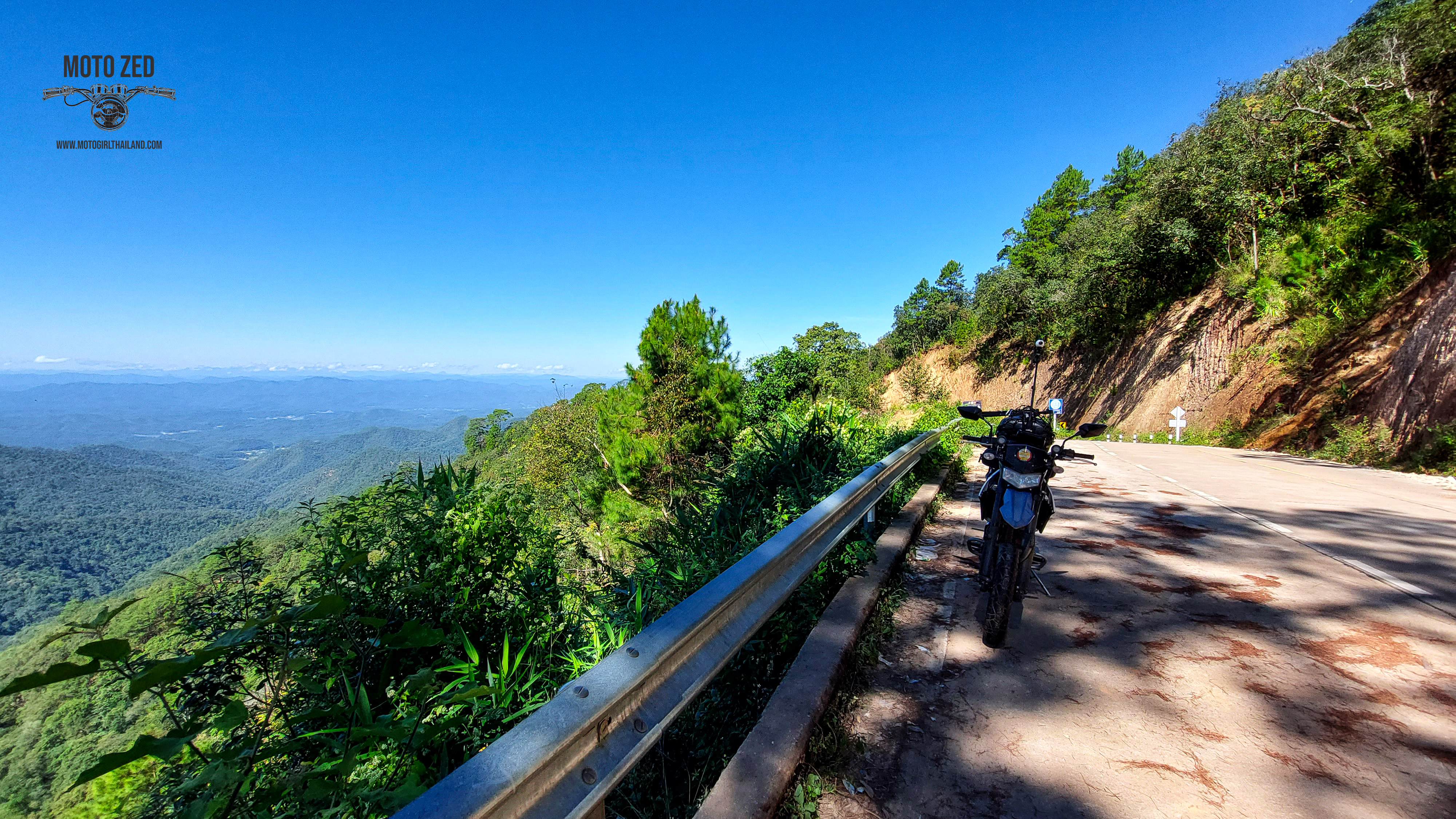 ​
Check out the video below to try see how twisty the route is, although sadly the video really doesn't show how steep and tight it is, so may seem a bit of an anti-climax. At times like this I wish I had a drone.






All too soon I popped out on the main R108, and I really needed to get more fuel. Once again I decided to wing it instead of heading further out of my way, but that did mean I had to grab a quick bottle of fuel at a local roadside store. The owner was a lot more grumpy than the lovely Hilltribe lady and the cost was higher too. Eh, but no matter!



When I reached the town of Khun Yuam I fuelled up at a proper garage then headed south to Mae Sariang. Within about 30 minutes of riding the R108 I was full of regrets about choosing this route and wished I was back on the small gem route. I had forgotten how long and tedious the route was (at least for me on my 250cc motorcycle). It was one predictable curve after another with lots of long straight stretches. Not my cup of tea at all! Talking of tea. I wanted one. So when Lan View Coffee came into view, I pulled over and stopped for a cold drink. Glad I did too because I made a new friend!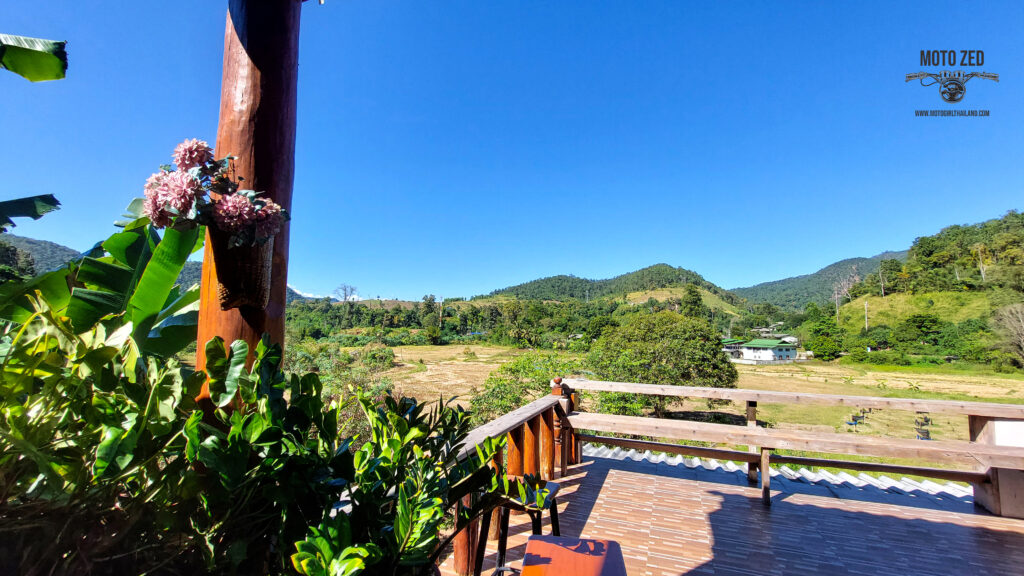 ​
Photo from Lan View Coffee Facebook Page. Thanks to the lovely girl who works there!

​

After spending quite a bit of time with the kitty I decided to just pull my bored big girl pants up and gun the remaining 264 kilometres home. I rarely stopped for the rest of this ride back in fact. Stopping only briefly for a strange sight (and which almost caused a traffic accident because it was initially in the middle of the road!)




Later on, I stopped at Bo Kaeo Pine Tree Garden for a bite to eat (not very nice snack food, to be honest, but I was hot, hungry and tired).
​


After Bo Kaeo it was 148 km riding to reach home. I got into Chiang Mai city during heavy traffic, stopping at multiple red lights and feeling quite frustrated by this point, itching to get home. It never does feel that great to end a ride with city traffic, but that's the way the cookie crumbles sometimes. I am still grateful to have all this glorious scenery not far from home!


I have more details and a full guide to the Bua Tong Fields actually, which shows what else you can see and do in the area (including camping overnight in the national park). Hope you enjoyed this trip report on a fairly unknown small gem of a route.


Here is a
previous trip
report on GT.Rider when friends and I rode the 4009 back from the GT.Rider Memorial Ride.
I know some of you will have ridden it. There is also this
trip report from Ian
from back in 2016
​