Administrator
Staff member
Jan 16, 2003
12,483
2,903
113
67
Gents
Sad news, 3 days ago cruising up R107 to Fang (en route to Thoed Thai) I came across an accident scene. The police & "body-snatchers" rescue vehicle were just preparing to leave.
As I slowly went past observing the scene I noticed a smashed up D-Tracker in the back of the police pick-up.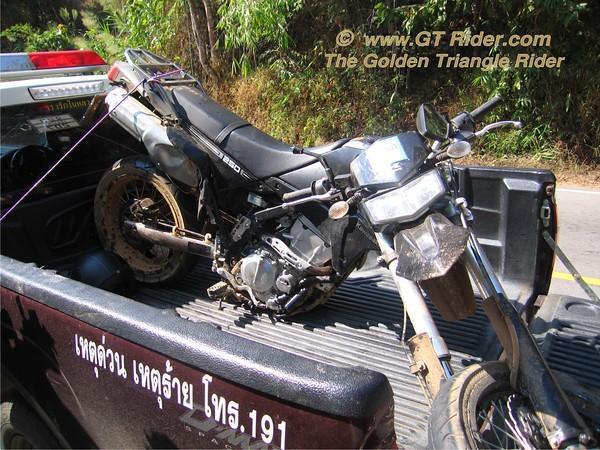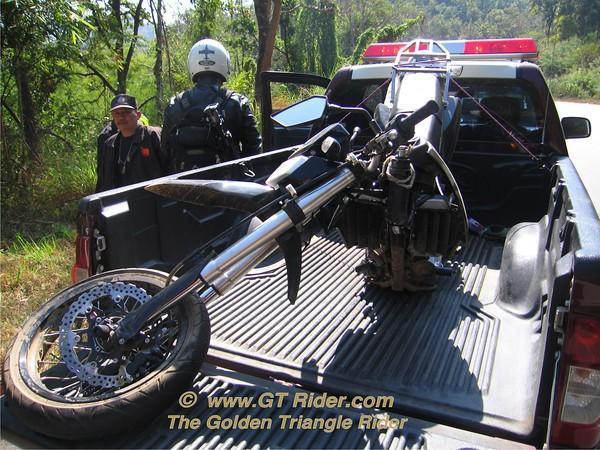 Oops, 95% chance it's a farang I thought, so I immediately did a U-turn & rode back to ask the police if it was a farang rider & could I help.
Yes was the reply.
Where is he – in the vehicle in front.
Is he ok?
No. He's dead.
Do you know who he is?
No, we don't know.
Ok, please let me have a look I might know him.
The white body bag is unzipped & I take a look at the face. He looks calm, but bloody & fortunately not someone I knew.
I ask the police for his wallet / passport & they hand me over a bag with some possessions. I rummage through looking for a rental contract for a bike shop, but I find the bike ownership papers & his passport.
The bike belongs to a Thai lady in Phan. There's an address & phone number. Plus we have an ID on the unlucky guy. The policeman says thank you & pulls out his phone to make the call.
I slowly walk off & remount my trusty Africa Twin & head North with the Citylife magazine guys following.
My condolences to the friends & relatives of the unlucky rider.
On my return today I checked in with the police at Chiang Dao & his next of kin & embassy have been notified.
RIP: Herbet Eddy Lust. Aged 55 from Belgium.
You probably went out doing what you enjoyed – riding your bike.
Gents a reminder – riding by yourself, please make sure you always carry a card with some personal details & a contact should you be involved in an accident / emergency situation.
Re the accident the rider was involved in a collision with an oncoming vehicle. Who was overtaking "incorrectly" I don't know. And there's no need to speculate; the police in Chiang Dao have the details.
What I do know is that the victim was wearing a cheap pudding basin type helmet. So I'd like to remind you to wear a good one, it could well save your life in a nasty accident situation.