Daewoo's 07 Trip – Ride Report 4 –Pai to Mae Hong Son
DIRTY STINKIN ISRAELI BACKPACKER SCUM… cough cough cough…
Anyways…
After what would be the best sleep of my entire trip, I was still up at an early hour…
Sh…. Sh.. Sh… and I went out to the communal area to look through the excellent MHS Loop map that I had bought in Kafe for a bargain price of 175 baht four days earlier…
I made John and Elle a cuppa tea (love) (with Elle's help of course)… apparently John had already been to the toilet, so things were fine there…
The plan for the day was a slow trip to Mae Hong Son… the next day would be the sunflowers and overnight at Mae Chaem… and the following day back to Chiang Mai…
Breakfast across the road from the Pai Motocross Shop, typical American breakfast, back to the bikes and we were on the road…
As we were leaving town we stopped to fill up, and discovered that the map John could see in my bag, wasn't the aforementioned excellent MHS Loop map, but some other piece of crap… It seemed I had left mine on the table at the guesthouse, so we hightailed it back into town... only to find it gone… most likely pilfered by the low like dirty stinkin Israeli backpacker scum who had overnighted in the guesthouse and moved on… oh well, John had his older unlaminated one, and I bought another when I got back to CM… Davidfl must love me…
We had run into Rhodie the day before just as we arrived in Pai, but he had chosen to keep on trucking to Mae Hong Son, so we were now a day behind him… the phone call this morning told us to keep our eyes out for a group of big bikes with English (language) numberplates heading our way…
The pace was to be leisurely with plenty of stops for viewpoints, waterfalls and photos as straight up, it is only just over 100km to MHS…
First stop was up the hill out of Pai to the Chinese Village (Santichum?) and then the Mo Paeng Waterfall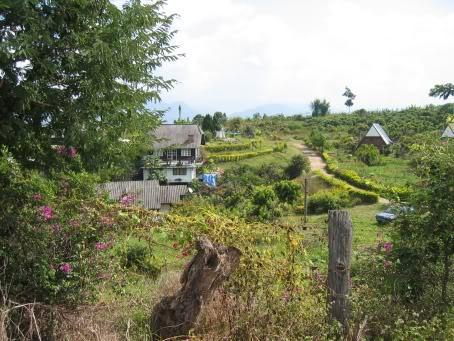 I liked this house, because it looked a little bit Scandinavian and totally out of place…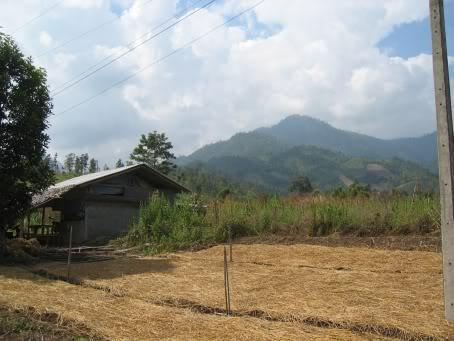 Thai style on the other side of the road.
We rejoined the 1095 just northwest of Pai and started through the bends towards Soppong…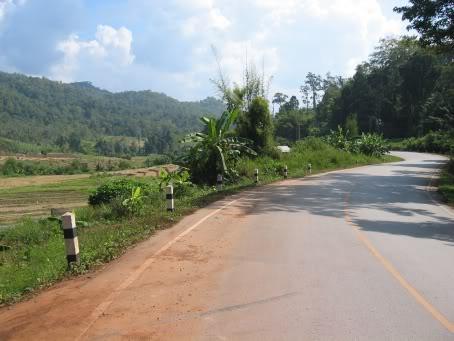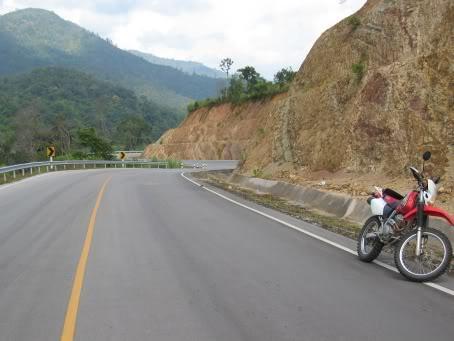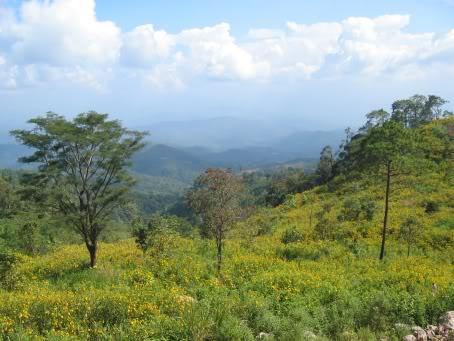 More road shots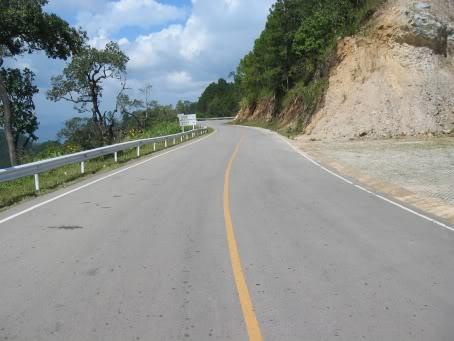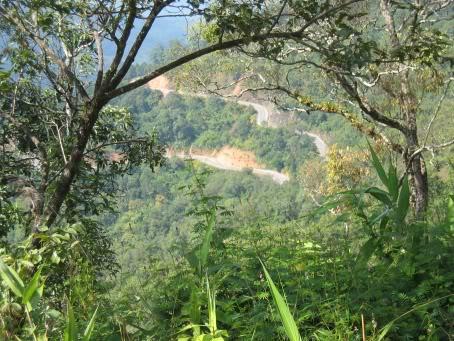 the road below from the Kui Lom Viewpoint
At Soppong we stopped for lunch… the waitress was doing her 3rd speciality in Law at North Chiang Mai University, told Elle that she wanted a farrang boyfriend, but was of course too shy to speak to John or I… we did put in a good word for you tho B&T !!!
…
After lunch, it was time to ask John about his lavatorial requirements again, and we were off… this section had about 1km or less of serious road works, but other than that, typically gorgeous roads and scenery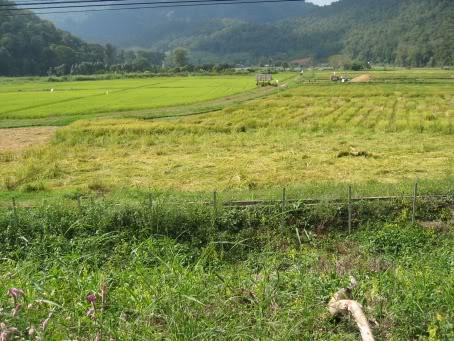 John of course sees these sorts of views all the time, and is much harder to impress than I… and I wanted to get a lot of shots of the roads to make everyone back home jealous… I would stop to take the photos when john noticed me missing in his mirror; he would slow down a bit… I would snap off a few shots, fire up, and play catch up as fast as the footpegs would allow
… John had the lovely Miss Elle on the back, so his pace was always quite leisurely, so this was my chance to really get the blood pumping, and might explain why I ended up with a couple of hundred photos
;
At the Pangma Pha Viewpoint we stopped for the mandatory photo with the sign saying something like '1548 bends to go'…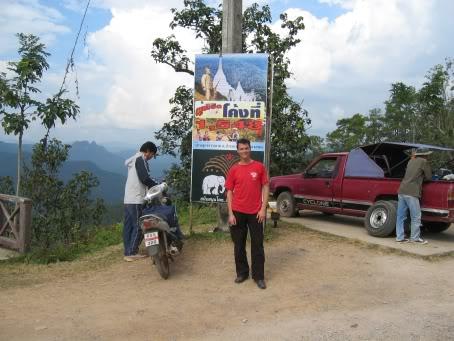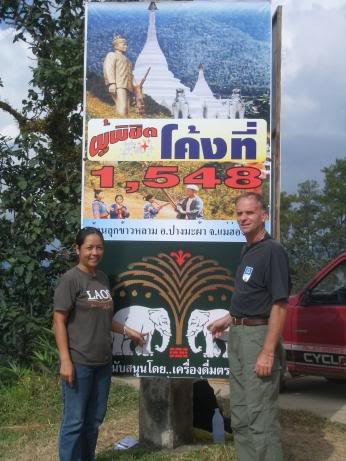 After the photoshoot, TJ was to ride back down the road, and I was to photograph him riding back past all of the Hilltribe women manning their stalls across the road… John fired the bike up, it moved 6 inches, and died… no power what-so-ever… dead, nothing, naught, nothing…
We started stripping the bike down, when the group of big bikes that Rhodie mentioned arrived at the viewpoint… as TJ and I are working away, one of the riders comes over and says "John?"…
It was none other than the soon to be infamous Joko, and his group from Malaysia… as you can imagine, TJ was a little flustered at this moment, but soon Joko had called over the guy who had done the outstanding job restoring his Africa Twin for him… and finally we had someone who knew what they were doing on the job…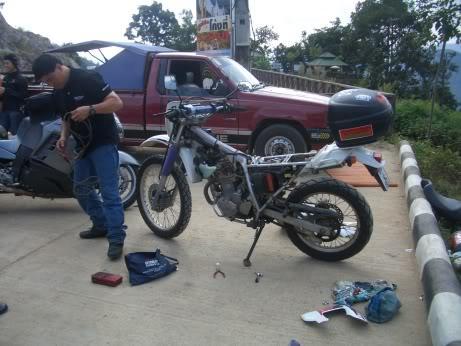 someone who knows what they are doing working on TJ's bike
Joko's mate pulled his (brothers) 1 week old 1400 Kawasaki apart to get to the battery to give john a jumpstart… checked everything out, and diagnosed that either the battery of the regulator had cacked itself…
After a bit of a chat, and discussion about what to do (head on to MHS or back to Soppong) Joko and his crew on their shinny new bikes headed off… TJ and I put the bike back together, bump started it, skipped the hilltribe photo, and we were on our way towards MHS… (I chose not to ask John about the toilet, because I remembered some strange saying about camels, something to do with straw and backs)…
Joko's mate had said that if it was just the battery, we would be fine, but if it was the regulator, it would fail, maybe as soon as a couple of kms… TJ took off at a bit higher pace than before… this time when I stopped to take a photo, 15km of flat out ridding and I didn't catch him until he stopped in MHS to find a new battery…
The first shop we tried had a battery, but we didn't know if it would fit, so again, we stripped the bike down on the side of the road… it didn't fit… Then Elle and TJ took off on my bike, with Elle holding the battery, to try and find one that would fit… They found a big shop on the Southern side of town, that had two batteries… one bigger than TJ's and one smaller (of course)… so we put the bike back together, bump started it again, and all headed to the workshop to fit a battery…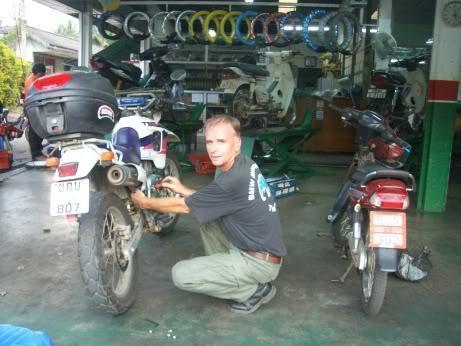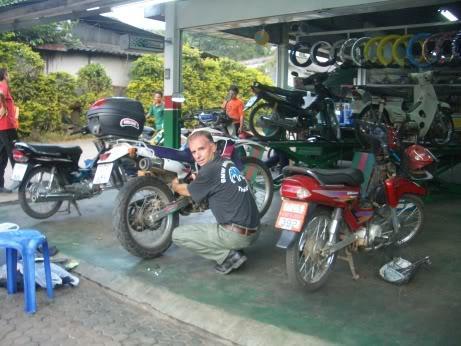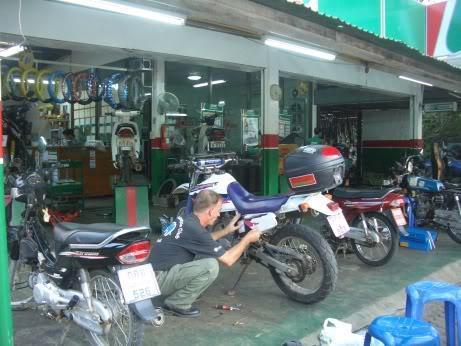 The smaller one fitted, TJ was happy, and we headed off to find the guesthouse…
Everyone had we stay at 'The Palm' but it wasn't on our older map… (remember the stinking backpackers)… so we went to the second option, Johnny Guesthouse as recommended by Captain Slash (in an earlier report)… of course no one wants to be the one to say (in front of the reception girl) this is crap, lets try somewhere else, so no one did… it was crap, try somewhere else…
They do have some new concrete rooms (may have their own bathroom, I don't know), but the wooden rooms suffered from mosquitoes, not helped by the water feature based garden, and dark side of the mountain location…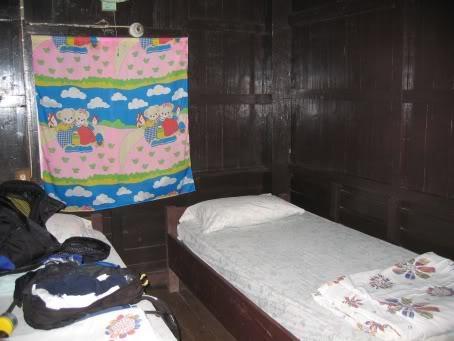 after a brief freshen up, we headed into town for the market and some food… interestingly there was a bit of rain, and then a blackout for about 30 minutes, which was a bit spooky until everyone had their candles lit… after that it was actually quite nice… Then it p!55ed down… bucket loads…
We took refuge in a bar, with a name, I forget… ate and (I) drank and chatted to the Norwegian barfly, who helped serve because the cook was working somewhere else, and the waitress just got promoted to cook…
The food was good, the beer was cold, and he was an interesting guy… about to become of father, without front teeth… he was writing a report for the local council to help them steer MHS tourist industry without it becoming another Pai… interestingly he hoped to get a real focus on motorbike based tourism and believed that you could ride directly to MHS from CM without touching sealed roads…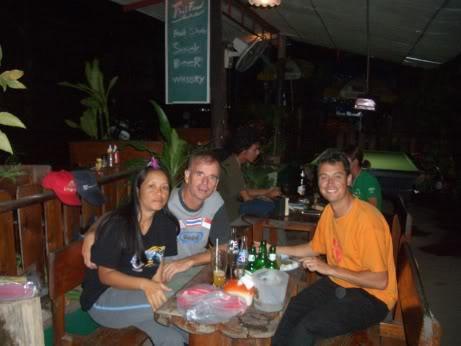 I had enough Heineken that I wouldn't notice the mosquitoes, but was a bit worried that peeing out of the window of the raised room into the garden below might wake up TK and the delightful Miss Elle next door… they said it didn't
; …
Cheers,
Daewoo