Administrator
Staff member
Subscribed
Jan 16, 2003
13,317
4,229
113
68
DATE: 18-19-20 -21 June 2004
THE WAY:
(1) Chiang Mai – Lampang – Den Chai – Uttaradit – Thong Saen Khan – Ban Pae - Chat Trakarn – Nakhon Thai – Dan Sai
(2) Dan Sai - Pak Mang – Dan Sai.
(3) Dan Sai – Na Haew – Rom Klao – Huay Mun - Nam Phat – Sirikit dam – Uttaradit – Den Chai – Lampang – Chiang Mai.
THE ROUTES:
(1) 11 – 1214 – 1246 – 1149 - 2013
(2) 2114
(3) 2113 – 1268 - 1239 – 1047 – 1146 – 1045 - 11
TOTAL DISTANCE:
Approx 1,000 kms.
THE WEATHER:
Heavy overcast, but unbelievably dry (except for a short festival downpour!)
CHIANG MAI – DAN SAI
An "early" brekky (for me) at the Bier Stube at 8.15 am.
Before mounting his bike Dave Silverhawk decides to put his waterproofs on as a precaution. Ok I admit the sky did not look good at all, but I thought that maybe we would get 40-50 kms out of town before the rain came, before it was necessary to cover up. However I also considered my riding mate would already be covered up & have to wait for me while I put mine beside the highway somewhere, maybe even out in the rain. So out of respect for a good riding buddy I put my rain gear on as well. It's not too often that I do that as I usually prefer to be independent and do my own thing; so Dave you got me there!
We got away from the super then at around 9.00 am and it was a might hot sitting at the some of the traffic lights waiting for the green light to come on.
Stopped at the lights, the silly farang on big bikes & their rain gear on always get strange looks from the Thais, and it's kinda fun to see the bemused expressions on their faces wondering what's going on with these guys and where they are going to?
Anyway we pretty much had a dream run all the way down route 11 to Lampang, then Den Chai & the turn off to Uttaradit. Despite the time of day we had no hold ups in the traffic & no rain – neither of us could believe it! The road might have looked damp in places and rain seemed to threaten, but no such luck, it was a nice dry run.
After 2 lousy cappuccinos at the PTT stop, off came the rain gear. (Note that I only had the 2nd lousy cappuccino to confirm that it was not just the first one that was lousy!)
Despite the lack of rain, we were quite wet inside just from sweat. Wearing waterproofs in the tropics really is a big gamble & it is always a difficult call.
Wear your wet weather gear in dry conditions for more than 45-60 mins & you'll be wet with sweat inside anyway!
Personally I like to put mine on "at the last minute" and only when I'm convinced it is going to rain heavily for a lengthy period of time. I don't mind getting wet in 30 mins thunderstorms, when you know you can dry out 20- 30 mins in hot sunny conditions.
Heading south from the Den Chai / Uttaradit turn off, we kept up a good pace, as the clouds did really look black several times & I was sure I was going to have to admit to a silly mistake in taking off the rain gear. But as luck would have it, I was able to wind up the wick on the ol' Africa Twin to power down a couple of straights (with the TDM 850 nicely in tow right behind) & miss any rain.
Just south of Uttaradit it got a bit tricky, as there are a couple of choices for heading south-east towards Chat Trakarn. My decision to take the first turn, rather than the faster route via the 2nd further turn off was made easy by the serious bank of low heavy black clouds further south near the quicker route.
However, I have to admit that in my haste I again stuffed up at my nemesis –the Ban Pae intersection - & stupidly turned right to race straight back onto route 11, & end up 40 kms south of Uttaradit (at the 2nd turn off!!)
It was full throttle then to make up the lost ground & keep out of the rain.
We snuck into Nakhon Thai without any trouble for a late lunch at 1.30 pm.
The lunch snack in Nakhon Thai developed into a lengthy one on account of a certain female shopkeeper making a seriously indelible impression on young DavidFL (yeah, he still gets love struck at 51!)
I reluctantly dragged myself away after exhausting most of the easy lines & not making too much progress with my invite for lunch in Dan Sai tomorrow……..
Arrival time in Dan Sai was a comfy 3.15 pm, & time to suss out the accommodation scene.
Earlier I had tried to book my fave ghouse, the Wiang Kaew, but the rooms were booked (& paid for) 2 weeks earlier, so Phi Ta Khon festival is getting serious!
As a precaution I had a room reserved at a friends house, but with Dave Silverhawk in tow we decided it would be more convenient if we could find something outside, just in case…......
First stop was the View Thong short time joint, opposite the army camp & yes they did have a couple of ratty dark musty rooms if we needed them.
Next stop in town was the Yen Sook, and again we were lucky, they had 3 rooms left. While Silverhawk paid for two of these I rode back to the View Thong to cancel the bookings there. We were safe & ready to enjoy Dan Sai & the build up for Phi Ta Khon festival......
PHI TA KHON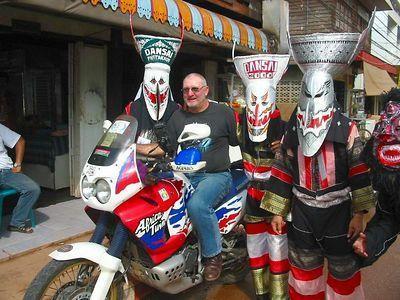 Is a pretty weird very raunchy fertility festival that has to be seen to be believed.
Its about spirits & ghosts, picking up a white marble pebble from a stream, that is supposed to be a re-incarnated monk with supernatural powers & taking it back to the village temple. The villagers then celebrate dressed as ghosts & parade around town with huge phallic symbols teasing one & all. Eventually most the villagers are drunk (us included) & everyone has a good time. If you just run into town on the day of the parade you do not get any feeling for what is going on. You HAVE to be in Dan Sai 1 day before the festival starts & the place is "normal quiet". Then over the next 2 days just see it come to life & build up very raucously. It really is an amazing scene & a totally fun place to hang out, drink & be merry for a few days. I've now seen 9 Phi Ta Khons & never get tired of it. I'll be there next year 2005!
(I'll let Dave Silverhawk write up more about how we lucked out & enjoyed Phi Ta Khon.)
AROUND DAN SAI
If you don't enjoy just hanging out in Dan Sai that much there are a couple of nice little rides you can do.
1. The easiest one is route 2114 that runs up to Pak Man & the Lao border.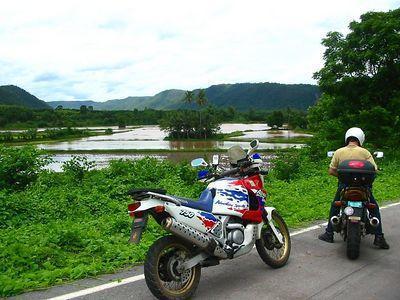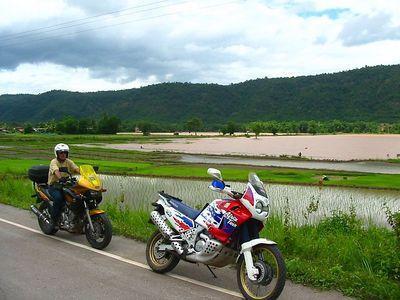 This road runs up a beautiful valley with lots of wonderful villages and superb scenery. From Pak Man you have 3 choices (1) return the same, which we did. (2) at Pak Man, take a left onto route 2195 & head over to Na Haew, then back down route 2113 to Dan Sai, (3) at Pak Man, take a right follow route 2195 along the Lao border to Tha Li, then take route 2115 down to Loei & back to Dan Sai. This 3rd option however is a longish loop for a day ride from Dan Sai.
2. Overlooking Dan Sai, just 600 metres before the View Thong hotel, there's a turn off to an absolutely stunning Wat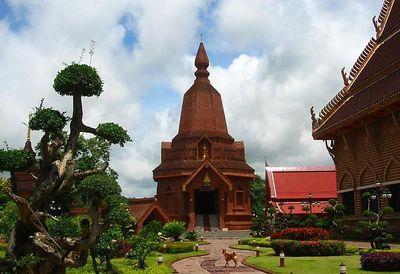 on a hill over looking Dan Sai. Check this one out & you'll be impressed. I don't have the name of the Wat right now, but will post it later on.
3. Just 130 west of the Wat turn off, there's another steep winding asphalt side road that goes in 2.5 kms to a small hydro electric dam. The dam's nothing to look at, but the road in is a beautiful tight winding steep one. There's also a nice little waterfall & hanging bridge en route if you can spot them. The whole road is a popular one for the local lads to take out the girlfriend out for a cruise. Check it out if you're in Dan Sai for Phi Ta Khon.
4. About 8 ½ kms up route 2113, the Dan Sai – Na Haew road, there's a dirt track off to the right that leads to some rocky outcrops with fantastic panoramic views over Dan Sai.
DAN SAI – CHIANG MAI
Got away from Dan Sai at 10.20 am. Not bad considering the ATM card recovery job at the bank.
Route 2113 to Na Haew is an awesome ride. Steep – very steep winding & flowing.
We stopped approx 24 kms up the road at the well signposted Wat Po Chai to see the "renowned" murals, but the place was locked up. This is a bit of a disappointment, especially since you see Wat Po Chai signs everywhere around Dan Sai & figure that the place must really be an important tourist attraction.
After Na Haew we took route 1268 that heads into the mountains along the Thai / Lao border.
This road also is an unreal ride & a brilliant motorcycle road. Eventually you pass thru Rom Klao that is where the Thai & the Lao armies had a little shoot out quite a few years ago. There's a funny village signposted in English as Laokohok, which very roughly translated sounds like Lao Bullshit to me, but I'm sure it must be something else….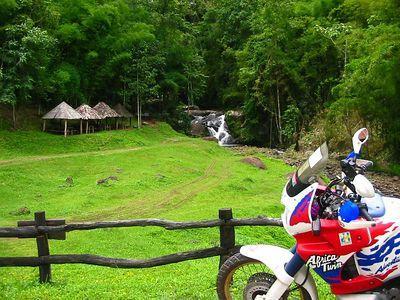 Halfway up route 1268 at Huay Mun, we turned left onto route 1239 for some sheer exhilarating. 1239 runs across to Nam Phat & for 46 kms you have an amazing tight steep hilly undulating roller coaster ride that absolutely twists & turns all over the place. Silverhawk & I both had grins a mile wide when we reached the end. We also both chuckled on how one of the other notoriously slow cornering GT Riders might tackle this gem of a road.
Nam Phat was just a quick noodle stop & to check on the weather ahead in Cnx – heavy overcast but no rain yet.
From Nam Phat it was a quick blast on 1047, then 1146 to Sirikit dam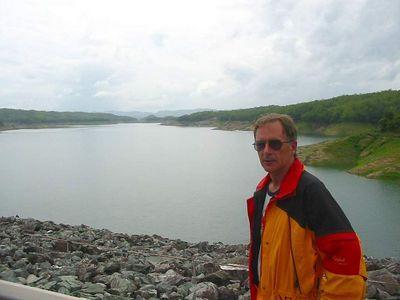 which is biggish & maybe impressive I guess, but it could also just be another dam if you've seen a few before.
From Sirikit down 1045 its all basically flat, straight "downhill" to route 11, then take a right and home to Chiang Mai.
The only incident en route was the TDM850 running out of fuel, but I wont tell that story.
We arrived home in Chiang Mai at around 5.00 pm if I'm right.
Davidfl
Keep the power on