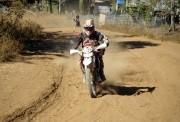 Mar 30, 2010
2,139
278
83
Hi Fella's.
Trying by myself for the first time to get the bike in the pick-up (I was too lazy to go upstairs and get the step i bought to help with this. )
Had the bike up the ramp.. but couldn't quite balance the bike and step up on the tail gate with the engine running.. stuck in no mans land..
Then opened more throttle, wheel spun, ramp flew out and bike and me flew in the back of the pickup..
Both of us laying on our sides..
I couldn't help but laugh thinking if my condo Building Management were watching this on the CCTV...
We met some great Thai guys at the last Kwaka Enduro event.
They invited us to join them at their track in Latkrabang.. Rained a couple of weekends ago..
Then yesterday.. At 3pm today we went for it as cloudy but no rain.
The land is privately owned. The owner is happy for the guys to use the land. As before it was all over grown.
The local criminals would steal bikes etc and dump them in the bush..
So, logical thinking by the land owner lets these guys have fun right in an industrial estate and his land isn't used for illegal purposes.
(Try that back in Australia.. Public Liability insurance would kill that off !!)
Great for me, throw the bike in the pick-up (literally today) on to the motor way, pull off near the airport..
K. Joe seems to be the one they all look up to and has his own bike repair / work shop up the road.
He is the one in the pic below in the jump.
Couple of snaps and great fun and great few hours.
The club house ;-) Even has a sofa, bring our own minibar..
The track (spot the plane in the back ground.. Not far from the flight path)
Stopped at Joe's work shop
Then we went for dinner and a couple of beers.
Amazing how friendly and welcoming people are.
I will join their little club. 500 baht a year for the track up keep..
Cheers
Brian