Riders: Barrybbq and Big & Tall
Route: ugh…ummm…a dirt trail from the 1269 to the Doi Pui Hmong village, then the nature trail down to Huai Tung Thao.
Note to dial up users: Pics are smaller to view. See David U is used to seeing only small things in his lap in front of him so we will continue the trend[
].
Barry and I had had a laugh thrashing the tits off of me on the nature trail and cut-off off to Mae Sa valley a few days before. We were looking to scratch another dirt itch so met up with Silverhawk at the Kafe to discuss some options. We had planned to do the Nature Trail from Doi Suthep down to the water reservoir at Huai Tung Thao. A concern was that it was too short for a day excursion. Therefore we scrounged another dirt trail heading east off the 1269 about 10 KM north of the 121. This route would terminate at the Hmong village at Doi Pui. We could break for nibbles then connect up with the Nature trail and down to Huai Tung Thao.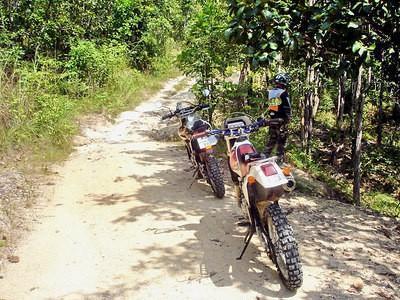 Barry thinking his is already at the Thermae in Bkk. Notice the dry conditions of this trail in contrast to the Nature Trail.
This trail leading off the 1269 was quite a change of terrain from the nature Trail. Due to its' facing southwest it received a fair amount of sun and kept the trail free of the much dreaded gorilla snot mud that Thailand is famous for. The ground was bone dry, a nice respite from the slop on other trails. It had a fair bit of loose rocks and ruts littering the trail to keep you honest but having traction enabled Barry and I to sail on without any mishaps.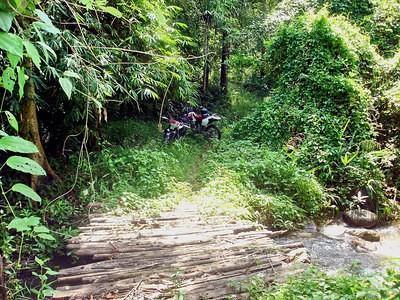 On the cuttoff trail looking for the waterfall. If you get to this bridge you are on the wrong fork. backtrack and go on the downhill fork.
A few kilometers up the trail there is a waterfall tucked amongst the tree's about 150 meters hike down from a trail fork. The trail forks and you take the right fork to Doi Pui or the left fork for the waterfall. We took the left fork for about 100 or so yards and parked the bike next to the thin trail leading down to the waterfall. I had a brief moment of bravery and thought about taking the single track trail on the XR 250 for a change of pace. Thankfully my two brain cells fired simultaneously and caused a brief moment of clarity for me to refrain as it was a steep, narrow, trail to the waterfall. A nice break in the ride or somewhere to bring you GF/Mia Noi etc for some romance. No tourists at this waterfall so it was nice and peaceful other than the Cicadas going crazy in the bushes. This day was a scorcher and the shade and water from the river was a nice place to take a break.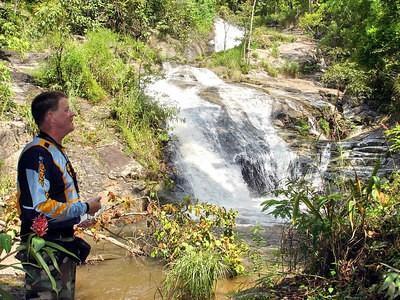 Barry mistaking the Cicadas in the bushes for a Hmong lady's mating call. This is the first tier of the waterfall.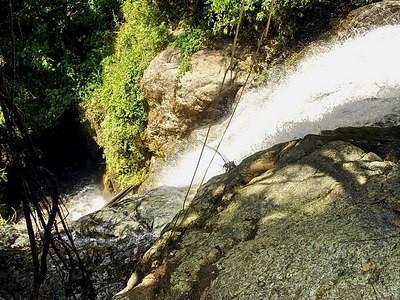 The second tier of the waterfall dropping below us. Hey we both never get on top any more with our GF's cuz we're lazy gits, so you think we were gonna bushwack to get to the bottom of the falls? Yea right.
We continued up the trail until coming to a section of rutted uphill. Barry honked and wanted to go first. He proceeded half way up the hill, stopped, calmly put both of his 6'5" frame boat anchors out to stop and survey as the rut turned dicey a bit. He made it through and stopped at the top. See the bastard wanted to take photos and having me along as your wingman guarantees a tip over or two on technical uphills. He leered from the top and with the camera ready yelled at me to go. No problem as it did not look that hard. I made it halfway up and was going without a hitch. That is until I came to the Barrybbq "put down your legs and survey" point. See Big & Tall is not quite as "Big & Tall" as said Barrybbq. So I can't stop, for the chickenlegs don't reach terra firma. I wade into the obstacle hoping momentum is on my side. It must have been the karaoke bars and massage parlor sins catching up to me as I went down like a sack of potatoes. I believe between my crashes on the Mae Sa valley dirt route and this one my sins have all been repented for and now have a clean slate. Good thing since Luke and I are off to Mae Hong Son tomorrow looking for some twisty roads and curvy bits in skirts.
As we gained elevation we came across Hmong farming plantations, a Chinese headstone where somebody was buried and the largest detached rock I have seen in Thailand.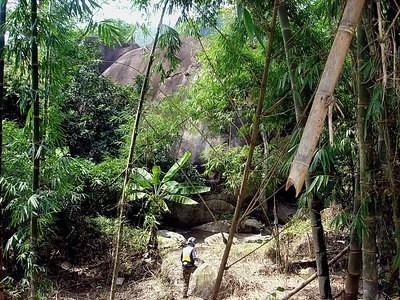 Barry being dwarfed. Not a frequent occurence.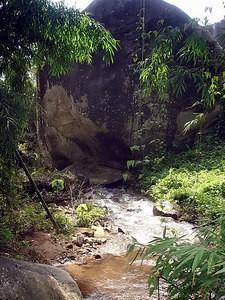 Another view of said rock from a tree branch bridge that crosses over the river.
The trail gained elevation until we reached Hmong farming spreads where the road was properly maintained and then changed into where the wheel tracks were paved. This sometimes makes it more difficult as the earth around the paved tracks erodes leaving foot wide asphalt strips to ride on. No problem except sometimes the pavement sections are washed away and getting off and on the washed away pavement strips can be tricky if you're not comfortable on the bike.
We landed at Doi Pui for some lunch and refreshments. Sadly no good looking tourists about so we were off to head down the nature trail to Huai Tung Thao.
Since we were on the other side of the mountain now the terrain changed dramatically. Gone were the toasty dry trails replaced by the typical slippery slimy stuff. Luckily it had not rained in a few days so it was not treacherous. Sadly this trail lacked anything interesting in terms of riding. No character or challenge. Just simply plod downhill to Huai Tung Thao on a fireroad wide road with raised rut trackes. Stay on top of the crown between the ruts, ride straight and put it on autopilot. Overall this trail was a bit boring. Having said that if it would have rained recently it would completely change character and be a slimy slippery mess, but still in my very humble opinion, not much fun. It could be ridden by any motorbike as we found out later when we came across a Thai gent on a 175cc cruiser. He had a knobby on the front but street tire rear. Hats off to him for enjoying the ride on something none of us would choose to do it on.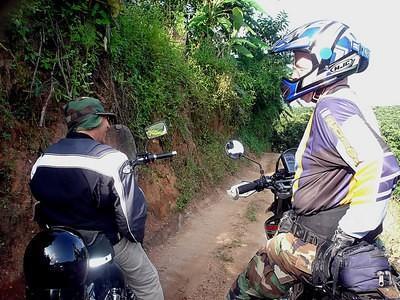 As always dirt biking in Thailand is emasculating as you come across people riding the same trails on Honda Dreams and cruisers.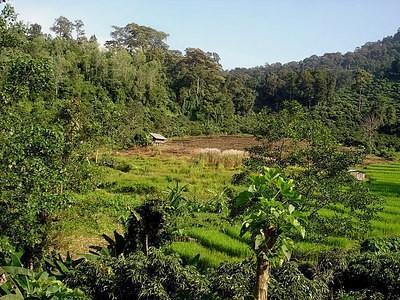 Views 2/3 down the road to the reseviour
Barry and I dropped into Huai Tung Thao for some shade, lake view, and refreshments and solved all the worlds problems.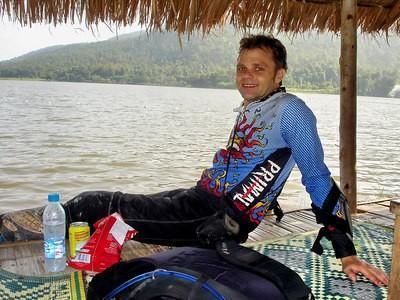 There could be worse places to end a dirt bike ride than on the shore with cold beverages, water, and shade.
Overall a very nice trail from 1269 to Doi Pui and an easy ride down to Huai Tung Thao via the nature trail if you want a mellow and not overly taxing day. If you want more of a challenge, do the trail we did from 1269 to Doi Pui, then the same nature trail and cutoff left to Mae Sa valley and 1096.
Hopefully barry will chime in and post pics and his wonderful Google earth map of the trail if he's not overly busy at the Thermae in Bkk[
].
Cheers all.
"Formerly known as the twat, racer55"