A hiking trip rather than a bike ride. In fact 3 days hiking and 2 nights camping, up in the mountains of the Khun Chae National Park, to the northwest of the 118 from, Chiang Mai to Chiang Rai.
I met up with Peter in Mae Kachan and we stayed at the H2O Hotel. A very comfortable hotel, right on the highway, excellent value.
A quick visit to the Khun Chae waterfall, about 15klms west off the 118, along the dirt road to Phrao.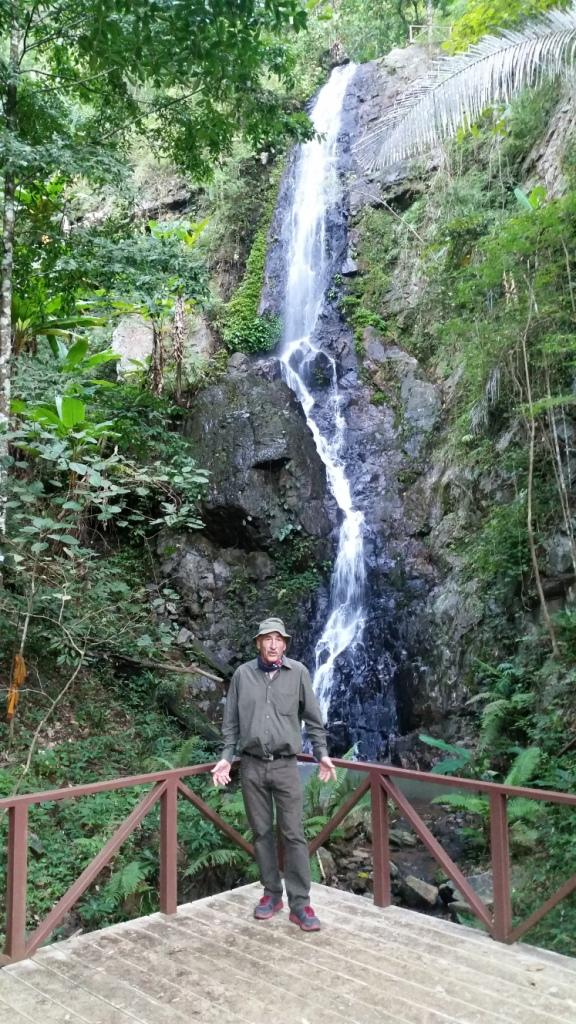 Next morning up early and rode down to the Khun Chae NP headquarters.
After signing in, we rode in a pickup truck 14klms north, to the village of Huay Nam Ngern. A very rough dirt road and our driver was the village Phu Yai Bahn.... we were important visitors.....
We hiked out of the village and soon had our first break for lunch...... boiled eggs with my home made bread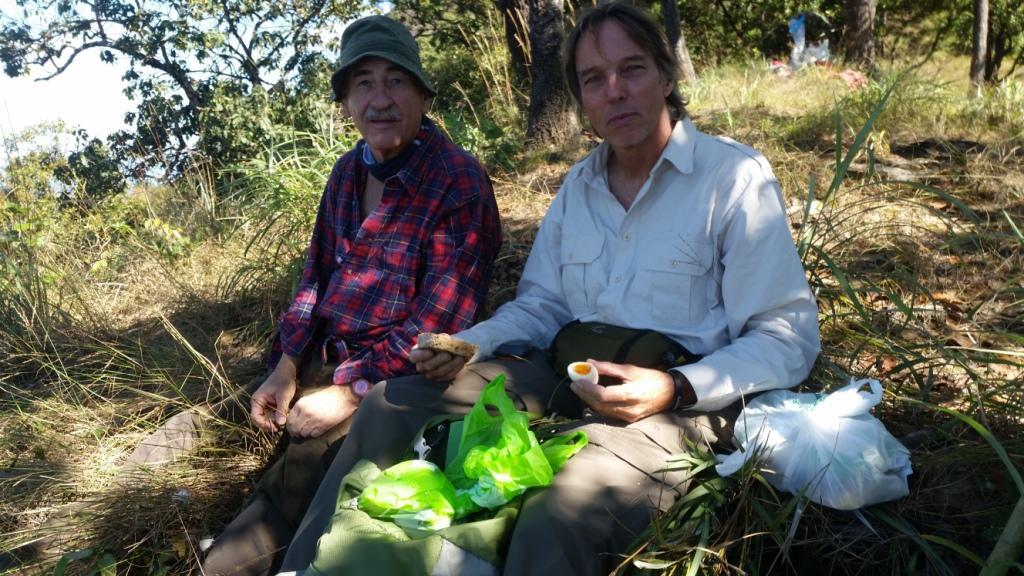 Our guide Khun Manit with our porter Khun Prapan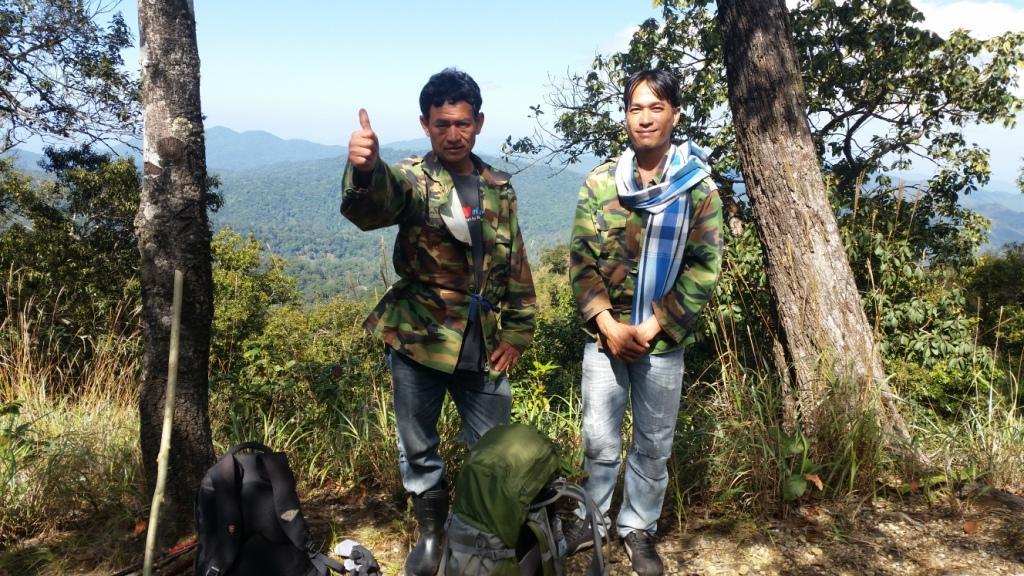 Peter appears to be inspecting insects..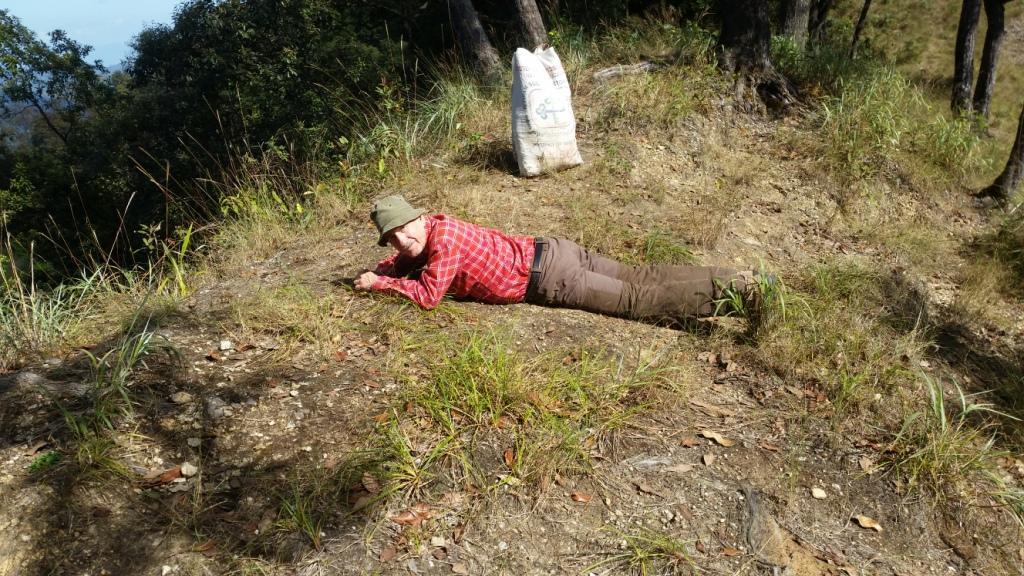 Great to be back up in the mountains again... away from civilisation...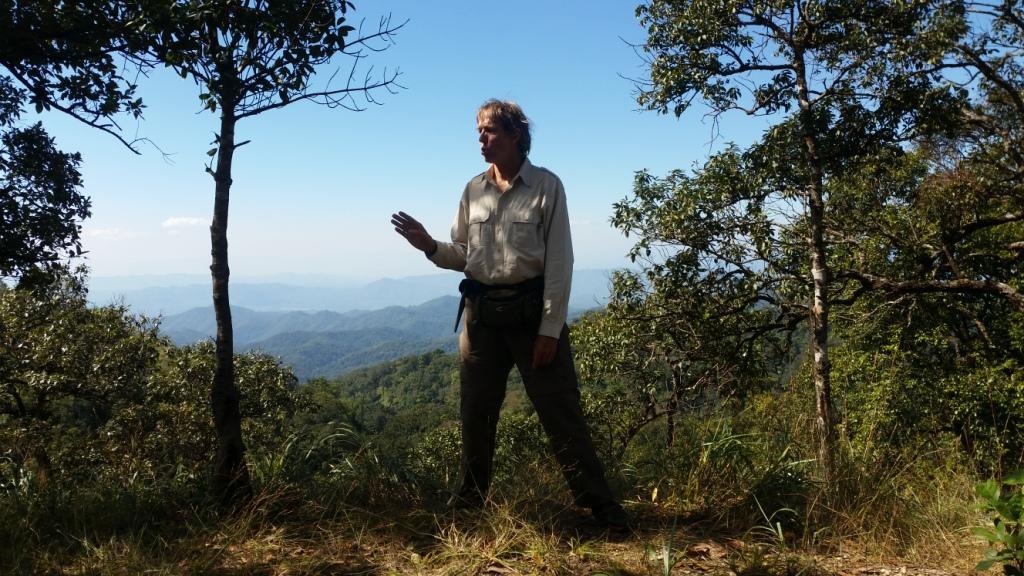 It was to be quite a tough first day..... 6klm hike, all uphill..... which would take about 5 hours.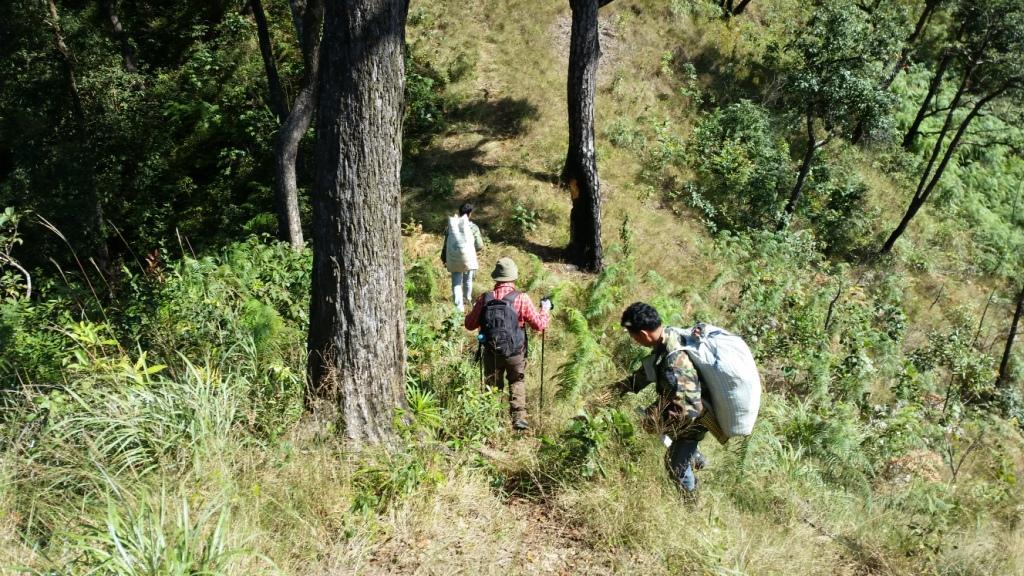 But already the views were marvellous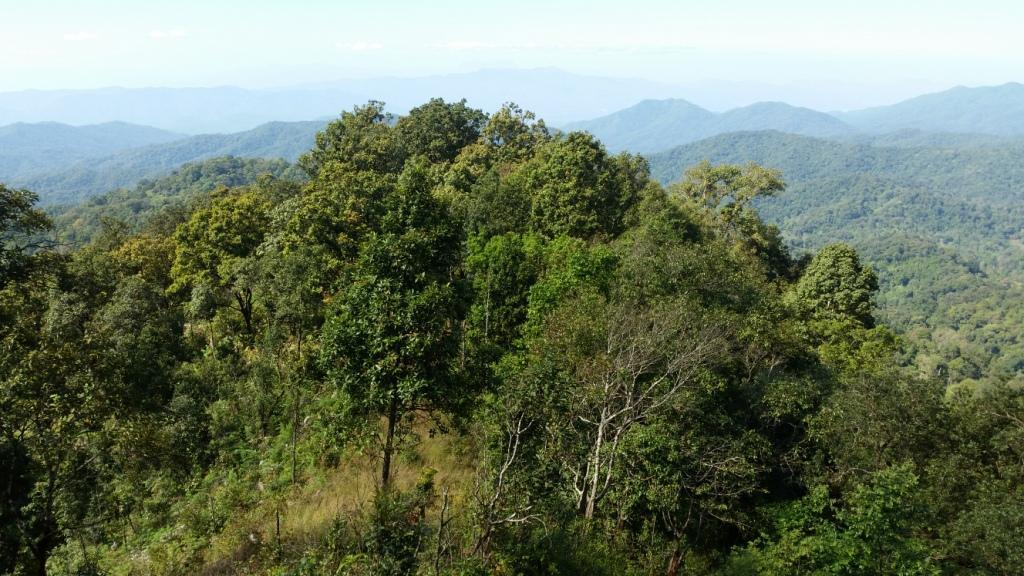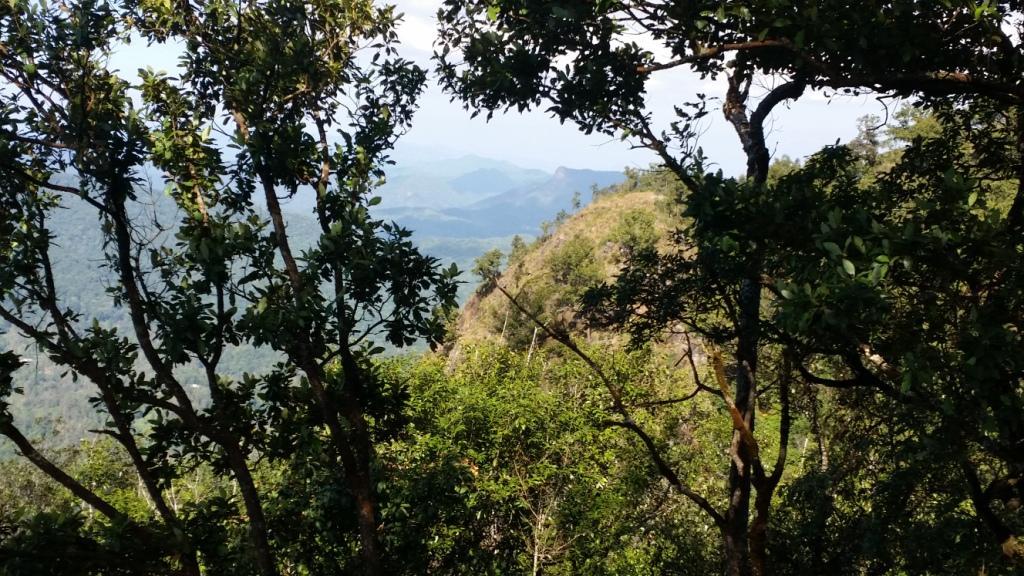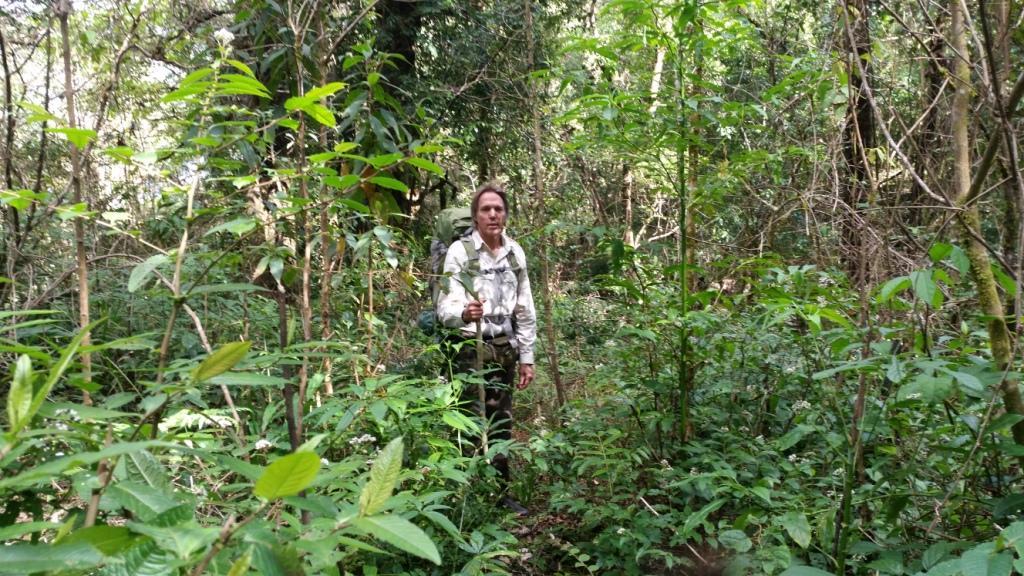 A Goolap Pun Pee (thousand year rose), called rhodedendron in the west.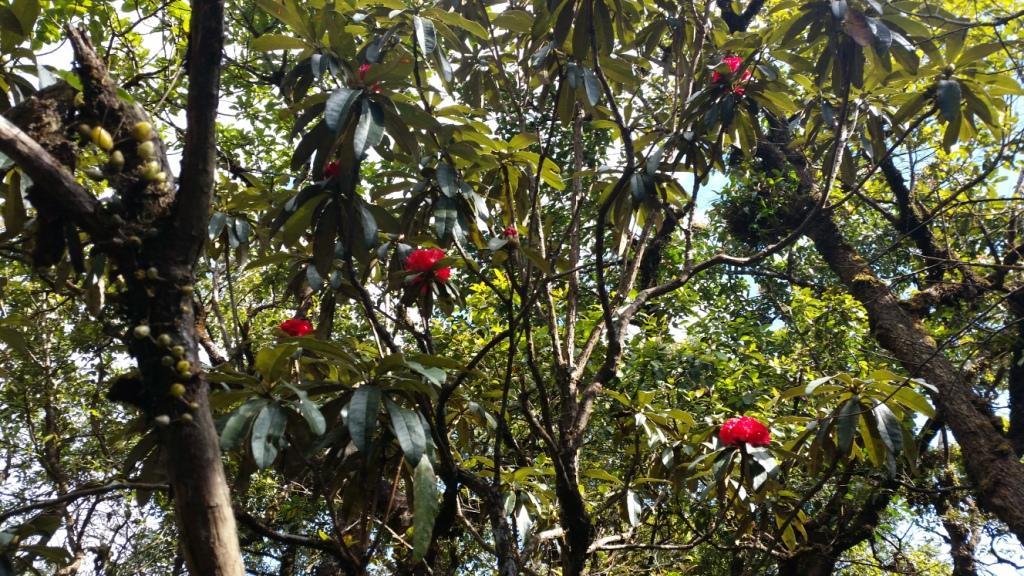 Finally, after reaching and then hiking some distance along the ridges, we got our first view of Doi Mot. We could also see "The Yellow Handrail" (centre left in the photo). The significance of this would soon become clear.....
This beautiful mound of a mountain, is set apart from the main ridgeline. Interestingly, it could also be called a "Mott" in English, if it had a castle on the top.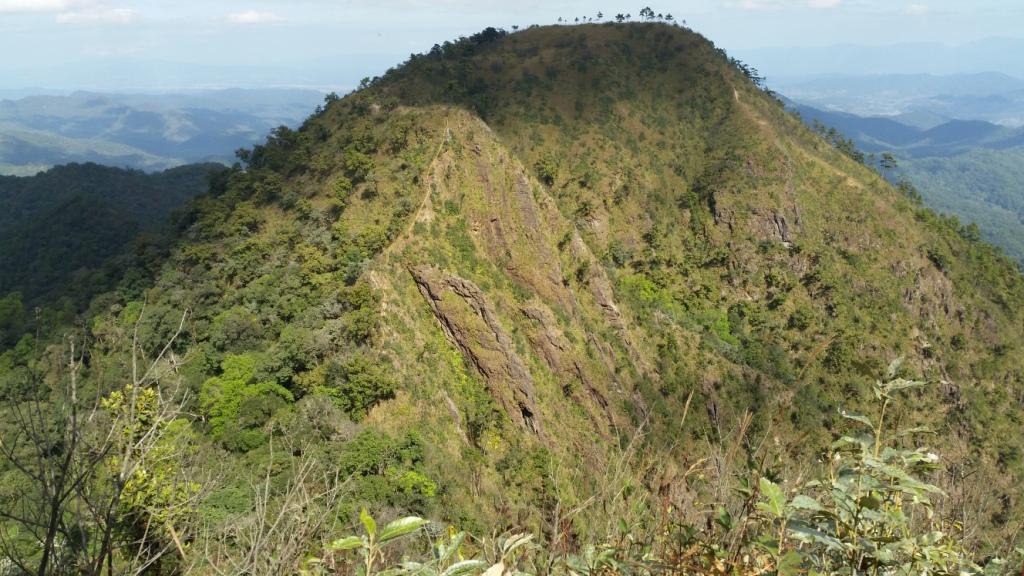 Soon we were descending from the main ridge on an alarmingly steep slope, hanging on to the Yellow Handrail in mortal fear.... The handrail post in this photo is vertical. That sort of gives an idea how steep the handrail goes down.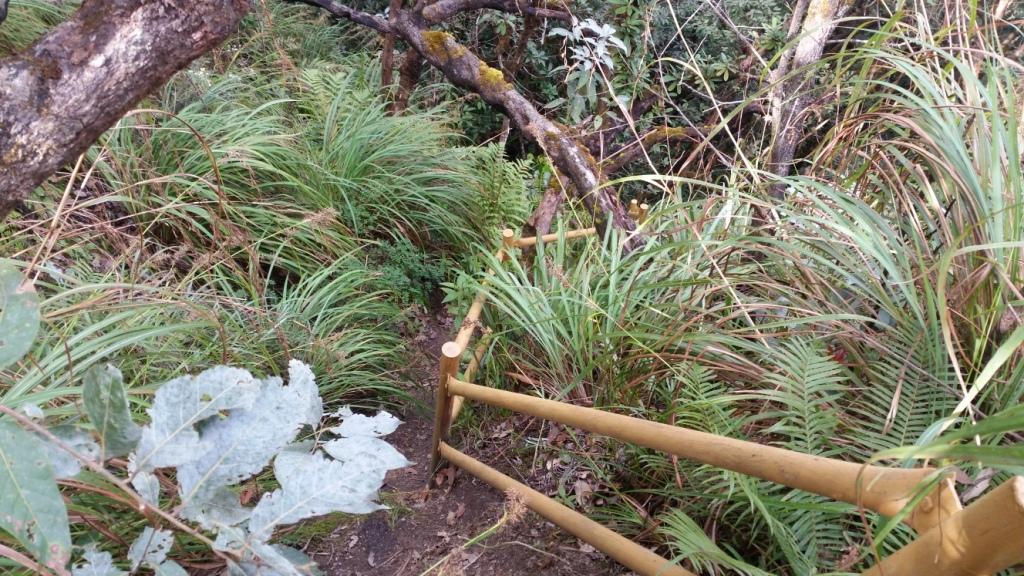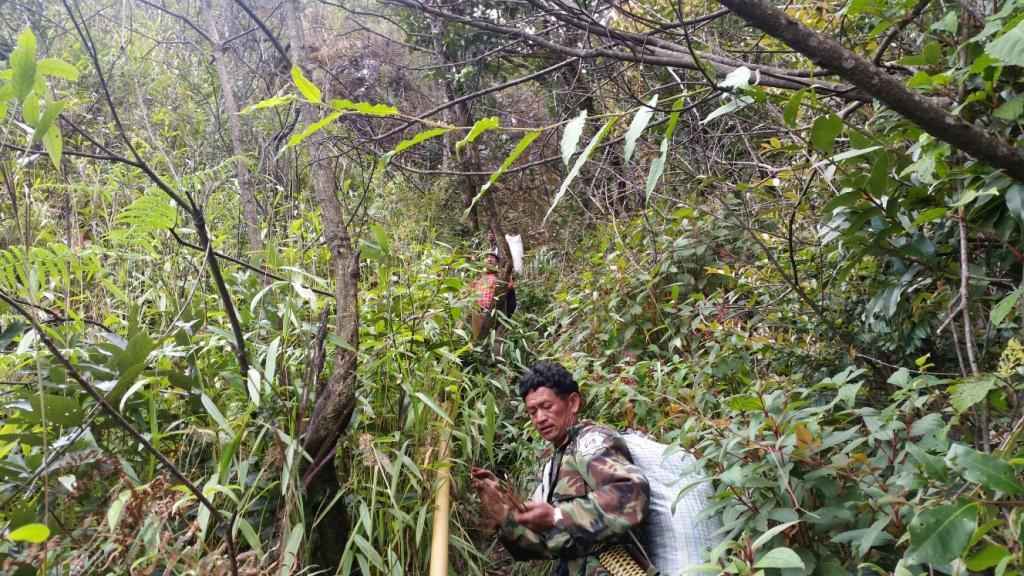 The Yellow Handrail took us down and then across a very sharp ridge, with steep drops either side.
In other words, I had at least one hand on it all the time......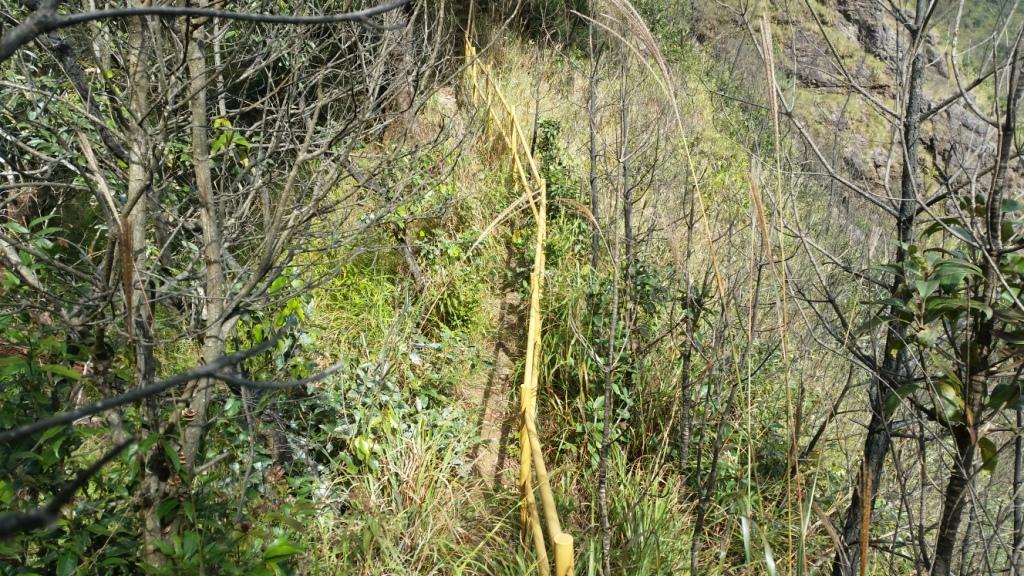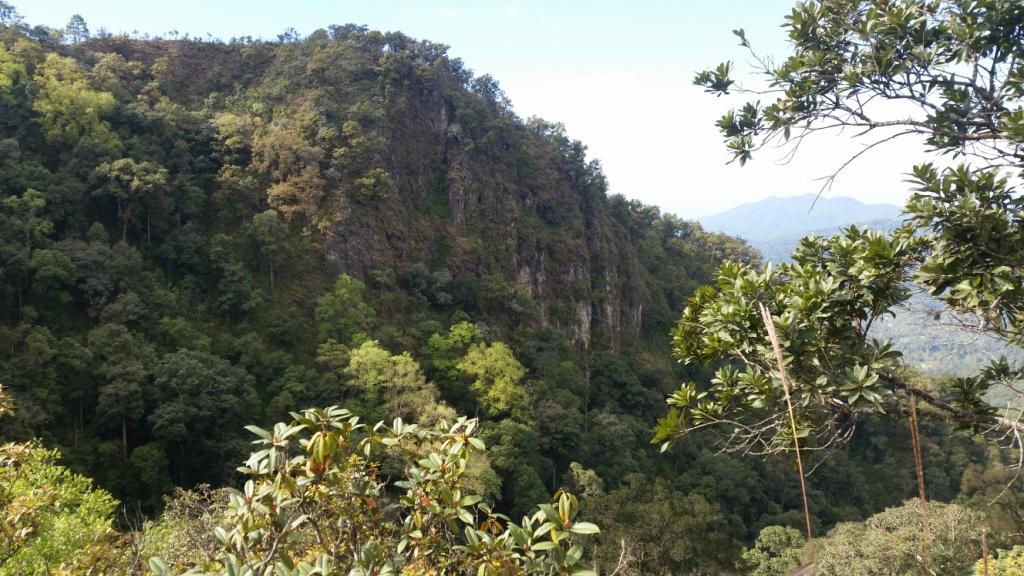 The handrail then took us up the side of Doi Mott. This mountain would have been almost impossible to scale without ropes, before the handrail was put in.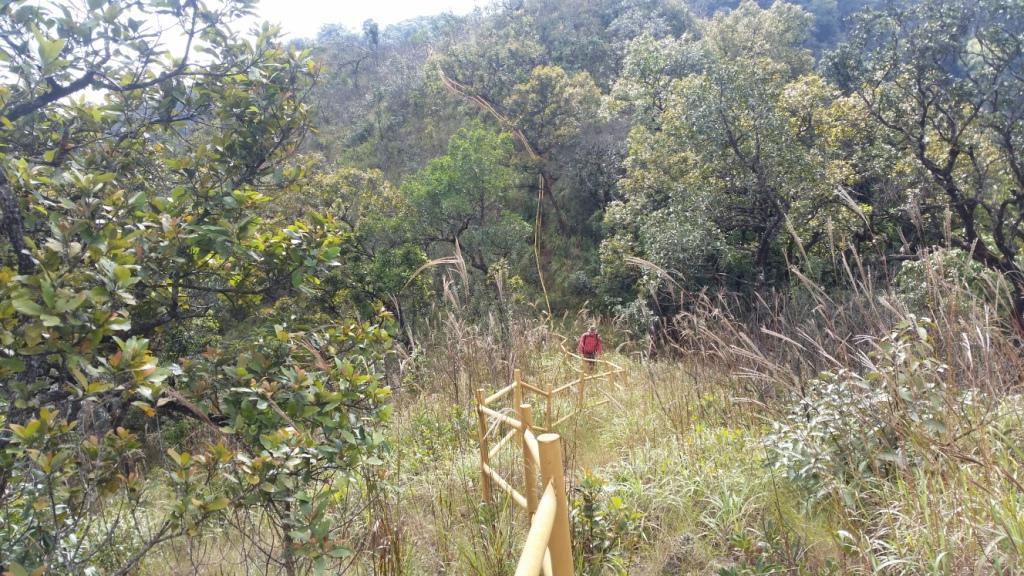 After an hour or so, we were on top of the Mot. Prapan collecting firewood.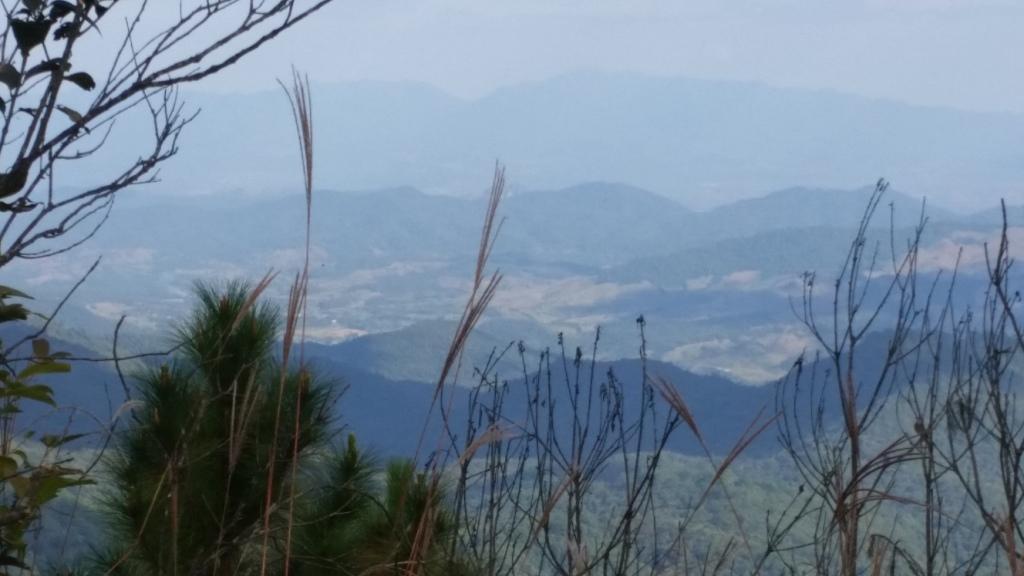 Looking southeast across the 118 to Doi Langkha Luang, highest peak in Chiang Rai province.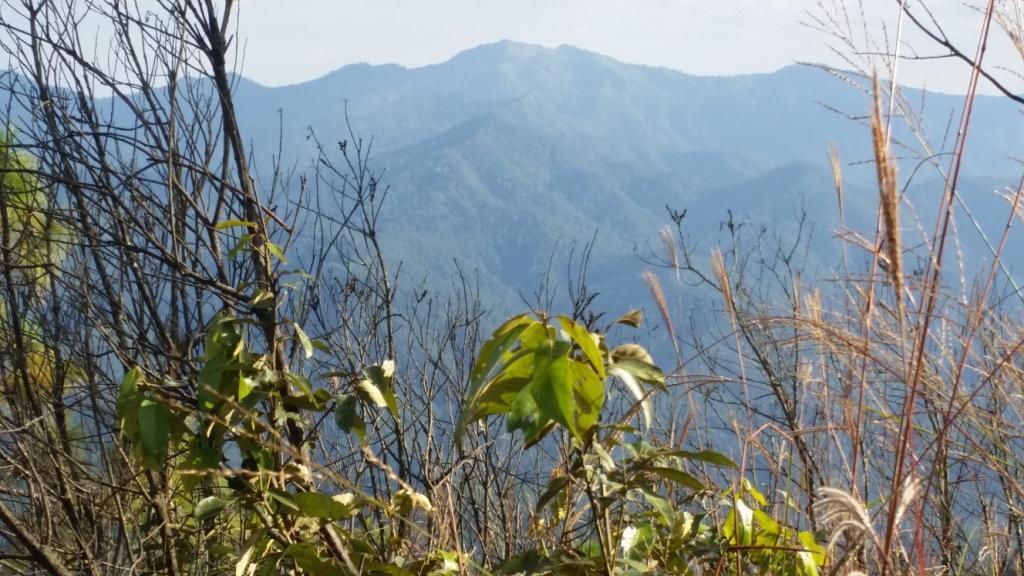 Peter and luxury tent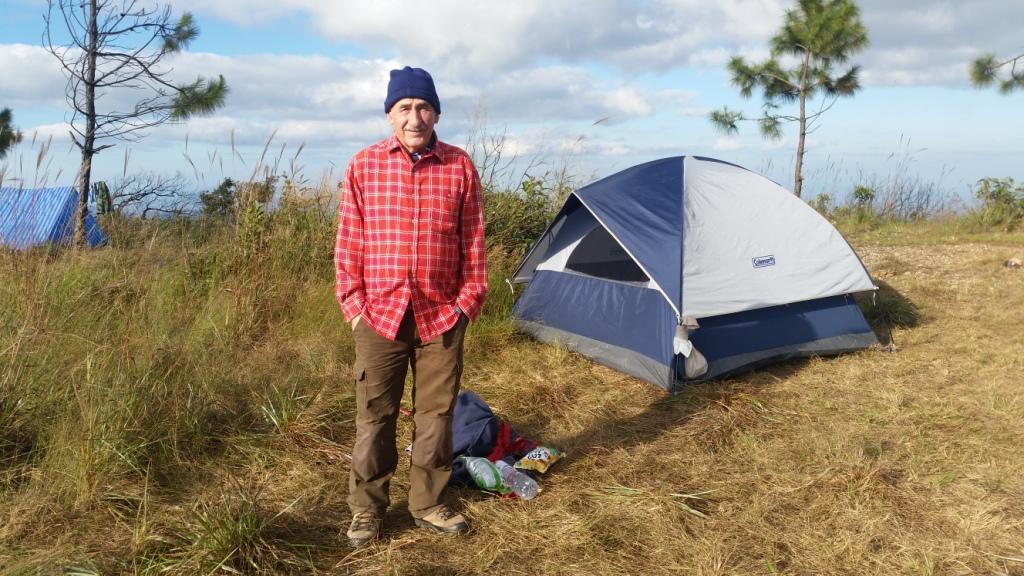 Ian and "coffin" tent...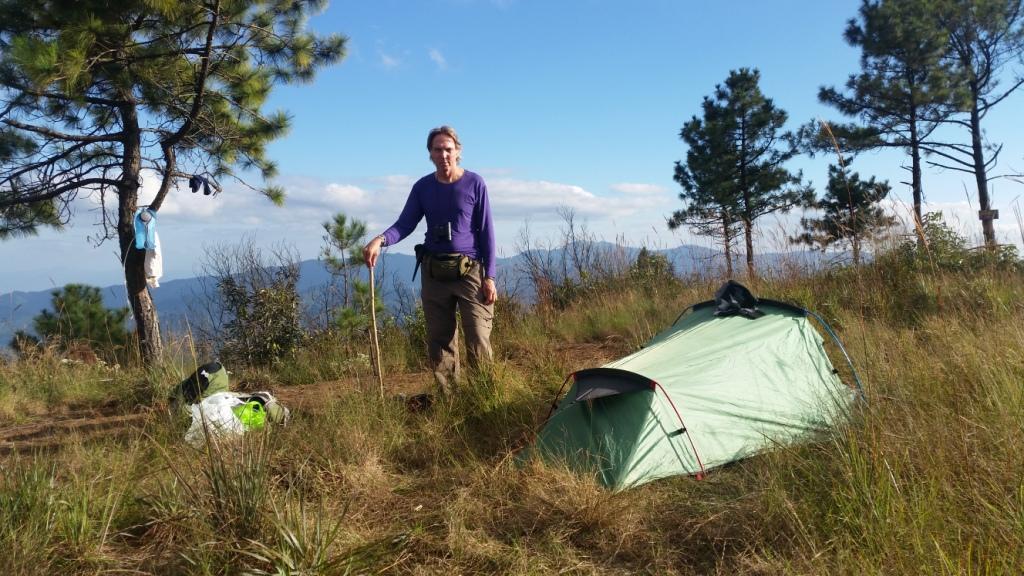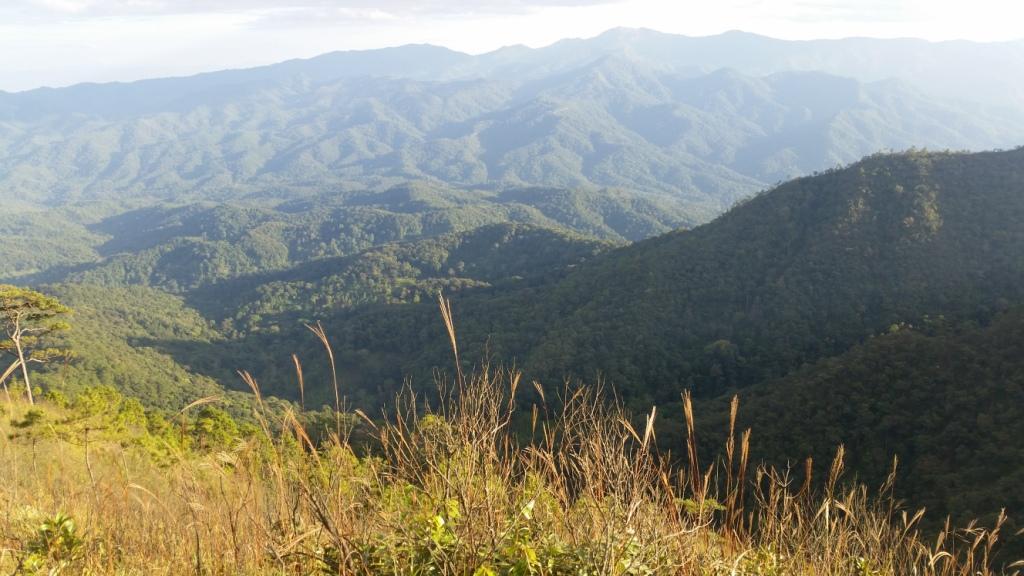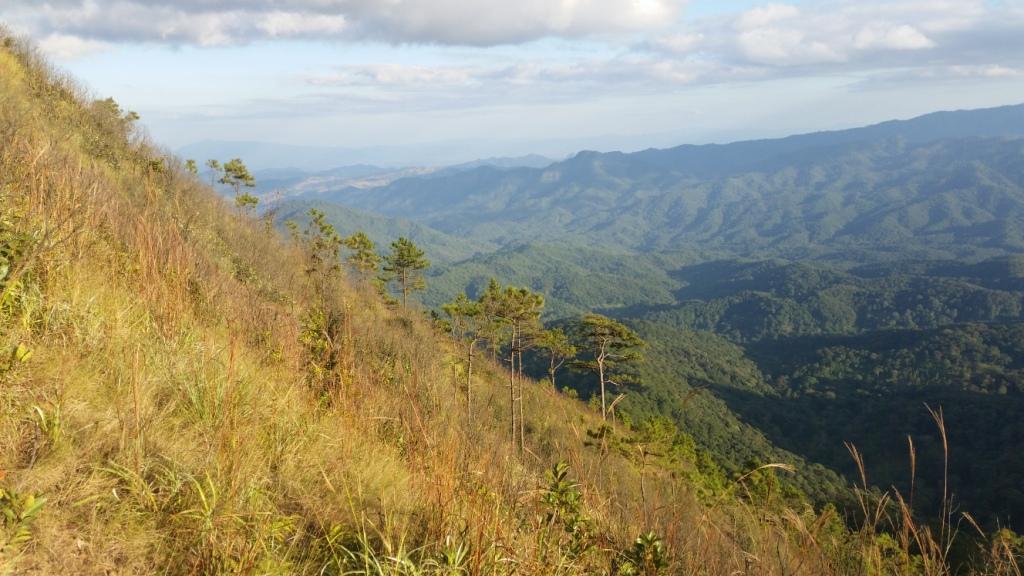 Peak of Doi Mot, 1805m.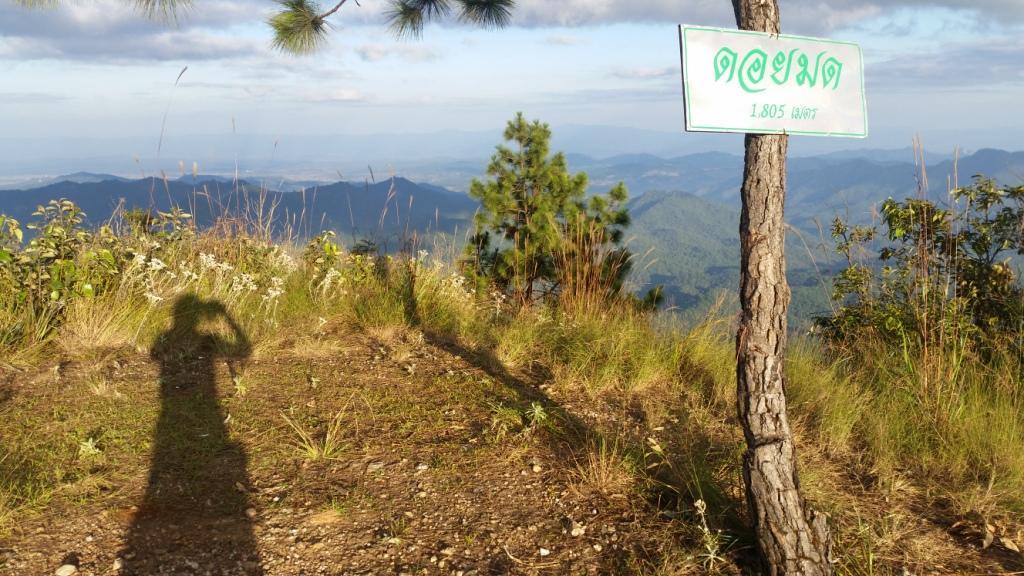 Preparing for dinner........ more bread, with smoked chicken..... washed down with a wee dram to keep the cold at bay.......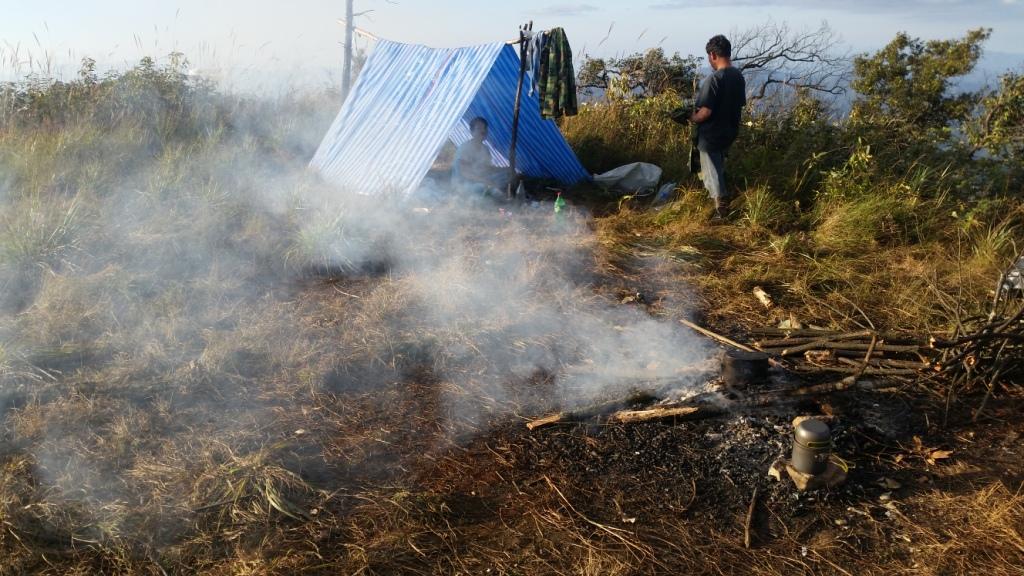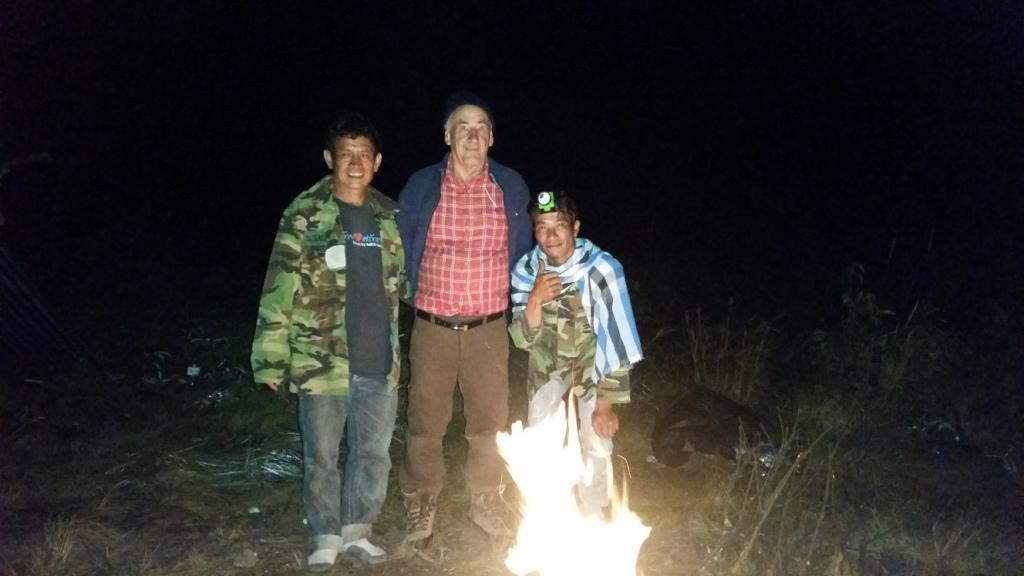 Next morning at 06:30, it was about 10 deg C and very wet with morning dew. No trees on the top of Doi Mot due to the wind. Luckily it was not so windy when we were there.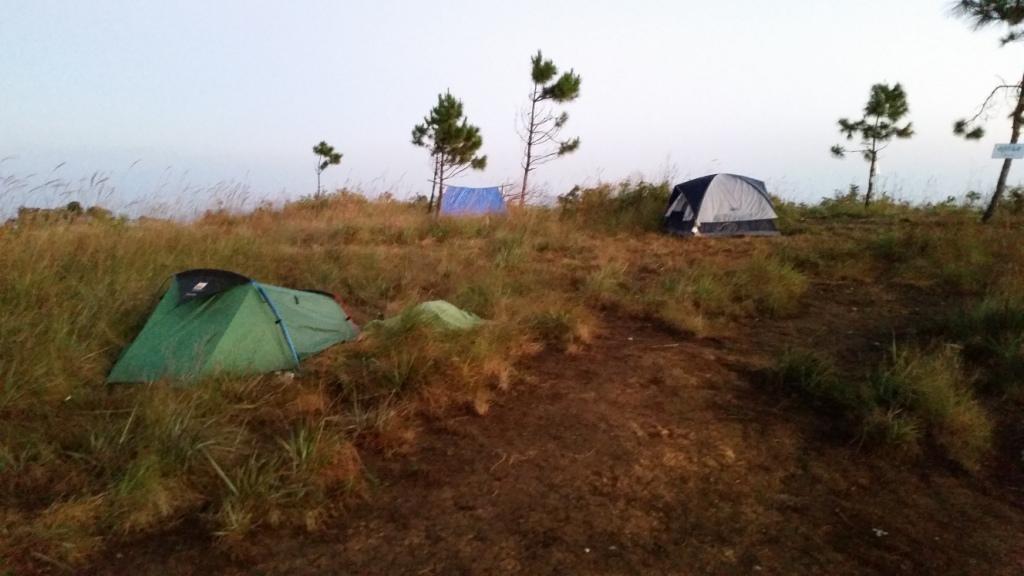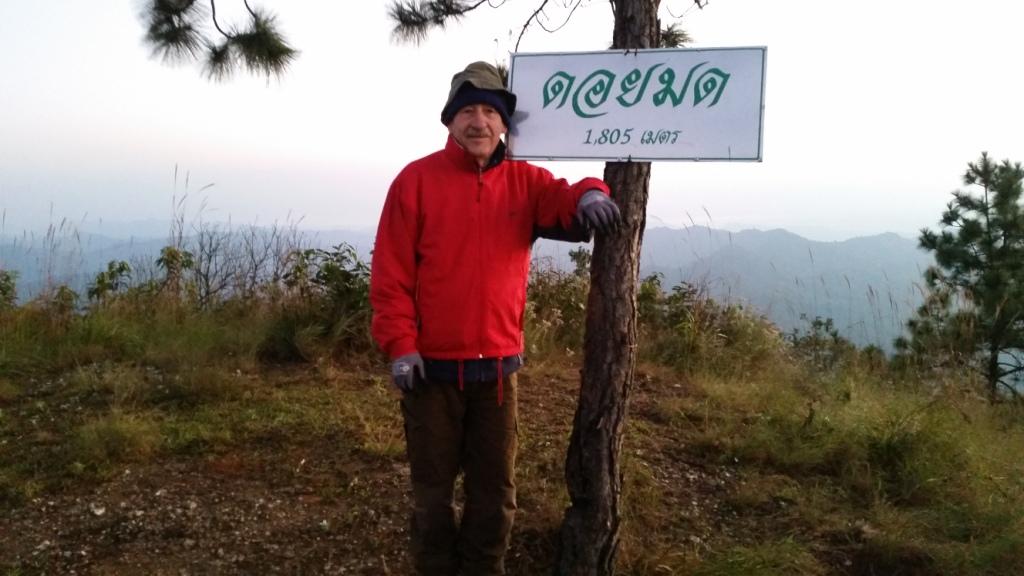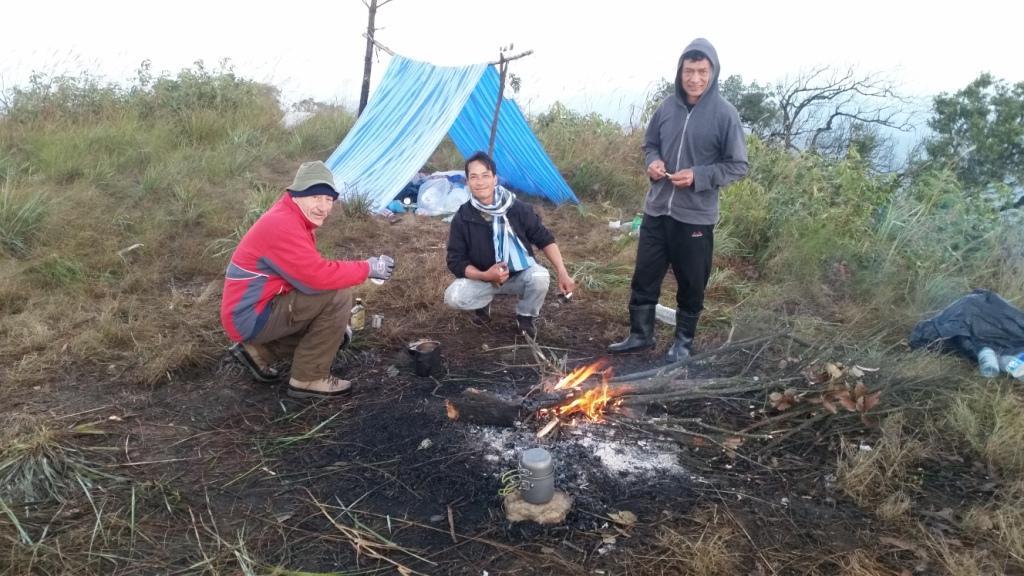 Great to look out over ridge, after ridge, after ridge.....
We also had great views back to highway 118 and the NP HQ. We could also see across to the Phrao valley, too.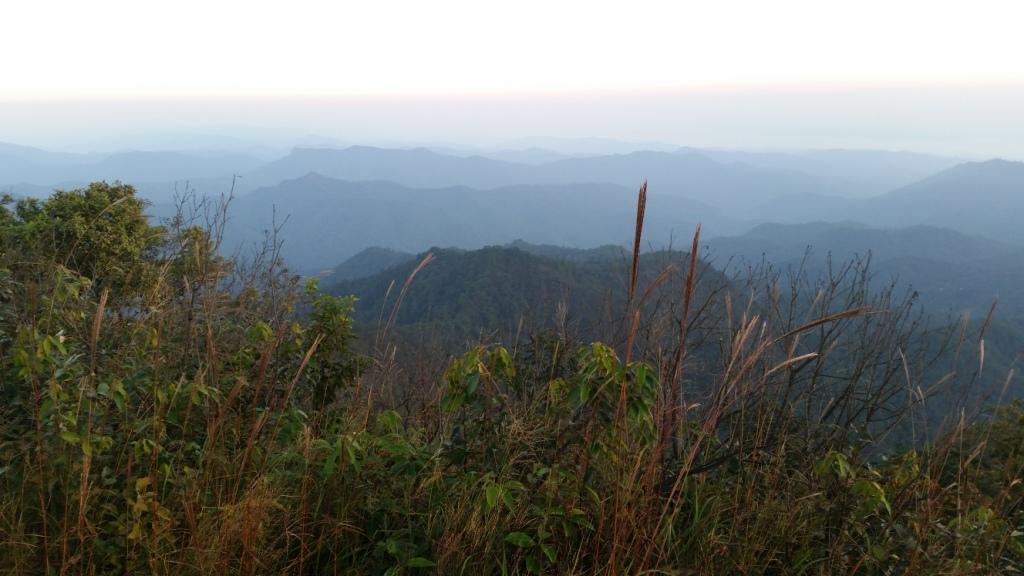 Packet Jok soup for breakfast...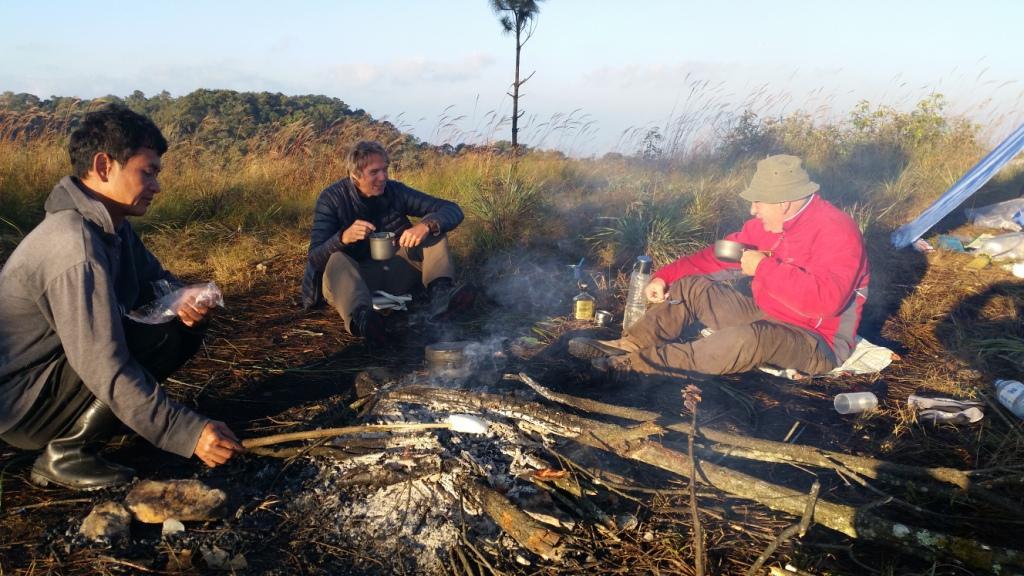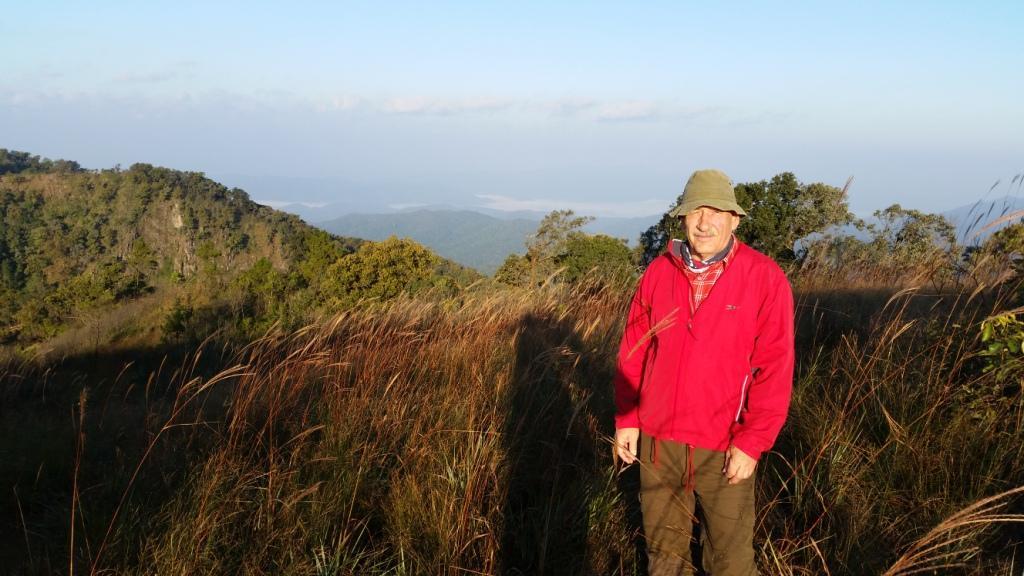 Manit and Prapan had toasted sticky rice cakes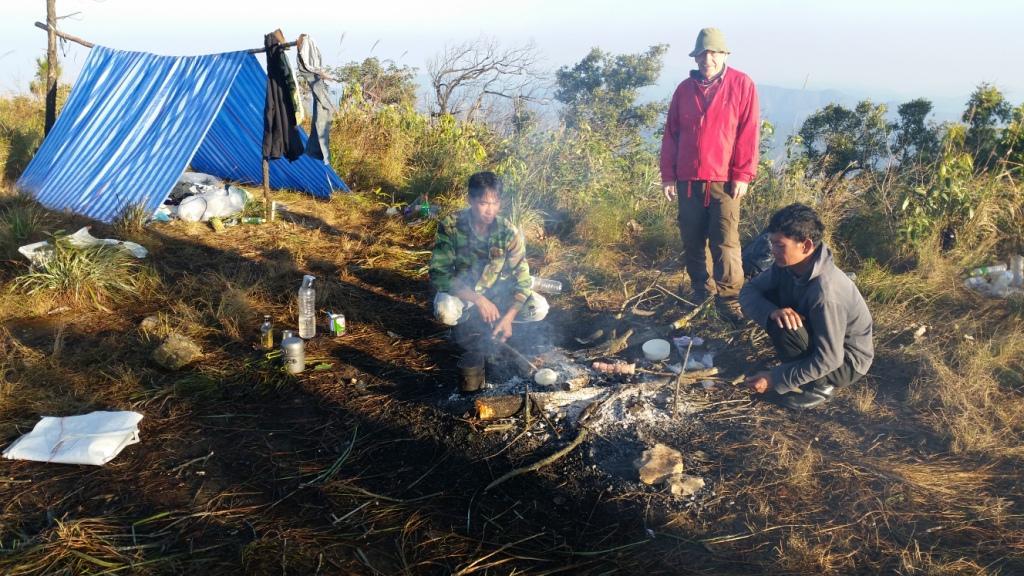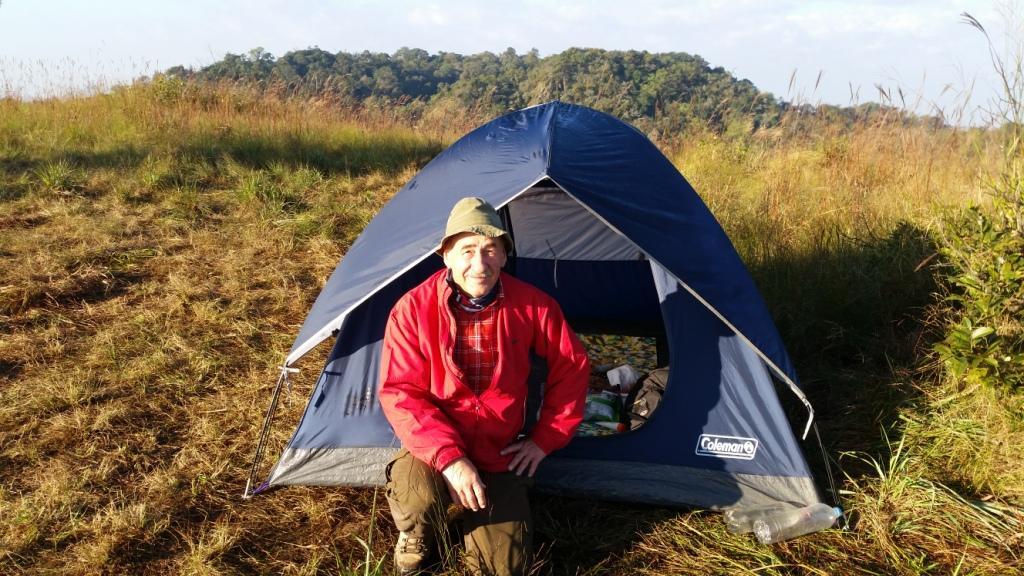 Looking back at the low ridge connecting Doi Mot.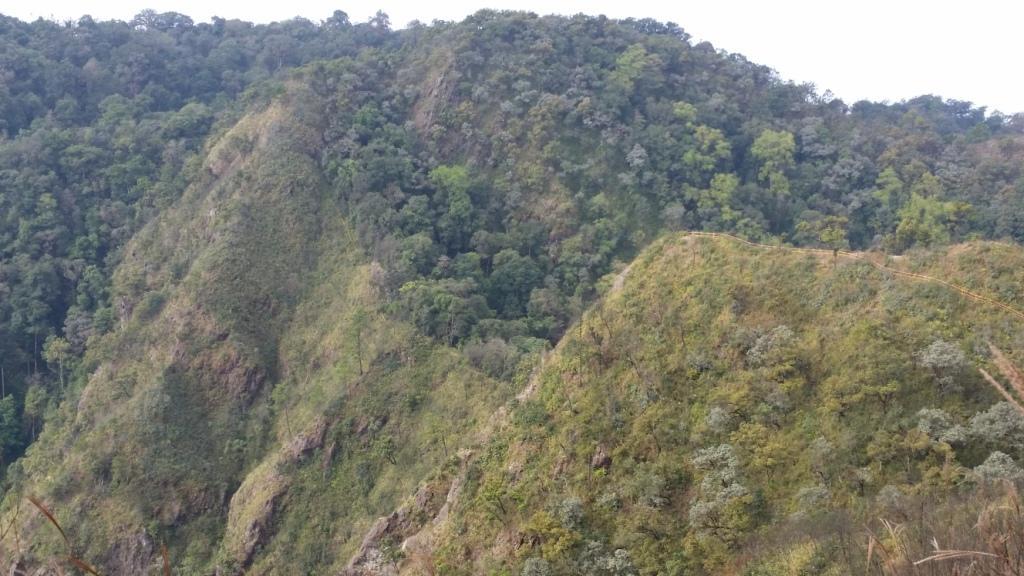 Then we had to return to the dreaded Yellow Handrail.....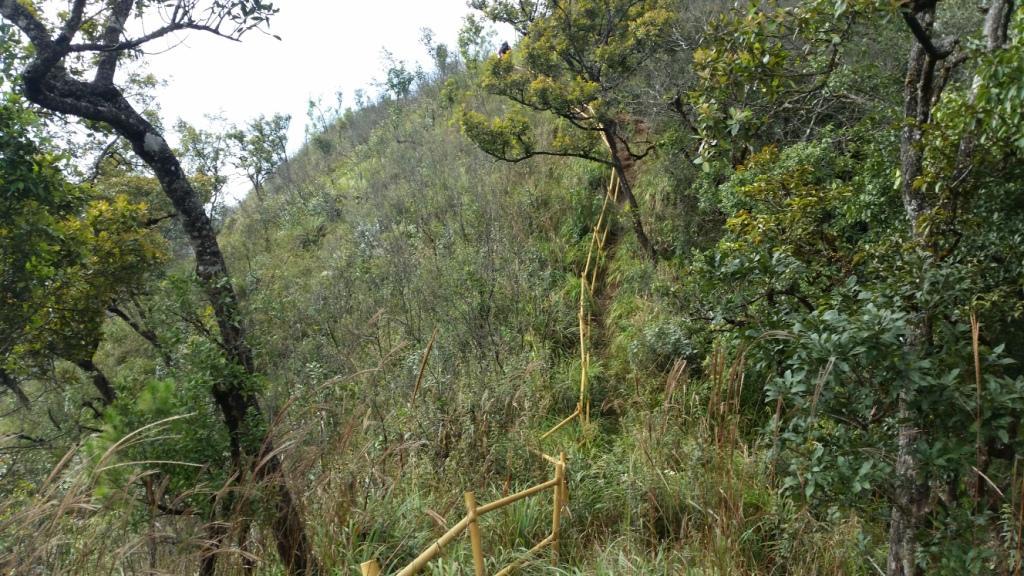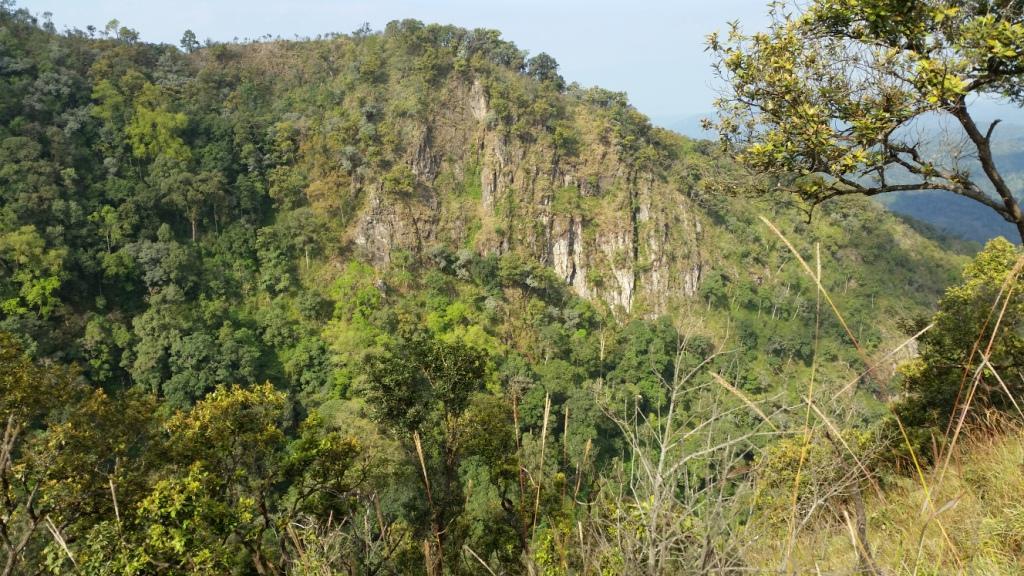 Returning was perhaps only slightly easier.....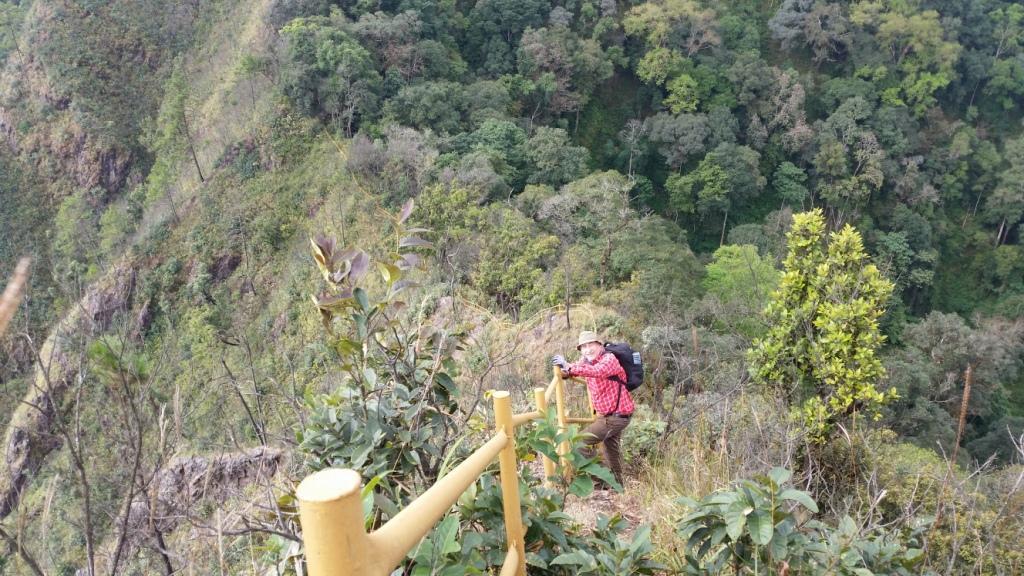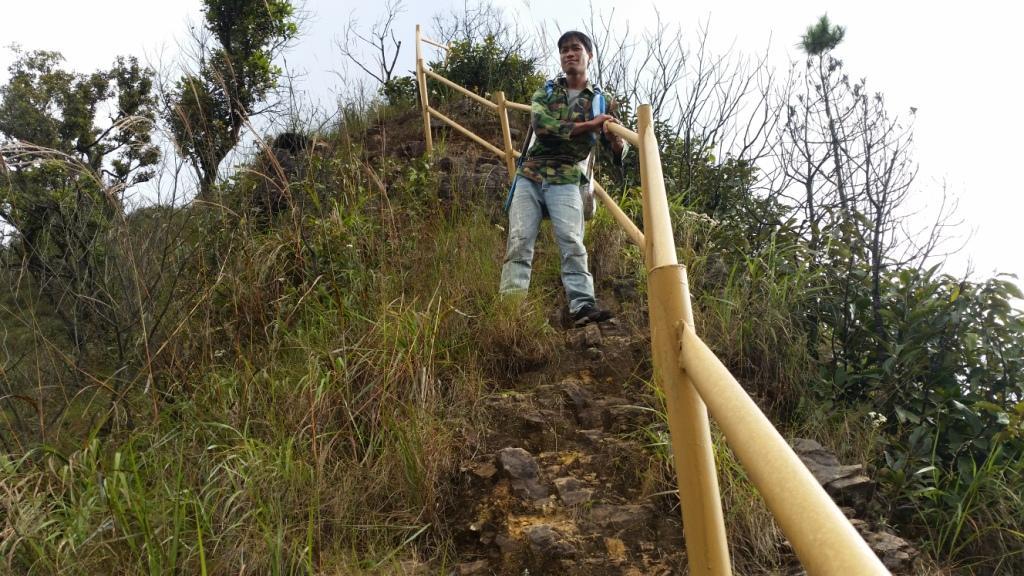 "Danger"... Yeah.. tell me about it...... No Way would this be allowed in most places in Europe.....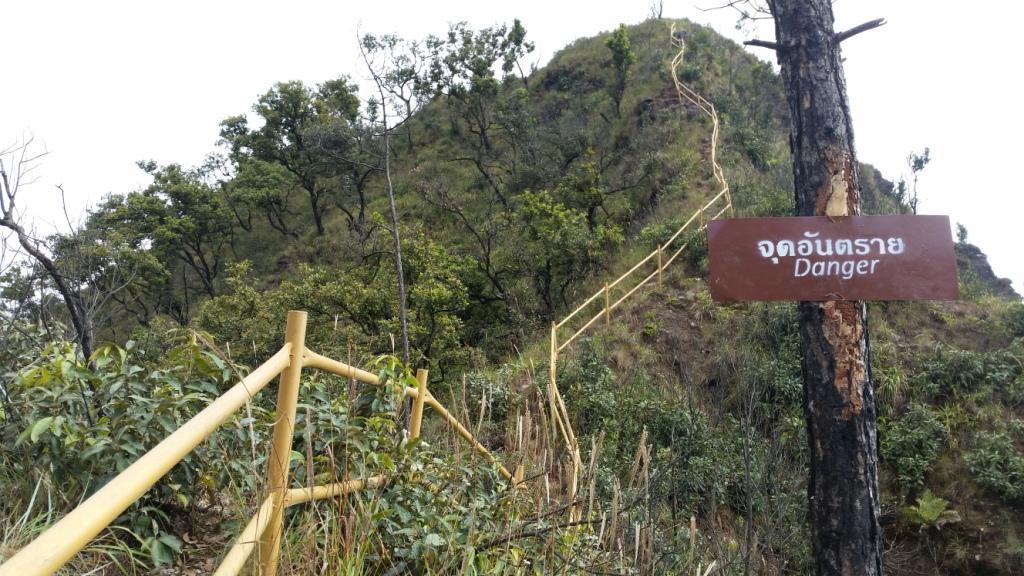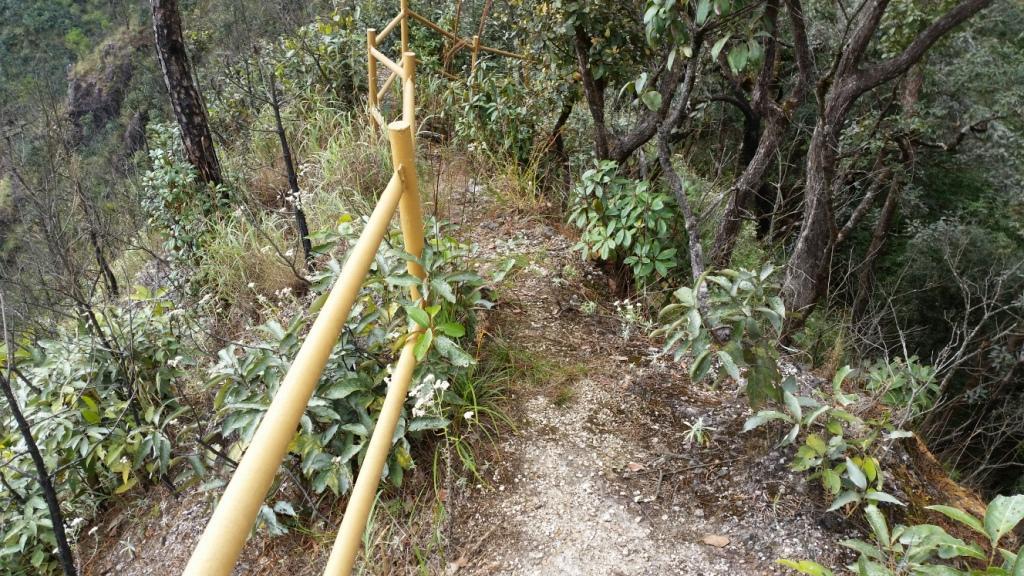 After getting back to the main ridge, we struck out on a little used trail.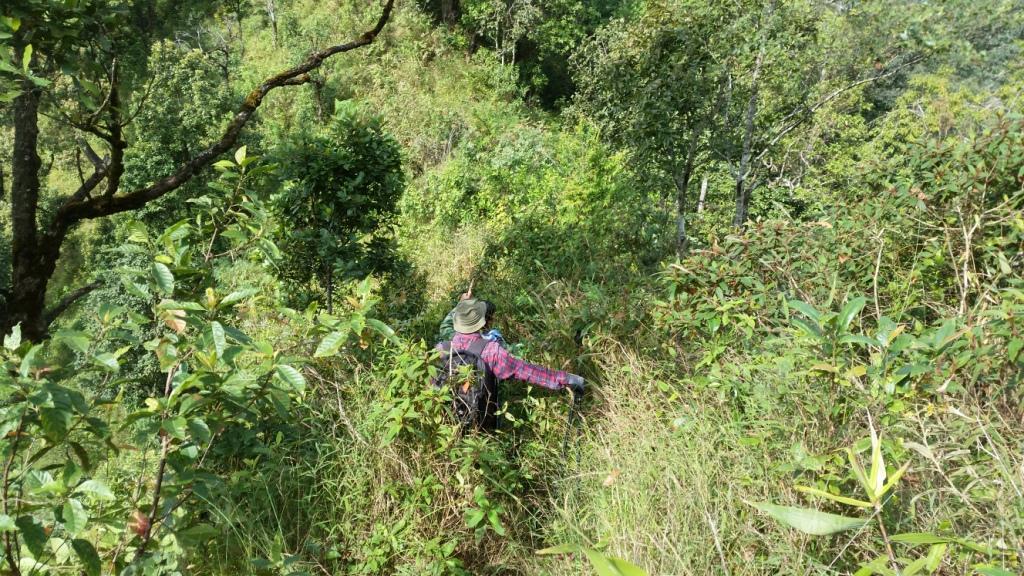 The guys were hacking there way through the jungle growth..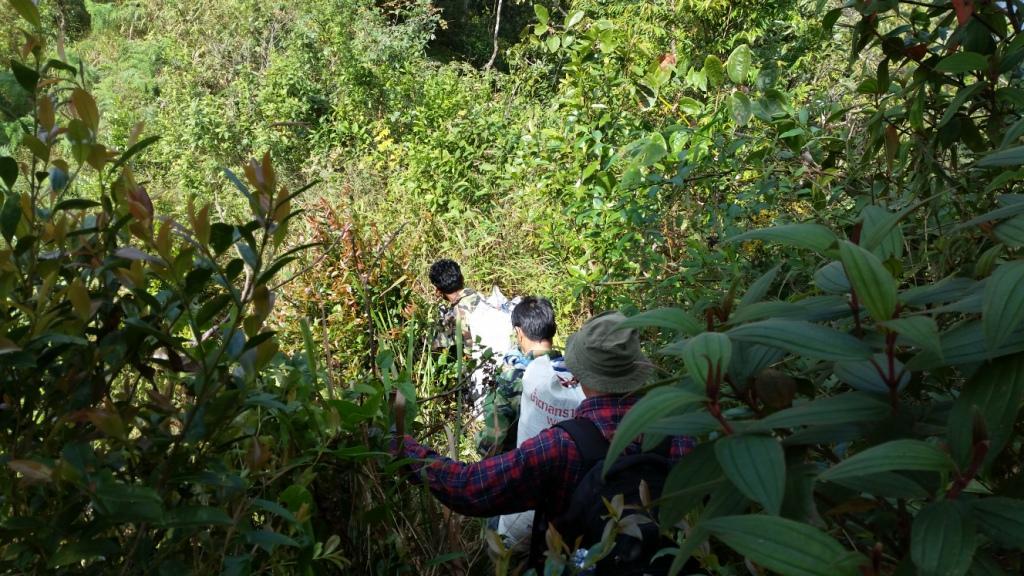 The guys with us, had modified sugar sacks for backpacks....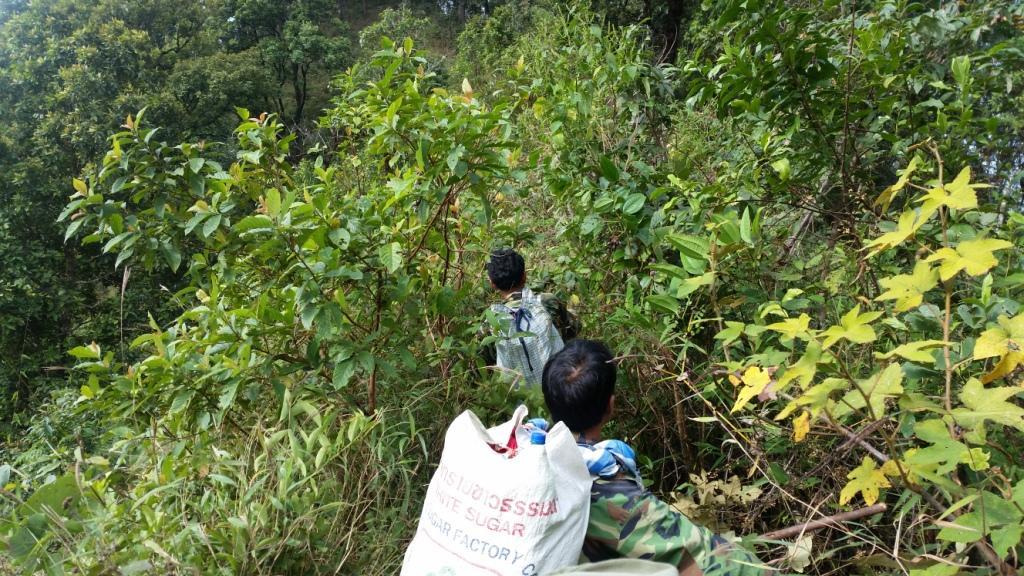 Don't touch this flower, highly irritable to the skin.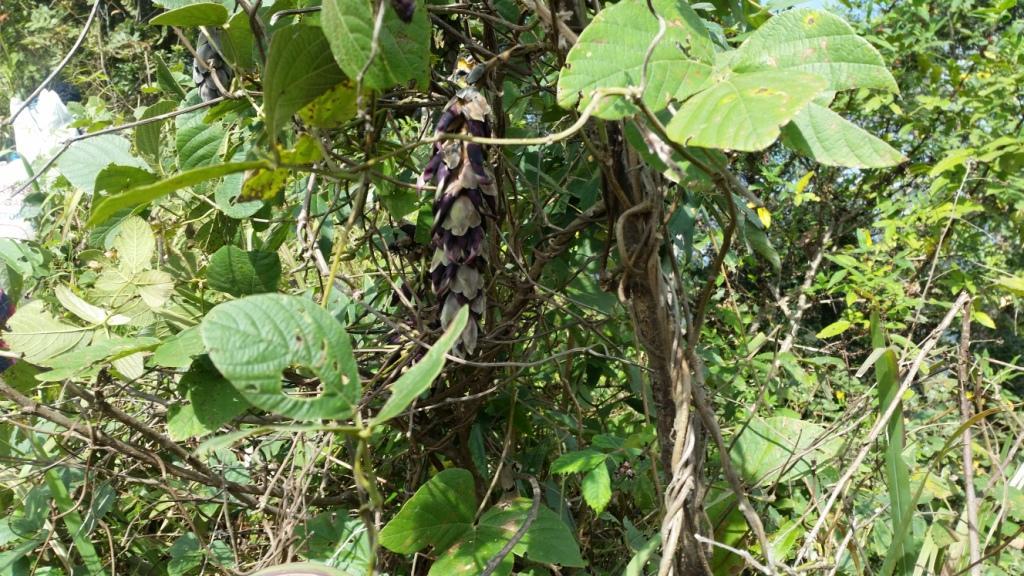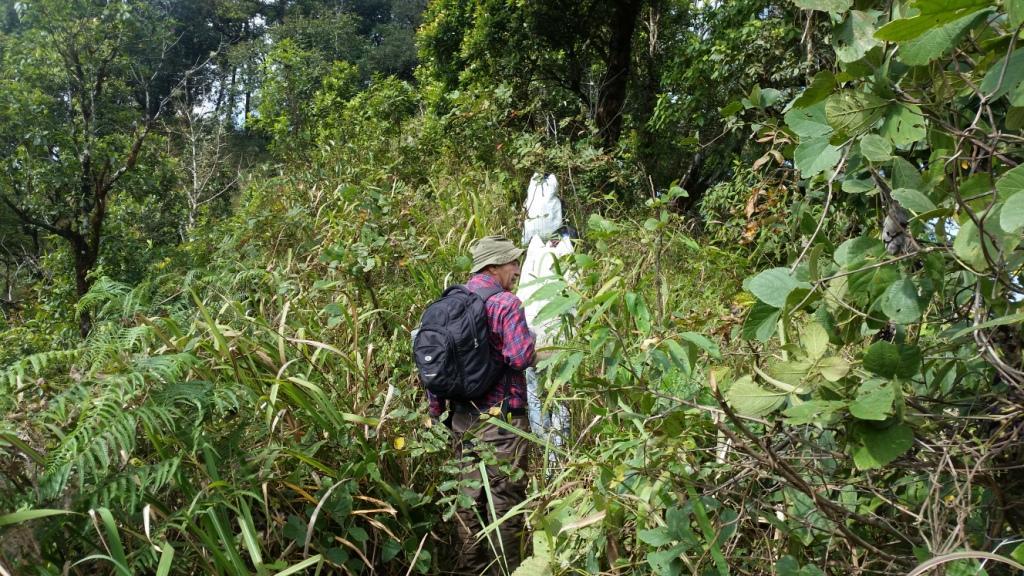 Scaling our next destination; Doi Chang.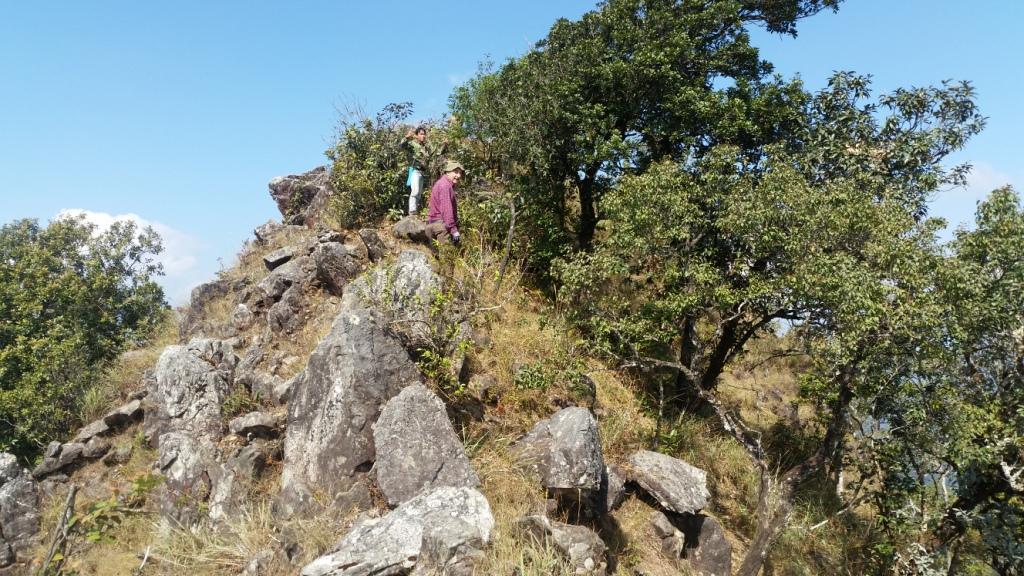 Looking west and back to the village we started from.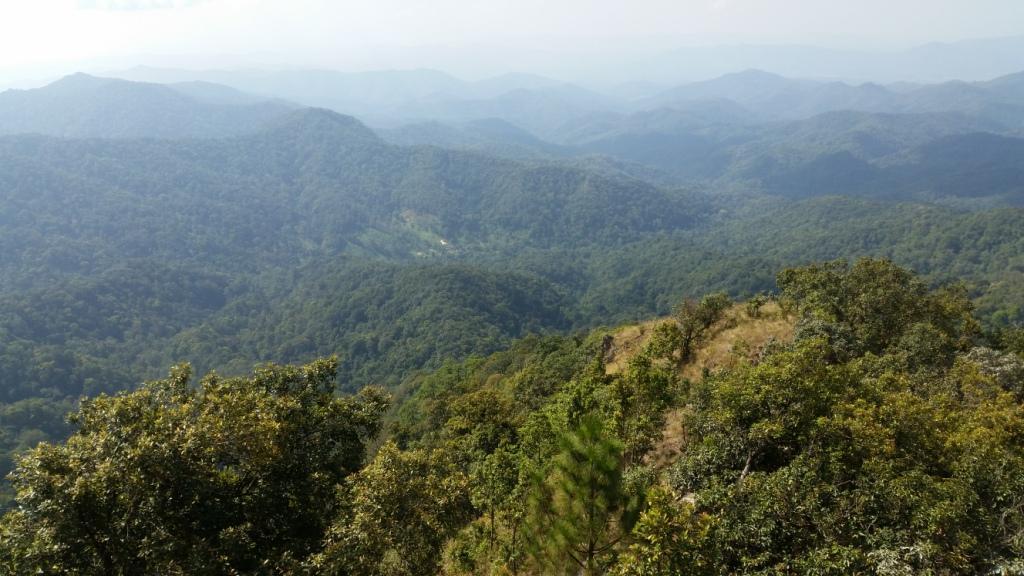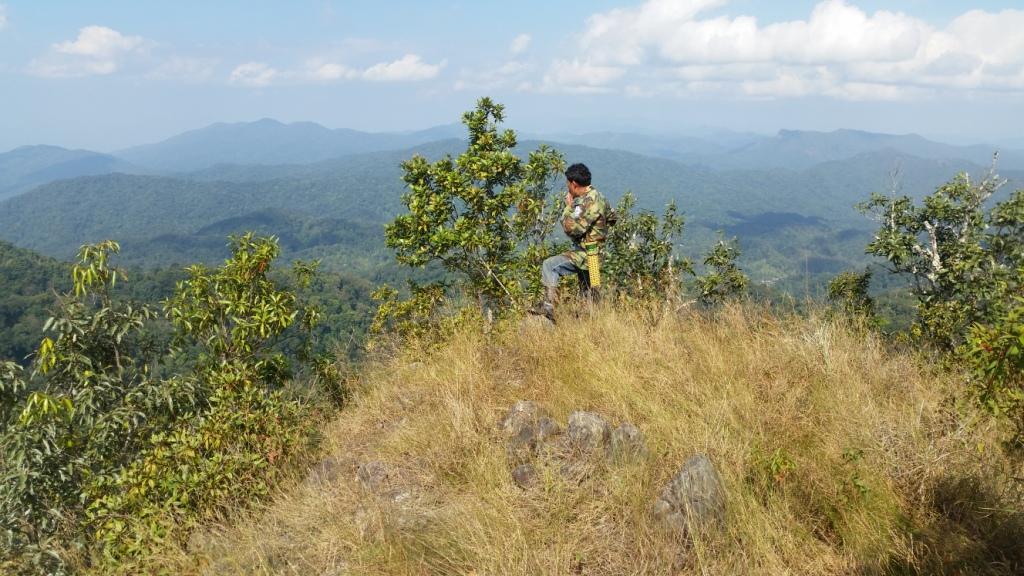 a change of hosiery....?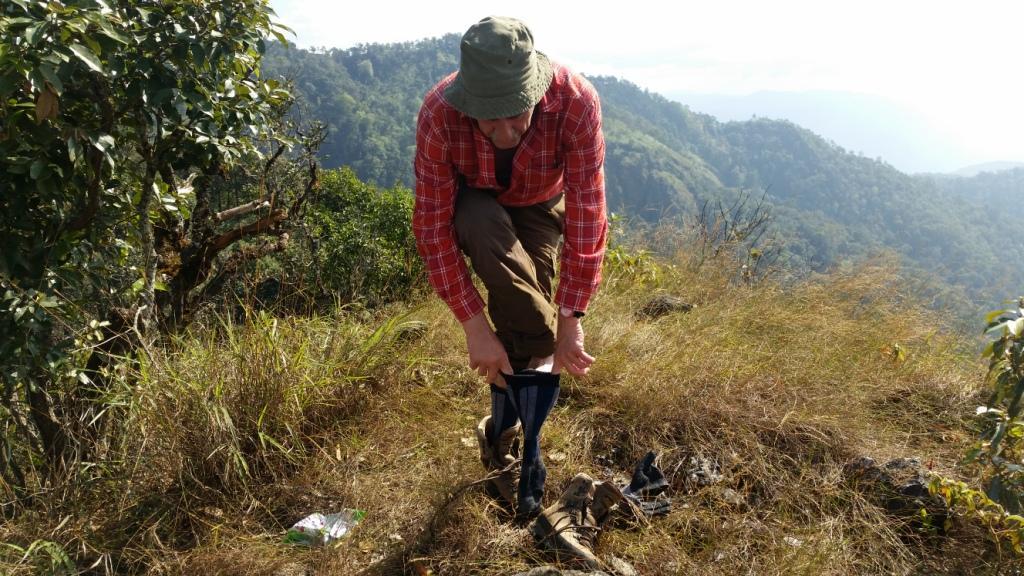 Looking north to Doi Pa Ngom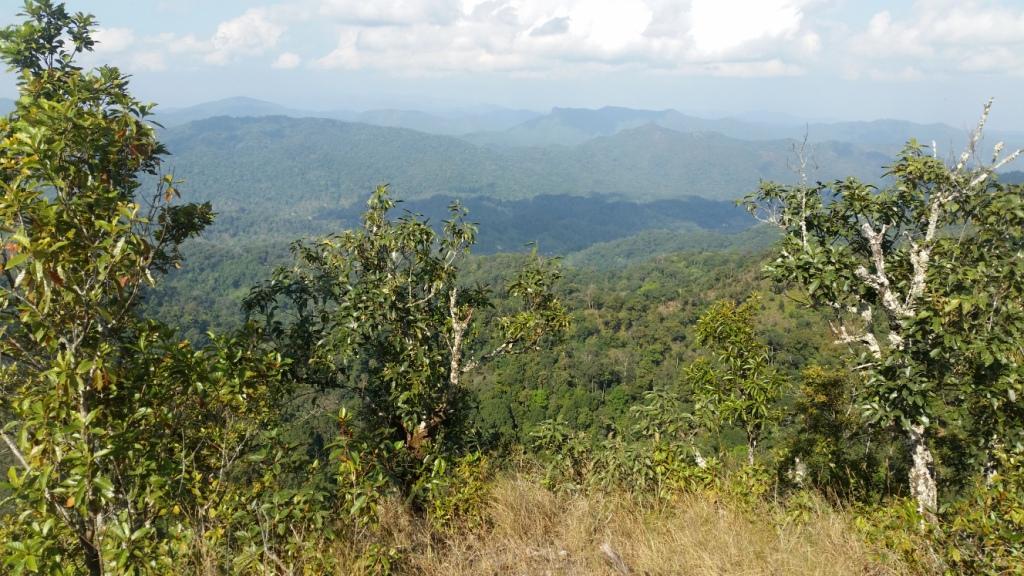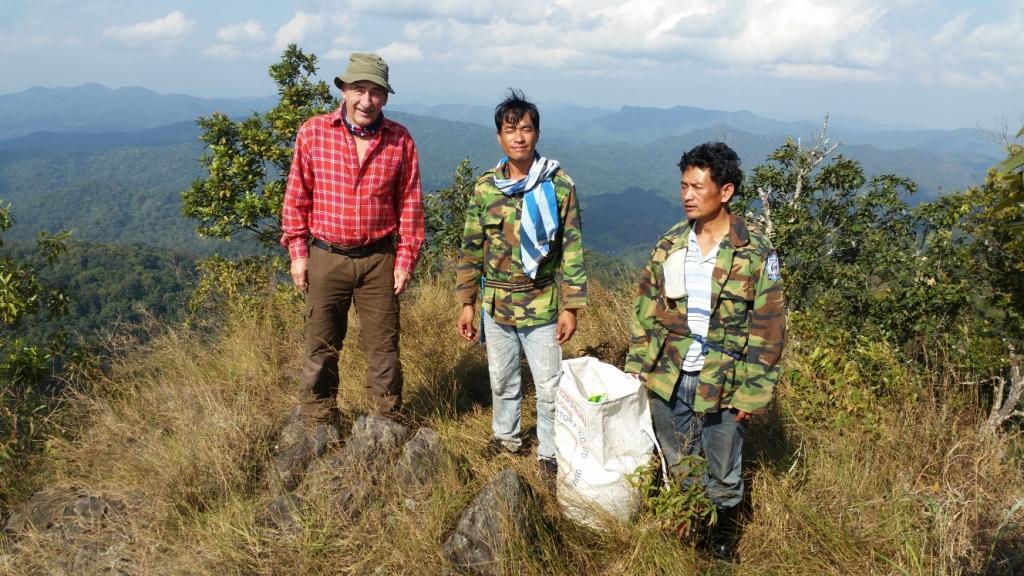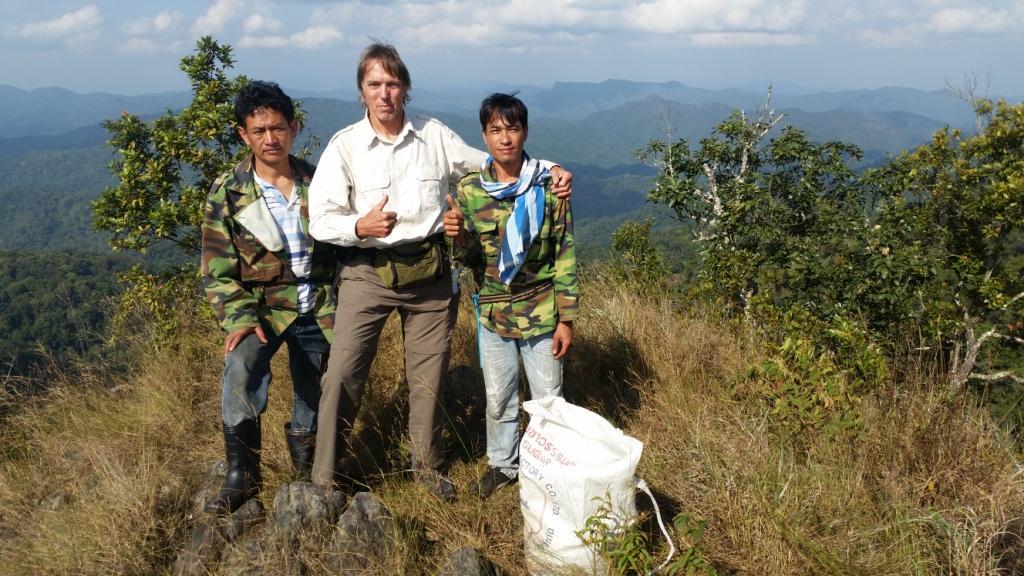 Berg Heil, Peter...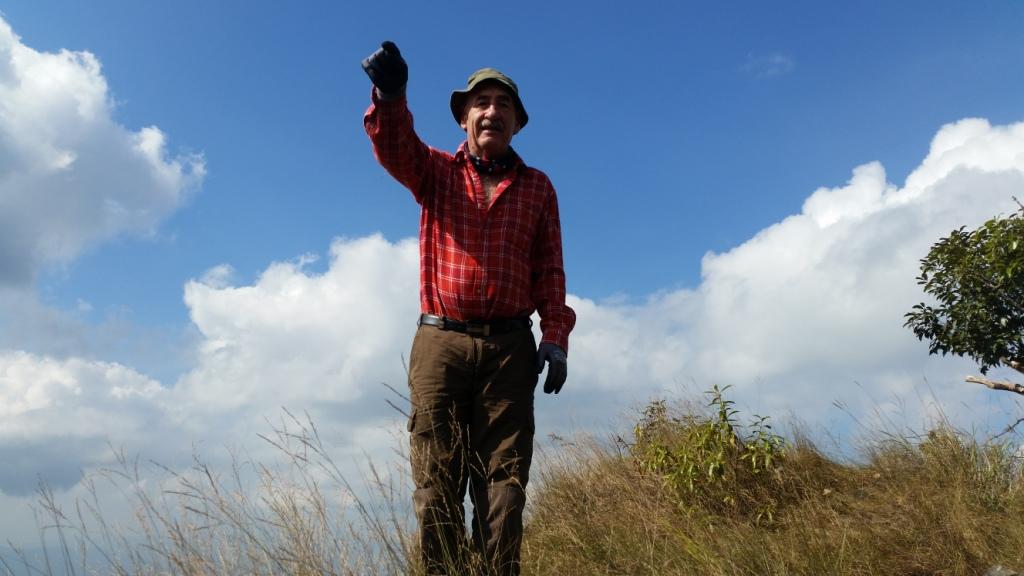 There was no space to camp on the top of Doi Chang, so we started down through the jungle to a lower level, to find a campsite.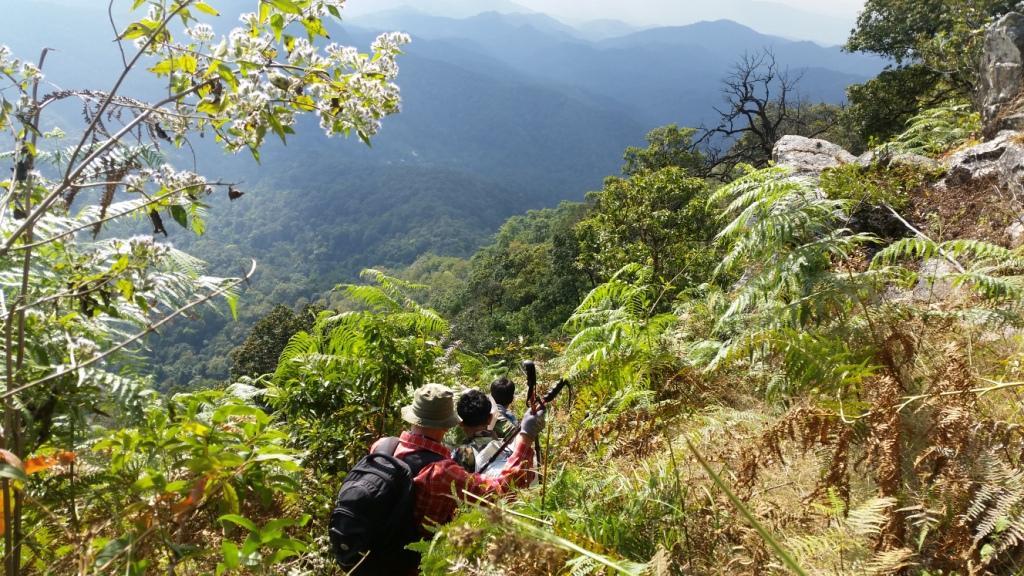 Looking back at the craggy peak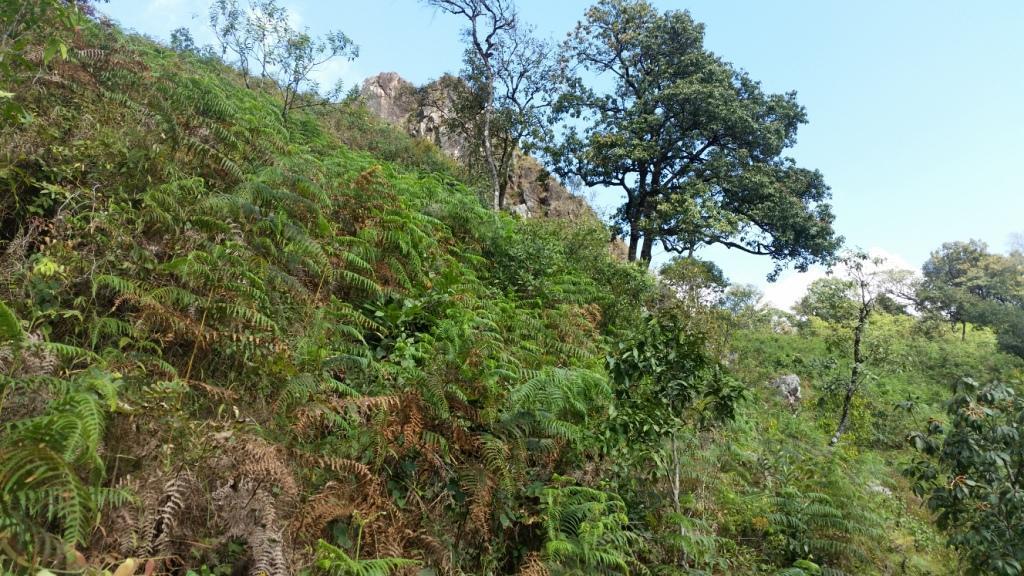 Clear evidence of the recent presence of wild pigs, quite a few of them.... digging for roots to eat.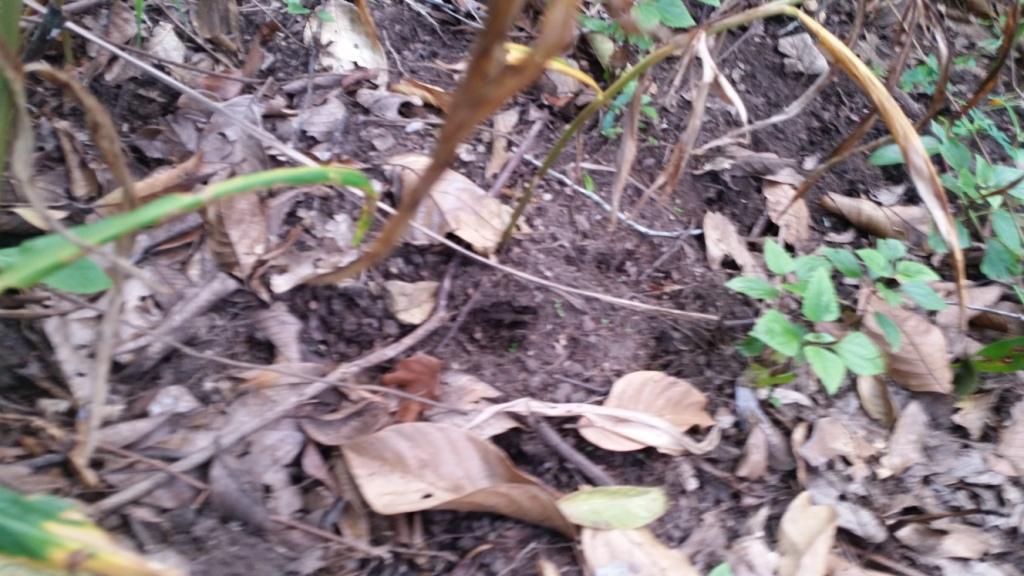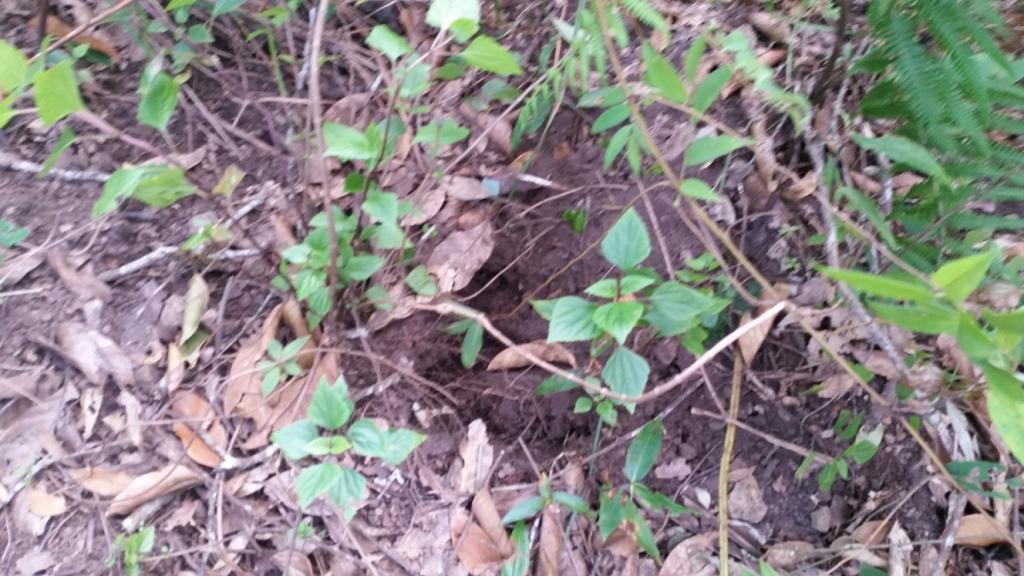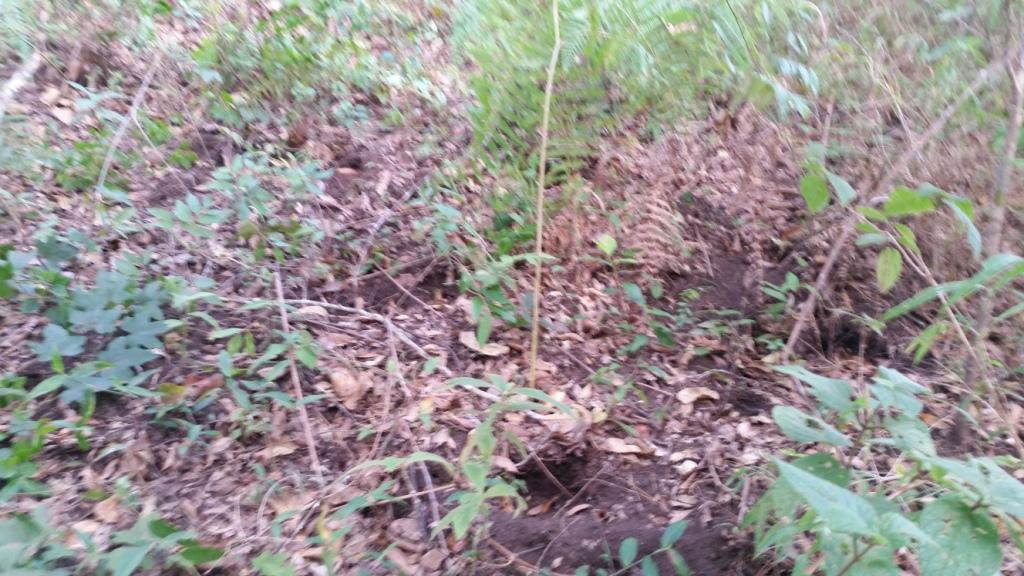 Droppings from a rabbit sized mammal.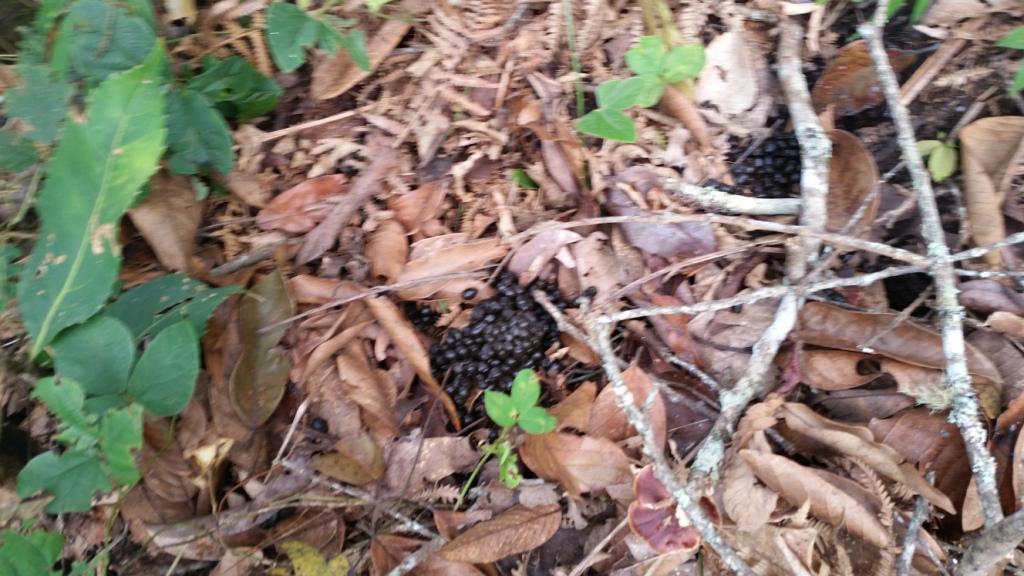 No-one had been down this "path" for a long time, so we had to cut our way through the thick jungle.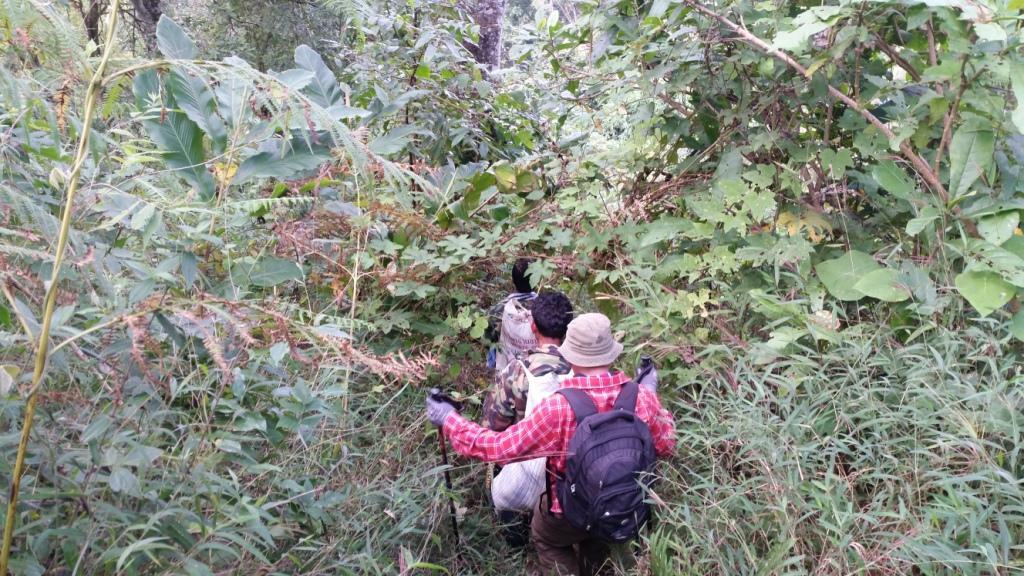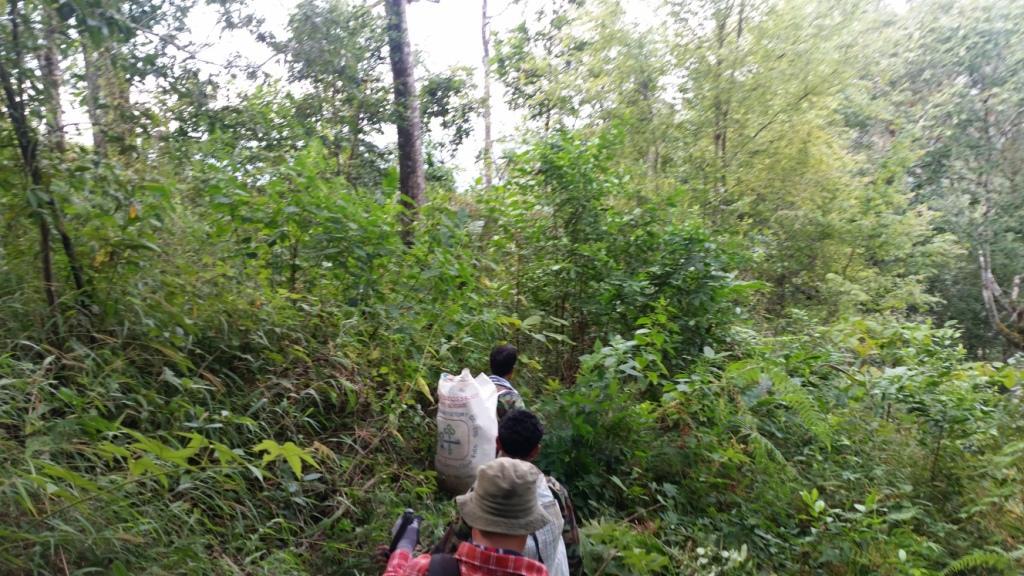 Aah..... our bathroom.
2" of fresh cool clean running water, to have a decent wash in. It was definitely needed and appreciated...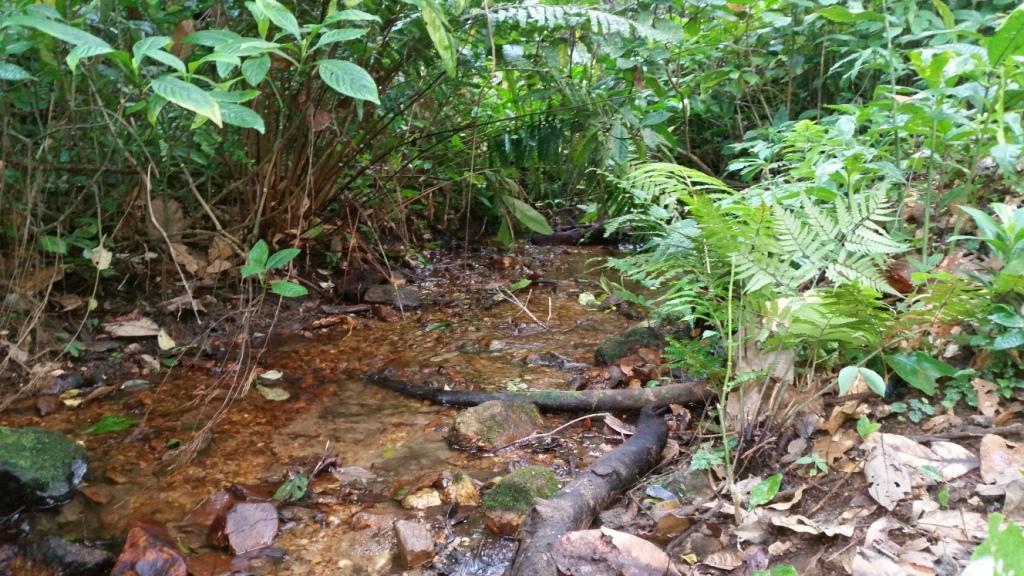 Our jungle camp.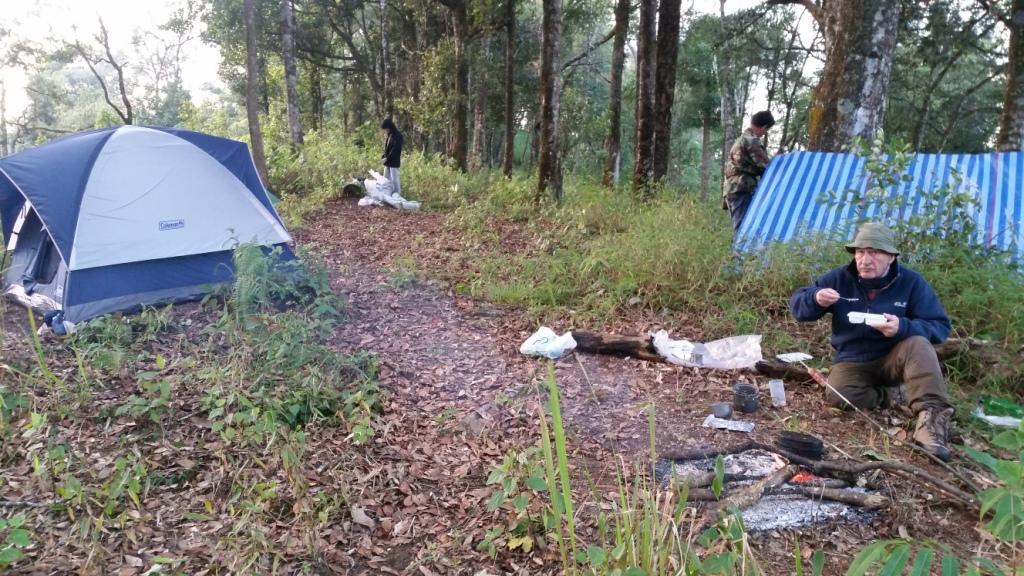 Next morning was warmer and sunnier, as we broke camp.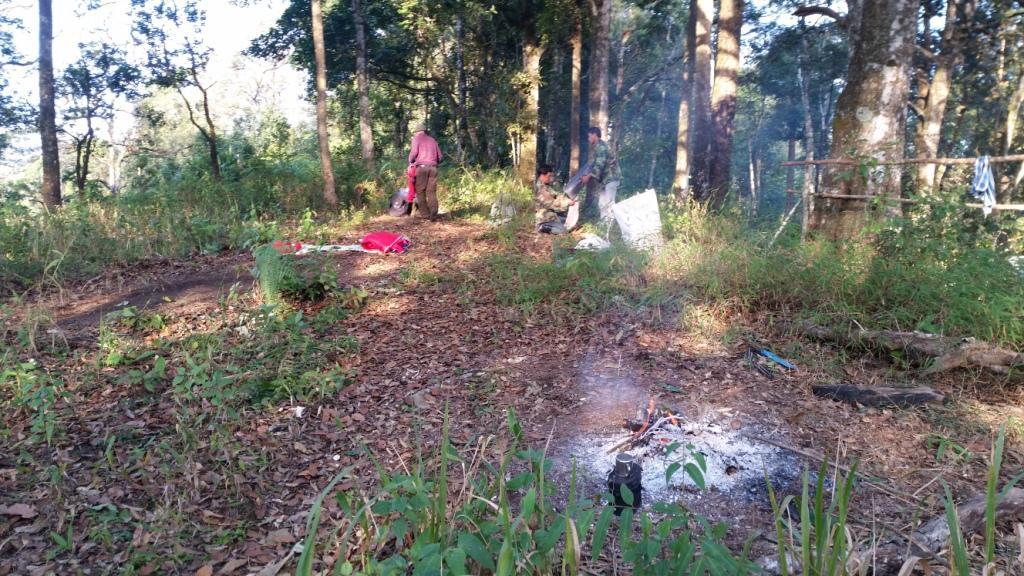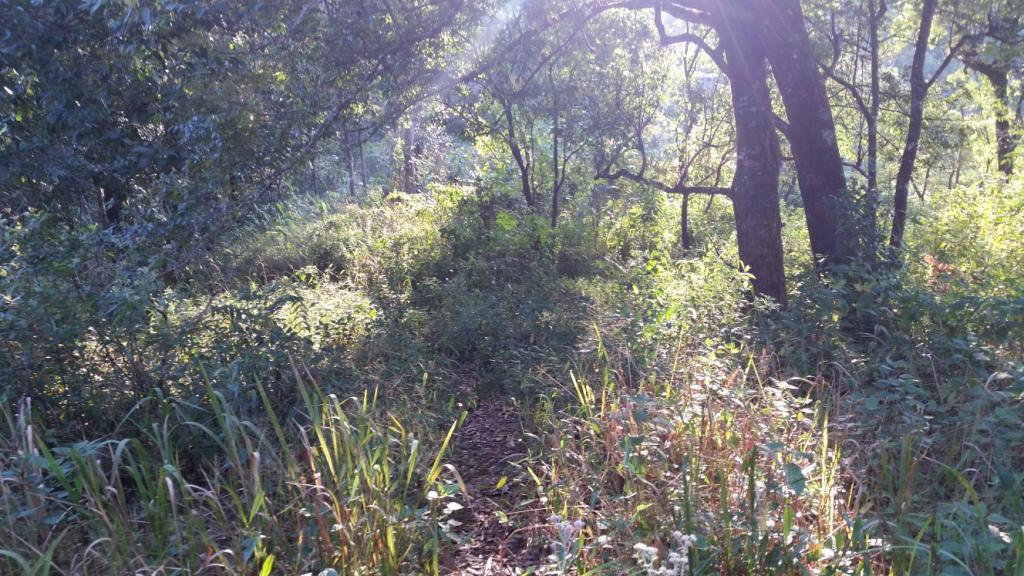 Looking back up at Doi Chang.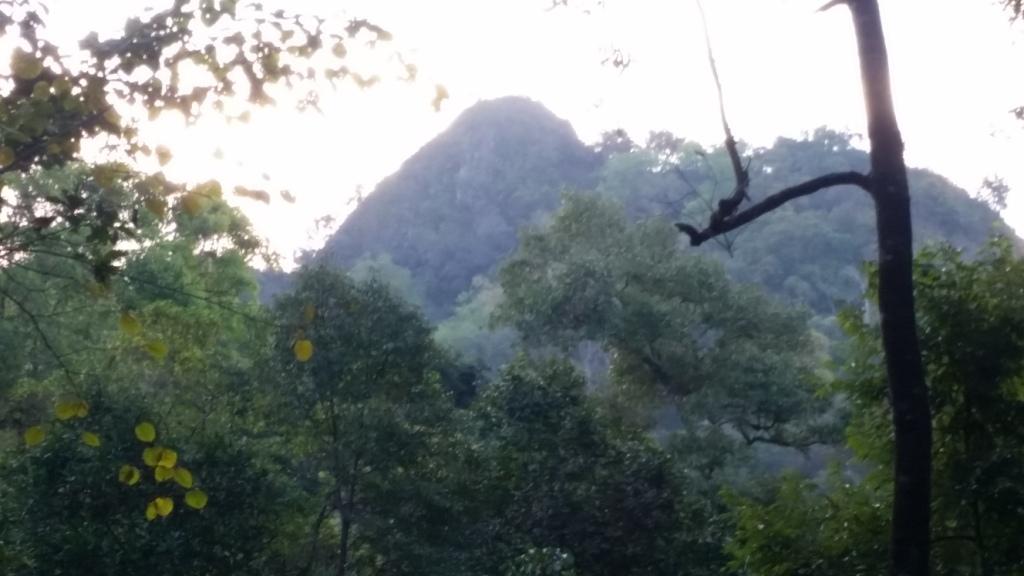 It was a pretty easy 2 hour walk back down to the village.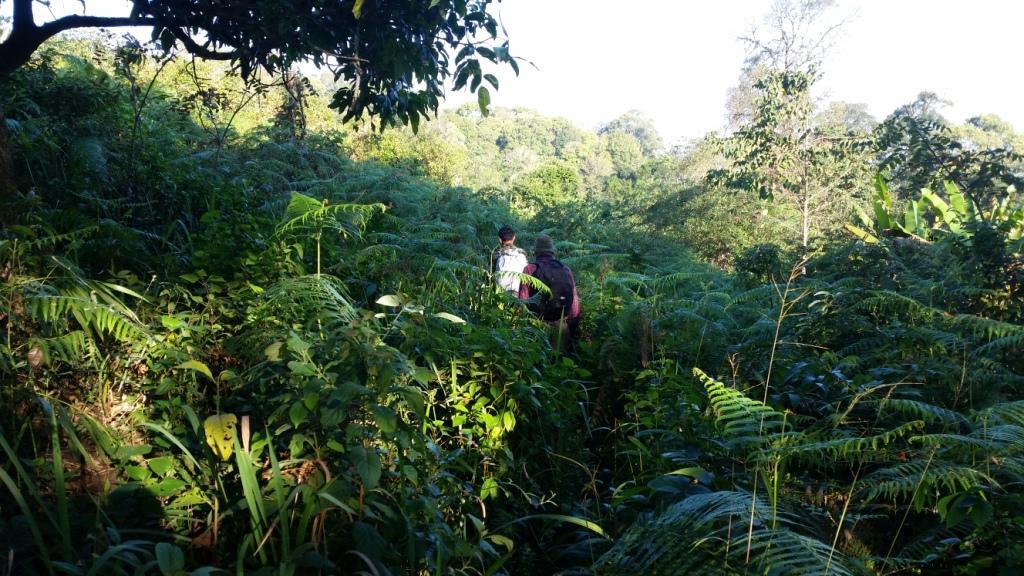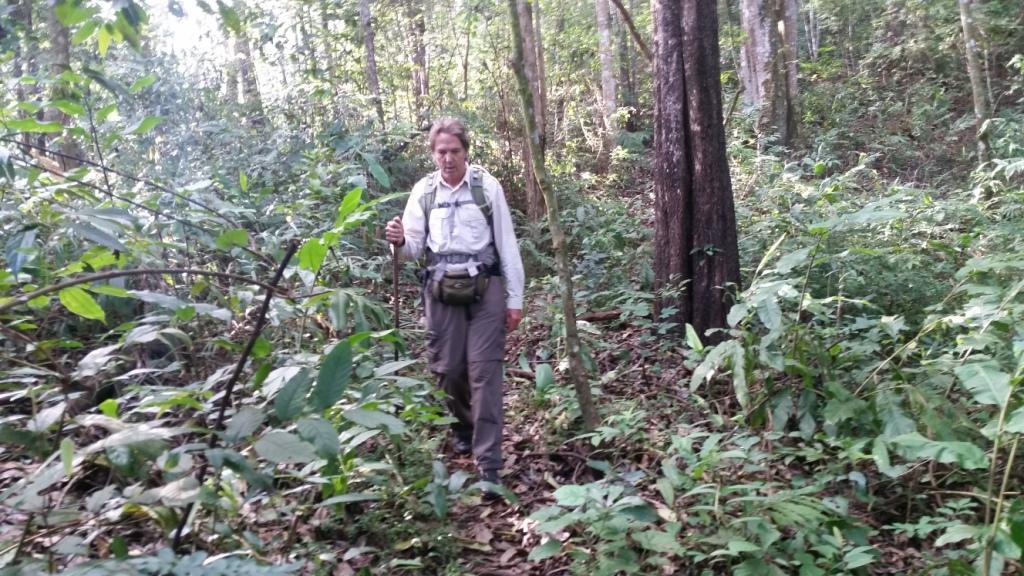 Back to the start of the Doi Mot hiking trail.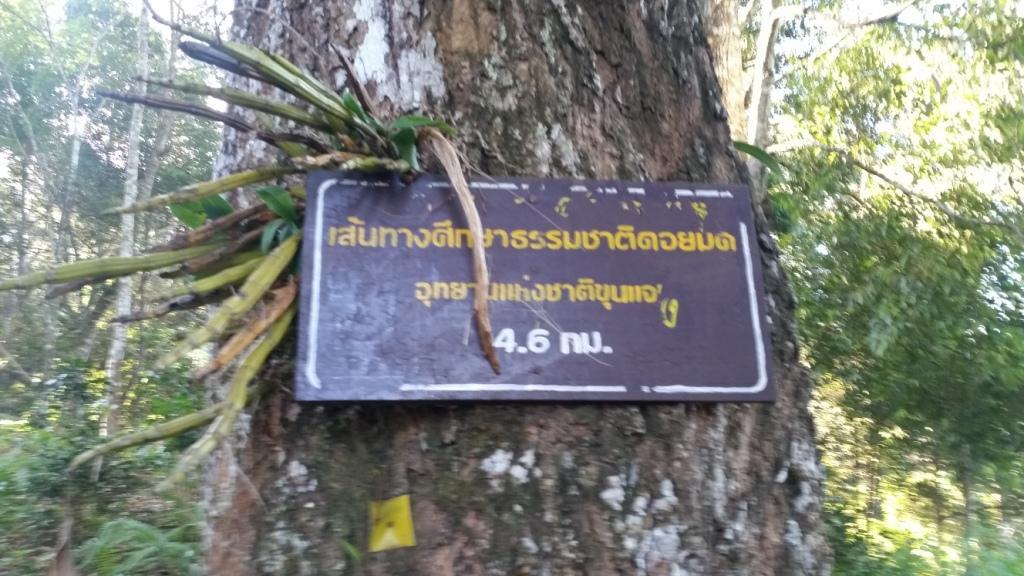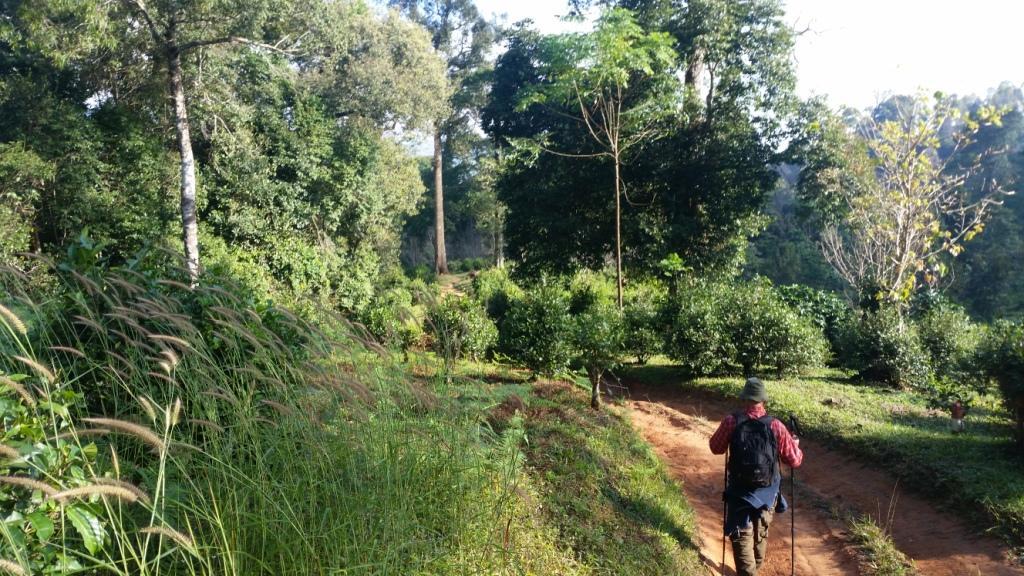 After getting back to the village and producing a bag full of plastic garbage, we got our 500 Baht garbage deposit back. That is a good system to help teach people to bring their garbage back down from the trails.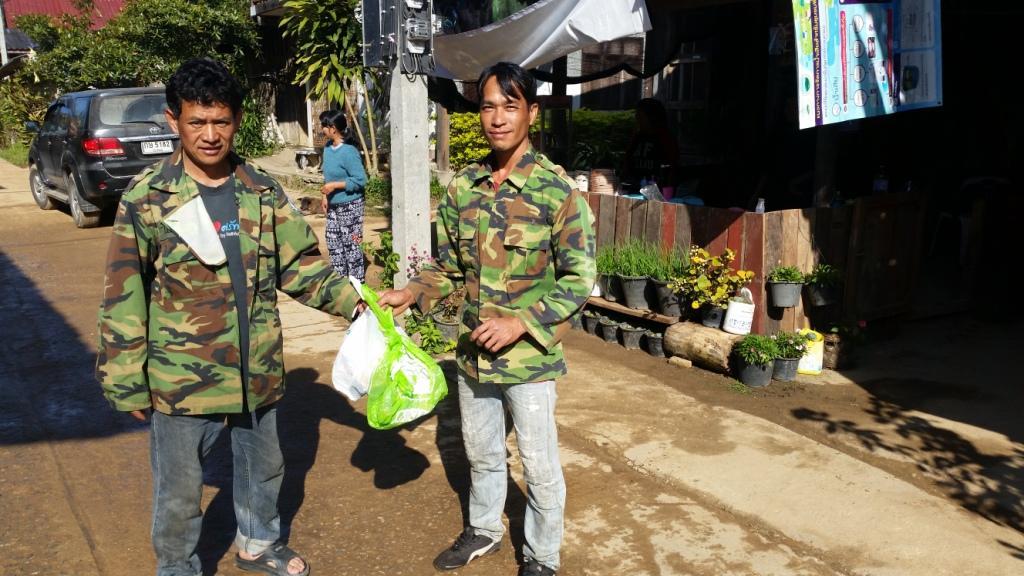 As the Phu Yai bahn was away, his wife came to greet us in the village and then we got a pickup ride back to the NP HQ.
The last stop on the trip was then a hot spring bath in Mae Kachan, to relieve those aching old muscles....
A wonderful mountain hike, that Peter and I both enjoyed immensely..