Part two
Excerpt

I tumbled upon the book "Sacred Mountains of Northern Thailand and their Legends", and took it as a source of inspiration for short trips around Chiangmai. The western part of northern Thailand is gratified with some of the highest, most respected and majestic summits of the country. Roaming across these peaks and through narrow valleys, on people build road loops, is a blessings for motorcyclist. It comprises the three most revered mountains: Doi Suthep, Doi Kham and Doi Ang Salung (Doi Chiang Doi). Mystic legends (tamnan) link them to the life of the Buddha and to his (non historical) visit to the region.

I decided to check out these places and to explore trails around them. My first trips were for Doi Suthep-Pui, trough the north-east face, up from Maerim.

It was winter time and full "scorching" season. Slash and trash burnings doomed the countryside to darkness and landscapes were hidden under heavy mist. Being sorry just does not change it! "I said to myself, what a wonderful world", and jumped on the saddle.

See also the former post:
Part one.
Doi Suthep's North Face – the wrong loop
Doi Suthep's North Face - the wrong loop
My first escalation of Doi Suthep-Pui's "North (- east) Face" (see former post) ended in a diverting, but hardly recommendable, cascading rocky footpath, down to the 700 years stadium. Despite the final rough riding, I learned to appreciate the hills above Maerim and got prospective views of lovely sandy itineraries. The old Honda (once she was properly fuelled) had done a good job, but I had to find a more permanent mare.
A visit to Kawa, with my freshly broken piggy bank, and a KLX 125 entered the stable. It was time for another Maerim loop. My brother accompanied me again, riding his bare Zerow.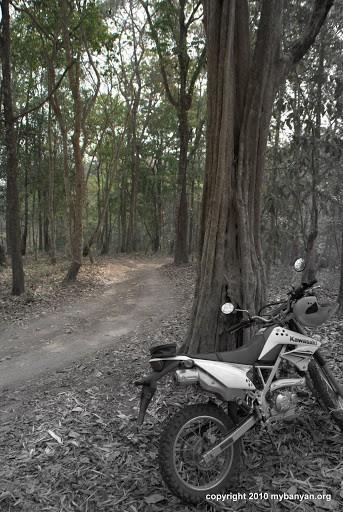 The uphill itinerary is the same, leaving the plain in the village of Bahn Maenai through the slightly hidden Maenai Soi 1. A sandy trail climbs in the forest of majestic trees whose meagre canopy does not shield the bleak winter light. When riding in second position, "sand is in the air", mixing with smog and ashes. My glasses and the helmet's screen helped to shield my eyes, leaving only a crispy reminder on my teeth.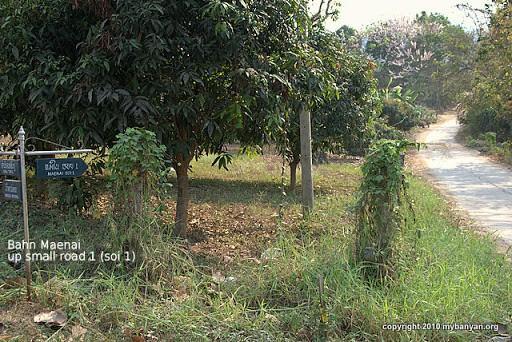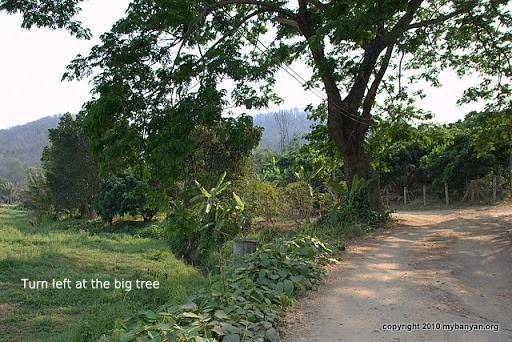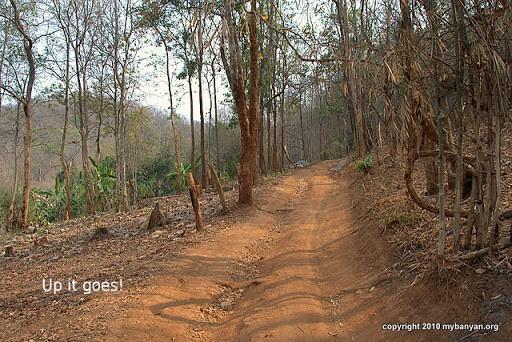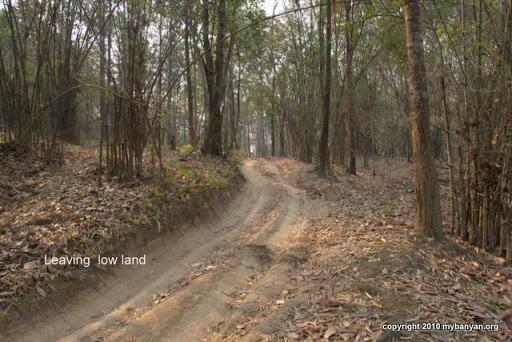 Lychees are a major upland crop and many orchards are found along the way to Doi Pui. The rainy season was not generous, irrigation basins and small streams are depleted, creating watering problems. Following a small track we entered a garden of large trees, intermingled with small coffee bushes. It was a short side loop. Moved by curiosity to scout the pedestrian way, we ended against a rocky wall.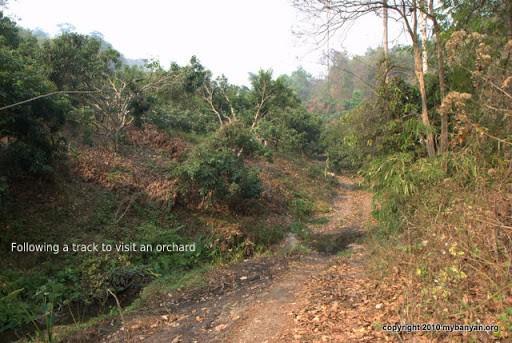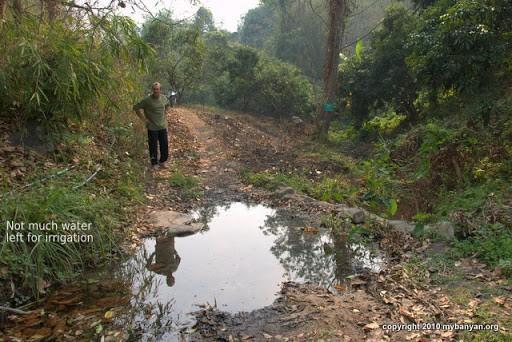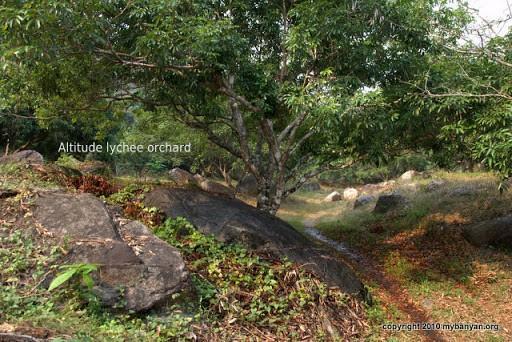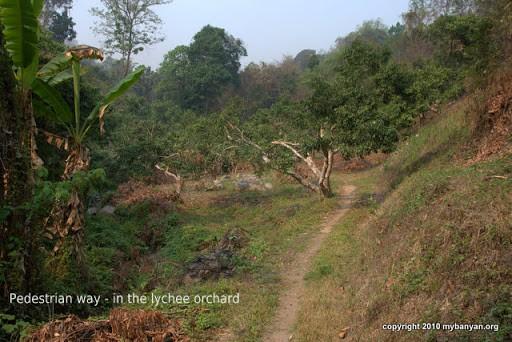 The orchard has his name card spelling "warm water river". It was deserted during our visit, but activities like watering and producing charcoal in earth mounds kilns were visible.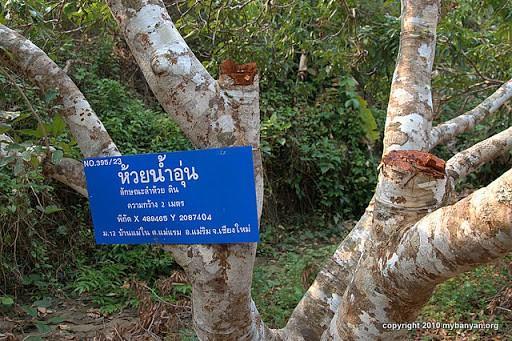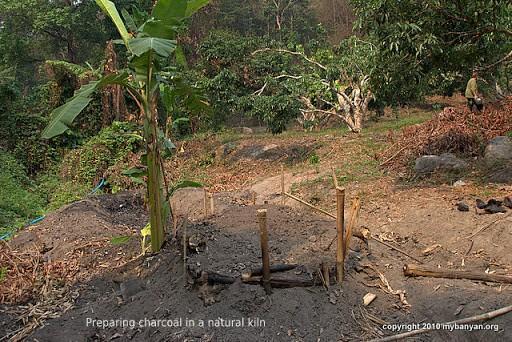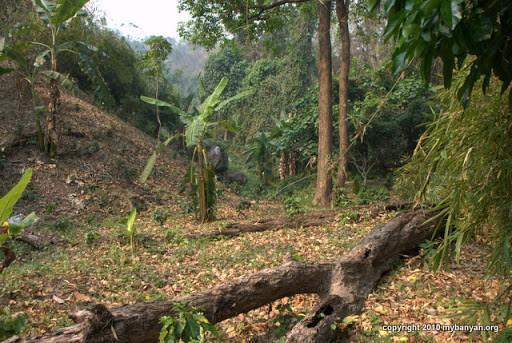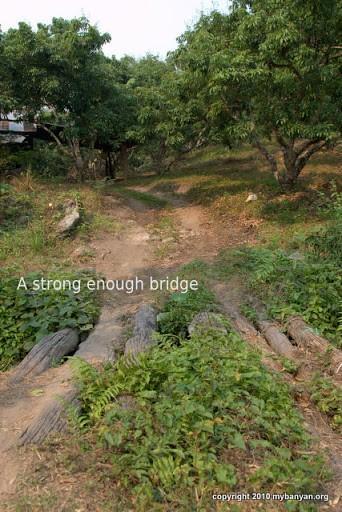 Back to the main path, we climbed further to a north-western view-point with a delightful glimpse on Doi Mae Sa Noi, after the rainy season. At the moment the landscape is just hazy and dull. This could not alter our mood, as we still have great fun to drift around these mountain roads. The downpour will refresh the scenery but also transform the sandy tracks into mud, opening them to off-road experts only.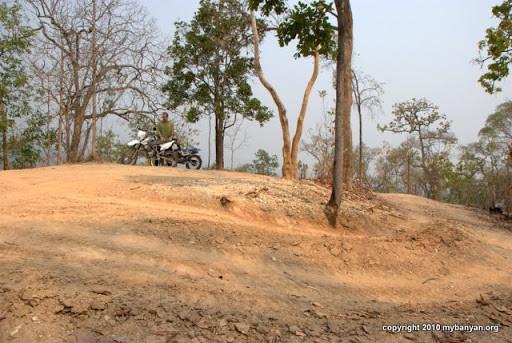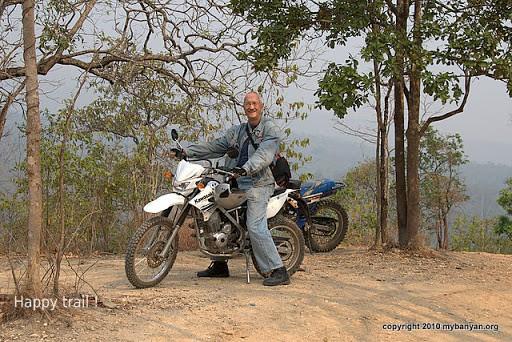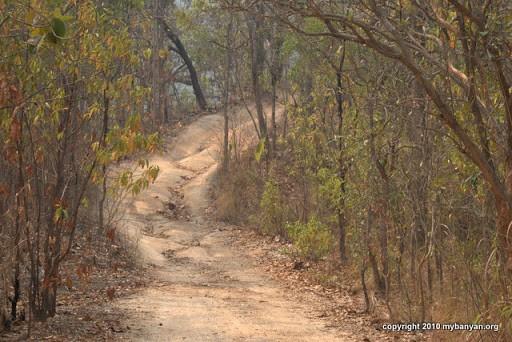 The attractive dirt trail to Doi Pui affords a variety of surroundings, crossing small rivers, passing orchards and remote settlements, sometimes at open skies, often through alleys of big trees. Later in the season a lush canopy will gracefully shade the way and the scorched landscape will revert to green
undergrowth and boscages.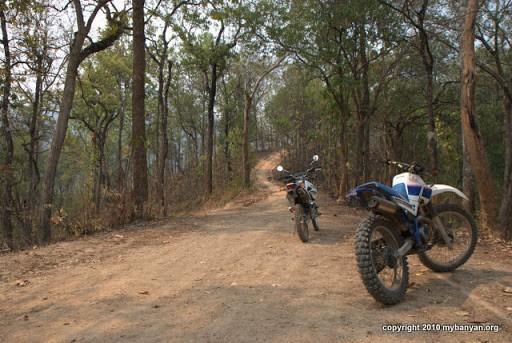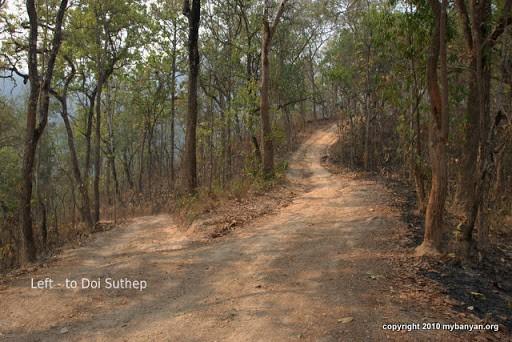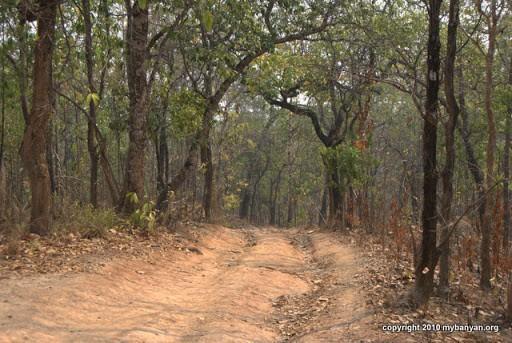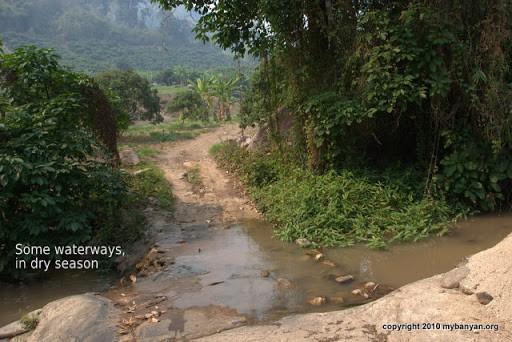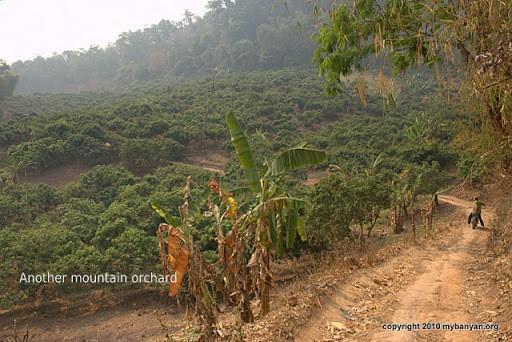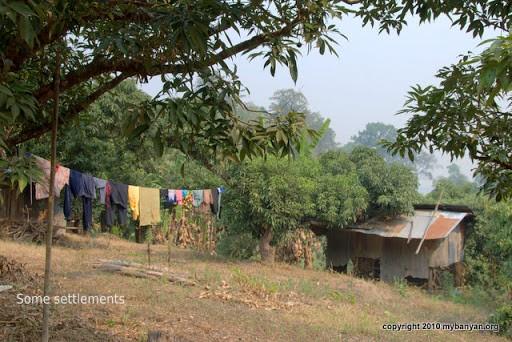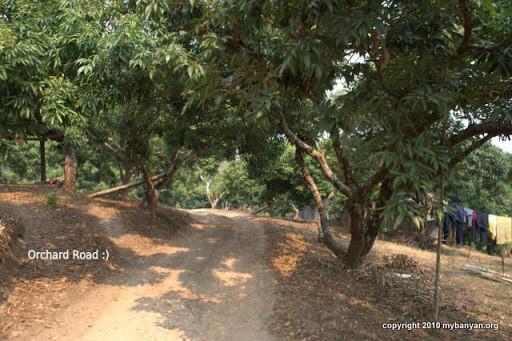 In the middle of a parched eucalyptus grove, the Maerim route joins the way to Huay Thung Tao. Later, we will be driving back through this road. A large sacred banyan tree, with his spirit house, is protecting this intersection. His might could not avoid the felling of his buddies teak trees, who made place to Aussie saplings.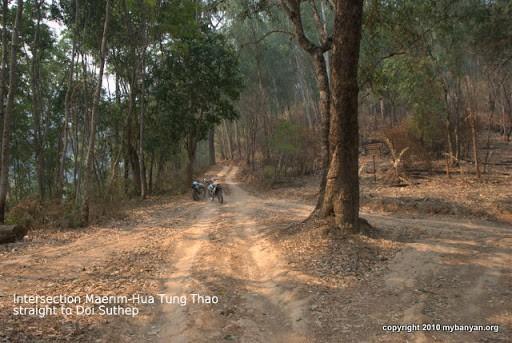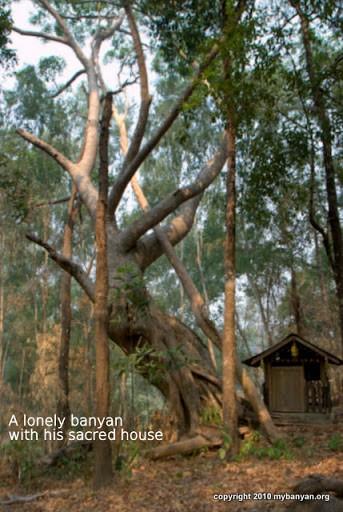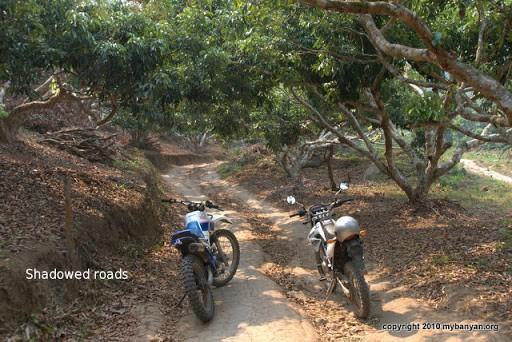 Some forest panels add intriguing hints to the journey. They often seem to say "You are here", pointing to nowhere! However, with his arch and staple of signs, the entrance to Kun Chang Kian Mong Village
is well marked. It is not on our today's itinerary and we kept a visit for another time. This route is already popular, we crossed a group of Thai off-road bikers and a whole pack of cyclists.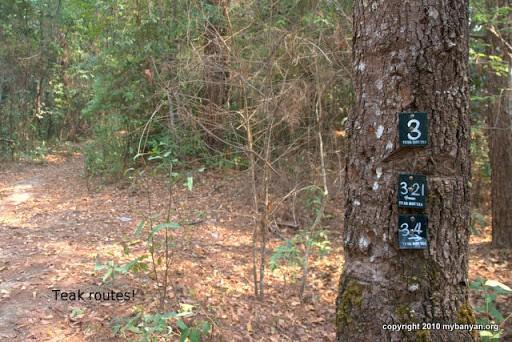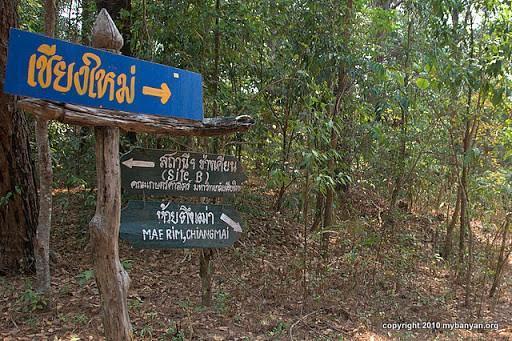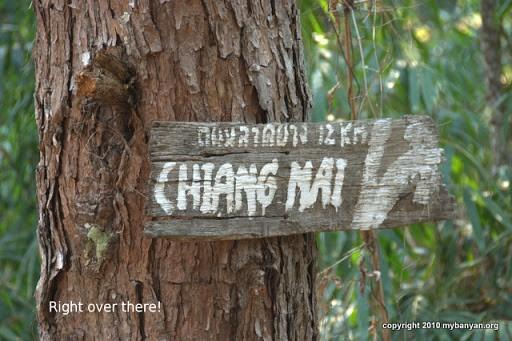 An interesting interlude, on the loop around Doi Suthep and Doi Pui, is the site of the "Highland Coffee Research and Development Center (Chiangmai University)". It has a small shop, and for people eager to take a longer rest, also provides bungalows. The orchard counts about 20000 Arabica trees. Coffee plantations are meant to provide cash crops to hilltribe people, reducing the need for traditional slash-and-burn agriculture. Originally it was a substitution for opium cultivation.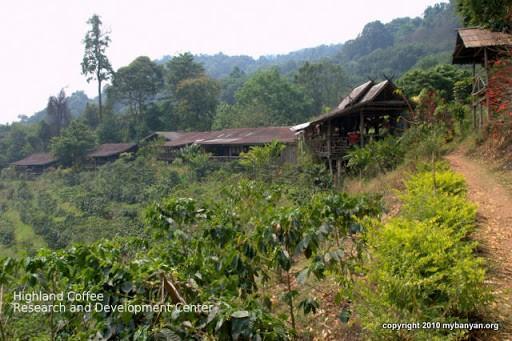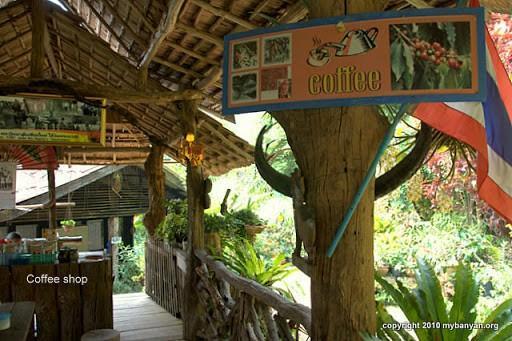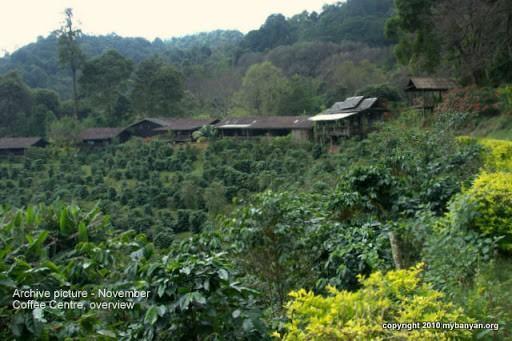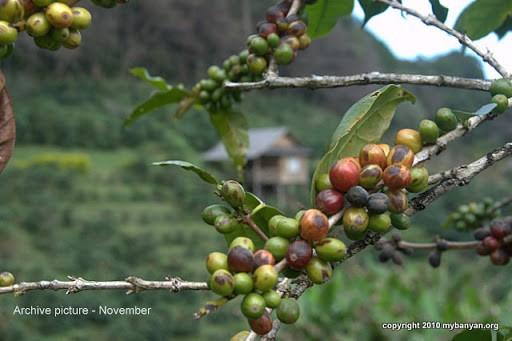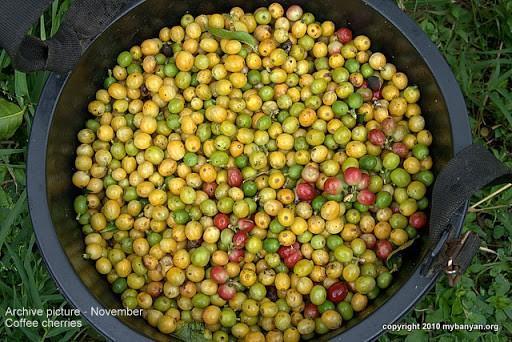 Just after the "coffee break", the road to Doi Suthep becomes a "mountain highway". The qualification does not apply to his four lanes - actually it has only one - but to his asphalt (and rolling gravels) covering. Not all users seem aware of the two-way circulation. Panels, nailed to trees, remind about this "singularity"(two lane traffic!) and recommend to blow the horn in curves. It's not a superfluous precaution as "frontal" surprises are frequent.
A view-point, overlooking the touristic Hmong village of Doi Pui, is our last landmark on this route. Glimpsing to the valley, it is not difficult to imagine the breath-taking panorama of neighbouring mountain ranges, once rain has brought down the trash from the air.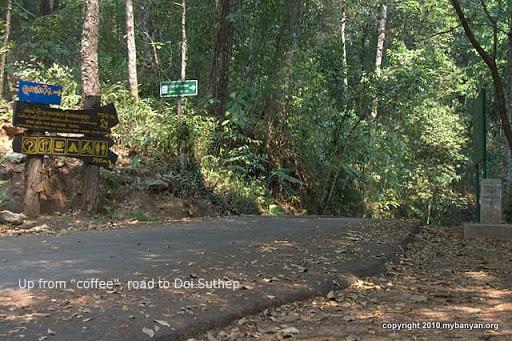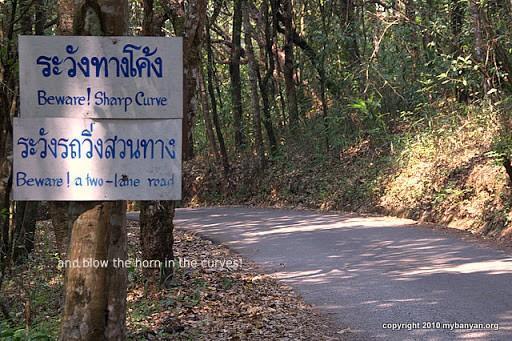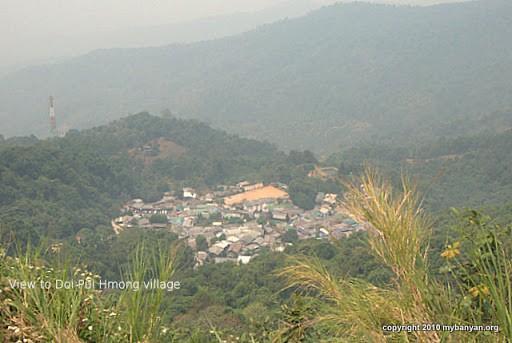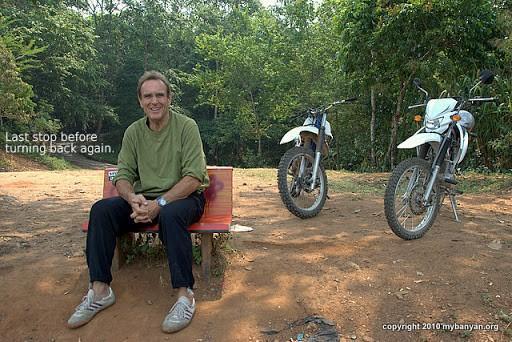 After the clearing, we drive back on the paved road, passing Doi Pui camp ground and the coffee trees plantation.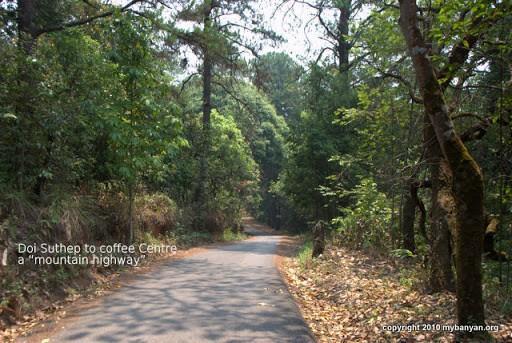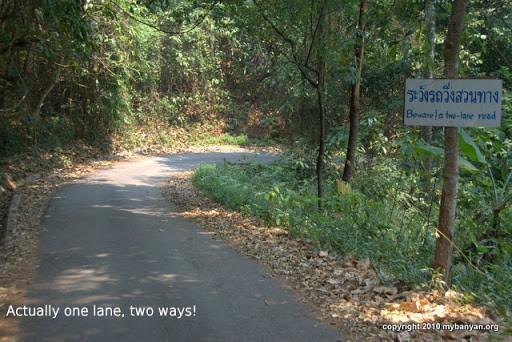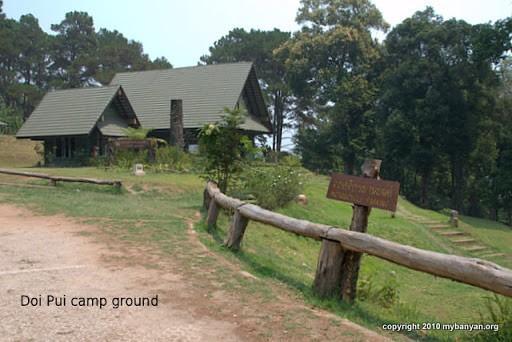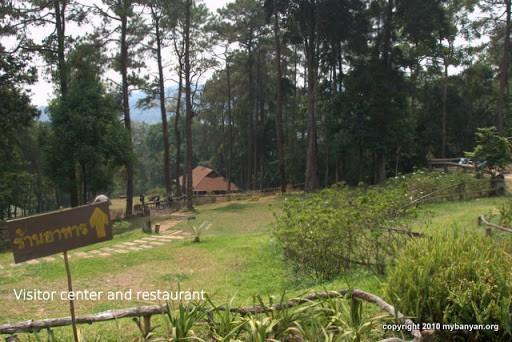 A wrecked wooden shelter resemble a station for "a bus that never came". Other bamboo constructions are intriguing. Small covered bridges span narrow rivers. They look like place to scoop water, but would hardly bear the weight of a human. They might as well be shrines to the water and earth spirits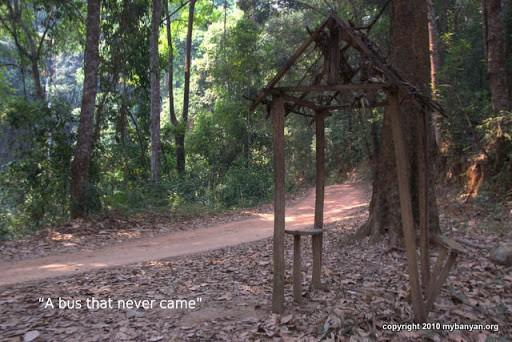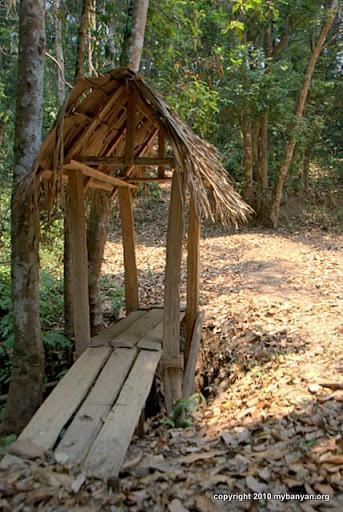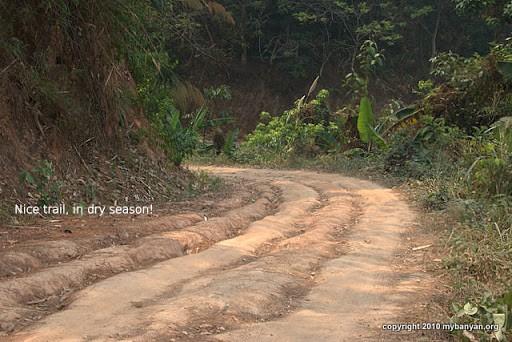 At the "banyan tree" intersection, we continue straight toward Huay Tung Tao. The charming dirt trail goes down (and sometimes up again) through eucalyptus trees, bamboo bushes, orchards and a less dense forest. The dry season helps to keep bikes in the tracks. Some sectors even have the luxury of partial pavement for hilltribe trucks. Finally a portal marks the entrance (actually the exit when driving down) of Doi Suthep-Pui national park.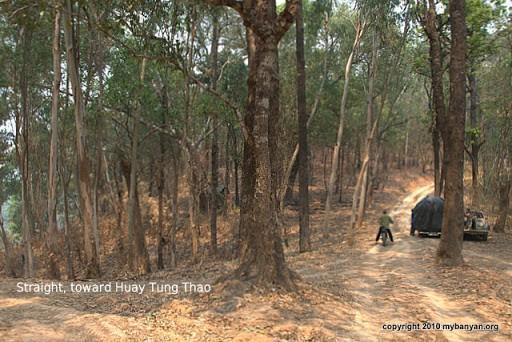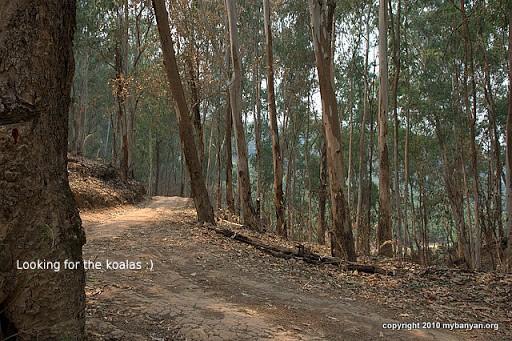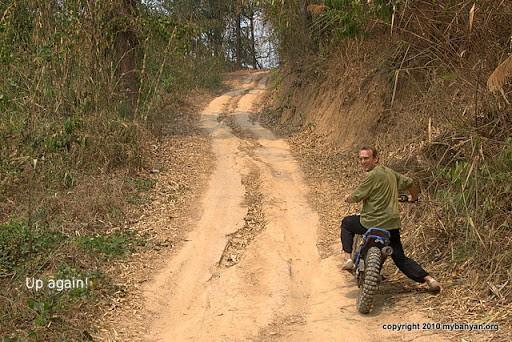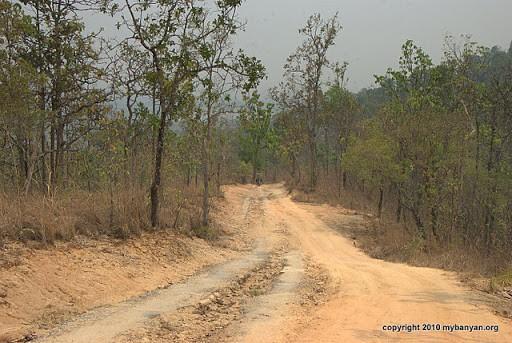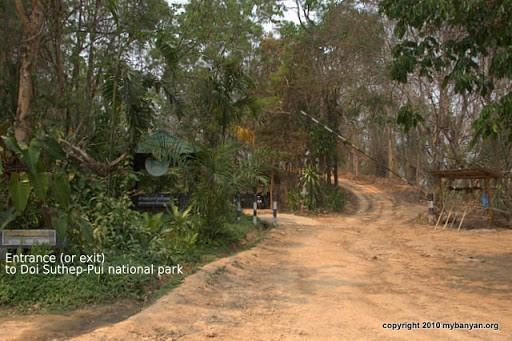 Huay Thung Thao is a large man-made water reservoir. At the time, the flatlands around it was badly scorched (or nicely cleaned, depending on the point of view). The drive back to canal road (Thanon Chotana) goes through the park and a fee of 20 THB is collected. Thai people flock this popular place during week ends. Numerous relaxing bamboo huts, appropriate the rim of the lake, serving all kind of (local) food and drinks. Hard-skinned people, or wannabes, can even try a swim!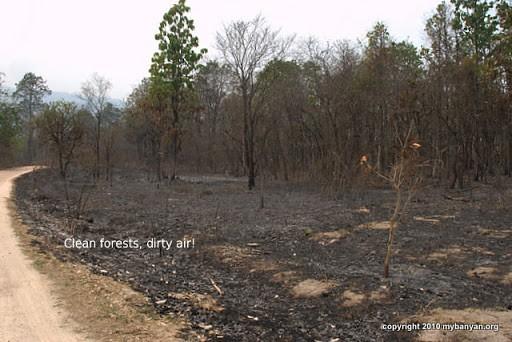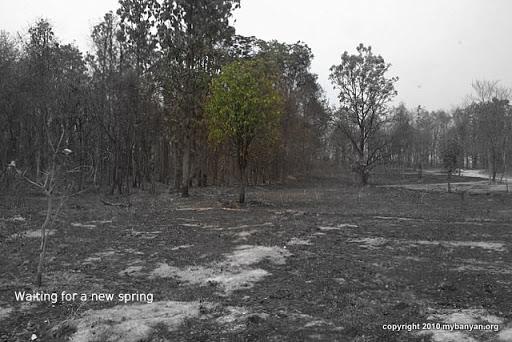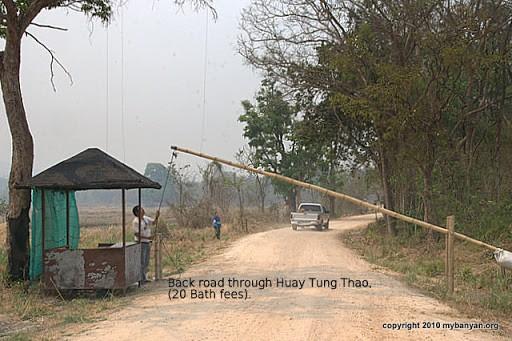 Last edited: