First-timers take on Northern Vietnam on an XR400.
In November 2016, my partner (Jasper) and I took off on our first moto adventure, exploring Northern Vietnam on an XR400, for 10 days. I planned this trip using the help of trip reports I found here, as well as the Vietnam Coracle website. We used 'International Travel Maps' Hanoi and North Vietnam, purchased online and google maps on my phone.
Our trip took us from here:

To here:

And here:

Then here:

Background
Jasper has been riding bikes since he emerged from the womb. He rides dirt bikes at home, namely his much beloved Husqvana TE510 and has recently purchased a BMW F800GS. He had yet to ride more than a day trip, but its safe to say, the man knows how to ride a bike.
In comparison, I don't. I 'learnt' to ride a few years ago, on a Chinese pit bike (with no suspension and no back brakes) that I bought for $300 off eBay to ride in my backyard. Then purchased a Yamaha XT225 that broke down more often than not and became the bane of my life. I'm a terrible (slow) rider.
Jasper had originally been minimally enthused by the idea of a SE Asia trip, till I casually mentioned "oh we could, like, ride motorbikes maybe". He immediately started packing. We decided I'd be better off riding pillion to save Jasper waiting for me the whole trip.
So it was settled. Jasper was to be in charge of not crashing. I was to navigate and deal with everything else. It was also Jasper's first trip to SE Asia (actually, his first trip to a non-English speaking, developing country). I'd been several times before, but never to Vietnam.
Our bike: Honda XR400

We rented from Flamingo Travel, for about $42USD a day. We actually booked a DRZ400 but on the day they presented us with this and why would we say no? The guys at Flamingo were great. The only surprise (besides the free upgrade) was the huge bag of spares they gave us.
The spares kit included the obvious spare tubes as well as massive tyre levers, a CDI, clutch plates, front sprocket, spark plug, clutch and brake cable, etc. Basically, enough to rebuild the whole bike. I think the idea is that Honda parts are expensive and hard to come by in Vietnam so these bits should get us out of trouble.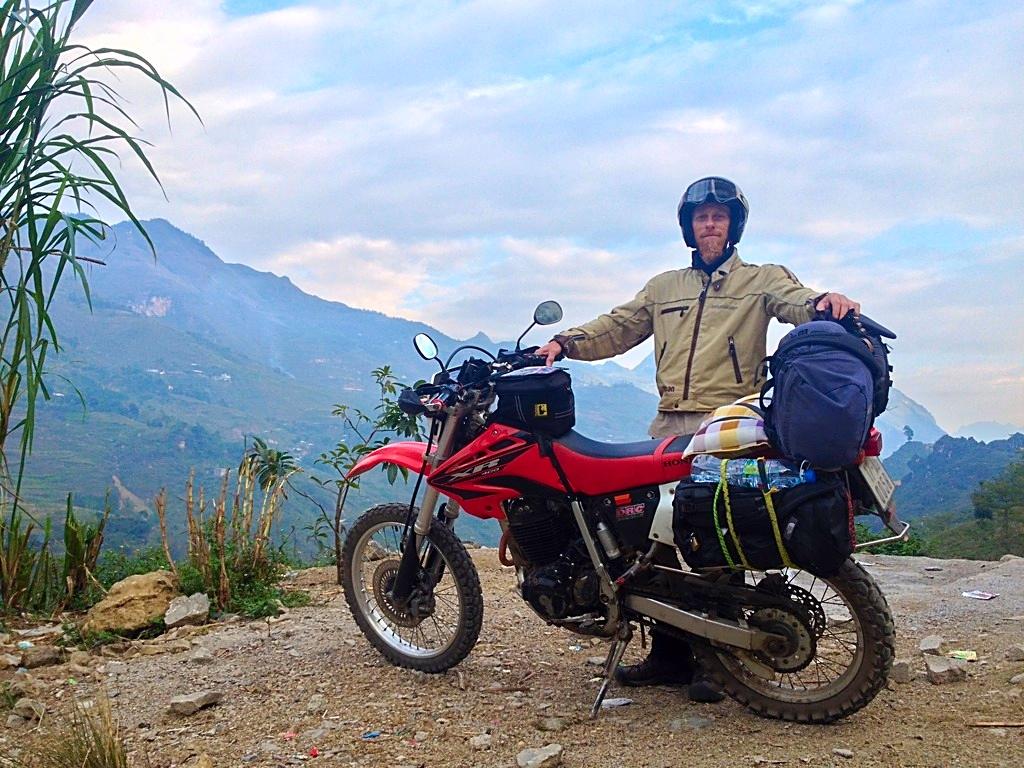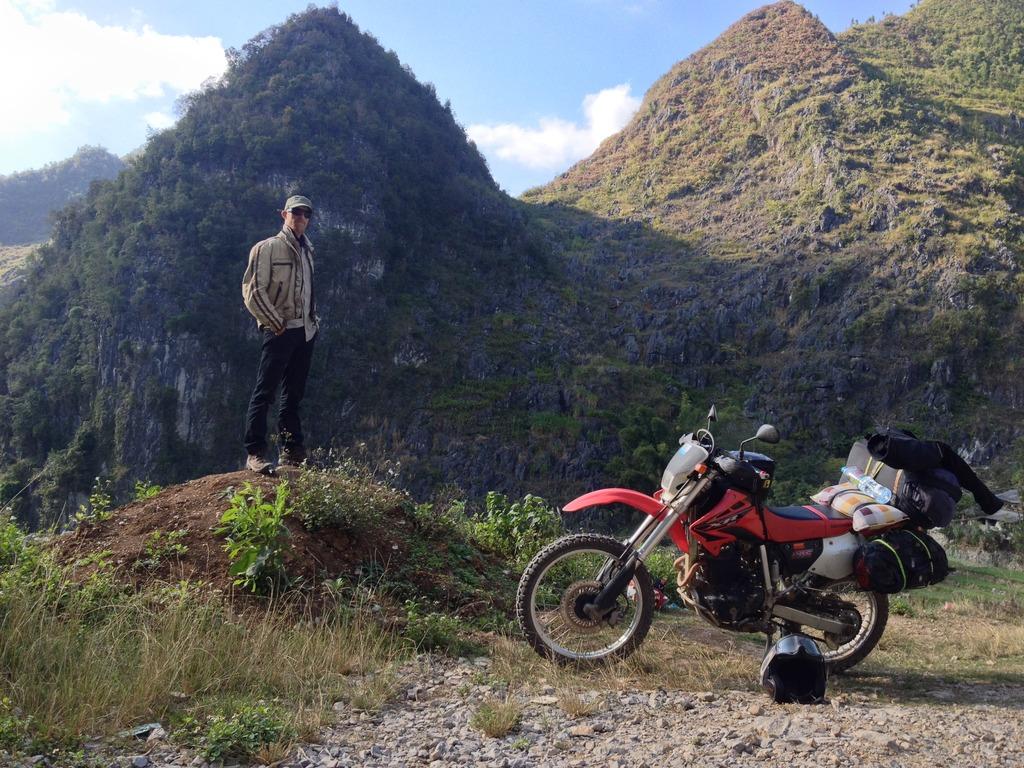 Day 1: Hanoi
Accommodation
: Hanoi Elite
In Hanoi we stayed at the Hanoi Elite on Dao Duy Tu Lane (off Dao Duy Tu). I chose it for it's close proximity to Flamingo Travel shopfront. The hotel is pricey ($55 night) but its top class and I can't fault it. It was a treat for us, as we can't afford the same level of luxury back home, where the price tag would be upwards of $200. Highly recommended.
Hanoi-Lao Cai (overnight train)
Flamingo organised our train tickets for us. After seeing the bike at the mechanics, they told us to meet us at the station 1 hour before the train was due to depart and promised to bring the bike and tickets. They kept their word. The gentleman gave us our train tickets, the ticket for our bike and even walked us to our carriage. We passed the stores carriage just as our XR was being rolled on.
The tickets, from memory, cost about $36USD for two plus the bike.
Train arrived around in Lao Cai about 7am, grabbed breakfast at a nearby stall and began the process of working out how to get our gear onto the bike. In Hanoi, we had purchased two small fake North Face duffle bags for the side panniers (genius move), each costing about 10 bucks. Our Summit Gear duffle bag went on the back. Then Jasper. Then me.
This is when I discovered just how high the doubling pegs were. Never having ridden pillion for more than 10km in my life, I didn't realise the importance of having pegs in the right place. Between my stupidly long legs and the super high pegs, it was making for a bad ride. Nonetheless, we set off. The tanks are (almost) emptied for the train ride, but there is a petrol station right in town.
Day 2: 150km total
Lao Cai to Bac Ha; sealed road.
Bac Ha to Vinh Quang; some paved sections.
Day one on the bike was torture. The setup was less than ideal, especially for me up the back. The roads were great. Windy, wide, sealed. The elevation was climbing already. Not much traffic on the road. We made it to Bac Ha for lunch and perused the markets. A gentleman claimed a few Dong from us for 'watching' our bike and luggage while we had been gone.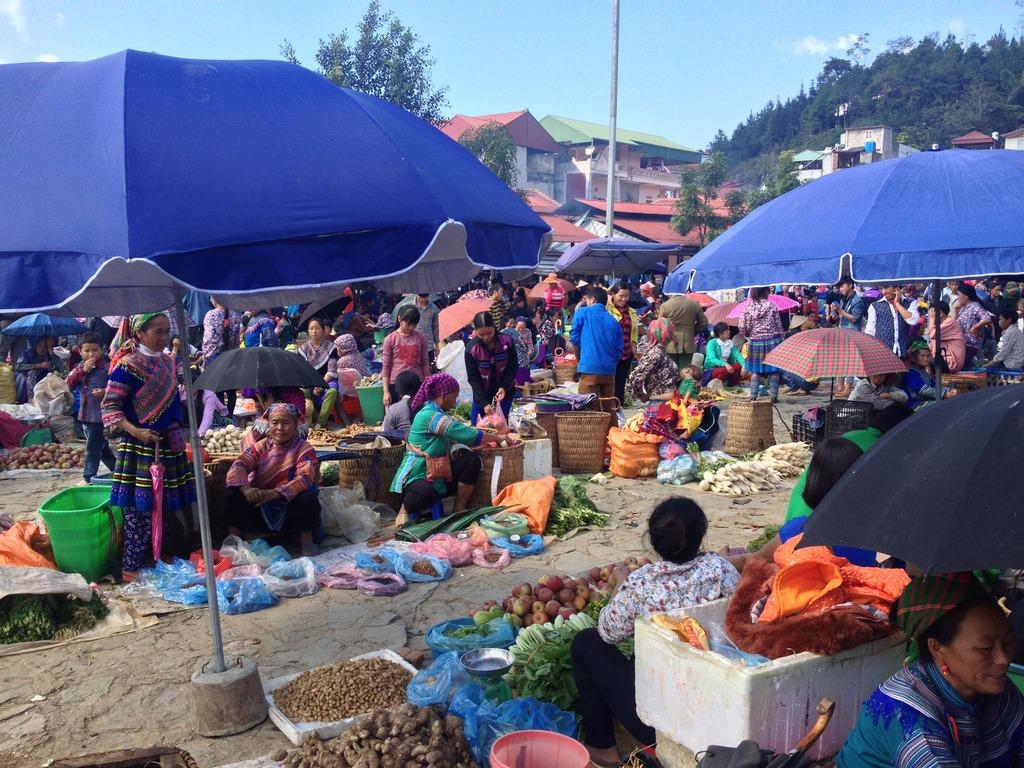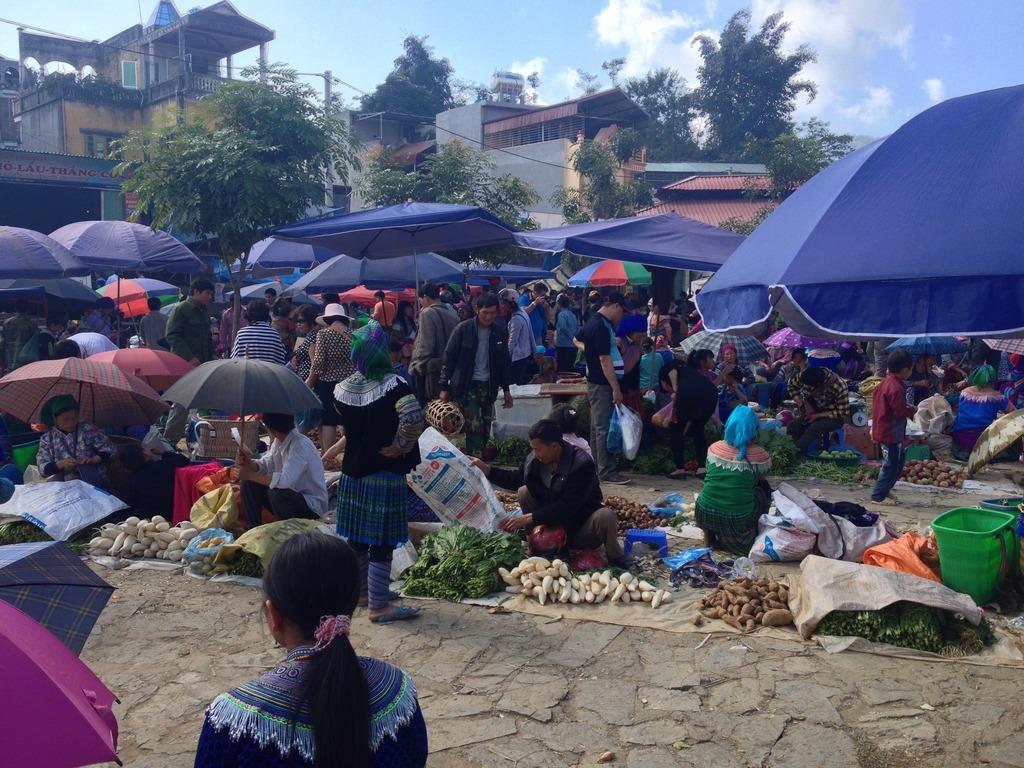 Bac Ha to Vinh Quang gave us some navigational challenges. Our map showed a small town of Xin Man on the road we were on, but I'll be damned if we could find it. To this day, I'm not quite sure what my error was. After a frustrating hour riding back and forth, we decided to just push on to Vin Quang. We pulled into Vinh Quang on our reserve tank, in fading day light.
After dinner and beers, we made cushions from our towels and jacket winter liners (neither of which I needed), in plastic bags and taped them onto the bike. We also adjusted the back bag to buy me some room. Problem solved.
Accommodation
: Tay Con Linh Hotel 200,000VD for double room with ensuite and fan.
Probably the least inspiring hotel and overpriced. The room was ridiculously large with only a window into the corridor. The staff were on the ruder side of life. But it did the trick. Bike parking was in reception, so the bikes were locked inside overnight.
Day 3: 105km total
Vin Quang to Ha Giang
Skinny roads, super windy till the last section of wide, flat, sealed, open road.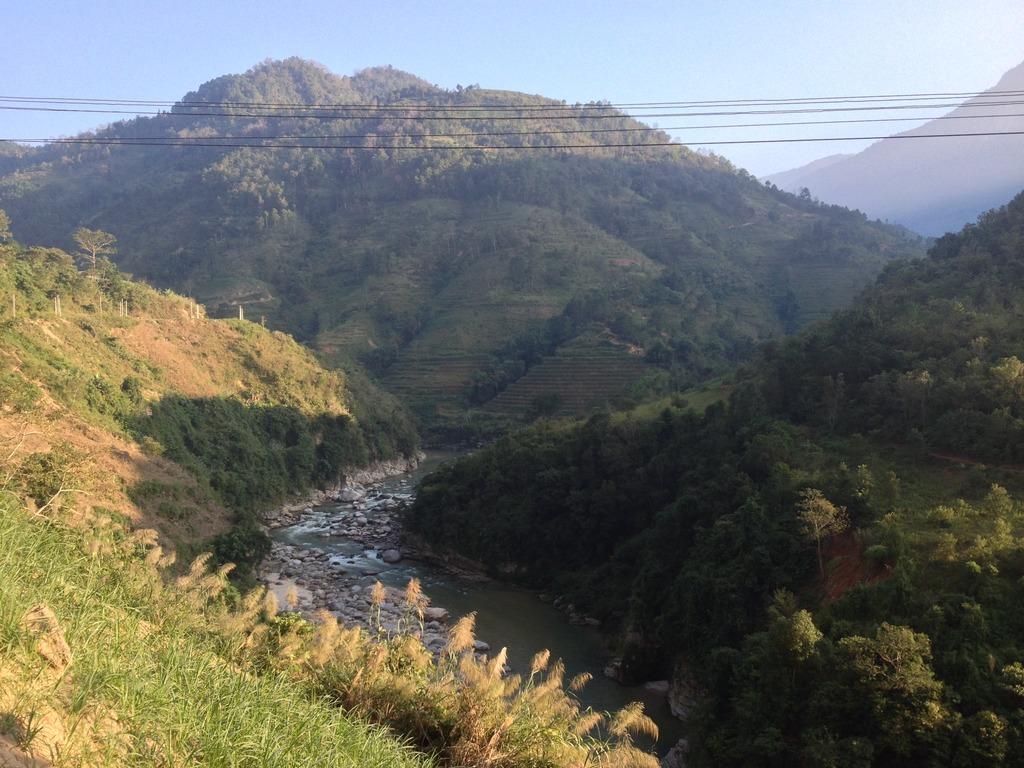 Turns out the set up problem was not solved. The road out of Vin Quang was narrow and windy, making a slow ride. It was incredibly scenic, passing through loads of tiny villages. We were stopping frequently for what we had now dubbed "butt breaks" and the pillion position was still torture. At a road side stop, we had a cuppa and discussed options… Maybe I needed my own bike?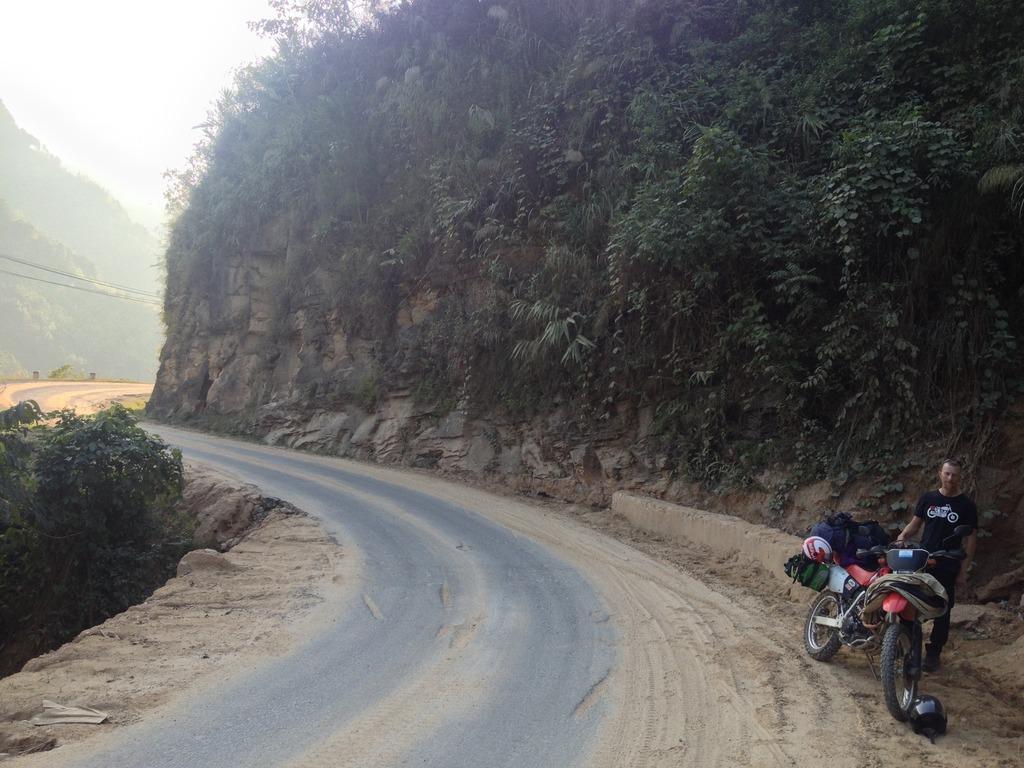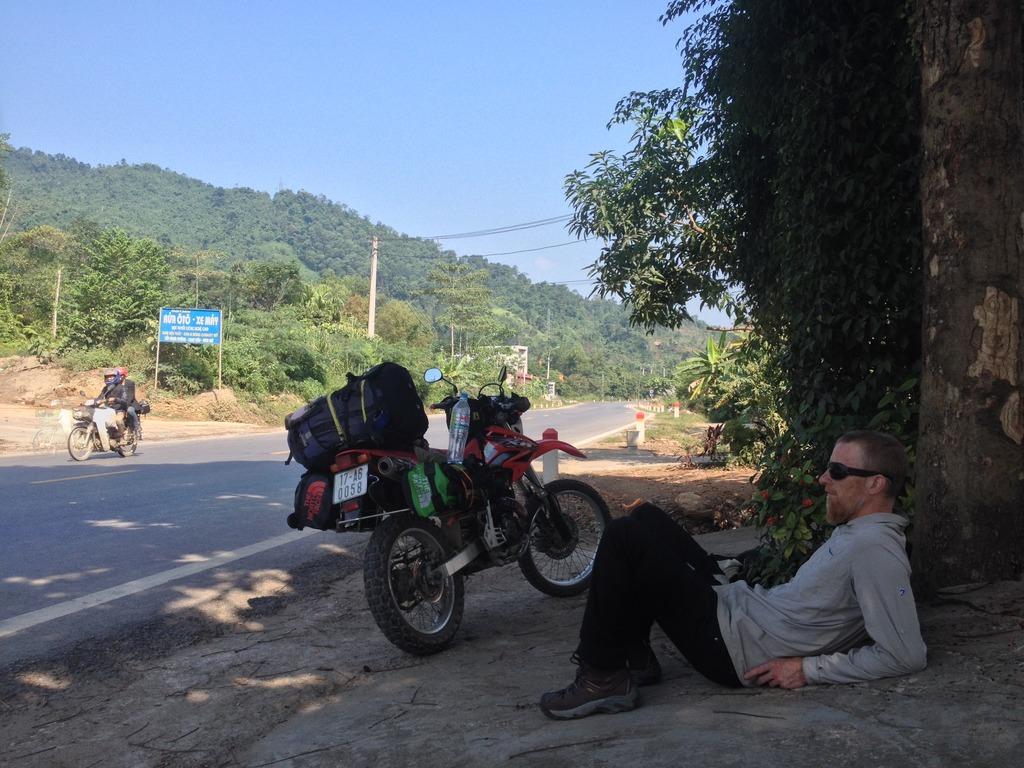 We made it to Ha Giang, a massive town with pockets of beauty. It seems incredibly industrial on first impression, but a ride and walk around the back streets uncovered some charm. Great food to be found here and very friendly locals.
In Ha Giang, we found a decent pillow, perfect for my butt, for a couple of bucks. By the power of sign language, I explained to the shopkeeper why I was buying it, much to her amusement. She burst out laughing at my rendition of me on the bike with a sore butt.
Accommodation
: Huy Hom Hotel 350,000VD for double room with ensuite and fan.
This place was fine, a bit pricey for our budget but Jasper liked the fact we could ride our bike right into reception. Parking was out the back and it looks like the bikes are well guarded by the staff. A huge tour group rocked up shortly after us, all on 250s. We laughed seeing our 400 lined up with the 250s. All the 250 riders looked like road hardened, experienced riders mostly from Europe. And here we were, with rip off luggage, borrowed helmets and no experience, blasting along on our 400.
Day 4: 139km total
Ha Giang – Yen Mihn (94km) – Dong Van (45km)
Mostly sealed, windy and scenic
Magic. At last, the set up was sorted and just in time for when the scenery was about to explode with awesomeness. Outside of Ha Giang, we officially entered the Dong Van Karst Plateau Geopark. The scenery was lush, the road wide and windy opening up to vast views.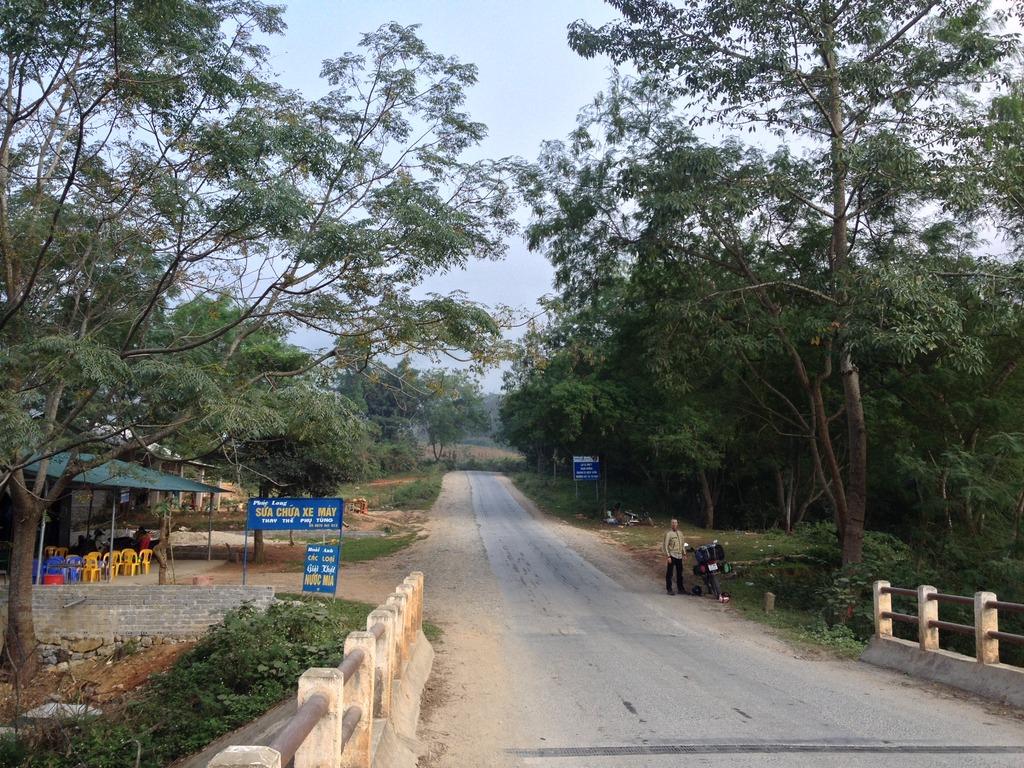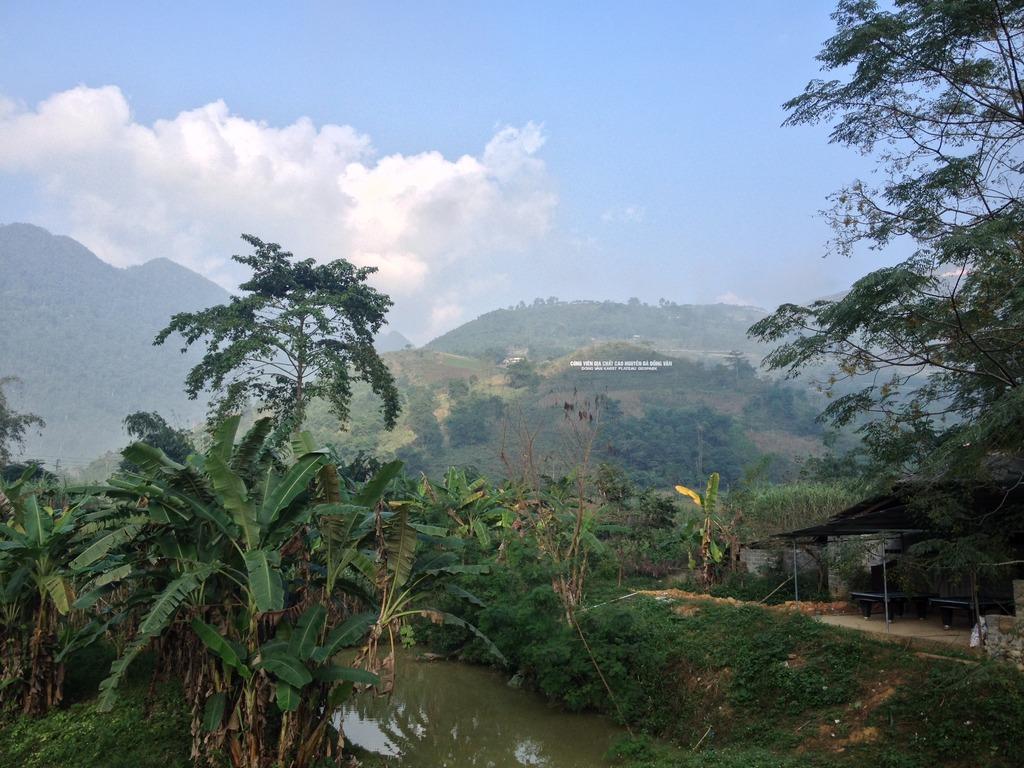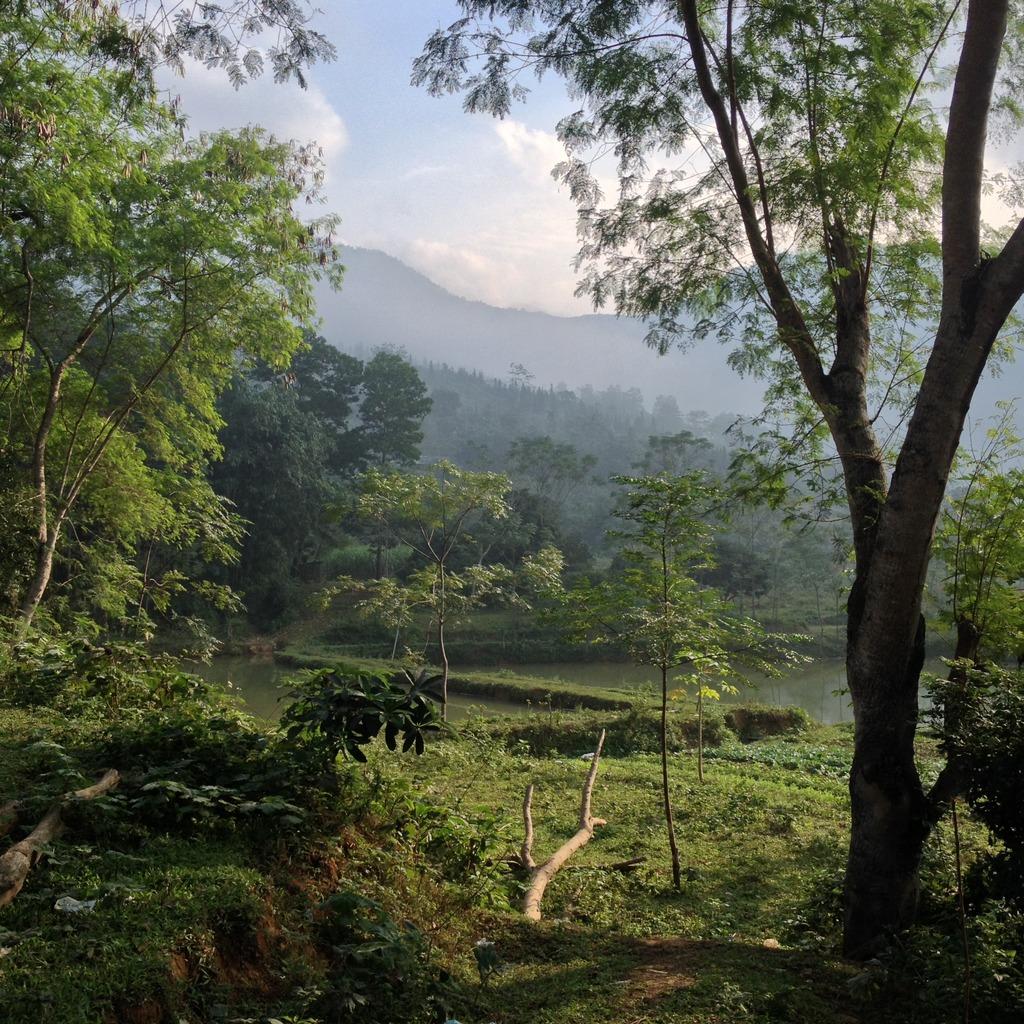 The road to Yen Mihn offers many reasons to stop and admire the view into the valleys below. We made it to Yen Mihn for lunch and coffee. A dusty, busy town in the foothills of the mountains.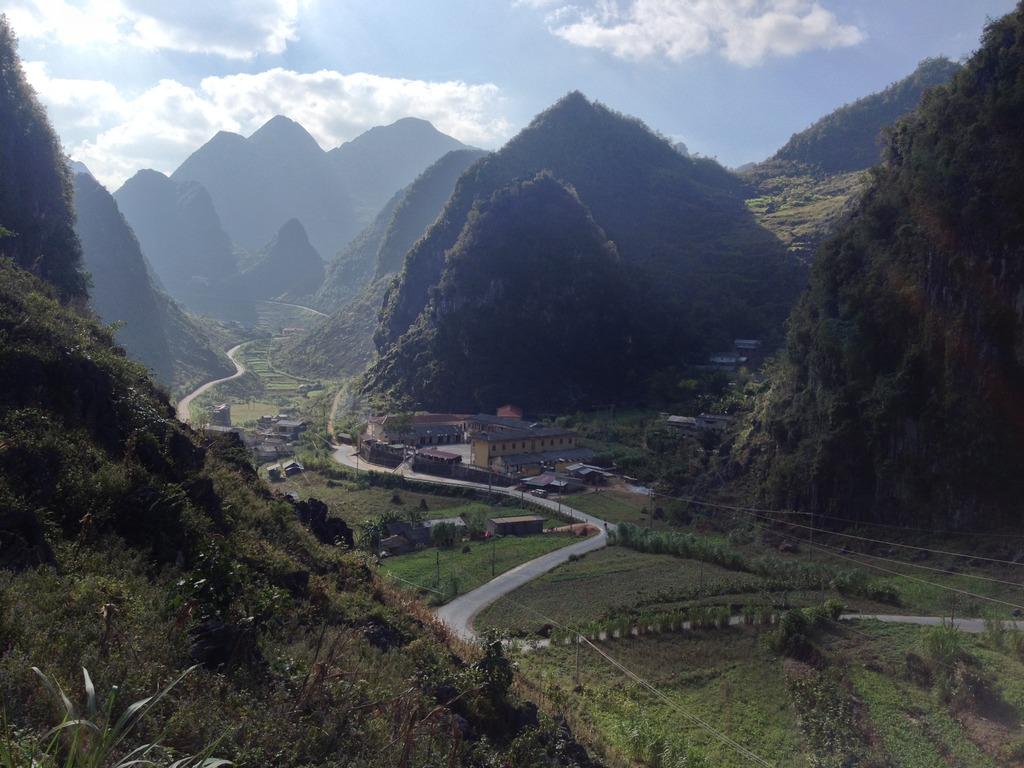 From Yen Mihn to Dong Van, the windy roads continue and the scenery improves again.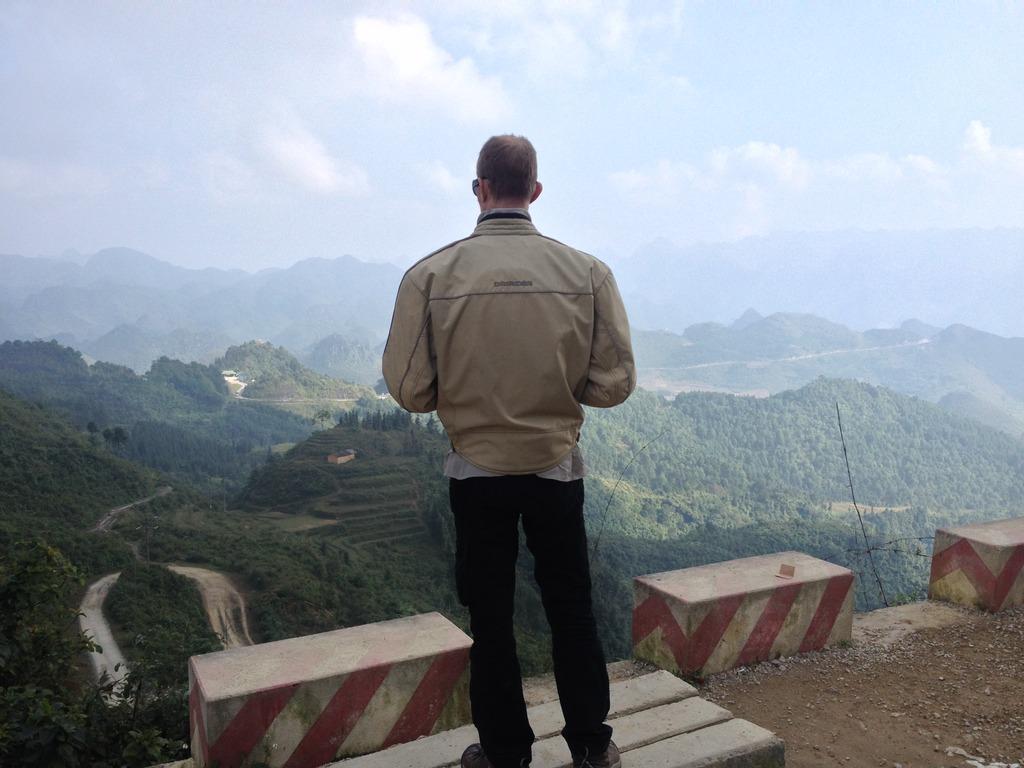 We pulled into Dong Van in the afternoon and immediately found beer. We also found some fellow travellers to yarn with; a father and son team on XT250s (also from Flamingo). The son was living in Hanoi and told us the best way to deal with Hanoi traffic was to see it as flowing water. We took note.
At sunset we took the walk up to the old French fort near the Old Quarter for a great view over the town. Highly recommended.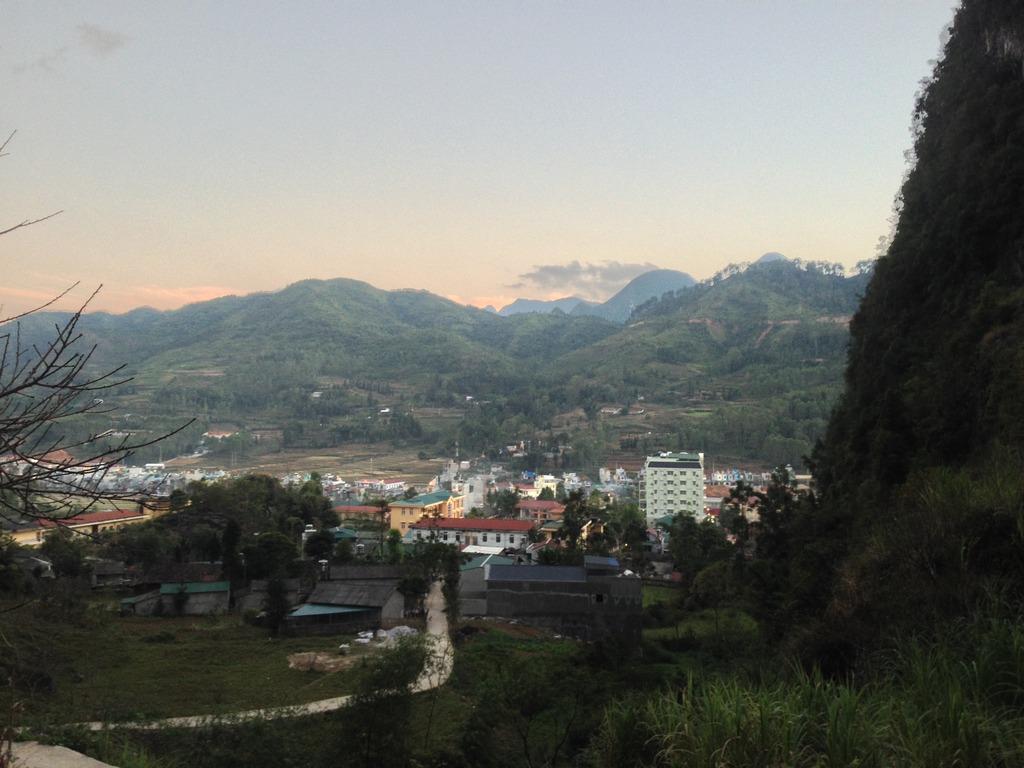 Accommodation
: Homestay (below) 70,000 VD (each). Share bathroom.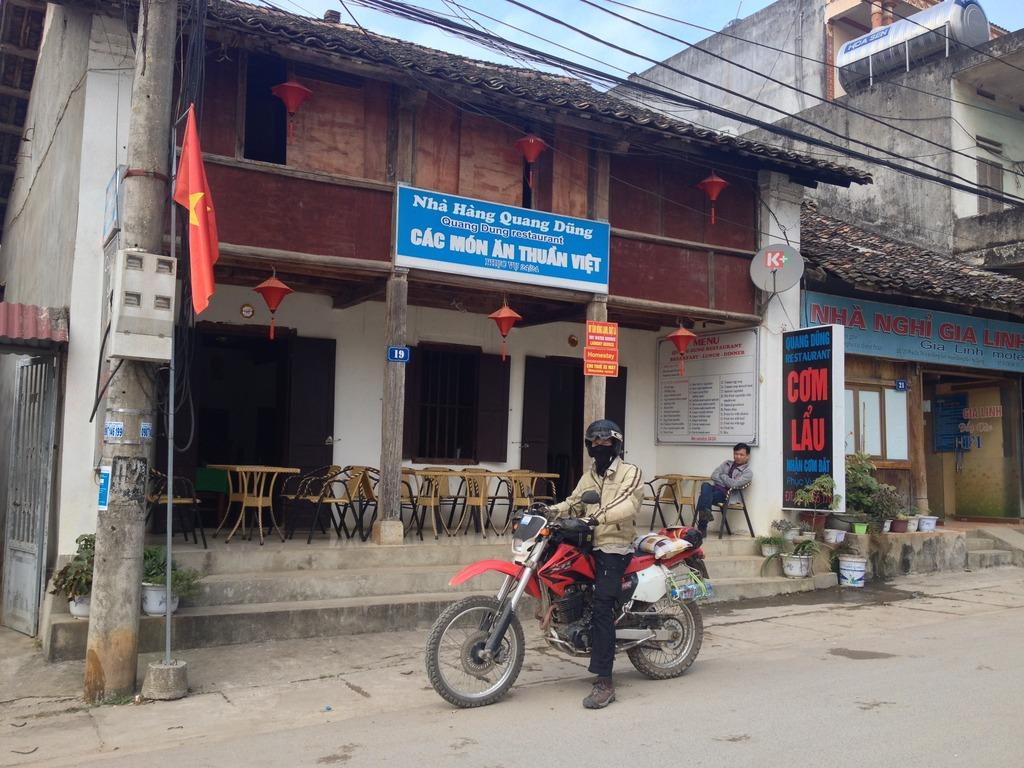 They didn't ask (or charge) for a permit. Bike parking was inside, in the restaurant. Bikes were locked in overnight.
Our street.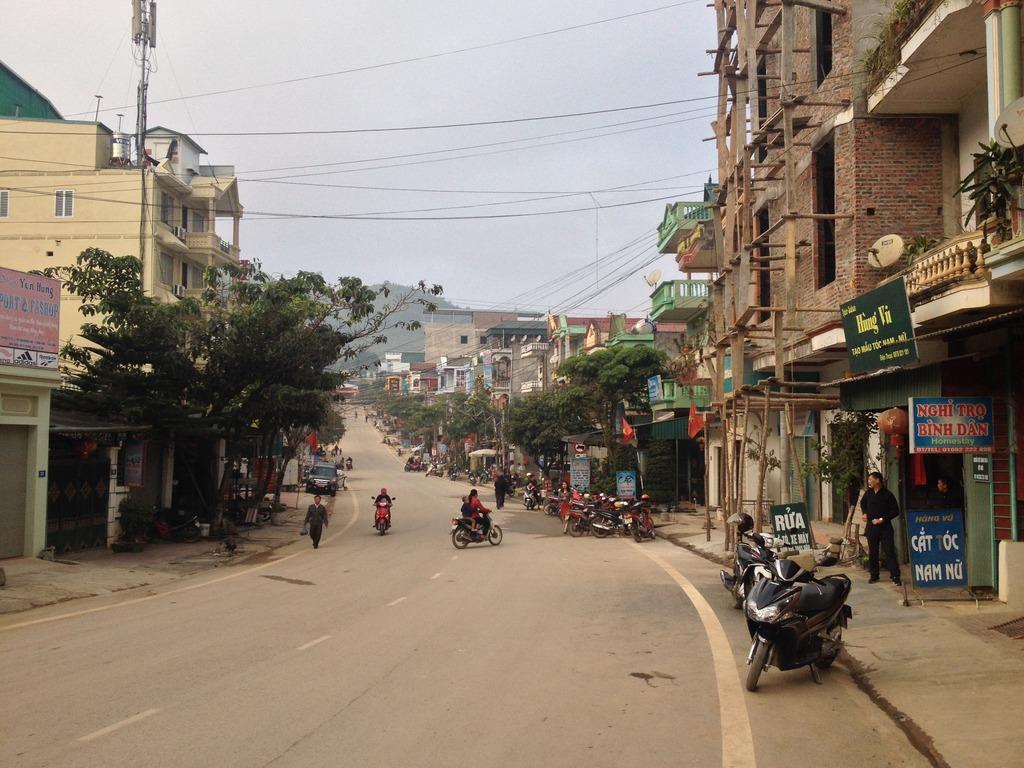 Dong Van main drag.
Day 5: 88km total
Dong Van – Lung Cu/LoLo (22km)

After climbing the flag tower and checking out the views, we followed the signs to Café Cuc Bac, 1km away in LoLo. This little place was a treat. A beautiful mud brick building with outdoor café, we had it all to ourselves. It's worth a visit, if only to get away from the tourists at the monument.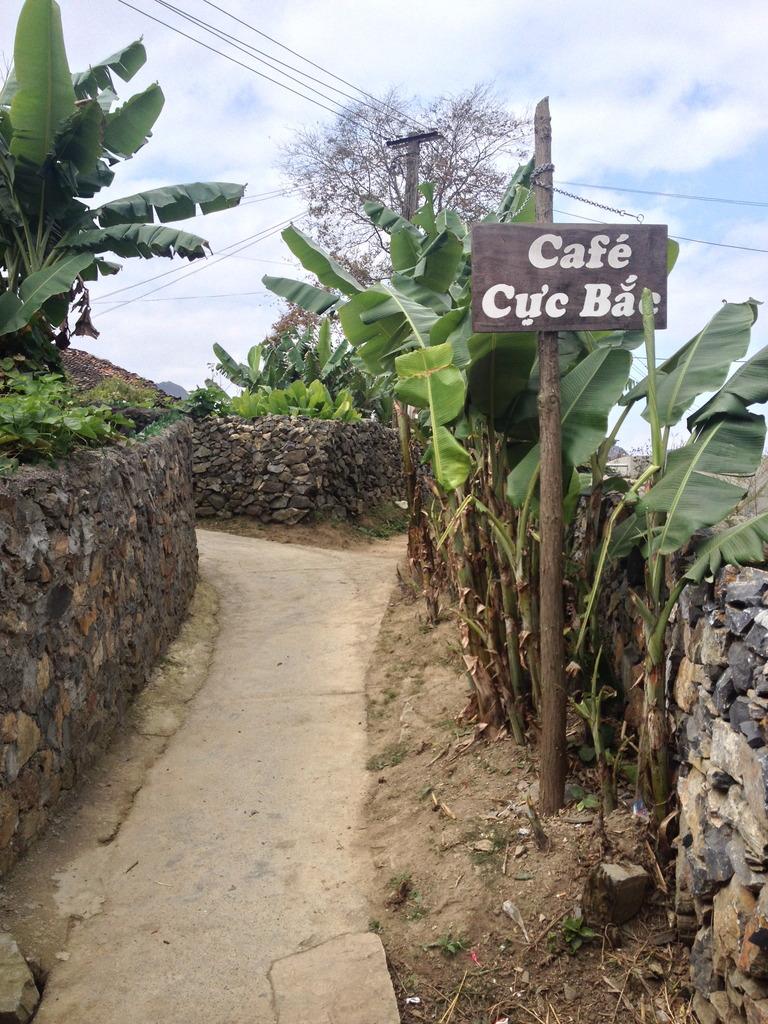 Lung Cu/LoLo – Dong Van (22km)
Returning to Dong Van we picked up our gear from the Homestay and headed to Meo Vac.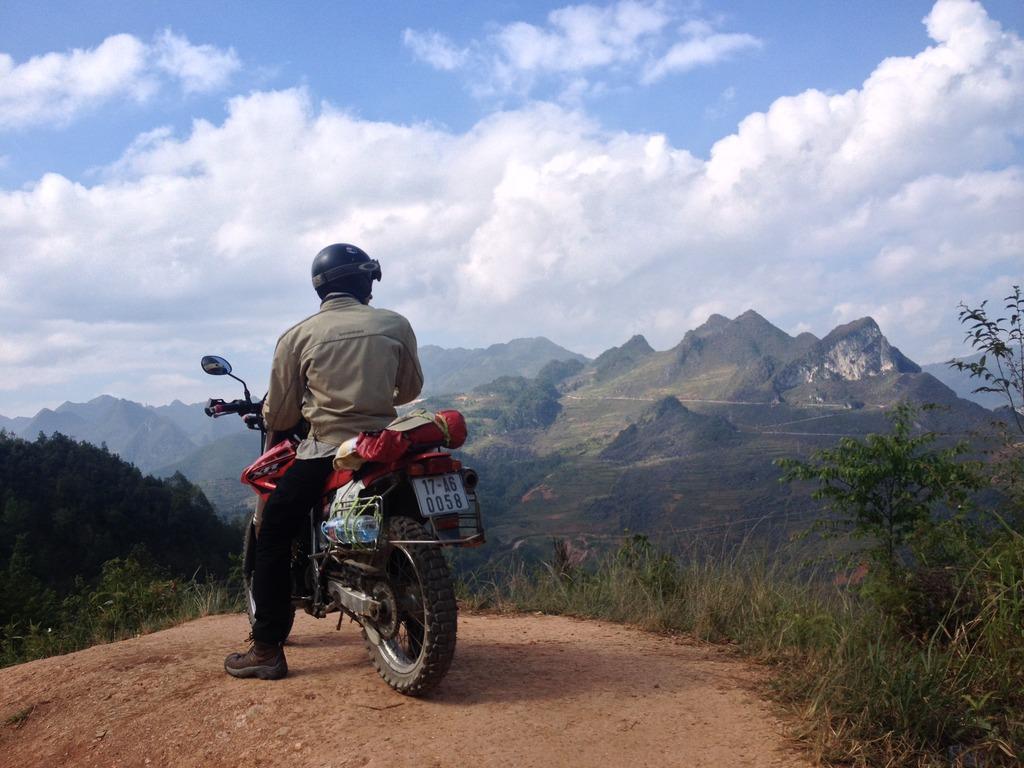 Dong Van- Meo Vac (24km)
This section, while short, cannot be missed. If you happen to hit it in the rain and mist wait a day for the weather to clear and go back.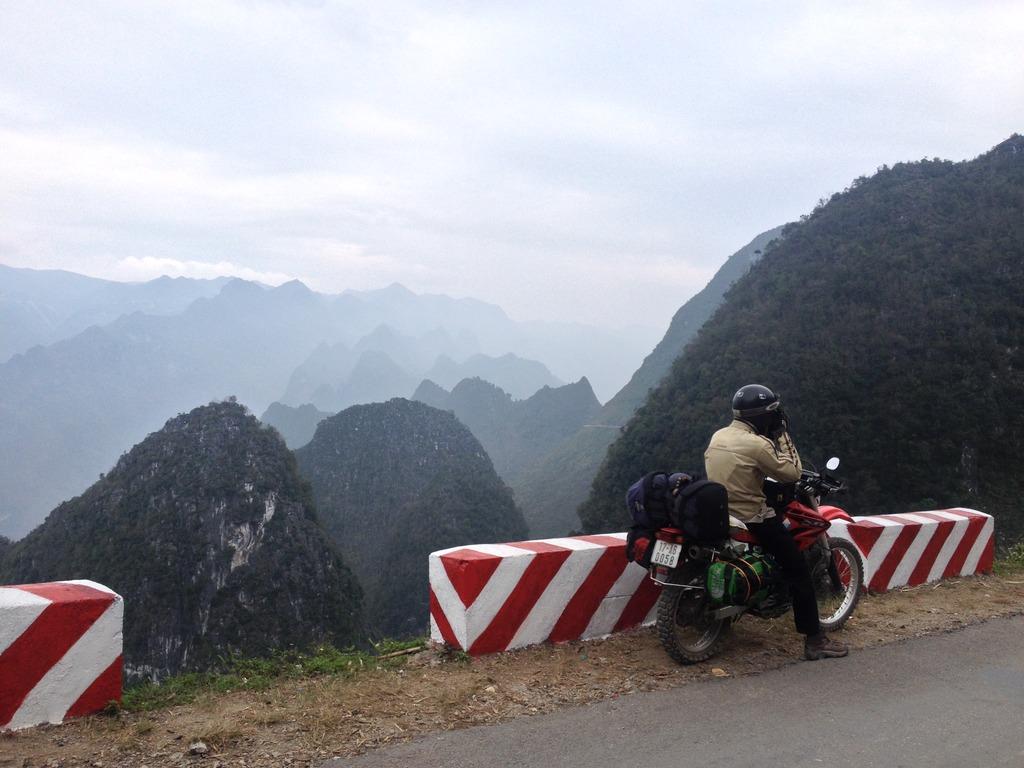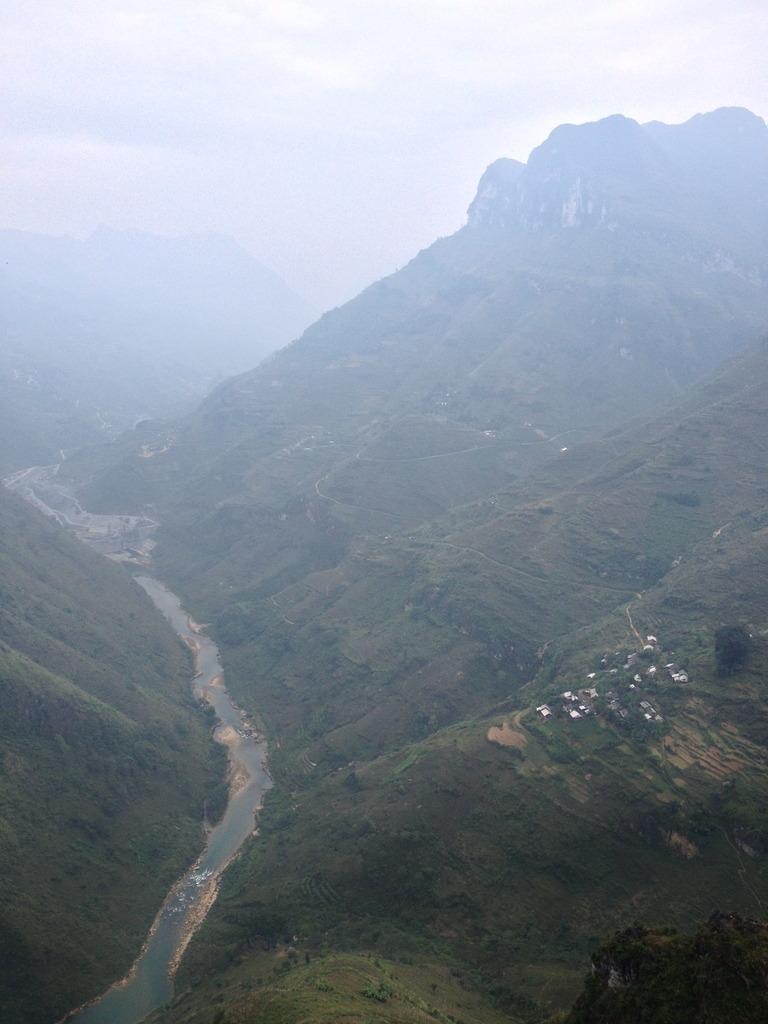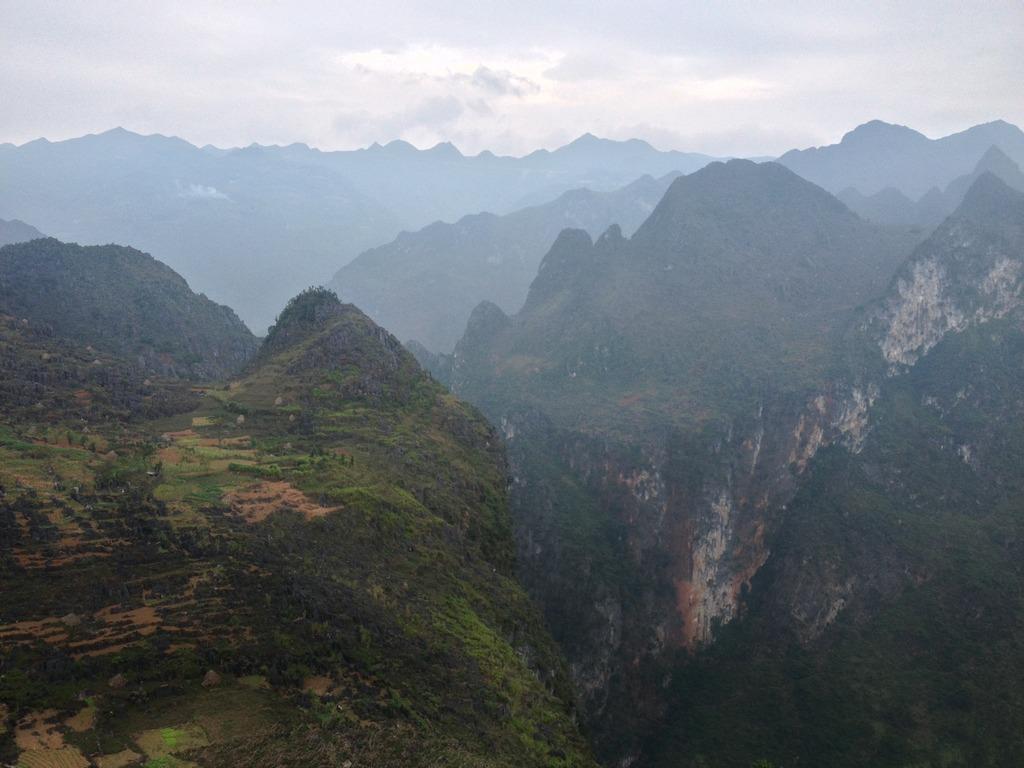 Side road adventure (20km)
About 5km out of Meo Vac (heading to Meo Vac from Dong Van), a road forks to the left, hugging the side of the mountain. After dumping our bags, we came back to this fork and followed it. Spectacular views. We pulled up for snacks and enjoyed the view till the sun began to fall.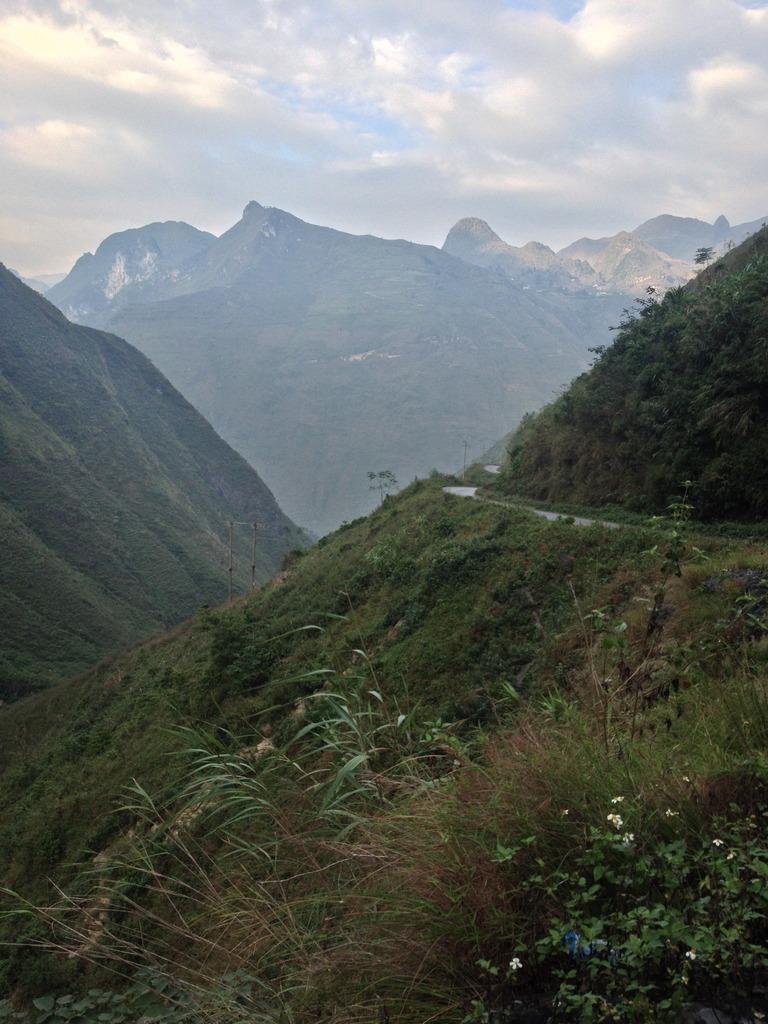 Meo Vac, another busy town that didn't appeal greatly to us. The beers were never ending and the food was good though.
Accommodation
: Ho Coung Hotel 450,000VD for double room with ensuite plus permits 220,000 each.
In the centre of town, opposite the market. Very pricey, but a big, clean room with character. The super friendly receptionist seemed reluctant to charge for the permit but insisted she would be checked. We had beers with an Israeli couple that night; they had been to several places in town and said they were charging for permits. Bike parking was outside, but the grounds of the hotel seem to get locked overnight.
Day 6: 80km total
Meo Vac – Bao Lac
This was a fun day with a mix of views. Google maps didn't want to play today so we were kind of just hoping for the best.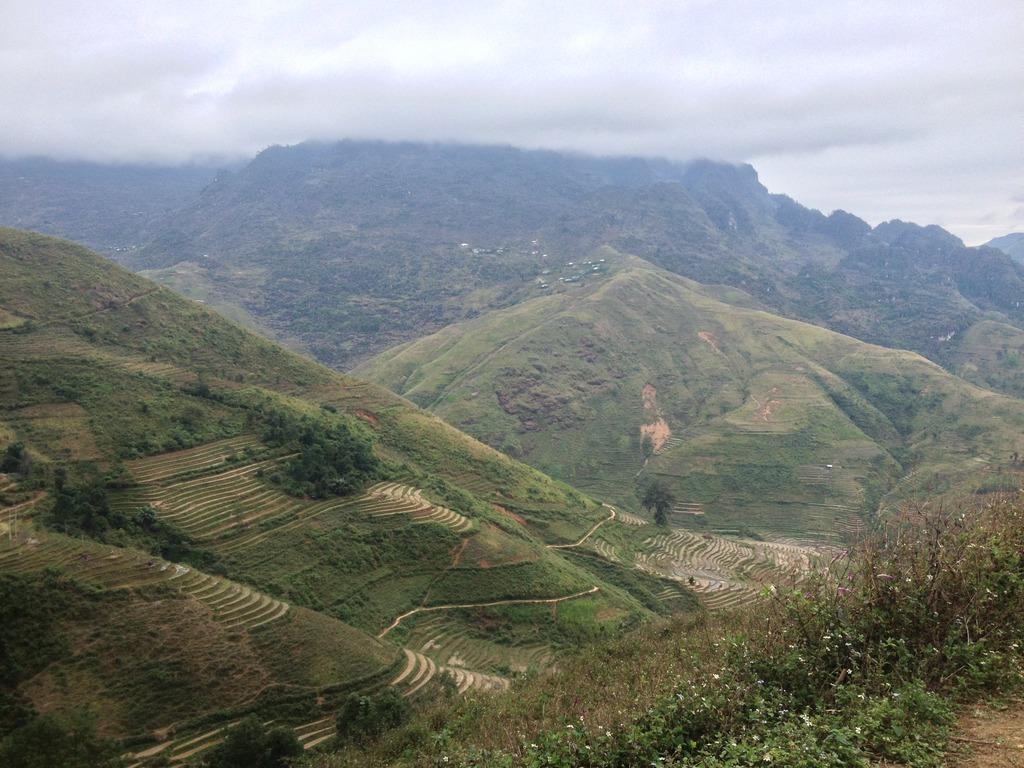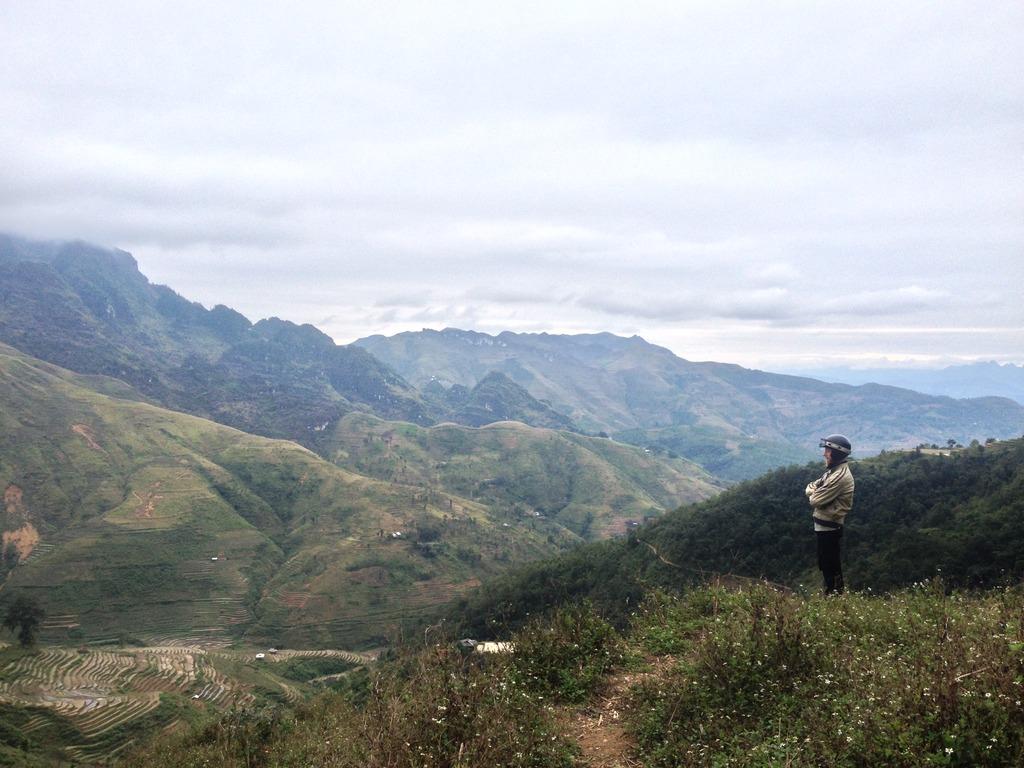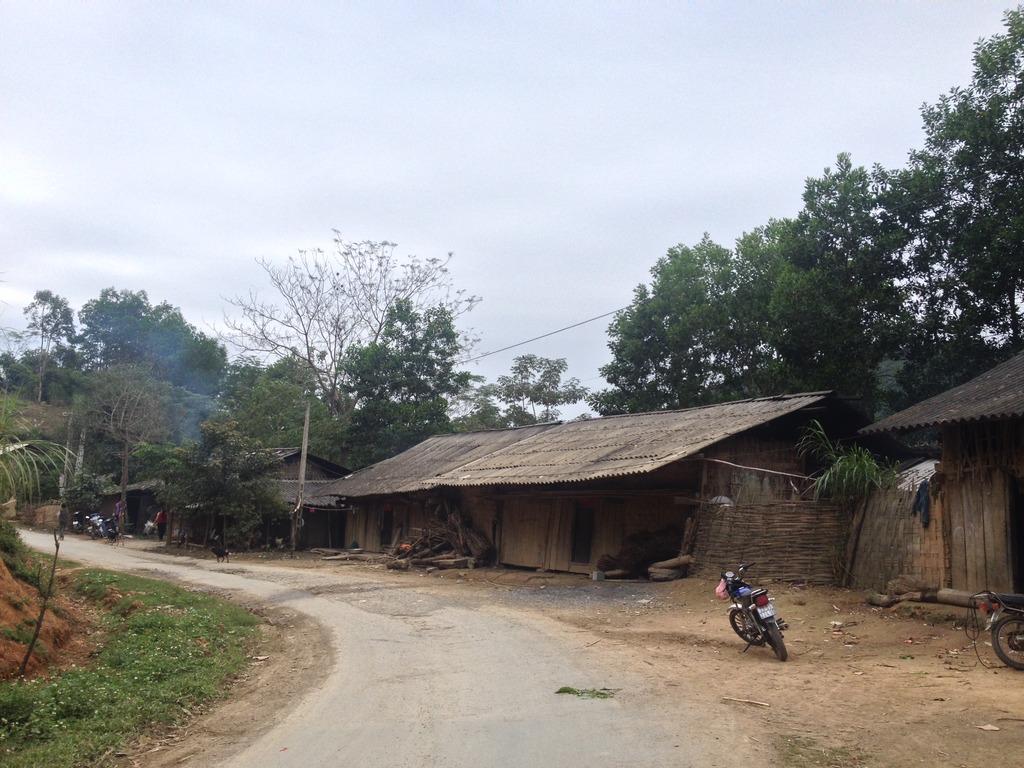 We reached the intersection of a dusty, small town just in time for coffee. As you arrive at the t-intersection, there is a place on the right with chairs set up. The owner of this place has obviously made an effort to learn English to attract tourists. He saw us a mile off with that "errr, where can we get coffee?" face and yelled for us to come over. He was super friendly and was keen to look at the map with us. He asked about the bike and made a mean coffee. From here, we took the right turn, bound for Bao Lac. The left turn heads you to Cao Bang.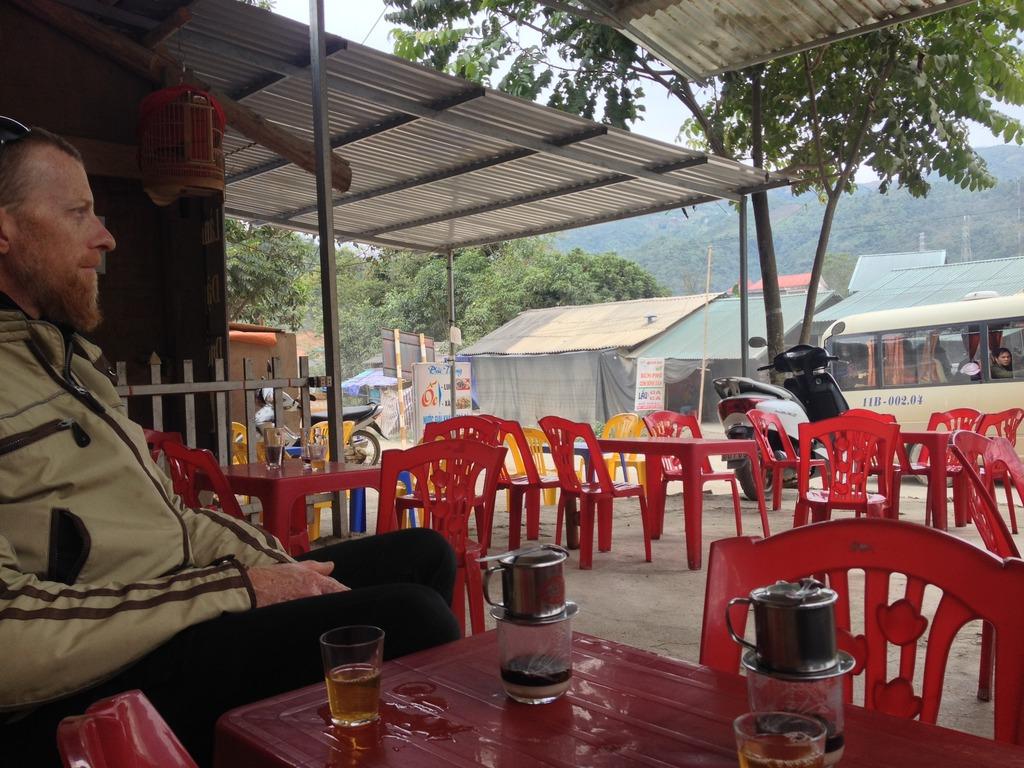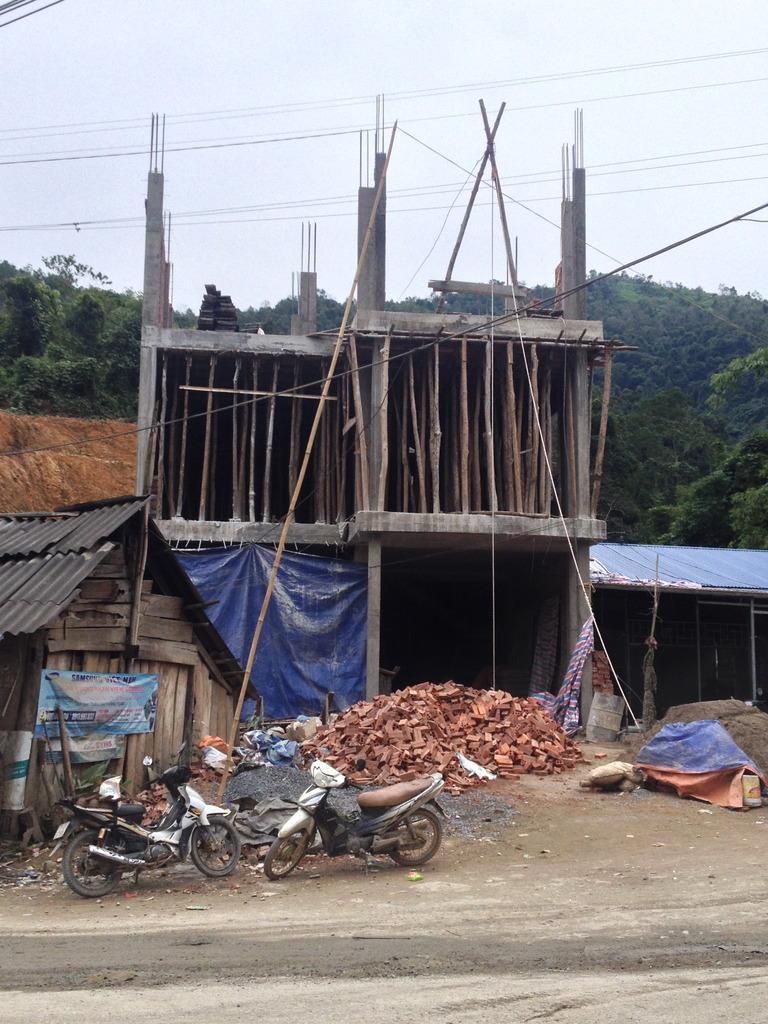 We arrived in Bao Lac early afternoon, starving. It's a reasonable sized town, busy, partly set on the river but less scenic than we expected. There was a lot of construction going on. In the morning, Jasper added a newly purchased "butt cushion" to the XR for himself. Pink bunny rabbits.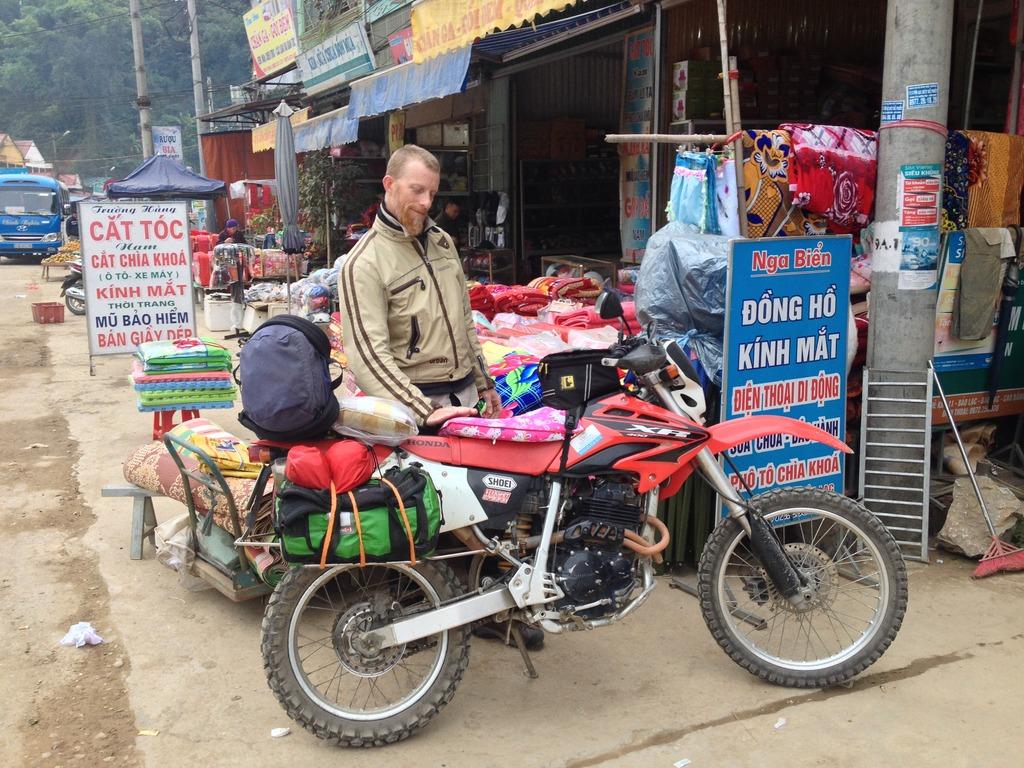 For some reason, this bunny rabbit cushion made it all the way home to Australia with us. We tried to force our cat to sleep on it but she refuses. Clearly she doesn't know how awesome it is.
Accommodation
: Thuy Duong 2 Hotel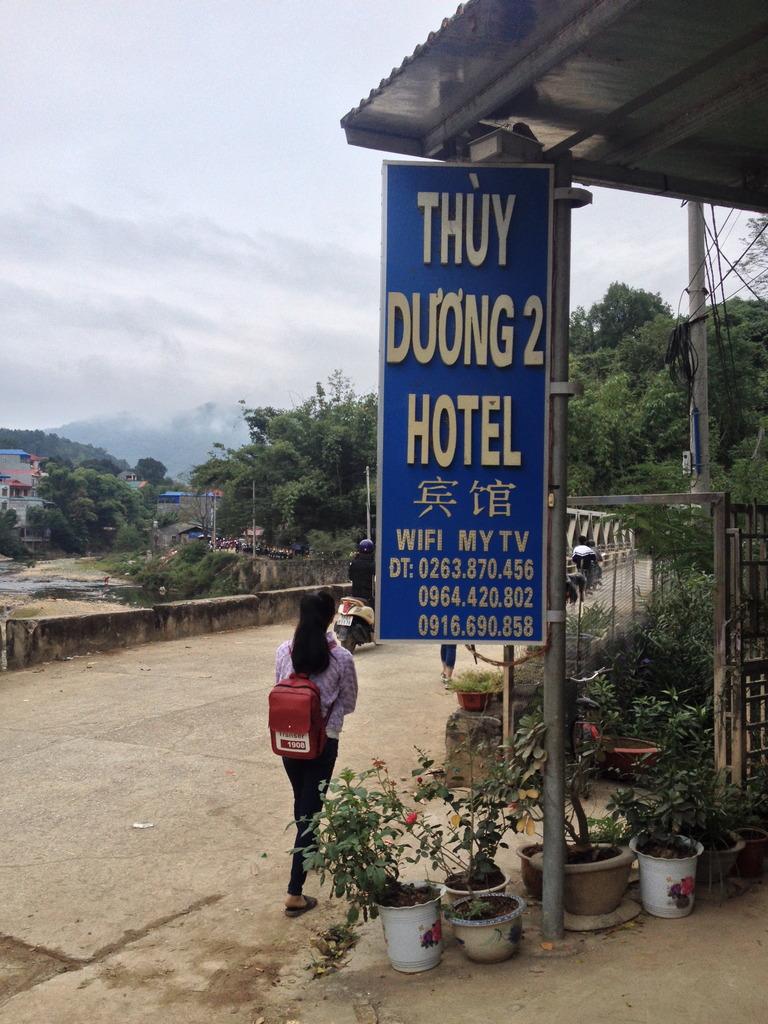 300,000VD for double room with ensuite and balcony.
Another bland hotel, but the balcony overlooked the river, which was nice. It was away from the main drag so much quieter. The staff were very friendly. We left at the crack of dawn and had to wake the receptionist to pay and get our passports back. Bike parking was outside and not locked up.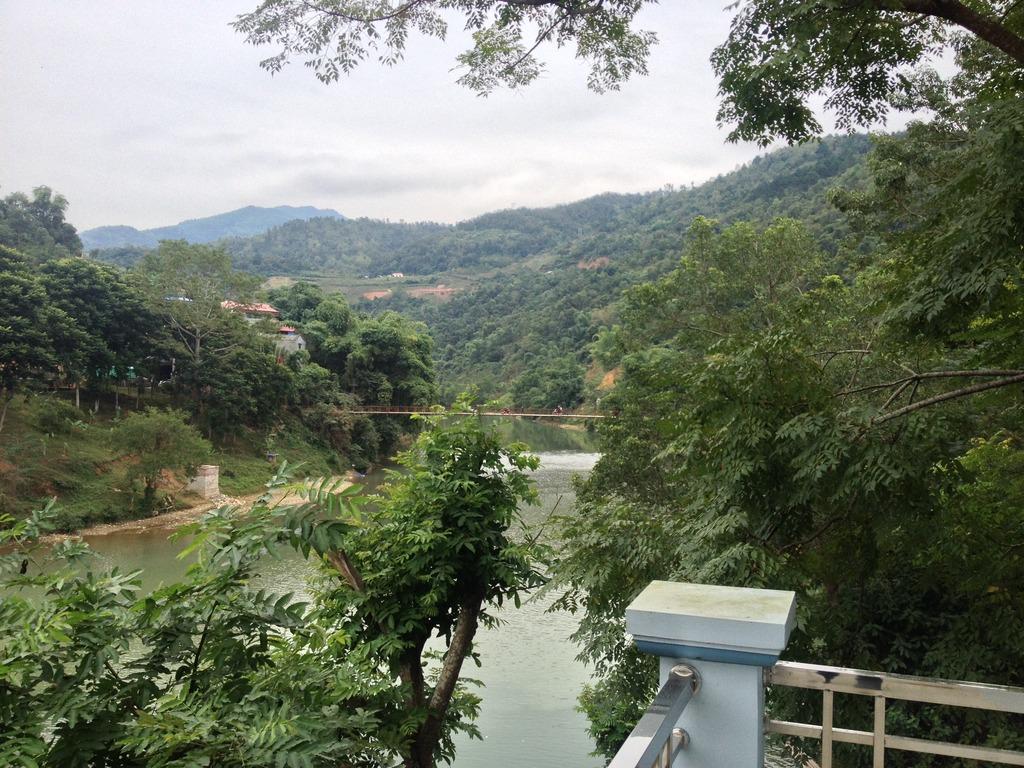 View from the balcony
(more to come...)
Last edited: