Have to give a big tick to Hung Nguyen and the team at Flamingo Travel for their great service, knowledge and advice. With a new range of bikes and great rental prices, these are the go-to guys for your next tour, guided or self-ride of Vietnam.
With the head office in Hanoi you can now easily rent a bike to travel the whole country and have the convenience of pickup/dropoff at these great locations:
HCMC.....hire in Saigon and ride the great roads from south to north or finish your ride in Hoi An
HOI AN.....from Central Vietnam ride into the highlands of either northern or southern Vietnam, returning your bike to Hanoi or Saigon
LAO CAI.....the newest location. Ride your bike from Hanoi doing the various northern roads to Lao Cai, be it via the The Great Northern and Ha Giang Loops to Sapa/Lao Cai or the southern loop via Son La and Dien Bien Phu.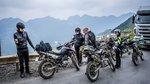 QL4C near Quan Ba, Ha Giang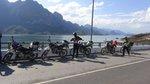 QL279 crossing the Da River at Quỳnh Nhai
Whichever route you take there will be a point for you to return the bike with no fuss.
You might be required to pay a return shipping fee, however for the convenience, it's worth it.
Motorbike Vietnam, Off Road Motorbike Rentals, motorbike tours Vietnam