It has been raining non-stop here in Sydney for almost 2 weeks now (but we are still on water restrictions of course [
] )
I had a problem with my old XR250 in that it had little compression when I was trying to start it, so I decided to pull the engine out and freshen it up...
I have never worked on motorbikes before, but am pretty handy with old cars, so I thought I would give it a go...
I can't get a manual for a bike as old as mine ('84 model) and the manual I can get, covers everything from 85-97, so nothing in much detail...
I pulled the engine out, which took a long time through trial and error, figuring out how things go together, and taking photos in the vain hope that I would be able to get it back into one piece when the time came...
I stripped the engine down and took it to the local bike shop for him to inspect and recommend what needed to be done.
He said that the bottom end was solid, so no need to pull that down, hone the cylinder, service the head, new rings, valves, and timing chain... he serviced the head for me, and I took everything home to begin reassembly...
In the meantime, I decided since it is only about 8 more bolts to get it down to a bare frame, and the frame was in pretty average condition, I would get the frame sand blasted and powder coated.
it took me about 4 hours to put the engine back together, cleaning and painting everything as I went, mostly it was done through my reckoning as the book wasn't a huge help...
The frame took a good while longer than I thought it would to get back together, but it is all together now. I don't have any electrics, (blinkers or lights) so I must have left an earth of somewhere, but it starts and runs like a dream on about the second kick...
No chance to ride it yet because of the weather... and not looking like I will get a leg over until after I get back from Thailand at the end of the month... but at least it is all in one piece...
Sorry for boring everyone, hope you like the pics...
Cheers,
Daewoo
before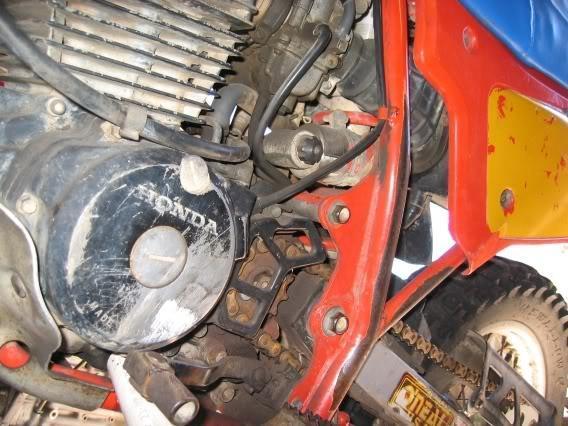 After,