0
Staff member
Subscribed
Jan 16, 2003
14,193
5,163
113
69
A short over night trip for -------?
DATES: Friday 2nd – Saturday 3rd August 2005
THE WAY:
(1) Chiang Mai – Mae Suai – Chiang Rai – Mae Chan – Chiang Saen –Golden Triangle – rural back roads to Chiang Saen - Mae Chan – Chiang Rai.
(2) Chiang Rai – Den Har – Mae Suai – Fang – Chiang Mai.
THE ROUTES:
(1) 118 – 1 – 1016 – 1290 – 3112 – 3166 – 1016 – 1
(2) 1211 - 2017 – 1 – 118 – 109 – 3013 - 107
THE RIDER: David Unk & his trusty Africa Twin (yet again.)
THE WEATHER: Tropical heavy overcast but with only 2 torrential downpours as luck would have it.
THE TRIP:
I got the first text message "I'm in Mae Sai already" at 10.00 am while I was still in bed at home (it's the happy go-lucky girlfriend singer yet again).
So it was a bit of a late start by me & I got away from the super at 12.45 pm.
I was not in a rush as the master plan was just to meet up in Chiang Rai for the night.
The previous text message the night before was " Leave early tomorrow. Will go wild in Chiang Rai tomorrow night. Coming?"
My reply: "Probably 90%." You can't hold a good rider or man down?
So breakfast was at Charin resort at 2.15 pm & it had been a fairly good dry run up 118, although I did seem to hit a couple of those bumps a bit harder than normal. No doubt I was going a bit faster as I was hungry, needed to make a just a bit of ground, & the blown rear-back-up shock was most definitely cactus. (I'm still waiting for the rebuilt one to come back from Holland & it was only 4 mths ago that it was sent off too. And that's enough to make an old man grumpy I can tell you!)
While having brekky with a double cappuccino at the Charin the next text message comes in: "Lunch in Chiang Khong. Not sure where to spend the night. Maybe here. Will see how things go."
Shyte I thought, what happened to the master plan of a night in Chiang Rai?
I rattled off a quick reply: "Brekky at Charin. Dry so far. Next stop G Triangle."
I was back on the road & in the hunt, but at Mae Chan I was forced into the PTT gas station to put on the waterproofs as there was torrential rain ahead. Again for this time of the year & the heavy rain around it was not a bad run so far. (And I've got wild speculative rain theory tip to give you guys at the end of this report.)
Whilst chucking the waterproofs on another text message comes in: "Bike will not start. Have to push each time. Not sure if I want the bright lights of Chiang Rai, back home to Cnx or the dead zone of Chiang Khong."
Double shyte, the master plan really could be in trouble from the originator himself!
I rattled off another quick reply: "At Mae Chan in the rain heading for the GT & a night in Chiang Rai
as planned
."
True to the tropics the rain cut out 15 minutes later & it was a dry, but wet road, ride up to the Golden Triangle.
After a quick look thru the opium museum (the original 20 baht one & not the big new glorified 500 baht for farang / 300 baht for Thai one.) I was fired up for the run back into Chiang Rai & at 4.45 pm turned onto R3112. This is a rural back road & one which I had not been on before, or could remember being on, but wanted to check out. R3112 starts from just a few hundred meters south of the GT & runs west-south-west, towards Mae Chan / Chiang Saen "sort of." After just 1 ½ kms it turned to dirt / moist clay running flat thru the rice paddies & I was not quite sure what to do.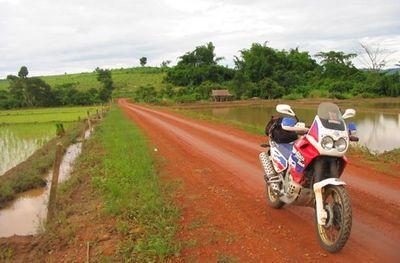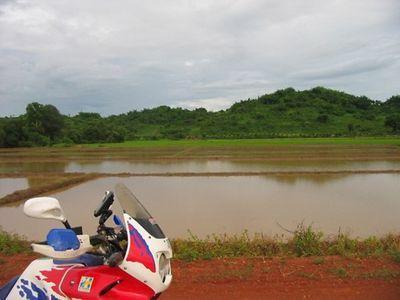 A quick peak at the sky above actually showed some blue sky & sun, so I thought why not, lets suck it & see. I was lucky too, it did not rain again & the road was only ever moist damp clay in a couple of spots, pretty much perfect.
The dirt runs for 8 ½ kms & eventually linked up with the asphalt at R3166, roughly straight west of Chiang Saen. I took a left turn onto R3166 & ended up on the Chiang Saen "super" ring road. Check out R3166 / 3112 sometime if you're tired of the main R1129 road that runs along the Mekong between Chiang Saen & The Golden Triangle.
Once back on the main road then it was a blast straight into Chiang Rai & I checked into the hotel at 6.10 pm.
There was no sign of the Chiang Rai party rider so I sent off a quick message:" At hotel in Chiang Rai 6.00 pm." No reply.
So after a quick shower, & 40 winks it was down town for a regular whisky / newspaper / foot massage combo & the right end to a good day's riding.
1 ½ hrs later there's still no sign of the Chiang Rai party rider & I wondered whether he had broken down with his bike or was still in Chiang Khong maybe.
Another short text message went out: "You dead / alive / embarrassed?"
The message comes back: "Neither. Now in Chiang Mai…….."
Unbelievable I thought, so I send off the $64 question: "What am I doing in Chiang Rai then?"
There was a convoluted lengthy reply, but not one that gained any satisfactory brownie points. What can you say?
That night in Chiang Rai was rather subdued, but successful with regards to "networking" & the future….
The next morning I had breakfast at Chiang Rai Coffee cafe & I have to say that it is good here.
Later I GPS-ed some missing roads around town & checked out the new (for me) park 'n tennis foreshore alongside the Kok river.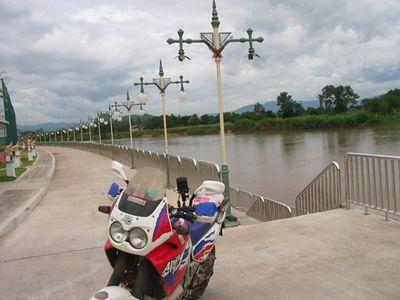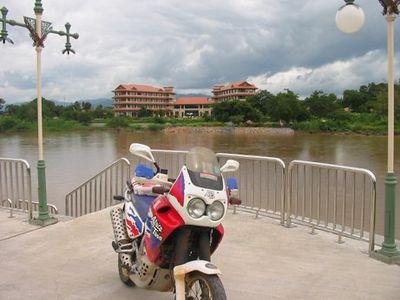 Pic below" lookin downstream to the Kok Bridge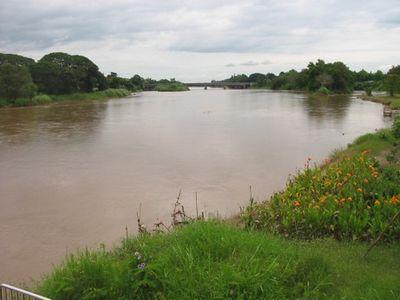 I was on the road by mid day & headed south down R1211, the den Har back road. After picking off a couple of irrigation canal roads,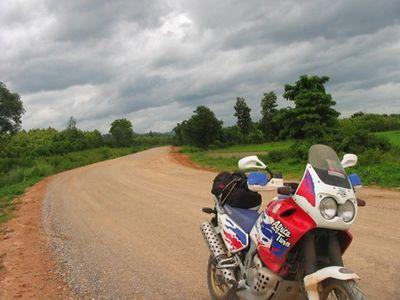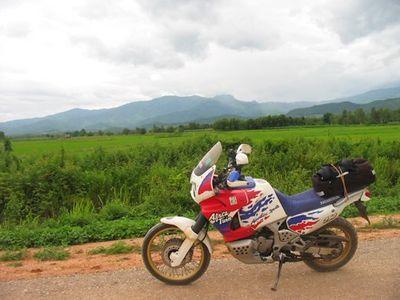 it was back on R118 & at the same old coffee & pie break at the Charin. At the Charin I met Garry? the Canadian 600 Steed rider here & managed to give him some tips for roads & hotels etc. (Garry if you read this pls join the GT Riders board & make a few reports for your trips mate.)
After another of those lengthy (BobS approved) breaks it was back on the road with a bit of sun around. This obviously suited me & I decided to take a chance with R109 & a run across to Fang.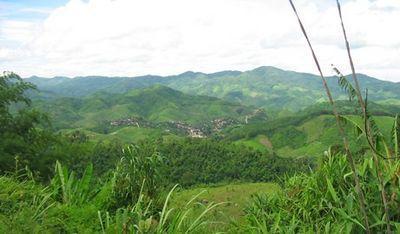 R109 is an excellent motorcyle ride & one that any riders can use for a day trip / loop from Chiang Mai.
Pic below: the start of R109 heading for the hills.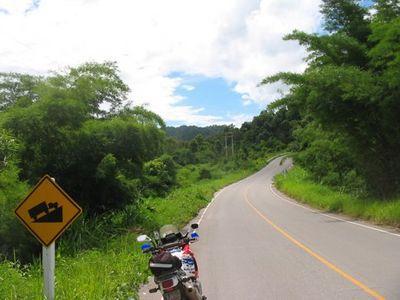 It is basically fast flowing winding hilly to mountainous,
R109 An amazing Thailand road sign: watch out for the corner ahead!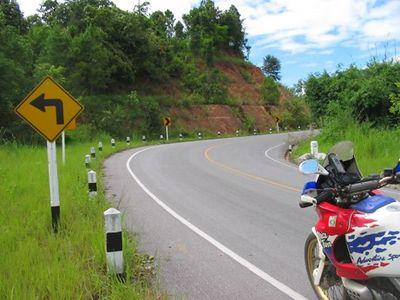 with a good clean surface (except for a couple of missing pieces where there have been landslips.)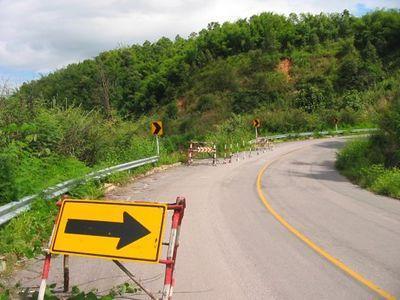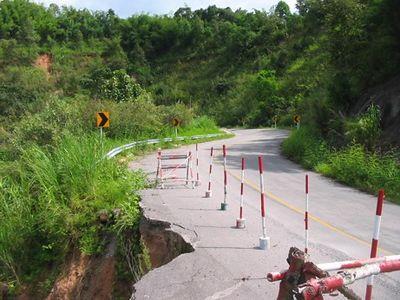 I was also able to check out a couple of side roads that run North from off R109. Both these go to hill tribe villages. The first one was easy dirt,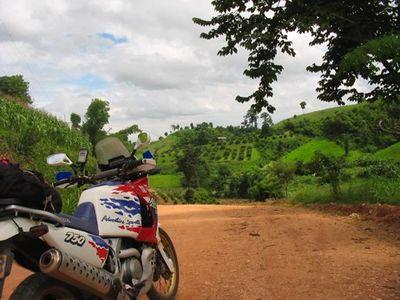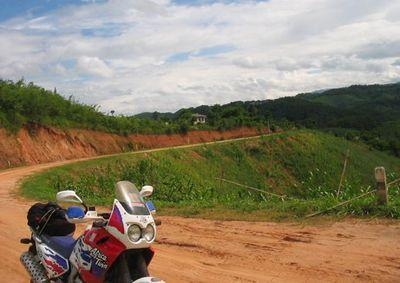 & signposted for a waterfall, but once you get to the end of the road, there are no more signs & you have to wonder where the waterfall is. I could not be bothered to seek it out as I figured it was only going to be Mickey Mouse quality.
The second road is a gorgeous tight steep twisting narrow asphalt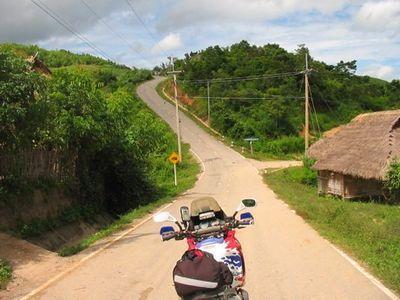 one that ends up in a couple of Akha villages Huay Ya Sai. It looks like there could be some good dirt trails to explore further in from here, but in the wet on an Africa Twin I aint going looking.
I seemed to dodge rain squalls & encountered strong winds for the rest of the trip.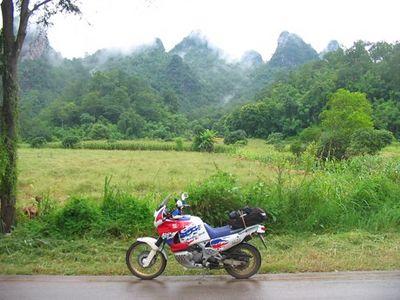 I did however manage to stay dry until Rim Kwan resort / restaurant on R107, just north of the Phrao turn off R1150. Due to another of those breaks – coffee – soda – phat siew – sweet talk – I was able to see the rain coming & got my waterproofs on before I left.
Pix below: Before the rain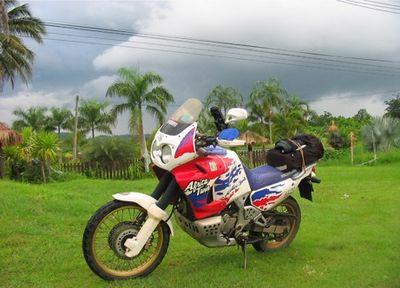 I arrived back in Cnx hot & sweaty under almost clear skies with the waterproofs still on.
Davidfl
Keep The Power On