This is a follow up to Peters post, posted separately to avoid to long loading due to many pics.
Firstly many thanks to Peter for planning the trip, finding the good roads and places to stay and holding it all together. For me many of the North and North Western places the first time for me and a great itinery. For me the first time in a two week group trip, most of my biking km have been alone or with a mate. Hence that or maybe male menopause led me to want to bat on alone from time to time, apologies if that disrupted group harmony, a few lessons learned for the future. Thanks also to all those Peter has already mentioned, for their company along the way.
Many great pics already posted so will just add those that fill some gaps.
My trip started with a run in to BKK motorcycle in Bangkok to get my 1000km service, had to go past the occupied Don Muang, which raised the heart rate but no trouble encountered going in or out.
Photo of Pete Nam Nao viewpoint, as his trip report modestly leaves himself out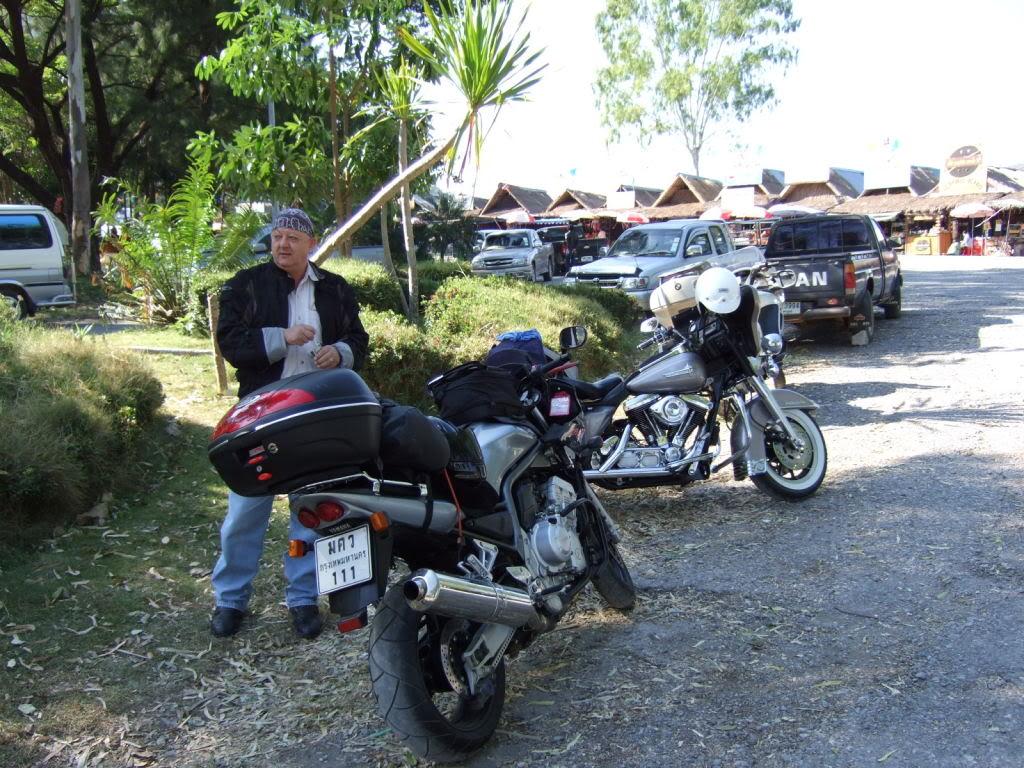 Hotel Mae Sot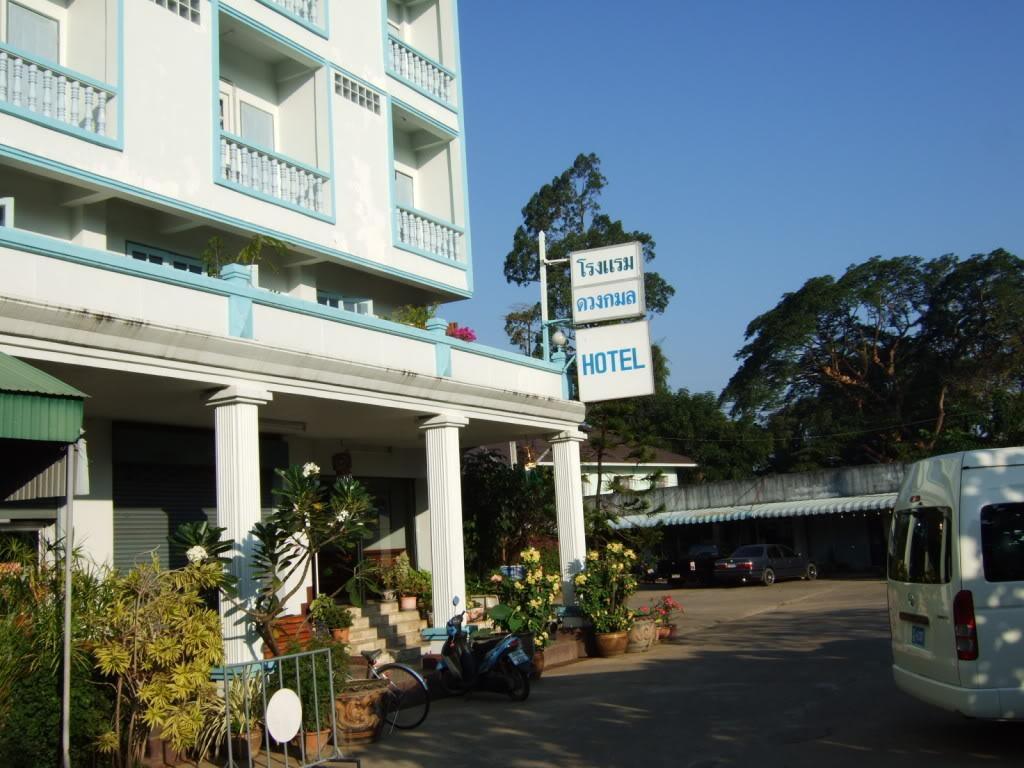 Some of the local hill village kids appreciate the bikes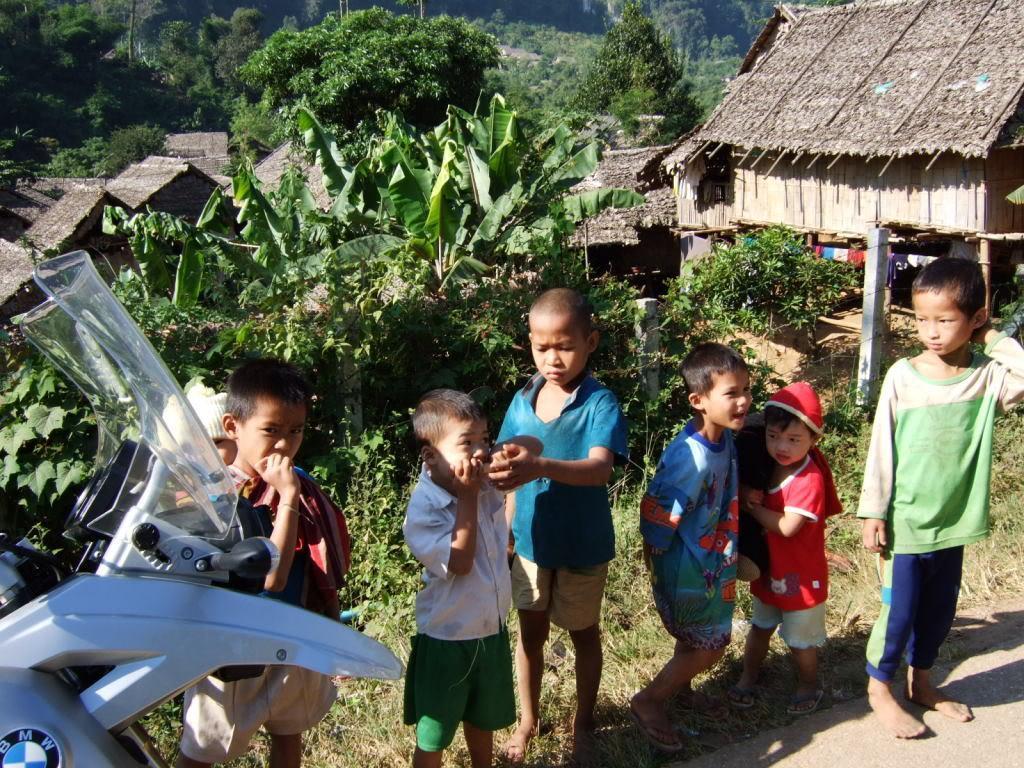 Their homes on the hill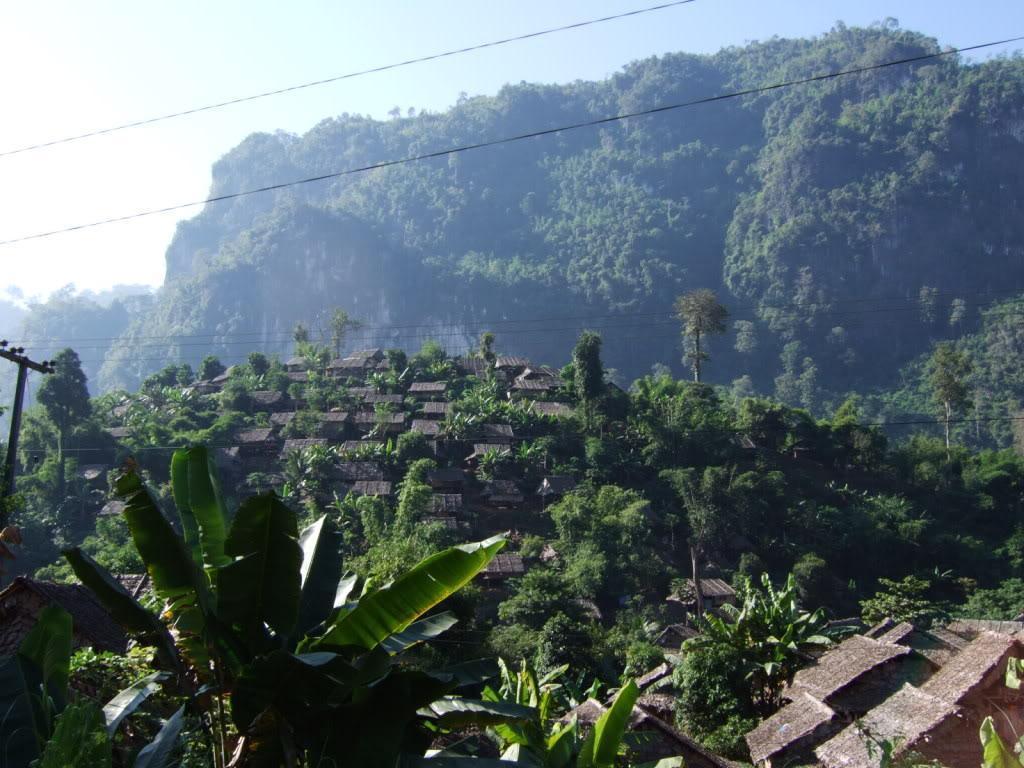 Along the river, I was beginning to appreciate that the GS is an ideal bike for the mixed terrain in this part of the world,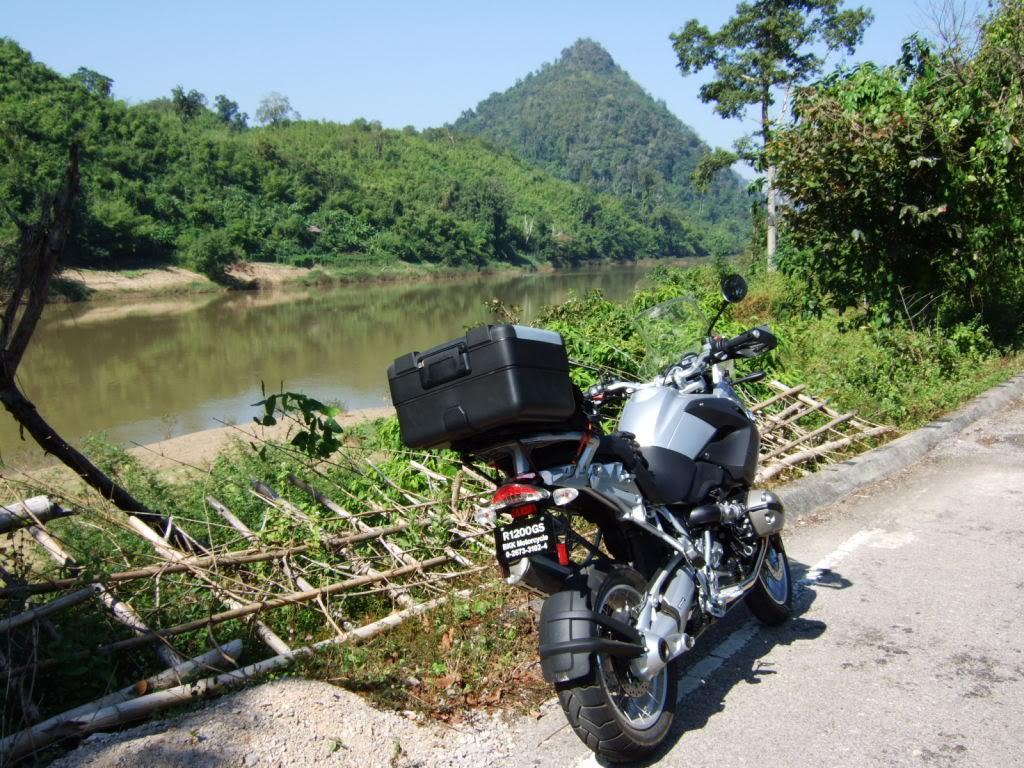 especially when coming to the next bit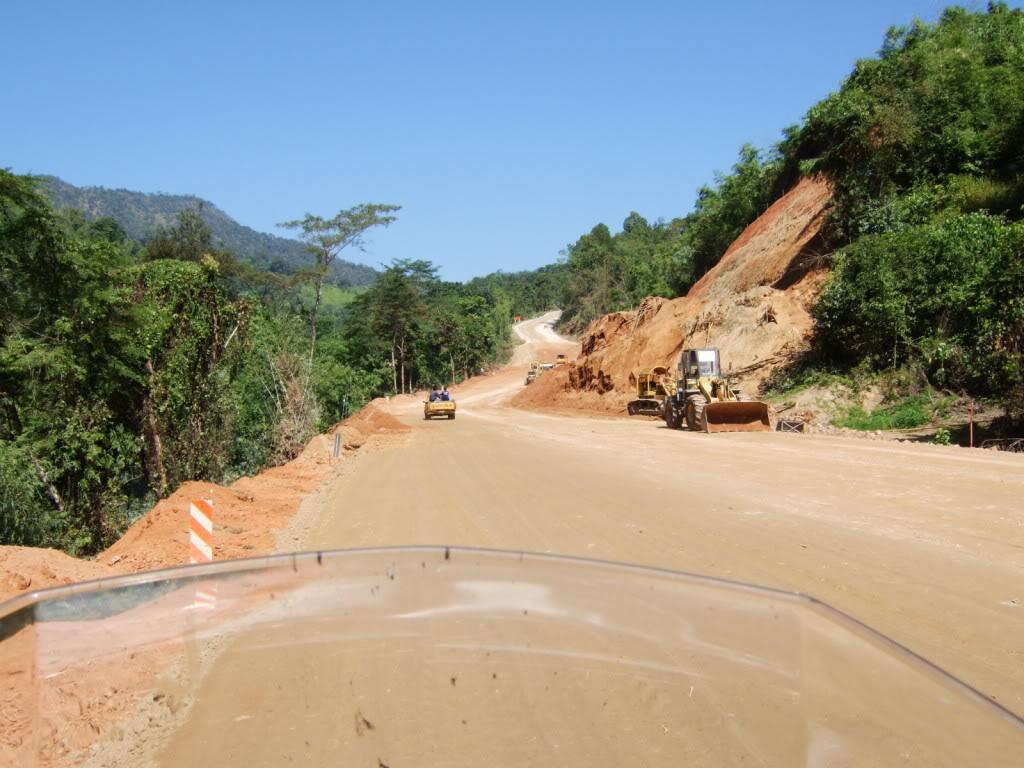 Marco expertly guides his panza wagon over some rough stuff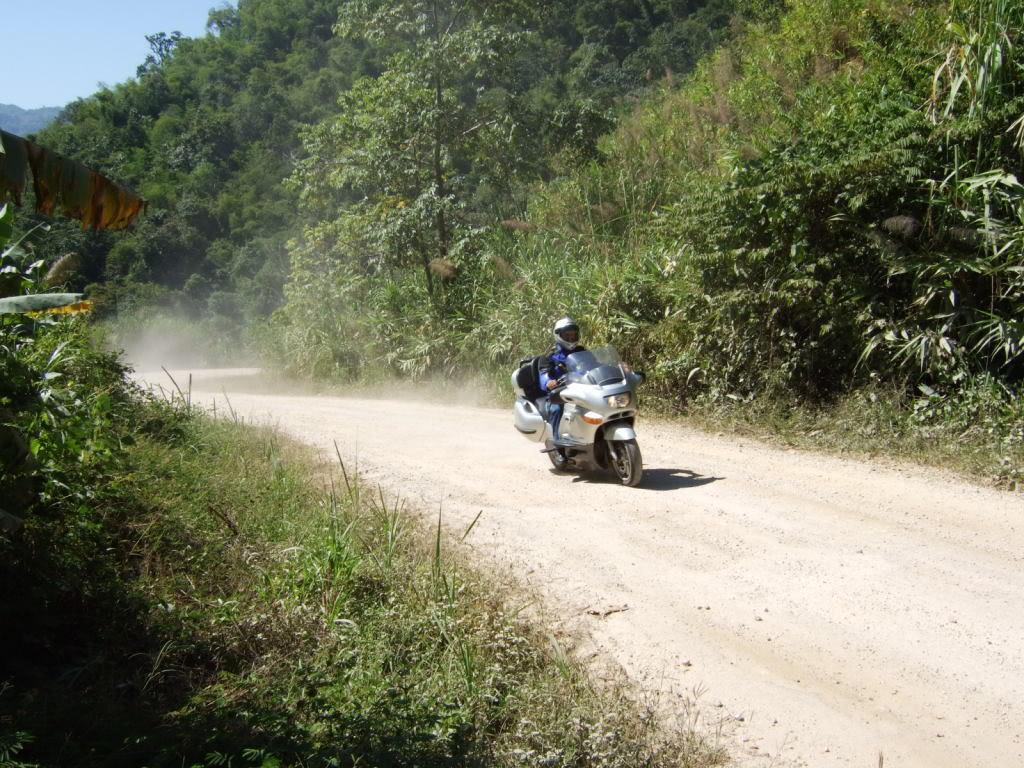 One of the locals has to travel the hard way, I appreciate how lucky we are being able to cover the distances in this lovely country and see such varied terrain and culture.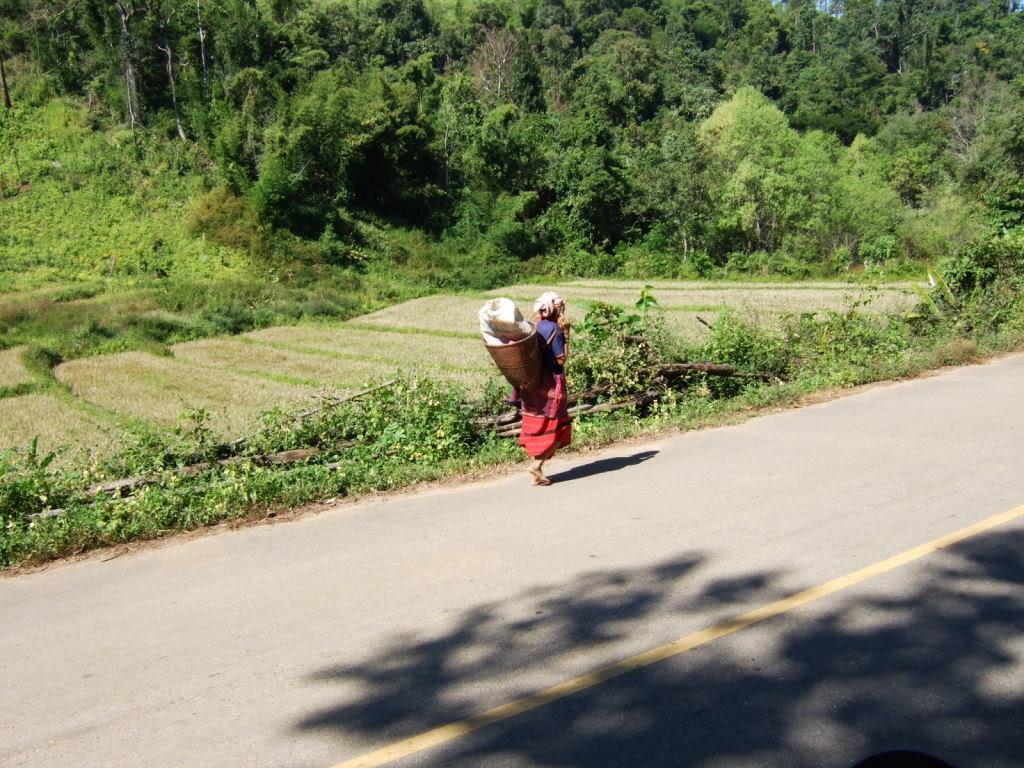 Marco relaxes riverside at Mae Sariang after a great days ride.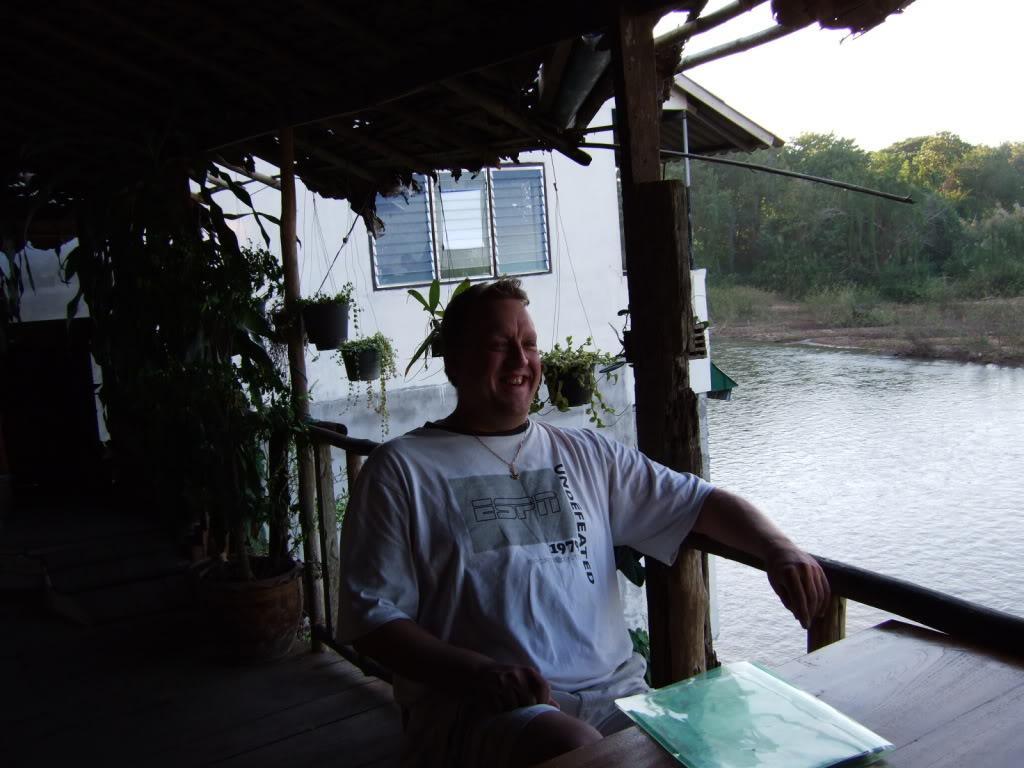 On the way up to Doi Inthanon, mutual enjoyment, something to do with Peter attracting pussy onto his bike.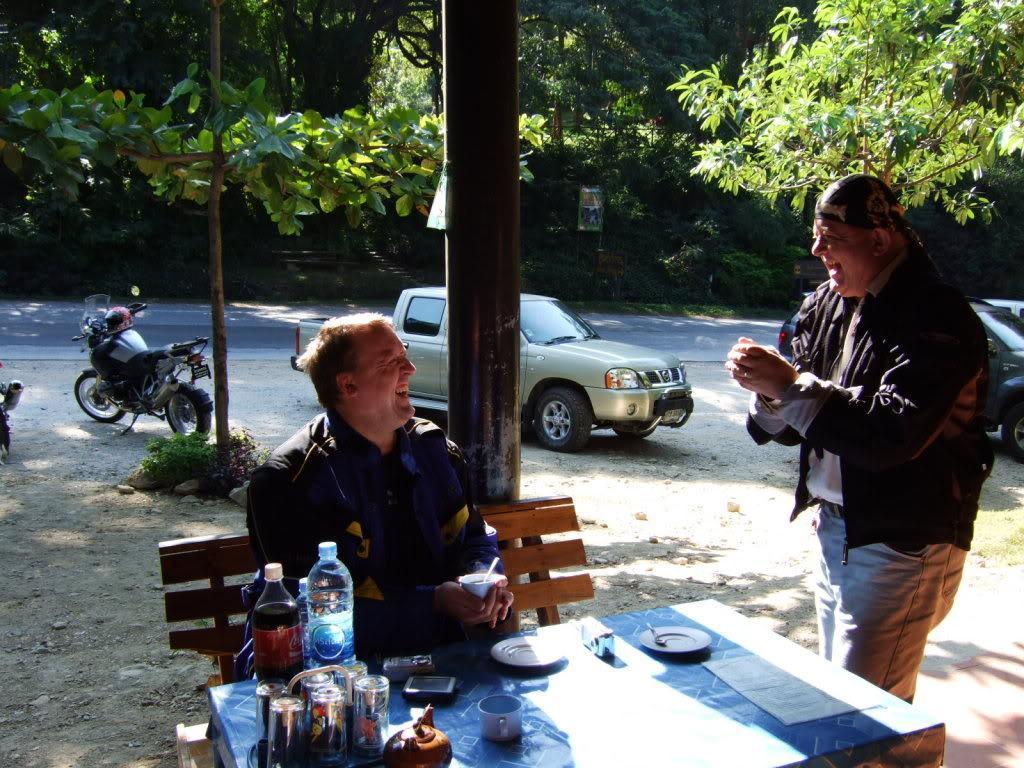 Not so widely published, the highest neutron detector in Thailand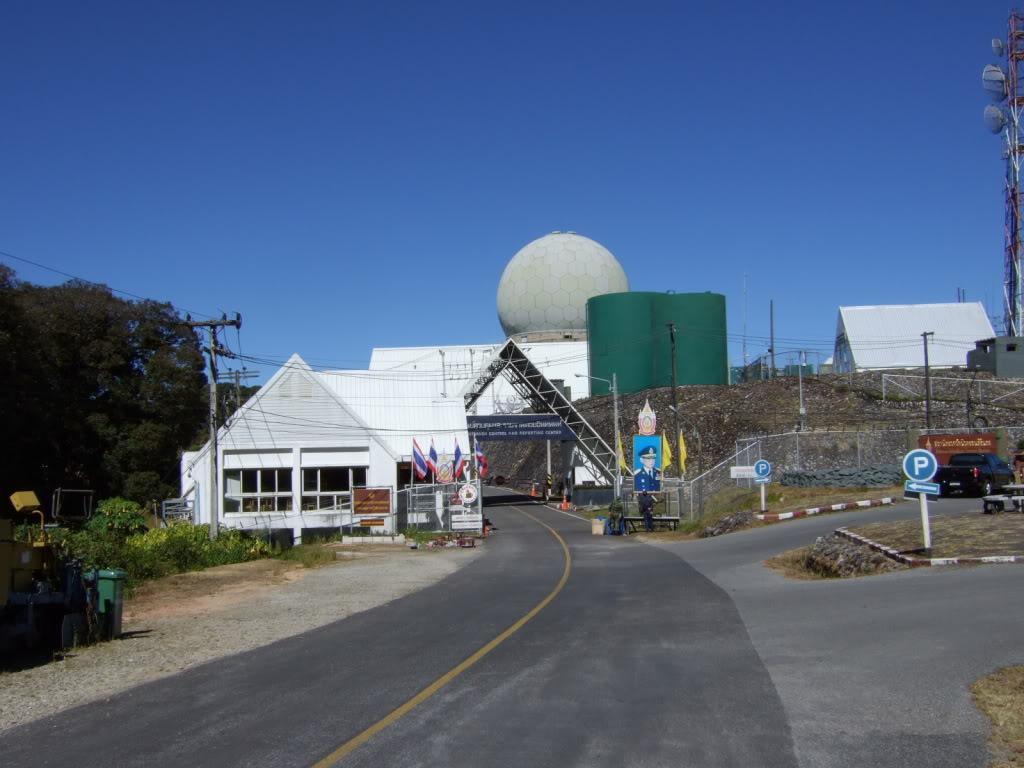 On finding out that there was a 1000Baht fine for what he was doing,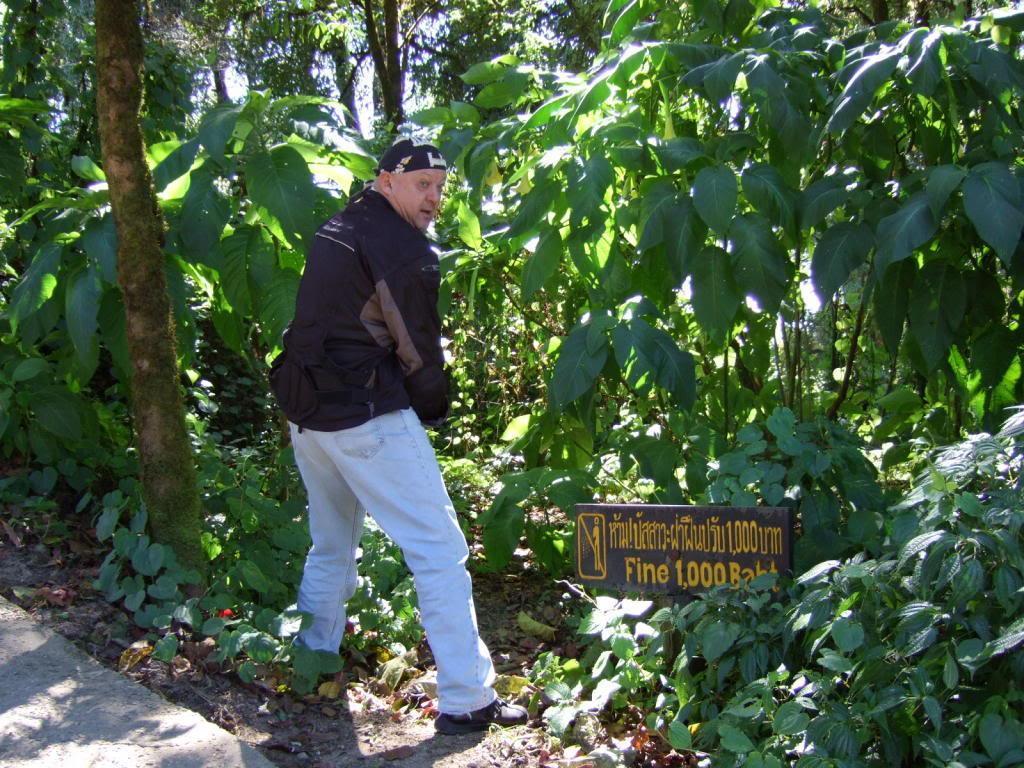 Peter got on his bike and was down Doi Inthanon in a record breaking 7 minutes!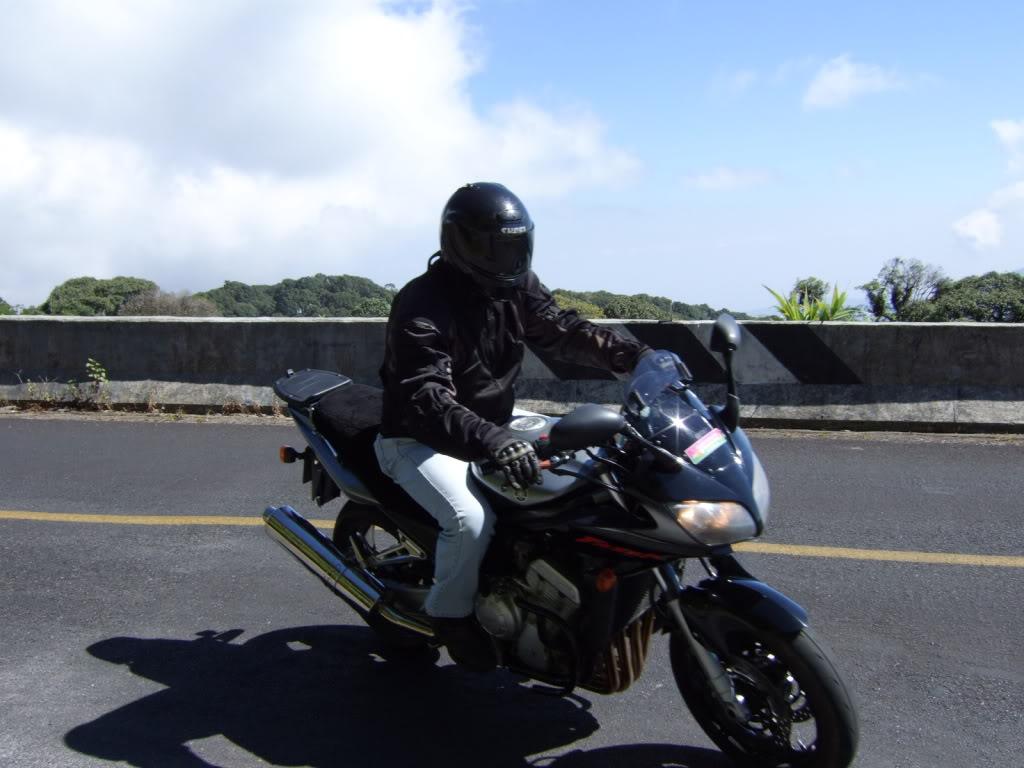 I hope the neutron detection facility did not detect the foreign activity.
Some views from the gloriously clear air and blue, blue skies at the top, into the haze that we live our lives in.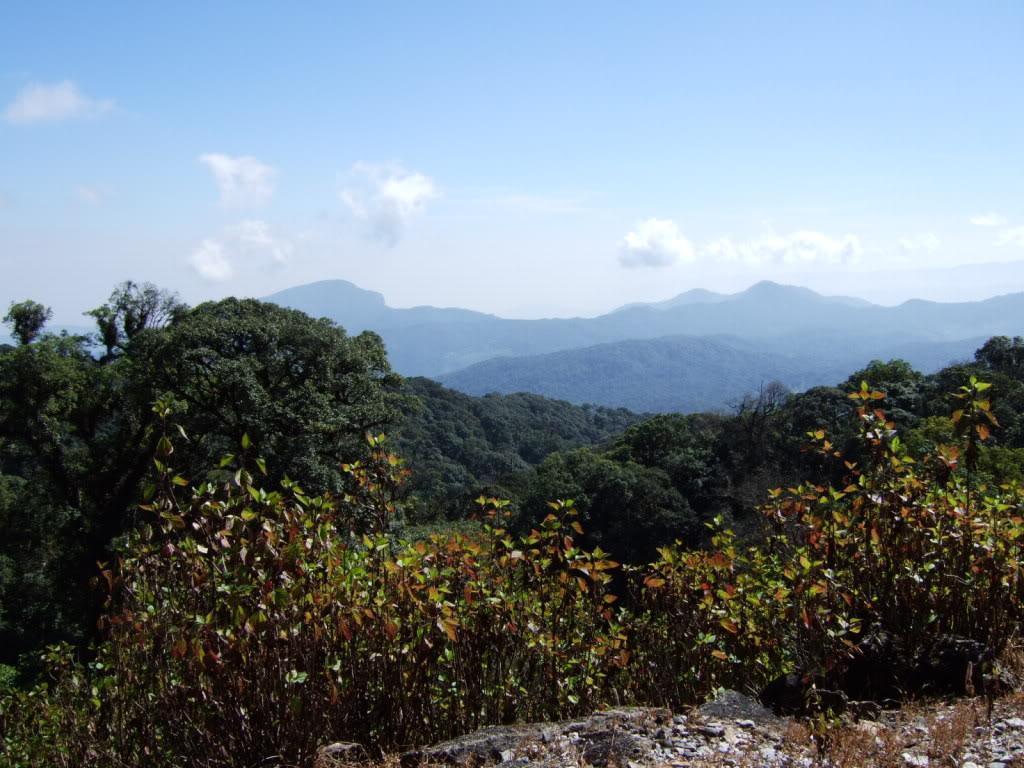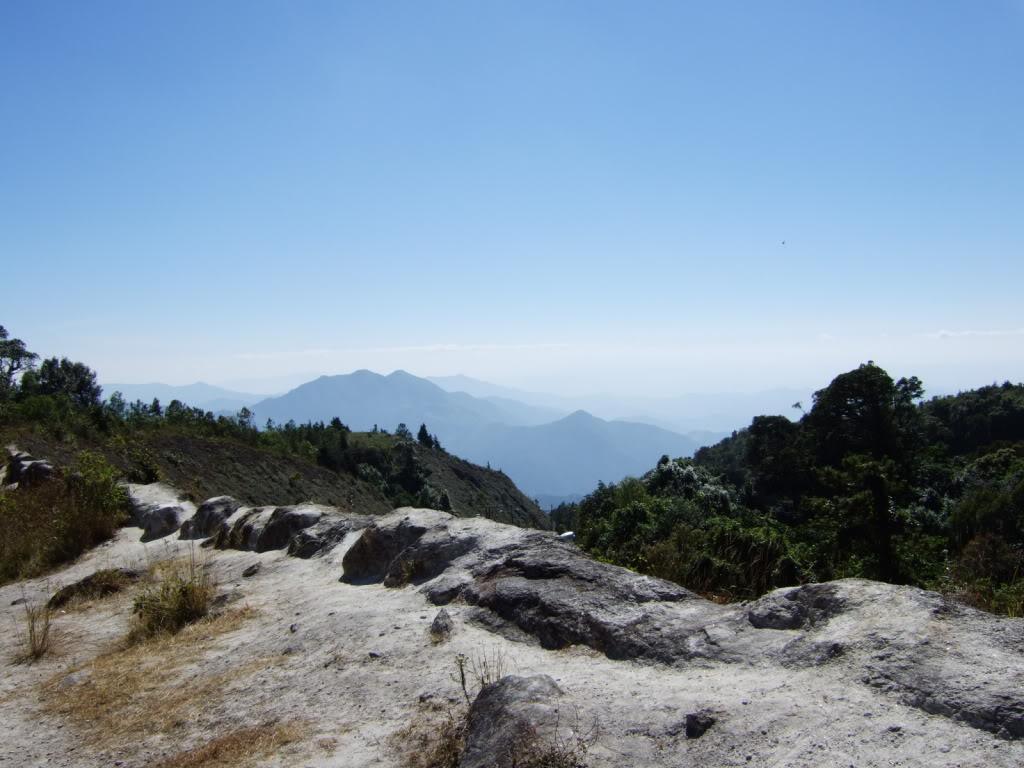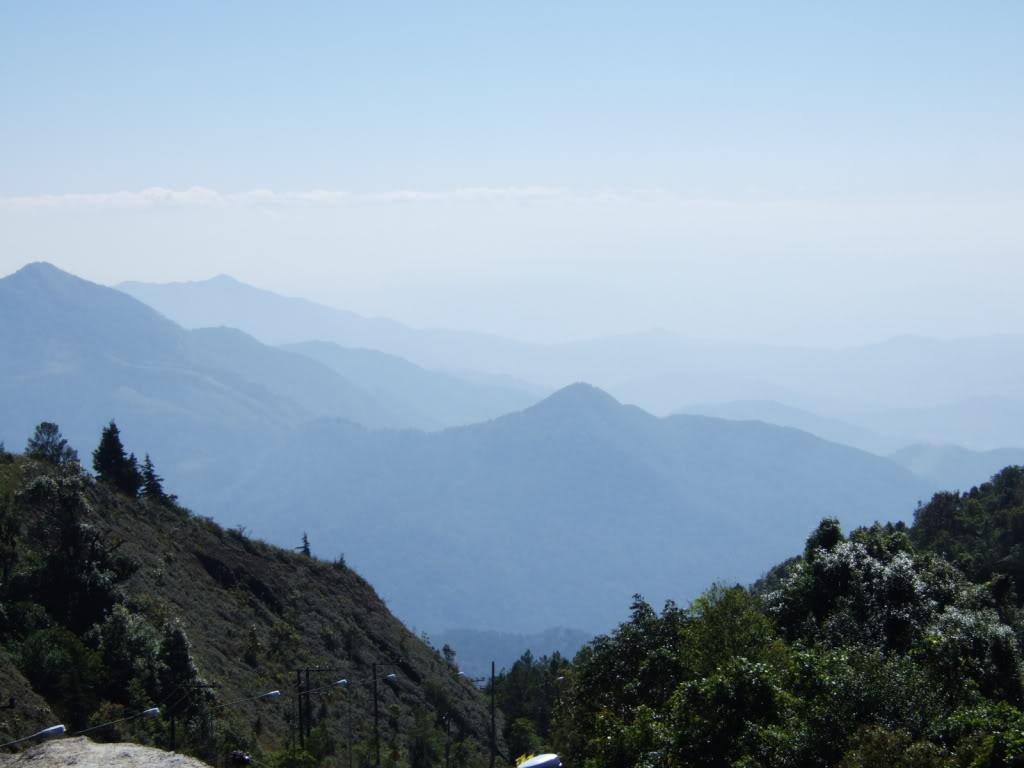 A couple of shots of the long distance travellers bikes referred to by Peter. Strangely they had not yet been able to buy a Thailand sticker, is that T or TH, or Si ???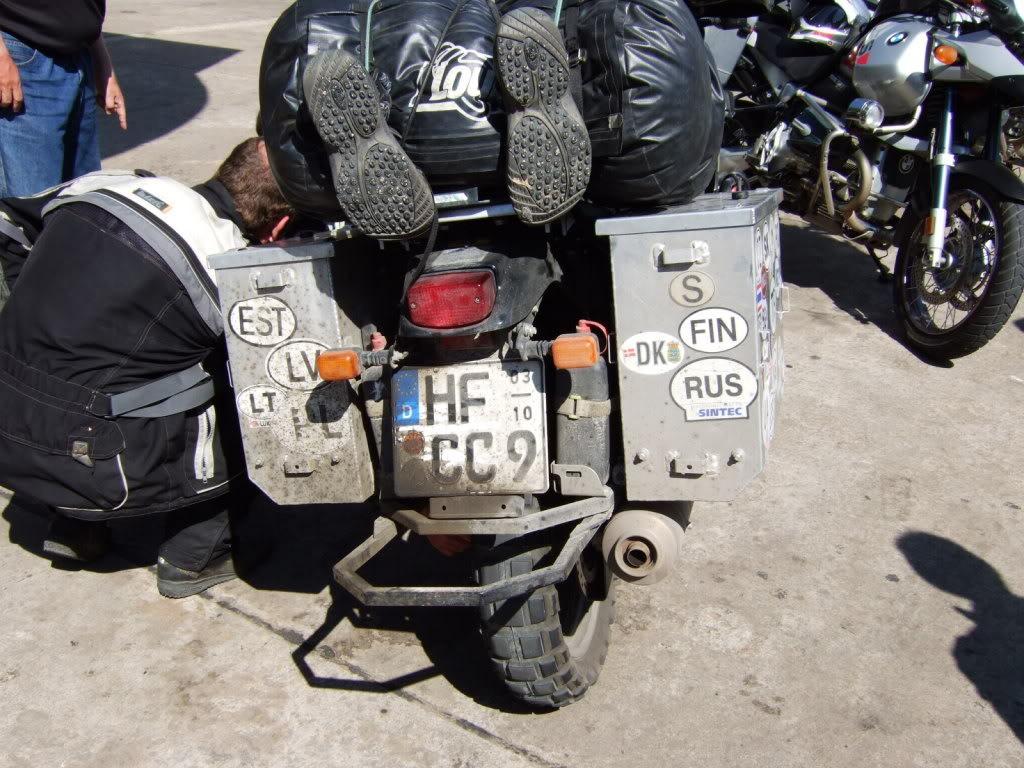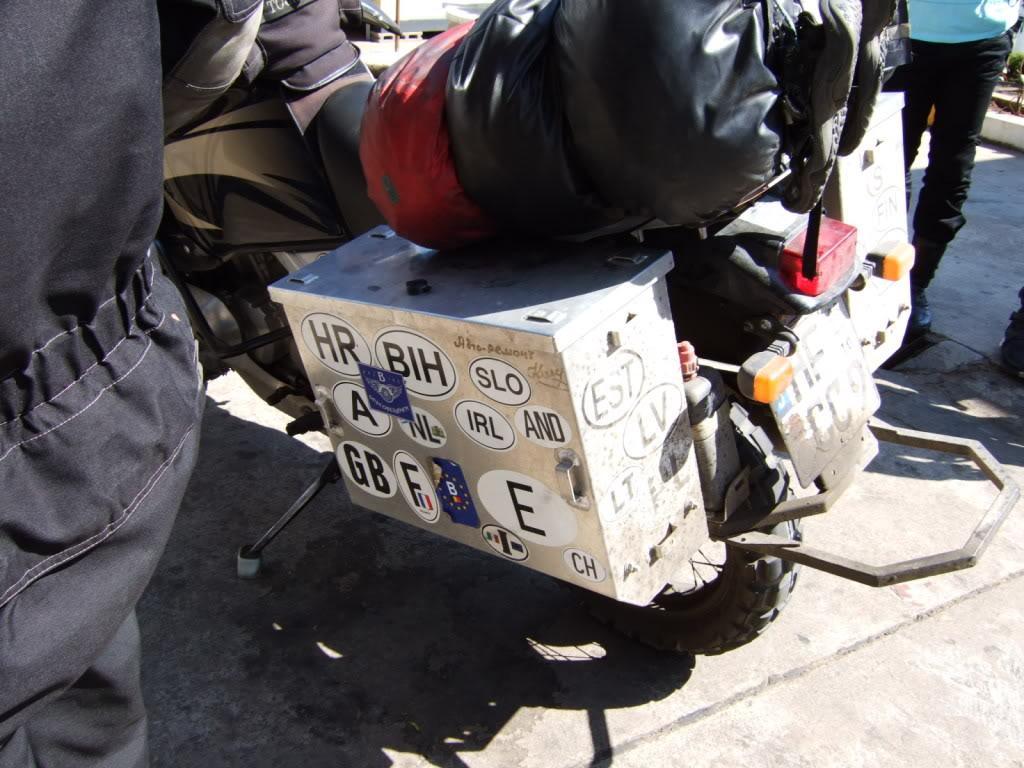 While the others settled for a night in Mae Hong Son, I was really enjoying those roads and pushed on , stopping in Pai to text the others that I had gone on, and as it was still light, pushed on right into Mae Rim and the X Centre and then Chiang Mai. A great run in late day warm light and fortunately largely avoiding the mass minibus, pickup rush out of Chiang Mai to be caused by the holiday weekend, starting the next day.
Took quite a few photos, of the bike week event, but they mainly seemed to be of Trent, charming the young ladies. Quite an education to spend time with him.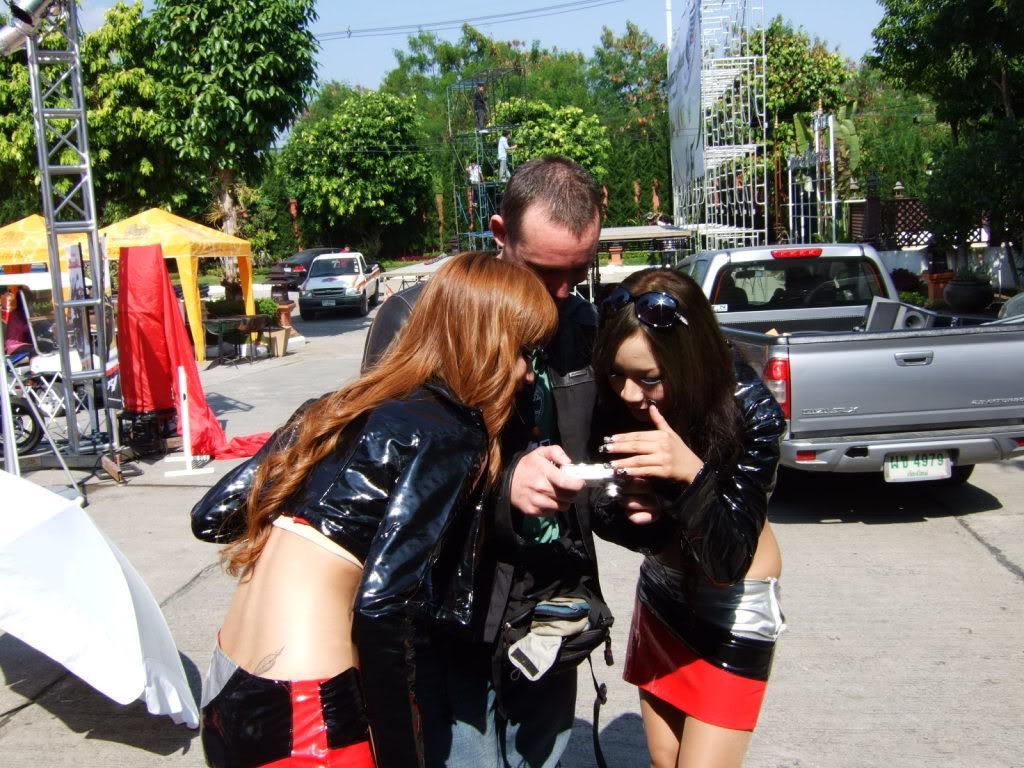 One GS that did not make it under its own steam.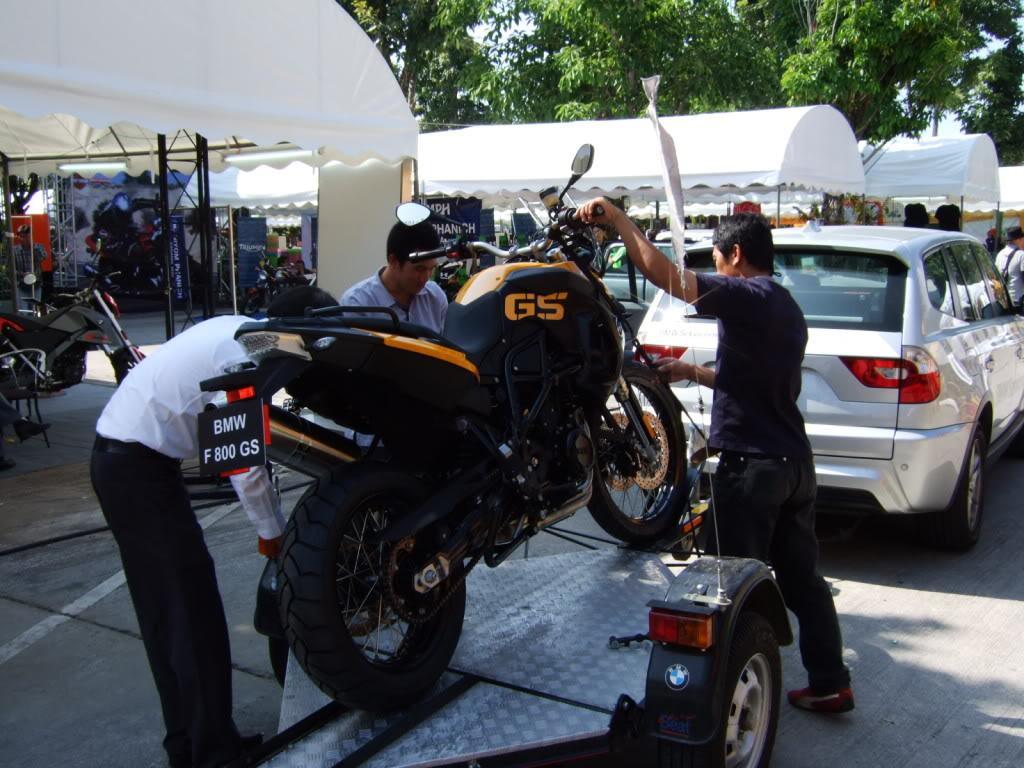 Must say that Harley really pulled out the stops, bikes , spares, accessories, clothing and even a workshop for those who needed a fix.
Yamaha their usual glossy stand, although little other than bikes and girls, (kept Trent happy),but the others, BMW, Triumph, Kawasaki, very disappointing. Could not buy even a T shirt from BMW, in fact the event was very much slanted toward Harley riders.
On to Chiang Khong and an excellent riverside guest house. Cool evenings and misty mornings, very peaceful.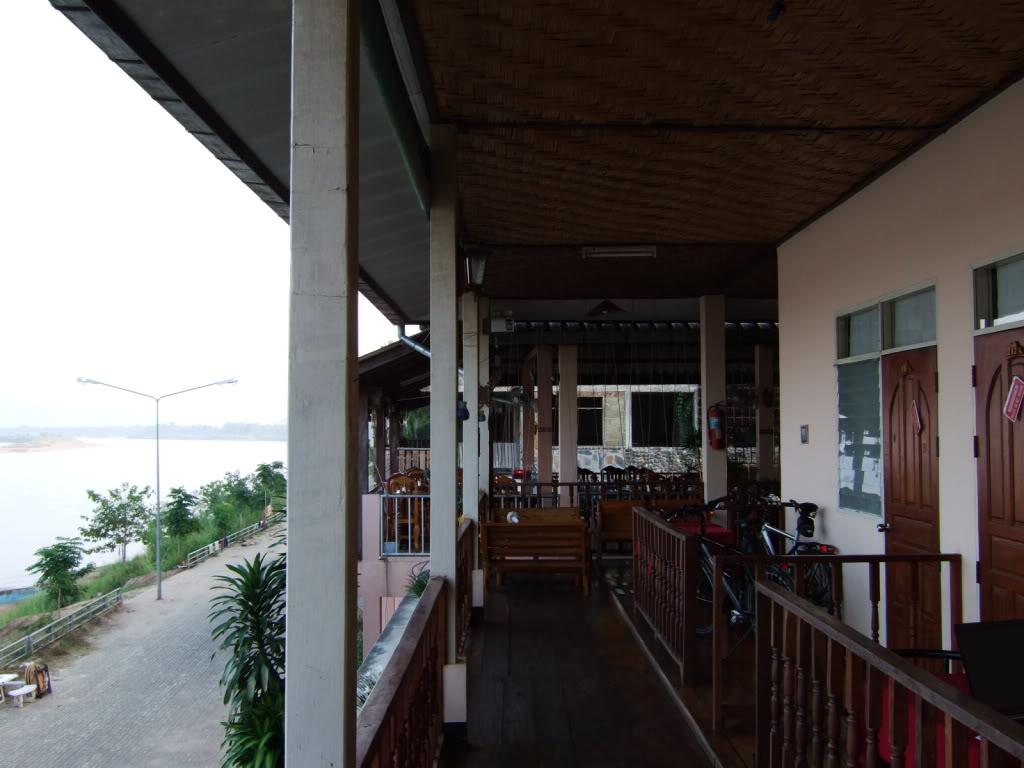 A few pics of David and Mais lovely home in its park setting.
Marco on the way in.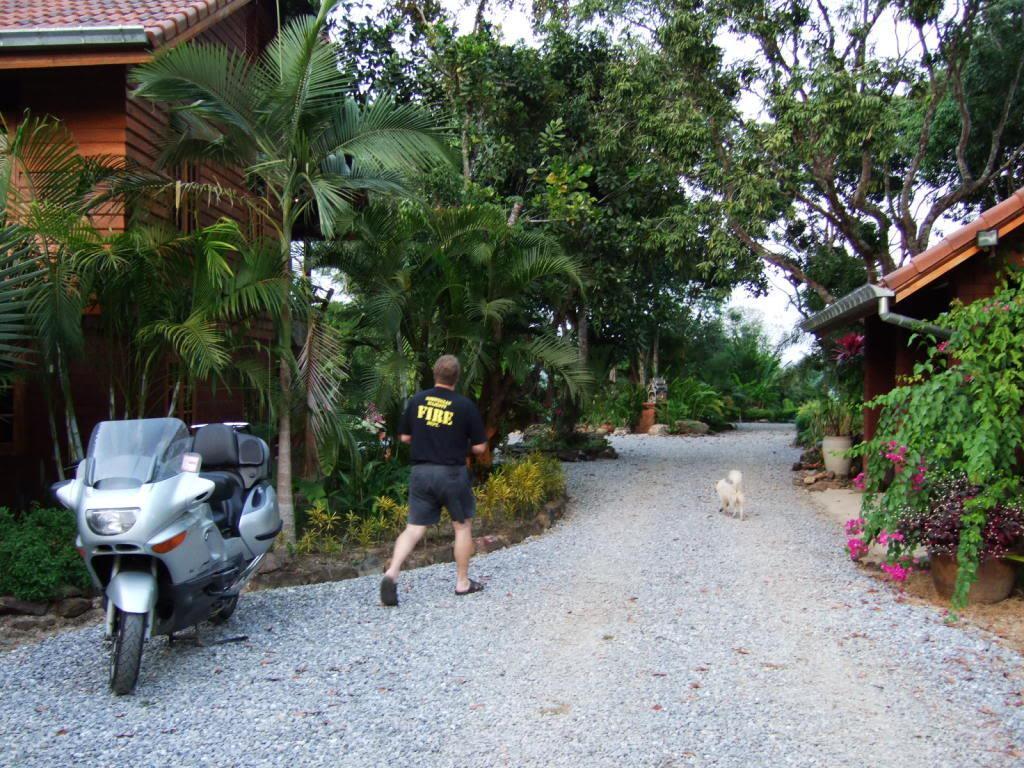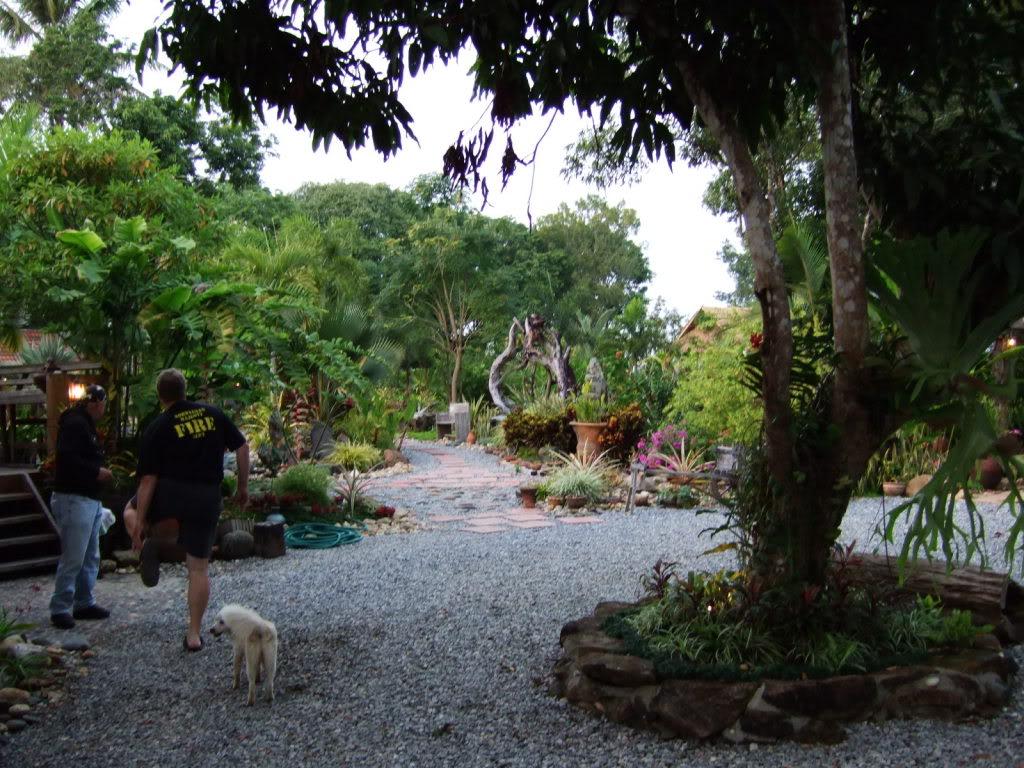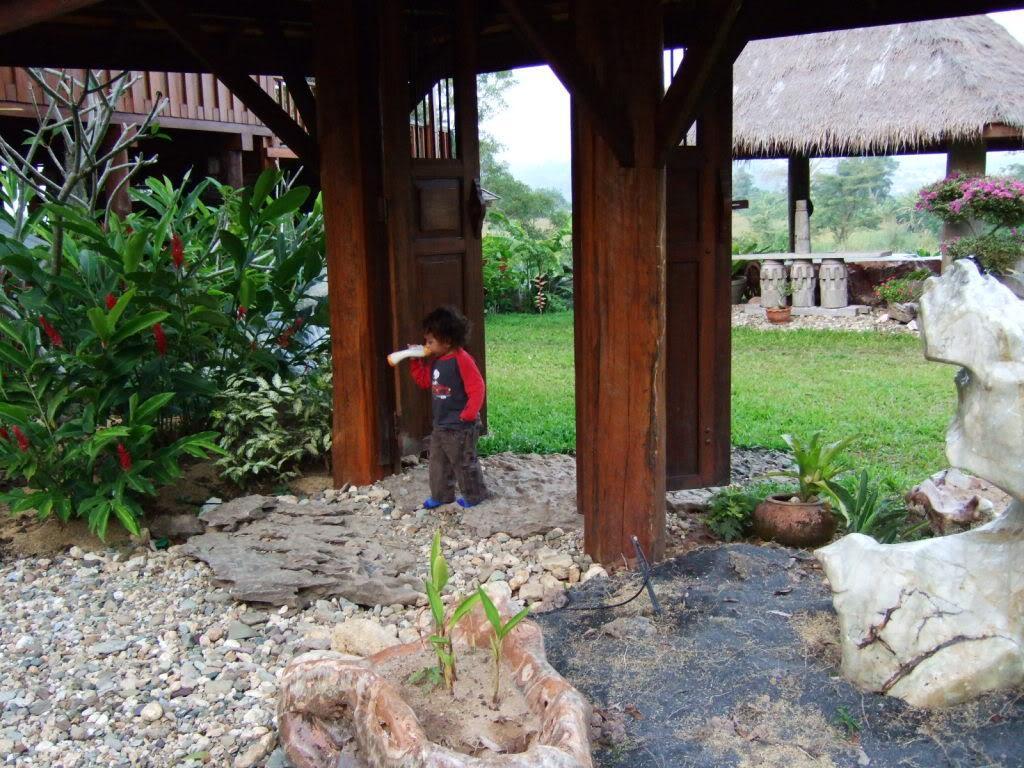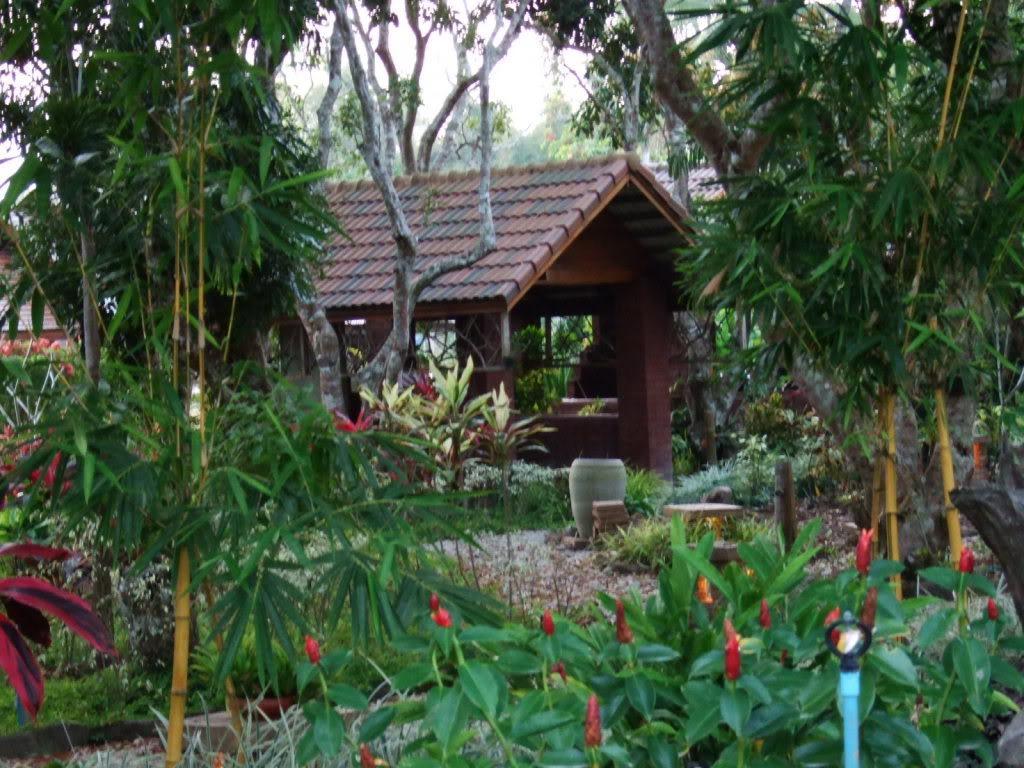 A real labour of love and David, who designed it all, really has an eye for a great setting.
Tony has all the essentials for a great evening.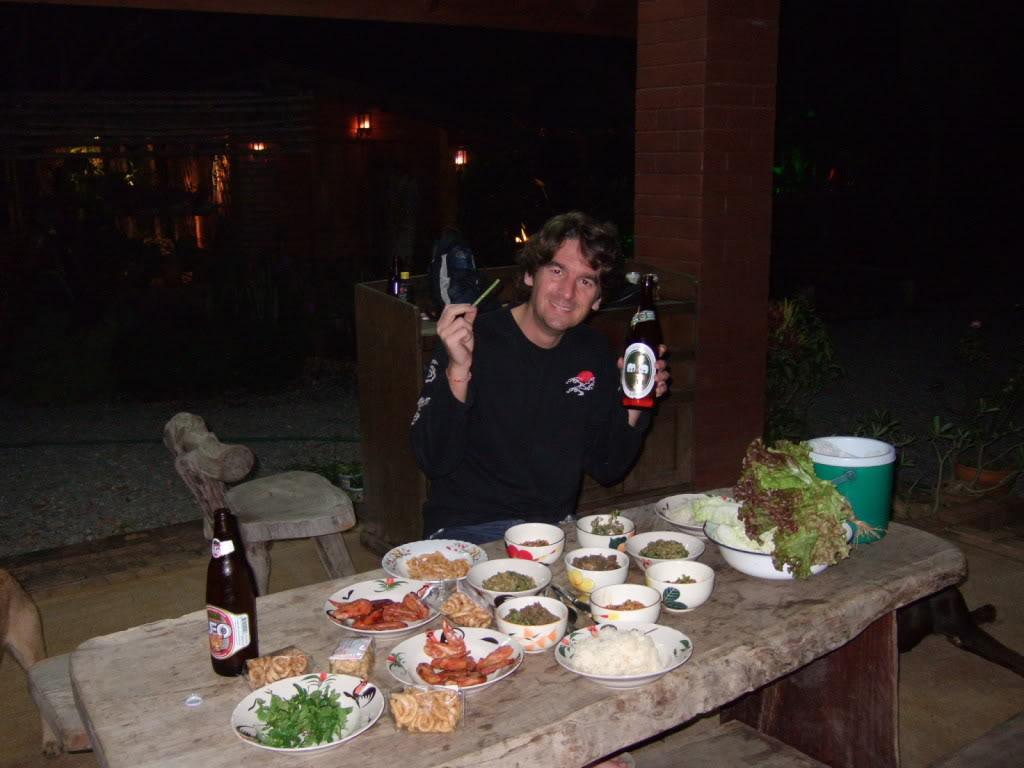 Morning mist on the river, soon clears when out of town and onto higher ground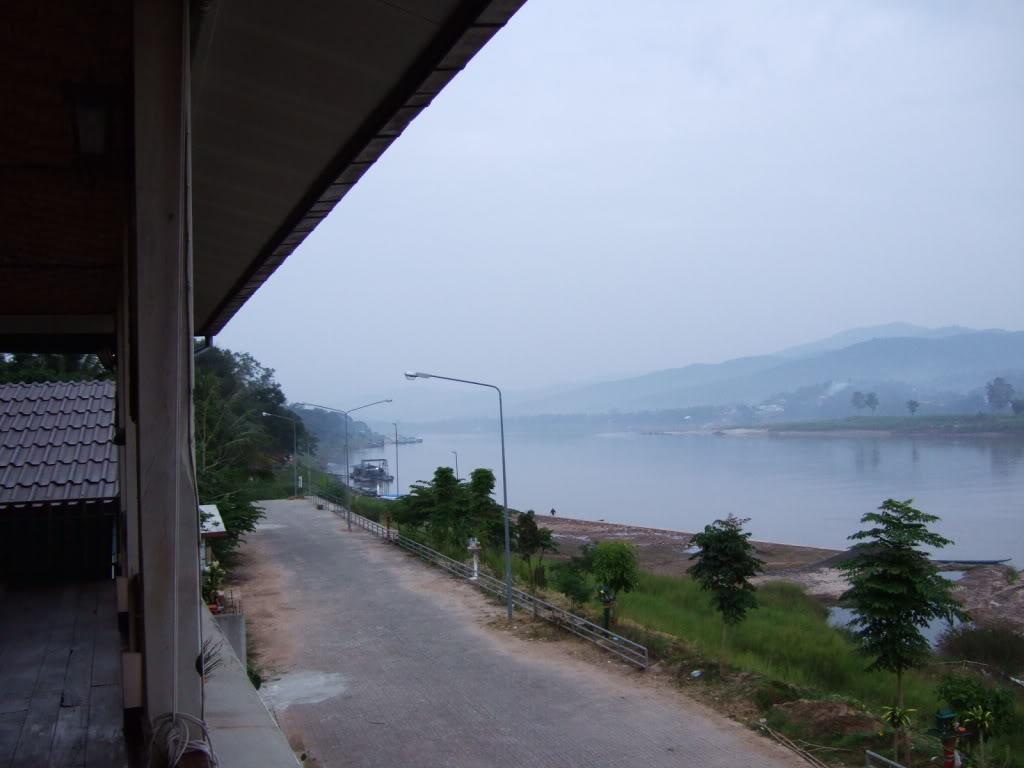 On a roughish surfaced road to Nan, Naked air loses air in his back tyre, but David is resourceful and supplies the wherewithal for a local guy to fix it.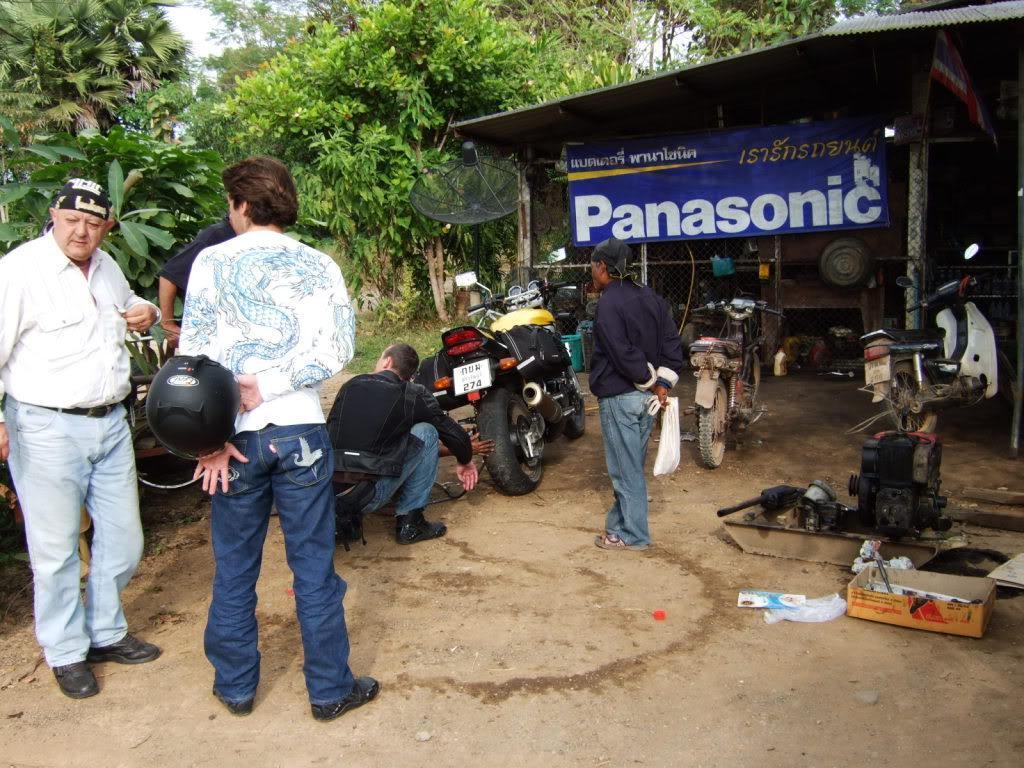 Peter and Tony agree they better keep some of that stuff handy on their bike too, or maybe just make sure David is part of the group.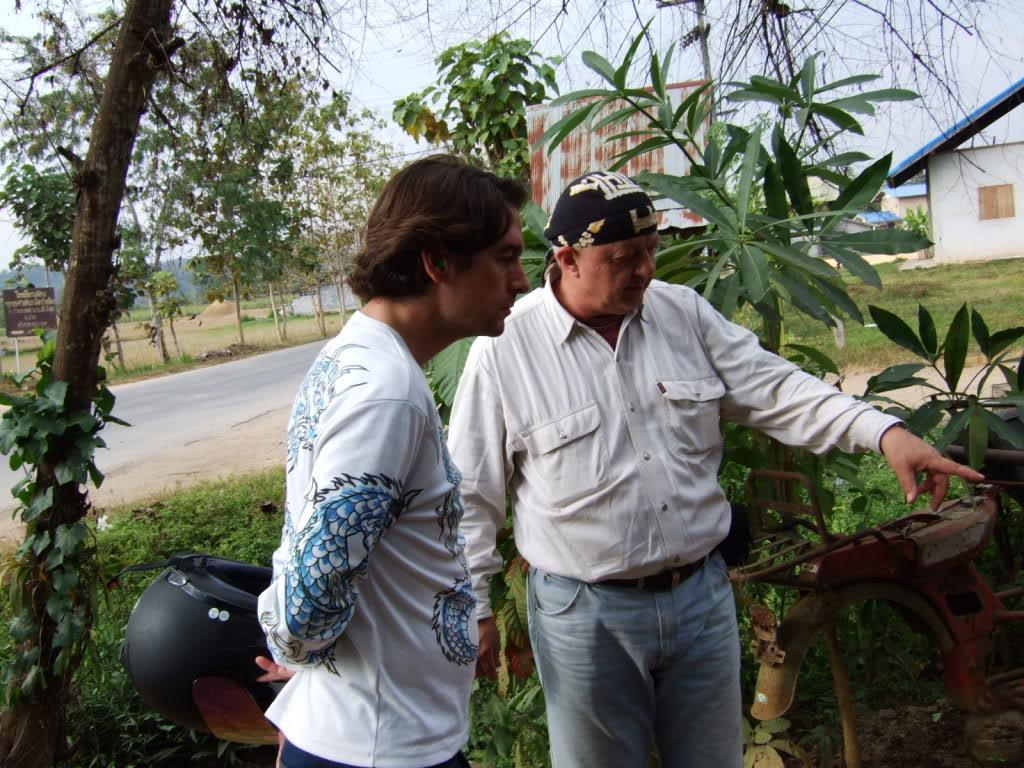 The solo bug hitting again, I decided to go back to Chiang Mai via Phayao, mainly to get a 5000km oil change in before going back to Isaarn (A BMW mottorad free zone)
Cold and misty in Nan, but again fantastic atmosphere and views climbing out of Nan.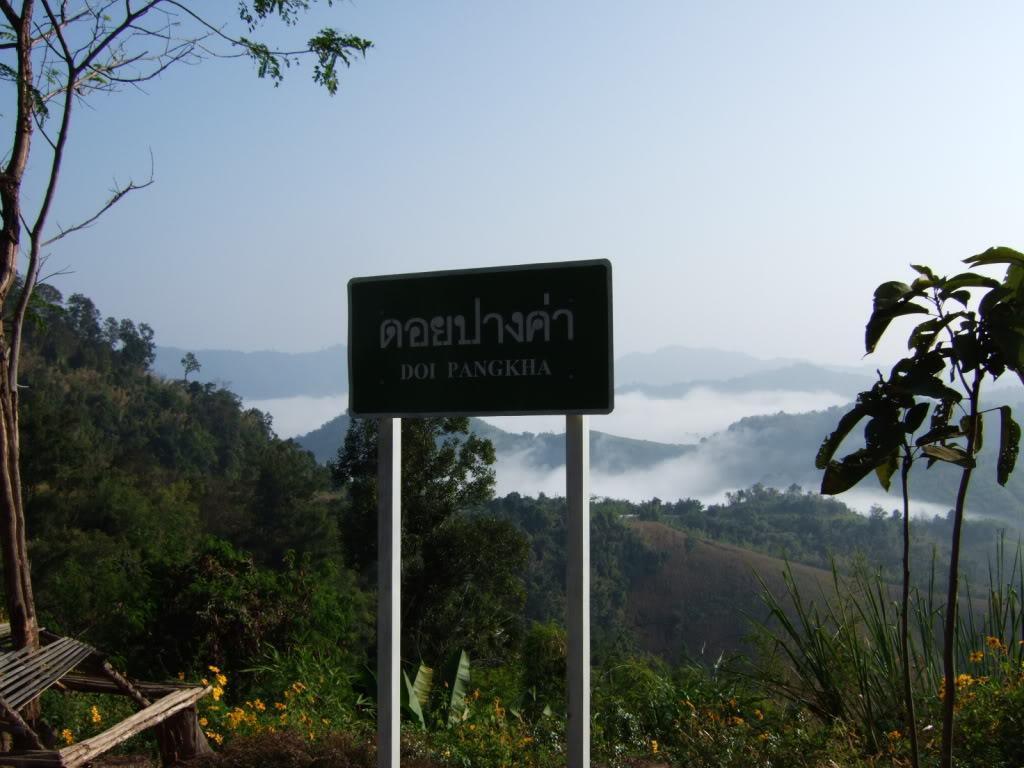 I must say that the traffic free roads in the Nan area, are a joy to ride, compared to those in this season nearer Chiang Mai, which are much busier.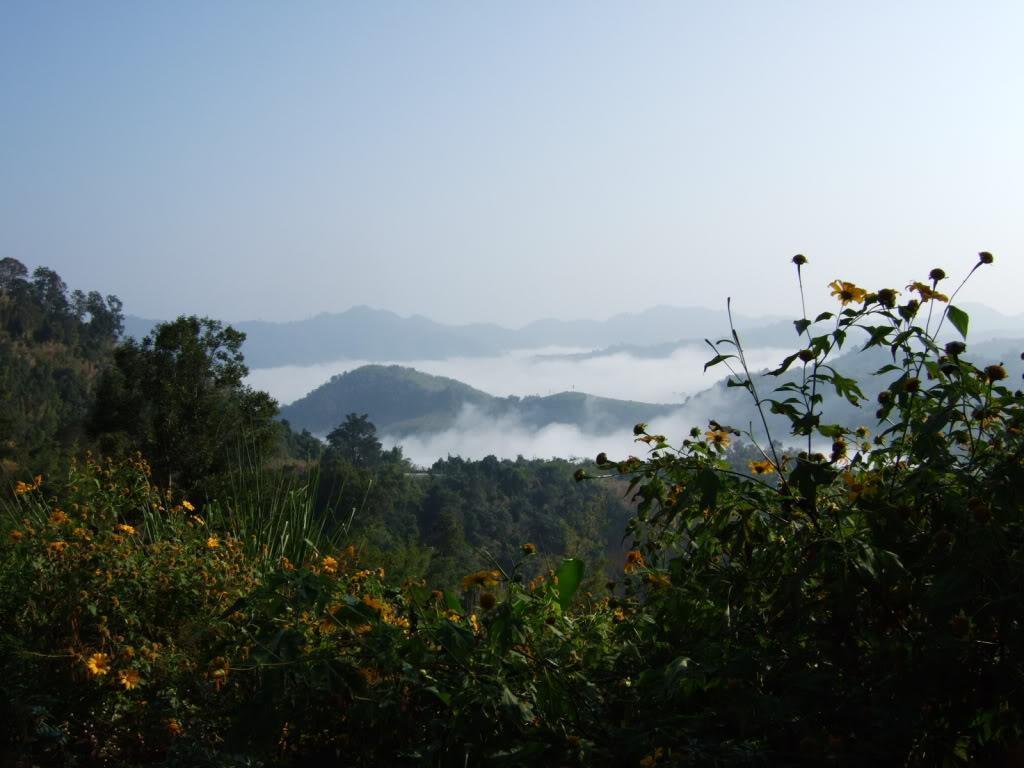 I roll into the X centre after a great ride on smooth fast curve roads. Some pics as requested by Peter.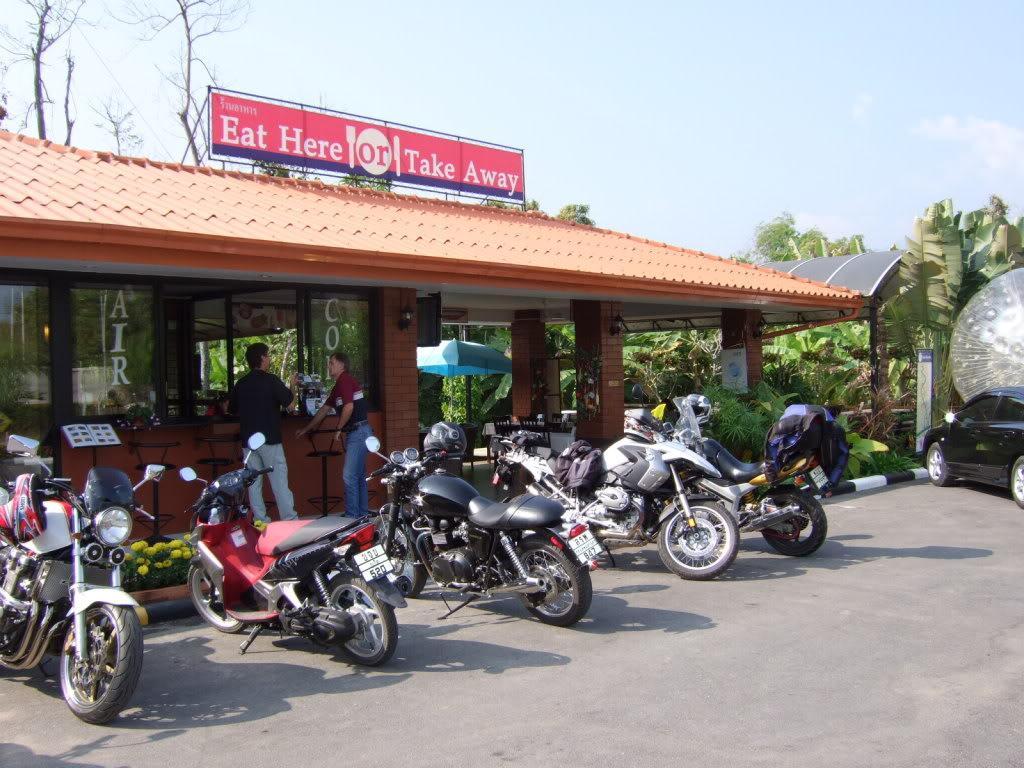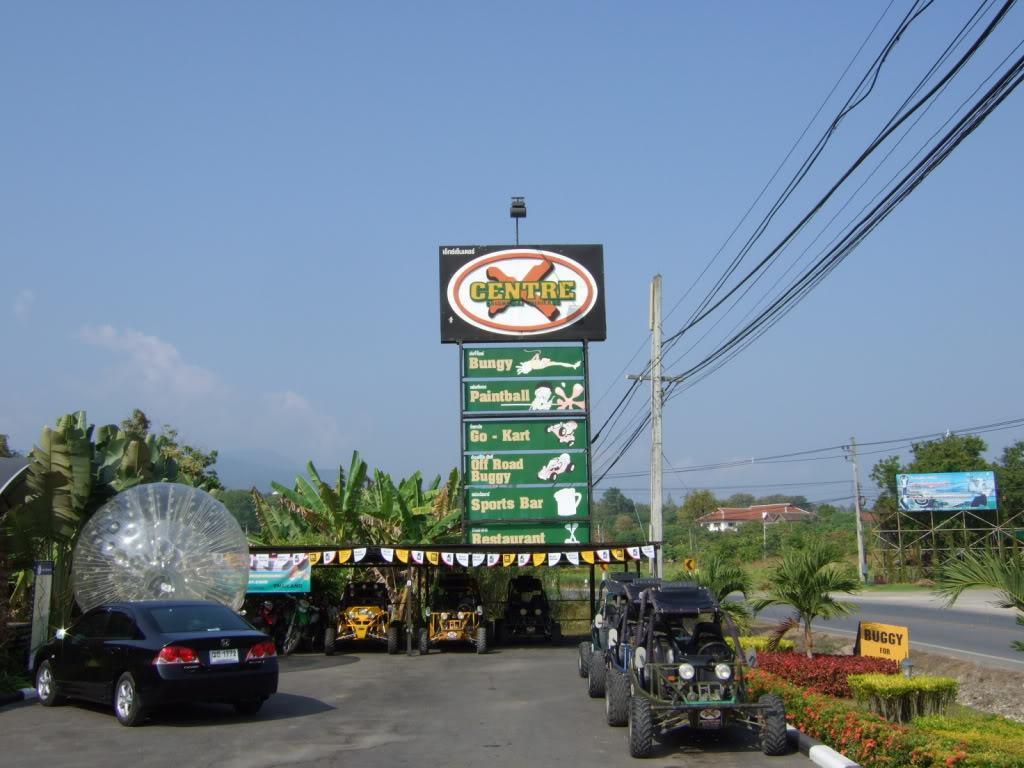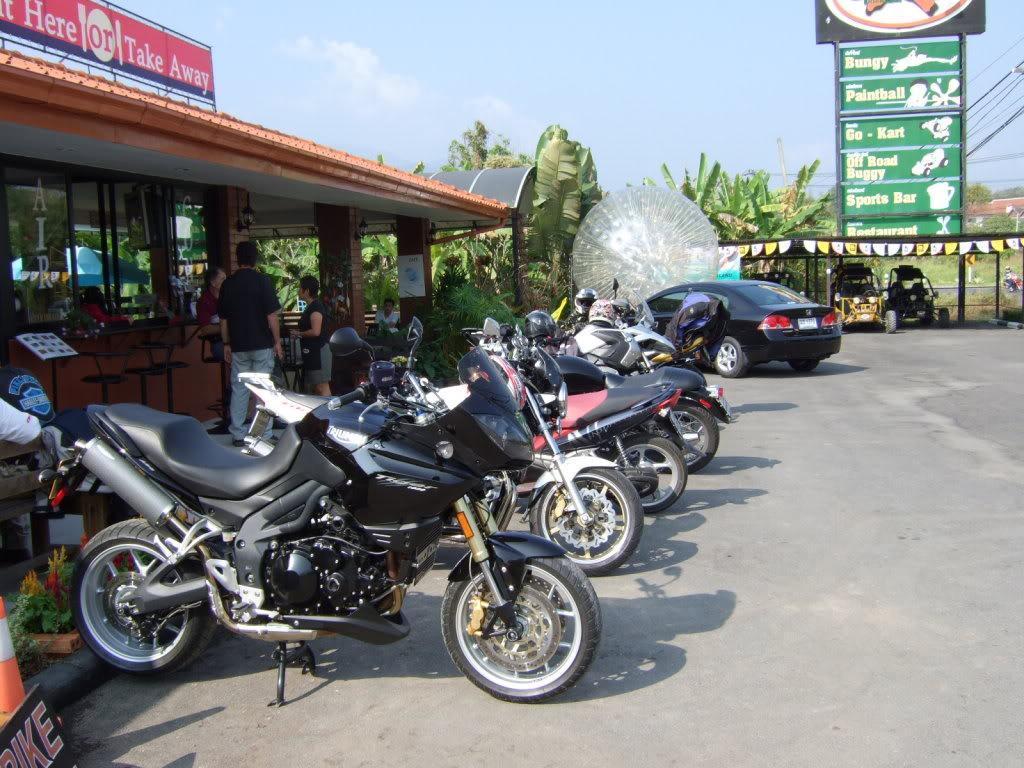 They guys were riding out to Pai for lunch the next day, so back up the roads again, traffic also heavy but fun making progress. I do envy the guys having the terrain around them and a great group of mates on very different, machines. However I will not be making the move to Chiang Mai just yet. For now a great place to visit, and thank to Ian and the guys for hospitality and good riding.
Service accomplished found some smaller roads back towards Issarn, stopping over in Lomsak. Must find a different hotel than the Lomsak Grand, rooms OK, but Disco music half the night and breakfast one of the worst offerings I have ever seen.
Next day on to Loei, to meet Jim from Sakhon Nakhon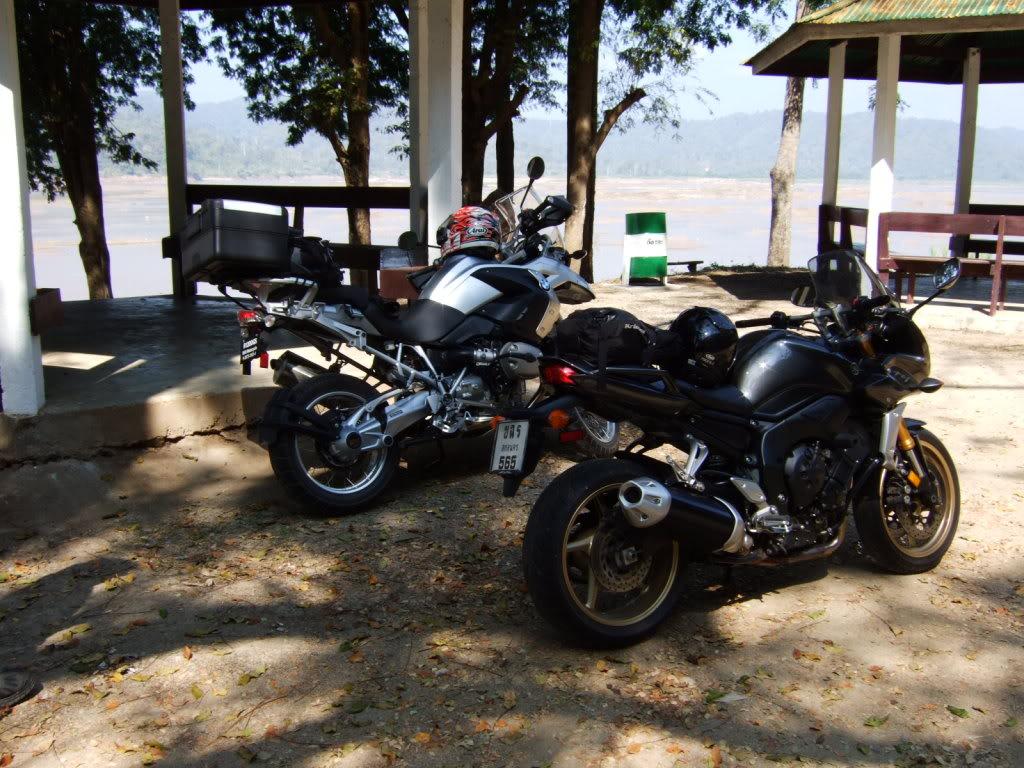 and a great relaxed ride along the river to Nong Khai. Total of 15 days and 4600km.