Hi all,
At least, I got them, thanks to a thai friend of mine who has a friend who works in Deng Glon Pratoo (DKT)...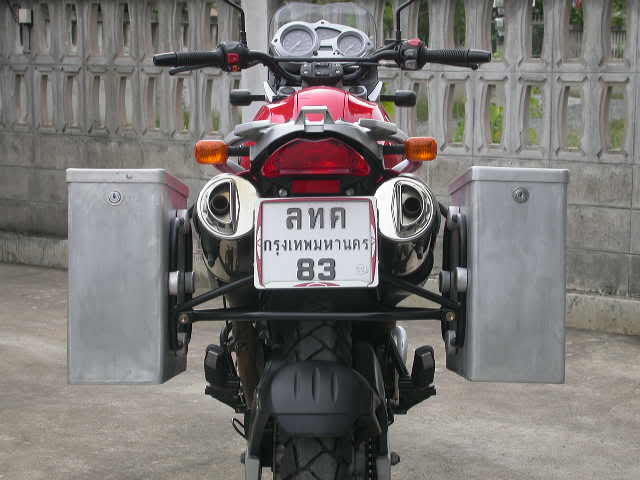 They perfectly fit my F650GS (IMHO)... They are about 25 liters each: I don't think I'm going to do the "world around" :roll: They are sufficient for a "some-few-days" trip for 2 people...
Gross weight (brackets more paniers): about 12 kg.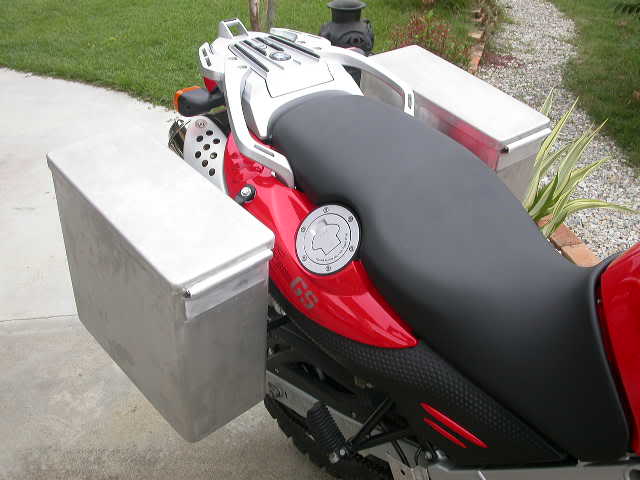 Great work! It is exactly what I was expecting... Hat down masters!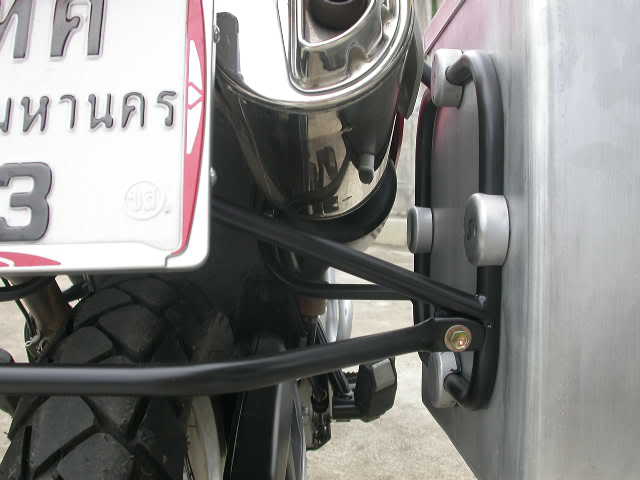 Brackets are made from a 16 x 1.5 tube of iron and then sprayed with a half-matt black... Screws and nuts have to be changed for stainless steel ones... I chose "fixed" paniers: my skilful wife is going to designed special bags to fit inside... We prefer...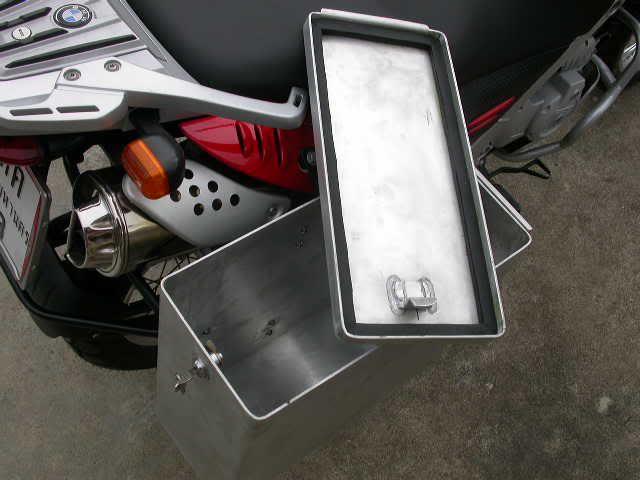 "Cherry on the cake", paniers get a lock but no hinge: the cover (with a washer) is clamped with the box on the front side... Slide it in the clamp, close it down and lock it at the rear! Easier to take off bags and stuff...
Et voilà!
One happy biker more!
Really great work! Maybe not the "Oh dear, the german touch!" (who cares?), but for sure a superb piece of thai master-work! I "love" my paniers and thank very much the masters for their knowledge and thaeir skil!..
I chose a 3 mm gauge aluminium alloy (very strong paniers!)... If I had to "replay", maybe a 2.5 should be sufficient...
The next step will be a rear rack and a back-rest for the comfort of the pillion...
As said to me the workshop manager: cost of this work (same boxes with proper bike brackets), all included: 15000 Bahts.
Price up if bigger paniers or "very special option"...
Despite I like the "raw" alloy finish, paniers can be sprayed too (about 1000 Bahts more)...
Special design on request...
Phone number: 053-202269-70
Location: Going to the airport by the south highway (first ring), it is in the left hand soi just before taking the bridge, or the last soi about 300m before turning left in the Hang Dong road... The workshop is at the end of the long block left hand side...
Note please: ONLY THAI SPEAKING THERE (and very kind, pleasant and patient people)...
One more note: they can do a lot of "things" for your bikes (I'm amazed!)! Ask them what you want... and they will do it just for you!
Cheers to all!
Gobs