Sep 19, 2006
2,307
310
83
I was invited by Richie to Join a Group of Harley's for an Overnight Trip to Sukhothai to take some Photos for their Harley Tour Web Site:
www.harley-tours-thailand.com
8) We meet up at Richco's Shop in town but after another Big Friday Night at the X-Centre I was a bit Seedy so was the Last to arrive!!! We finally left 6 Harley's and My Lone Triumph. On Our way down to Lampang we saw Hundreds of Police Congregating on the Side of the Road just outside Lamphun. Passed another 30 or More Police Cage Trucks and Vans heading up as well :shock: Turns out all these were preparing for the Mass Protests by the Lowlife Red Shirts :evil: I don't care what Coloured Shirt they Have they are Still Trouble making Idiots :twisted:
Anyway we stopped at the Shell Station out of Lampang and topped up with V-Power and grabbed a drink.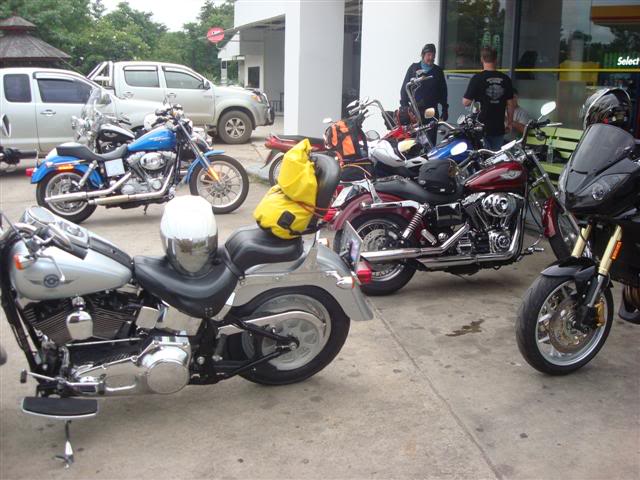 Also had a Thai Guy turn up on this 1950's Ariel. Great Condition and He has owned it for 30 Years or more :shock: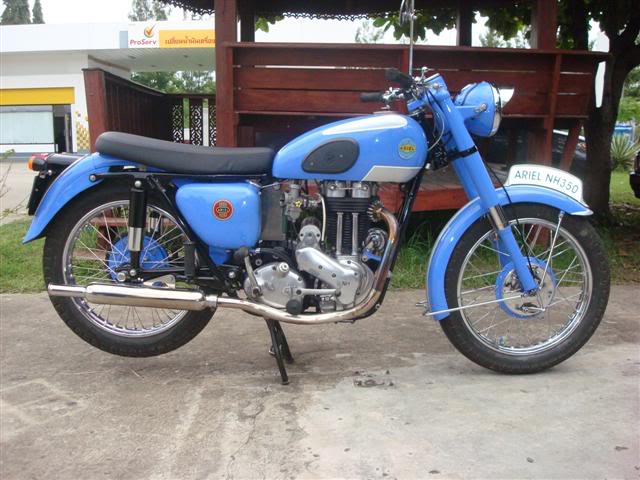 From here I swapped Bikes with Mike and Rode His Harley Davidson Fatboy for a while which was a nice Experience, Thanks Mate 8)
We took a round about Route down to Sukhothai down the 11 and Cutting across on an Angle right to get to Town, Nice scenic Country Riding and not much Traffic and as we weren't in any Rush made a pleasant Ride! Arrived in Town and with the Exception of some Drizzle all Dry and Happy! Checked into the Ruean Thai Hotel, Very Nice place, see:
www.rueanthaihotel.com
.
Good Parking for the Bikes!
Unloaded Our Gear had Lunch then off to Check Out the Historical Park. This is where we ran into Major Rain so took refugee where they were setting up a Local Market and we Commandeered some Tents for Shelter!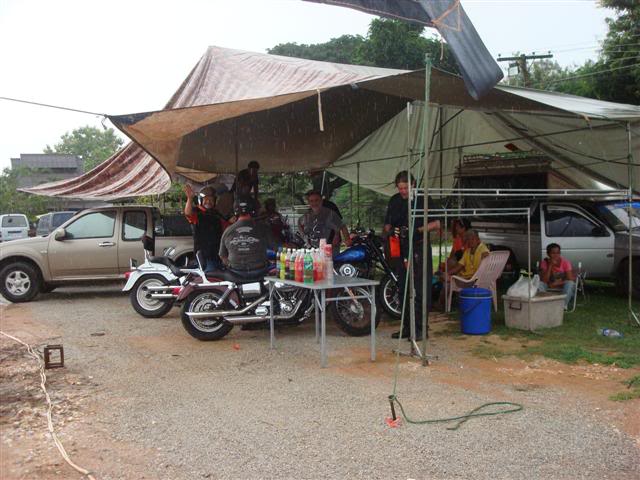 Rain eased so off again but instead of the Park they decided it was to Wet so headed back into town which was in fact Chasing the Rain :roll:
This Time we got pretty Wet and took Refugee again at the "Chopper Pub". This is run by a Guy called "Addy", A real Friendly Guy who loves Bikes and is the Perfect Host laying on a endless supply of Snacks and Food for the Remainder of the Day while we Consumed Beer, Whiskey and Rum :shock: We eventually managed to get out of there and return to the Hotel to Shower and Out again for a Big Night at some Local Club of Dubious Nature :wink: Woke up in the Morning and waited as the Guys emerged at Various intervals looking a little Worse for Wear!!!
We again set off for the Historical Park and as it was a Nice Day were successful in Exploring the Ruins of Old Bricks and the Usual things some People may find interesting :?:
I took some Photo's so I could look like i was Part of that Group :?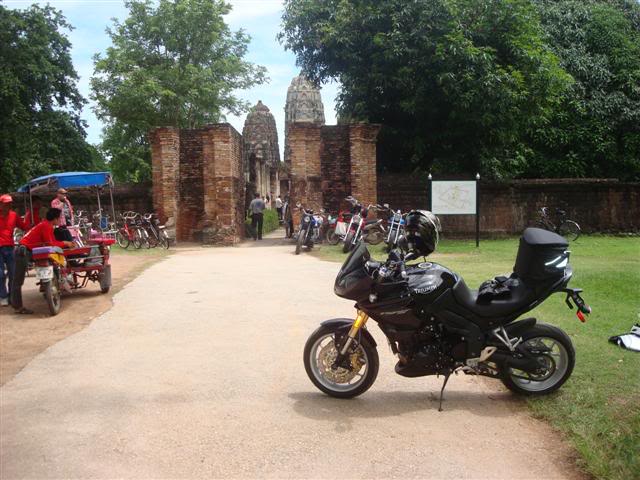 I did think this made quite a nice Shot with the way the Statue was Framed by the leaning Trees and off Course the Bikes to Liven things up a bit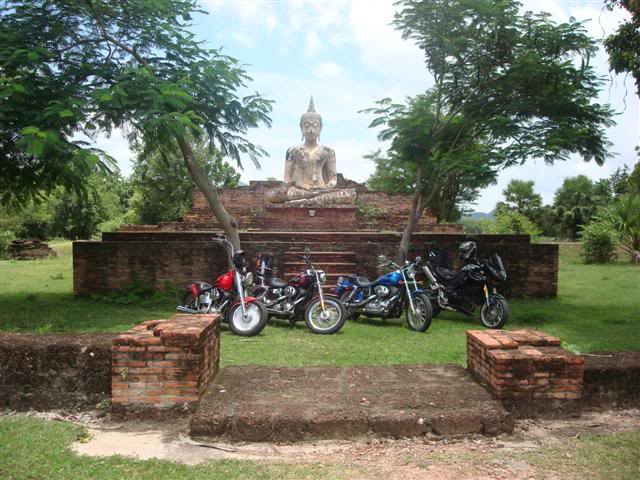 By the Time we had finished everything in Sukhothai it was 1:30 pm so on the Road back to Chiang Mai. Pretty uneventful Trip besides an Emergency Toilet Stop by one of the Crew that Amused everyone
Stopped at the Shell Station in Lampang again for a Refill which was at the limit of Range for the Harley's. From Here I left the Group and Blasted off on My own back to the X-Centre so I could settle in for a Few Beers and Watch the MotoGP. All in All a Great Weekend and again Lucked out as the Entire Trip in Wet Season without any Major Rain either way!!! Thanks Guys!!! :wink: