Henri Mouhot journey in SE Asia.
I just completed a two volume book about Henri Mohout's travel in SE Asia.
He came to Bangkok around 1858 with sponsors backing his expedition. It is not clear who his sponsors were, but from a colonial point of view, they seams to be just that. Colonial powers for the, at that time, unknown land between Indo-China and Siam.
The most interesting part in his book is his observation and description of the locals he meet along on his travels. A little condescending and a little curious at the same time. But his colonial view shines through at all times.
And that he traveled so slowly that he picked up the languages as he ventured on. Food for thought in our high speed travels.
He started off by going up the Chao Praya river and on to Saraburi. He stayed for quite some time in what I guess to be the Pak Chong area with a trip to Korat. Collecting samples og insects and fauna all the way.
After returning to Bangkok he set off to Cambodia by boat. He spent a lot of time in Chantaburi and the island off the coast all the way to Kampot in Cambodia.
Through his sponsors, he carried 'Letters of introduction' so he was welcomed by Kings and Princes along his way as well as all the French missionaries scattered around SE Asia at that time.
From Kampot he spent a lot of time in the east of Cambodia among savage people. Lot's of them. Describing them in great detail and their way of living and their history. All kind of ethnic people and all the Chinese businessmen.
Then he continued to Phom Phen and towards Stung Treng and on to Tonle Sap and Battambang and finally
Angkor. He describe the Wat in great detail including measurements to satisfy the scientific part of his expedition.
Then he returned to Bangkok and sent off all his samples back to Europe. All those samples and notes were lost when the ship sunk.
From Bangkok he traveled west to Petchaburi and probably to the border of Burma.
Then he returned to Bangkok to plan his trip to North Laos. Only one 'white' man had traveled there before him. A French priest, and the good priest decided to die on his return. So not much was learned from that.
Then another try with a new return to Bangkok.
Finally he crossed Mekong after travelling through Korat, Chayapum and the Loei valley.
From Paklay he was advised to travel by land and not by boat.
July 25th 1861 he reached Luang Prabang and describe the town in great detail. He estimate the population to be around 7000 people. Describing most of them as 'Savages'.
He continued to Naly where he describe a Rhinoceros hunt in great detail.
28.9.1861 The authorities denied him further travels. He then started his return to Luang Prabang but was attacked by 'jungle fever'.
29.10.1861 His last entry in the diary. "Have pity on me, oh my God".
He died 10.11 1861 at 7 o'clock in the evening.
There is no copyright for these two books anymore, so anyone who want a copy in EPUB format send me a PM with a email address .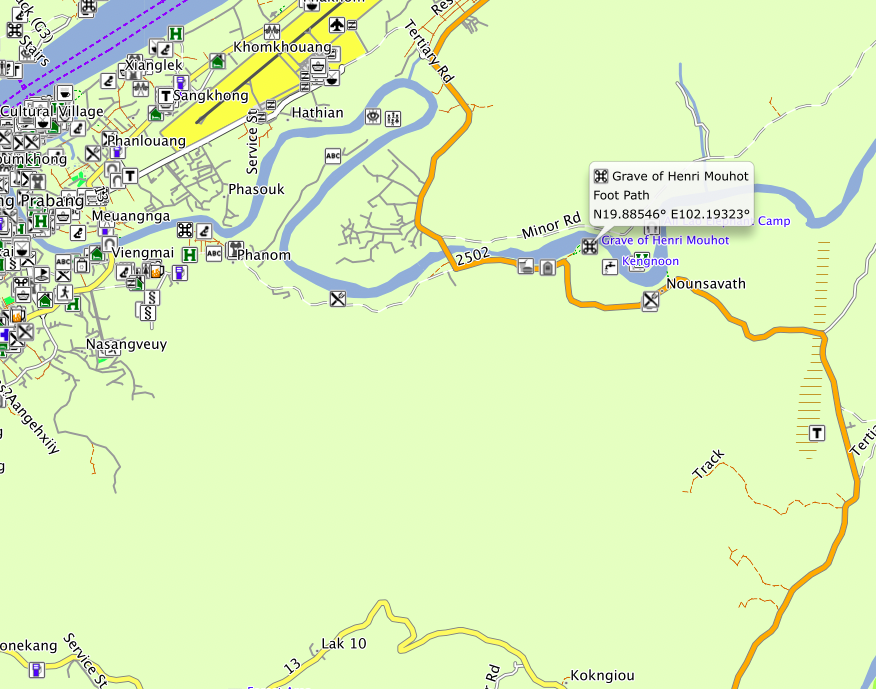 His tomb is now maintained and signs leading to it. A couple of river restaurants makes it worth a stop. He was a 'totaler' so he probably don't approve of the alcohol served there.
Last edited: