GET A TRUE REGISTERED HONDA BAJA XR 250 FOR THE PRICE OF A YAMAHA NOUVO!
Yes, since I've got my new dual-purpose bike last week, no more space in the parking lot. So time to decide...
Year 1995, 77176 km (!?) as shows the clock, true green book registered in Chiang Mai in my wife's name: N° frame OK, N° engine OK, color OK. Tax and 3rd class insurance paid untill 01/2010...
New Dunlop F&R tyres, new sprokets, new levers, new grip rubbers, new mirrors, new seat cover, carburator checked and cleaned, electric harness checked and secured by myself, engine head rebuilt (valves, gasket and piston ring) by the previous owner (I saw the bill when purchased the bike some 14 months ago, but I don't have it in hand. Today still in break-in period)...
Not mint condition, but absolutely nothing broken or torn. "Personnal painting" by hand. Runs and handles well... Everyting works well (lights, brakes, trips and so on).
As a '95 model, no electric start! Meaning no battery problem but kick-start... and the 2 or 3 trials sometimes needed when engine is cold as all XR 250 in this time. But no problem at all, starts every time easily, cold or hot engine...
The neutral in gear box is a little "special" to select at the first times: select it before stop when the bike is still slowly rolling eases the ting...
These "details" just to inform some beginners here if needed...
IMHO, for the most demanding off-road riders, it could be good to change the fork ring rubber washers (spi? Sorry I'm not native english speaker) and put some new rubber boots on it...
Though it is 15 y.o. it's a very good off-road bike. Friendly powerful and easy to control...
I had a lot of (soft) fun with it but it's time to split.
ASKING PRICE: 56000 Bahts
My phone number: 0870525970
I'm settled in Sankamphaeng not far away Bosang Handykraft Markets
Following some pics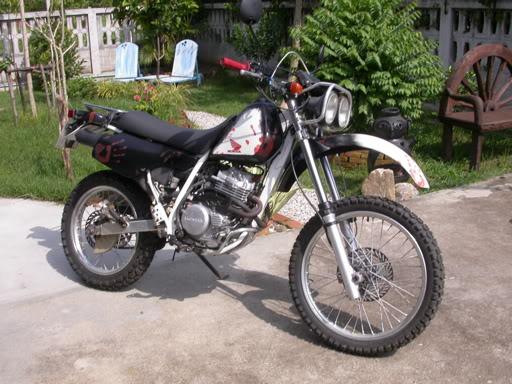 Cheers,
Gobs