Wiseco 440 kit
Mikuni 36mm pumper carb (std carb included in sale).
Stainless aftermarket exhaust headers & FMF muffler.
Unifilter airfilter & modded airbox.
Racetech .48 fork springs (for motard setup - std springs included).
Std 18/21" dirt wheels with good full knobblies.
Excel gold anodized 17" wheels laced to std Honda XR hubs with IRC Protech tyres.
EBC 320mm full floating disc on motard f/wheel + caliper offset bracket.
42T sprocket mounted on motard r/wheel.
15T front sprocket for motard.
Spare unused EK O-ring chain.
Trailtech Vapor trip computer/rev counter.
Polisport motard front mudguard.
Acerbis "Alien" motard headlight.
Acerbis barkbusters.
One Industries seat & tank graphics.
New Protaper bars, red and new protaper grips with carbonlook UMX shorty levers.
New stainless rack and soft luggage bars.
Will throw in an unused set of Dirtbagz.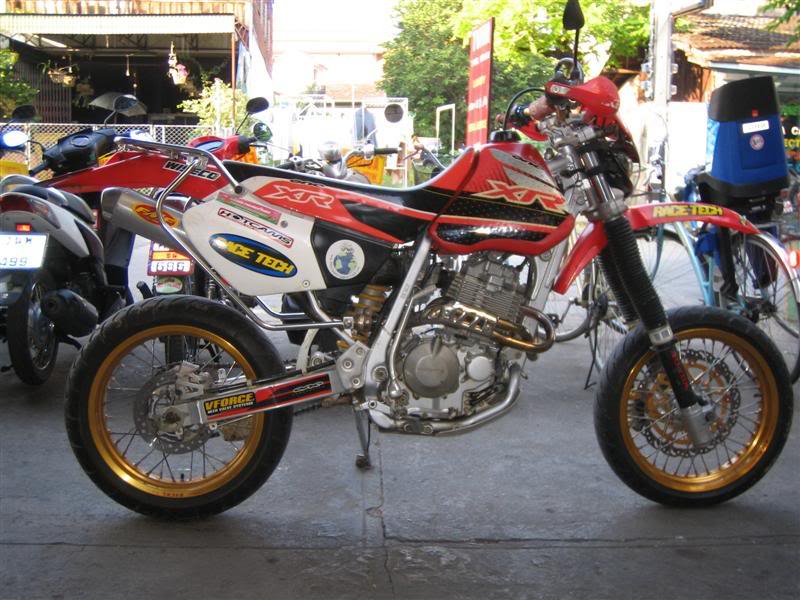 I have added lots of new bits and done about 300km since bought.
Bike is in motard trim. Pulls like a school boy!
More photos available-PM me.
Plated and green book .
205,000Baht.