I met up with the Blue Dragon MC (non-'outlaw' types!) on Friday night and was treated to a lovely seafood dinner on Cha-Am beach. Nice bunch. And very fast riders. In Traffic. At night. Thankfully, I had just broken in the 848's engine and could up the revs. Those R1's do motor though.
On Saturday, the fun ride was to a local temple. I think the worshippers were rather startled to see a police car and two police bikes turn up with a bunch of very noisy bikers in tow. Though they soon warmed up and brought out the cameras.
A very nice ride almost spoiled by the antics of a few western 'squids' on big bikes but wearing t-shirts and sandals. They'd overtake by speeding down the outside of the column of riders and then cut in and slow right down.  :evil:
I photoshopped 3 images together for this little panorama.

A lot of 'colors' on show which brings me to a bit of a rant. What is it with middle-aged, western, wannabee bad-ass 'outlaws' in leather vests and cut-off t-shirts?
The Thais do it as mostly a hobby and fashion thing. Yeah, they'll even have a few tattoos. But they don't really have the 40 year-old-juvenile attitude.
While Bang Saen had a good mixture of bikes and riders, Hua Hin was bit like Burupa/Pattaya. Too many leather-vest types. Not enough sport bikes or even scooters.
I parked with the Blue Dragon guys' bikes and was surprised to see the only other 848 in Thailand there.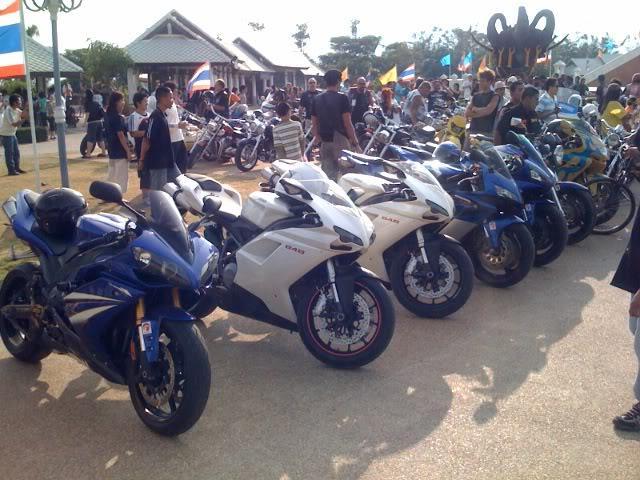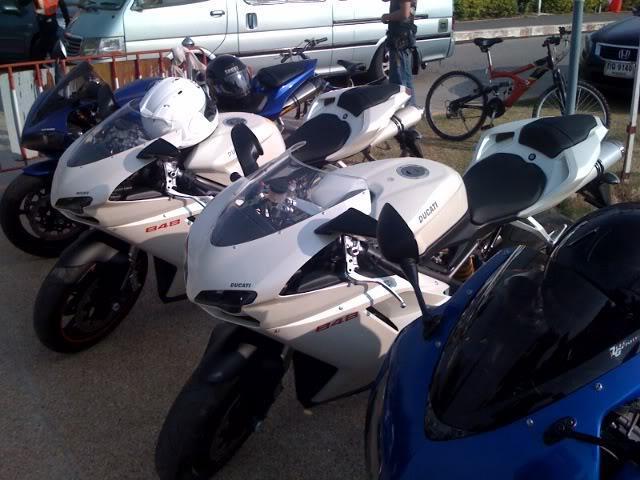 More to come...