The way
May 2-5,2004:
Chiang Mai - Fang - Chiang Rai. Routes 107- 1089 - 1
From Fang side trip to the west & Chai Prakarn area, then up around the back side of Doi Phahompok 2nd highest mtn in Thailand.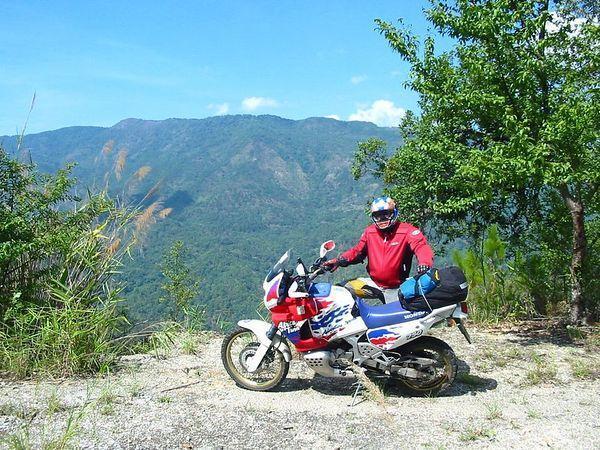 Chiang Rai - Thoeng - Chiang Khong. Routes 1021 - 1020
Side trip from off route 1021 to the east to Phaya Phipak sala & fantastic view!
Chiang Khong - Huay Sai - Chiang Khong.
Chiang Khong - Mae Sai - Chiang Mai. Routes 1129 - 1290 - 1- 118.
Davidfl and I headed out of Chiang Mai at 9:30 ish, only an hour later than planned. The purpose was another mapping expedition and to take care of some of David's map sales in Laos.
Some side trips outside of Fang on another very hot day led us to a road that I had explored twice before but David had not been on (believe it or not). If one follows the steep road down from Nor Lae towards Doi Phahompok (Thailand's second highest mountain) you come to a military checkpoint that will deny you entry into the road.
After some talking we convinced them that I had been on the road before, once each direction, and that it could be done. Two reasons I think they refuse entry is that it skirts right on, and possibly even crosses, the Burma border and also that there is a giant washout of the road that is claimed to be impassable.
A few kilometers down the road is a military outpost with a gate across the road. No one was actually at the gate, I guess they weren't expecting anyone. This was the same as when I had been here before and I led David under the gate, shouts emanated from atop the hill so I yelled to David "Go, go, go" and we did. Not the wisest possibly, but it worked and we would not be coming back this way, or so I thought.
We passed one truck on this route and a few foot soldiers who gave us looks of curiosity and some concern. We reached the washout and David stopped well before the actual landslide. It is quite a disconcerting view. The road is completely gone except for about a .5 meter wide section of shaky asphalt and rocky road shoulder.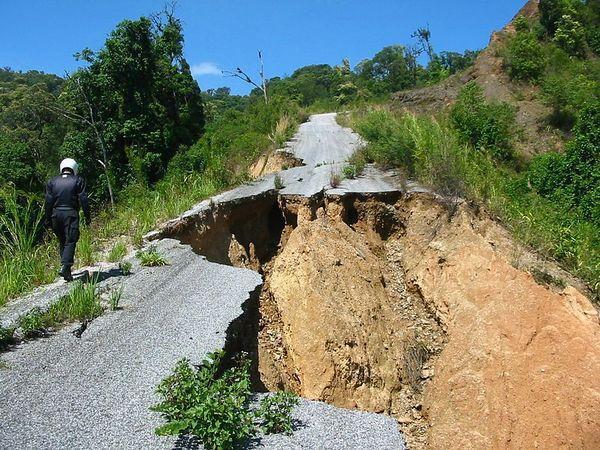 David said it was very possible he would wimp out on this one and we approached on foot to look it over. Our heart rate quickened and David indeed said "Pass on this one". I must admit I was also a little relieved. I have done the crossing twice and it is extremely dangerous, but it looked more intimidating this time. No room for error whatsoever. There is no place to dab a foot if you should bounce or slip wrong, and if you go over there is no doubt the bike is lost and possibly the fool riding it also. You can see photos at my web site
http://www.daearly.com/photogallery/Guns%20and%20Poses2.htm
,of my previous trip with Phillipe..
So we start our return and I think about that last checkpoint we blew through. So what should we do? The same again. This time a number of soldiers are out on the hill waving and pointing for us to stop. We could not understand what they were saying and we actually had doubts whether they were Thai or possibly Burmese Wa or some other such group. It is possible we were actually on the wrong side of the border. We gunned it again, however I don't recommend this method of crossing checkpoints. We worked our way back to the initial check point. They were friendly and not surprised that we did not get through the road. We asked about the outpost and they said it was indeed Thai. I don't understand why the outpost did not call the lower checkpoint and tell them to detain us or some such thing if they were as concerned about our not stopping as they appeared to be. Anyway, this road is best mapped as "impassable" I believe.
So now off for Chiang Rai where we raced to arrive in time for the Moto GP. Our true destination was Chiang Khong but we were afraid we would not pickup any English UBC broadcast of the race there. So we hit the hotel just long enough for a shower and then were off to the 3 Monkeys Pub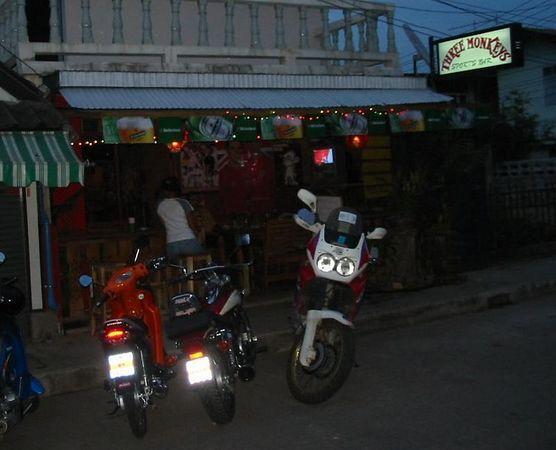 (See our earlier posts Khun Yuam). A relatively quiet, rainy night in Chiang Rai ensued.
The next morning we headed out for Chiang Khong. The weather had cooled from the rain the night before and it was nice riding. We found a turn off from 1020 which went to a place called Phaya Phipak. This is a sala atop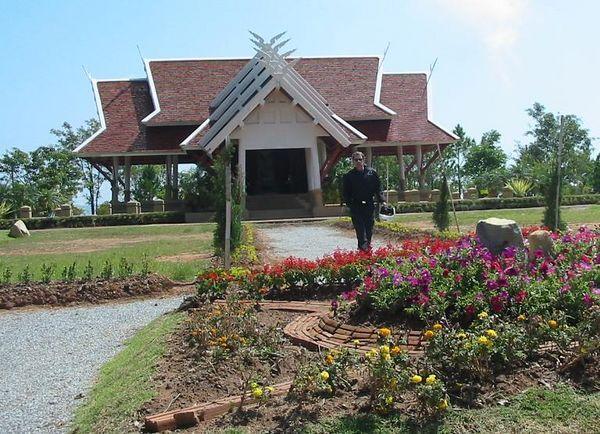 a mountain ridge apparently in honor to the King. It is on a ridge that gives a view of the Phu Chi Fah area to the east and the Nam Mai Ing area to the west.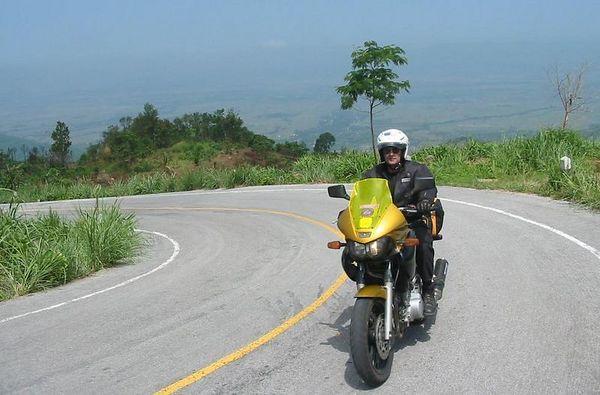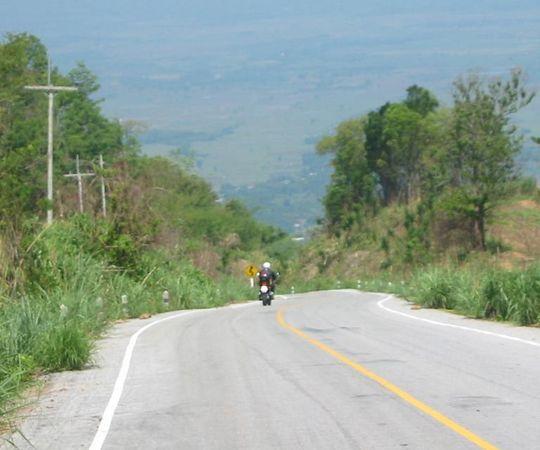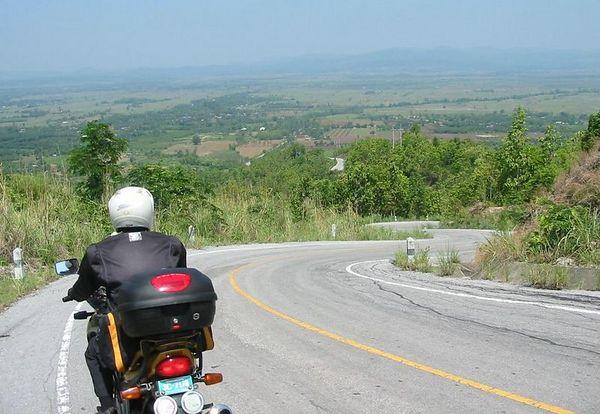 It is not marked by any readable signs or route numbers but locals could probably tell where it is.
North to deal with customs and immigration for a "quick" crossing to Huay Sai. In Chiang Khong we met up with the lovely Waan.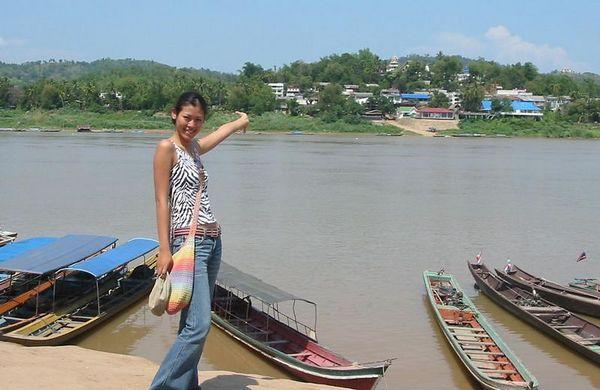 Waan is from Chaing Mai and is working for David to distribute his maps. She came up by bus and here David is to show her the shops and meet the people who carry his product.
Customs in Chiang Khong gave us no problem at all and were quite friendly and appeared happy to see David. We completed the necessary paperwork in probably about 10 minute's time and were off for the boat landing. Nothing is as easy as it appears. Immigration at the landing insisted we needed additional paperwork for the bikes. Of course they did not have the forms and sent us to the Immigration Office in town. Here we met the local Gestapo. A very arrogant officer made things as difficult as he could. He insisted on having copies of all the same paperwork we had given to customs. Customs had my only copies and I was forced to go back to Customs and get additional copies of all my ownership papers. When I returned to Customs they were a little bewildered as they did not think this should be necessary for Immigration. David also informed Immigration the bikes were not their concern. This did not sit well with them and it looked as if David had not exactly made friends while I was gone.
I gave my papers to the Immigration Officer and he did not even look at them. He simply attached them to the forms we had completed. As we were leaving the head Gestapo came over and shook hands and chatted with me like he had been the most helpful person in the world. I bit my tongue and played Jai Yen as best I could. (The next day we had a chat with a Customs Officer in the know. They also believed that this was not part of Immigration's duties. Other locals we spoke with were familiar with the Gestapo head and said he had quite a reputation for causing problems. In Mae Sai we talked to Immigration and they told us that checking the bikes in fact WAS part of Immigration's duties. So the jury is still out on what is the proper procedure).
Now the real fun begins. It is a holiday and the ferry to Huay Xai is not running. We have to hire a long boat at 500 baht for each of the two bikes.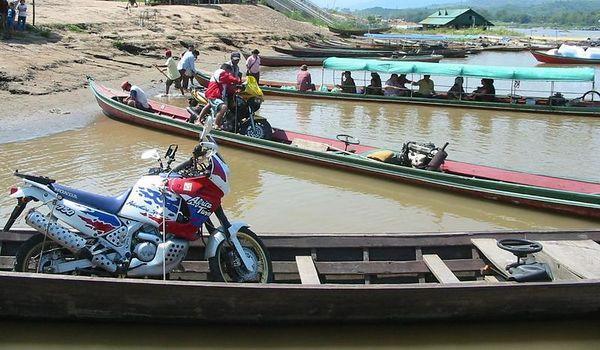 With the assistance of about six people we muscle the bikes over the sides of the small wooden boats and they actually tie them down.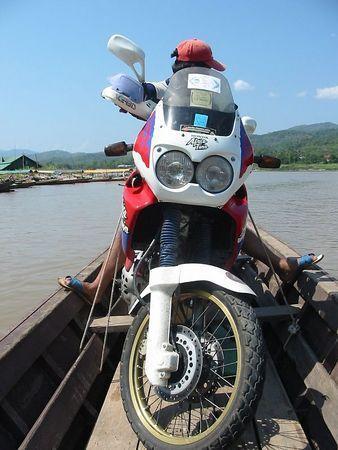 One boatman sits atop the bikes, we stow our gear and are off. My bike (Yamaha TDM 850) goes alone with two boatman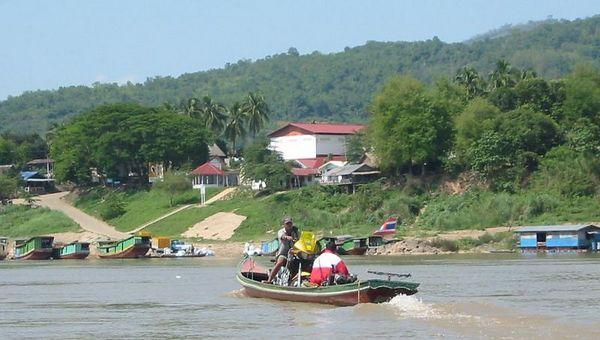 while David, the Africa Twin, our gear, and I go in the other boat. It is really a sinking feeling ("sinking?") as you see your bike sailing off across the Mekong without you. Then I see the boat's motor stall in the middle of the river. Oh great! I can just picture it drifting downriver and crashing into the rocks. Finally the boat restarts and both bikes make it to the other side
where they are manhandled out of the boats and we ride them over the mud and rocks up the riverbank. David and I are completely spent and soaked with sweat after dealing with this episode in the 100+ degree heat.
Customs on the Huay Xai side greets us, says it is a holiday so he just fills out a receipt for us and says we don't need any paperwork as we are going out the next day anyway. Quite a change from the Thai side. We meet up with Waan who has been waiting for us in Huay Xai and we check in to our hotel which looks quite nice and very clean. We all three quickly discover the one major problem, NO WATER! After talking to the staff, which are embroiled in a hot card game and not too interested in us, they tell us they have to turn on the pump. We wait and wait but this never happens. Repack, check out and head across the street to another very nice hotel and a long awaited shower. Sorry I didn't get the names.
Our time in Huay Xai is spent with David and Waan visiting the shops and then a nice quiet meal and drinks. We go to a local resort on top of the hill and watch the sunset.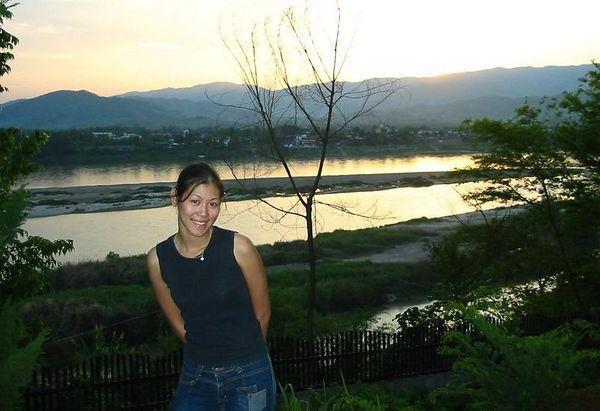 Nothing very exciting in this sleepy little town. The next morning we leave early and GPS the road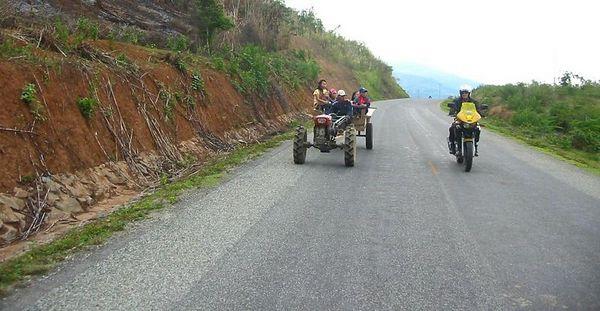 which runs upriver until we run out of pavement. Lovely people greet us with waves and smiles along the way. Lunch in town.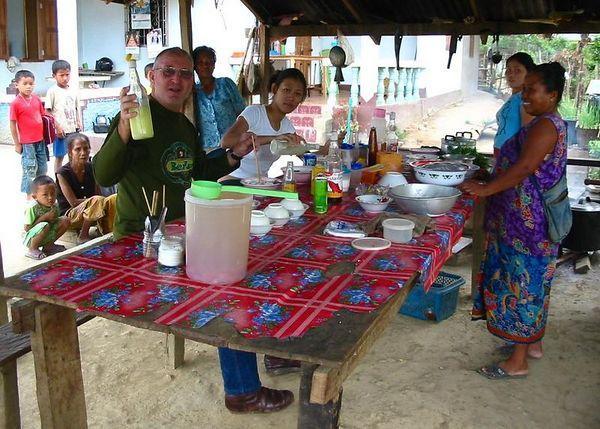 Check out with Immigration, Waan takes the boat across to Chiang Khong and David and I head for the ferry dock.
Today the ferry is running but we are told we have to wait for a couple of fuel tanker trucks that are due. We wait for about two hours for their arrival. In the meantime we watch the circus that goes on at the dock.
A truck that was waiting to go uphill from the dock has it's brakes lock up a short way from the front of the ferry. A large group forms to take off the wheel and fix/watch the truck. Another cargo truck arrives and is loaded with sacks of corn and pulls straight up to the front of the ferry on the opposite side of the locked up truck. In the meantime David and I help push an Audi 80 with a seized engine onto the ferry along with our bikes.
Finally the tanker trucks arrive and the fun begins. The truck with the wheels off obviously cannot be moved, the truck with the full load claims he cannot reverse due to his heavy load, and the boat captain insists the tankers must go on first and together.
After a bunch of running around, offloading of cargo and debate, the ferry realigns itself at it's dock where the two tankers snake their way through the obstacles. The first pulls onto the ferry and stops until the second gets its front wheels on board. They then drive on in unison to prevent any tipping of the ferry. Fairly impressive actually. Now that all the problems are solved we leave the dock where the crew promptly lights up their cigarettes for a leisurely smoke break while walking around the FUEL TANKERS!
Despite the 2 cases of Beer Lao wrapped in raingear on our bikes we breeze through immigration and customs on the Thai side this time,. We spend a night at the usual spots in Chiang Khong showing Waan the "places of interest". It is much quieter than our last trip as all the festivals have ended.
The next morning we are treated to the sight of the local fisherman having landed a rare giant catfish. 3 others had been caught in previous days and 2 were kept alive in the river drawing local spectators and a crew from National Geographic. On this day the fish is hauled up and promptly cleaned and gutted while the townspeople watch in awe.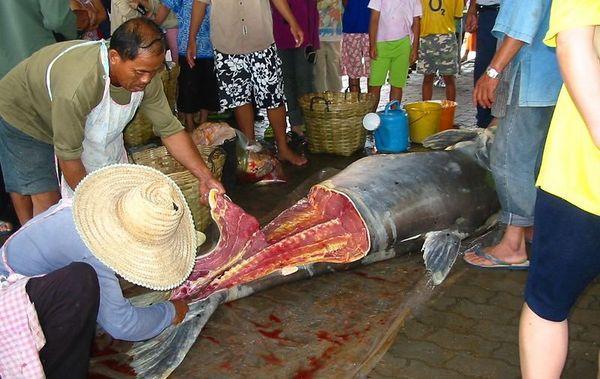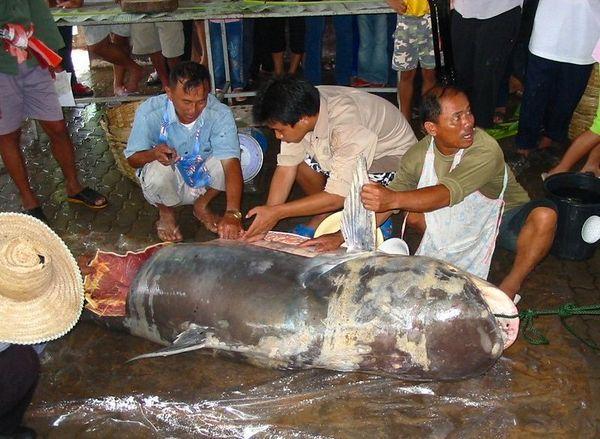 Am I missing the point on saving this fish? I am told that they are looking for the eggs as they dissect this rare fish, but it seems like a waste to me.
By the time we are finished doing business in Chiang Khong it is afternoon and rain is threatening.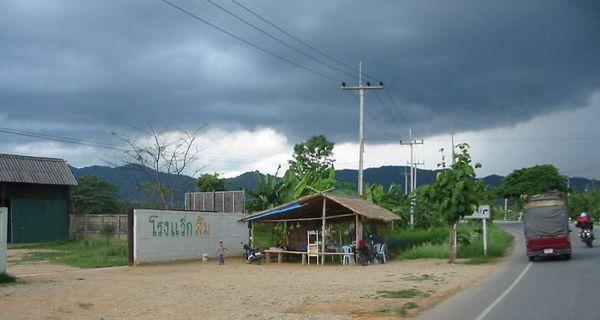 But, David decides we should make a CD run to Tachilek before heading home.
Waan says she would rather ride with us than face the late bus trip back. So we load the bikes with David's soft luggage, 2 cases of Beer Lao, my soft luggage atop my Givi box, and Waan's backpack loaded with maps and 10 cans of Beer Lao. We locate and buy a helmet for Waan, and we are off. Rain or shine we are not stopping.
We arrive Mae Sai just as the sky opens up. A torrential rain comes down just catching us before we duck for cover under the border crossing bridge and grab some food before a quick shopping trip across the border.
After some discussion we decide we will try and make the run from Mae Sai to Chiang Mai despite the rain and darkness. Our phone contacts say it is raining hard in Chiang Mai but I believe it is the same storm that passed us and we will be following behind the hard rain all the way home. This proves to be true.
We hit intermittent light rain as we make the run down 118 and into darkness as we go through the mountains. Although we see at least three other vehicles off the road or upside down, our ride is fairly uneventful. We arrive at the Kafe about 8:30PM for a few drinks, eats, and relaxation.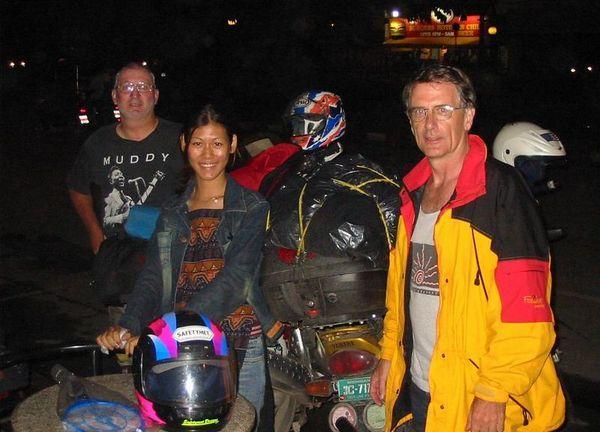 Waan is turned over to her waiting boyfriend who I truly want to believe is happy to see her and not just his Beer Lao, a few final pictures and that's all until next time.
Dave Early
Ever notice that "What the Heck!" is usually the right answer?