Date: 28-Nov-05 – 13-Dec-05
The Route: Huay Xai-Luang Nam Tha-Oudamxai-Phongsali-Boun Neua-Muang Khua-Nang Kiaw- Nam Neun-Xam Nua-Phonsavahn-Luang Prabang-Huay Xai.

Riders & Bikes: David & Mai BMW F650GS modified to Dakar Specs
Dave Early Suzuki Dzebel 250
Also;
Entering Huay Xai
link Link removed
Leaving Huay Xai
link
Link removed
Huay Xai-Luang Nam Tha
After crossing from Chiang Khong to Huay Xai, see topic, we had an early breakfast and geared up for a dirty ride to Luang Nam Tha (Hwy 3). The signs list it as 183 k and most of the distance is now one big construction zone.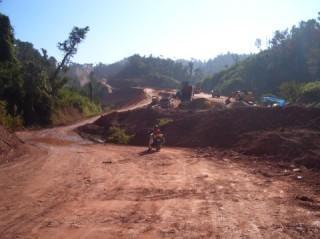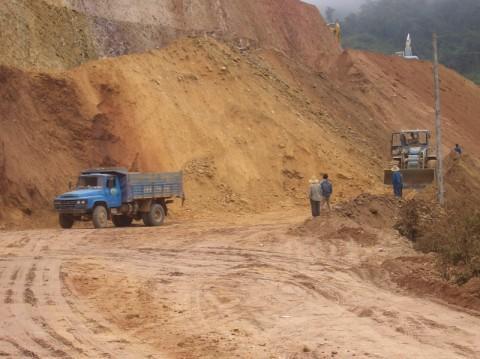 There is no rhyme or reason to how the construction is proceeding with some areas looking as if they are ready to be paved 4 lanes wide and other areas still one lane tracks.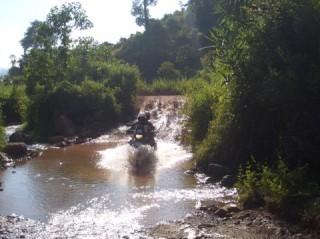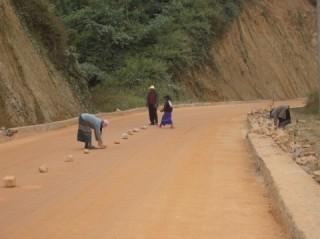 The good point is that many of the log bridges and water crossings have now been covered with only a few, fairly easy, crossings remaining. It can be done without a lot of grief on a dual purpose or dirt bike. A street/sport bike, I think, would still be a pretty tough ride.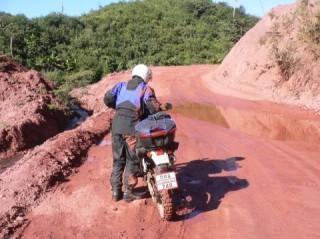 Being a little careless after the first mud crossing, I did an unexpected 180 in first gear and found myself lying in the mud. This stuff is like ice when wet and certainly not to be tried in the rain.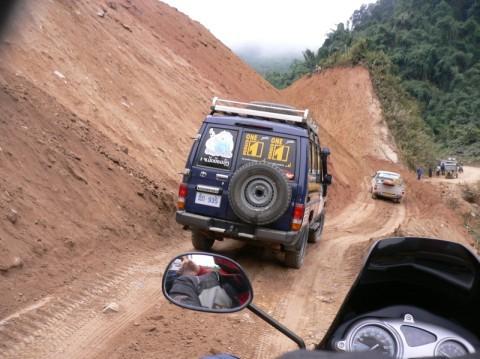 It was a full day's ride to Luang Nam Tha and arriving shortly before sunset we found it difficult to find an available guesthouse. It appears this is the new layover destination for backpackers coming in from or going to China.
LNT & Boten to Oudomxai
We left LNT (Hwy 138) and wanted to go see the border crossing at Boten. Again, it was construction zone and dirt all the way.
Someone else had posted that they "accidentally" drove through the border crossing there and had some real problems with the Border Police. I was skeptical of how one could accidentally drive through a border crossing but soon learned it was very possible. As you approach the crossing gate there is a small stop sign. After the gate (which is usually in the raised position) are a guard house and some substantial office buildings and parking lot. I stopped at the sign; David rode under the gate circle around and came back over to my side.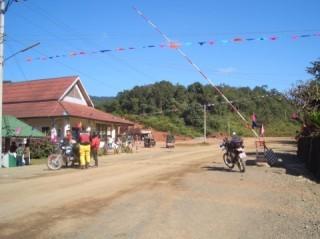 After the guards threw a fit about us posing for pictures, one guard came over to Mai and said the boss wanted to see us. Mai and I followed him into the office. We were forced to wait for about 15 minutes in the office with a guard until the boss showed up. It appears it was just a show of authority wanting to know why David didn't stop. There was some talk of a fine per meter that he encroached but we soon were able to lighten up the conversation, listened to his lecture, and were allowed to go. Nothing really worth seeing on this road unless you have a thing for road construction or border crossings.
Leaving Boten and backtracking (Hwy 13) we again headed for Oudomxai. About 26K from Na Tuey we turned north to see the border crossing at Meochai and also so I could GPS the road. Just a dirt road that went to another deserted local crossing.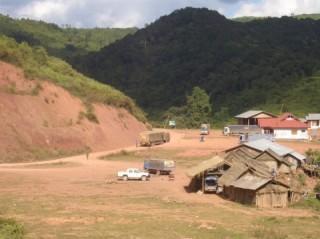 The road from Na Tuey to Oudomxai is a nice winding paved road with only a few bad spots. The scenery is quite good and is the first enjoyable section we have had.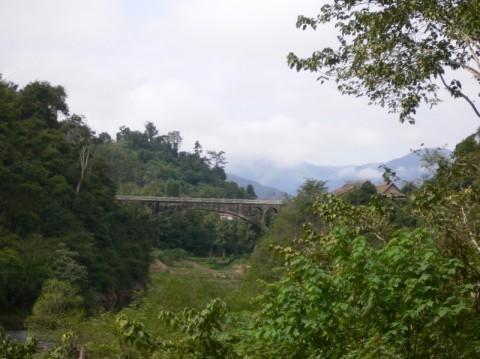 Oudomxai North
After a night in Oudomxai we headed north on Hwy 13 for Phongsali. This is another beautiful winding road following the river through many friendly villages. Approximately 60k north you come to the village of Sin Xai. A good rest stop but also easy to miss the turnoff for Phongsali. If you follow the pavement from here you will go to Muang Khua. We did this side trip on the way back but to save space I'll throw it in here.
Also somewhere around this time, my alternator decided to quit. I carry many spares but that surely is not one of them. I spent the rest of the trip kickstarting the bike and had no instruments or lights. I had to disconnect the brake light or the bike would stall each time I put the brakes on at low RPM.
Muang Khua
The road is great up to Muang Khua which is a small but bustling little town. We met a few falang here who thought you could continue on to Taichang and into Dien Bien Phu, Vietnam. David's map warns this is NOT a border crossing for foreigners but bad information is still being given.
We spent two nights in this town and found a nice hotel called the Sernnali.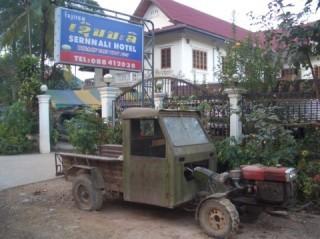 A shower was welcome and it was also the first place we could get some laundry done. The town only has electricity from 6PM unitl 10PM however. We found a nice restaurant that overlooks the river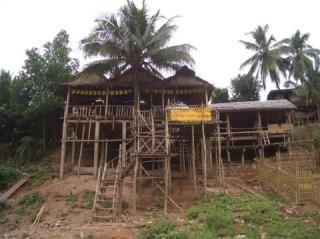 .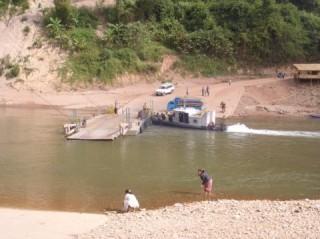 We decided to try the road (Hwy 2E) to the border and found we had to take the ferry across the Pak Ou river on the edge of town. After that we had to do a rather surprising water crossing which did not bode well for the rest of the road.
We found that the road was actually quite decent for about 30k or so and then turned to very rough, stones and rocks climbing up the mountains. It rattled the bikes terribly with some of the largest rocks I have seen intentionally buried in a road. I was sure my rear shock was trashed but it later turned out to be OK.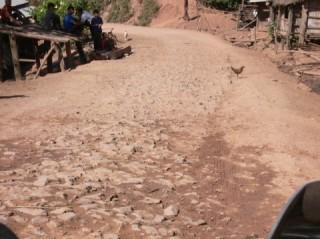 There are also a couple of water crossings that are deceivingly deep. Get off your bike and have a look before charging through. We swore the water had gotten deeper by the time we returned, as we almost flooded out both bikes. Although David and Mai did extremely well on their BMW loaded with bags, and riding double, this road finally proved too much. After they didn't show up at the other end for an extended period I went back and found them still riding after they had laid it down on one of the rocky curves. Fortunately they were not hurt, and although a little worse for wear the bike was rideable.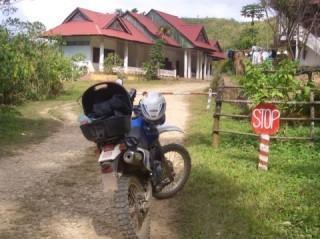 Having reached the border crossing to Dien Bieng Phu,even with all it's history, we again found nothing worth seeing and simply took a short break and battled back again. This again took all day and we just made it in before dark.
I would do this ride again from Oudomxay to Muang Khua as it was quite pretty and Muang Khua was a quaint, charming little village. There is no reason to go on more than the 30k from there. Also travelers can get boats from Muang Khua to Phongsali and also back to Nong Khiaw which accounts for the tourist traffic.
OK, back to Sin Xai. The dirt turn off to the left is Hwy 18.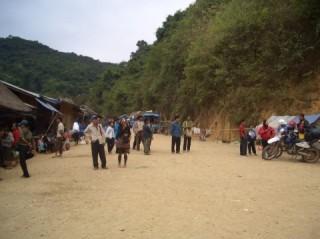 It's about 100k of rocks and dirt to the town of Bon Yo. At this intersection you again find asphalt road. To the southwest is a scenic 12k ride to the border crossing at Pakha. North you head for Boun Neaua and Phongsali. Good road most of the way. Going to Phongsali the road varies from excellent to poor asphalt.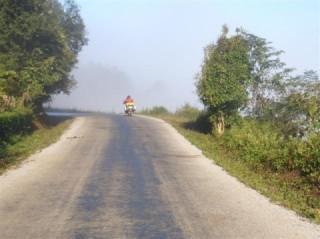 Phongsali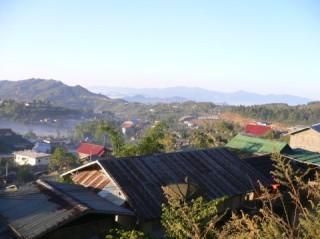 Closer to Phongsali they were resurfacing the road with fresh asphalt. This made it a little treacherous on the fresh pea gravel but it should be really nice once finished. Surprisingly the last few K before Phongsali has not been redone and has some fairly rough and pot holed sections. There are some great scenic views overlooking the mountains and valleys.
Our travels included the 2nd and 3rd of December which was being celebrated as the 30th Anniversary of Communism in Laos. Many flags were out and celebrations were scheduled throughout the country. Because of this we found an extraordinary amount of check points along the way. We were checked and a cursory search of our luggage was done before we could enter Phongsali. This was being done for both locals and foreigners. In town we found more checkpoints and manned police points. They were actually serious about enforcing traffic laws as David again got bitched at for bypassing a roundabout (troublemaker). In the evening we wandered through a local fair and celebration. We stayed at the Phu Fa hotel on top of the mountain overlooking the town. It was once a French prison and they still try to maintain that atmosphere. The rooms are sparse but clean and they did have hot water.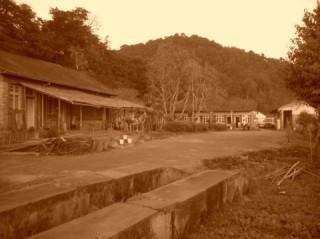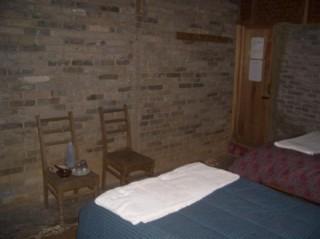 The next morning we rode down from Phongsali through some breath taking views of the clouds. Once we reached the same level as the clouds we of course were riding in fog and some mist with wet pavement. Although this is normally billed as one of the coldest points in Laos, we were fortunate and found it cold but not to the extreme.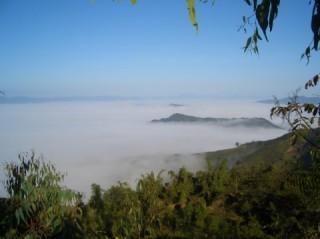 It took us about an hour to again reach Boun Neua. We started up highway 1A on yet another rocky road.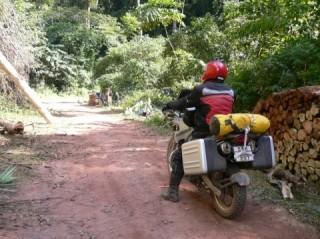 We found we were averaging only about 30k an hour and would definitely not be able to make it to the far northern end, let alone make it a round trip. We had no information on any places to stay for the night so after a few hours we turned around and headed back. We found a very new and nice guesthouse in Boun Neua called Houtsaiyalath. The only problem was that they were having a big party because of the anniversary. They not only had the usual earshattering music but also had to run generators to power the equipment. Under normal circumstances it would be a pretty peaceful and clean place to stay. This is just a little town with little to do but is the crossroads for the area. We found a nice little restaurant (if you like noodles) with a very friendly old couple running it. They didn't have eggs or meats so we bought canned meat and had her fry it for us and it wasn't bad.
If you are going to explore this area, I would recommend staying in Boun Neua and using it as a base as it is the most centrally located spot with a decent guesthouse. Fuel is also available. They had checkpoints in 3 directions at this intersection, we believe because of the anniversary. We were checked at each one even though they were practically in sight of each other. After the anniversary the checkpoints were unmanned.
From here we went back through Oudomxai and across Hwy 1C headed for Xam Nua. We spent the night in Nong Khiaw and then were off again.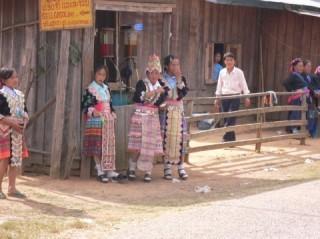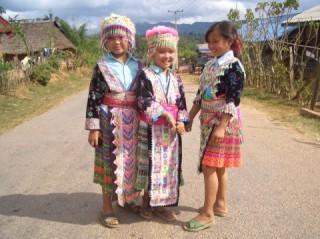 The road is good and scenic until Vieng Thong where it does a steep dirt and rock uphill climb for about 40k. It was a full days run from Nong Khiaw to the small village of Nam Neun where we knew a guesthouse was available.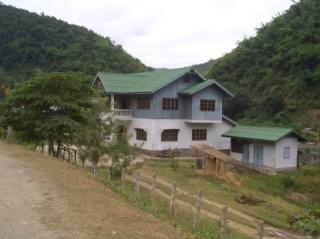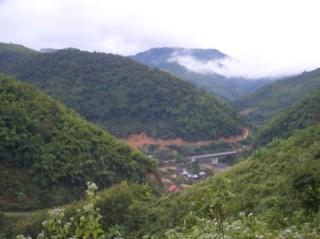 Here it turned really cold. It was fog and mist all the way up to Xam Neua and my thermometer was reading 8c.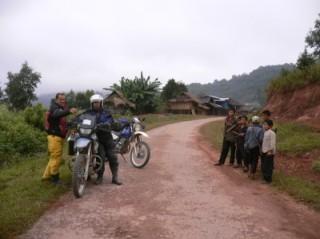 While Mai and I were taking photos of some kids on the road, we suddenly saw David doing a beautiful body roll across the road as the stationary BMW lay on it's side. The side stand broke. It had been extended to allow for the higher suspension and larger front wheel he had installed and the weld decided it had enough. It didn't take long to find a bike shop in Xam Neua who patched up some other minor problems and directed us to a welding shop who did a neat repair job.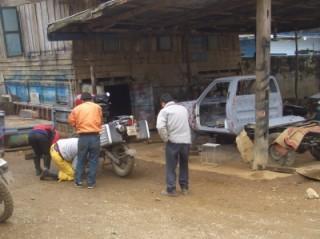 In Xam Neua we wanted to find the former CIA base Lima 85. Last year one could go to this site as it is known as Phou Pathi and was listed as a tourist site because of it's view and temple at the top. The Lao's gave no reference to it's former Lima 85 base. This time we were told the former road was closed and that you would have to go about 85k to a town called Houyma now. But they said don't bother because the military has now taken over the site and Houyma is a "army town". A tour guide who has been there supplied the info and also said that recent rains have made the way really difficult. Being short of time we took his word for it and aborted this trip.
We headed for home via Hwy 6 to Phonsovan. I had reported last year (Link removed) that I found the Xam Neua area less friendly than other places in Laos. I can't say that was true this time. Although extremely cold and sitting around fires on the side of the road, children and adults all greeted us with a wave and a smile. I also said I felt Hwy 6 to be very dangerous due its narrowness and oncoming traffic using both lanes. This is still true if you are traveling at any type of speed.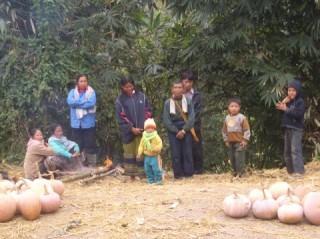 From here back to Luang Prabang is still a great ride and one of the prettiest in Laos. I won't cover more as it has all been covered before and this report is too long already.
Our biggest mistake on this trip is what Davidfl and I advise against all the time, we tried to cover too much area, in too short a time, on too tight a schedule. Picking one area and spending some time exploring it and getting to know the people and sites is far better than making all day guest house to guesthouse runs. Part of the problem was of course being allowed only 2 weeks on the bikes by customs, but we should have cut our plans back at that point.
Dave Early
Ever notice that "What the Heck!" is usually the right answer?