Administrator
Staff member
Jan 16, 2003
12,521
2,944
113
67
A few weeks ago, the day before I left for Laos with Rhodie my eldest rings me up & asks for help.
He's been in an accident - hit & run - wants me to go & help him, he thinks he's broken his finger. Oh, that's nothing to worry about I thought, just a finger; but it is his first accident & broken bones (if they are broken) so it should be a bit traumatic.
Its 5pm & peak hour traffic so I cruise over trying to gather my thoughts & wonder whether it was going to stuff up the Laos trip.
At the scene, the police are there interviewing the 2 lady drivers of the separate cars my son has hit.
Jason's a bit stressed out too; laugh, he'd been ringing me repeatedly from another mobile, but I did not answer as the caller ID was unknown, but after 15-20 mins I'd answered & took the call.
His finger did look a bit of a mangled mess & probably was broken, but the rest of him was ok. But being his first real crash he was shaken up.
He was also worried about the cars he'd hit & rightly so – broken lights, plus nicely scraped & dented bumpers. This could be an expensive pay out coming I thought.
Fortunately the 2 female drivers had informed the attending cop, that Jason had indeed been hit by 2 other girls on another scooter, who promptly did a runner, leaving him to perhaps carry the can.
So it was heave the new Honda Wave into the police pick-up, & off to the hospital with Jason on the back of the old AT.
At the hospital the doc agreed his middle finger was broken in two places & promptly recommended pinning it in a few hours. My question if this was the most expensive option did not go down well & bought a lengthy detailed reply on why it was the right thing to do. Ok that's that then, let's do it. It's time he grew up & became a man with broken bones & bits of steel in his body (just like the old man eh?)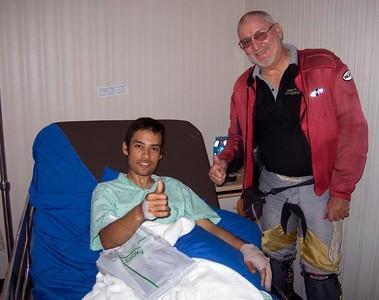 A happy young man after his first motorbike crash op.
The next day I was off to Laos with Rhodie. 2 weeks later I'm back in Chiang Mai.
He's out of hospital. His work medical insurance has paid the hospital bill.
And the two lady drivers graciously claimed on their 1st class car insurance.
All of that was a considerable relief. I was expecting a bill for the car damages as it had been agreed that my son was the one who hit them. Fortunately they sympathized with my son & claimed it on their insurance – no trying to stitch up the farang.
Now the moral of the story is get insured! It could have been a lot worse & we could have ended up paying for property damage & it would not have been our fault.
The cheap simple insurance to get is Voluntary 3rd Party Insurance with a 200,000 baht property damage pay out. The Honda Wave of the GT Rider's son is now covered.
Costs max out 3,008 baht a year = 8 baht a day & that's a steal.
Even if your bike is uninsured you can now get this insurance.
Go here to get it
https://www.gt-rider.com/motorcycle-insurance-cover.htm
VOLUNTARY 3RD PARTY COVERAGE
Voluntary Third Party Insurance pays in addition to the Compulsory Third Party Insurance coverage.
Third Party Liability
1. Bodily injury: 100,000 baht per person( + 50,000 baht from compulsory 3rd party)
2. Death: 100,000 baht person (+100,000 baht from compulsory 3rd party)
3. Maximum per occurrence: 10,000,000 baht (+5,000,000 from compulsory 3rd party)
4. Property damage: 200,000 baht per occurrence.
5. PA (accident death & dismemberment): 50, 000 baht (for driver)
6. Bail Bond (to get out of jail): 200,000 baht per occurrence.