IRC often get bad press for their OEM tyres (with reviews mostly written by people new to bikes who are unduly harsh on the tyres when in fact it's largely down to them…). But, of course, they aren't amazing - OEM tyres aren't super sticky, they have to be a balance between sticky and long lasting to meet the needs of many different riders.
Anyway, these IRC IZ-R IZ-003 tyres are a very different beast and are indeed super sticky, with little consideration for long life. They get very little mention on the internet in English, although Thais talk about them in positive terms a lot. They are race focused and if you look on Thai Ninja forums you will see lots of ex-track sets being sold off cheaply by Thais, with the sides ripped up but the centre like new. I'm not recommending buying those, just pointing out that they are used a lot on the track by some pretty hardcore Thai riders (they're track tyres!).
I had a set of these on my CB300F and got 7000km out of the rear, with the front still in great condition, good enough to run another rear to its end of life for sure. In all that time they never really moved on me at all (a couple of tiny moves on awful roads); quite amazing really since they saw me on a huge loop of northern Thailand on very twisty roads (quite a bit in the wet) and many times around the Samoeng Loop and other twisty roads.
Yesterday I put a set on my Z300 and took them clockwise around the Samoeng Loop to scrub them in. I then got up before dawn this morning to do the Loop in reverse to try the tyres out a little more enthusiastically (I know... I get excited still, even at my advanced age!). By the way, I highly recommend the super early ride. I was at the PTT at the Maerim end of the Loop at 5.30 having a coffee and toastie waiting for dawn. I hit the road about 5.50 and it was glorious, almost nobody bar a few cyclists until I neared the southern end of the ride.
The point of this ramble? Oh yes, the tyres are even more amazing on the Z300 than I remember them on the CB300F - the extra power and "plantedness" of the Z300 simply takes more advantage of the tyres' wonderful properties. Their rounded profile makes them tip in like crazy, and super fast switches from side to side are effortless. They run like they are on rails and inspire massive confidence. I think I am in love again!
They are great value tyres and anyone looking for super sticky tyres for a small sports bike should consider them. I really didn't want to pay out for Pirelli Diablo 2 or 3 tyres, and these just hit the spot for me. They cost me only B5,200 balanced and fitted at 69 Tyres (140/70 and 110/70 17). I expect to get 6 or 7000km out of the rear, that can then be replaced for B2,800 - so a total of B8000 for about 13,000km and two opportunities to play with a brand new rear.
Unbeatable value imho...
I should also mention for anyone that buys them, the general recommendations are to run these a little higher pressure than stock tyres. My stock recommendation is 28/32, but I run these at 30/34, whilst I know others run them at 32/36 to get even faster turning in. 30/34 works great for me - a nice balance and still comfortable.
BTW - I am not on commission, lol. Just love 'em...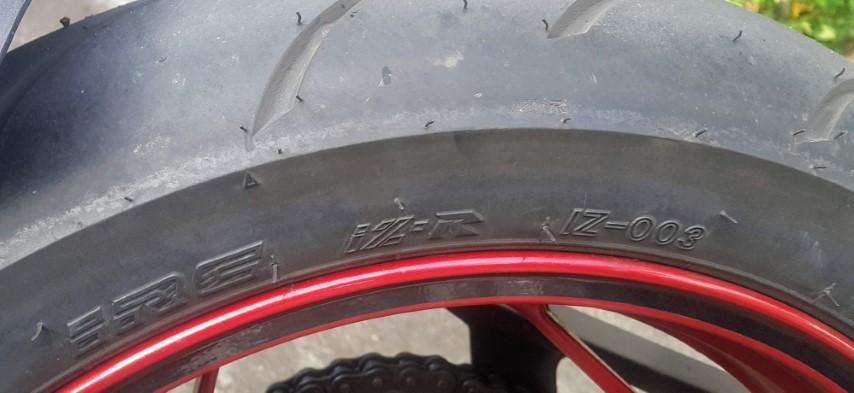 Last edited: