Hi there,
we (dave & myself) did the nakhonsawan-maesot-umphang-maesot-nakhonsawan trip on 21 October 2009. It was a great ride and it was a very enjoyable ride too.Total km covered was 1011 km by myself as i had an added kms to my place plus another 16km drive to bring a friend to downtown .
Dave had a bit less km's but he has the last stretch in rather difficult road conditions to his home to battle with.
The plannings calculation over km's was also slightly off and so was our time schedule.
Dave (with the Kawa Ninja 250 R)and myself (with the Tiger Boxer 250Rs) left early morning on 21 October @ 5.45 am and we gathered later on a suitable spot . From that onwards it was up to Khamphaeng Phet, Tak and turnoff to Maesot which has nice twisty road (great if there is not a lot of traffic- and there was not a lot of traffic when we drove) after Maesot we than got ourselfs ready to go into umphang....although i thought it will be curved and hilly this road really was amazing. about 160 km of "hard-working" driving pleasure.
We arrived in Umphang for lunch at about 1 pm and left again at 2 pm...about 1 hour late than originally planned . The way back was first greeted with a bit of rain but it dried up and the umphang to maesot section was dry most of the time. Maesot to Tak was during sunset time ...so we needed to hurry a bit not to end up doing the curvy roads in the dark. Back in Tak...pouring rain and thunder in the dark and accidents on some sections plus roadworks every so often, needed to go slow but eventually the rain passed and we got it dry until Kamphaeng phet..than it was slight rain again but not too bad.Got back home at 2100pm.
The most demanding & the most fun was the section between maesot & umphang....but you have to be careful over road condition and its surface .Make sure you fill your tank in maesot ...there aren't many places to fill up until umphang.
Maesot - tak is also a very nice ride and you have a lot more space available than the section umphang-maesot .
Tak - Kahmphaeng Phet is actually in bad condition ...maybe not all the way but a lot of it, and specially driving in the night this really keeps you busy .
Both our Bikes did extremely well, both are different bikes and therefor one road style/condition which may fit the one bike may not be so great for the other one...our ride had all kind of road conditions so we "got it all"
In terms of comfort ....i am feeling pretty ok , but had a slight sore on the upper back ...not much more really...dave will need to report what pains he has...
one pain that we both have/had ....some "happy" welcome comittee (angry wife's)
In any case 1000 exciting km's are worth those pains...aren't they?
Here a little video which was done en-route to Umphang...enjoy,
some pics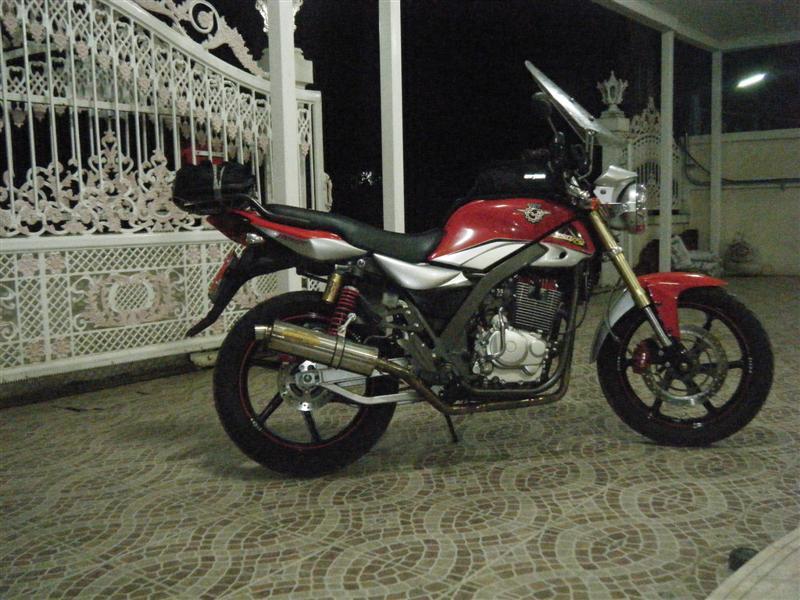 Before the trip:Just got the bike back the evening before- the windshield was too high but it served the purpose just doesn't look great.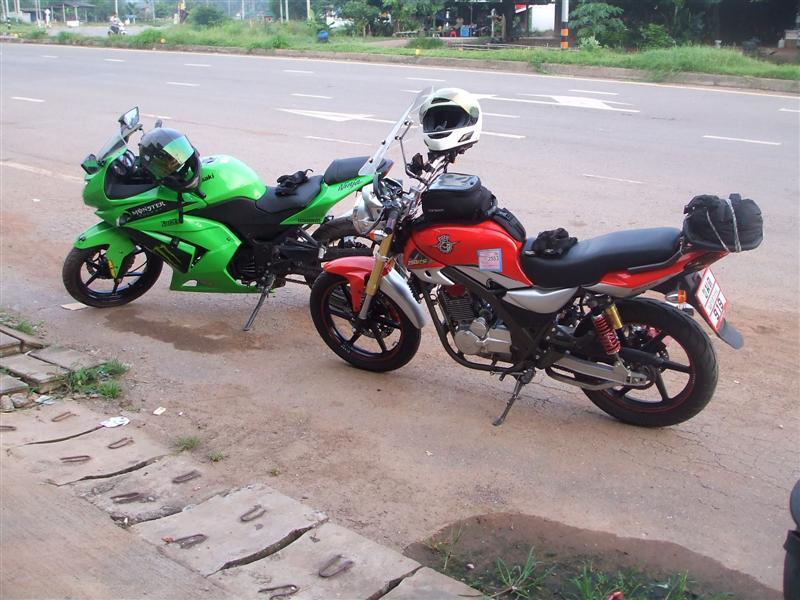 Meeting up - was about 75 km from my home and 45 km from dave's home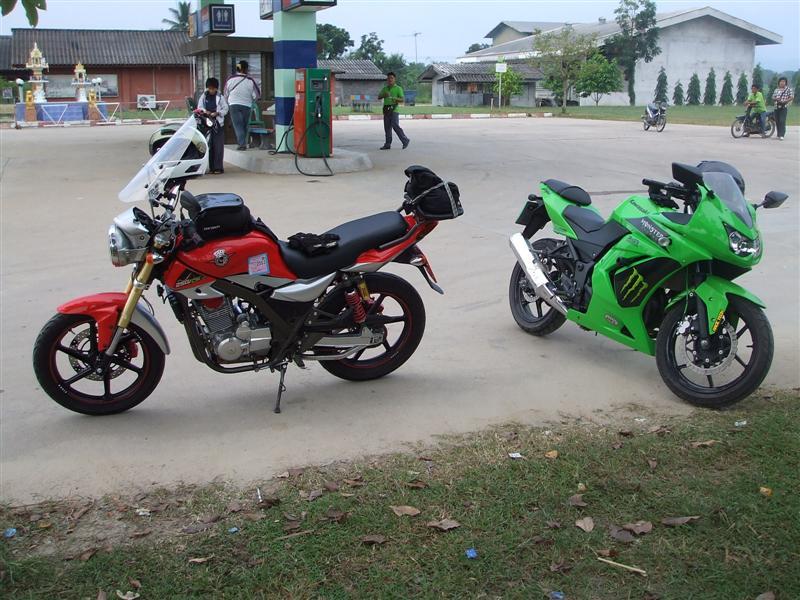 First fill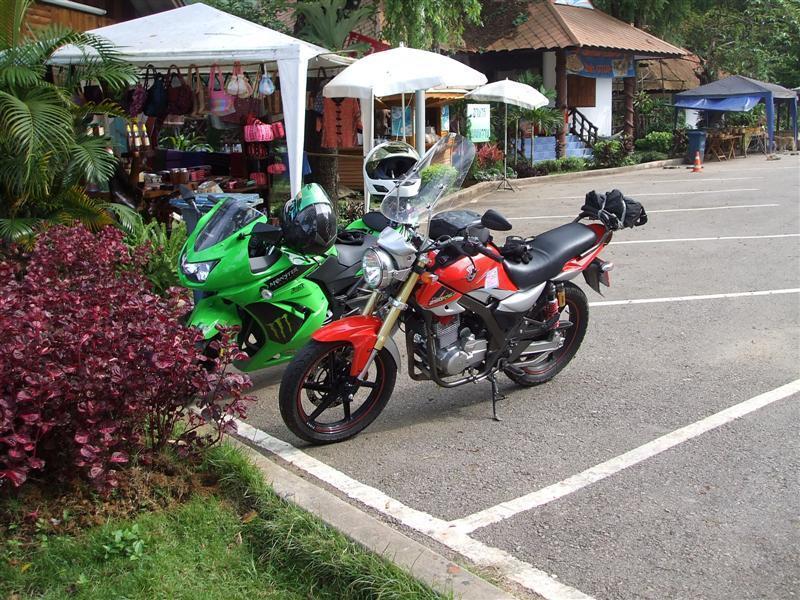 view point en-route to mae sot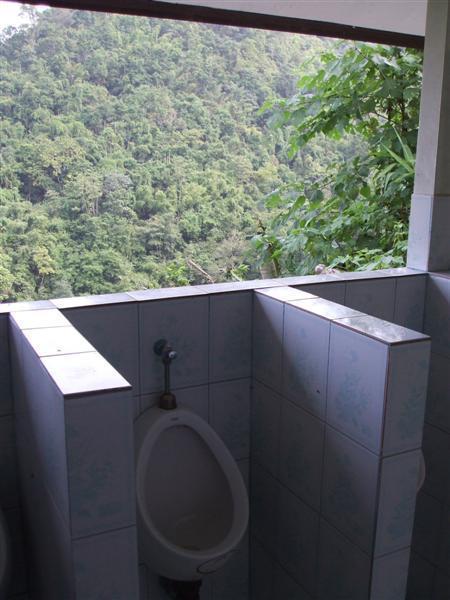 Pissoir at viewpoint......
at umphang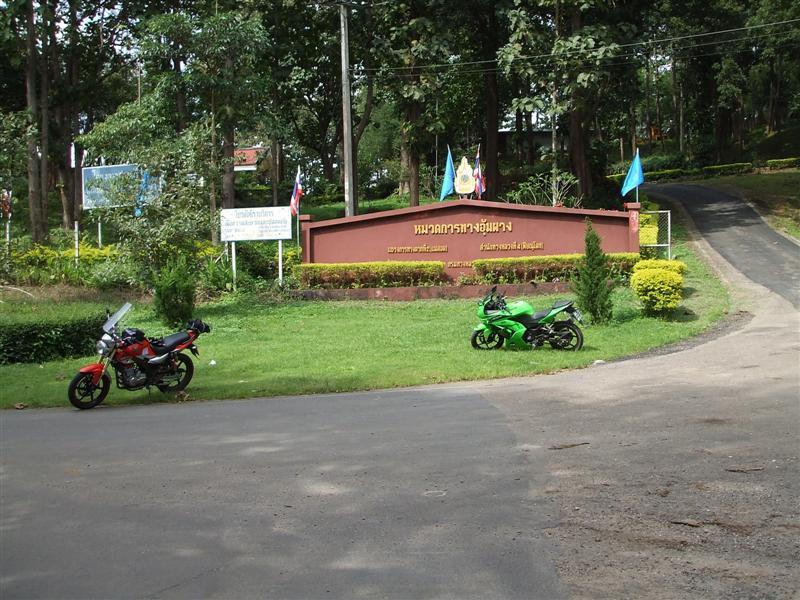 at umphang
happy trails,
mbox