If I only had 9 days to run up North from Vientiane. This trip can be run in reverse as well.
Day 1: Vientiane – Pak Lay

Head out of Vientiane and turn left on Hwy 13 past the airport where the road bends right. Continue along the Mekong until you come to the ML gas station, go left at the fork. The fuel station is closed but if you need fuel, there is a new station 2 km back the way you came.
From here, you continue and pass some smaller villages. Fuel and drinks are out there in limited supply until you get to Saynamkhan. There are turns along the way but in all cases you bear to the left. Upon arrival in Saynamkhan (150 km from VTE) you meet paved road again. When the water level of the Mekong is high, one bridge is currently busted and sometimes requires a boat across but all others are fine.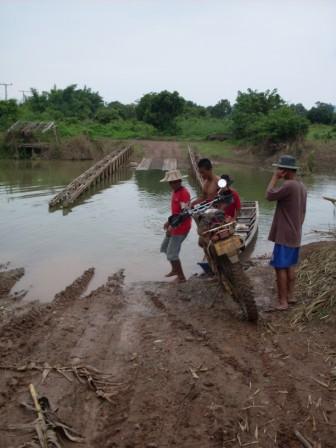 Favorite Hotel: Doung Chia Phet. On the main road in, behind the Post Office. It's larger and ugly green. Rooms are 80.000 - 110.000 night but clean, good shower, secure parking and across from the best food in Pak Lay. Attraction in the hotel is 2 indoor badminton courts where locals come to play. Aircon works well and they are ok with you rinsing your bike there.
Riding Time: 8 hours
Road Conditions: Dirt road, paved
KM: 220
Day 2: Pak Lay – Xayaboury
An option to run up through the park is here but solo, is not a great idea as it's pretty remote. Out of Pak Lay, there are many fuel stations. When you cross the concrete bridge with Rattana Business College on the left, go left to enter the park on the lower end. I don't suggest riding south to north, rather the opposite as it is easier to navigate as you can ask directions to Pak Lay easier than to Nam Phoui. The park option offers some really remote areas and wildlife but there is no fuel or drink after you are about 30 km after the turn out of Pak Lay. In the park, there are some steep downhill sections(south to north) and near to Natan Village on the northern end, expect mud and logging vehicles to rut the road out.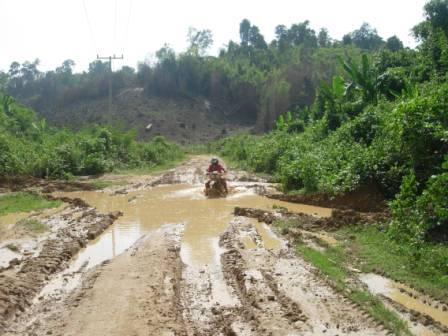 If you opt for the ride Pak Lay and skip the park, it is also remote and beautiful. There is fuel and drinks available most of the way up. Road conditions are unpaved and choppy at best. Your arrival in Xayaboury out of Pak Lay is mid afternoon with lots of photo stops.
An option to consider as there is time: Go to the boat ferry area in Pak Lay upon your arrival the day before. Set up a boat to take you to Pa Liap, about 15 km upriver. Costs will vary on this but 2 riders/bikes MAY cost 2000 baht and take around 2 hours. Once in Pa Liap, you simply follow the dirt road back to the main trunk road Pak Lay - Xayboury. It's very remote and fine in dry season, tricky in rainy.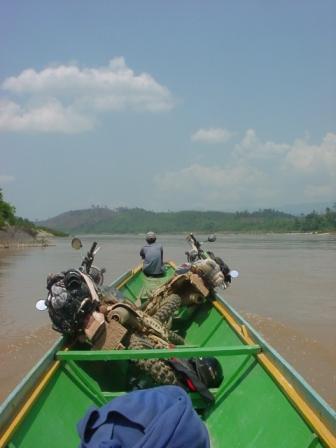 The boat in and out is relatively easy. I don't think big bikes are a good idea unless you get the larger boats and the cost will go up. I think the river ride is good as well.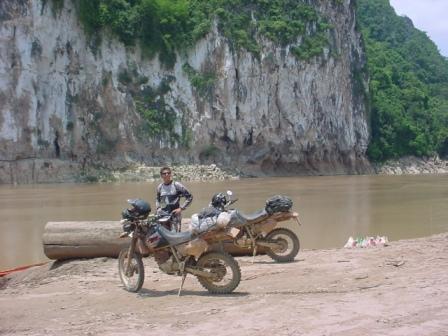 On arrival in Xayaboury, there are a number of guesthouses and a few places to eat. Consult the GT rider map and it's not a big place. Favorite place to stay is Sayanah Hotel in the middle of town. Take an upper room for a view. Saynamhoun Restaurant along the river is not cheap but very good food and great view.
Riding Time: 7 hours
Conditions: Dirt roads, Paved sections
KM: 240

Day 3: Xayaboury – Luang Prabang
This is a short setup ride so you can see Luang Prabang a bit. There is one more ferry crossing over the Mekong and runs about 30,000 - 40,000 per bike/rider. No real navigation problems, follow the road out and it's not more than a 4 hour leisurely ride. Favorite hotel is Villa Treasure but it's $ 50 a night. I also like Cold River if I'm on the budget end. Many places in Luang Prabang. Food - Joma for lunch and anything around town will do, night market food is good as well.
Riding Time: 4 – 5 hours
Road Conditions: Dirt roads
KM: 100 +/-

Day 4: Luang Prabang – Vieng Thong
Depart early and fuel in Luang Prabang. 23 km out of LPQ you will see a sign for Pak Xeng. Turn here and the road is dirt. After passing Pak Xeng (82 km from Hwy 13), it goes up some descent grades and can be rutted a bit but only from rain drainage. It's straightforward to return to the highway and one of my favorite rides. There is only 1 turn on this and it is a Y junction you come to,
turn left and 10 km later you are at the paved highway, fuel and drinks available here.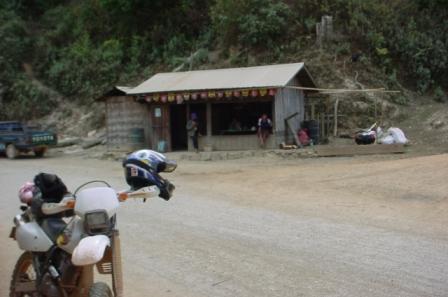 Turn right and you are 98 km from Vieng Thong. The road markers are not useful on this road as they are old or blank. There is another Vieng Thong on this road and is a small village with a small homestyle guesthouse but the main Vieng Thong is further down the road. Vieng Thong is small but has about 6 guesthouses, all 50,000 a night and kind of low quality but no big deal.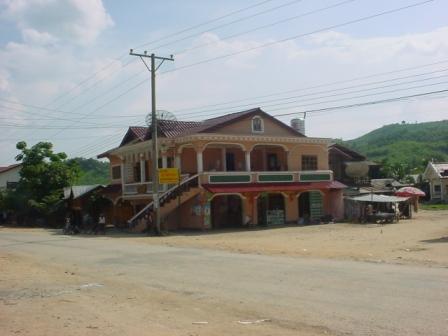 There is only 1 place to eat good(ish) food and it is the only place with a Restaurant sign across from the market. Vieng Thong may not have electric until 18:00 and it's off around 02:00. The hot springs are horrid and not worth the time. There is another attraction here, go up past the hot springs and take a right down the tracks and look for a small wier. In summer, after school it is a popular place for kids and they jump with no fear and regard for life or limb.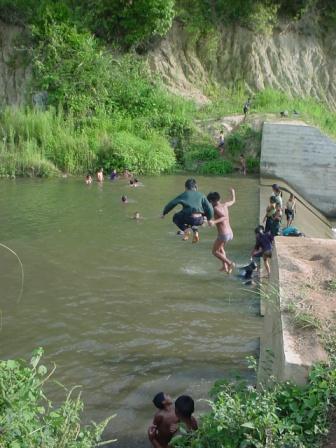 Favorite places, well there isn't much here.
Riding Time: 8 hours
Road Conditions: Paved, mountain roads
KM: 275
Day 5: Vieng Thong - Xam Nua
Out of Vieng Thong early, it's only 152 km to Xam Nua and should take about 4 hours. On the way you pass a large billboard for the Xuan Hin standing stones and they are a few km off the road
(photo courtesy of David and Mai) Expect morning fog in the winter months. Vieng Xai and the caves are 29 km past Xam Nua and you should arrive around 14:00, enough time to visit them.
An option is to add a day up in Xam Nua and ride up 6A past Sop Bo and along the Vietnamese border area, really nice and remote.
Favorite hotel is Bounhome Guest House but any will do in Xam Nua. Food? Well along the river by the bridge are a few places but nothing special.
Riding Time: 6 hours
Road Conditions: Paved, dirt road (little)
KM 160

Day 6: Xam Nua - Phonsavan
Leaving Xam Nua early, it's 90 km back to the turn south and you passed it the day before. It's then heavy elevation changes and expect fog in the winter months. If you fuel in Xam Nua, you should make it to Moung Khoum no problem but there is fuel in Nam Neun. The run is remote and paved but twisty and sometimes incomplete paved sections. Upon arrival at the turn to Phonsavan, there is fuel and a guesthouse but you are only 50 km out of Phonsavan, turn right and roll on the good blacktop. If you arrive before 14:00, head out to site 1 of the Plain of Jars and have a look. In the evening, the local MAG office (marked on the GT Rider map) is worth the visit. Eating at Craters, next to the MAG office is good food.
Favorite hotel: Vansanna as it sits up high and is easy access to the main street. It's $ 35 a night and on the lower side, Nice Hotel on the main street is a good value for 100,000 a night. Food, Craters, Maly Hotel the Lao joint 100 meters west of Craters.
Riding Time: 6 -7 hours
Road conditions: paved
KM: 240
Day 7 Phonsavan - Paksan
Head past the airport and continue south. Upon entering Moung Khoume, you pass a small market and an uphill rise where there is a fuel station. Take the next right on the dirt road and there may be one or two police out there, they've been friendly each time I've been there.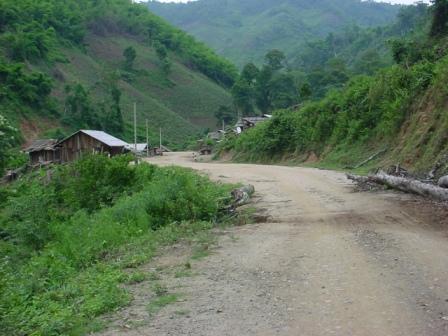 You can ask them if it is the way to Tha Vieng for safety sake. If you leave late, you can overnight in Tha Vieng and also a small place in Thathom.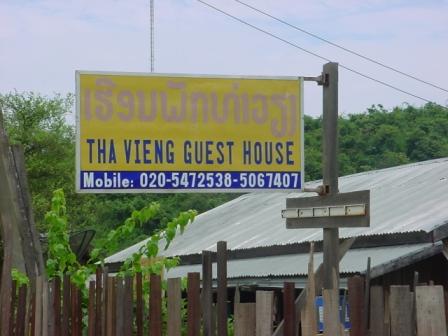 There is fuel in certain areas along the way and small local food. On the way there are multiple river crossings but in dry season they are easy. Near Borikamh is a larger crossing and sometimes is impassable but bamboo rafts can ferry you across - they may float below the waterline when you have an XR and 90 kilo passenger/gear - use your own safety measures. There is only one real turn and it's in Thathom and easy to spot. At the Y split is an uphill to the right, go up and you are on the correct direction.
Arrival in Paksan around 15:00 or so and if you want to push to VTE, it's an additional 150 km but overnighting in Paksan isn't so bad.
Favorite hotel: Paksan Hotel. It's 120.000 a night but not bad. The BK Guesthouse is clean and cheap with secure bike parking. Food sucks in Paksan but the Lao place 20 meters down from BK is good value. The riverside places near the bridge don't have cold beer - a bad thing and the food portions are tiny.
Riding Time: 6 -7 hours
Road conditions: paved 30 km rest dirt road
KM: 240
Day 8 Paksan - VTE
Paved all the way if you choose to run in but at Ban Naxay is a turn to Ban Pako Eco Lodge. If you follow the signs, you won't get lost and at Ban Pako, have a little lunch. Exit Ban Pako, turn left to the river, cross on the boat, 5000 kip, turn left and follow the dirt road to Tha Ngon, turn left on Hwy 10 and you are 40 km out of Vientiane

Riding Time: Hwy 13, 3 - 4 hours: diversion to Ban Pako 6 - 7 hours
Road Conditions: Paved, dirt road
KM: Either 150 or 220 depending on your choice.