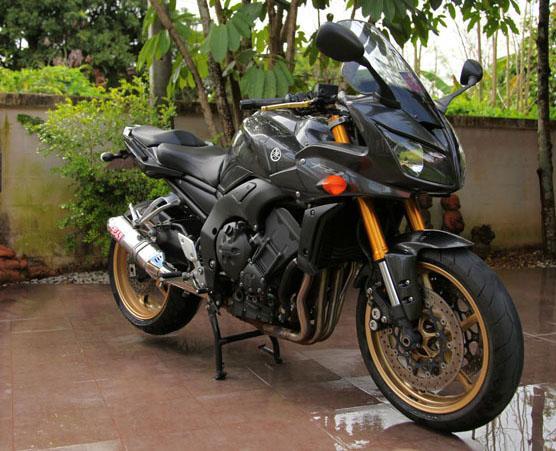 Bike now SOLD holding deposit, pending completion.
Yamaha FZ1 purchased from Yamaha Big Bike in late July 2008.
Excellent condition and looking like new; thats partly because it has always been carefully ridden and well maintained for its 43K Km, never dropped or damaged; but also because it has had a major service and all worn parts replaced recently, as well as some mods and improvements.
* Within the last month; a Yoshimura SS exhaust has been fitted. This saves several Kg, looks good and with the baffle in, sounds good and powerful to me. The baffle can be easily removed if you want a much more aggressive and loud sound. Also a set of Pirelli Angel Tyres purchased. The rear tyre fitted, the front tyre available, not yet fitted as still some good wear left on the existing tyre.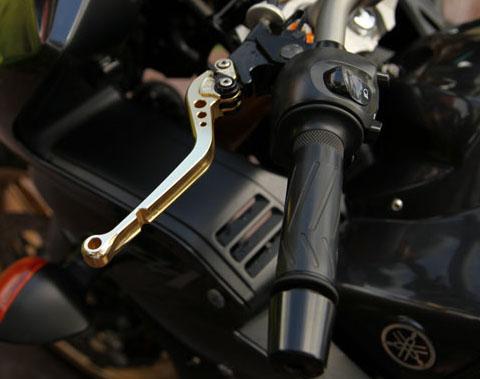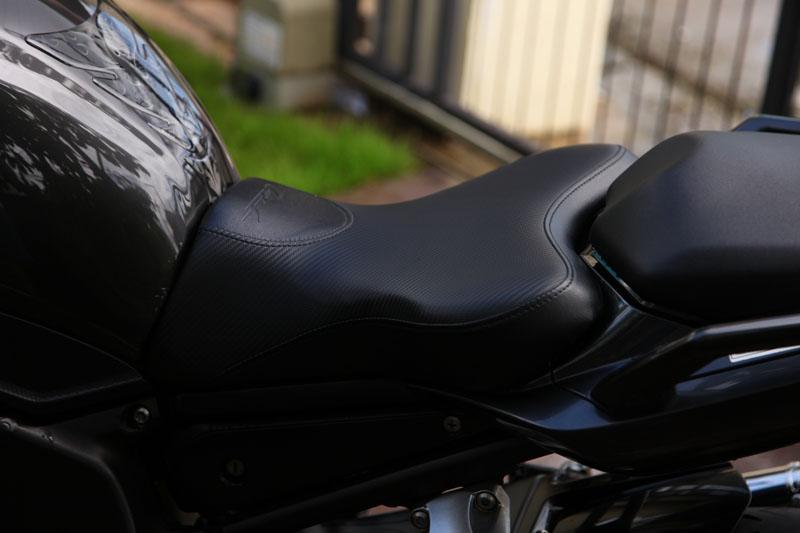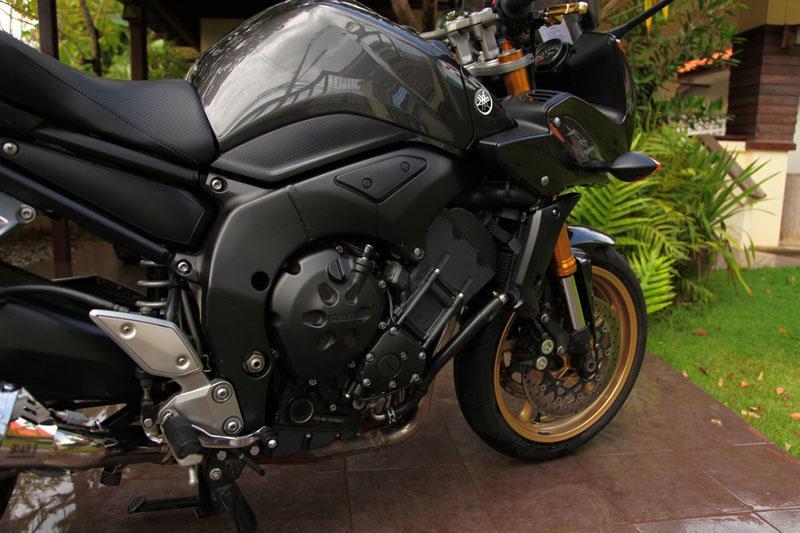 * The following work has been done in the last 3 months.
Chain and sprockets replaced
New battery
Oil and filter changed
Fork oil changed
Steering head bearings greased and adjusted
Front brake pads replaced with EBC sintered pads. Rear pads hardly worn
Brake fluid replaced and bled
Coolant replaced
Tail tidy and Clear rear indicators fitted
Valves adjusted
Spark plugs replaced
Accessory brake and clutch levers fitted.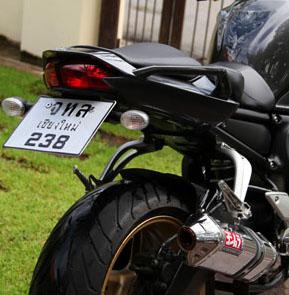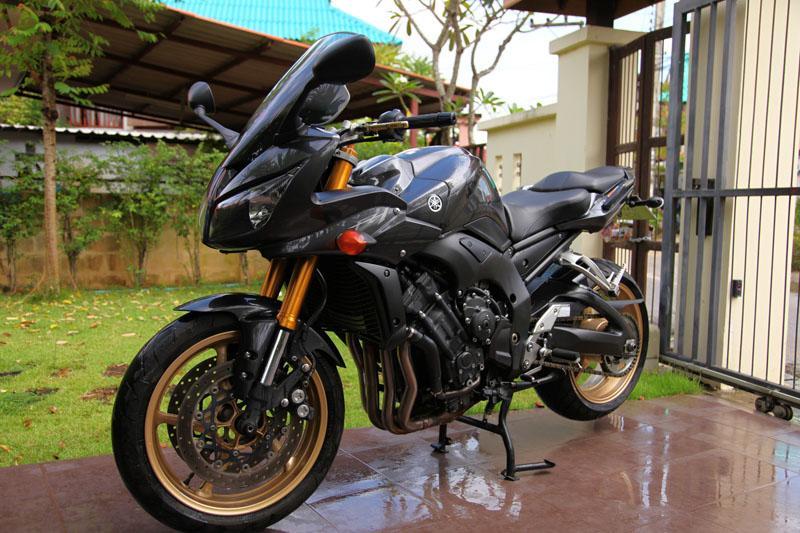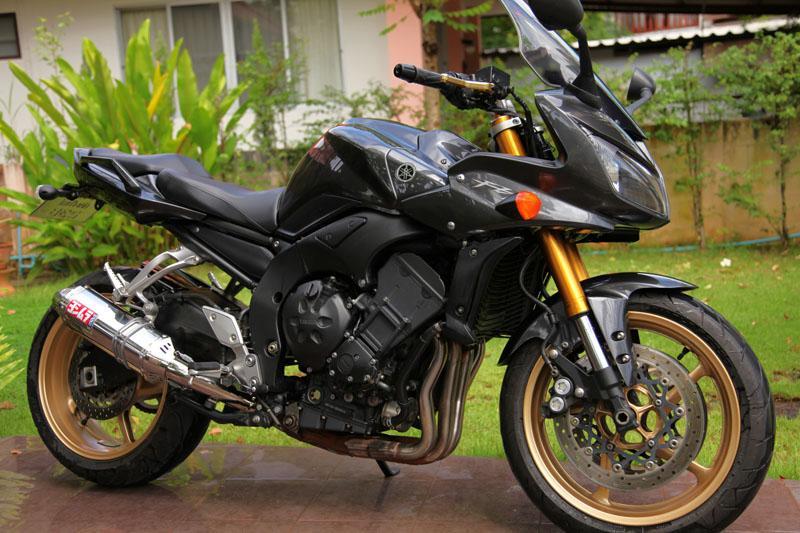 * Other accessories the bike already has are:
Yamaha comfort seat, purchased from the USA.
Puig touring windscreen
Tank protector
Oxford magnetic tank bag; UK made
Fitting bars for a Givi heavy duty rear rack. The fixing points are available on the bike. The plate went with the Givi box, so all you would have to buy is a plate to fit a Givi or other box.
The original parts, such as levers, screen, exhaust and Tail fittings are all available.
The bike of course has the original Green book with Chiang Mai registration and is taxed and insured.
Both visually and mechanically the bike is as good as, or maybe with the accessories, better than new, it is a very smooth, powerful and comfortable bike.
The Yamaha list price of this bike with no accessories is 650,000 Baht, and I know many will say this is not good value compared with a new Kawasaki Versys at under 300,000 Baht, and that is why second hand price of the FZ1 has dropped significantly since the 650cc Kawasaki,s were launched.
However the FZ1 is a much superior machine in many ways, including build quality, paint finish, quality of the front and rear suspension, and last but far from least, the character of the R1 derived, 998cc 4 cylinder engine. Below 7K rpm, it is very docile and happy to keep pace with cruisers, or town traffic, but if you choose to go into the 7K to 12K range it is a very powerful beast.
It has 4 cylinders and 20 valves, compared to the 2 cylinders and 8 valves of the Kawasaki.
HP is 150 at 11,000 rpm, cf 60 @8,400rpm and torque 106Nm cf 57Nm.
The weight is only a few kg more, but is better distributed, and with the Yoshimura on, it is nearly the same. The Yamaha seat height is about 25mm, lower than the Versys.
So if you are looking for a comfortable, powerful, reliable machine for 1 or 2 up touring or exploring in Thailand this machine is a good choice, and very good value at the advertised price.
SOLD PROVISIONALLY
Attached files