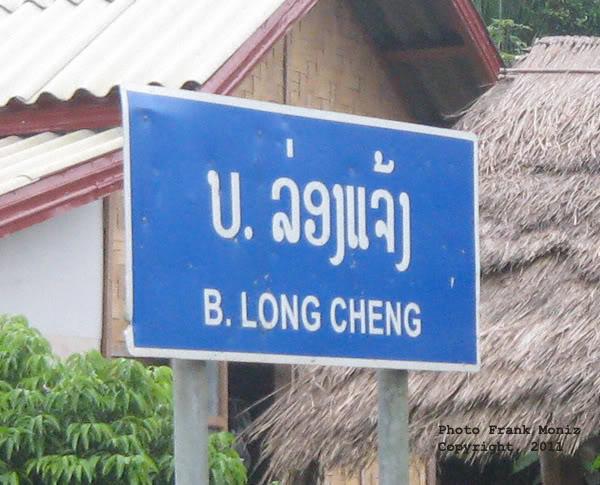 As I stood there on the now not so secret runway in Long Cheng I tried to grasp the historical significance of the place. I had to ask myself did I deserve to be at a place that meant so much to so many? The answer was a resounding, no! I promised myself as soon as I got back I would do the research to a point that would justify the gift I was given.
Now let's back up and try and explain how I got to this spot I'm standing on now. I needed to get to Pattaya from Chiang Rai. Usually I would drive towards Bangkok hang a left and be in Pattaya in around 11 hours. But after 4 years in Thailand my time here was winding down and I knew this might be my last chance in the foreseeable future to pack up and do a little exploring. So instead of a straight shot I thought I would retrace a trip I had did before to Laos with a little new bit thrown in. My proposed route would be Chiang Rai --> Chiang Khong (crossing the Mekong via ferry) --> Luang Namtha --> Nong Kiaw --> Xam Nuea --> Phonsavan --> Xaisomboun --> Vientiane --> Pattaya. I would be making the journey in my trusted Isuzu Dmax 4x4 truck (would of preferred a bike, but had passengers). I figured about ten days to complete the journey. As I mentioned all the places, but Xaisomboune I had been to before so I'll only highlight a few of the important things leading up to Xaisomboune.
Crossing the Mekong was a breeze on the Thai side as I was allowed to do all the formalities for myself and my truck right there at the riverside Customs and Immigration office. However the Laos side turned out to be a chore. First off we floated just offshore for around 20 minutes while they sorted a problem in loading another ferry going from Laos to Thailand. Than the computers were down at Customs so that took awhile. I left Thailand on the 9am ferry and didn't get on the road in Laos until 11:30am. The road to Luang Namtha was great and made it there in around 3 hours. Chilled out in LN with my first cold beer Lao and some good Indian food.
Early start to Nong Kiaw. The road to Odumxai has GREATLY improved. 100% has a 1st coat seal and 50% in the LN to Odumxai direction has the final top asphalt. Except for a few passable landslides initially, made great time to OX and onto Nong Kiaw. Bought a few items at my favorite little antique shop and more beer Lao and Lao food this time.
NK --> Xam Nuea I knew it was going to be a ball breaker. The roads being old, serpentine, riddled with potholes and a volatile mixture of asphalt and dirt. Don't get me wrong it's a road with stunning scenery and very enjoyable, but it's just a road that demands your undivided attention. It took me around 6 hours. Xam Nuea and environs is known to be one of the top weaving places in Asia if not the world. I had traveled outside of XS on my last trip and made some great purchases. This time I had read about a place called Muang Vane. It was billed as the place where the best of the best weavings were produced. However the location of the village was remote and it took some time asking how to get there, but finally found someone who knew. Before heading out I visited two shops in town that sold textiles to get a rough idea on costs. Both places had some great pieces. So off I went with map in hand, 26kms Bon Dong turn left on a dirt road and 30kms to Muang Vane. The directions turned out to be pretty accurate. The dirt road was pretty bad and for the first time on this trip had to lock into 4x4. Arrived at the village after about 2 hours. Found the headman, which turned out to be a women and sat down to see what the village had to offer. To my surprise a woman from the crowd started speaking to me in English with a slight accent I guessed was Japanese. As I spoke some Japanese I asked her in Japanese where she was from? Turns out she's Japanese and living in the village. Well I have to say the weavings were nice, but not what I was expecting. Ended up not buying any.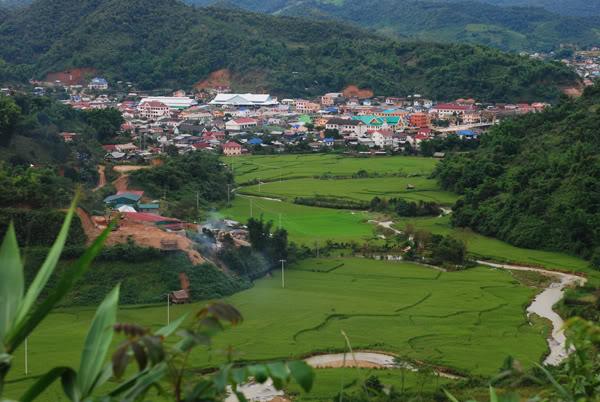 Xam Nuea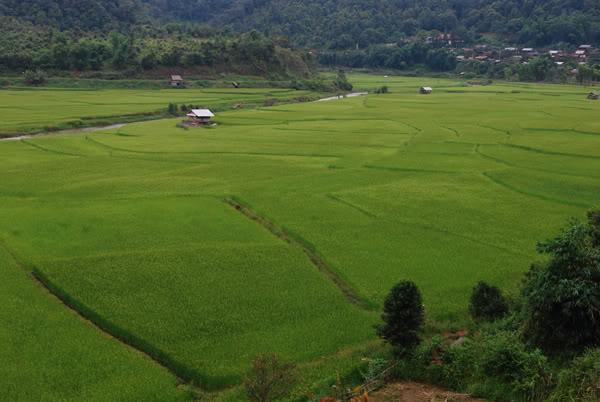 Close to Muang Vane
6am; packing up and getting ready to head out to Phonsavan. In the hotel I was staying they had a communal place on the second floor for coffee and tea. I bring my own coffee and French press so I headed down to get some hot water. Joining me at the table was a gentleman I'll call Tom. Tom was in Xam Nuea on business. We struck up a conversation and he was very exited to hear about my trip. I told him I was going to Phonsavan next and maybe Xaisomboune but wasn't sure as I heard it was difficult if not impossible to get there in general and perhaps impassable from Phonsavan. It turns out Tom also has a business in............you'll never believe it, Xaisomboune! You can just imagine how my pulse quickens when I heard that. He informs me I may be able to get from Phonsavan to X, but let's ask his driver we will call Jerry. Jerry says it's 80/20. 80 being you can't. Ok so Jerry leaves us and Tom and I continue our conversation. I decide to lightly bring up Long Cheng. To my amazement he says oh I have been there many times. I say are you sure we are talking about the same place? I go on to explain how many people I've read about who have tried and failed to get there and how restricted the place is. He tells me he's well aware of how sensitive the place is, but goes on to tell me he's been doing business in the area for a long time and he can travel in and out of there without restriction. He than utters those lovely words every traveler/adventurer likes to hear, "would you like to go"? He says if you make it to X (he hands me his card) you contact me. He than rushes off. For all those that have traveled you come across fellow travelers that let's just say like to embellish where they've been or how they have a friend of a friend that can get you backstage passes to the Beatles. One has to make an assessment; is it fact or fiction? I decided what do I have to lose? If I can get to Xaisomboune I would give it a try. If it doesn't work out well I've still got to see X. Off to Phonsavan. About 5 hours of never ending winding roads. Found a very nice place to stay. Very expensive for Laos, $55 but after roughing it a one night splurge was in order. You can't miss the place. Just look up. It's a bunch of houses that overlook all of Phonsavan and surrounding mountains. It has 360-degree view, great breeze, wifi, huge room and a decent restaurant. That night went into town for dinner at a place called Craters. Met a guy named John there who works for MAG. Those of you who don't know MAG diffuse bombs left over from the war. John makes a call to a local tour guide/friend for me and says the road from Phonsavan to X is rough but passable. Great news. Get back to the room and send an email to Tom. Off to bed hoping Tom can do what he said he could do. I wake up real early, 3am and I have an email from Tom saying it's a go. I tell him I'll arrive X the next day and plan on two nights.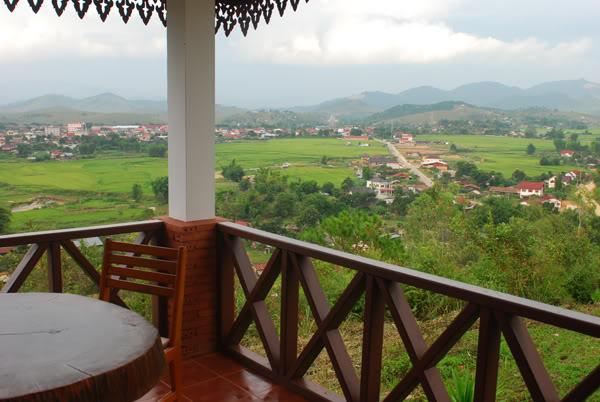 View from Hotel Room - Phonsavan
7am breakfast. I ask the manager where do I turn left out of Phonsavan to get to X. He's not sure, but the guy outside just came from there ask him. Not sure whom this guy works for, but he had to deliver a part to X or close by. He than drops a bomb and says he just attempted to get to X, but the road is impassable. He has the exact same truck as mine; he's a local so he knows the road. Shit, shit, shit! No choice it's Phonsavan to Vientiane. Long drive made longer as highway through Vang Vieng absolutely sucks. Arrive VT around 11:30am. I have to glue the fillings in my teeth back in from the bad roads and my brain is numb, but of course in the back of my mind I'm thinking now that I'm in VT I can get to X by driving to Thabok and up the mining road, hmmmmm? Email off to Tom explaining I'm delayed, but still coming. He gives me the number for Jerry and tells me Jerry will meet me in X and take me to Long Cheng. I really didn't look into the route to X through Thabok at this point except for a post or two I received on a Thread I started (Nong Khiew to Phou Lao on Highway 1C - need updated road condition). So off to my laptop to do some research. When you look on the GT Riders map it doesn't look to difficult, but I really didn't know how long it would take and I couldn't get an answer on the net so I had to call a local tour operator in VT for a friend who wanted to do a bike tour in Laos with his kids. This guy I knew would know how long it would take. After I went over with him my friends request I asked him how long it would take to get to X? He said, "Why do you want to go to X"? I said it was one the last places in Laos I hadn't been to and also I heard it was very beautiful (the truth). In short he attempted to dissuade me from going and said there had been recent trouble up there and be prepared to get harassed from the military. This was for Xaisomboune as I had told him (I lied) that I wasn't interested in LC. I'm sure he'll be reading this and I apologize for lying, but it was to protect my contact.
8am - I'm comfortable with risk, but in all honesty heading out I had an uneasy feeling in my stomach, which is very unusual, but not something I haven't felt before. If it was from the warning I received the night before I don't know, but it was there The drive up to Thabok was easy and fast arriving there after 1 hour or so. Made the left turn and headed up. At first the road is paved until you reach the first military checkpoint, which I think is also the official entry point to the National Park and where the road turns to the responsibility of the Phu BIA Mining Company. No problem at the checkpoint 1. The road is hard packed dirt, but in good shape. In places reaching speeds of 100kph. There are also patches of old asphalt road and the occasional washed out bits, but all easily passable in my truck. There were maybe 3 more military checkpoints along the way, but at each I was only made to slow down to a stop and than they raised the gate. I made it to Xaisomboune in about 3 ½ hours from VT. As I was pulling in to X there were 3 farangs (maybe French) on motorcycles and they were working on one of their bikes. I passed them at first, but after making a phone call to Jerry and finding out he too was coming up from VT and was about an hour away, I decided to go back and see how they were doing. Turns out they got as far as the mining town below the night before and were attempting to pass through X to LC and on to VV. The military who were also there were telling them to turn around and go back they way they came from. I'm not sure if they did this, but I didn't hear the bikes again so I'm assuming they turned around. I had lunch in the market without any problems. As I was pulling out of the market I was pulled over by a guy in plain clothes. He said he was from the Foreign Ministry Dept. or something like that and where was I from ( I said VT ) and "was I doing a tour of Xaisomboune"? I told him no that I was there to meet Jerry and produced his card. He told me to standby and he made a phone call to be no doubt his superior. After a quick chat he came back and said ok. Now X is a very small town with really just a short main street and really no place to hide. Basically I had to park on this main street and just wait for Jerry. I felt very vulnerable just out in the open in my truck with Thai plates. That uneasy feeling was there in full force. It wasn't a feeling of being afraid just uneasy. I had to wait about 20 minutes for Jerry. During this time I was not bothered. Jerry tells me I probably should not have driven my truck into town. He said it would of been better to have waited a few kms before town. We park my truck at the market, as we won't get into the jungle with it. We will have to use his truck. Off we went. I still couldn't shake this uneasy feeling and all the while we are driving Jerry's on the phone. After one phone call he says if asked you're not from USA or Thailand you're from VT. Also don't speak Lao or Thai. I'm like ok, but inside I'm thinking "good luck pulling that request off"! The person that's with me is Thai and speaks fluent Lao. From this point on all I can say about the road is it's in good shape with again just a few passable washed out areas. We were stopped numerous times, but through Jerry, had no problems along the way. As we got closer however the military guys starting having AK's where they didn't before. After the first Ak's started pooping up you start to question your trust of your handler. Don't get me wrong Tom and Jerry were nothing but nice, but with the first sighting of real guns you come to the realization that your life is in the hands of a complete stranger.
One more thing I'll mention about the route and let me preface my comment by saying I've been all over Laos; the boat ride from Nong Kiaw to Phongsali, the bits of road outside of Phonsavan before turning onto Highway 13, the views of the canyon on Highway 13 through VV (minus the shitty road), the road to Xam Nuea and on to Xamtai and in the South near That Lo, all absolutely stunning. The road between X and LC is by far the best stretch I've ever been on in Laos. I know some will not be happy that I'm saying this and the part of me that wants to keep it a secret would agree, but it really is that good. It reminds me of some of the remote spots I've been to in the very NE mountains of Vietnam. Unfortunately for reasons that will be explained later I have only two pictures the first of a small mining operation and the second in the very beginning before we got to the good parts.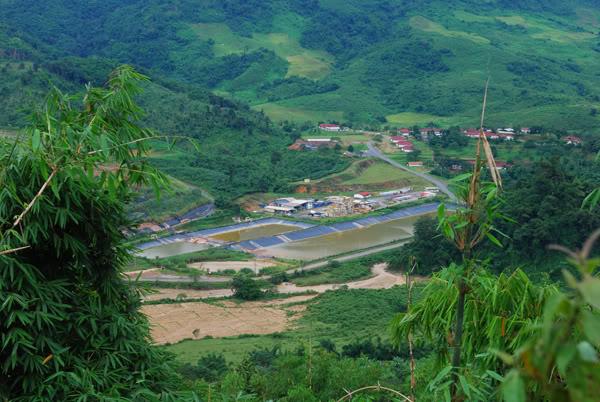 Small Mining Operation. 20 minutes out from X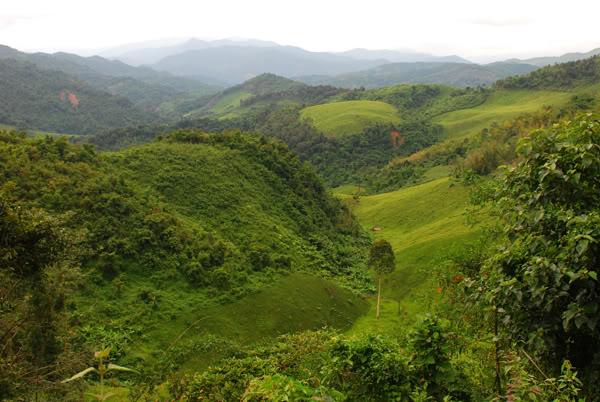 View 45 minutes out from X
Off in the near distance Jerry pointed out a mobile phone antenna. He said we are getting close. Under the antenna is LC. I could just see the tip of it so there were a ridge or two to get over before we got there, but we couldn't be more than 20 minutes away. As we crested the final ridge I could see for the first time the beautiful valley that was home to Long Cheng. I couldn't really see the airport yet, but up on top of a hill to my left was the antenna Jerry had pointed out earlier and at the base of this antenna I could make out a house. This house I was later to find out was home to Vang Po. The Hmong General and leader of the CIA backed resistance during the Vietnam War. (Please correct me if I'm wrong in stating this, but from what I was told and my brief research have led me to make this statement). Some of you may have heard the recent news reports from California about Vang Po being arrested for arms dealing and trying to smuggle these arms to Laos and the Hmong. These charges were later dropped (I wonder why? Not), but after all these years he hadn't given up.
House Overlooking Long Cheng
We drove up to a military guardhouse, which wasn't what I was expecting. In fact without much hassle we were allowed in. We drive past and Jerry proclaims we are here. As I had never seen any pictures of the place I didn't really know what to look for other than the obvious; runway, tower, signs of U.S. military etc. Jerry makes a right hand turn off the dirt road and stops the truck. We get out and I'm back to the beginning of my story. I'm on the runway. I had feelings of euphoria, trepidation and anticlimactic. Euphoria because I knew I had accomplished something great. Trepidation as I was sure the military base I saw about 300 meters away was going to erupt and anticlimactic because in all honesty there weren't any apparent signs to me this once was a thriving secret CIA airbase. I ask Jerry is it ok to take pictures? As usual he says no problem. I start shooting away. I take some shots of the runway.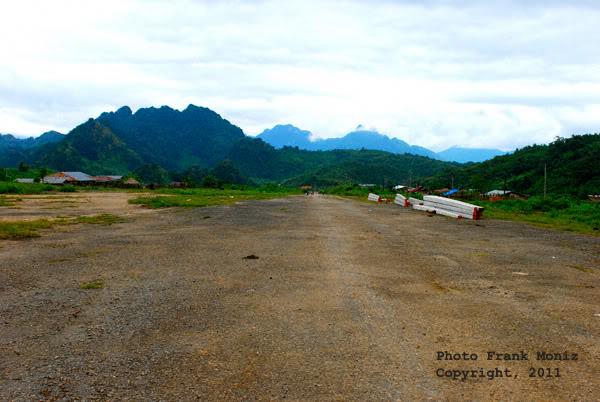 Looking down the Runway in the direction of Xaisomboune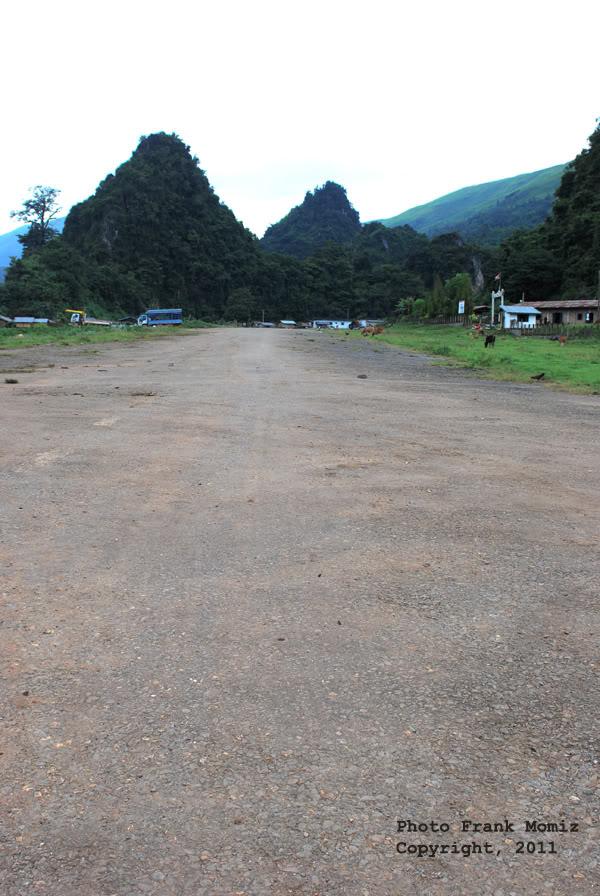 Looking down the Runway in the direction of Phonsovan
Than back behind and near the now Lao military base I see my first sign, I think of the USofA. I see a small tower about 30 feet high that I guess could have been a control tower. It's painted military green and looks old. This could have been built later after the CIA left, but for sure it had been there for some time. I take a few shots of it.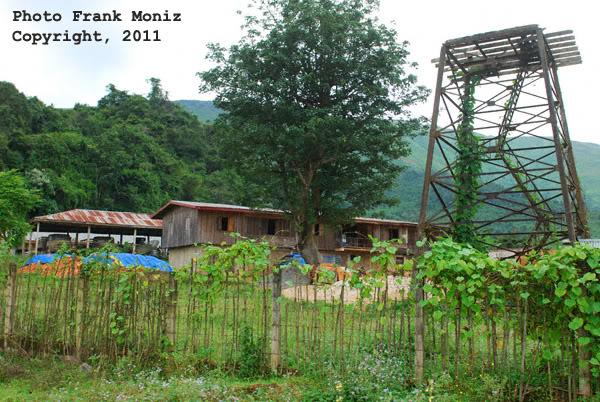 Tower Pic 1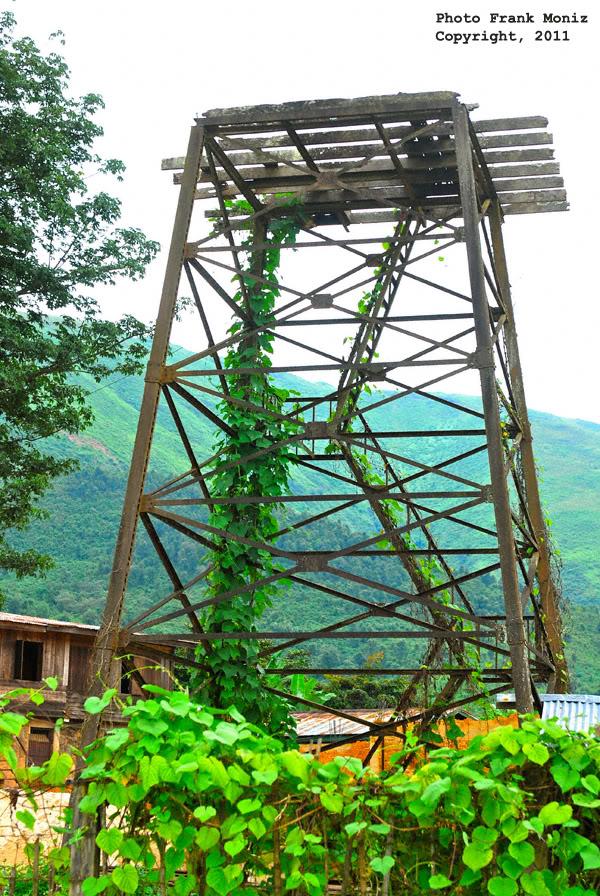 Tower Pic 2
By now I'm wondering where in the hell is all the military and why hasn't anyone approached us? I keep shooting pictures. Finally a kid about 15 years old approaches Jerry and asks who we are and what were doing there. Jerry in Lao says I'm so and so, these are my clients and we are here doing business. It seemed to work. So now I'm feeling a little more confident so I start taking pics of the military base and am walking up and down the runway.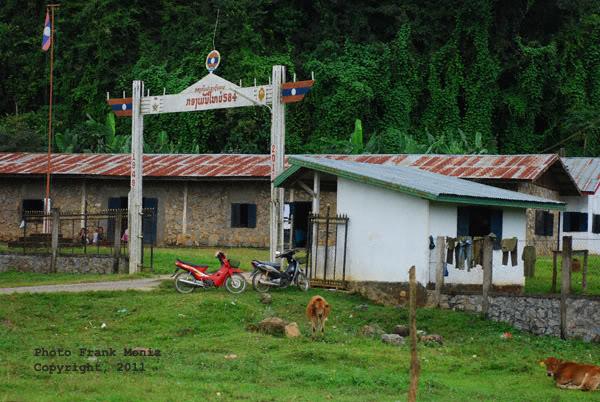 Base
Finally Jerry says come on I want to go visit a friend of mine in the village. I'm like ok, but I'm thinking to myself; is this for real? Turns out that his friends place is literally 50 ft. behind the military base. I'm sitting there looking over at the base and just waiting for hell to break loose, but I keep taking pictures. We than all climb in his truck and he says we are all going over to get a Pepsi. I'm thinking let's get the hell out of here while we can! Nope we go back to the other side of the runway, order a Beer Lao and a couple Pepsi's. As I'm sitting there looking across the military base it becomes very apparent why we haven't been harassed by the military. They must of all, except for the 15 year old, been in a meeting, but that meeting is now finished and I'll estimate about 50 of them are now funneling out across the runway in my direction. I finally say to Jerry don't you think we should go? Before he can answer here shows up 2 guys in uniform. They start asking Jerry questions. About 2 minutes into this my friend who understands what they are saying says, "I think we are in trouble"! That uneasy feeling I've had just turned up a few notches, but I know you never show any sign of weakness and in fact a show of strength is better. So I just keep drinking my beer and acting like it's no big deal. Back of my mind I'm thinking we are in the middle of nowhere and perhaps in deep shit. Jerry better be what he says he is or we may be spending some time here. After about 10 minutes of this one of the military guys gets on his bike and takes off. I ask Jerry, what's up? He says 5 minutes. The guy comes back and tells us we are to follow him to his superior. As we get in the truck I ask Jerry what to do with the cameras. He says we may be asked to delete the photos. Well I had thought of this before and had brought two cameras. I wanted to bring spare memory cards so I could switch them out. Giving up blank ones while I hid the used ones. Unfortunately I didn't do this, but I wasn't giving up all my shots. So I took the memory card out of my good camera and hid it and left my smaller camera intact. Put that in my shirt pocket and left the bigger camera behind in the truck. We are than led upstairs to an empty room with two tables. One for the now 3 of them and the other for the 3 of us. First they ask for our passports; didn't bring them. Jerry and the guy in charge get into a heated exchange. Jerry shows him his card and explains our cover story. He's not buying it. Jerry than gets a phone call answers it and non-chalantly walks and takes the call. I love this guy. Than while Jerry's out on the balcony we get the stare down. They also start trying to converse with my friend in Lao to no avail. The exchange between Jerry and military guy continues. Jerry than asks, "do you have any business card or any id"? Well I don't want to give these guys anything with my name on it so I come up with the clever idea of giving them Tom's business card. Brilliant idea I thought, as these guys don't know Tom and it would fit the cover story. To my surprise Jerry hands it back and says your card. The only id I had was my Thai drivers license. I hand it over. They take it and off one of them goes with it. I look at my watch and it's now 4:30pm. I'm thinking we are going to be spending the night here. While my id is off somewhere the interrogation turns to the cameras. We want to see all pictures taken. Jerry also has a camera and shows him the pictures on it. They insist all photos be deleted. My camera is next. Again I'm made to delete all photos (hence no pictures of the mountains coming in). Than the one guy asks, "where is the big camera you had before"? I'm made to go get it. When I get back I tell Jerry that this one is broken and there are no pictures on it. I show this to them (as the memory chip is now buried in my crotch). They believe it. In comes the guy with my id. The back and forth continues and my friend whispers to me some sweet music to my ears "they want money". For all us that live in Thailand or SE Asia we now know; this is not serious, but a business transaction. We settle on a price of 100,000kip about $10-12 USD. I couldn't get the money out of my pocket fast enough. Smiles all around, id's and cameras given back and out the door, down the stairs and into the truck. We drive off and past the checkpoint and on our way back to X.
I want to give credit to Tom and Jerry. They went out of their way to help a complete stranger fulfill a dream. I'm still in complete amazement what they did for me. I can't thank you guys enough!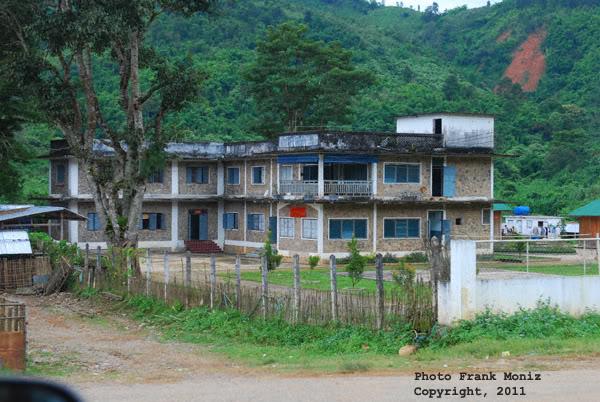 CIA Headquarters ?