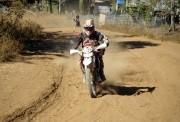 Mar 30, 2010
2,139
278
83
Another ripper weekend on the KLX..
First time to attend one of these Kawasaki events.. Really great job and very professionally done.
I can see why Tony and the rest of the " Bangkok Weekend Warriors " love these events.
Will be attending any and all when I can..
This event was held out at Ratchaburi..
So glad I have the ute 'pick up' for the bike..
Couple of turns out of my place and on the elevated toll road.. eventually on the Krungthep Bridge and over the other side.
No more mystery course here and there trying to get out of Bangkok on the bike as you can't use the tollways..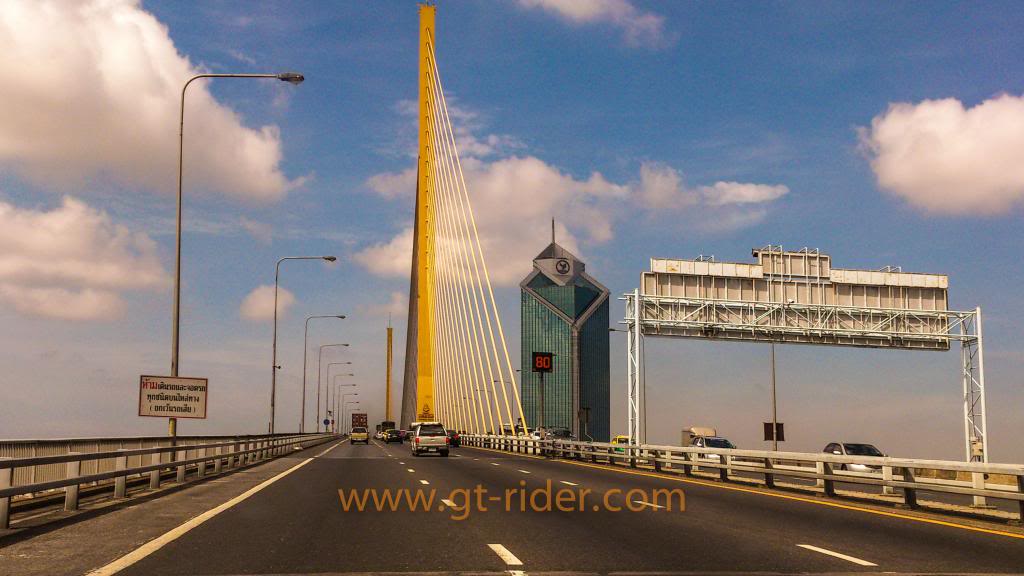 Really lovely resort.. Not sure I would come all this way to this resort except for the event we had.
But a nice place.. (Thanatthichaburi Lake Resort & Spa)
There were two options..
Share with 5 people in a room.. 5 beds and two bathrooms for 600 baht each..
Or
The presidential suite.. Which Trent and I took for 1,500 baht. (normally 3000+ baht, great rooms but well priced at 1,500 baht)
Only one night and we had just roughed it on the Missing link trip..
When you are dead you can't take all that money with you..
Day 1 - Training.
This was real good.. I didn't really know the level of everyone there and didn't want to look silly, so said put me in the beginner course.
Figuring if all OK will move along quickly through the steps.. Best thing I did.. Got to focus back to basics and it really helped the next day..
After a fun afternoon training with the great guys from Kawasaki and Siam Enduro.. Back to the resort.
Must have had 2 or 3 people helping / training.. Really great, got so much out of that session.
The rain came just after we made it back..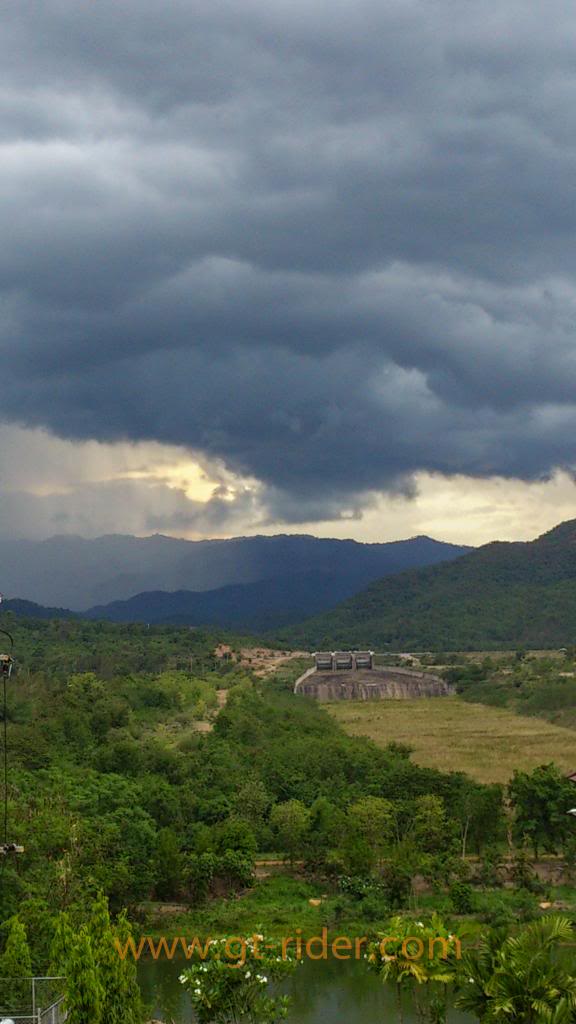 But that didn't stop Beer O'clock..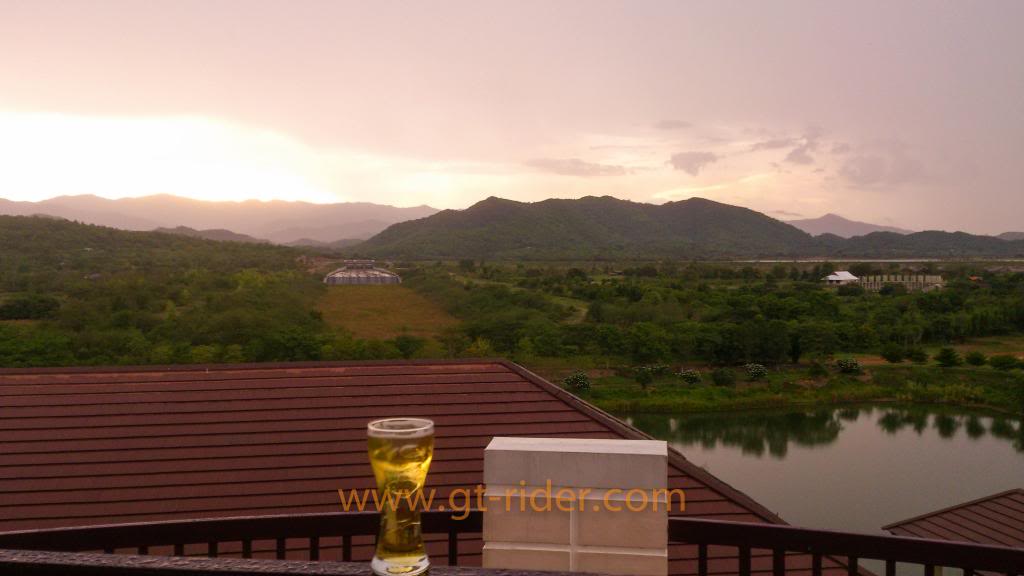 Day 2 - Enduro Day.
They had a number of classes for each type of bike.. KSR / D-Tracker / KLX / Open Class etc etc..
Before the race... We all go on a ride around the course.. Holy crap.. One really sharp turn with a stick in the middle of the hill..
Needless to say.. Crash here and so did many others.. I was not too worried about crashing but being impaled on the stick in my side.. Body armour does so much...
Then we go along and there is about a 7 ft drop in to a ditch, the ditch is full of rocks.. I chickened out at first.. Not my cup of tea..
Then thought what the hell.. I will do like Sir Trent Crashalot and just lean back and close my eyes.. It worked...
Next time eyes open and started to enjoy it on the 5th lap.
Anyway.. back to the race..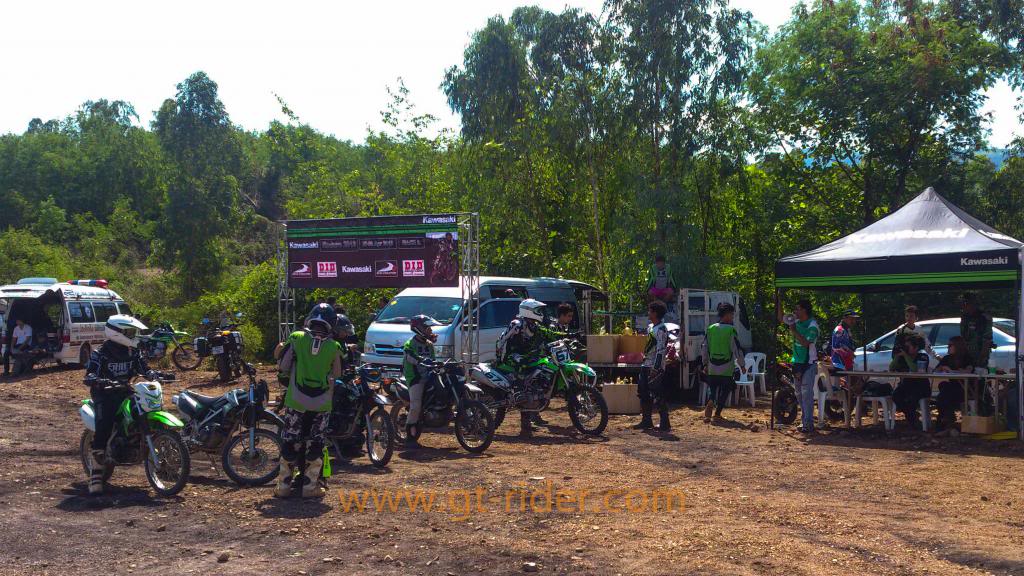 Some of the guys we became friends with.. Great fellas and look forward to the next ride together.. One of them asked to join us on the next Lao trip..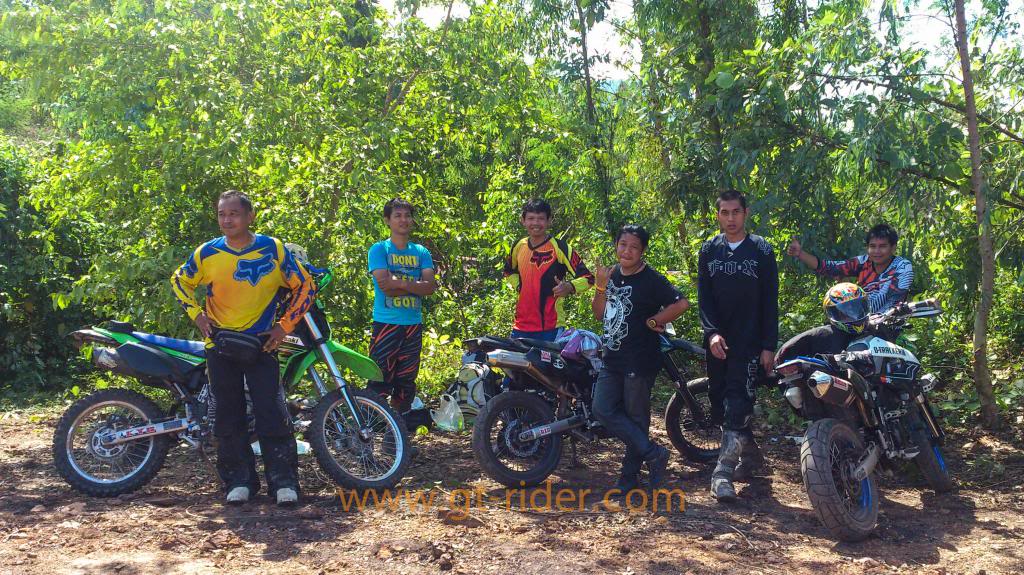 As I said.. Very professional.. One guy gave the Ambo guys a little bit of work after a nasty crash just to the left of the ambulance.. He was fine and no injuries.
Otherwise the only other issues they had to contend with was the dust storm created by the bikes..
Guessing these guys are also in a band as a guitar was in the back of the ambulance..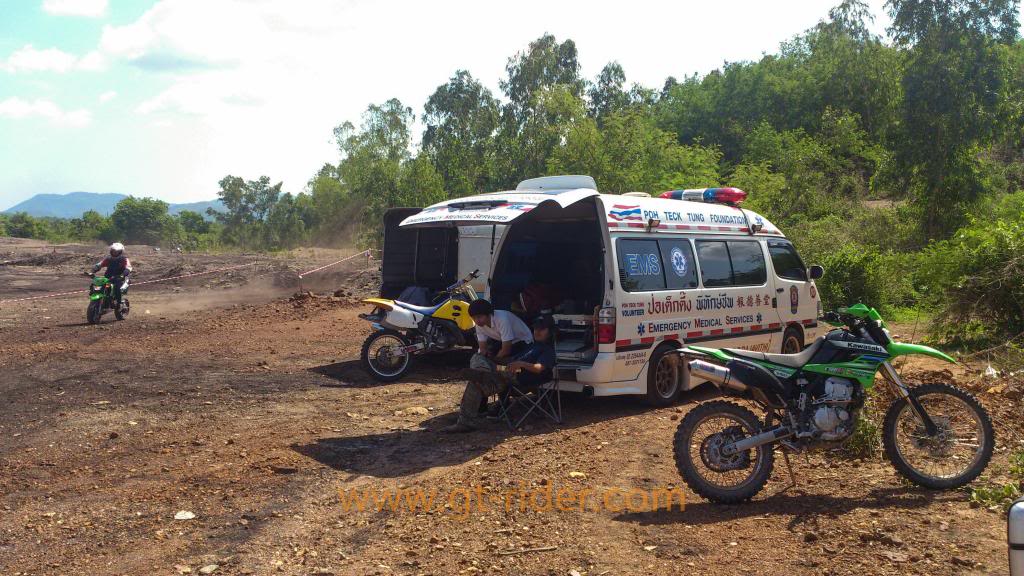 The very friendly Kawasaki people
Crash Sequence
If you look closely.. you can see a stick laying down just near the first bike.
This stick is upright and you have to go up and around it.. (training with body position day one really saved me here)
One man down and it was a good crash and roll.. all ok and no injuries.
The other bike is going out of control and the rider is standing trying to keep everything upright.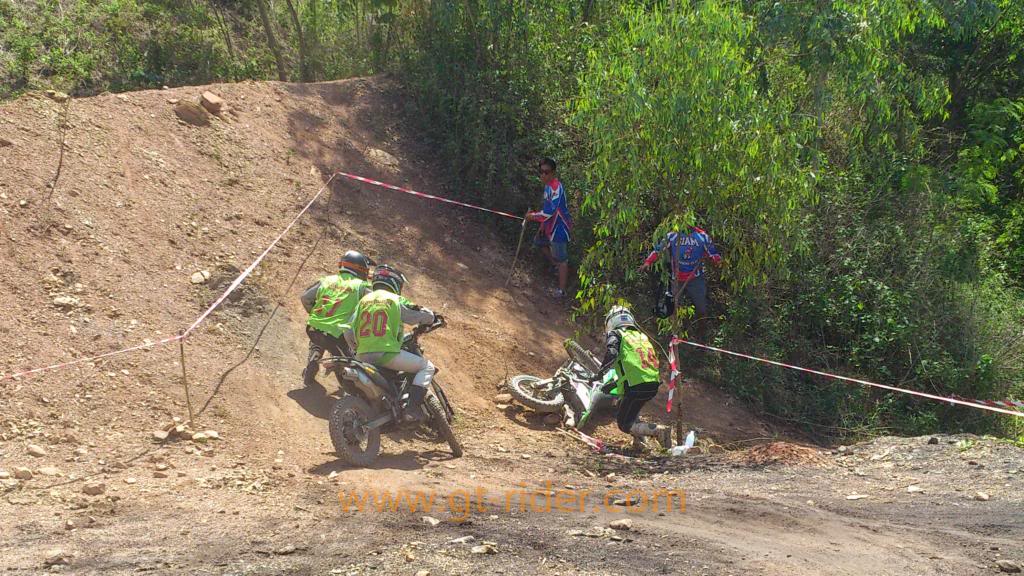 Now the other bike is pointing the wrong way.. No 20 managed not to get tangled up but can't pass either.
Close up of the mayhem.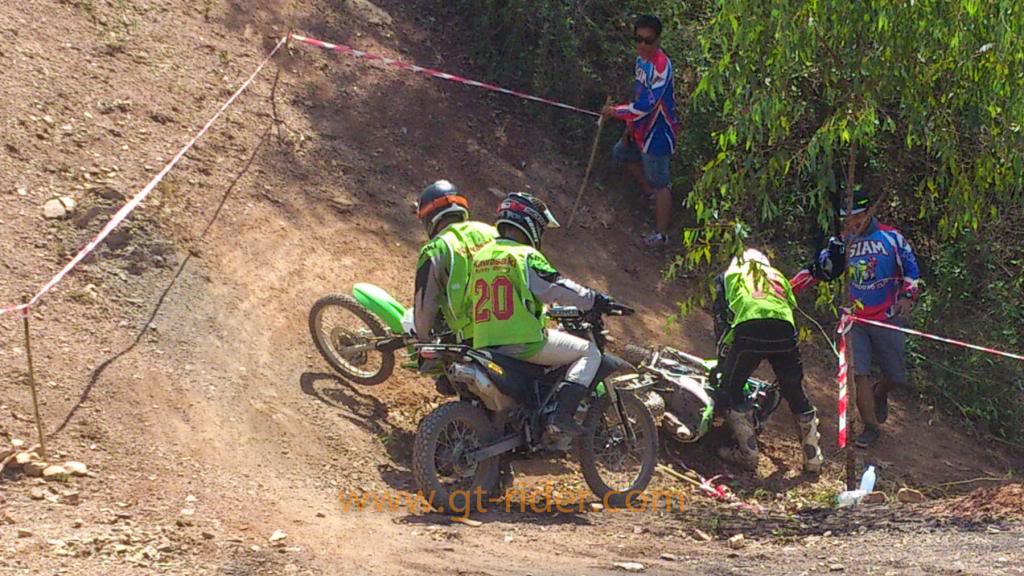 How it should be done by the sweeper.. See the rock near the back of his tyre.. That is where the stick is when people are not knocking it out or crashing on it.
Doesn't look too steep or tight in the pic.. but it was.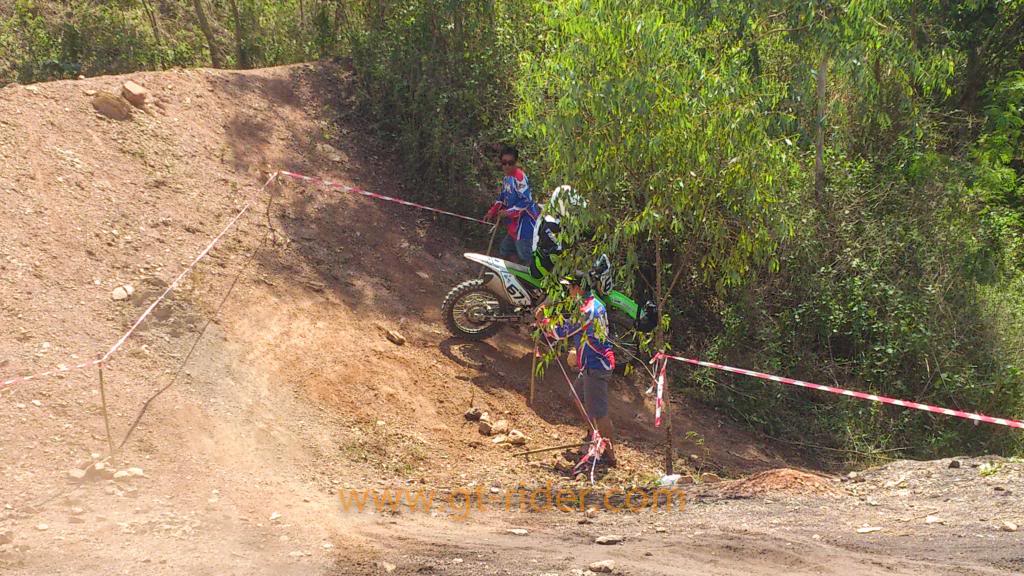 Approaching the finish line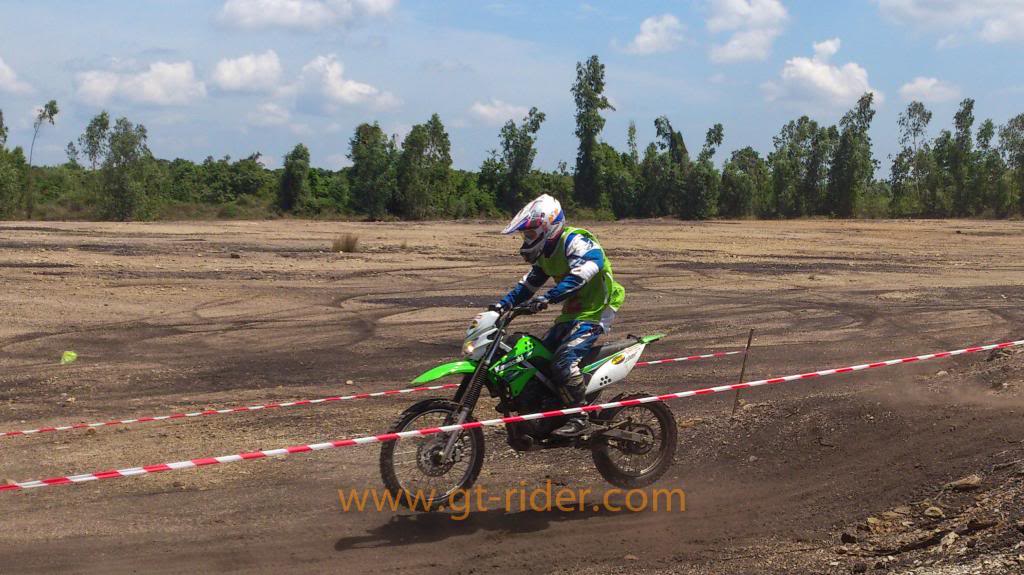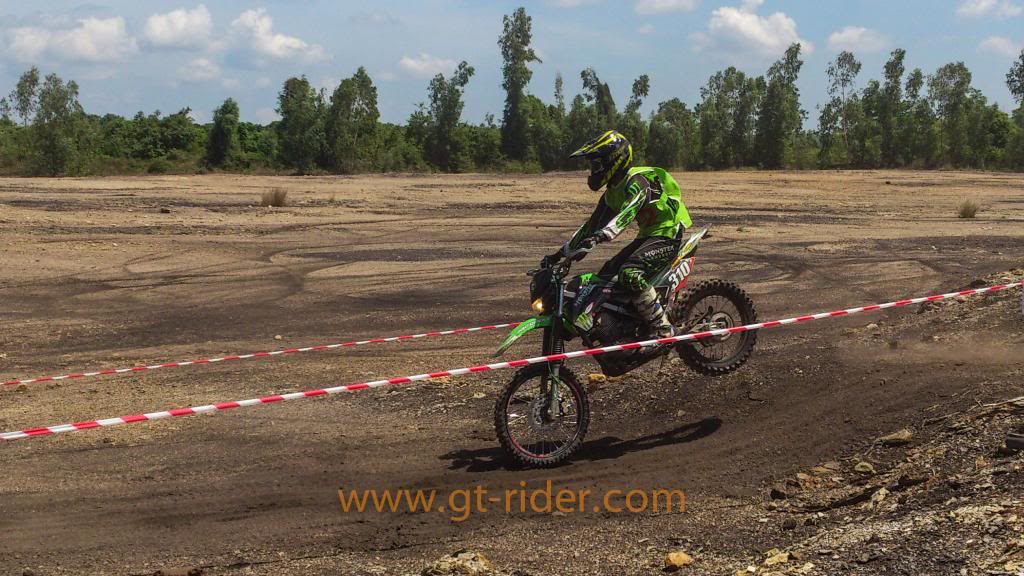 Trophy presentation.. Yes.. Sir Trent Crashalot won a trophy.. It was more a battle of attrition.
Trent was super keen and wanted a trophy.. We are all at the starting gate..ready and off.. (I stayed wide and let them take off, my mission was to finish the course and in one piece)
Before even getting past the main tent, someone hit another rider that then crashed in to Trent.. So there were around 3 or 4 bikes all crashed at the beginning in the first 20 metres.
There were around 4 bikes that got knocked out of our race.. Trent and I came in right at the end.. But with the mayhem and bikes being knocked out.. Trent had 5th place and a trophy.. I asked Trent why he couldn't have taken out one more and I would have had a trophy too for coming last LOL..
Never been in an Enduro race like this before.. Good fun and the Thai guys are great. No egos and only encouragement.
Thanks Kawasaki and Siam Enduro..
Cheers
Brian