0
Staff member
Subscribed
Jan 16, 2003
13,839
4,801
113
69
The Versys 300 has been out for a few months now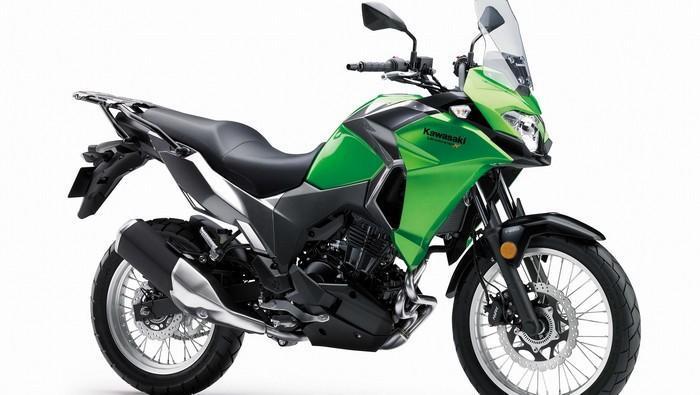 and there were a few specials on at the motor show in Bangkok earlier on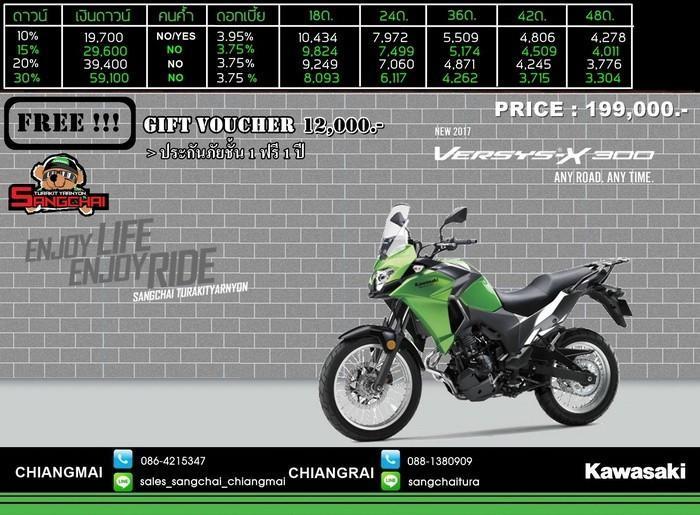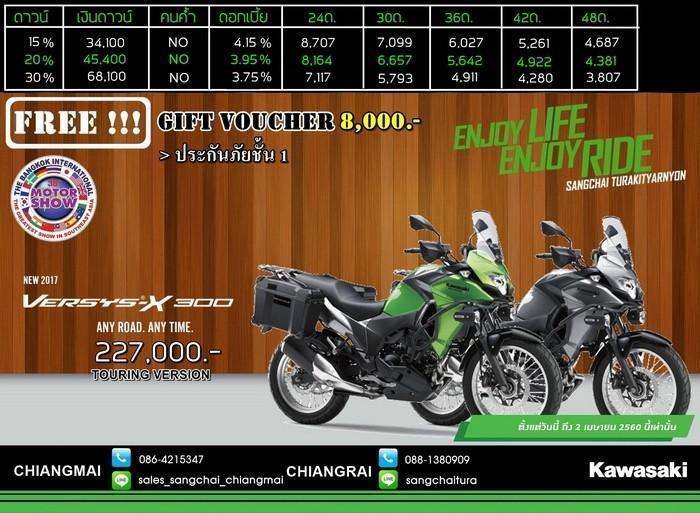 Does anyone have any first hand experience with one?
For me I would have thought it would be a good rental bike for some of the bike rental companies....
ADV Pulse has this to say from their website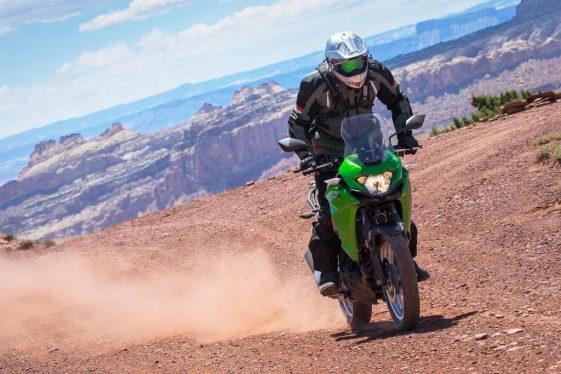 First Ride: 8 Things To Know About the Kawasaki Versys-X 300
We've got the low-down on Kawasaki's new small-displacement overlander​
It's not that often a new adventure bike gets released into a category of one. The Kawasaki Versys-X 300 is the first twin-cylinder in a growing small-displacement adventure bike class currently filled by single-cylinder machines. The niche the Versys-X 300 attempts to fill is a manageable, approachable and economical adventure bike with versatility to handle a wide range of Adventure Touring scenarios. Kawasaki is conservative with making any claims about its off-road capability. They simply state it's a street bike with the ability to handle unpaved roads. Perhaps it can do more?
We got a chance to see what this newest Versys can do during the recent Press Launch in Southern Utah. Starting in Green River, we rode two days and roughly 400 miles on open highway, twisty pavement and a few dirt roads en-route to Cedar City. Along the way, we traveled through two of Utah's Mighty 5 National Parks — Capitol Reef and Bryce Canyon — and also made stops at some of top State Parks. The stunning views on display were a constant distraction, but we managed to keep our eyes on the road to get the job done. Here are 8 key takeaways from our Kawasaki Versys-X 300 test:
1. It May Be Small But It Packs a Punch

The DOHC, 8-valve, 296cc parallel-twin motor, shared with the Ninja 300, makes power differently than your typical small-displacement single. With a thumper motor, you get power right off idle through the mid-range, whereas the Versys-X 300 has a mild hit in the lower RPMs and slowly builds power as the revs increase to redline. It feels like it's accelerating slowly but it keeps propelling you forward, faster and faster, until you are suddenly cruising at a high rate of speed.
It invites you to rev the snot out of it, with not much happening until around 8,000 RPMs. Between the 10,000-12,500 RPM range is where it hits hardest. There's nothing irritating about the high revs though. The little Ninja motor feels extremely smooth and generates a nice sounding exhaust note. It just takes some getting used to living in those high RPMs. But eventually, you come to realize there is a good amount of usable power on tap.
Up to about 60 mph, its big brother the KLR650 would probably beat it in a drag race but the pesky little Versys-X 300 keeps accelerating, continuing to build speed until it eventually catches up. On one speed run we clocked 104 mph on the speedo, something we've never seen on the KLR. Needless to say, this bike leaves its 250cc thumper counterparts in the dust. Even more impressive, it can carry speed. On two occasions, we crossed over mountain passes starting at around 7,000 feet climbing to nearly 10,000 feet in elevation. All the time, the Versys-X 300 had enough torque to cruise in 6th gear without the need for a downshift and the power loss from the elevation gain was minimal

2. Its Ergos Fit a Wide Range of Riders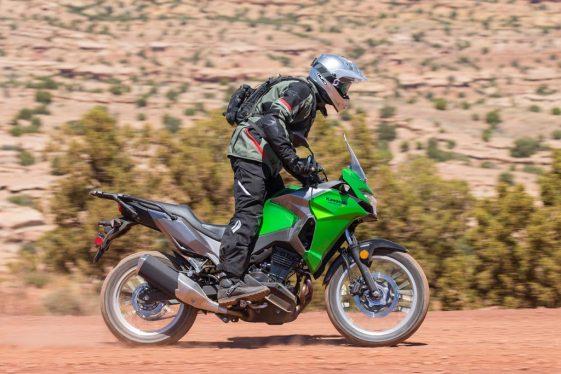 Sitting on the Versys-X 300, the bike has a light and narrow feel with a comfortable reach to the bars for long-distance cruising. Our test group ranged in height from 5'3″ to 6'3″ but everyone seemed to feel the riding position was comfortable. The bike has a low-cut seat designed to provide the lowest possible seat height and a narrowing in the front makes reaching the ground even easier for short-legged riders. One 5'6″ rider in our group was nearly able to flat foot both feet at a stop light. Taller riders didn't get cramped legs during the two days of riding either.
But the low-cut seat comes at a price, there isn't much padding and it feels overly firm. Kawasaki offers a 1-inch higher accessory Ergo-Fit Tall Seat with more foam and improved leg room for taller riders, but after giving it a try, it didn't prove to be any more comfortable and only raised me up higher into the wind (I'm 6'2″) above the protection of the windscreen. That said, both seats proved comfortable enough to avoid soreness until later in the day when squirming in the saddle would start to kick in.
In the dirt, the bike's ergos are open enough to make transitioning from sitting to standing an easy affair. It has a reasonable bar height for stand-up riding that doesn't make taller riders hunch over, although some may still prefer bar risers. The low cut seat gives you a riding position that is down low in the bike, and the longish tank doesn't allow you to position your weight forward in sit-down turns like some of its more dirt-oriented competition.
3. It's Comfortable Enough for Long-Range Touring
​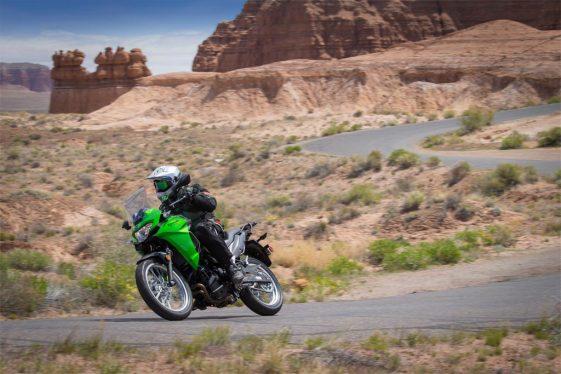 ​
What sets the Versys-X 300 apart from other bikes in the Small ADV Class is its smooth-running twin-cylinder motor. The motor is also counterbalanced to keep the tiny 62mm pistons humming along in perfect harmony. The Baby Versys can cruise comfortably at 75-80 mph with hardly a hint of vibration. A large set of bar-end weights are also helpful in smoothing out the ride. At 75 mph the tachometer reads 9,000 RPM, which may seem high revving, but the wind drowns out most of the engine noise at that speed and there isn't more than a tingle in the bars. The bike also maintains speed well on inclines or in cross winds, which suggest it might also carry luggage and a passenger well too.
Fuel range is excellent from the 4.5 gallon tank. Riders in our group achieved between 57 and 63 mpg during testing for an impressive range of 250+ miles. The windscreen also provided ample protection, directing wind over my head using the standard seat, with only a small amount of buffeting. Although in the chilly Spring Utah weather, a set of hand guards to block the wind would have been a welcomed addition. The firm seat does limit the number of hours you can ride comfortably on the highway, but that could be addressed with a pair of padded shorts. Overall, the bike is well-suited to long-distance travel and we wouldn't hesitate to take it on a long trip on the open highway.
4. It's a Perfect Bike for Adventures in the City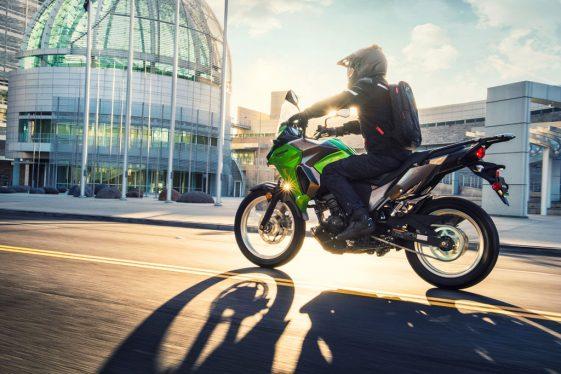 When it comes to riding in the concrete jungle, a small, economical and nimble machine like the Versys-X 300 makes the daily grind a lot more bearable. It has a low seating position that keeps weight low and it feels extremely balanced at slow speeds. A narrow frame is ideal for snaking through traffic and an upright riding position provides a commanding view of the path ahead. There's also more than enough power and sporty handling to sift through congested roads.
On a hot day waiting at stop lights, the fairing design and patented radiator fan cover help redirect engine heat down and away from the rider for increased comfort. It also has a butter soft clutch with excellent feel that makes pulling away from a stop even easier. And during emergency braking, a slipper clutch ensures aggressive downshifts won't lead to a rear wheel skid. The Ninja 300 is already a popular choice for daily commuters, so with even more comfortable ergos and improved maneuverability we expect to see a lot of Versys-X 300s appearing in HOV lanes in the near future.
5. You'll Need to Reset Your Off-Road Expectations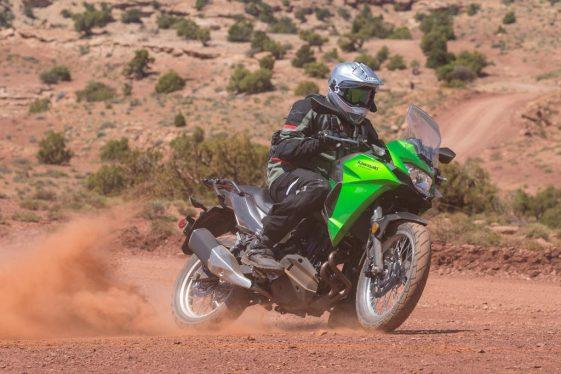 Since the Versys-X 300 was first announced, many have wondered how it compares off-road with other dual sport models on the market. Let's be clear, the Versys-X 300 is a street bike with some light off-road potential. On smooth dirt roads, it maintains good composure and has a plush feel to the suspension. There is very little squat, dip or wallowing and it offers a good amount of grip. But it can't be expected to compare with off-road capable bikes like the Honda CRF250L Rally or Yamaha WR250R.
Breaking off from the group, I was able to briefly test the bike on a rough dirt road with several big cross ruts. The limits of the suspension were quickly noticed on medium-sized hits while riding at a fast pace. Luckily though when the suspension bottoms, it does so softly. The high-revving powerband also feels a bit strange in the dirt if you are used to the low-end grunt of a thumper motor or big-bore twin. The power comes on so soft that it's difficult to break traction to steer with the rear. A beefy skid plate would also be advisable for anyone wanting to take the Versys-X 300 on more difficult trails, since the exhaust header is routed underneath the engine completely exposed. And if you opt for the ABS model, be aware that the ABS system is always on with no way to disable it other than pulling a fuse.
Despite its limitations, it's a bike that can be a lot of fun for those touring-oriented riders that occasionally wander off the beaten path. These riders will value the Versys-X 300 more for its approachable seat height, nimble handling, affordable price and excellent highway cruising capability, while appreciating its ability to carry them to some interesting destinations beyond the pavement.
6. New ADV Riders Will Appreciate It Most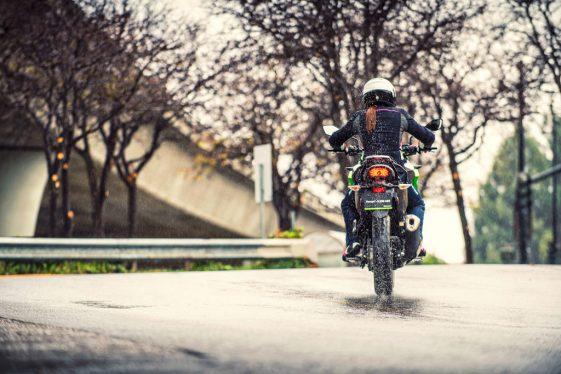 The same traits that make the Versys-X 300 a great city bike also make it a great option for new motorcyclists and first-time Adventure Riders. Its soft-pull clutch, precise fueling, light handling chassis and manageable seat height all add up to a bike that feels less intimidating and easier to control.
Even though Kawasaki is marketing the Versys-X 300 primarily as a street bike, it has some characteristics that will be appreciated by those learning to ride off-road. There isn't a lot of suspension travel, but that gives it firm, consistent handling on easier dirt roads. The soft-hitting power also makes it almost impossible to spin the rear tire inadvertently, even with the street-biased IRC Trail Winner GP-210 dual sport tires. And while the 19″/17″ wheel combo may not be as stable as dirt-oriented 21″/18″ wheels on technical trails, on smoother terrain the smaller wheel set offers more nimble handling, plus they get your feet closer to the ground.
Riding on washboard roads, the supple suspension soaks up the bumps very effectively. And for slow-speed maneuvers standing on the pegs, the Versys is incredibly balanced. When a mishap does occur on the trail, the bike is light enough that most riders can pick it up without assistance. There are limits to its off-road capability as speeds and technical difficulty increase, but there is room for new off-road riders to improve their skills before potentially outgrowing the Versys-X 300.
7. It's Well Appointed for the Price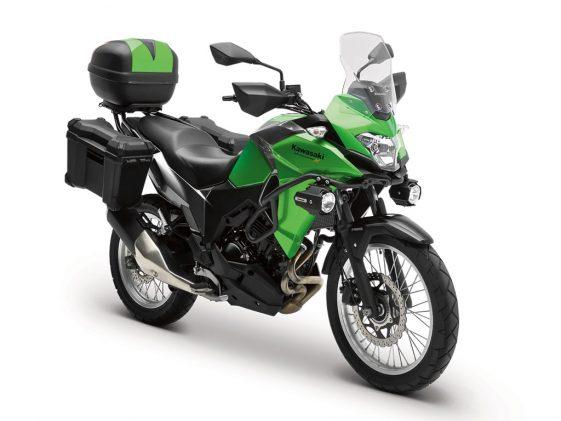 When you consider the fact that you are getting a twin-cylinder engine with a 6-speed transmission that offers middleweight power and smooth highway performance, plus it comes with a 4.5 gallon tank, wire-spoked wheels, tall windscreen and luggage rack, the $5,399 starting price tag is a great value. There are other premium details that stand out as well, like the sophisticated LCD instrument console that displays fuel range, current and average fuel consumption, and currently selected gear. Powerful brakes straight off the Ninja 300 are also included, capable of lifting the rear wheel off the ground with a firm squeeze. Want to go 2-up on your adventures? It has nice grab rails and a comfortable raised pillion perch. A slipper clutch and balanced suspension round out the offering, making it hard to beat at this price point.
For $300 more you can get the optional Bosch 10M ABS controller, a compact, lightweight unit that adds just 5 pounds. And for those looking to farkle out their Versys-X 300s, there is a long list of optional accessories available, including a center stand, hard panniers (keyed to the ignition), a top case, 12-volt charger, LED auxiliary lights, crash bars and more. All genuine Kawasaki parts are covered under the bike's warranty and typically you can roll their cost into your monthly payment.
8. A Few Nits to Pick
Street-oriented Versys models traditionally have their exhaust headers routed underneath the engine, a design that helps with performance and heat management. But for the new "X" model with improved off-road capability, we would have liked to see the header moved to a less-precarious location. A good skid plate can help protect the exhaust from being crunched, but it sacrifices valuable inches of ground clearance.
Normally, we wouldn't make a fuss about not having a center stand installed on a bike of this size, but with the under-engine exhaust routing and no skid plate, there's no way to huck the bike over a rock on the trail to change a tube. Anyone looking to get off the beaten path will probably want to add the accessory center stand. Also, we would expect to see a set of heated grips in the accessory catalog on a bike with long-range touring intentions. And while the Ergo-Fit Seat upgrade is a step in the right direction, we would have liked a bigger improvement in comfort for the price. Can we get an ABS off switch too please?
Even though the Versys-X 300 has a few shortcomings, its price leaves room in the budget to address some of them on the aftermarket. For what it is intended for, it's an impressive first try by Kawasaki. And after this first adventure, we are eager to get more time on the bike to further explore its range of capabilities. For now the Versys-X 300 can enjoy ruling a class of one — at least until the twin-cylinder Suzuki V-Strom 250 arrives.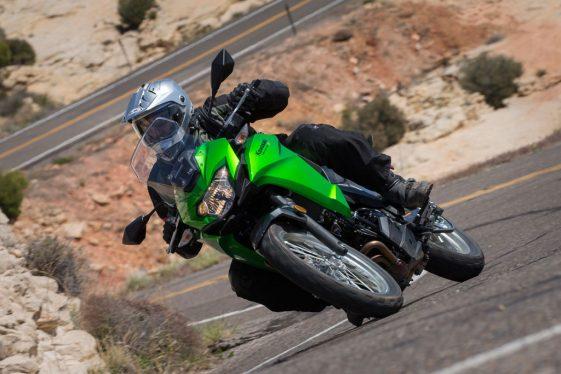 2017 Kawasaki Versys-X 300 Specifications
Engine Type:
Liquid-cooled, 4-stroke Parallel-Twin
Compression Ratio:
10.6:1 Valve system DOHC, 8 valves
Bore x Stroke:
62 x 49 mm Displacement 296cc
Fuel System:
Fuel injection: Ø 32 mm x 2 with dual throttle valves
Horsepower (est):
39.3 hp @ 11,500 rpm
Maximum Torque (est):
19 ft.-lbs. of torque @ 10,000 rpm
Transmission:
6 speed
Clutch:
Wet multi-disc, manual
Lubrication:
Forced lubrication, wet sump
Starting System:
Electric
Final Drive:
Sealed chain
Front Brakes:
Single 290 mm disc. Caliper: Single balanced actuation dual piston
Rear Brakes:
Single 220 mm disc. Caliper: Dual piston
Front Suspension:
41 mm telescopic fork, 5.1 in travel
Rear Suspension:
Bottom-Link Uni-Trak, 5.8 in travel with adjustable preload
Ground Clearance:
7.1 in
Seat Height:
32.1 in
Frame type:
Backbone, high-tensile steel
Front Tire:
100/90-19M/C 57S
Rear Tire:
130/80-17M/C 65S
Fuel capacity:
4.5 gallons (17 litres)
Wet Weight:
Standard 385.9 lbs (175 kg)
Colors:
Candy Lime Green and Metallic Graphite Gra
What do you guys reckon? And why would you take this over a CRF250?

​