CAUTION:
THIS POSTING CONTAINS TEXT AND IMAGES THAT SOME READERS MAY CONSIDER TO BE RATED AS 'BORING'.
You are advised that some persons when exposed to material of a 'BORING' nature may be liable to outbreaks of anxiety, depression and even occasional incidents of unwarranted flaming.
IF YOU ARE SENSITIVE TO THIS TYPE OF MATERIAL YOU ARE ADVISED NOT TO READ ANY FURTHER.
Still reading, so you have nothing better to do today, OK. This posting describes in words and pictures the nature of the journey, from Khon Kaen to Chiang Mai as ridden on a Kawasaki Ninja 650 R on 21st October 2009. The route is one I have selected as being the best for a fast journey, but selecting enjoyable quieter roads that still offer smooth progressive travel and avoiding main highways where possible. Pictures are of the main road junctions and the bike and luggage rather than beautiful sunsets or interesting temples. Hence maybe BORING for some folks.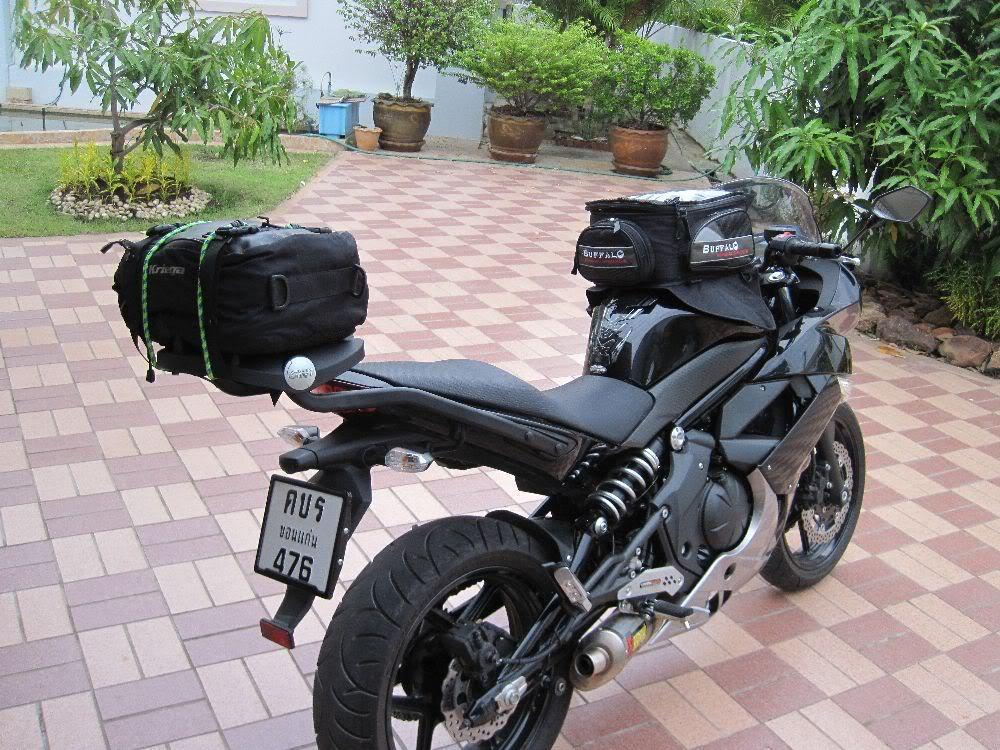 The Kawasaki, loaded up with 22L Buffalo Tank bag, and Kreiga 20L Tail pack secured with its own straps and one bungy for safety to the Givi Rack.
If you manage to make it right to the end of this posting I have included pics and listings of what was packed inside this luggage.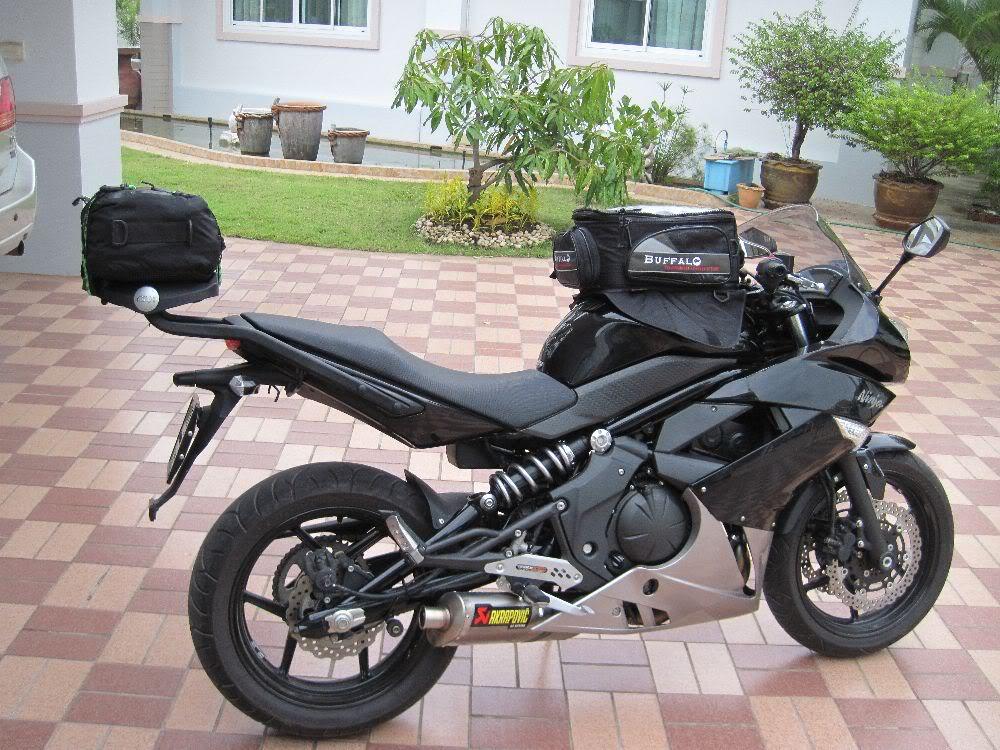 Side view of the slim machine.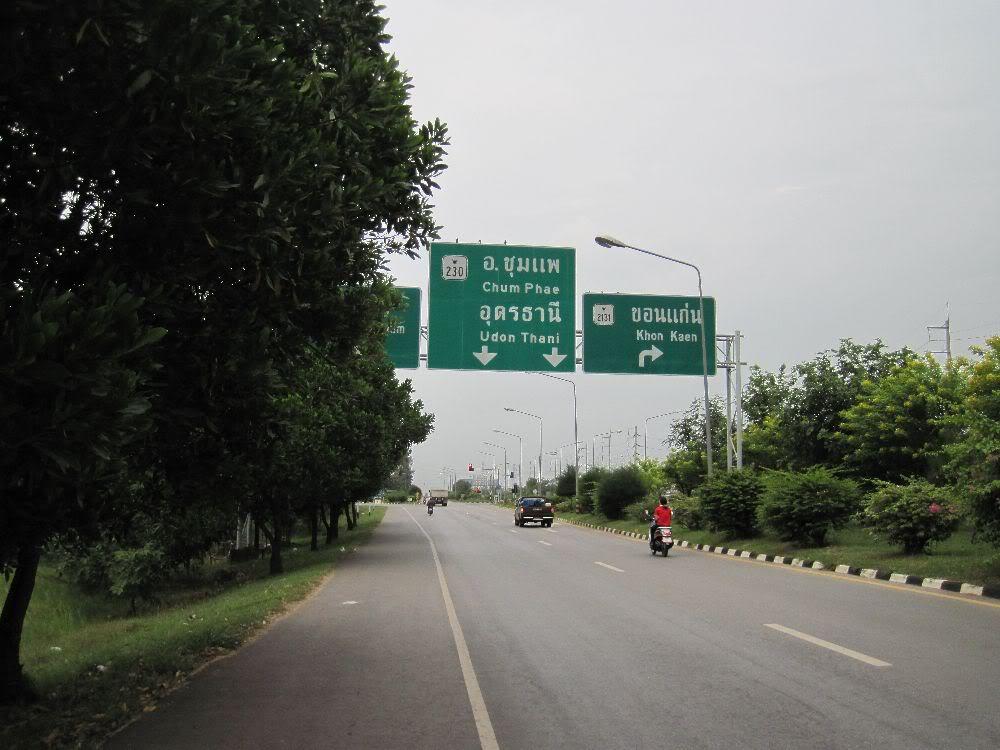 The day dry but sky cloudy with some looking threatening in the distance. 2km from my home is the 230. The Khon Kaen ring road which completely circles the town. Not too much traffic at 7.00am.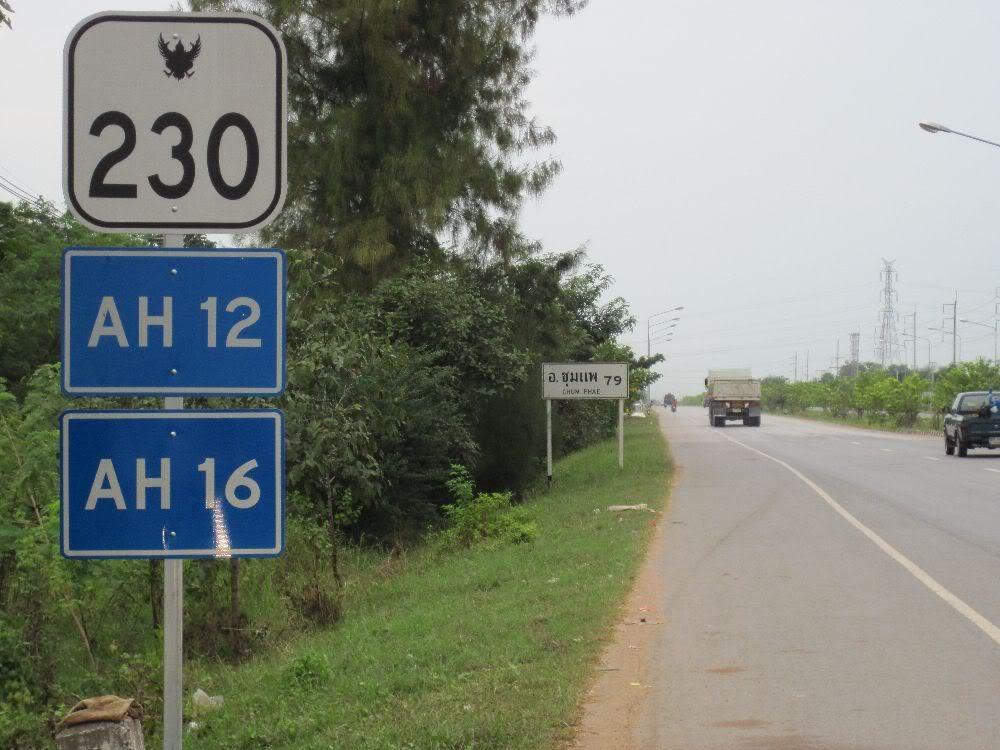 Chumpae 79km. Anyone tell me what the blue AH12 and AH16 signs mean?
This posting also useful for those who wish to brush up their Thai road sign reading with English translations provided.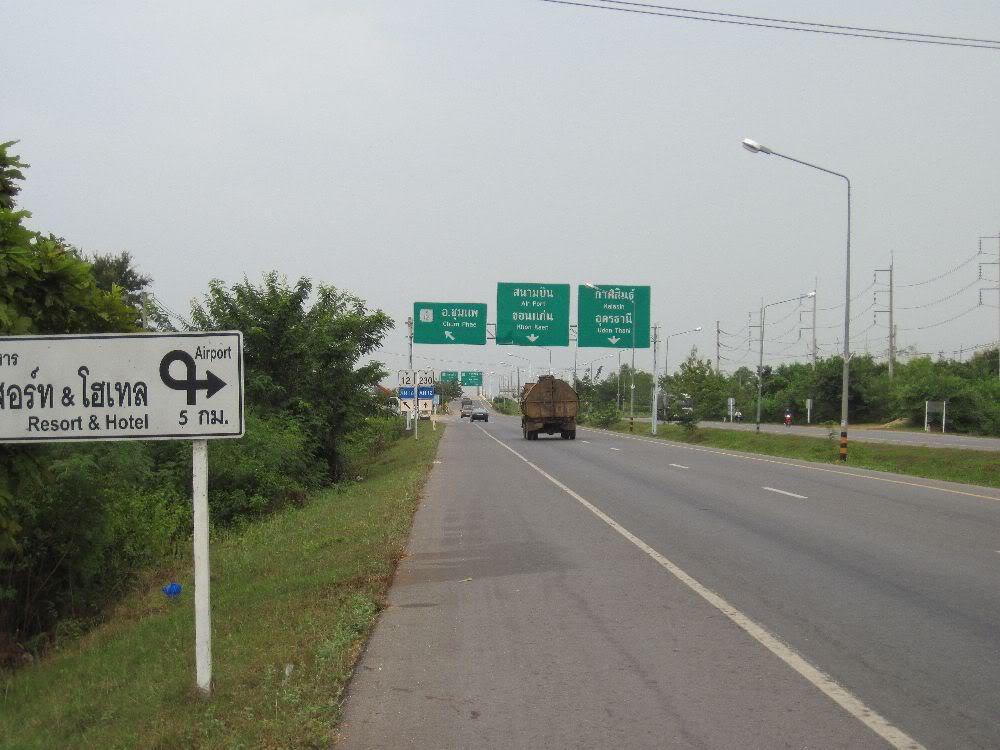 Only 2 sets of traffic lights to pass through before the left turn onto Highway 12.
Highway 12 is nearly new dual carriageway for the whole 80km to Chumpae . It has few traffic lights such as these and is mainly fast clear open road. It does have a number of large clothing factories along it and so many small motorcycles at this time of day.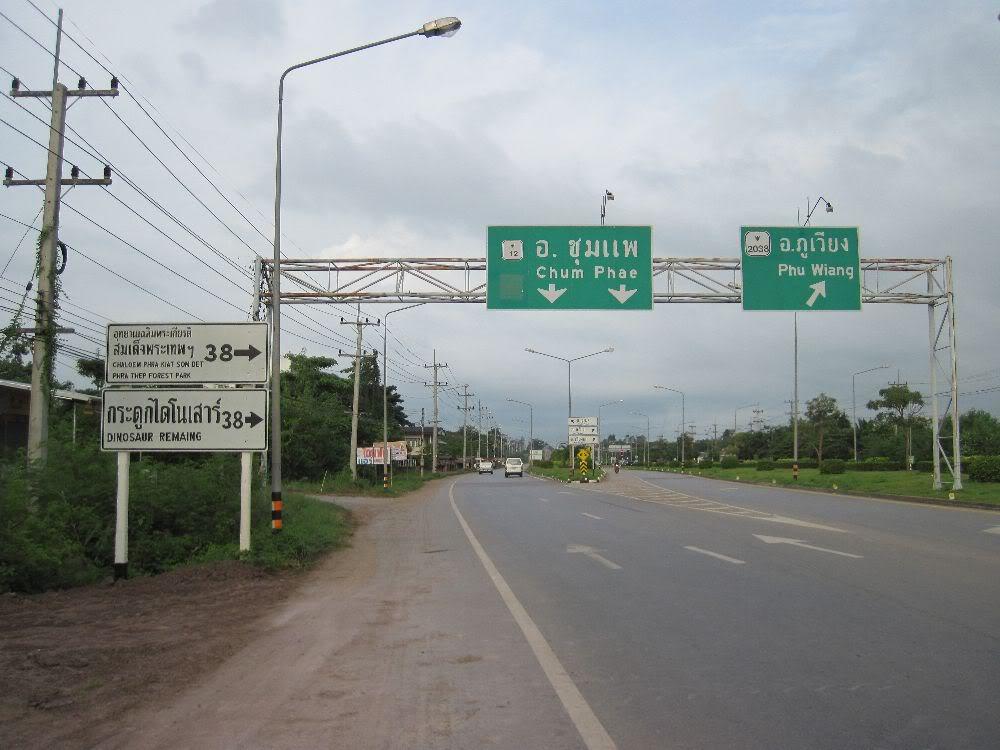 50km along the road is the turn to Phu Wiang and one of Isaan's Dinosaur museums, well worth a visit.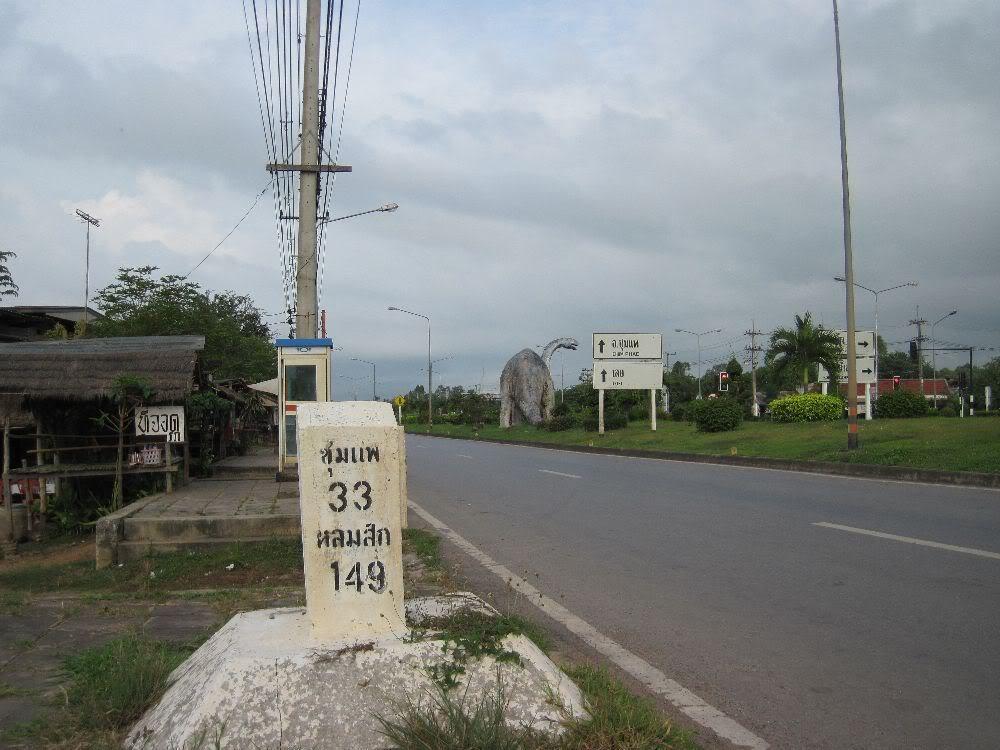 We carry straight on for the remaining 33km to Chumpae, only pausing to wave at the lonely dinosaur. Note Lomsak 149km. All the way along this dual carriageway I am looking forward to that beautiful stretch of road over Nam Nao to Lomsak. Some keen guys come all the way from Bangkok, just to ride that stretch of road.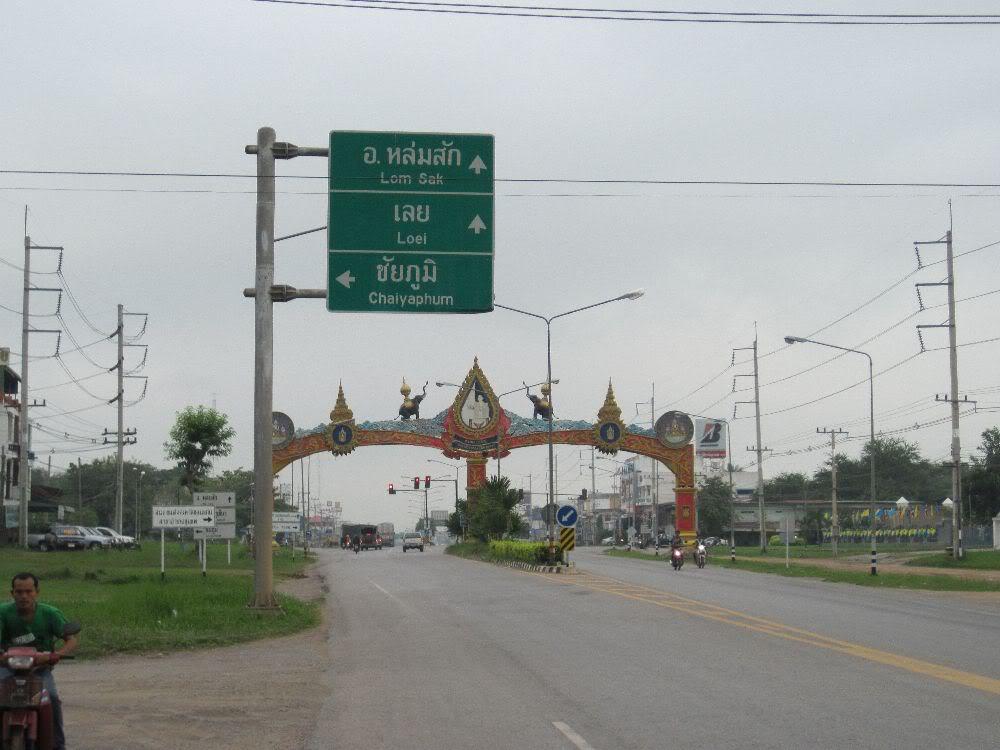 The first of 3 sets of traffic lights as we pass through Chumpae. The left hand lane is well grooved by the heavy sugar cane and stone quarry lorries.
Second set of lights. Don't be tempted to pop through as some local bikers do, nice little police boxes by each junction.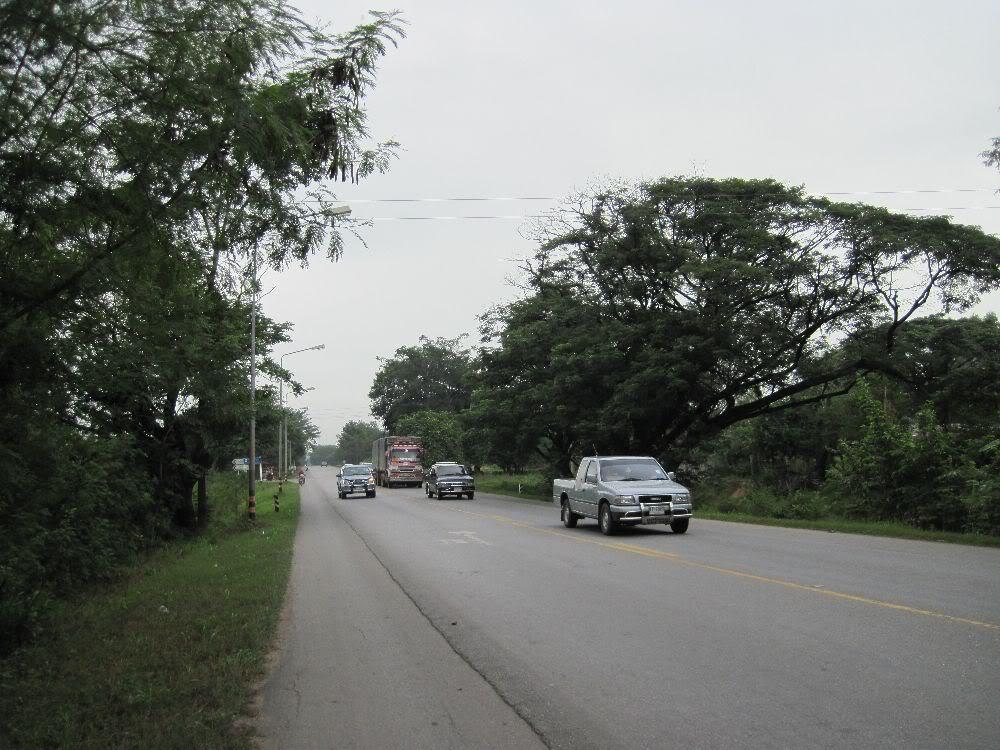 Now we have 13km of challenging road. The motorcycle lane is lower than the main tarmac and oncoming traffic expects you to pull over. The road is bumpy from heavy lorries and is usually heavy with traffic.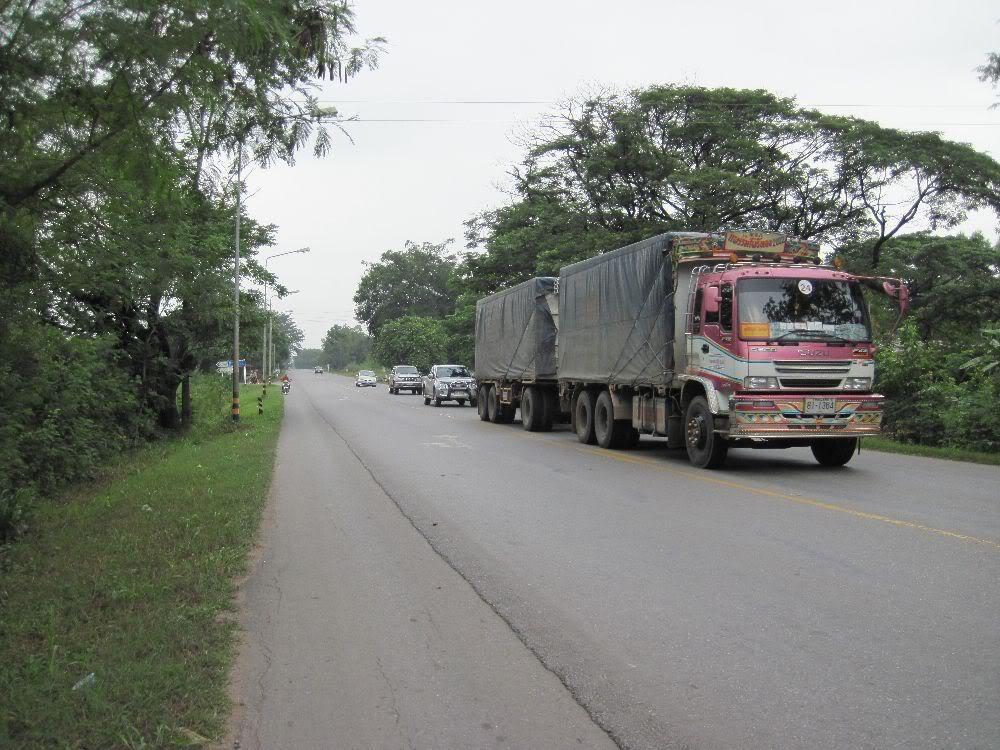 Like this.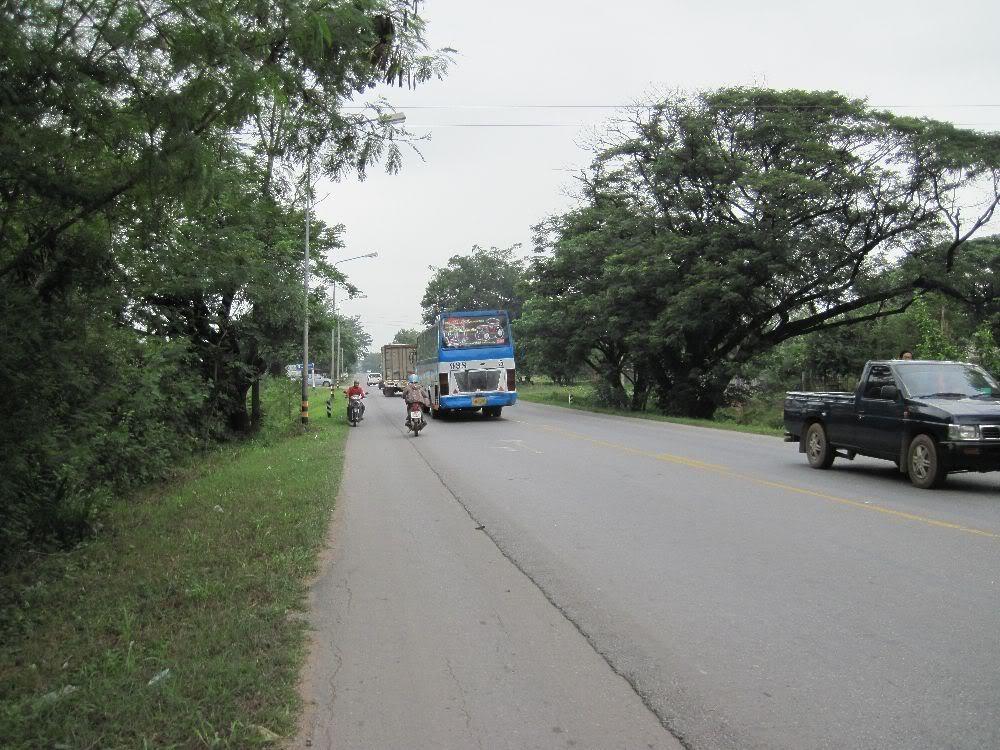 And even the motorcy lane gets its oncoming traffic!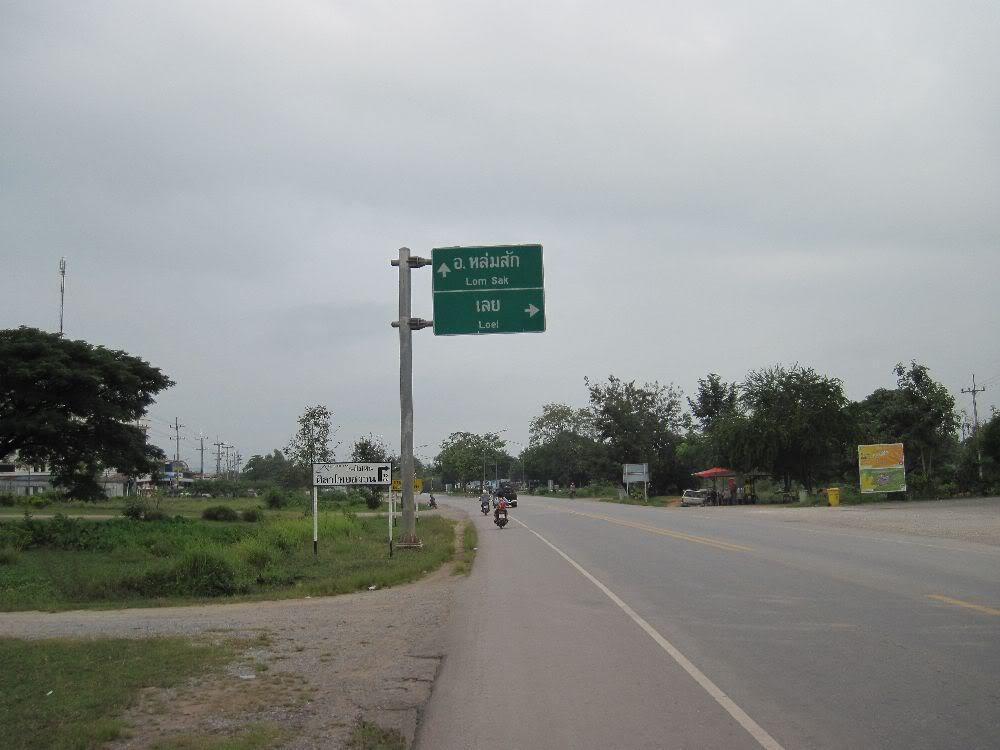 But don't be put off, even a small bike like the Kawasaki has more than enough power and acceleration to make smooth progress, in fact I was very pleased with the way I was able to overtake, and its light weight and narrow girth enables one to filter easily through any stationary lanes. It was a little more sensitive to the bumpy road than my heavier bikes, but always felt safe. I actually enjoy the challenges of this bit of road, its all in the head, if you decide you hate the big lumbering smoky lorries, the oncoming flashing big people carriers and the slow moving farmers iron cows, then you won't like this road, but if you like to show them how a modern well ridden motorcycle can progress then it is enjoyable and you do not really get held up.
And its only 13km to this turn where we carry straight on the 12 and the 201 peels of to the right and to Loei, much of the traffic goes with it.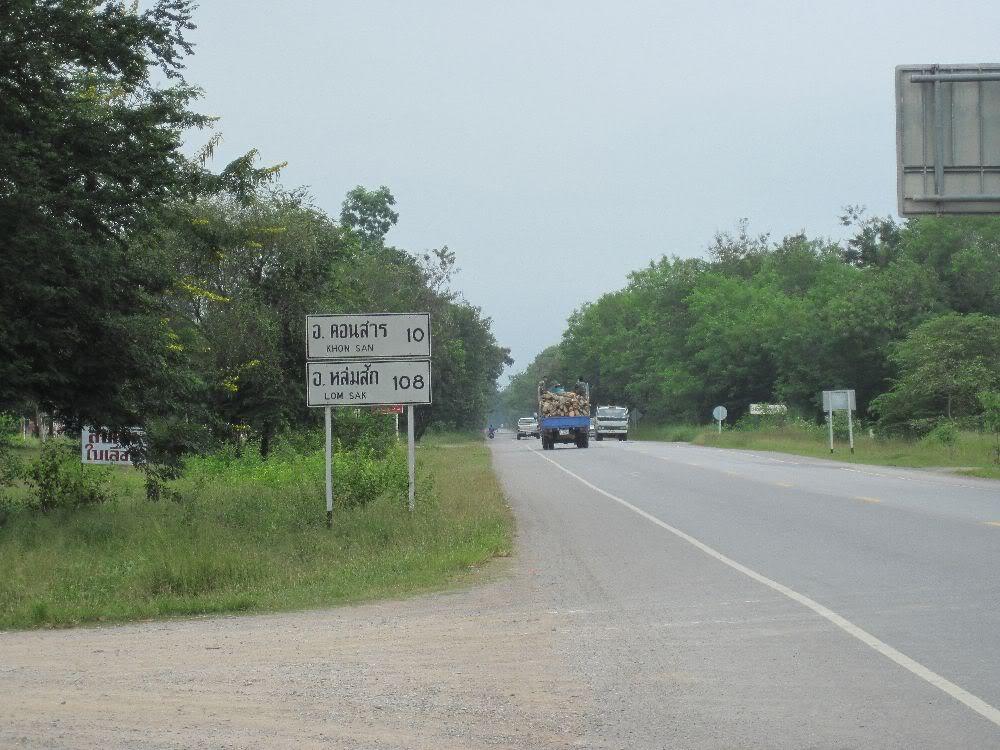 Some will continue with us, but the road surface is much better and the scenery starts to open up, with a hint of the hills in the distance.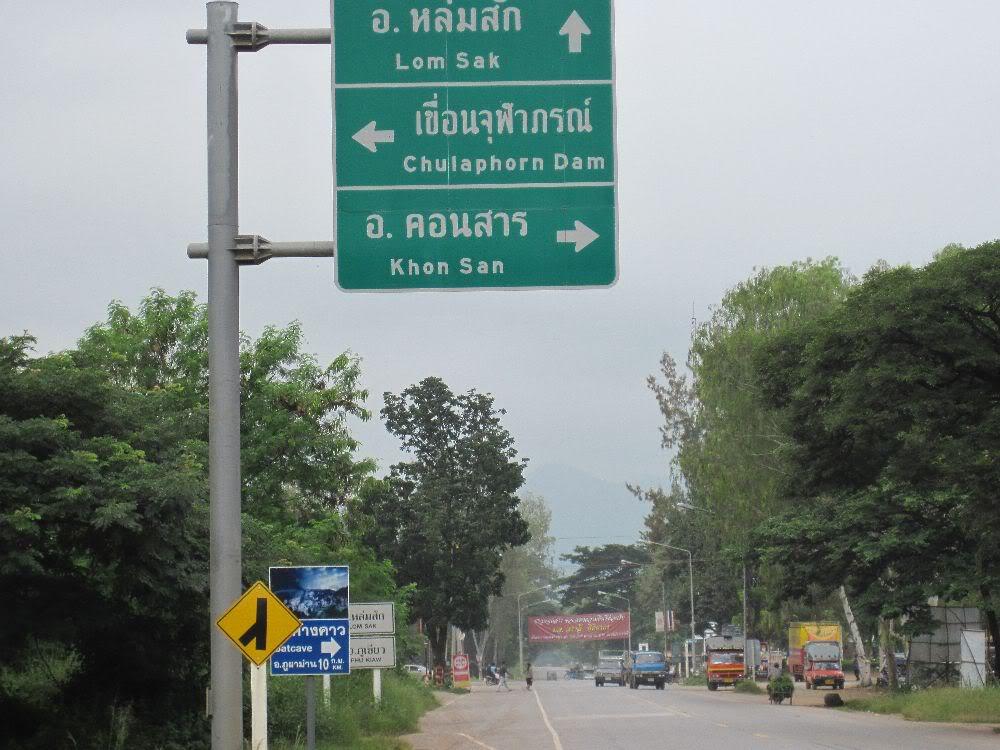 20km from Chumpae and the left turn and more traffic disappears of to a very nice road up to the scenic Chulaphorn dam. We head on up the 12.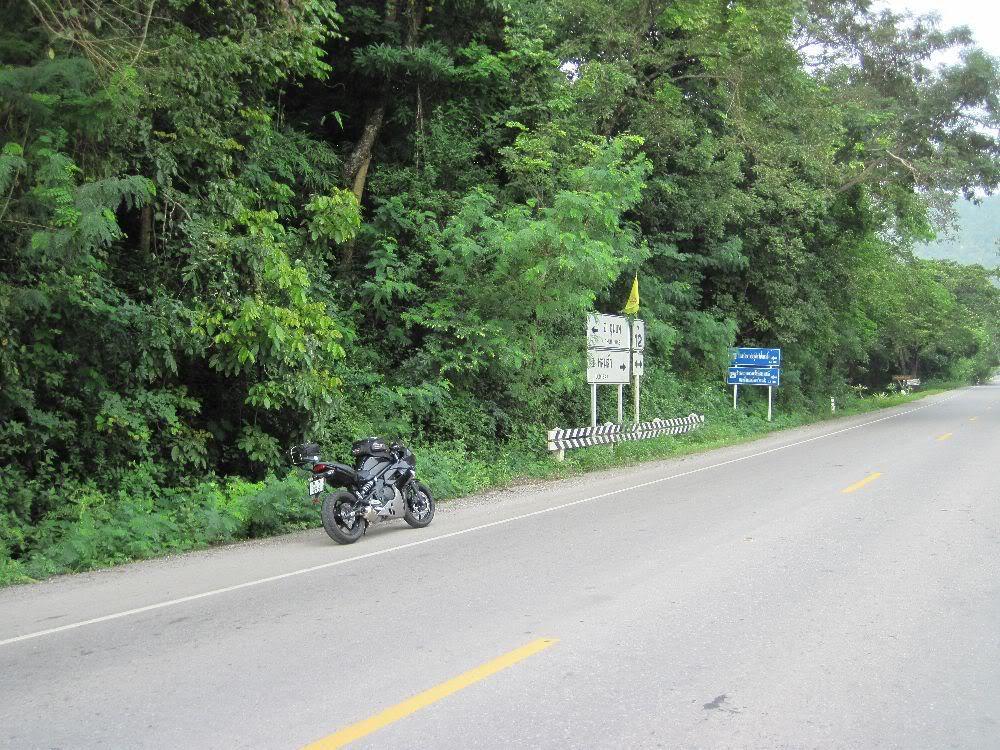 Now better road only a few stone carrying lorries and opening up to see the hills.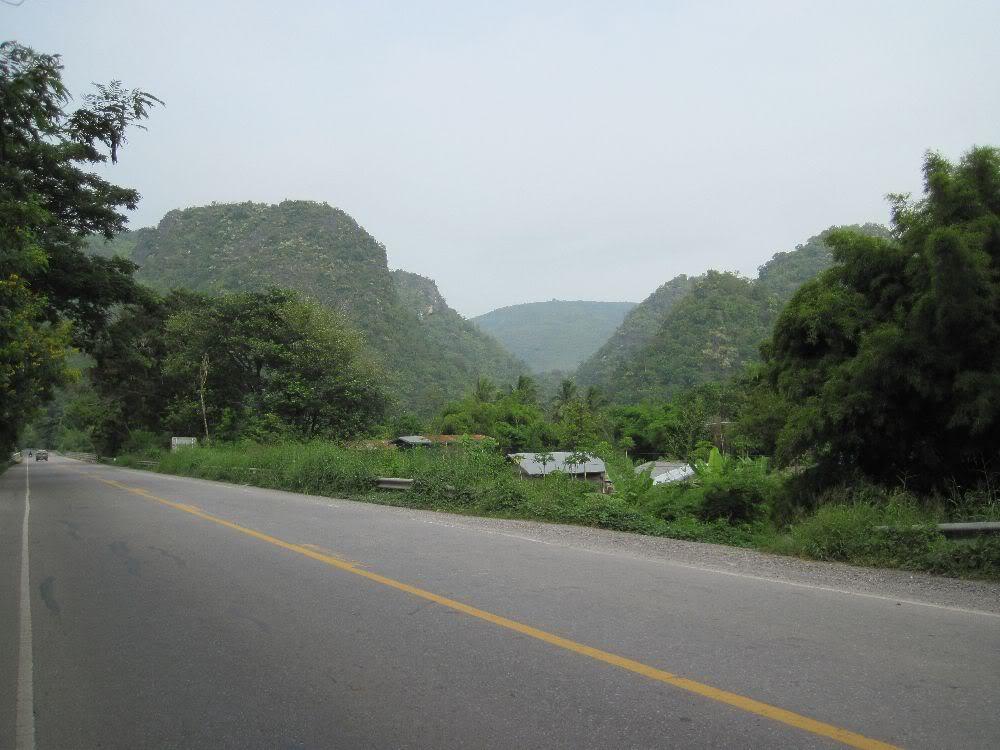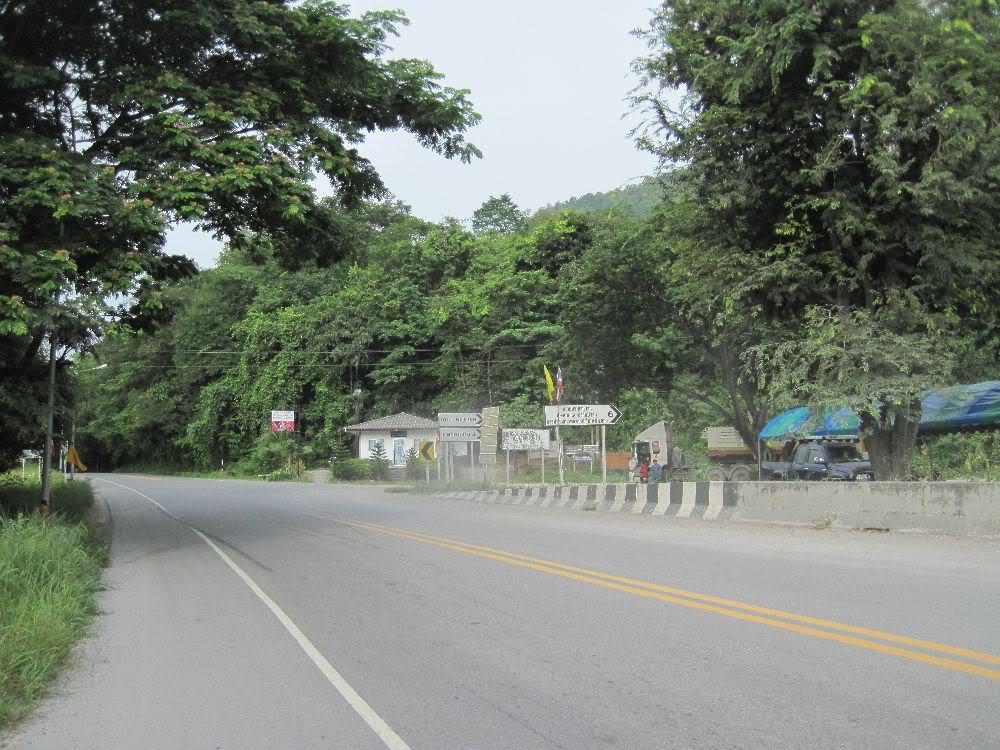 This right turn goes to large quarries and here we lose the last of the heavy traffic.
Ahead open road, good tarmac and fast sweeping bends, a delight to travel and always a bitter cooler than lower down, in fact at 8.00am on an October morning a little bit too cool for my mesh jacket. The clouds still there but no sign of rain. The bike proving more comfortable on the backside than I expected, but then I am stopping regularly for the pics.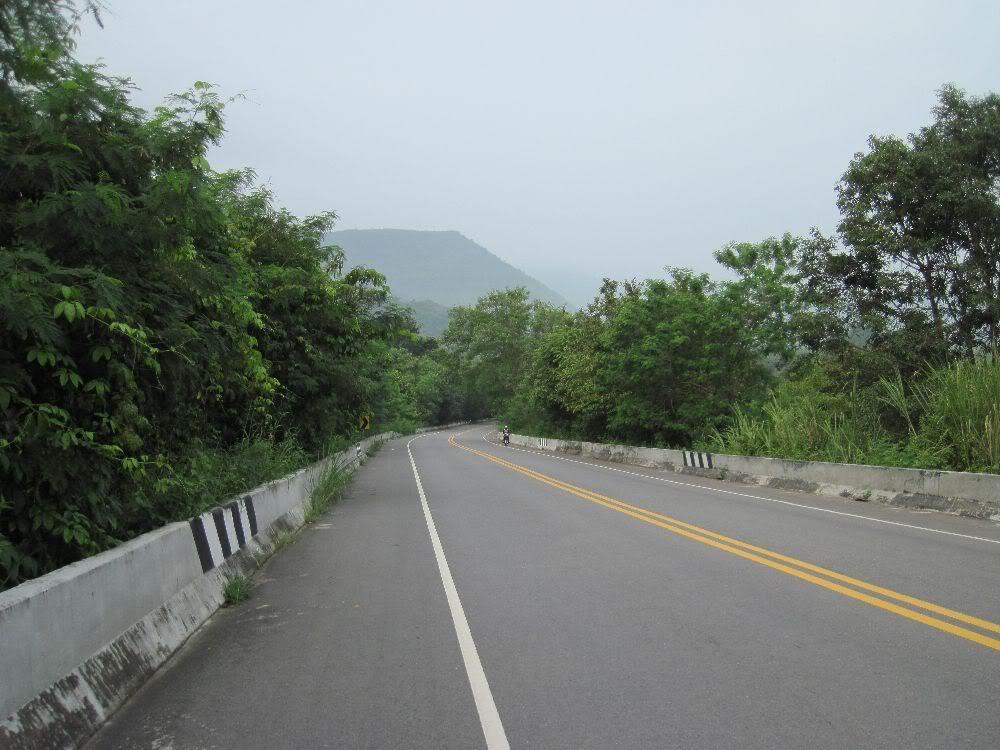 Here we go, lets forget the photos for a bit and enjoy this beautiful quiet road. Not too much in the way of views because usually forest both sides, but that lets one concentrate on the riding.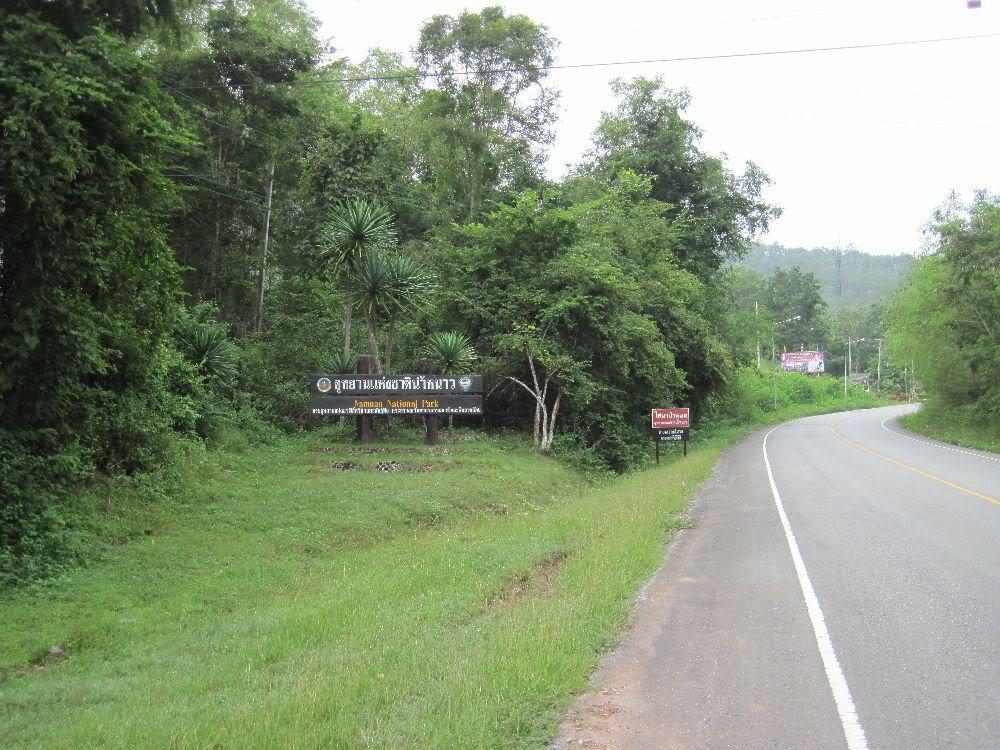 Well I have to slow down here anyway for the barrier entering the national park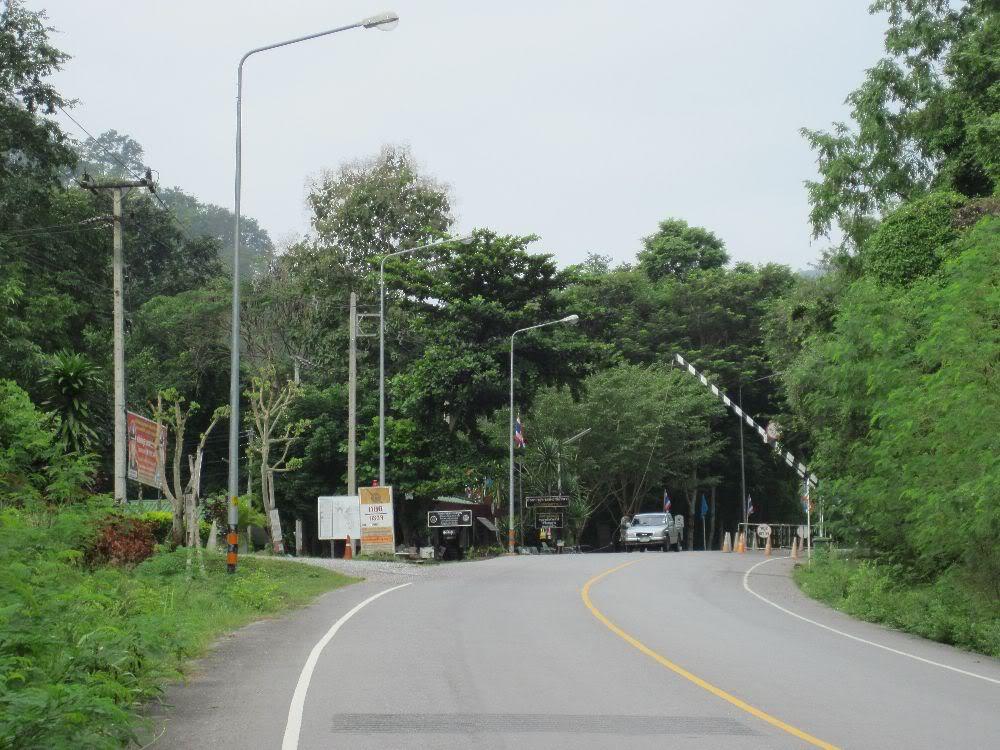 There is no entry charge, and I have never been stopped, but some pickups are carefully scrutinized.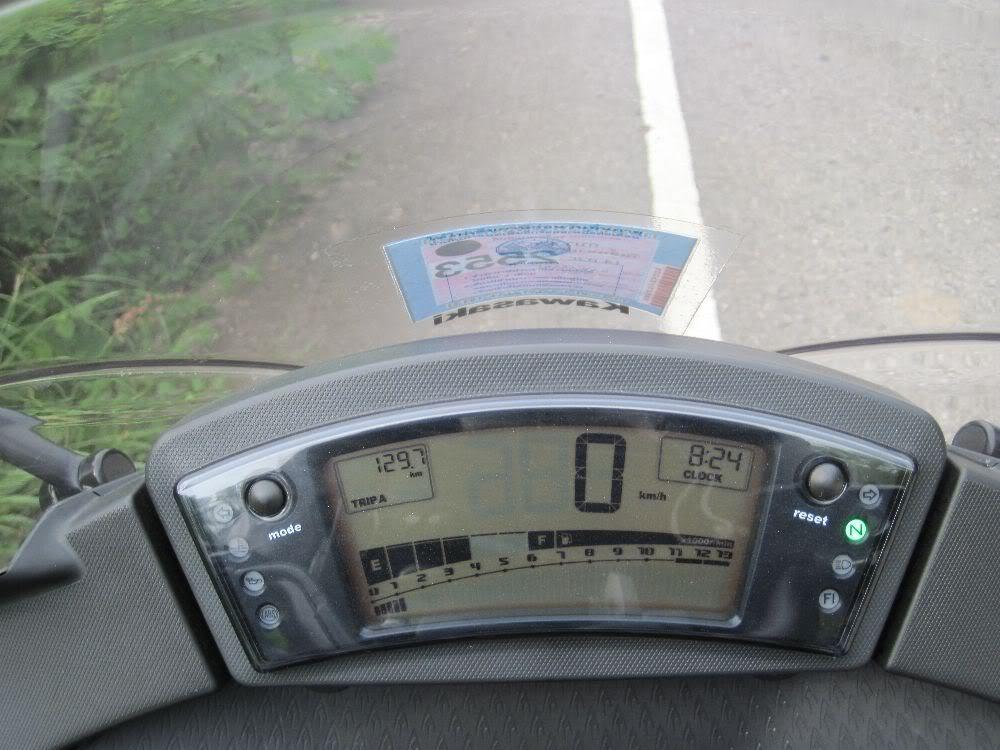 Should have done this before. 130km from home, 8.24am, fuel looking OK, will not see any fuel before Lomasak, 200km from KK, so if your range is less than 200km fill up in Chumpae.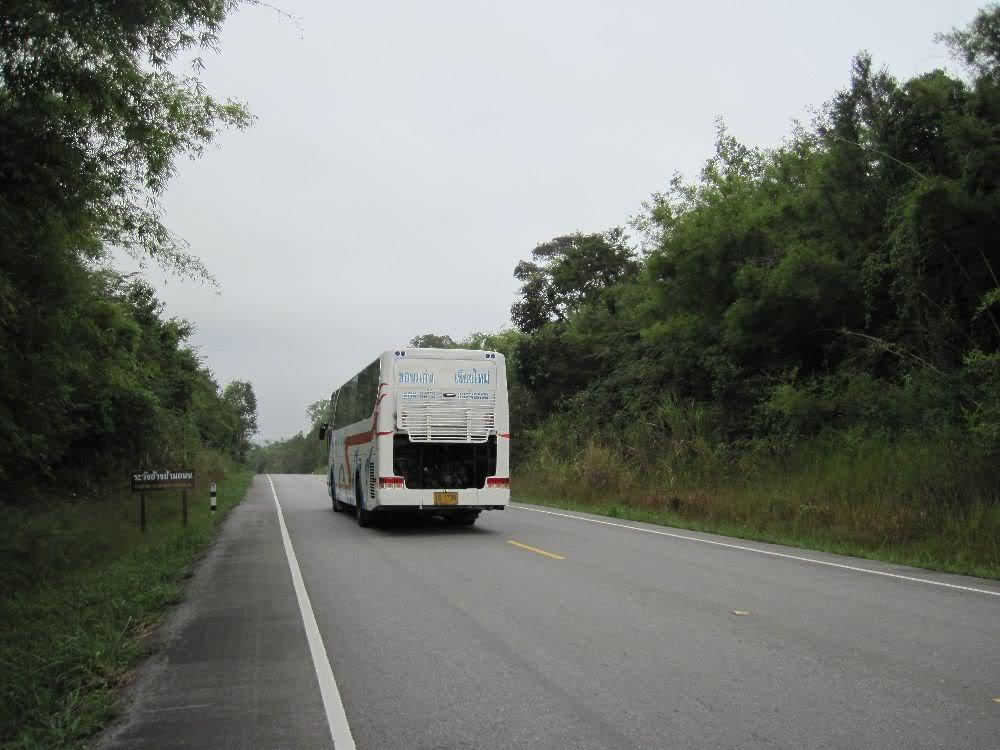 I stopped to take a pic of the sign warning of elephants crossing and was overtaken by the KK to CM bus, I think around 13 hour journey time.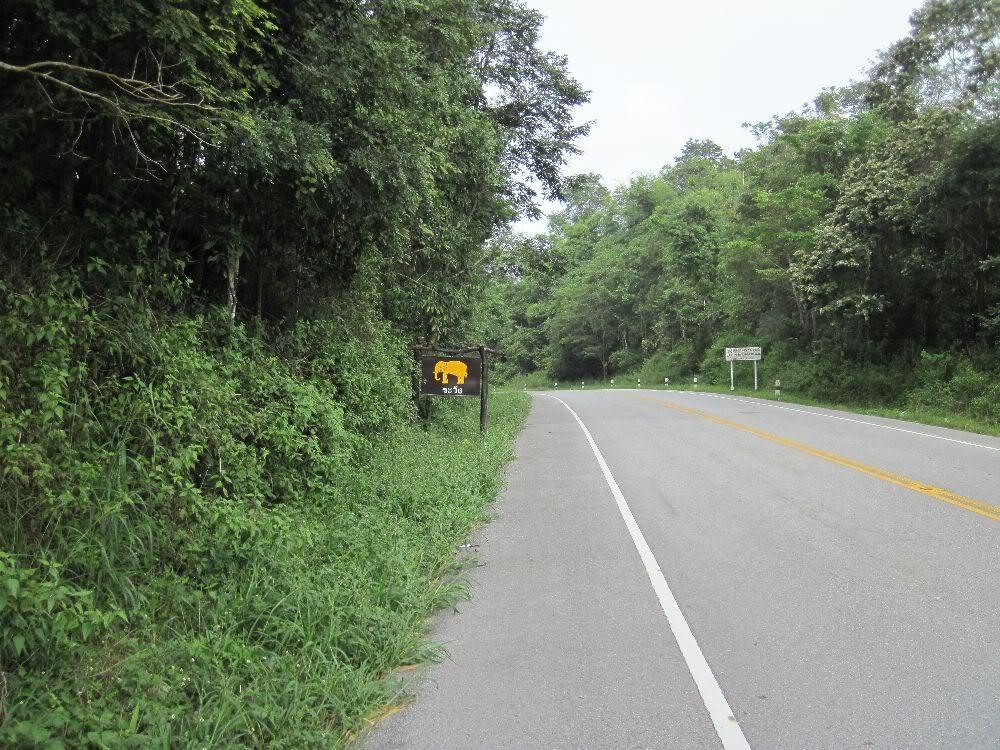 The sign for those who understand pics better than text.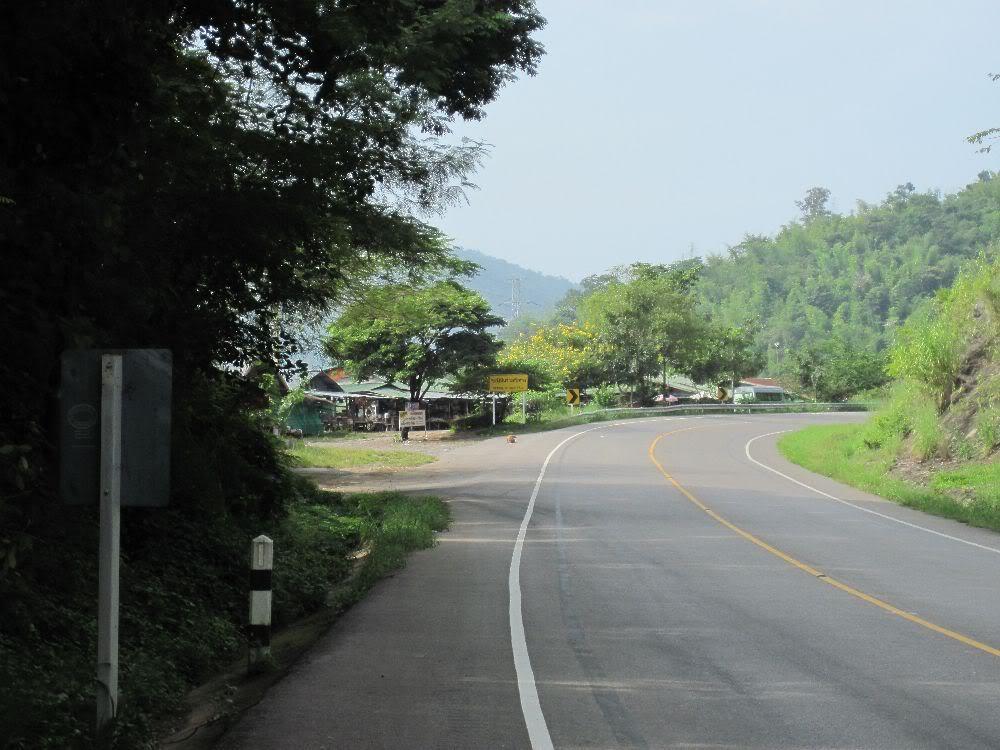 After 50 km of fantastic sweeping bends and clear roads, you see this food stop, view point on the left. If you stop here there are some beautiful views, but today all haze, but no rain.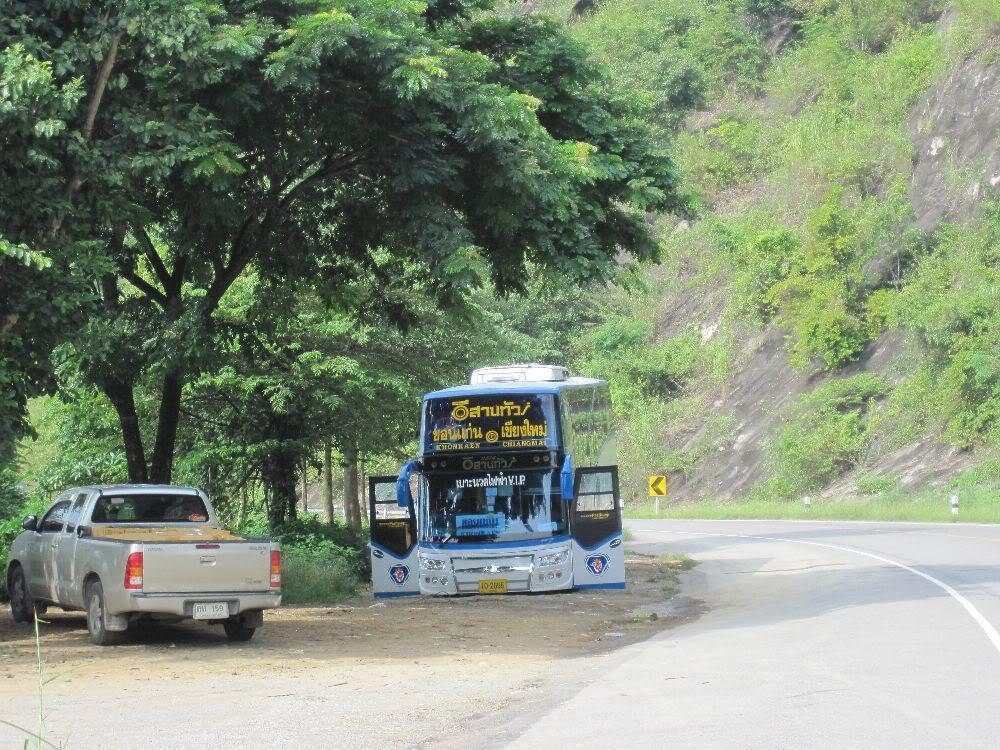 And having a look at those views: the CM to KK bus, must have just crossed with the one going the other way.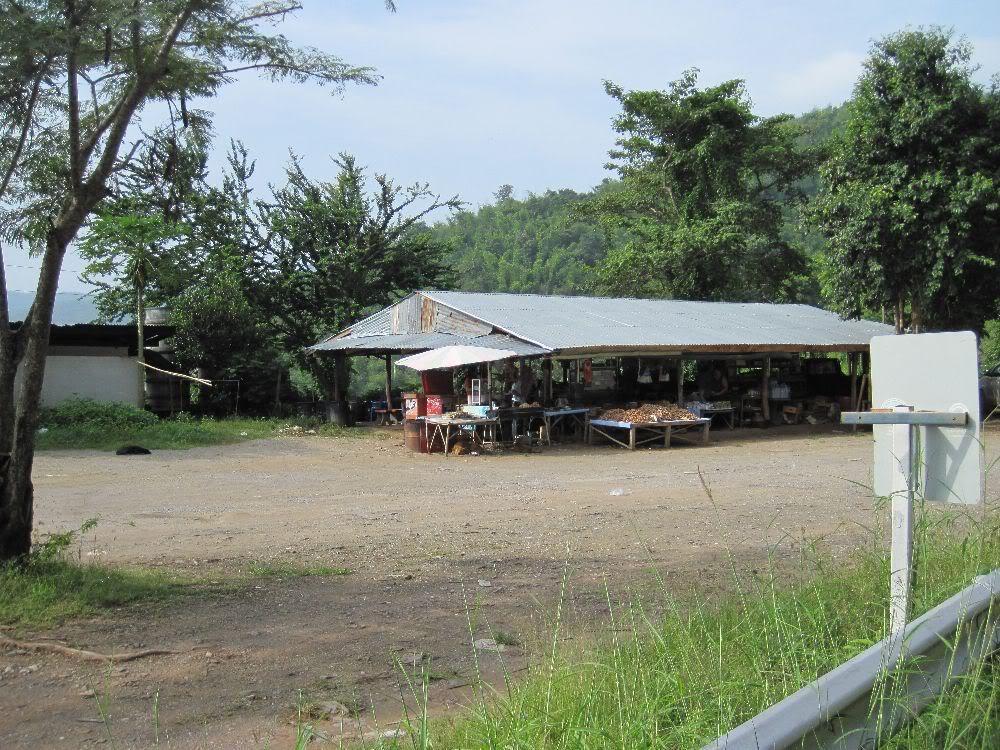 I am lucky today, traveling alone I can pass straight through, if I have the wife on the back we have to stop, because some of the local fruits for sale here are apparently delicious, never mind the logistics of getting them home.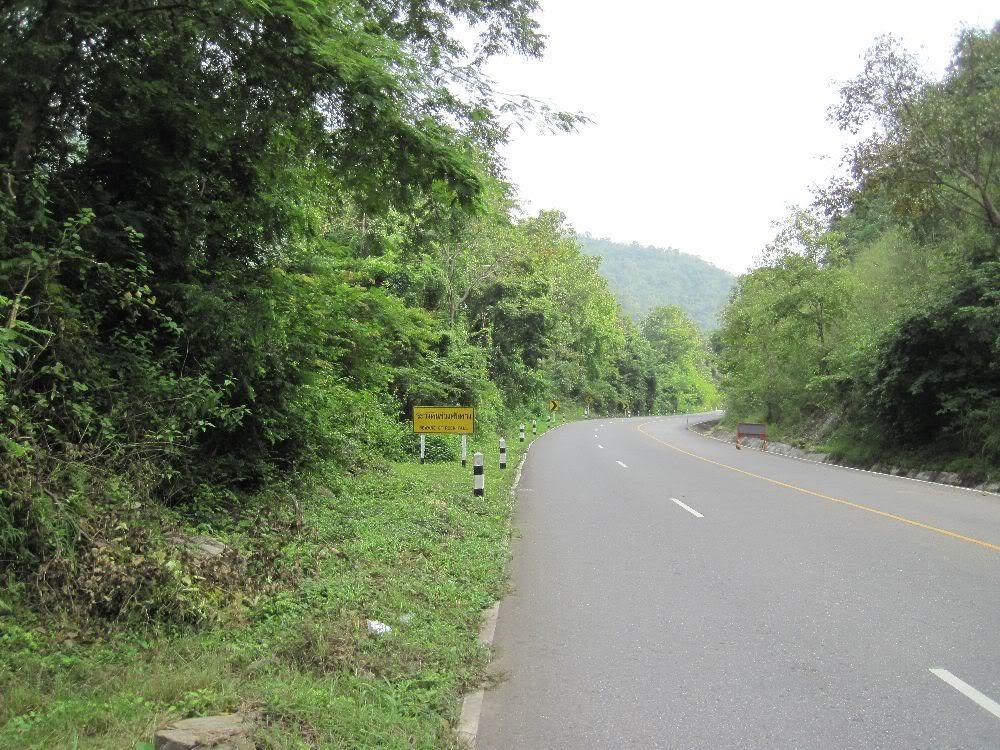 You see a few of these signs.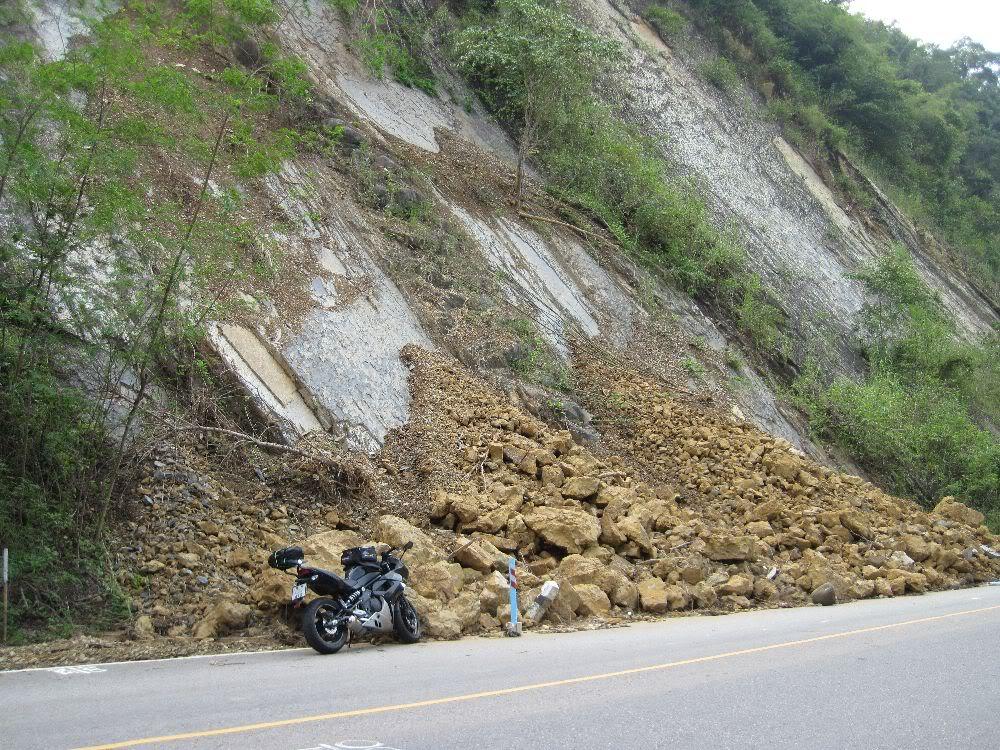 But fortunately not so many of these, some real big pieces went right across the road.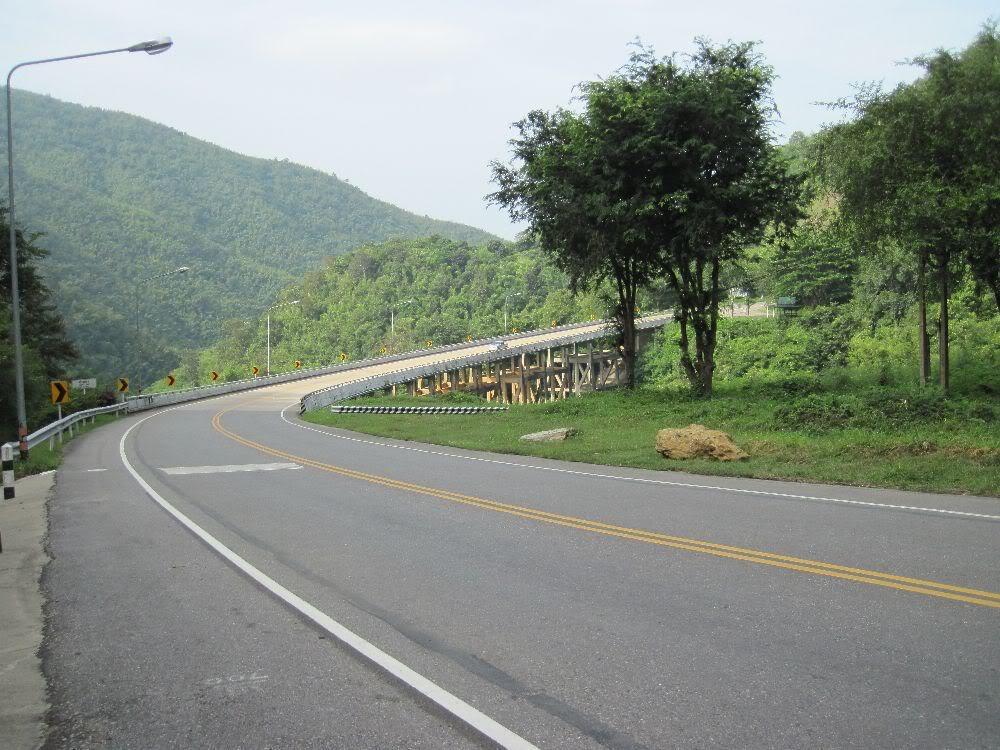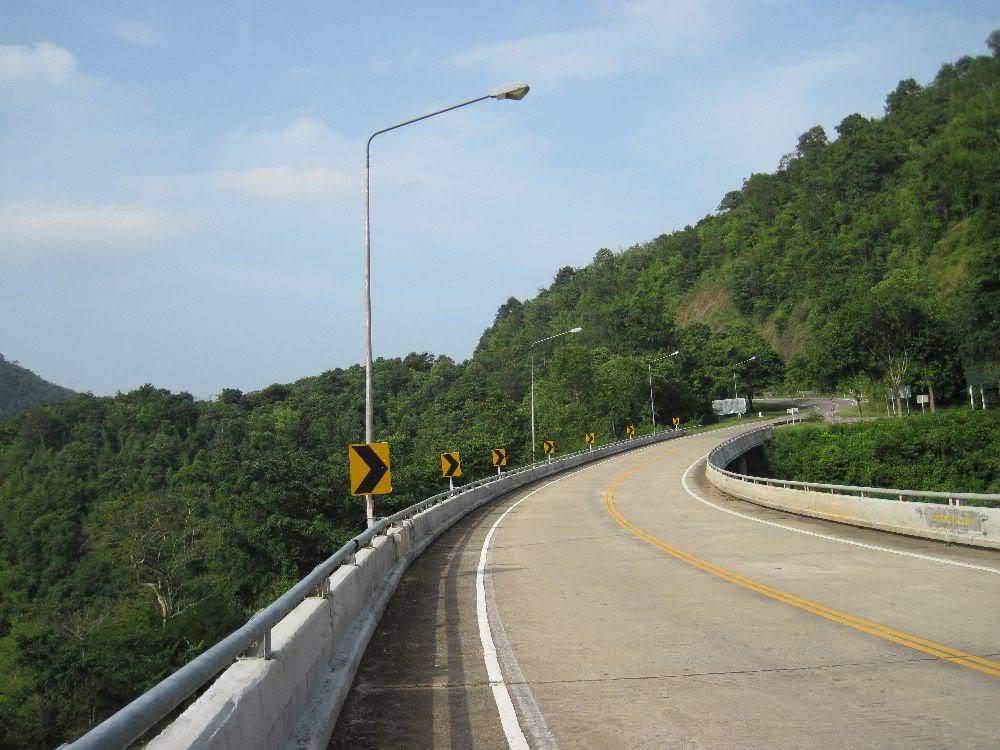 Never stopped on this bridge before, usually just enjoying the cornering.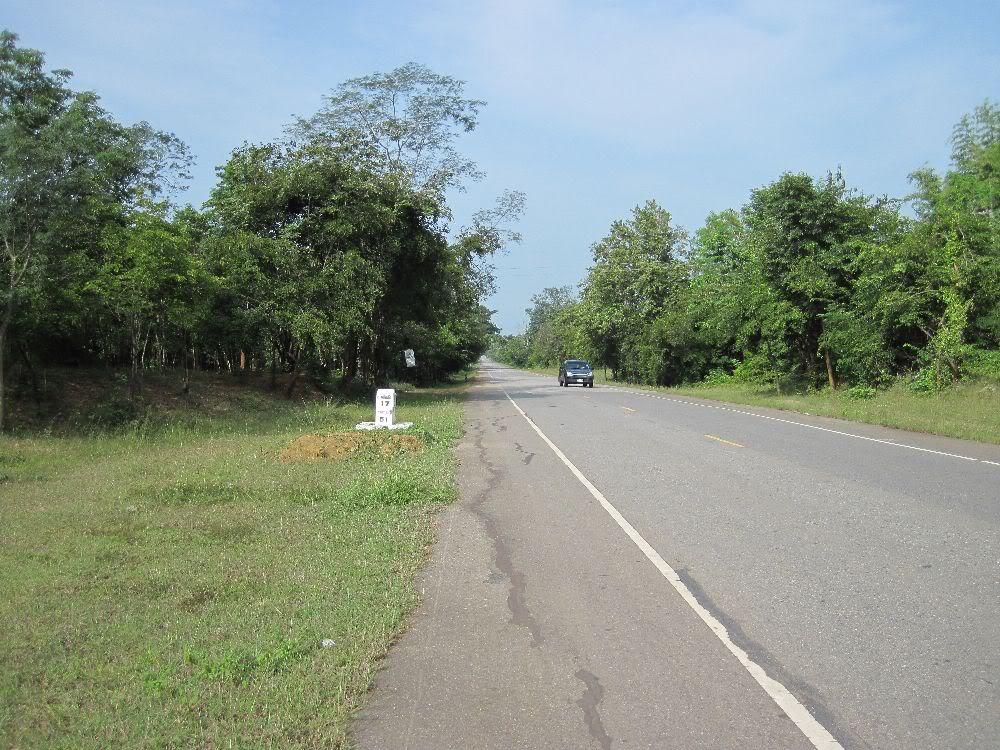 So down from the hills and 17 km of quiet straight road towards Lomsak.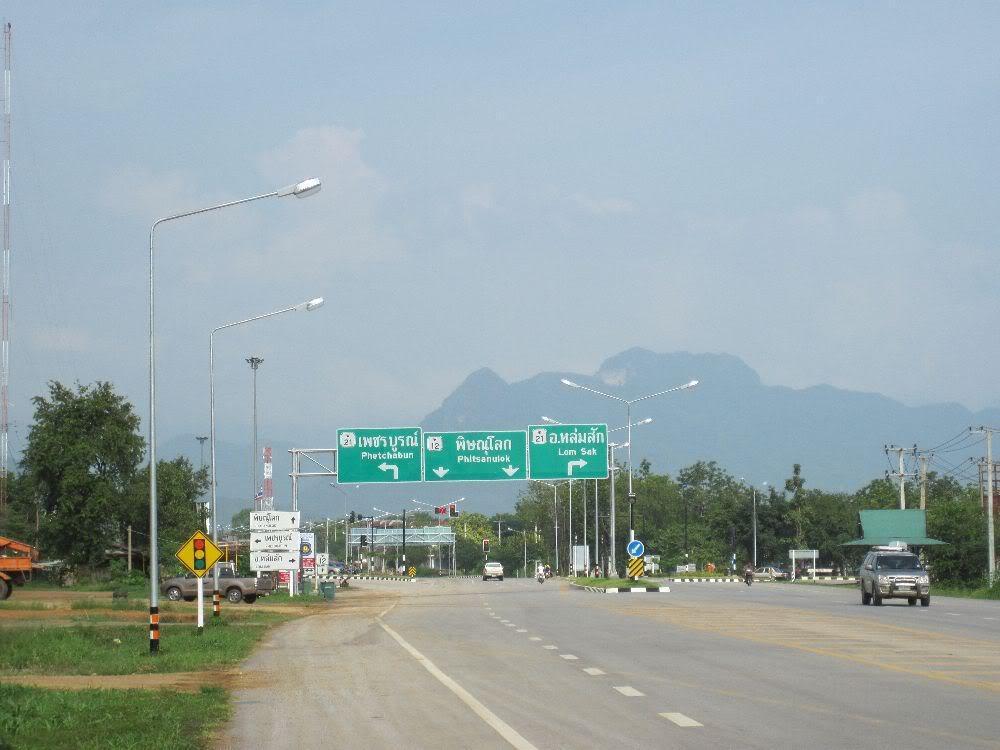 Our route straight on, with a view of more beautiful hills we have to travel thro. Lomsak 4km off to the right and the highway 21 off to the left toward Petchabun.
200km fuel light not yet flashing, but definitely time to fill up as few garages on route ahead. 2 hours from Khon Kaen and that's with all the photographs.
Pitsanulok 130km, we go toward it but will turn off to the right to Nakhon Thai. Carrying on the 12 would lead us to the No 11 at Pitsanulok and over 100km of straight dual carriageway to Uttaradit, Our route will cut off to the right and avoid 80km of that dual carriageway. Those following the GPS will be lead to the highway route.
Lomsak is a quiet market town, surrounded by hills, Sleepy at night it has a couple of reasonable hotels.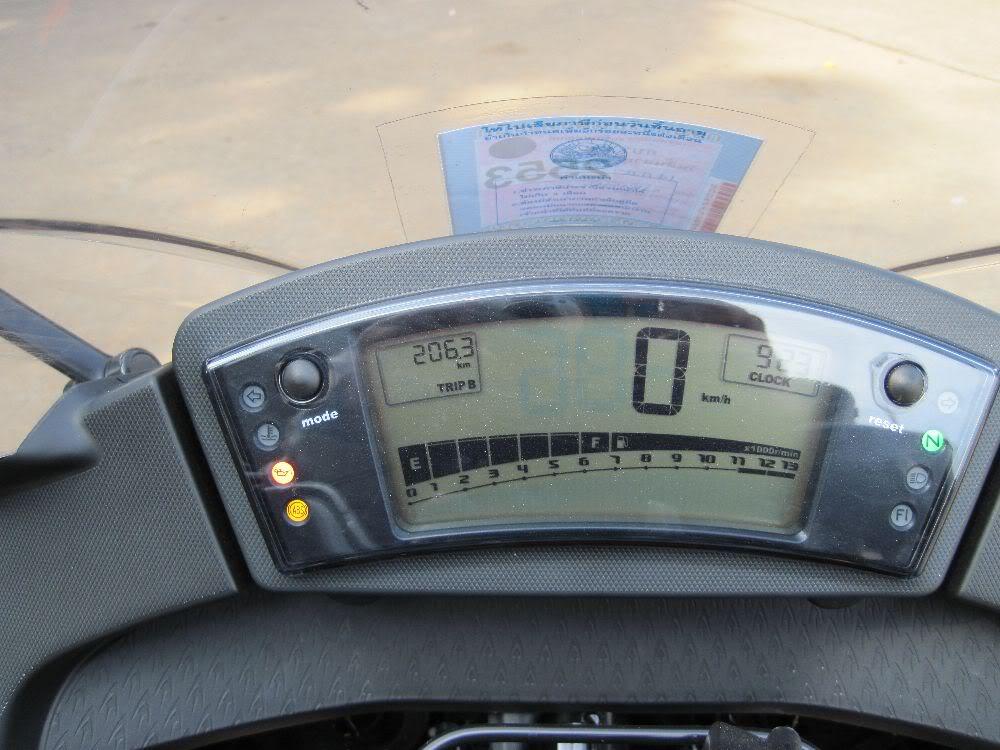 Back to the fuel situation. Trip B shows 206.3 since my last fill in KK, day before starting. I stopped at this Esso station on LHS no 12 just past the junction with 21.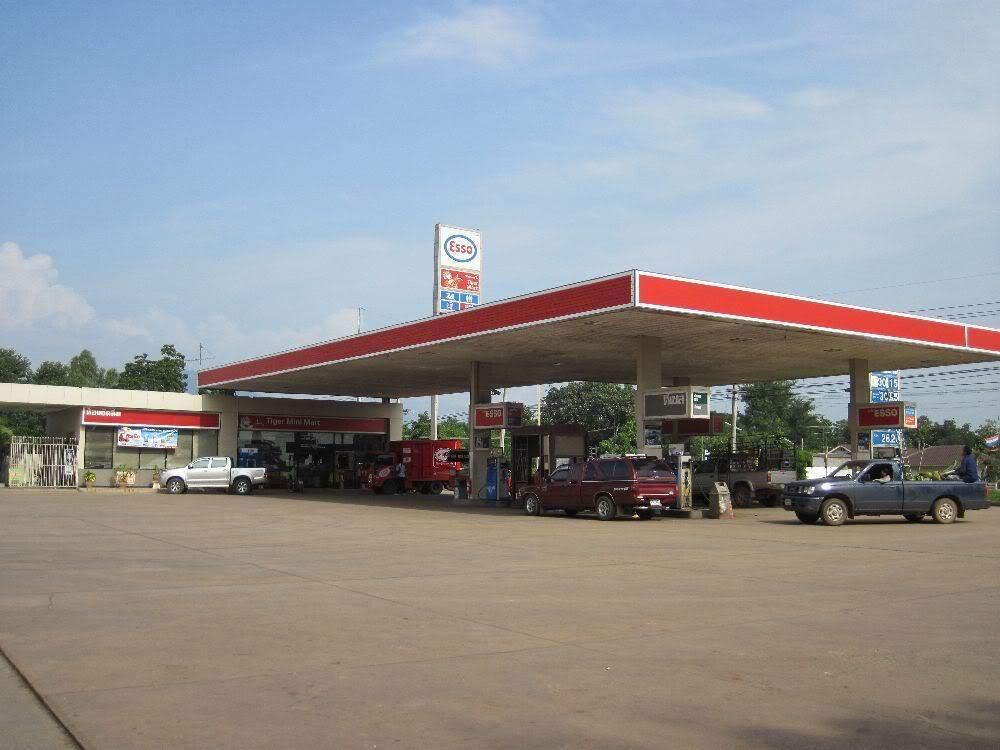 I have to sound a note of caution here. One of the attendants asks very firmly for a tip, last time here he left the fill 20 baht short of 300, even though not quite full and did not want to give me change. I was soft and let him get away with it. This time I asked for a fill, then when approaching 300 baht and nearly full asked him to stop sam loy baht. He did not like it but he stopped. Then took my 300 and asked for 20 baht more. After I politely refused he was quite rude and tried to usher me on out of the way, before I had even put my tank bag back on.
So 300 Baht, about 10litres and just over 200km, tank not full. A good range, at least 250km. Positive note the fuel stop does have a good coffee shop.
The magnetic tank bag is very little trouble to remove at petrol stops, has one security strap with a quick lock buckle and works well. Map pocket on top.
Are you all getting really bored with this, I thought maybe it would take me 30 minutes, but 90 mins have passed in writing and only 200km covered. Maybe should have been 4 instalments.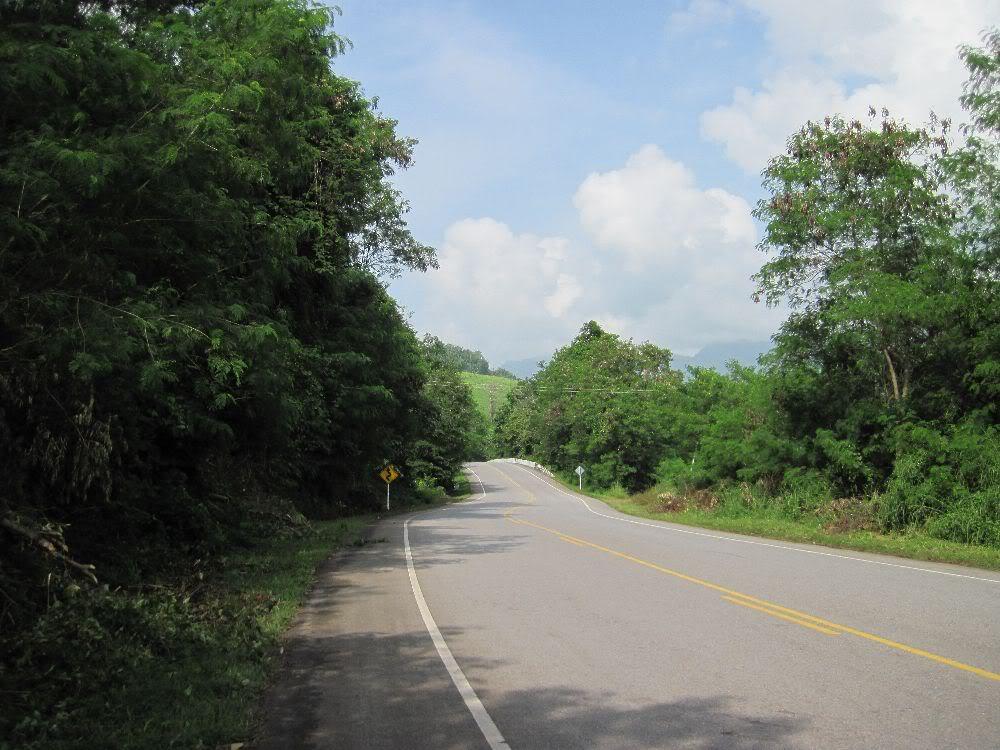 No 12 leaving Lomsak climbs almost immediately. Good road, lovely bends, stunning views, but a bit more traffic than we have seen coming toward Lomsak.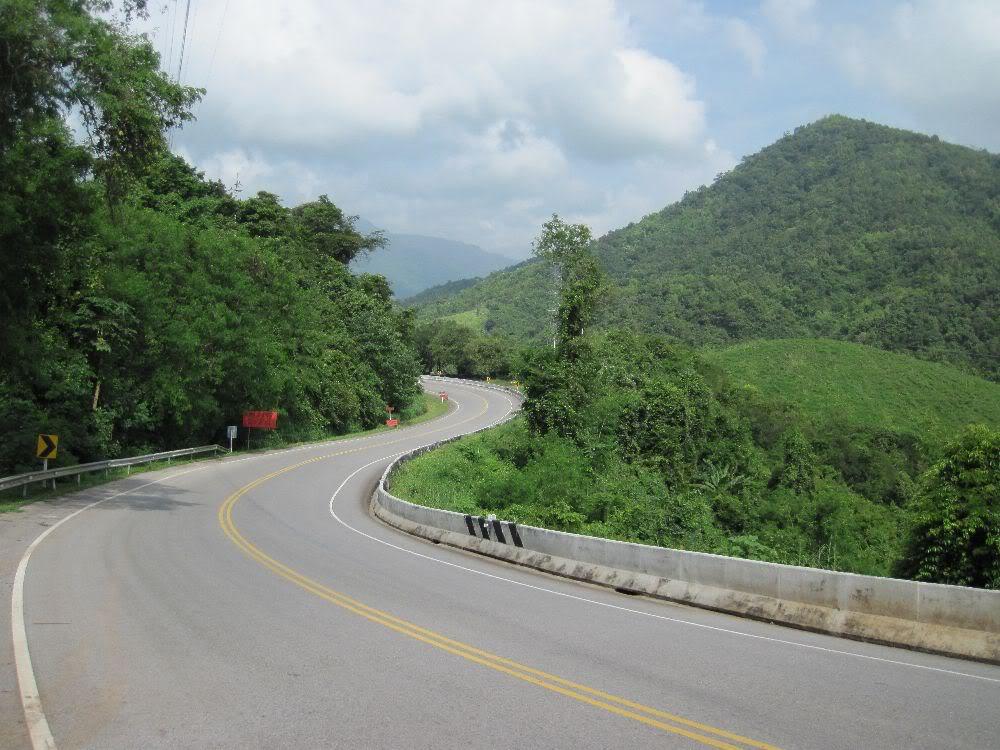 This time of year, very green, the sky still being kind to me. Some minor construction on the side of the road, no holdups.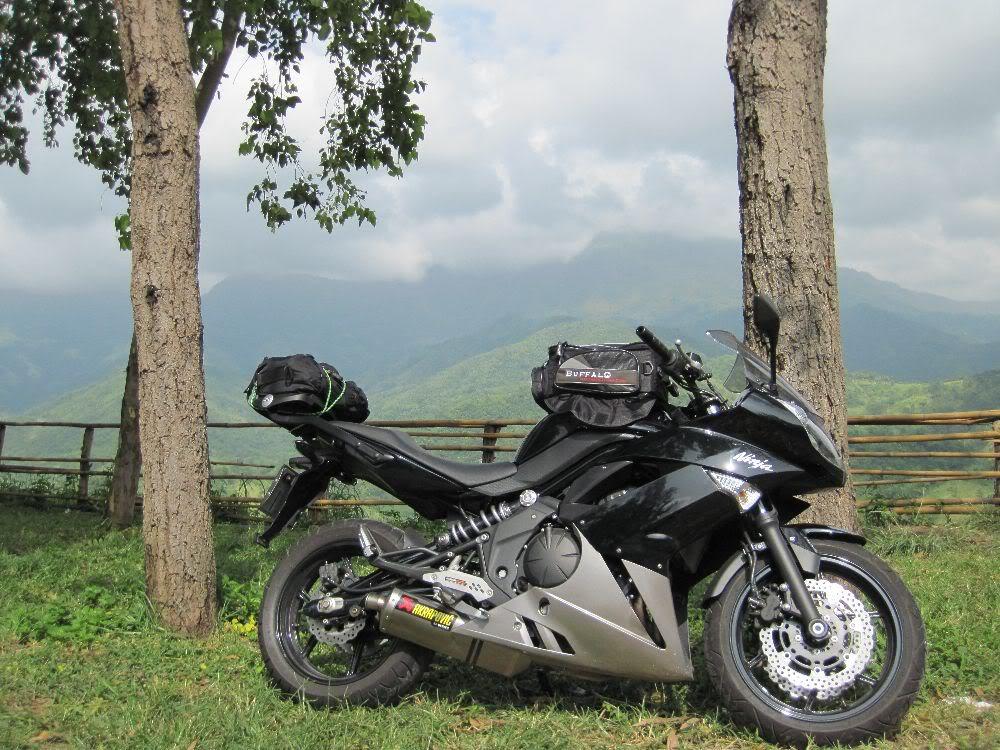 After climbing for only 15 minutes a coffee stop view point on the RHS of No 12. In the distance is Phu Hin Rhonkla national park. A great road, but not if one wants to travel to CM in one day.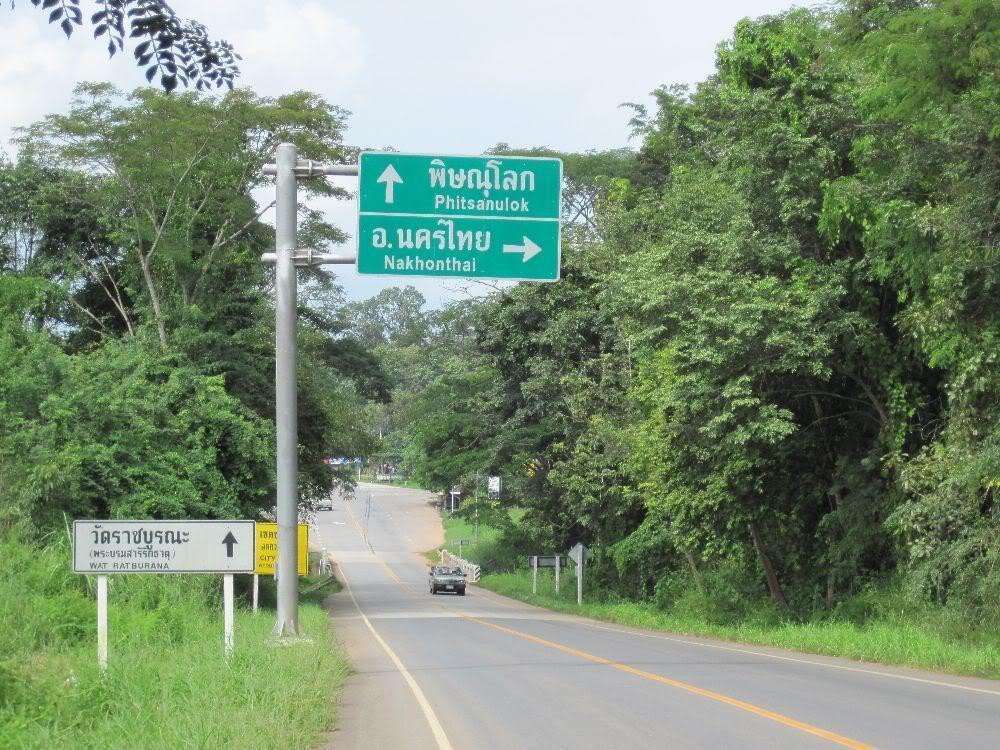 Another 30 minutes of beautiful road and scenery and we will take this right turn to Nakhonthai.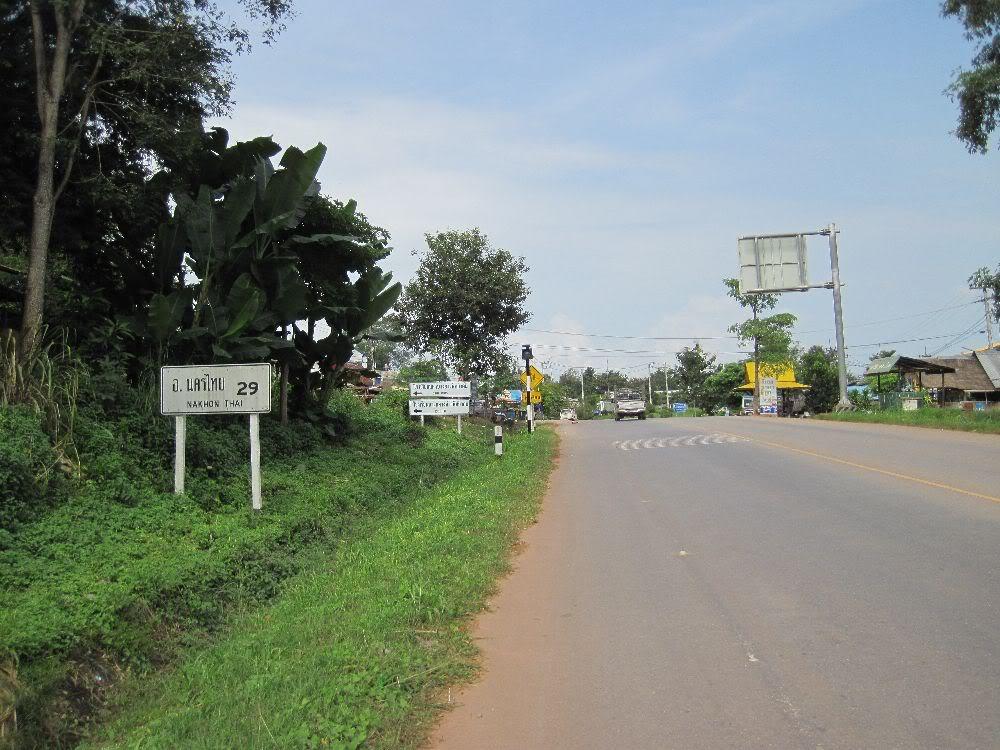 It's the 2013 and just 29km of good roads, easy bends and country views to Nakhon Thai.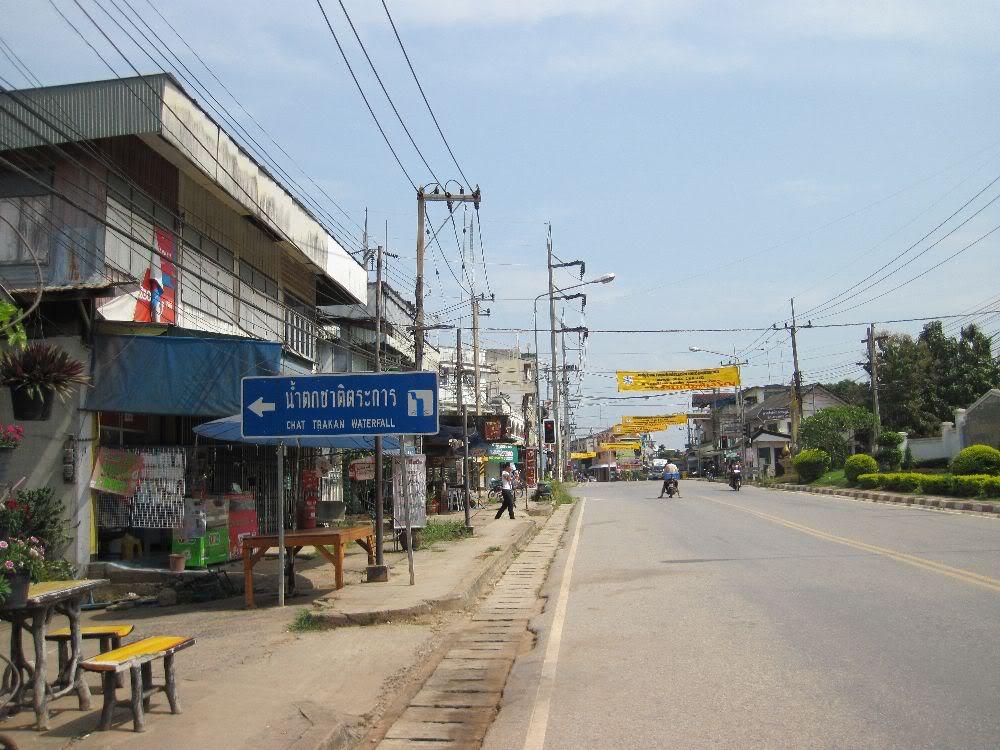 Entering the small town one approaches the traffic lights, no obvious road signs, but we see the tourist sign for Chat Trakan waterfall and turn left at the lights.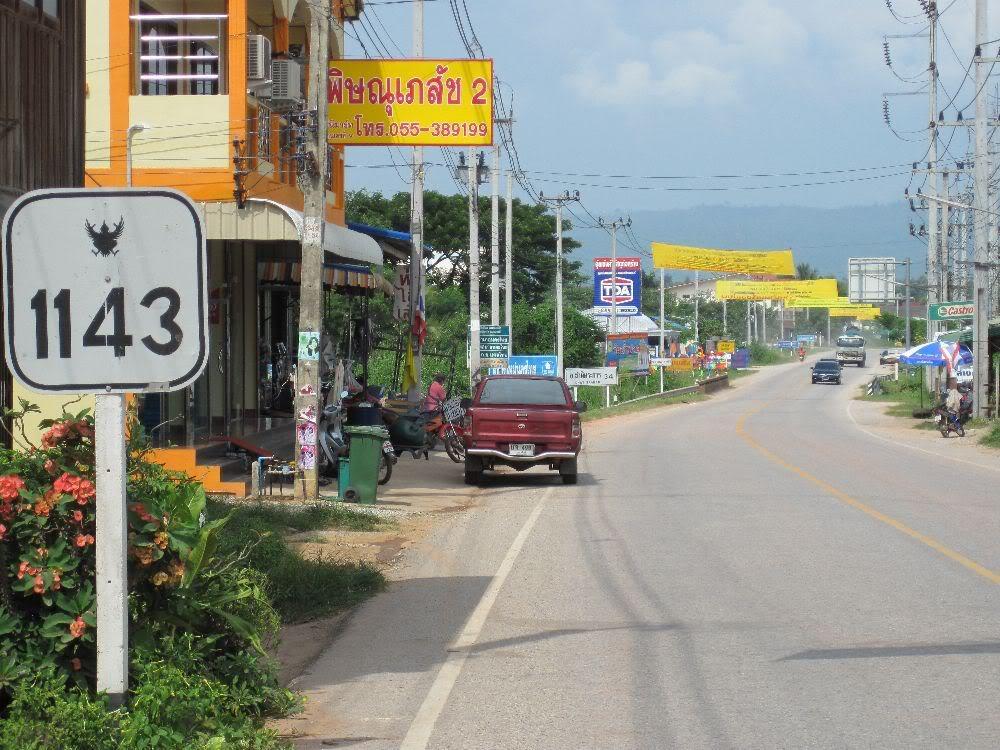 Onto the 1143. Chat Trakan 34 km, again quiet open country roads, good suface and little traffic with great views.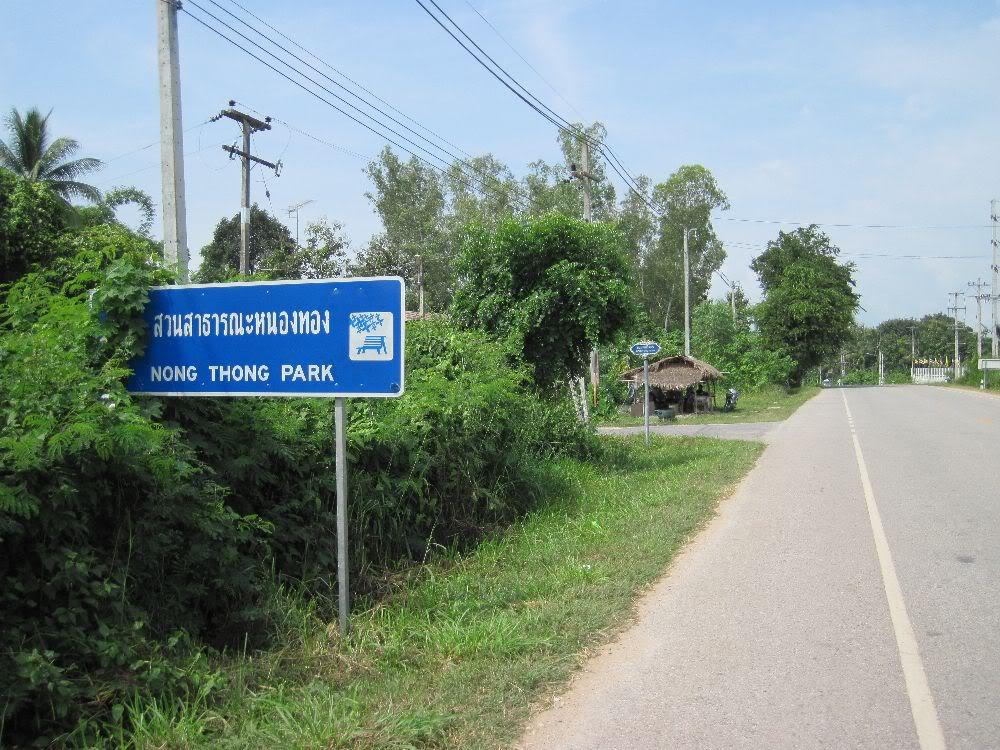 Leaving Nakhon Thai, this sign always makes me smile. I have this image of tiny thongs being displayed in the park. Never dared to go and have a look.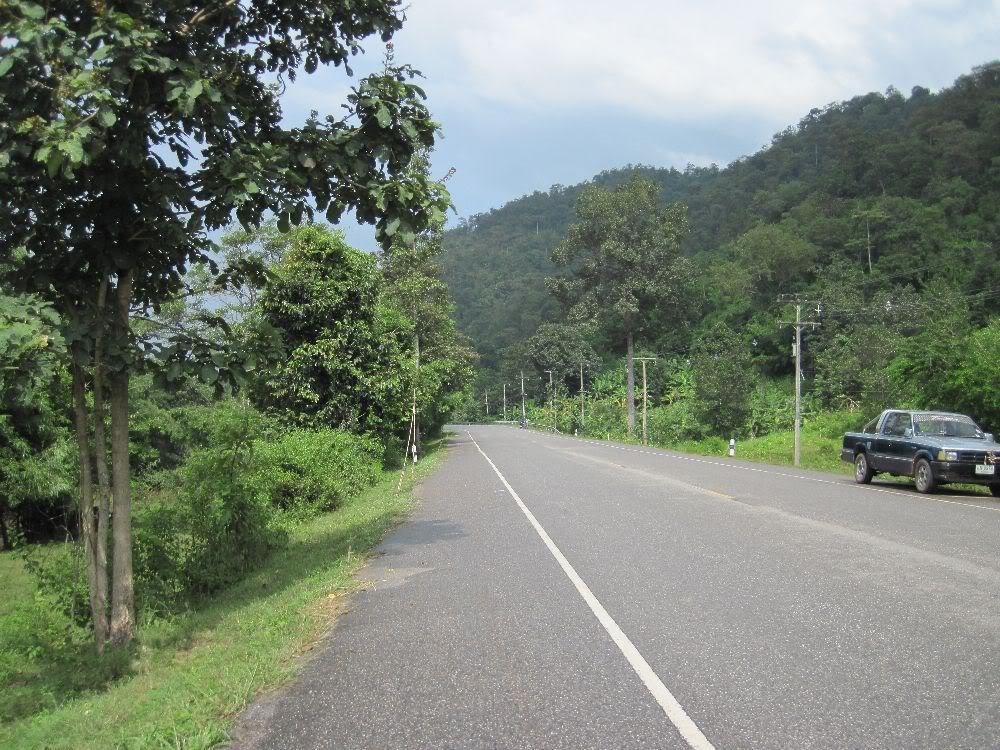 Typical stretch of road in this area.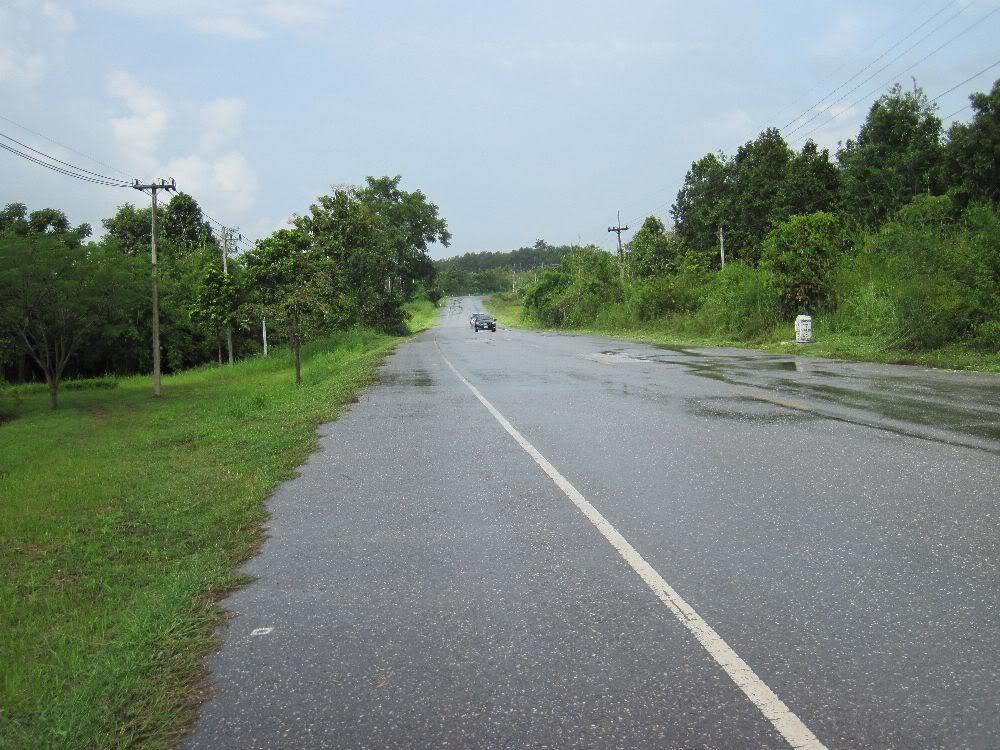 But whats this wet road, blue skies, my luck is in just missed the rain.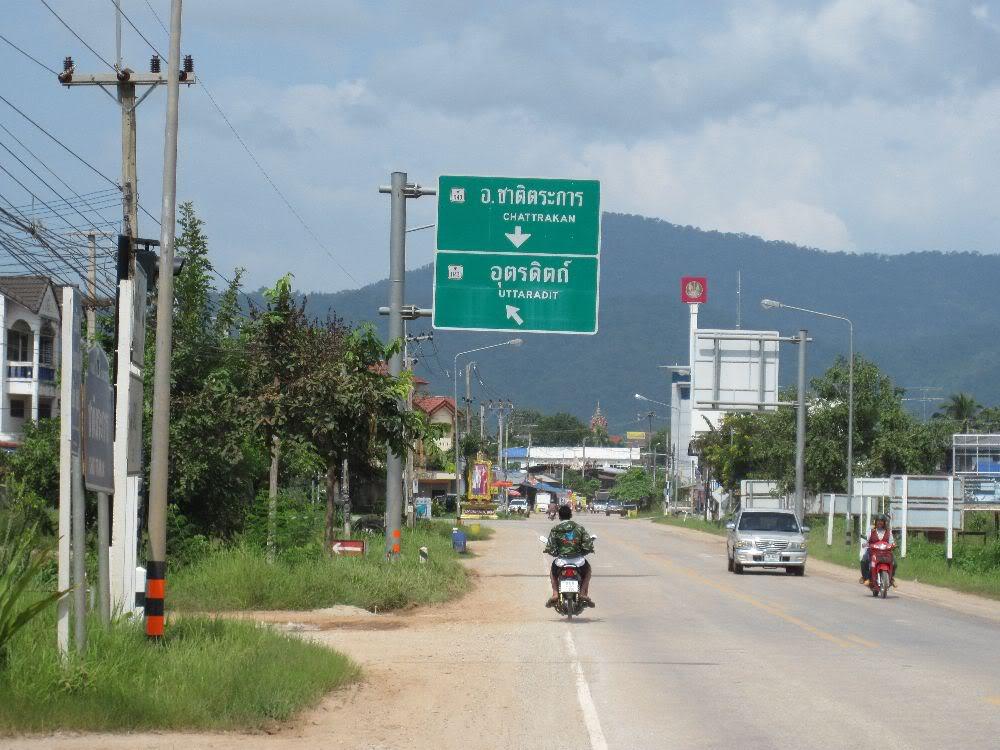 Apart from a few drops as I approach Chat Trakan.
We turn left toward Uttaradit, straight on goes through the small town, and comes back to our road still the 1143, so if you want to stop for coffee, straight on is OK.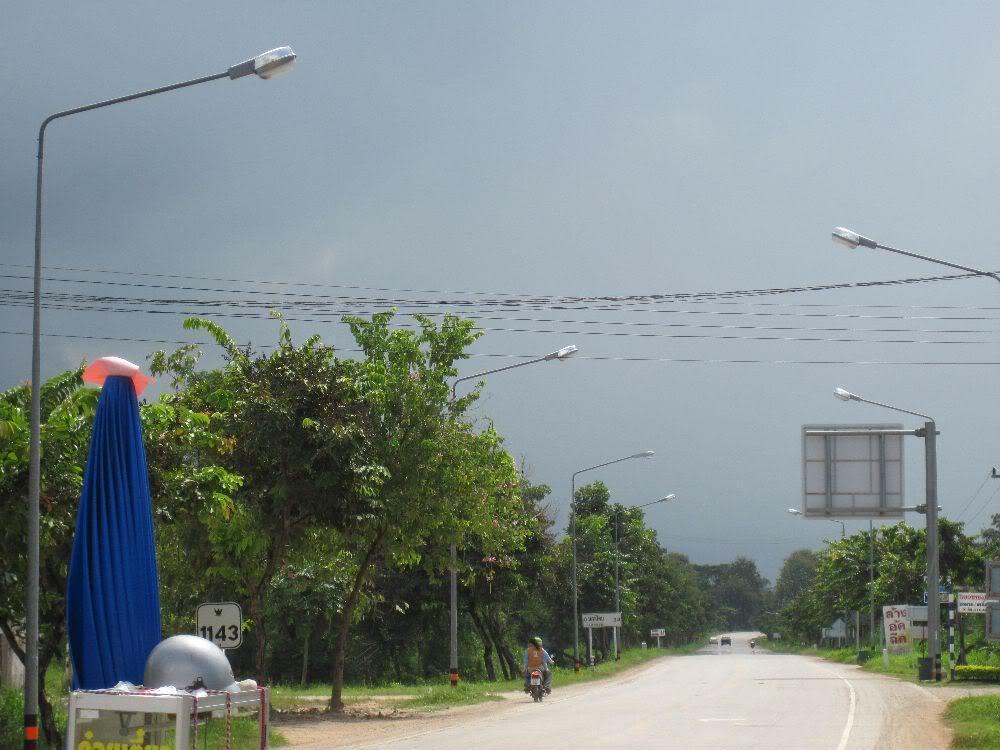 Looking back at the skies that I just missed. They do say the sun shines on the righteous. (Which is probably why I got quite wet a couple of times on my journey home)
Same countryside as we head still on the 1143 for Thong Saen Khan
Here the road just been resurfaced.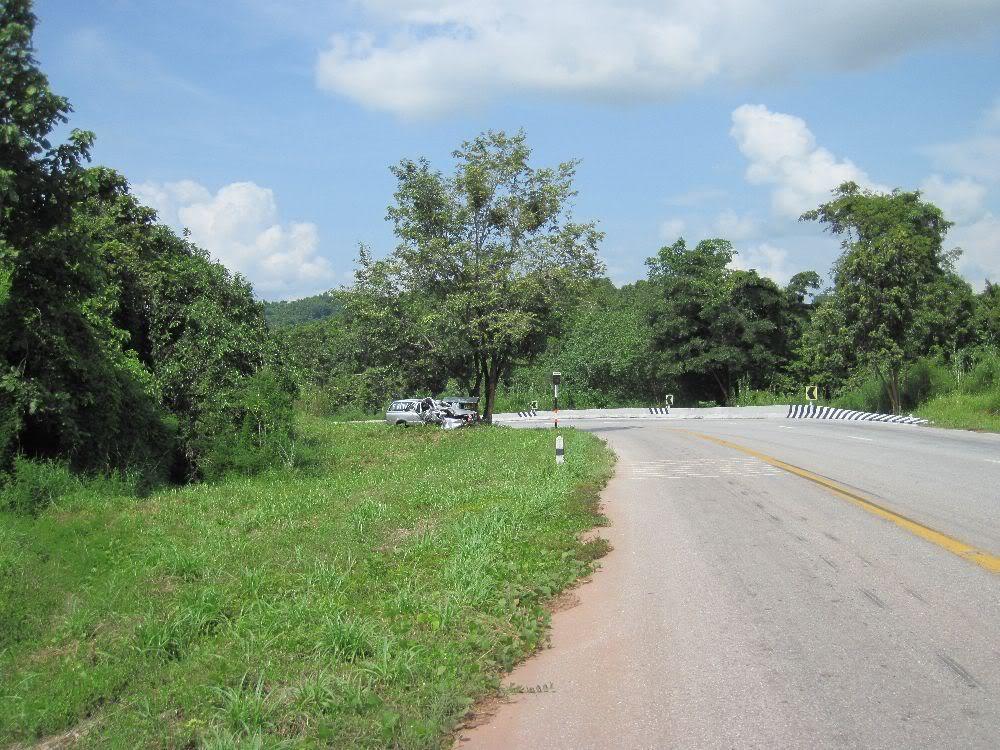 Take care here on this descending decreasing radius bend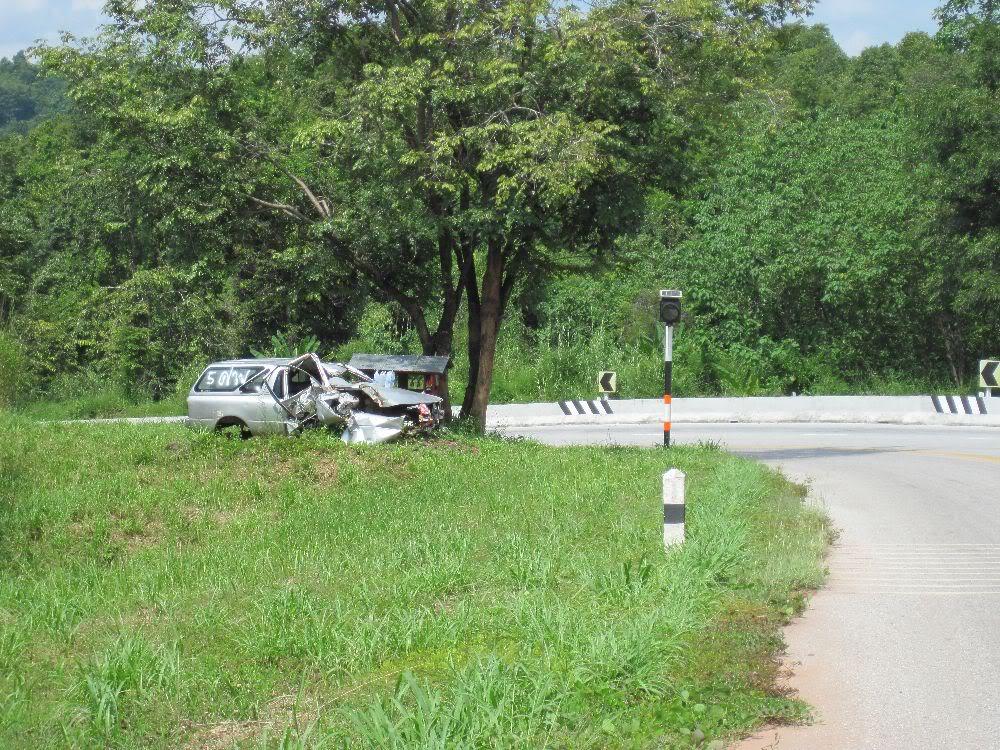 I believe the writing on the car says that 5 people died in this accident.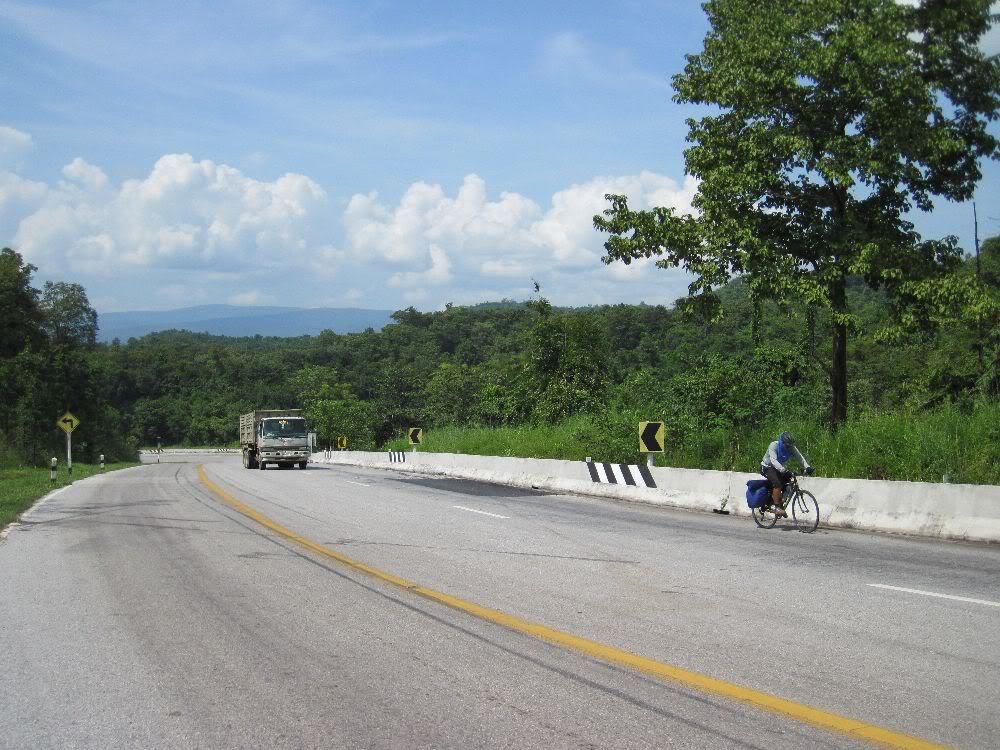 Slow moving lorries on this bend, but they are few and far between. Even coming back on the Friday holiday, I met a lot of traffic on some roads, but very little on this one.
New skid marks and damaged grass, open views beyond. No more rainclouds?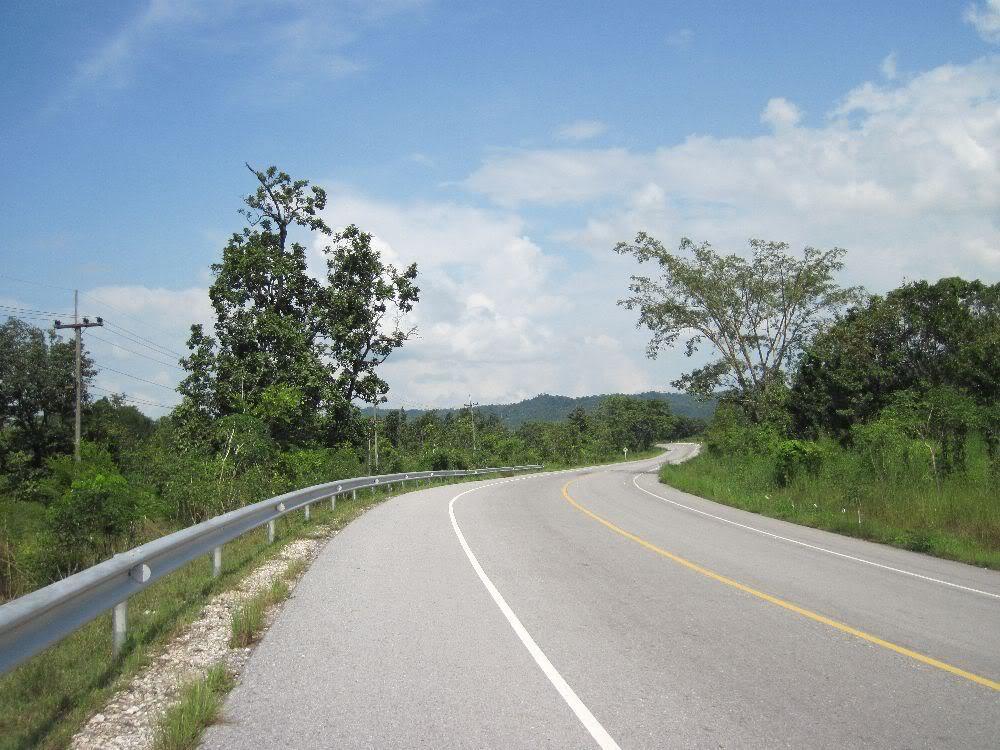 Most of the road like this, open gentle bends, good surface.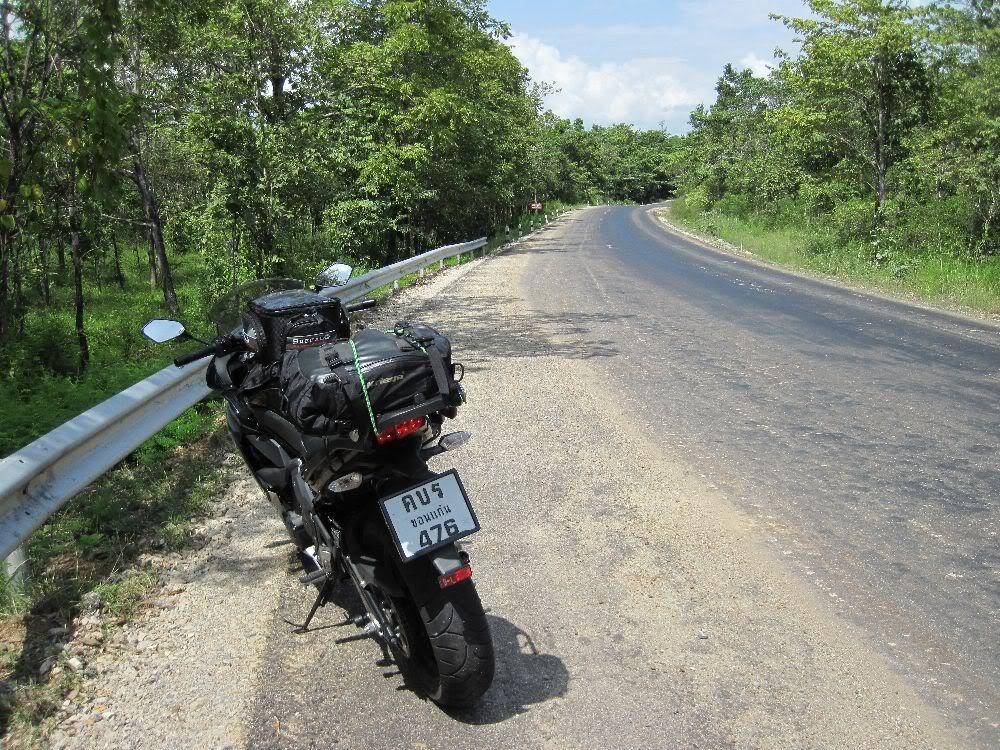 But here they are reconditioning the road. They have compacted the dirt. Sprayed with bitumen, now dry but not yet tarmac laid. This felt like a good surface and not bumpy, but not sure of the grip on some of the blacker bits. However did not feel necessary to drop below 100kph.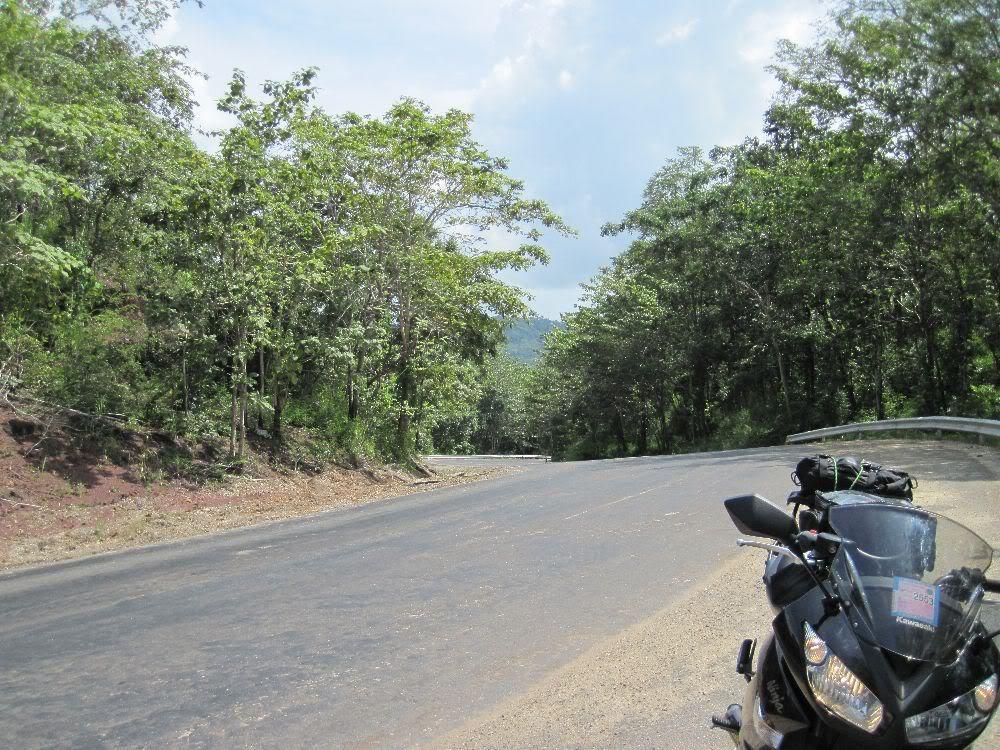 Until I got to this nice little dropping S bend section and wondered what the grip was like.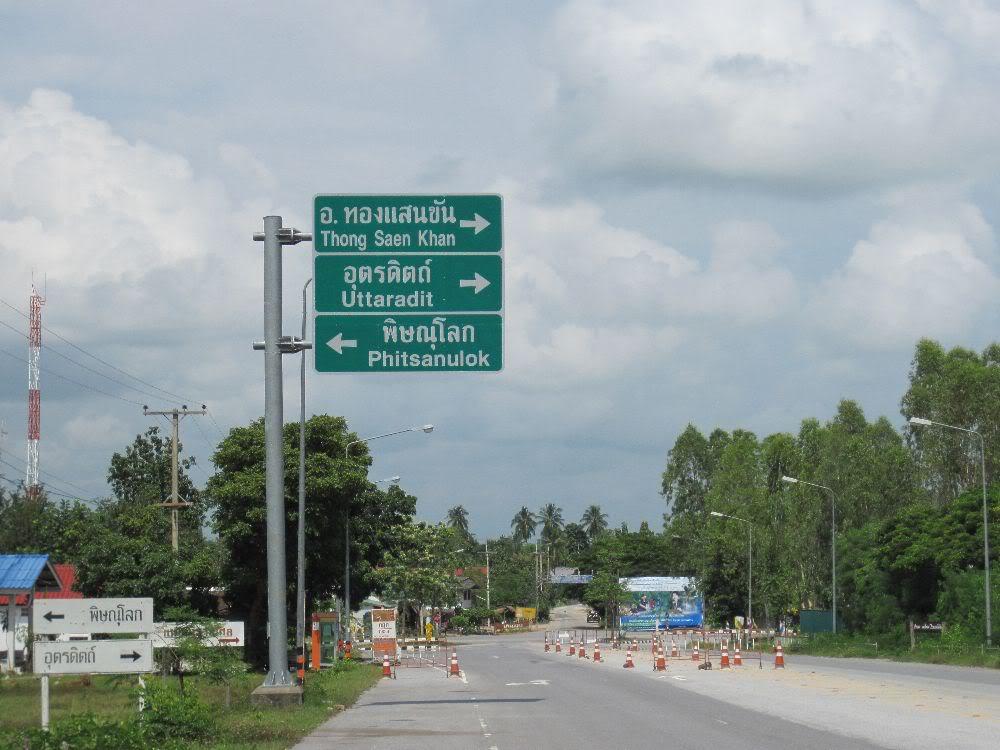 Now we come to a T junction. To the left the fast 1246 running west to the highway 11. To the right the more scenic 1214 running to Thong Saen Khan and then West to the 11.
But I now do not turn left or right, but go straight ahead through the blue archway. This road goes directly North the way we want to go. It is 8km shorter than left or right and passes thro beautiful open rice paddy.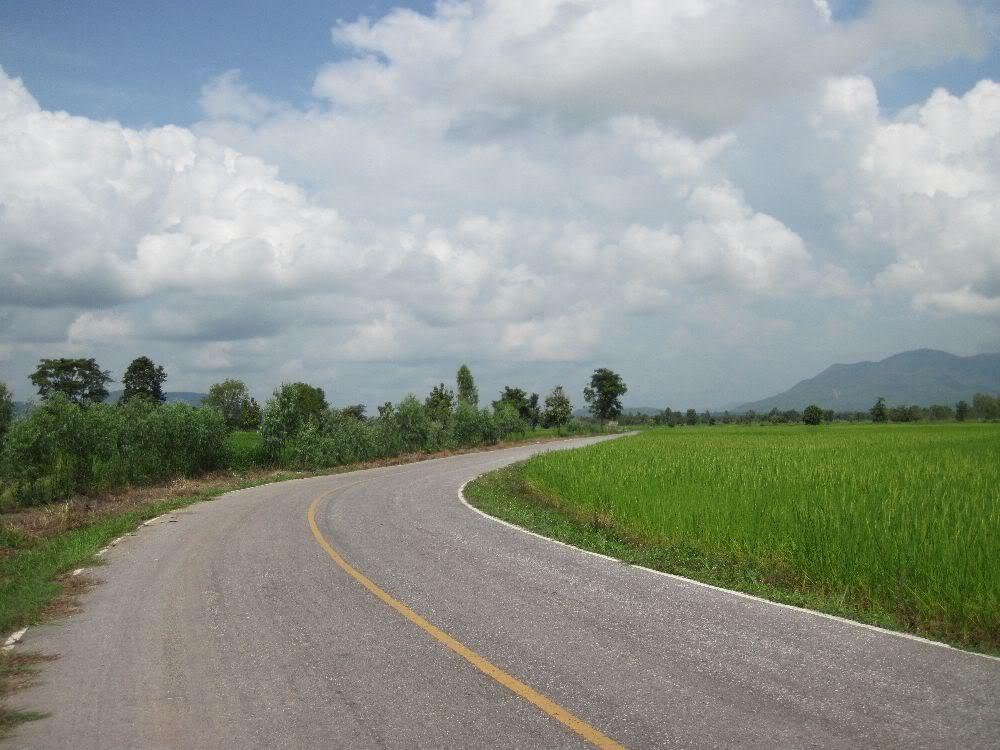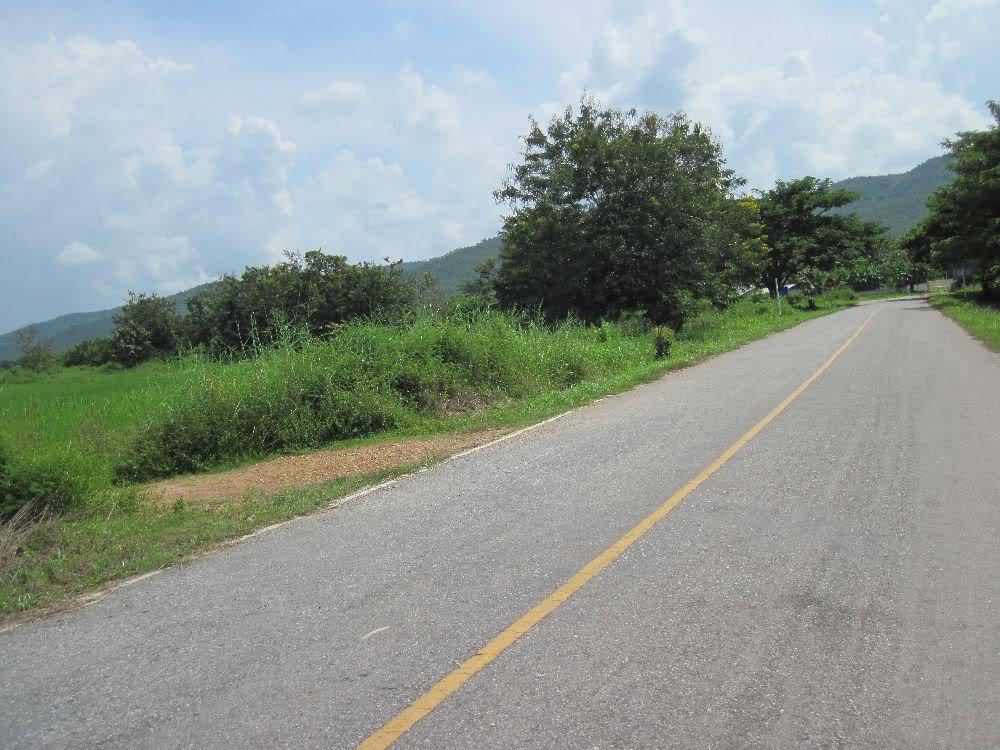 Good road surface, no traffic.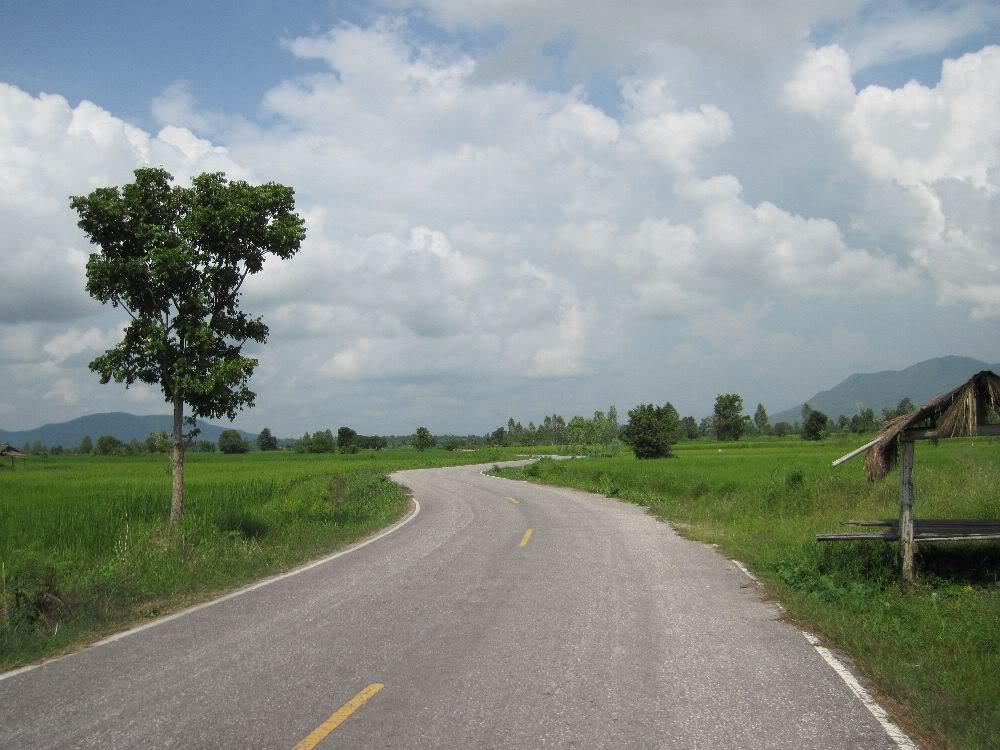 Some dinky little bends.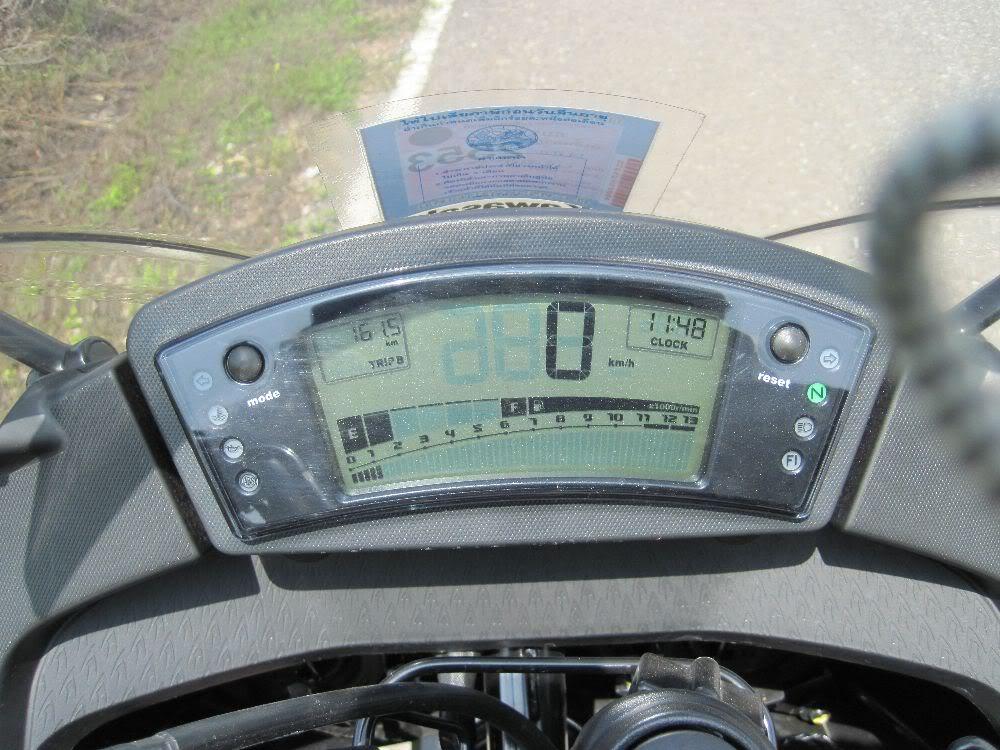 Checking fuel. 161 since last stop. 362 from KK, still OK for fuel. Not yet midday, well past midway to CM.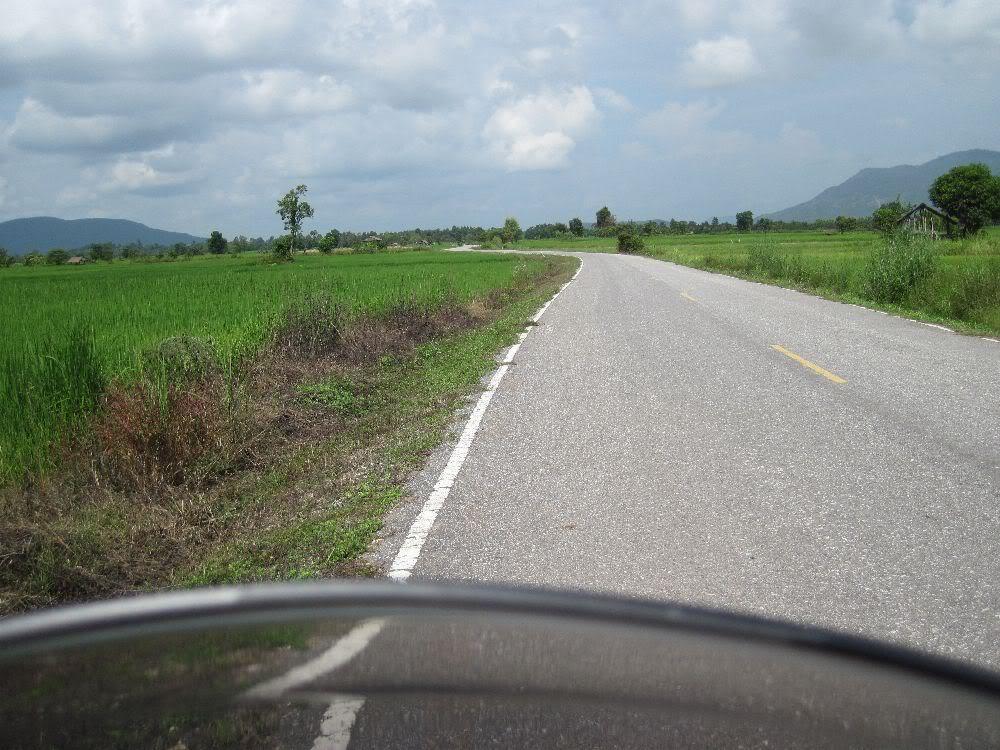 The 650 just loves these bendy little roads, light nimble, still no discomfort, skies still kind with some hint of rain.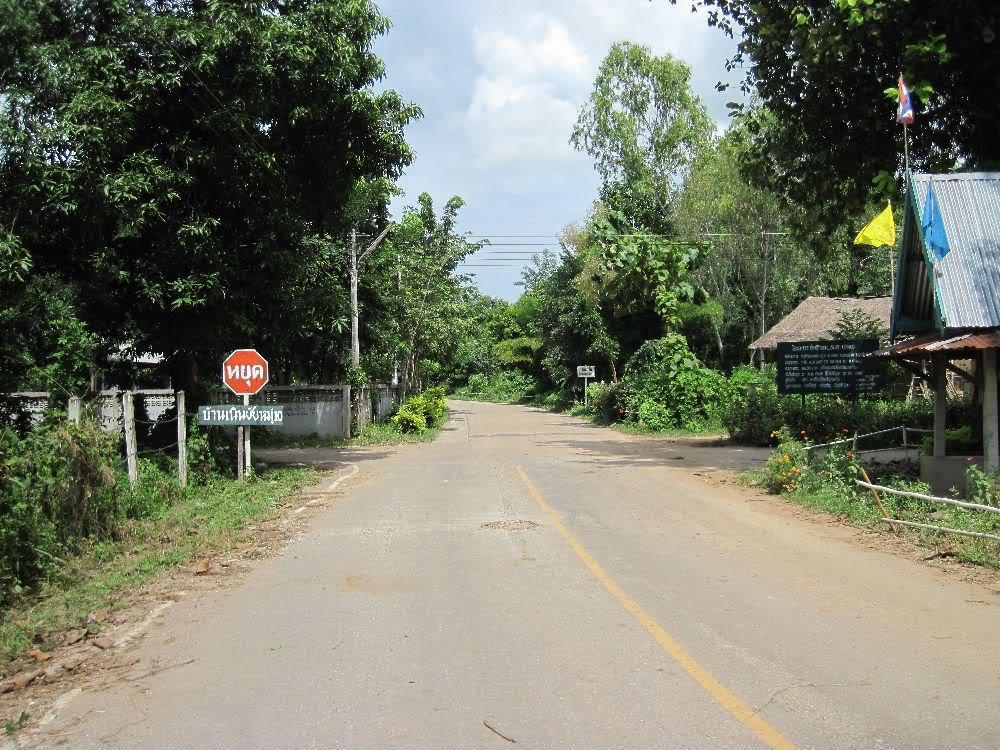 11km onto my little shortcut and this stop sign as one enters a small village, only a small path either side, I think they put the stop sign in the wrong direction.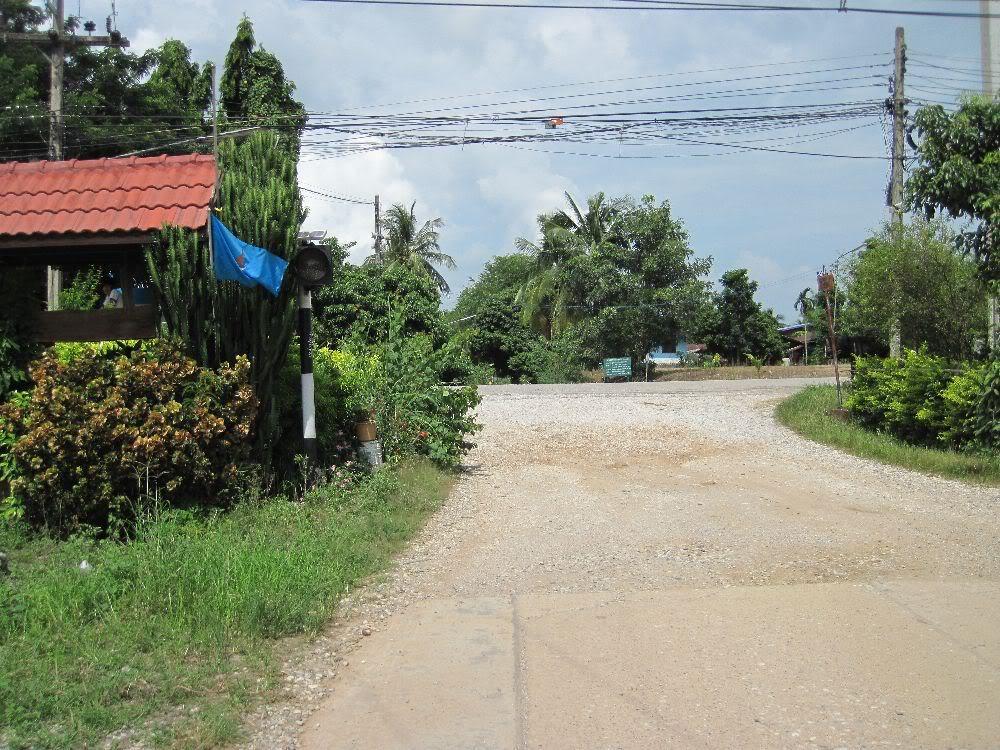 12km and the shortcut finished. 10 metres of gravel as we approach the main road and turn left.
Looking back, as approaching from Chiang Mai ,its km 21 on the major road.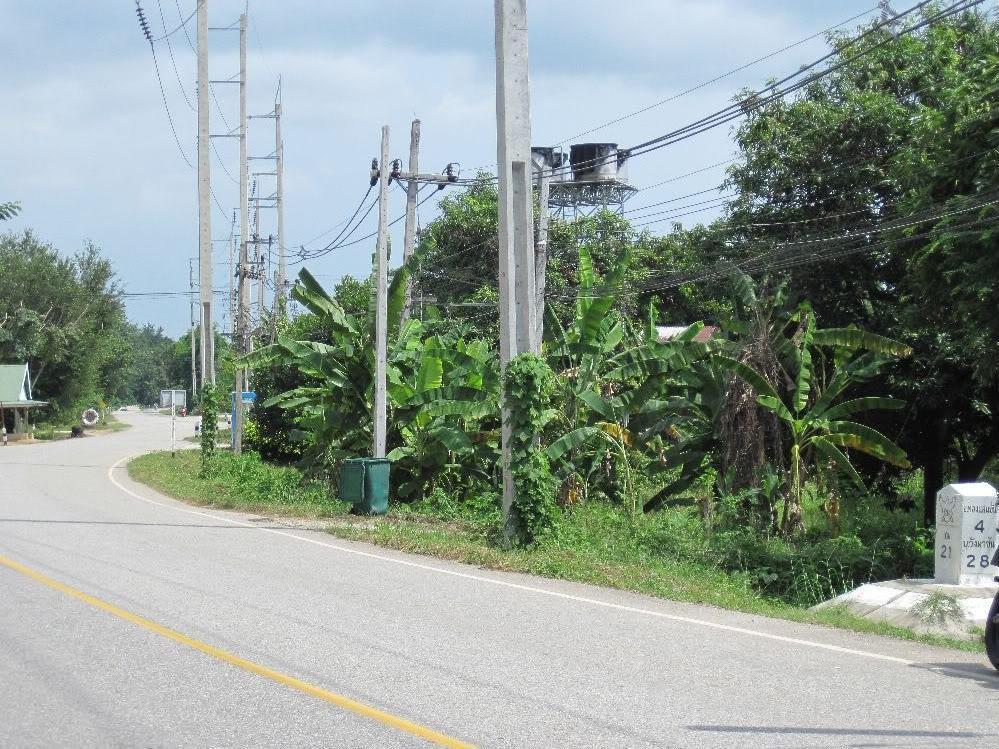 Turn right at the blue phone box 50 metres past the km post.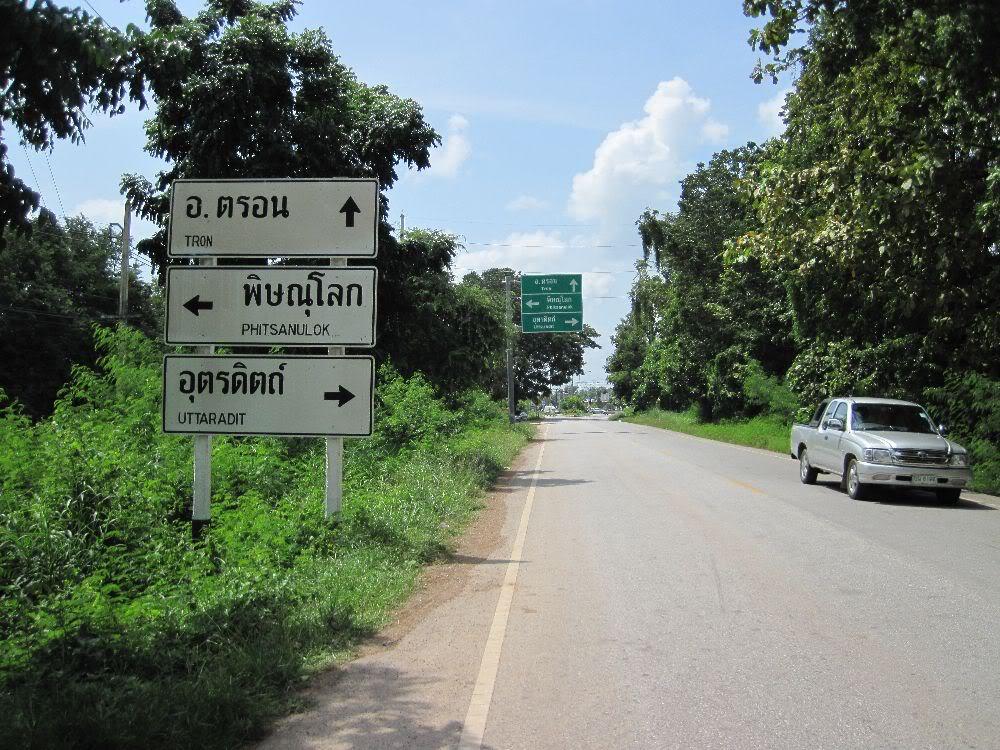 7km on we reach the traffic lit junction with highway 11, and turn right for Uttaradit. I am always happy to have missed 80km of that dual carriageway.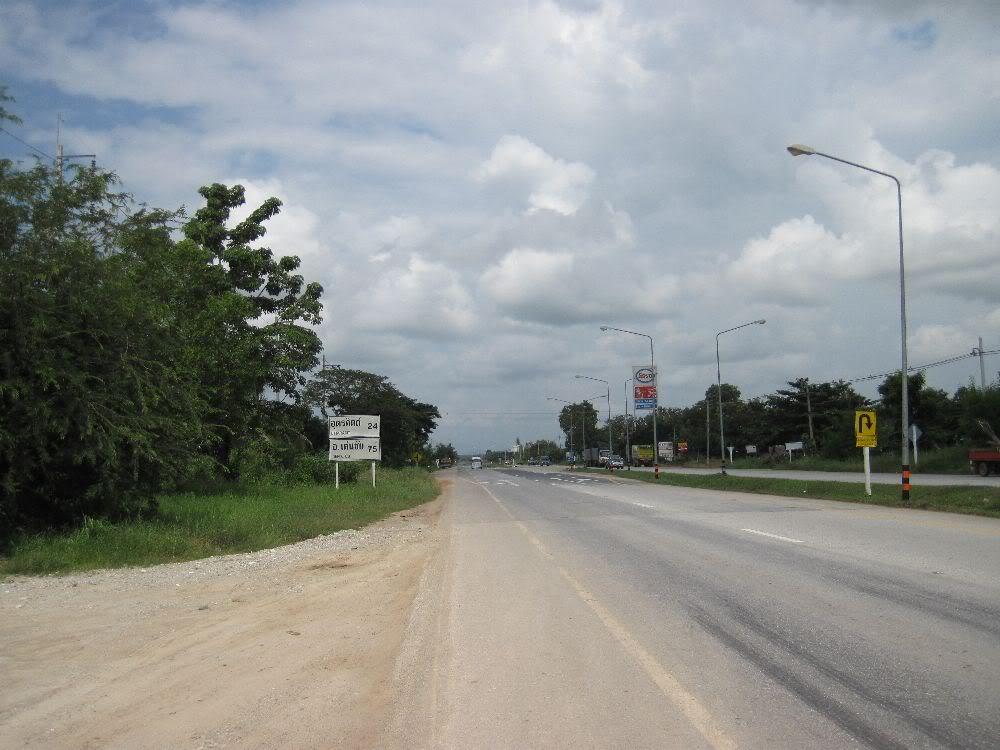 Uttaradit 24km We will bypass and head toward Den Chai. A lot of traffic lights, some of which are easily circumvented by turning left and immediate U turn to turn left again.
Many petrol stations here, but my fuel OK.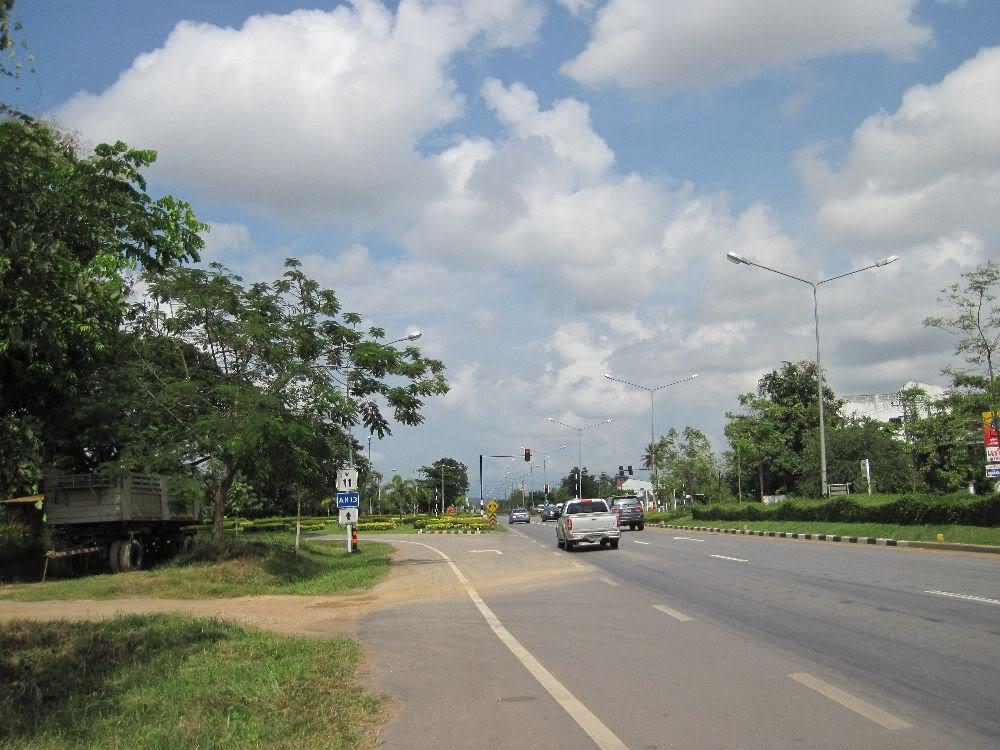 One of the circumventable lights.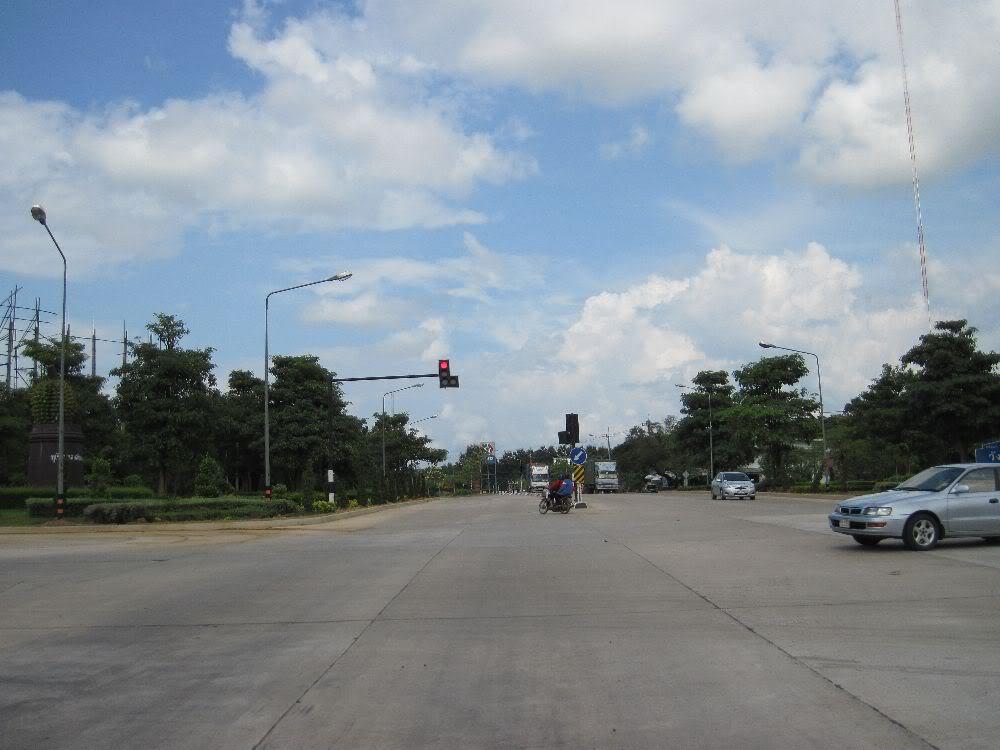 But this one the U turn is too far away.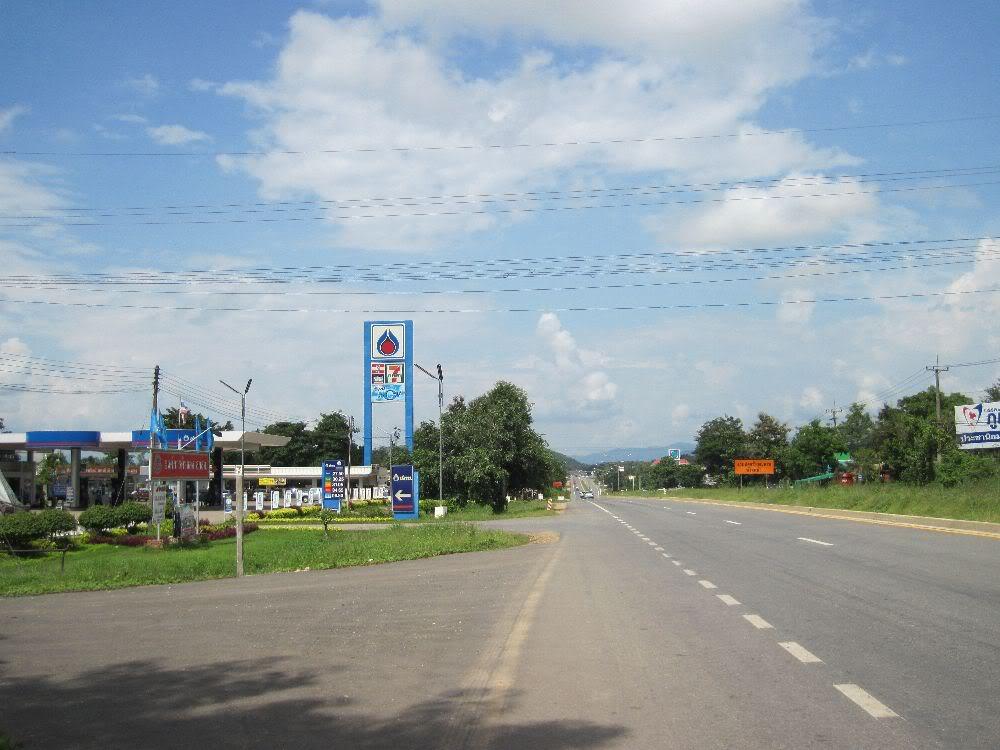 Now past Uttaradit, this fuel station is at the start of 17km of brand new dual carriageway that is 95% finished.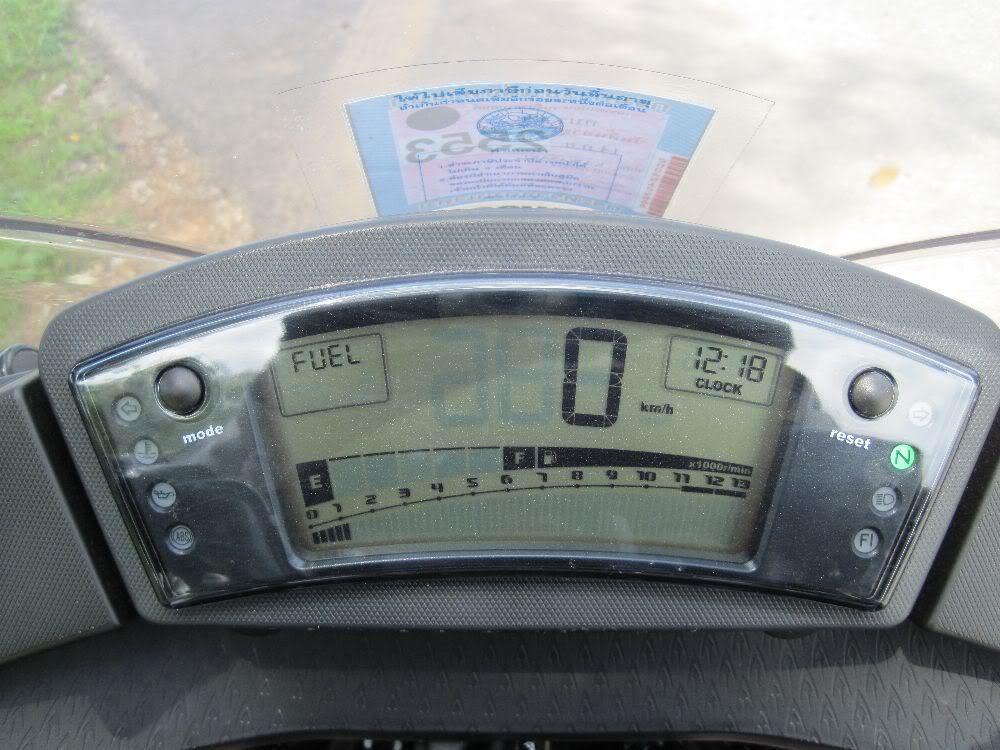 650 is asking for fuel, but this unlike some bikes does allow you to push the mode switch and tell you how far you have been.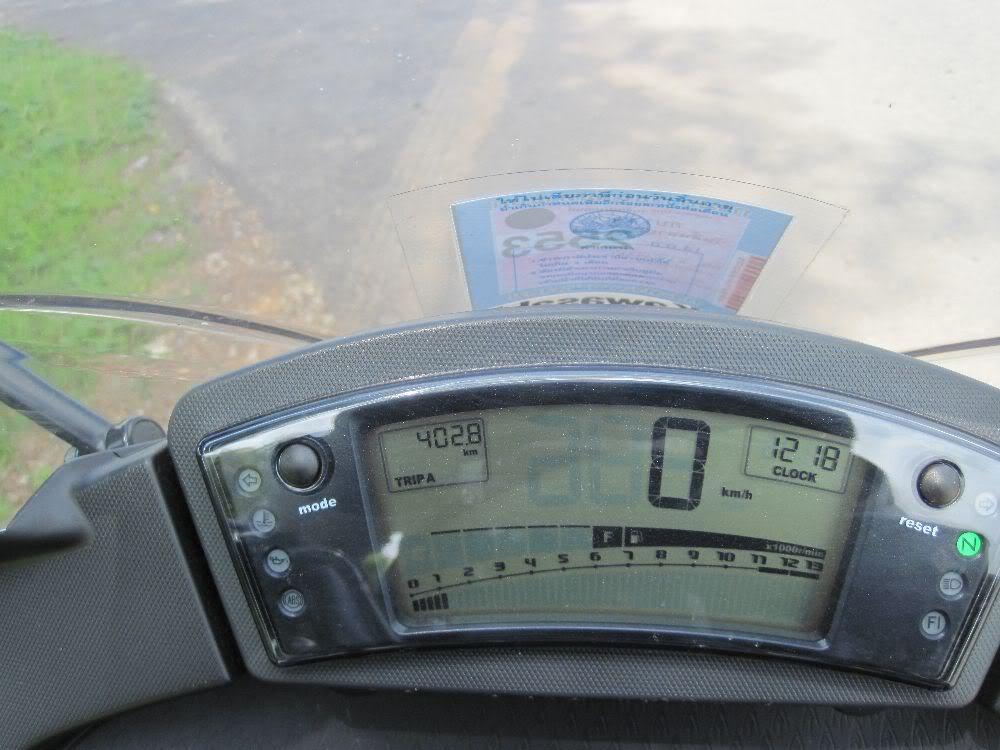 Journey now 403km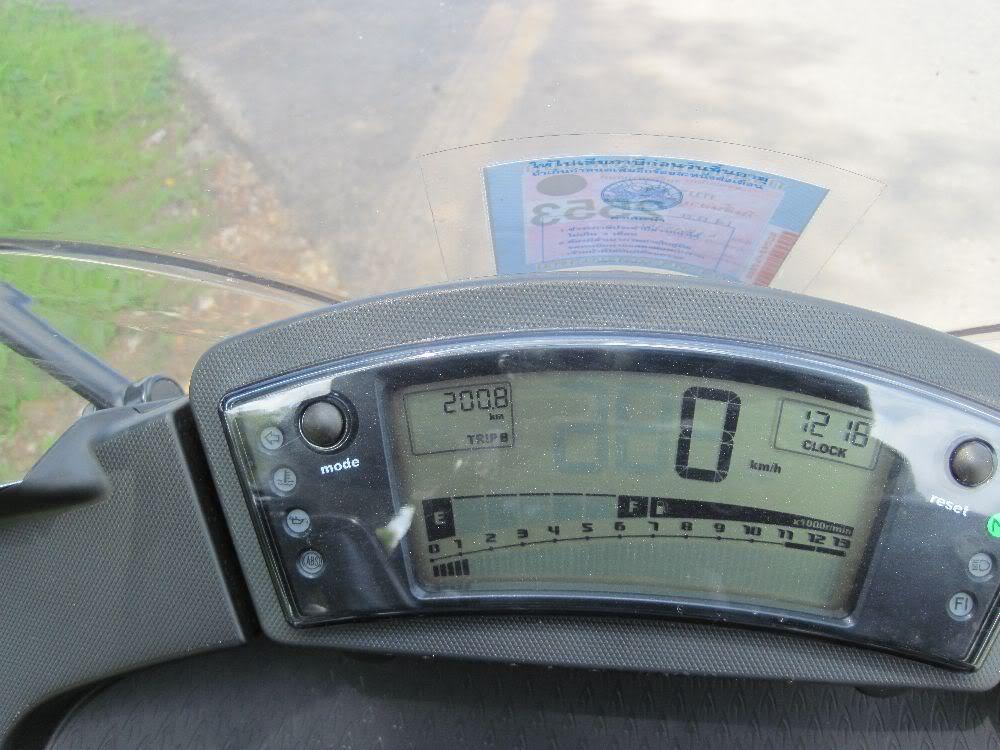 And fuel again around 200km.
This time 330 Baht fills the tank with 95 gasohol, nearly 11 litres.
Also time to sample the food at this clean well laid out fuel stop.
Sorry no pictures of Gai Pat pigua, ala Cptn Slash.
The road works are all but finished so the next 17km is very fast, after that back to two way traffic again and a very busy section of road that passes through nice countryside but can be dangerous because hills, bends, some poor rutted road surface and slow uphill lorries and inappropriate oncoming overtaking. Take care on this road, but again the Kawasaki took it in its stride and made swift progress.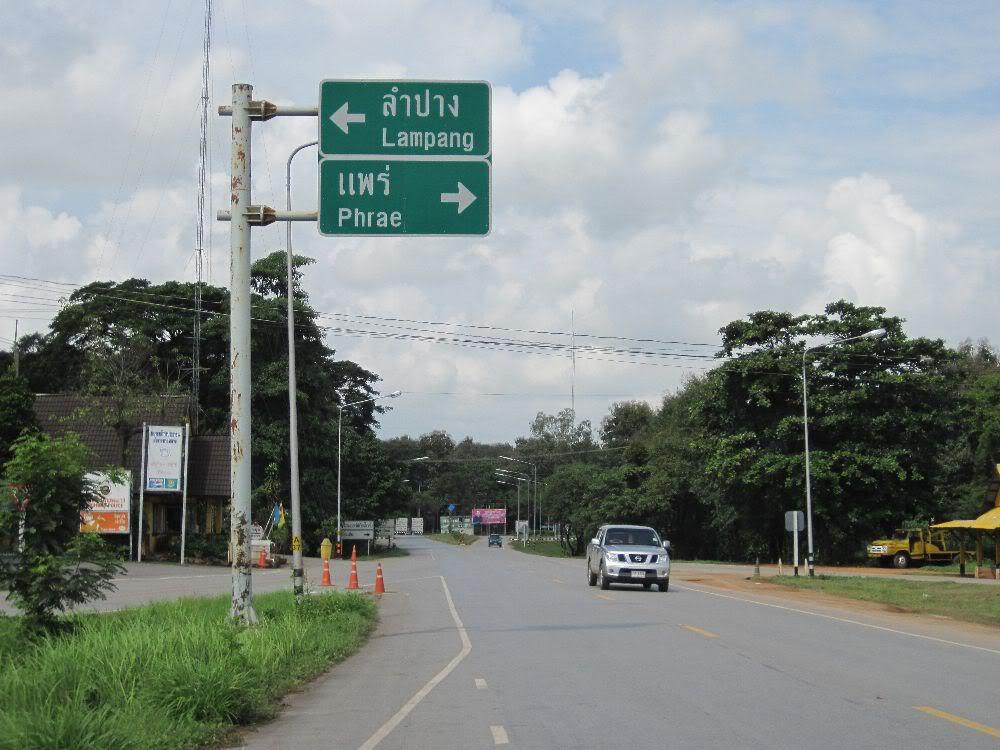 Highway 11 will take us right to CM but here it joins the 101 for a few km. We turn left at this T junction. I suppose that all they have done is added a 0 between the 1's, and a 0 does not make much difference, right?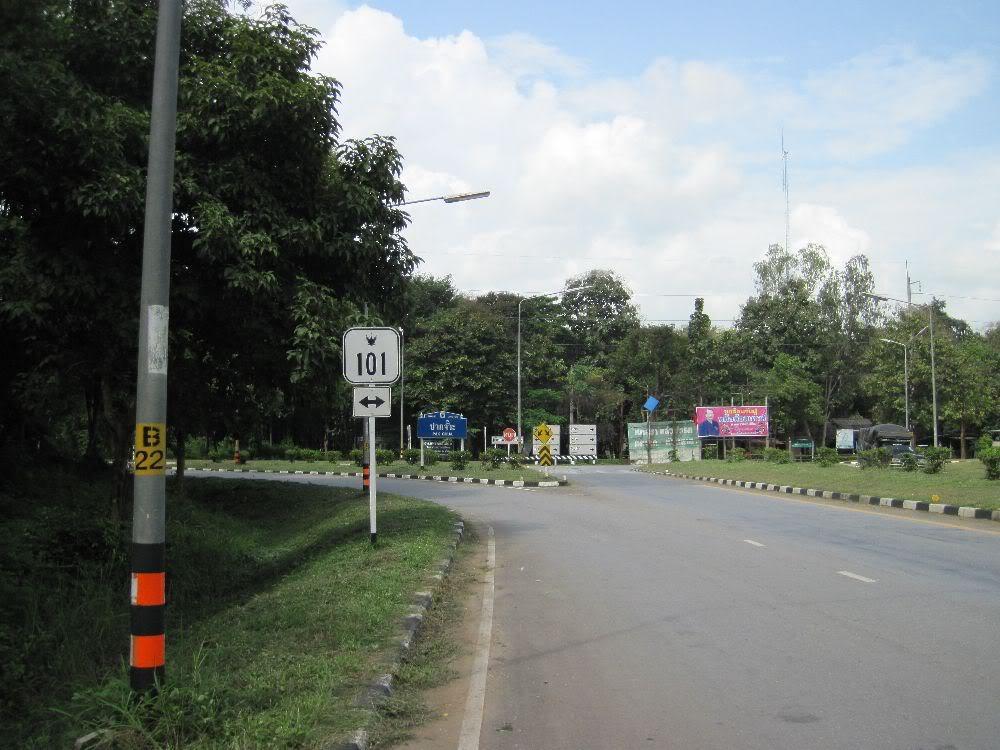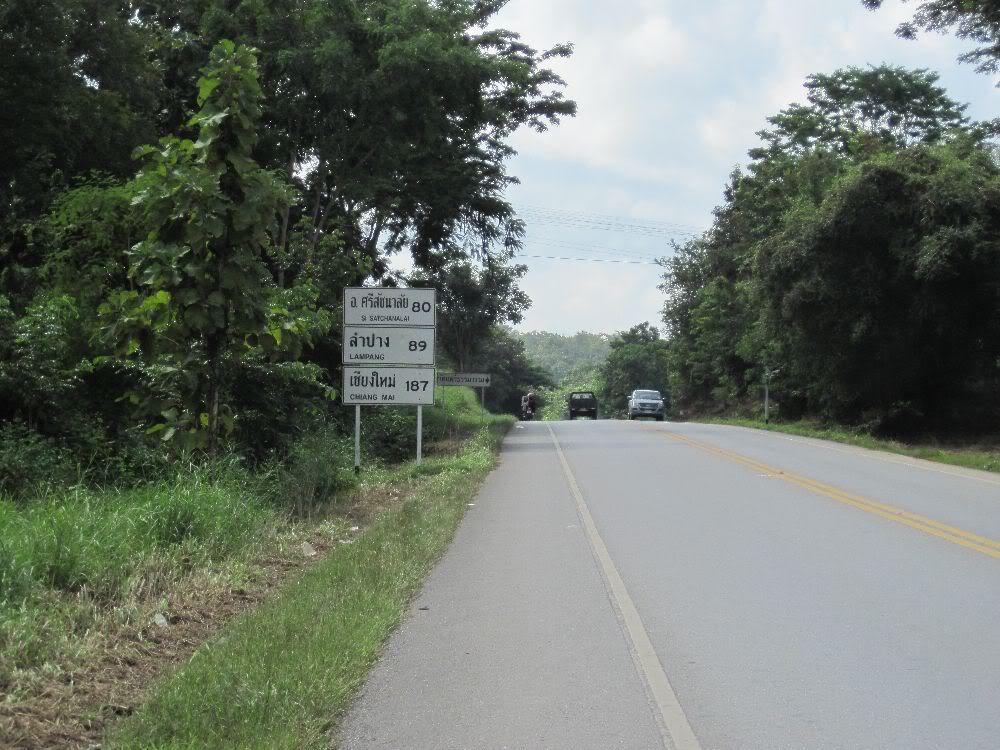 Just turned left onto 101. CM only 187km.
Pleasant road, similar countryside to the last 30 minutes, but nearly all the traffic turned right, not left as we did, and the road surface is better.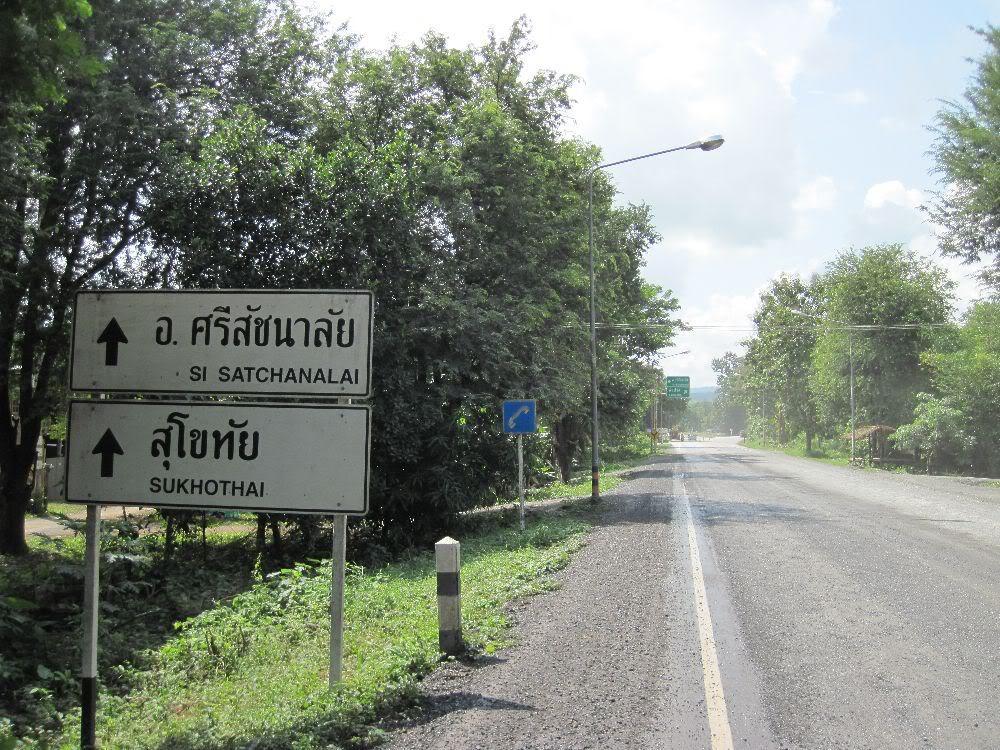 Only a few km and the 101 bears to the left. We stay to the right and are back on the 11.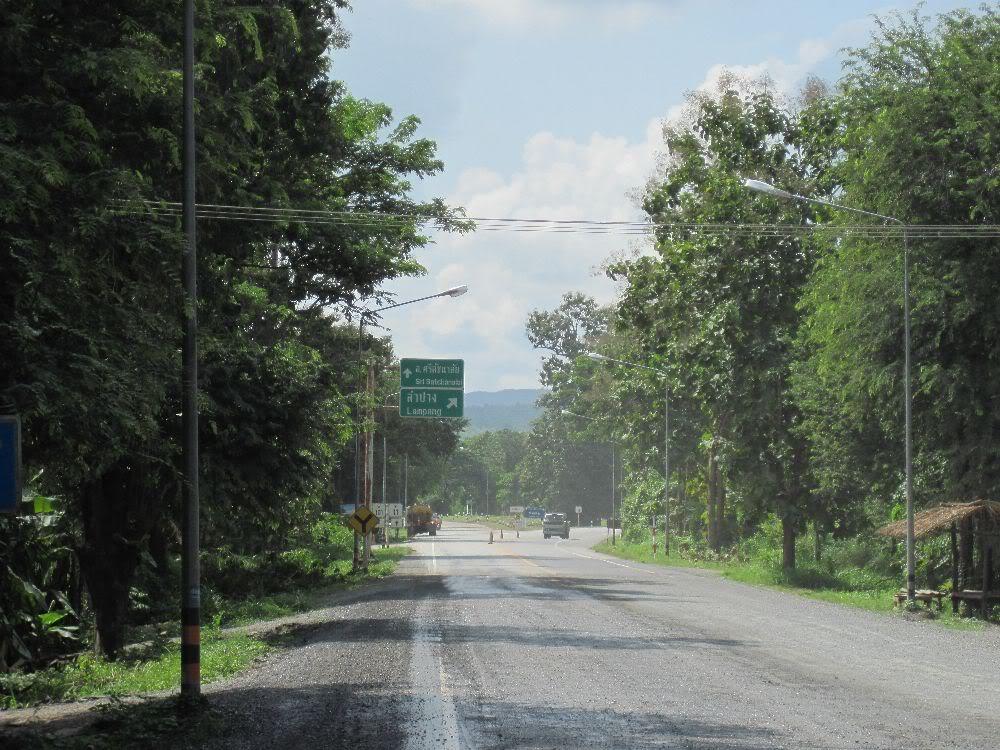 Some road work going on around the junction, but again no hold ups and the surface OK.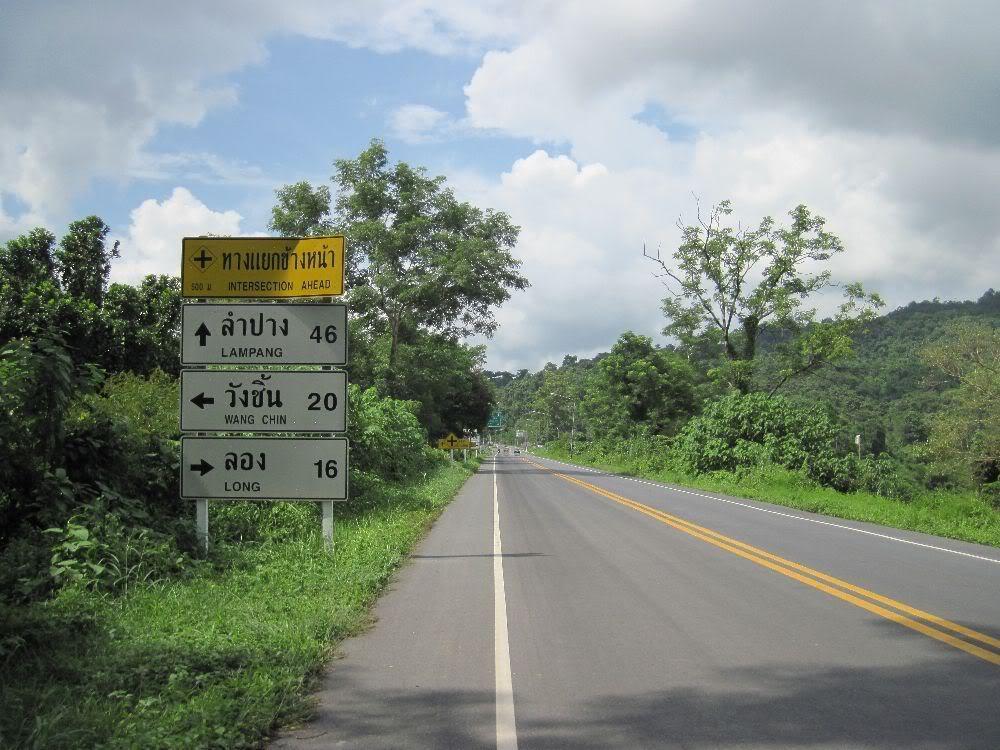 40km of pleasant easy riding we approach this junction.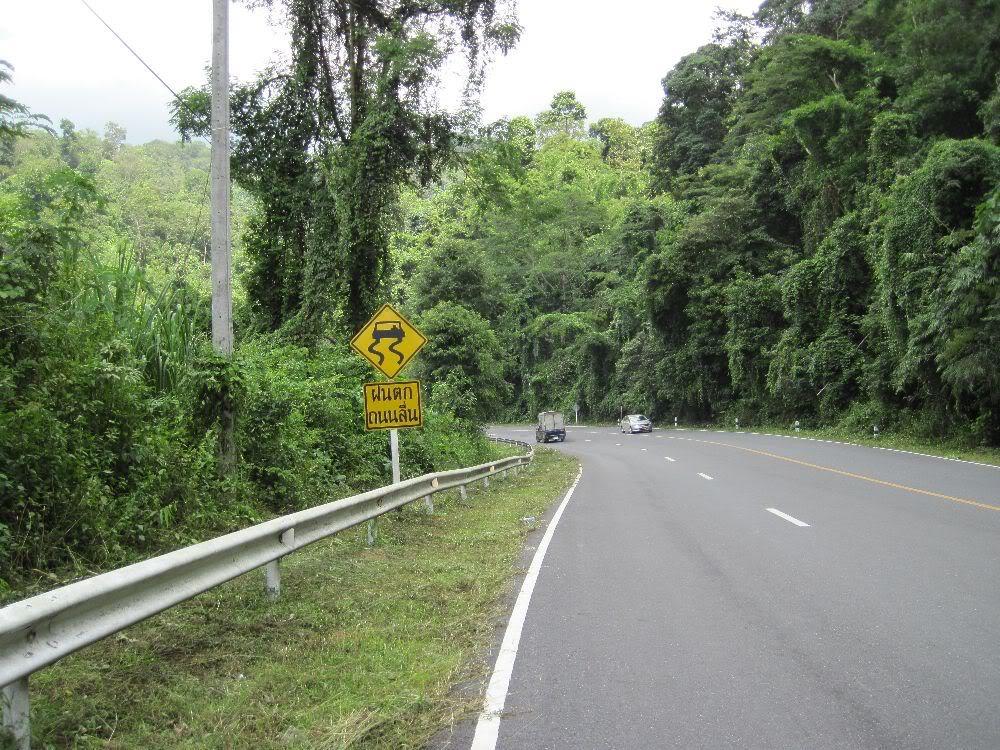 Beyond the junction the road starts to climb. New tarmac surface, signposted as slippery.
This is a very scenic enjoyable road, good bends climbing over a small mountain range on the way to Lampang. One year ago when new seemed to be a lot of accidents when the tarmac new and especially when wet. Still many slippery signs but I have never felt a grip problem.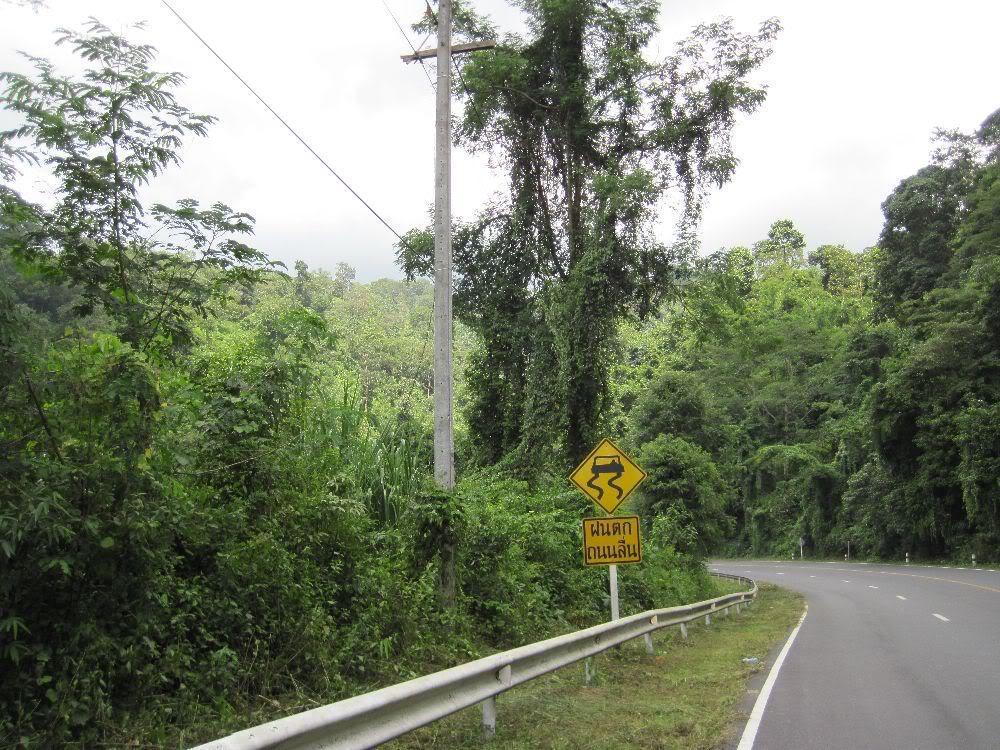 Not an invitation to the faster lads to try and find the limits.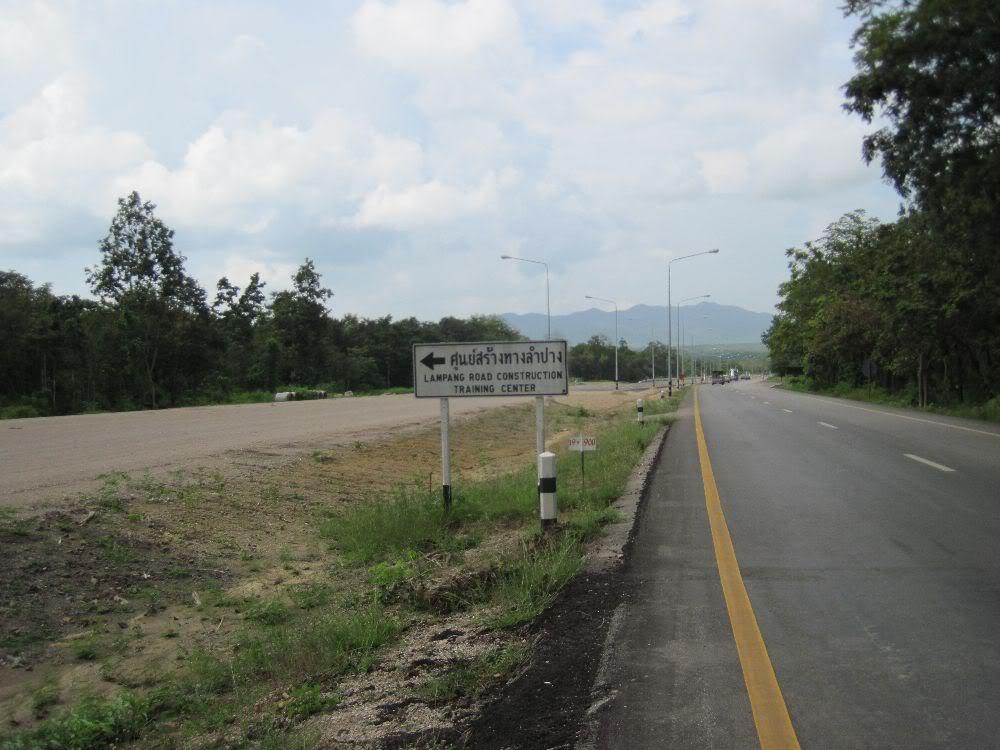 I wonder if the slippery road was part of a training exercise.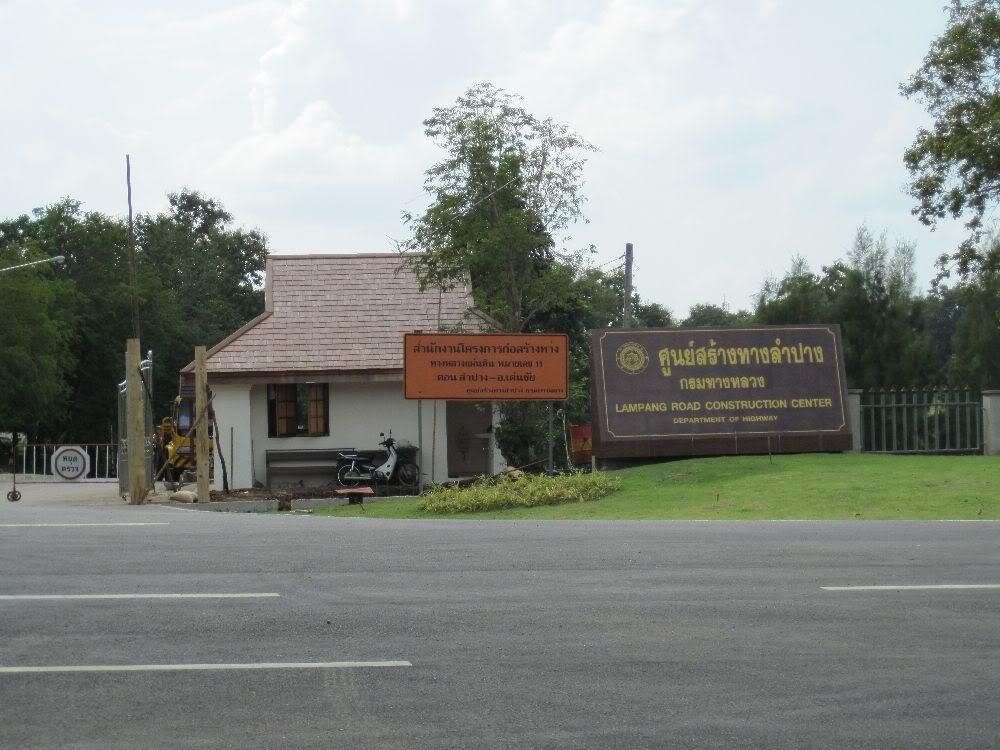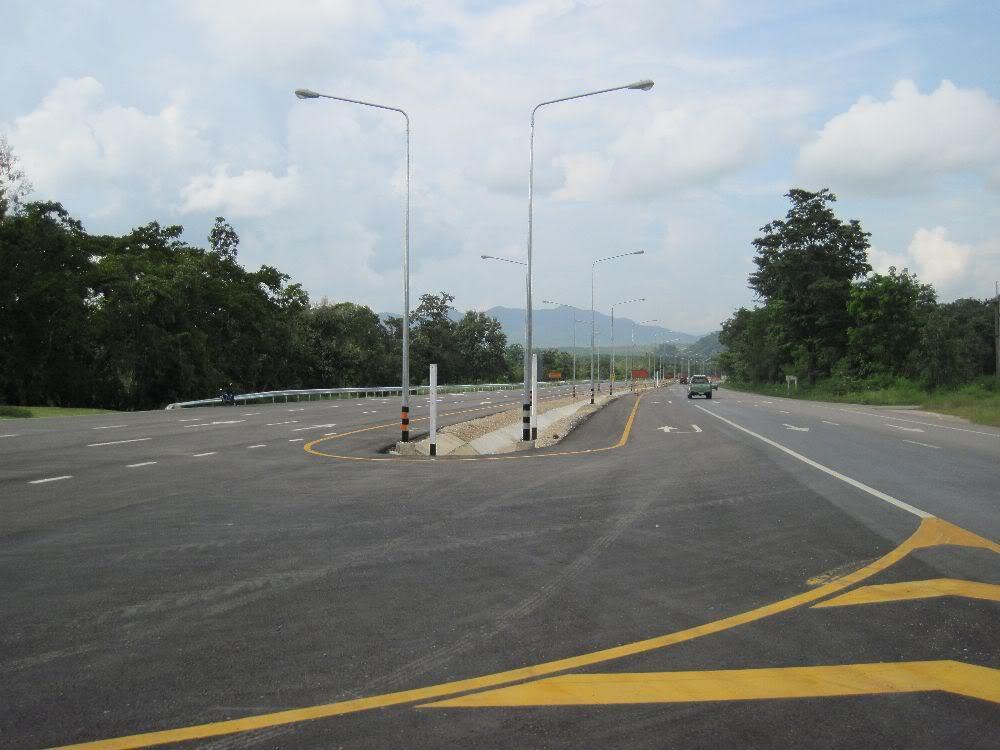 This lovely new dual carriageway starting outside the training centre can hardly be justified by the light local traffic demands, but I suppose you have to learn to build the roads somewhere.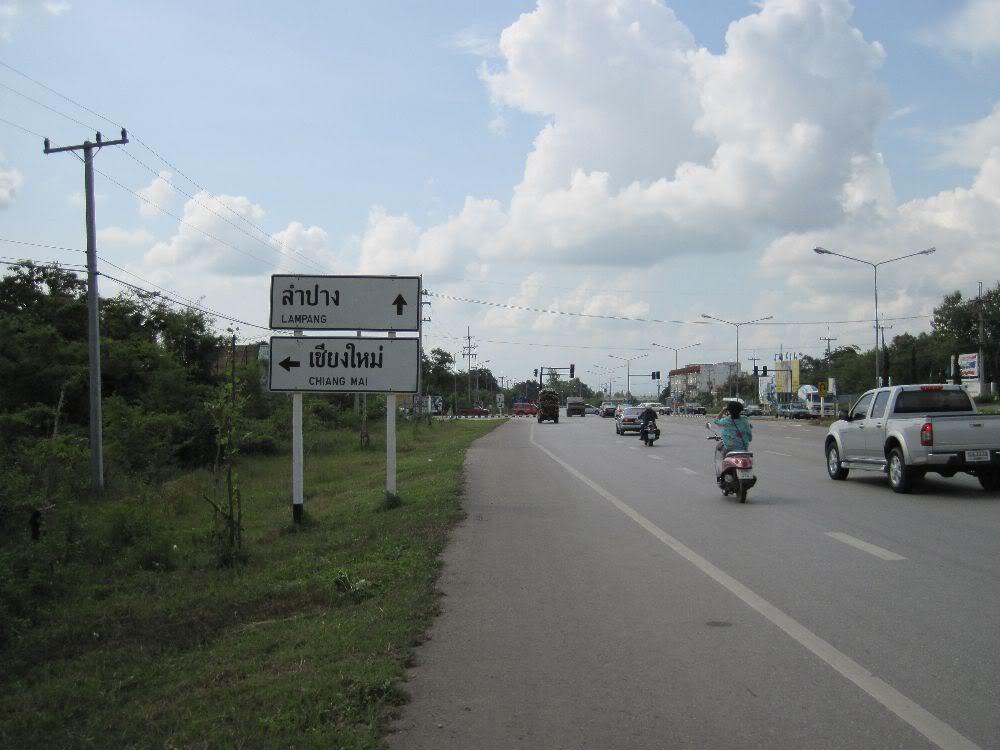 There is a short section of two way road, pending the finish of a bridge, before we join the old dual carriageway entering the outskirts of Lampang. Up and over a big hill and down the other side we approach these lights, (Shell garage on RHS) The left turn to Chiang Mai is not well signed. Carrying straight on the 11 is not advised as it takes you right through the busy city.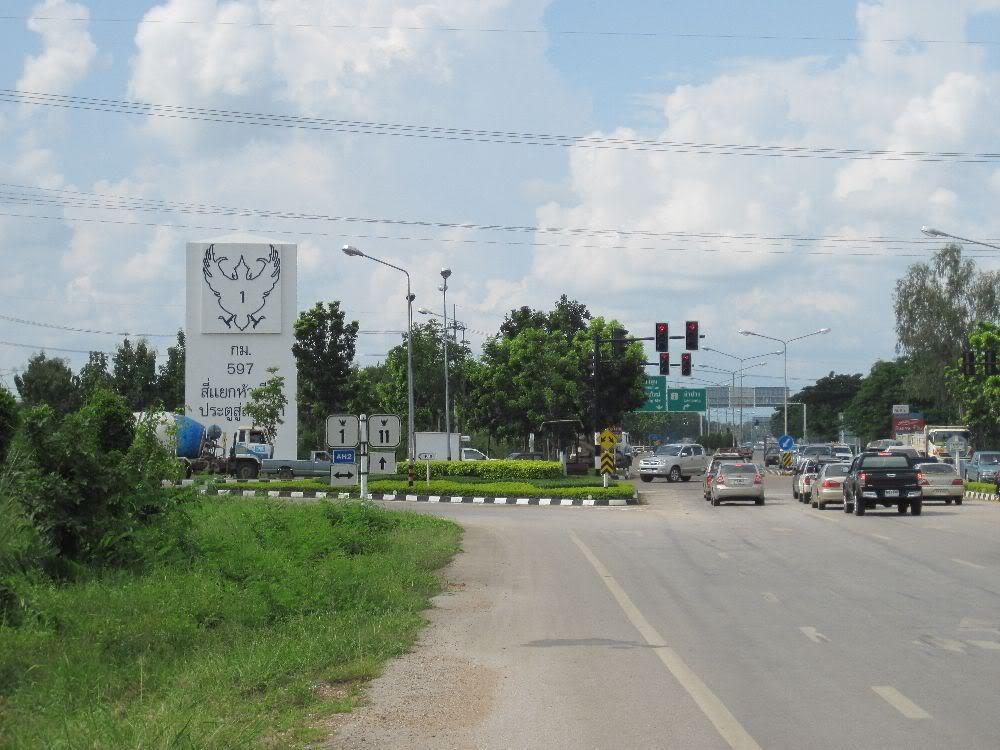 A big junction where the 11 crosses Highway 1, left for Bangkok, right for Chiang Rai.
For us straight on through several sets of lights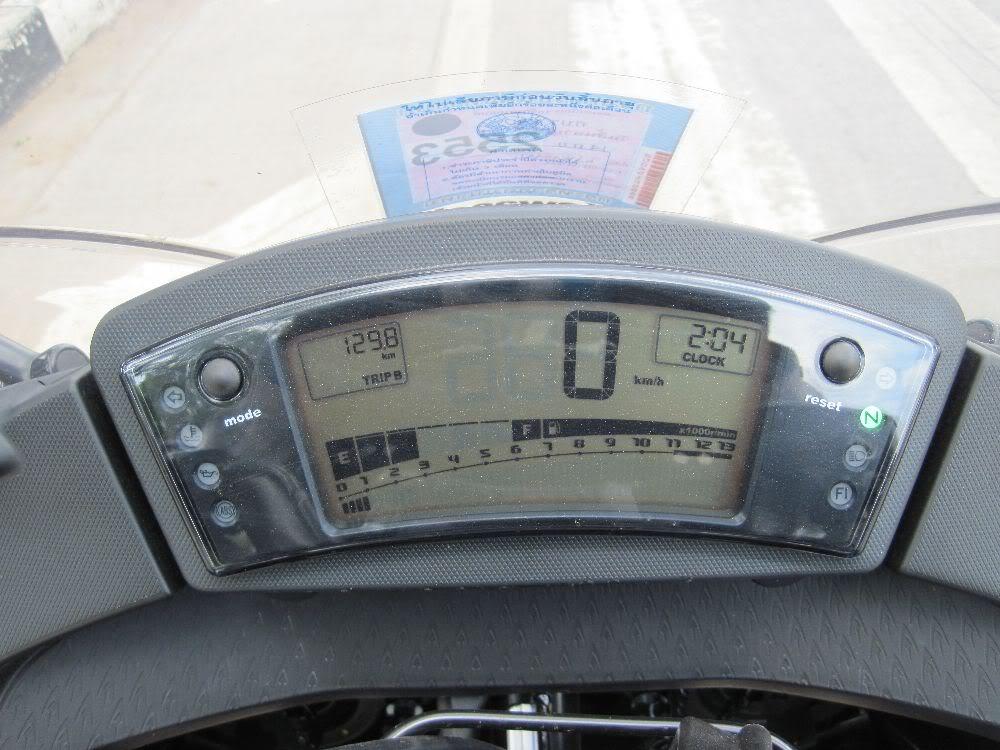 CM now 100km of fast dual carriageway, well known and I will not document.
Journey so far 533km and 7 hours, that's including lunch and photos. I decide not to fill up before CM.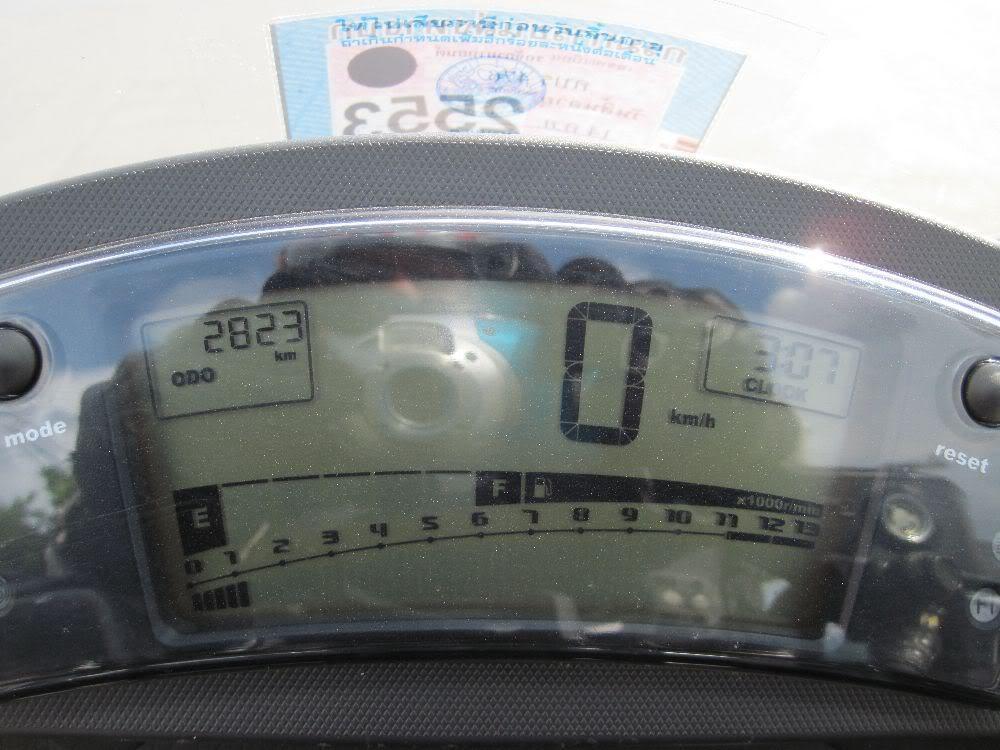 Well I have just spent 10 minutes getting lost after taking one turn to early off the super highway, which sent me under the highway turning right when I wanted to go left and out into the wilds. Bike total mileage since bought 5 weeks 2823, Time to CM 8 hours.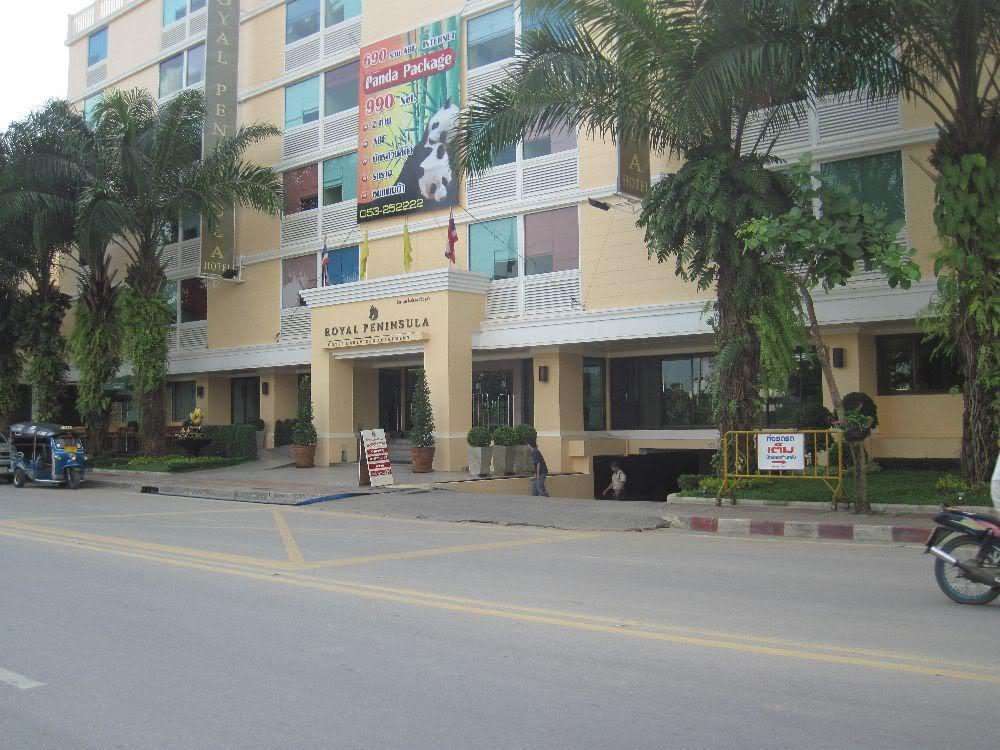 Finally found my way into the underground carpark at the Royal Peninsula. 800 Baht including breakfast, good location, good rooms and service.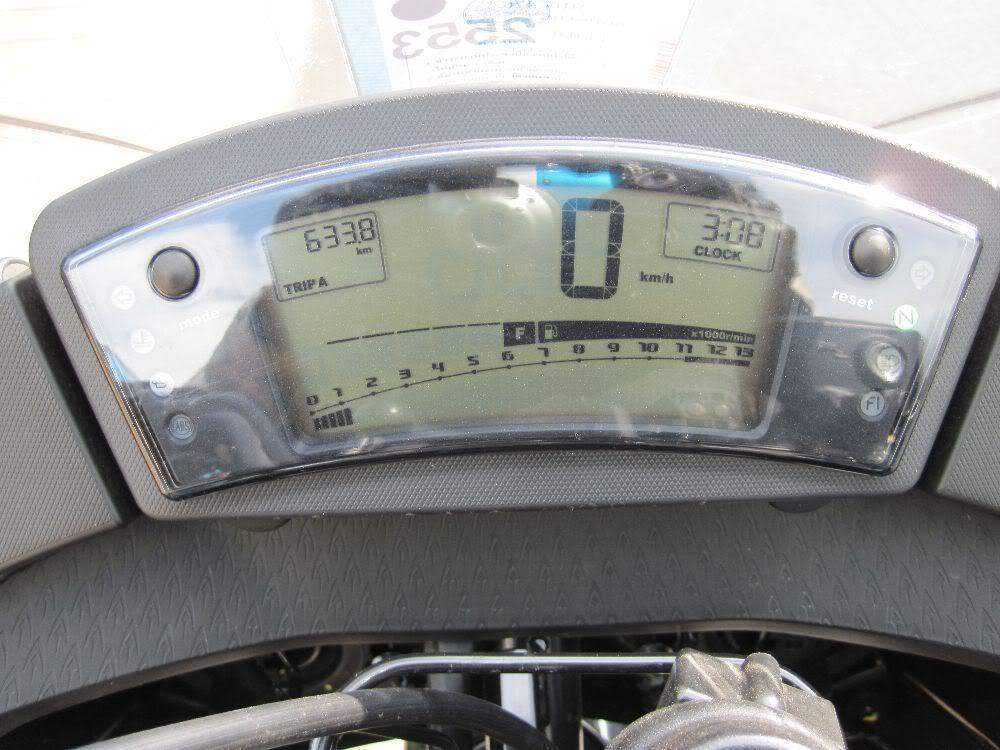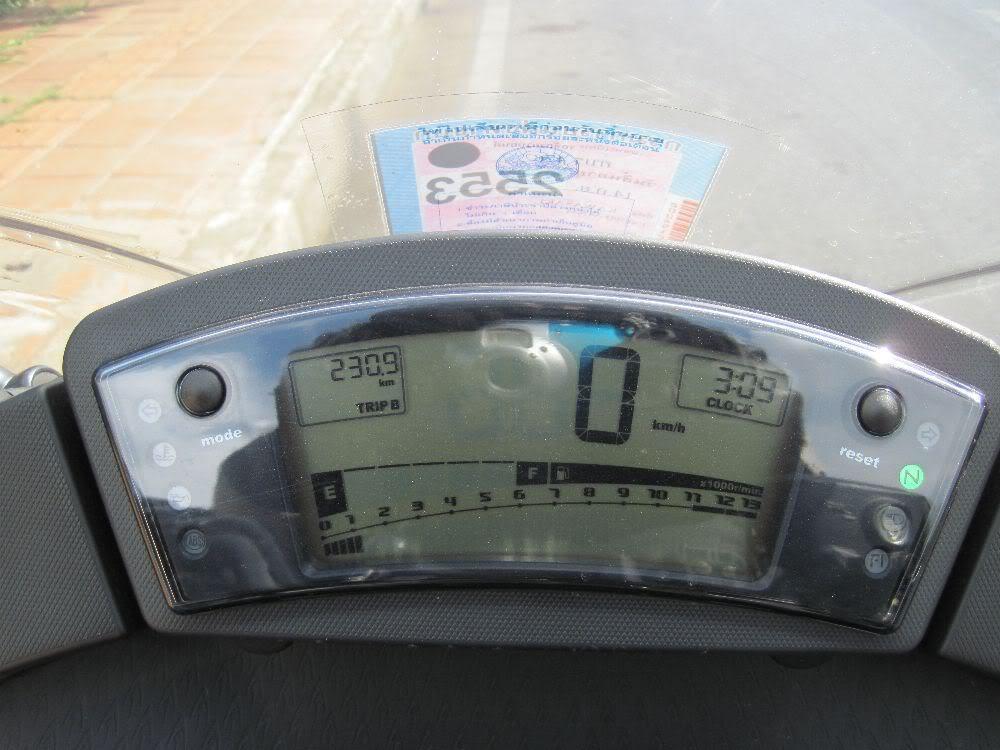 635 km 231 since last fill and light still not flashing.
Very happy with the Kawasaki for the journey. Only slight seat discomfort. No other issues.
Now really boring bit, the luggage.
Tail Pack.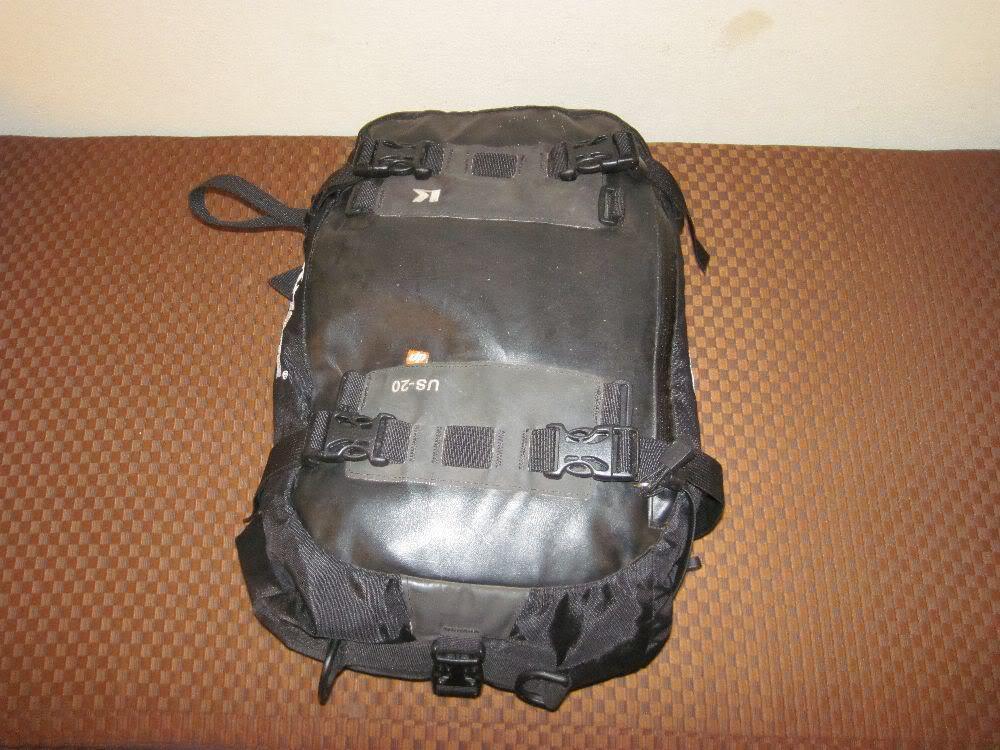 Its tough and fully waterproof.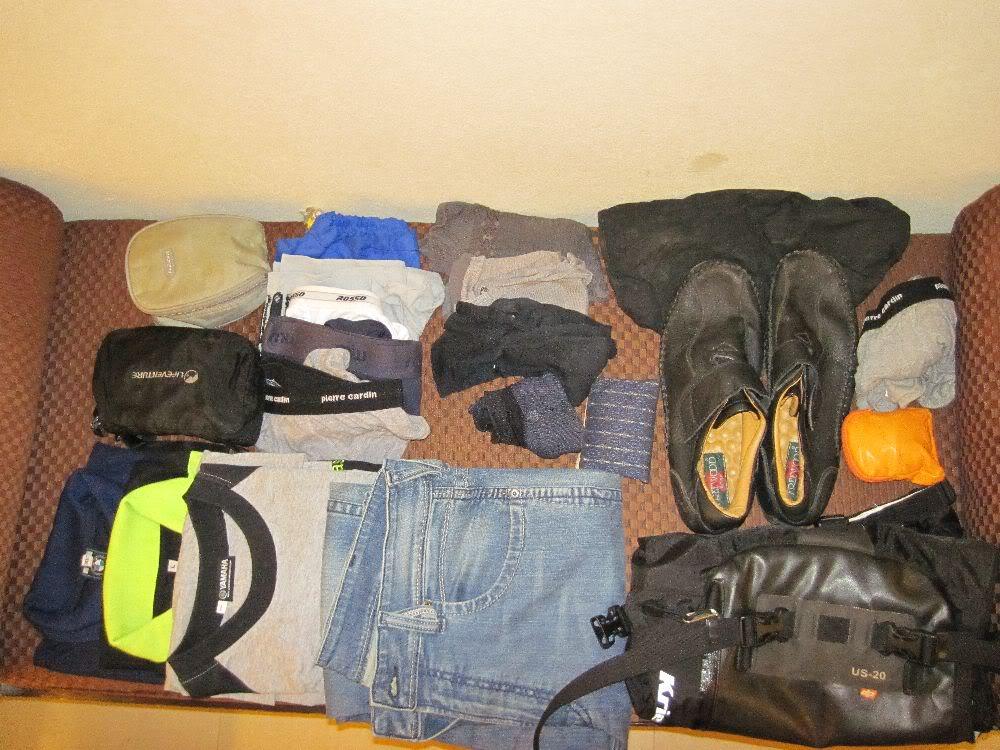 Inside, more than enough for 3 days, including old washing from 6 weeks ago which I found inside my shoes, which are wrapped in a shoe bag. (Not recommended)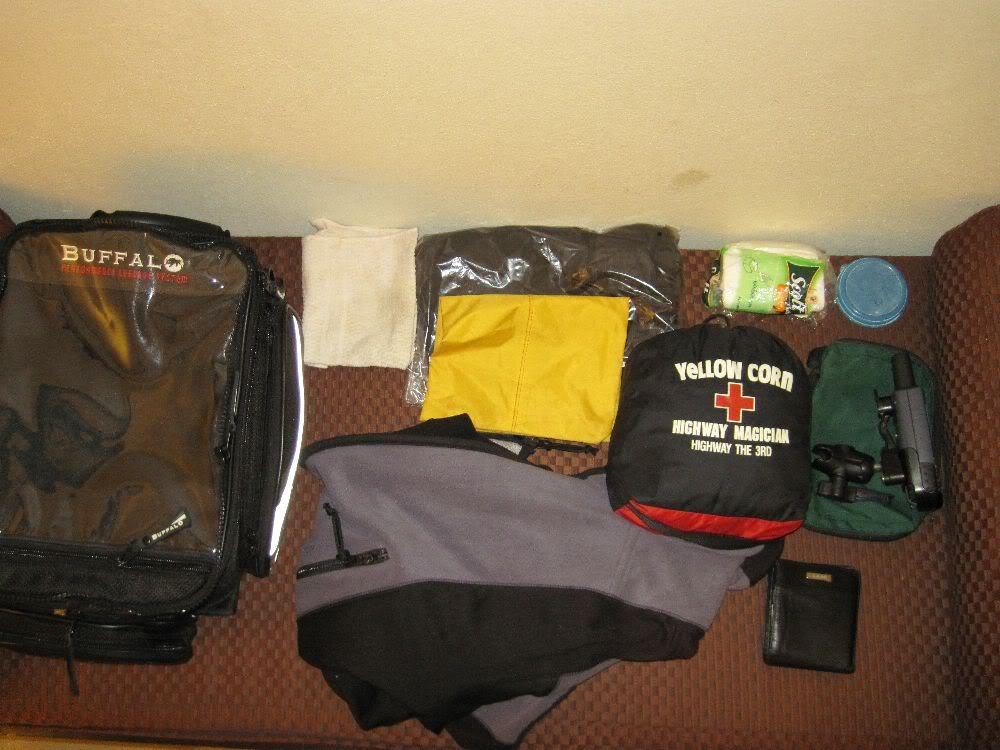 Tank bag Buffalo, This is only half the bag. It has another 20 L section you can zip on top. But much too big for the Kawasaki that way.
Carrying fleece jacket. Waterproof jacket. GPS. Phone Wallet etc, still plenty of room.
So you will be relieved to know that that it it.
I enjoyed the bike in the busy CM traffic, getting thro the gaps in the moat traffic with the best of them.
Breakfast at the X centre Friday, met up with Franz for his test drive up to the Elephant camp, he can comment, maybe after a day or two depending how long his party goes on.
Franz sorry could not stay, very best wishes for a good party and a happy home in Koolpuntville 9.
Travelling home on Friday, was 7 hours with no stops for pics. Three heavy short rain showers not worth stopping to suit up. Some seat discomfort but only minor.
I still feel the same. The Ninja 650R is a fun great value bike.
Would I take it to CM again. Probably not with the FZ1 and the R1200GS in the garage waiting for some action.
Apologies to any readers who suffered from any of the symptoms mentioned at the start of the post, hopefully they will not be long lived. You may all be reassured to know that this was a one off, as I enjoy the flow of riding too much to stop for photos so often.