0
Staff member
Subscribed
Jan 16, 2003
14,081
5,079
113
69
RIDERS: Silverhawk, Hoghead, Ian "Ambassador" Bungy, Sean, Rhodie, Motorbike Marcus, Pikey & DavidFL.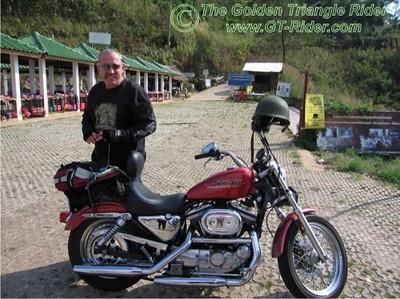 Sean was a new GT Rider guy on his Harley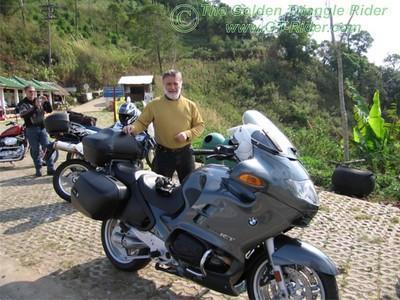 Hoghead with his Beemer.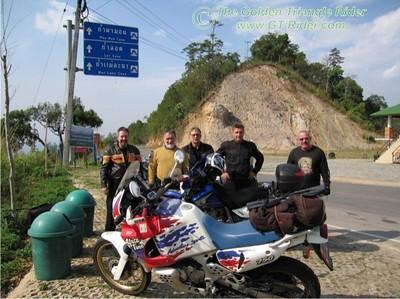 And the rest of the mob at the viewpoint between Pai & Pangmapha
THE ROUTE 'N WAY. Route 107- 1095 – 107.
Chiang Mai – Mae Malai – Pai – Soppong River Inn (3 great nights) – Mae Hong Son – Chiang Mai.
WHY: To enjoy life, ride our bikes & experience traditional hill tribe culture.
THE BARE BONES TRIP:
Got away from the X-Centre on time. Paced ourselves perfectly, had a drink stop at Mae Sae where we regrouped, but Sean was not too far behind at all. Then pit-stopped in Pai for a chat with Peter Pai Enduro.
Arrived in Soppong on time for the 1st happy hour at 4.45 pm....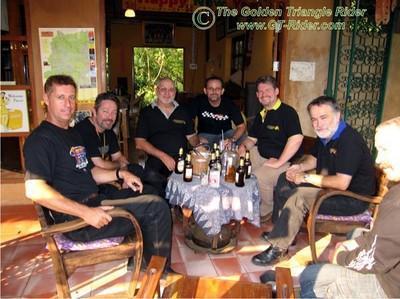 Brilliant road 'n ride. R1095 is simple awesome now & begs to be ridden while it is in such perfect nick.
So had a great time, even with a really diverse bunch of guys. No attitude problems, no agro. Can't wait to go again.
Even though it's March & the hot season, it's still cold at night time in the mountains. Silly me got caught out with just the mesh jacket & a couple of GT Rider shirts, but no long sleeves.
The Soppong River Inn is a fabulous escape if you want to get away from city life & it's associated hassles.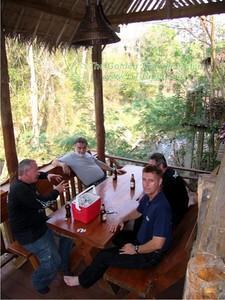 Joy & Om are fantastic hosts & cooks. Stay there for a few days & you will put on weight!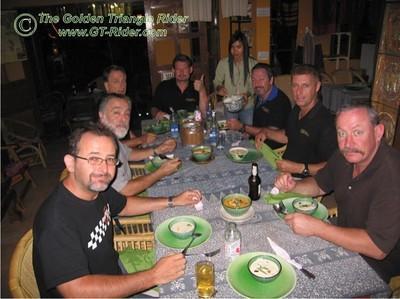 Anyway onto a few happy family snaps to get the ball rolling.

Preparing the Lahu dance hall before the show gets underway.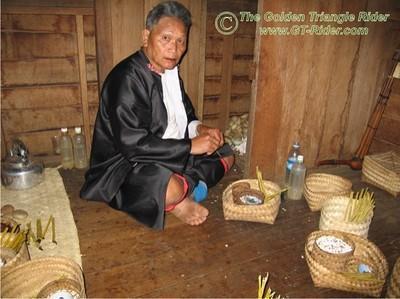 Every family with more than 10 people makes an offering to be blessed by the village shaman.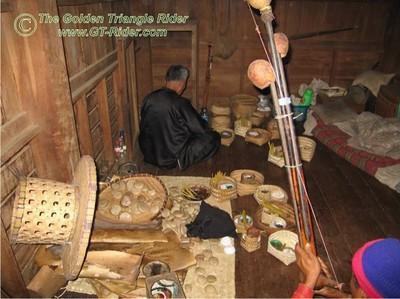 This is blessed in a "spirit house cubby hole" in his house.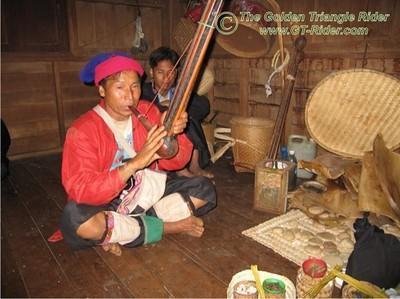 Music is played by a member from the respective household, while the blessing is done. Different households = different musos.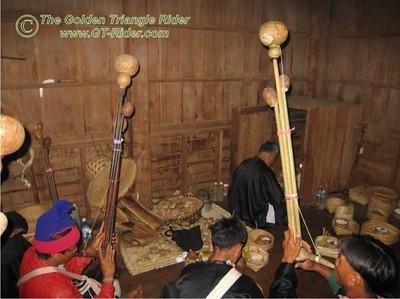 The blessed offerings are then placed in the middle of the dance floor by each family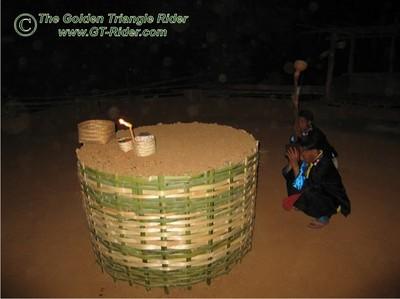 And the show gets underway…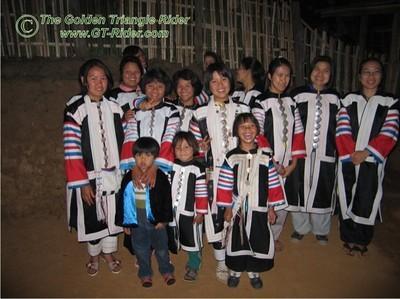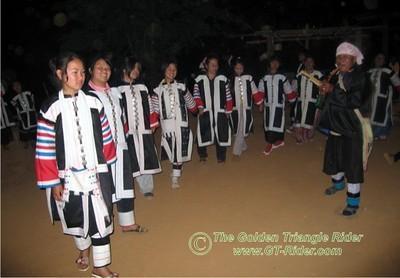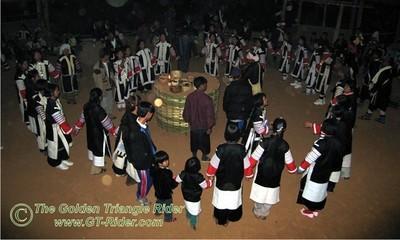 By the end of the night there's a few more spirit offerings stacked up.....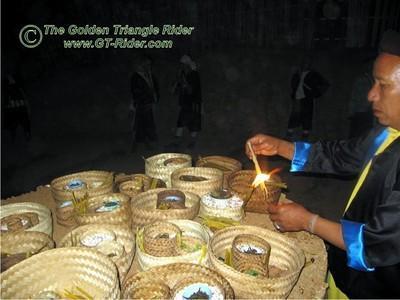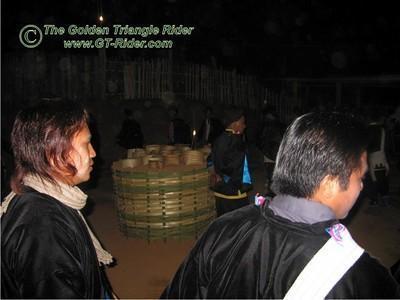 As the night progresses, considerable dust gets kicked up....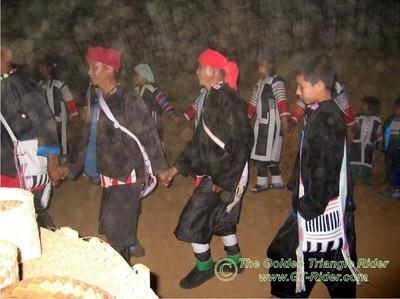 As a show of appreciation for being able to freely observe & participate in the event, we donated exercise books, pens, pencils, rubbers, rulers, to the village school.......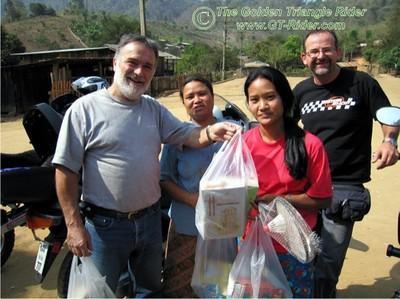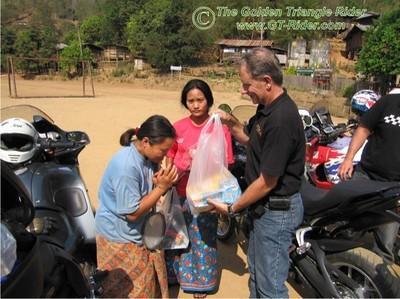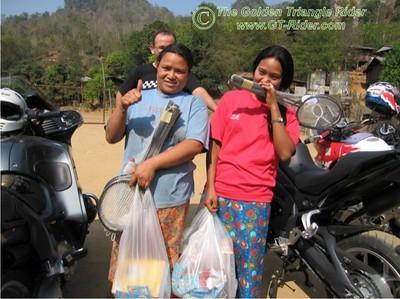 We figure this is a very small fee (500 baht a head), is always appreciated as so many people come, take photos & leave without giving anything back. Put something back in & you will always be welcome. School supplies & clothes for the kids are best. No sweets, medicines or cash.
A special thank you also goes to Ed from ELT in Surathani, who EMS-d me a box of clothes for distribution. Ed these were delivered & given away to the villagers in Luk Khao Larm; & it was a bit of a mad frenzy once the box was opened & they saw what was inside......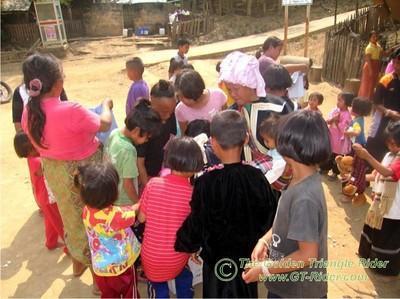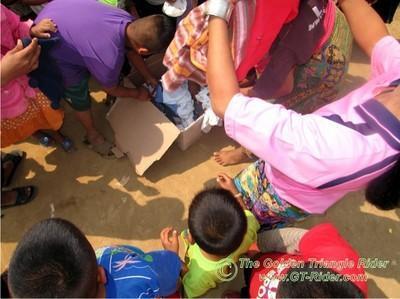 Thank you Ed.
The trip was so good & enjoyable that we ended up spending 3 nights (instead of 2) in Soppong, then 1 night in Mae Hong Son & then back to Chiang Mai.
Now for more pics from the experts & some valuable tips that came out of those hilarious outrageous Soppong River Inn happy hour sessions…….it's your turn guys.