This is a quick report about my trip to Laos in January 2009), when I rented a little Honda 250 motorcycle in Vientienne and rode to Vang Vieng, Plain of Jars, and Luang Prabang, where I dropped off the bike.
This was kind of a last minute trip, so I didn't make any plans until mid-December; I had wanted to go to Vietnam, until I realized that I would need a visa for Vietnam, but not for Laos. So I booked a ticket for Vientienne, found a rental place on gt-rider.com (Jim at Remote Asia:
https://www.gt-rider.com/motorcycles-in- ... e-bookings
), packed a helmet and riding gear, and off I went.
I had heard that Vientienne was a kind of sleepy, quaint town, but in my very brief stay (about 24 hours) I wasn't all that impressed. Here is the main drag down by the Mekong, and a riverside bar where I had a beer: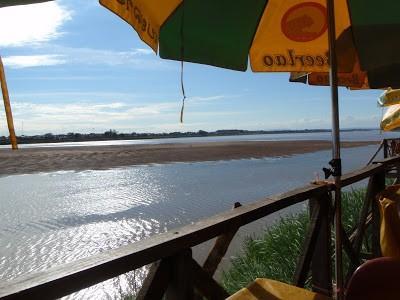 One of the main drag by the river: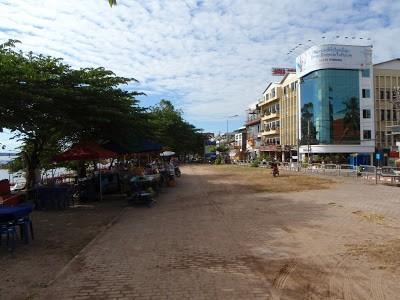 There was a good restaurant/bar there by the main square where I had dinner and listened to some decent live music. Met a guy from Virginia who had retired to Thailand. I say retired, but he was about my age, my guess is that he was a winner in the dot com lottery. Anyway, nice guy, we had some beers and then went to the only disco in town, where we met a couple of girls from Vientienne, some tourists from Vietnam, and the obligatory crusty old Australian. I found the whole Asian disco scene a little weird and wasn't too disappointed when it was time to head back to the hotel. I was leaving in the morning for Vang Vieng!
Had never heard of Vang Vieng until my brief planning for this trip, but it sounded fun. On some river, lots of tubing/drinking/tourists, etc. Jim (remember Jim, who I rented the bike from) gave me perfectly good directions for Vang Vieng which involved riding a certain distance, looking for an abandoned airstrip, and hanging a left. Worked out great, and I rode into town and looked for a hotel. I will say this for Vang Vieng, the setting is spectacularly beautiful: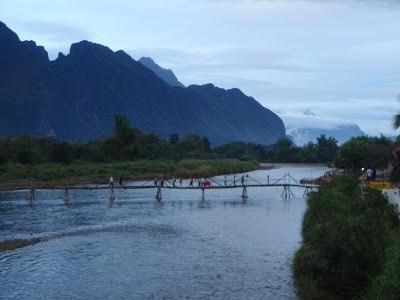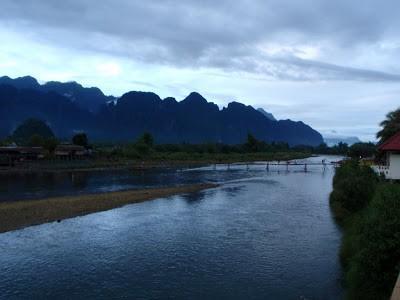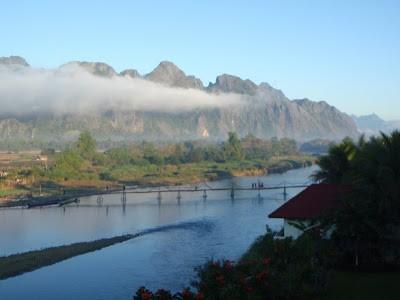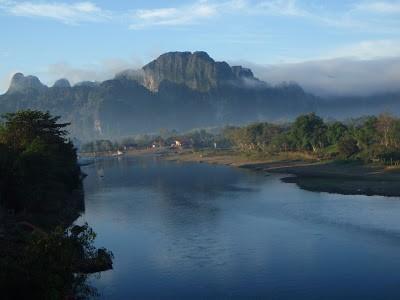 Unfortunately, the town itself is rather touristy. Lots of grungy backpacker types hanging around, which is fine, but all of them parked themselves on couches in the various cafes and watched Friends or Simpsons with rather glazed experssions...Anyway, the weird thing is that all of the bars were pretty much empty (and this over New Years, which must be peak season?). It would have been nice to do the tubing, but the weather was a bit too cold. Anyway, it was time to hit the next destination: the Plain of Jars.
If you've never heard of the Plain of Jars, well, no judgment from me but at least look at what Wikipedia has to say about it: Plain of Jars entry. I don't know why, but I've always wanted to go there, maybe because it is so remote. There are numerous sites clustered around Phonsovan in the Laotian highlands. To get there, I had to leave the relatively warm river valley at Vang Vieng and head up into the mountains to the northeast. It was a beautiful road, through some pretty remote territory: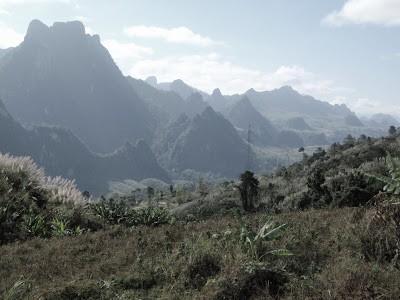 Here is the town where I had to make my turn off from the main highway towards Phonsovan, but there was no sign so I kind of had to guess.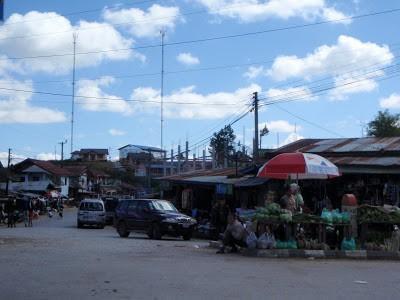 I got about twenty kilometers out of this town before finding the road marker below, which showed I was going in the right direction. Sweet!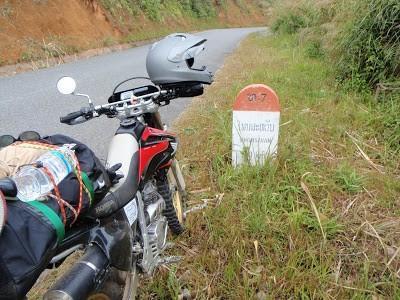 It was pretty foggy and cold for most of the ride, but there was absolutely no traffic and it was a nice ride. More scenic stuff: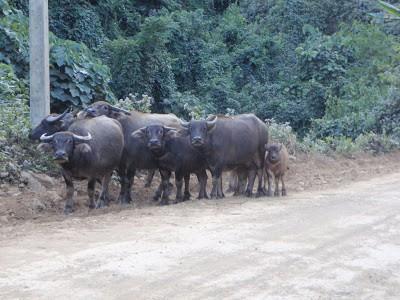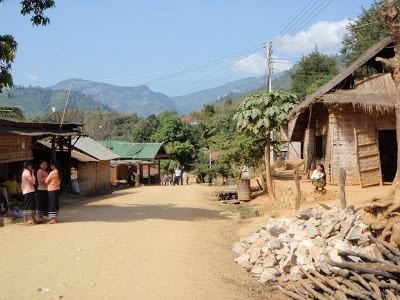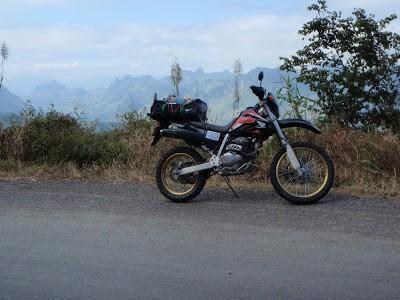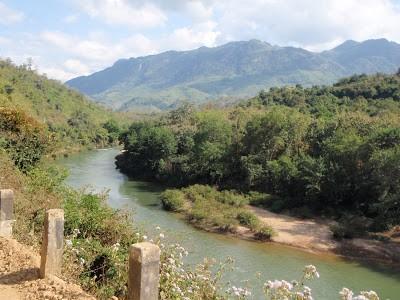 I got to Phonsavan around three and immediately went to one of the Jars sites: there were quite a few of the things.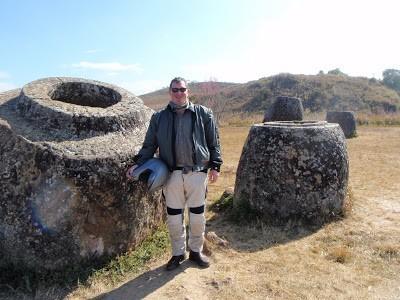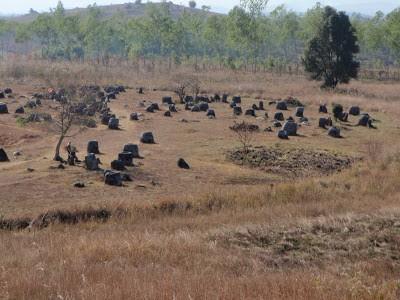 One tricky thing about the Plain of Jars is that there is unexploded ordnance all around, in the monument areas, from when we (the US) bombed them during the Vietam war. All of the footpaths were clearly marked, and they warned you not to step off the path at all or you could find a cluster bomb. There were basically no tourists there, a couple of Laotian families wandering around. But the Jars were cool! The town of Phonsavan is nothing special, but I found a good restaurant and had dinner and went to bed early. It was pretty cold up there--maybe mid-thirties at night, and I was pretty cold in my hotel room. The next morning I got up, went to the same restaurant for a nice omelet for breakfast, and headed off the way I'd come, back to the main highway, where I would head north toward Luang Prabang.
It was pretty chilly in the morning, but had warmed up by the time I got back to the main highway, where I hung a right towards Luang Prabang. The road to Luang Prabang was also very nice, lots of curves, little traffic, great views. I pulled into town, found a hotel, and started walking around. It is a beautiful little town, situated on the confluence of two rivers. Apparently it is the former seat of Laotian royalty, so there are lots of very nice temples, etc. It is also a UN Heritage site (or something like that), so lots of the restaurants and hotels had been very well renovated--this was by far the nicest town I saw in Laos, and really nice by just about any standard. Once again, though, almost all of the restaurants and bars were completely empty. Lots of tourists here as well, but more yuppy types than back-packer friendly Vang Vieng. As in Vang Vieng, many of the restuarants/bars have big bonfires (outside!) where people hang out, drink beer, and listen to music. Assuming the music was good, it was really nice, and the fire felt good because it wasn't very warm. At one of the bars in Luang Prabang I was sitting next to a guy who was keeping to himself; when I started chatting with him it turned out he was Norwegian and was riding from Norway to Hanoi on an old BMW. Interesting chat with him.
There were a couple of good day trips out of Luang Prabang as well, like to the waterfalls. I rode out there and bumped into some people that I'd met at a bar the night before, went to the swimming hole with them. Here is one of them having a little fun:
I wish I'd had more time to go further north, or spend more time further off the beaten path, Jim had some good recommendations that I didn't have time to take advantage of.
The next day, I took the map and picked some little road that went up into the hills and headed that way. I didn't really care where I was going, hopefully I'd find some cool stuff, and I did! The picture with the banner is a wedding party that had set up right in the middle of the road that I was travelling on. I started talking to some of the kids, who invited me to the wedding, but I regretfully had to decline--I had a flight in the morning to get back to Luang Prabang, and I knew if I went to the wedding I'd be drinking, so wouldn't be able to ride back out...
In the morning I dropped the bike off in the center of town and took a taxi to the airport.
In general a great trip, I would defninitely go back to Laos. Everything was pretty stress-free--had no problem finding my way, no problem finding gas or food, no problem finding hotels, etc. And everything was quite cheap.