Day 9: Vientiane to Xieng Khuan (aka"Buddha Park")
.
(Google Map link)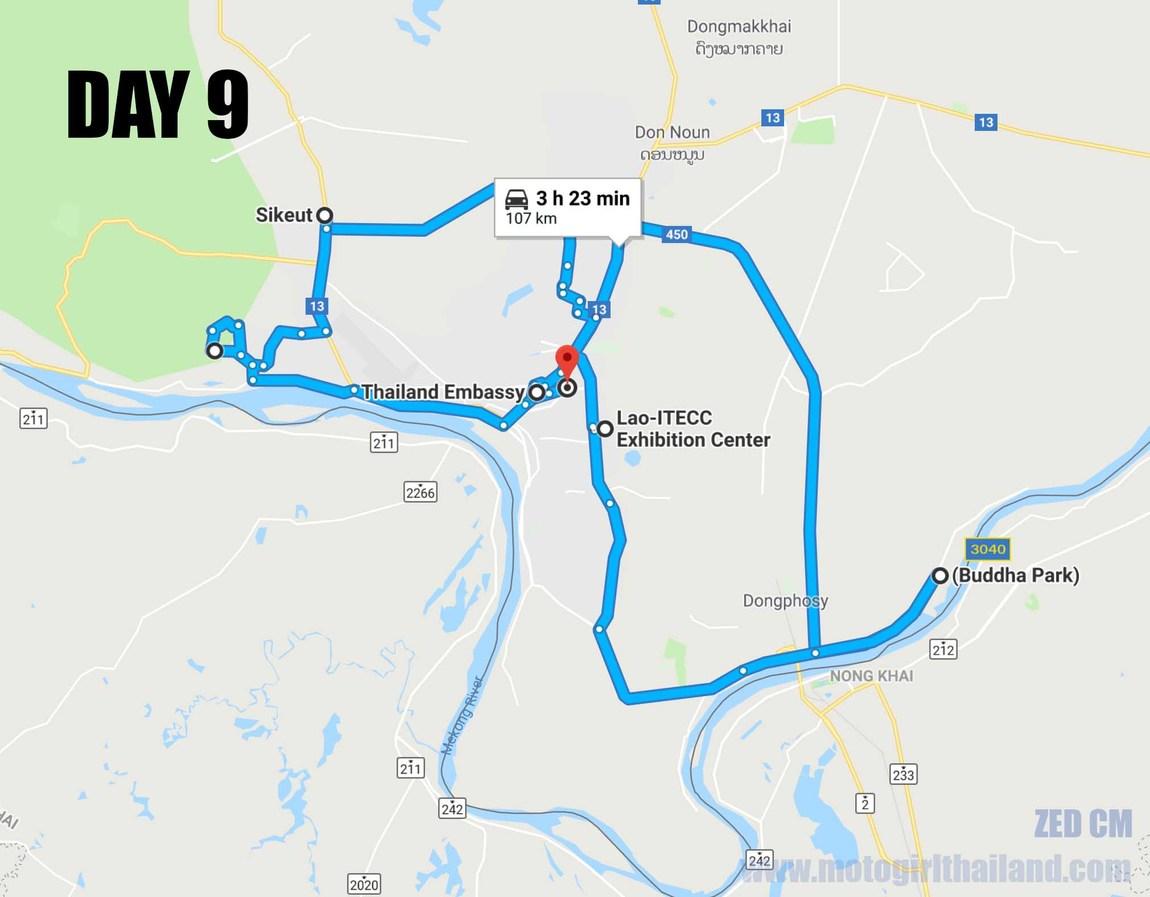 I woke up very early, so took a morning ride around
sans helmet
(yes I know, poor form for many. However, it was just for a short time and there was no traffic around. I just wanted to enjoy a small ride without gearing up. It was heaven!).

I went back to the hotel for breakfast
(included)
and then headed off to the Thai Embassy where i would apply for a new Thai visa.
D'oh moment when I got to the embassy and found out that it was closed that day!

I had broken a cardinal rule. Normally I always double check about dates. No matter! Off I went instead to
Xieng Khuan (aka "Buddha Park")
. As luck would have it, arriving early also meant I beat the busload of crowds that arrived around an hour later.
Was great to revisit this park, which I first visited around ten years prior. At that time I had a simple phone, which had a basic low resolution video facility. I began to film some boys that were playing in the park
(between ages around 7 and 10)
, and they were not used to phones having a video option, so just kept posing thinking I was taking photos, haha! Was very cute. Amazing to think these same boys will be grown young men now. I wonder how their lives are.
(If I can find this old video, I will update this post with it)
After the park I had a ride around and explore.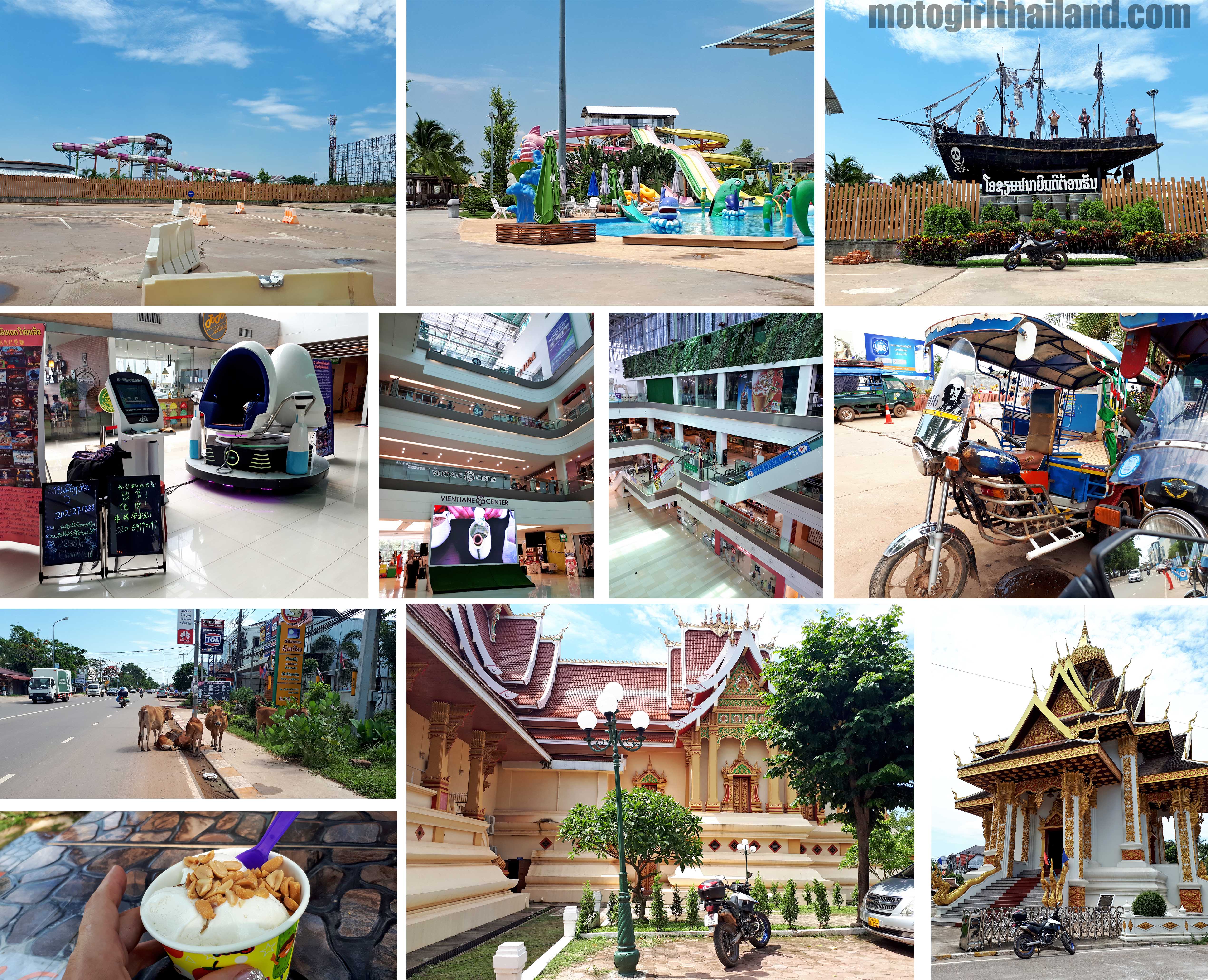 I good day of exploring. Took in a lot of sights. Found many interesting temples. Found out that Vientiane has a massive
waterpark
, a big
exhibition center
, a
huge mall
..and also that the
city center mall
had a major overhaul inside. Some years back, when i was last there, this mall looked more like local market. Lots of small market type stalls and shops. Now it had major chain stores and a lot more carbon copy to malls worldwide. In some ways better, in many ways worse. Noticed a lot more chain stores and restaurants in the city too.
I suppose that is "progression" for you…
That evening I declined meeting up for drinks as I just wanted some quiet downtime.
It takes a lot out of you riding around in extreme heat!
Day 10: Vientiane City
(Google Map link)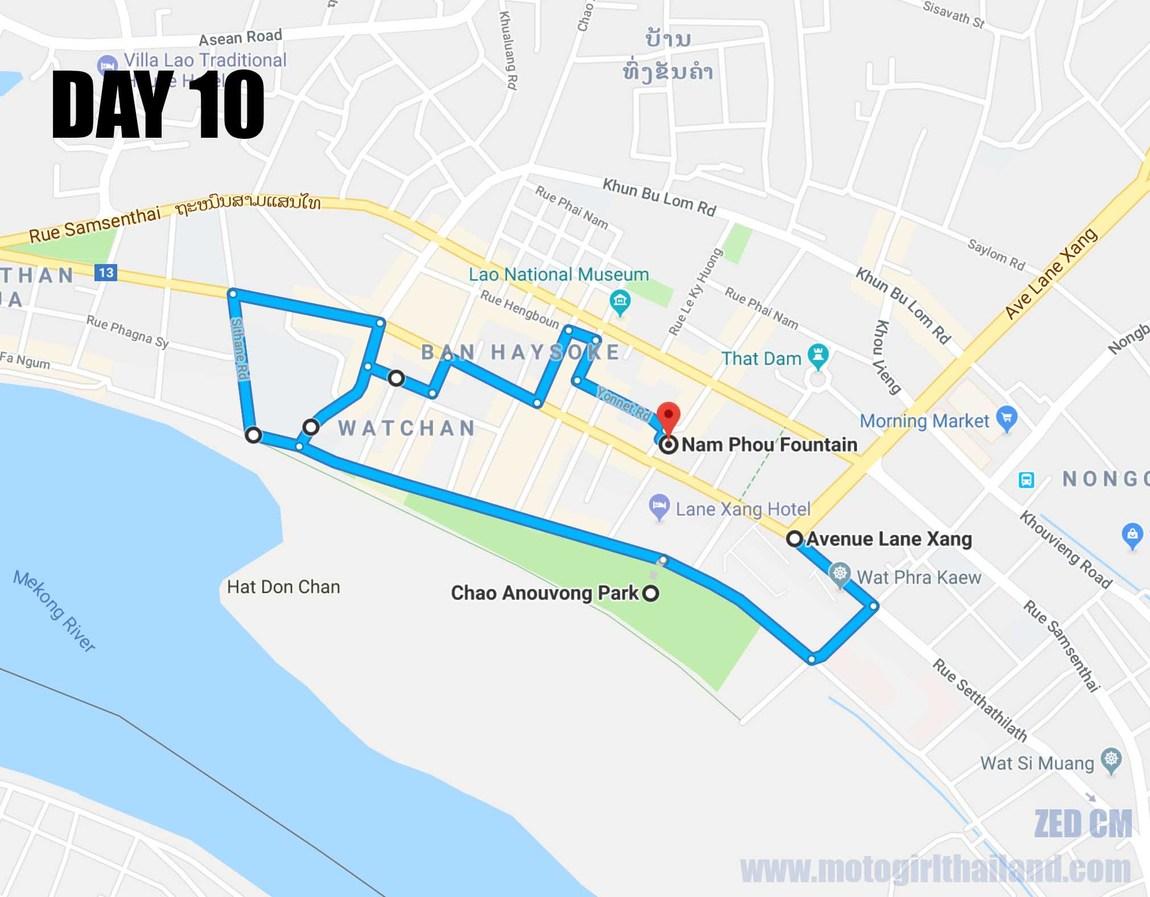 Early in the morning I finally got my visa application in at the embassy.
Afterwards i indulged in a coffee and then went back to my hotel to get changed and explore the area again on foot.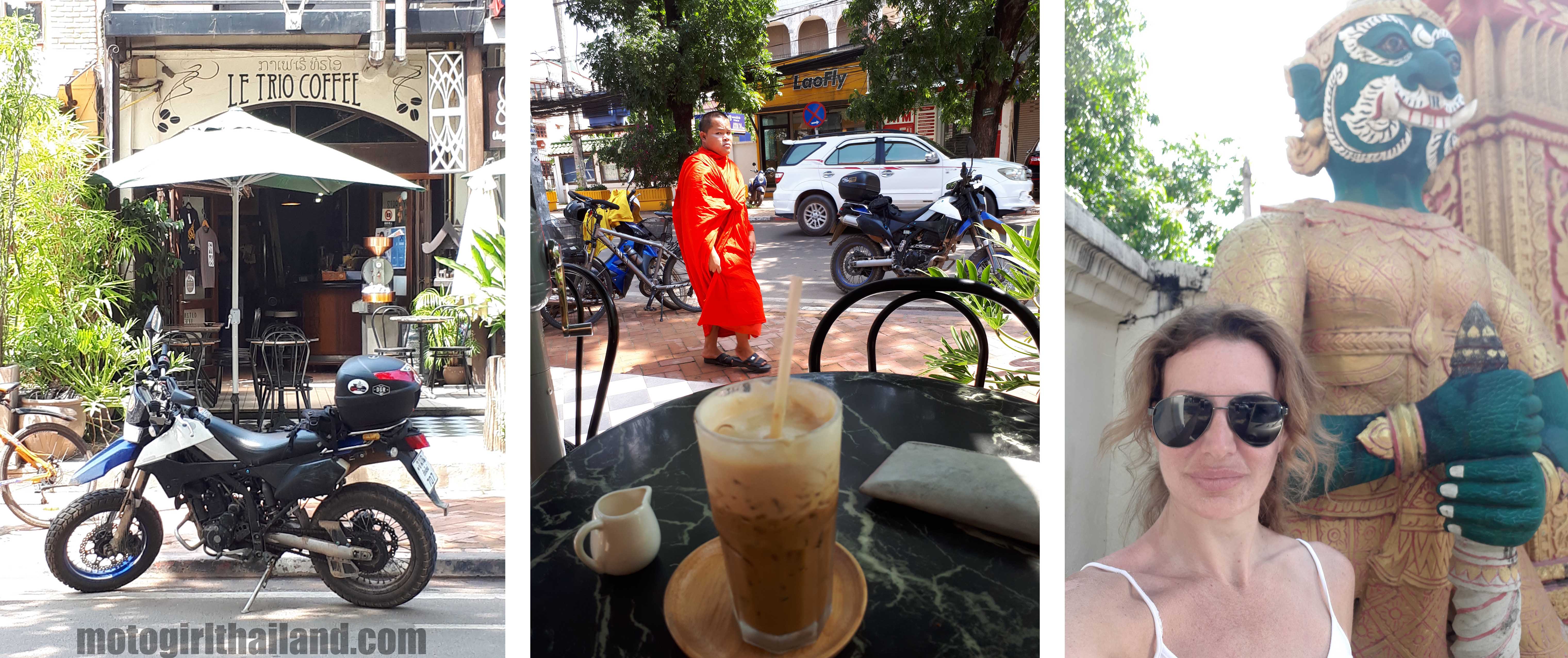 I rested up and then headed out in the evening, where the city has a lot to offer.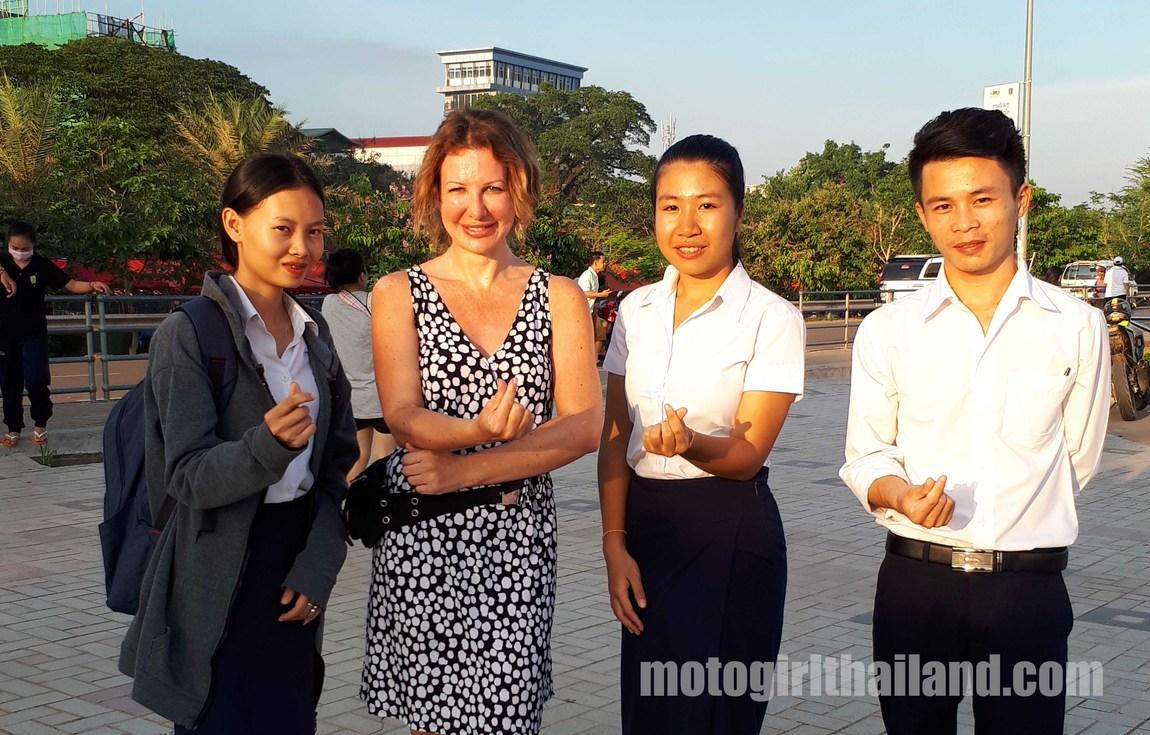 …this was fun.
I was interviewed by these students for a project they have to do for school.
The first question was:
"How did you travel to Laos?"
"By motorbike"
(Confused/surprised faces)
I explained, and they were very surprised! I was asked questions such as where did I go?.. where do i plan to go next? etc.
..they were then additional surprised when at the end I spoke to them in Thai. Haha. Great moment!
They taught me this pose.. it is making a loveheart symbol between two fingers. Cute !
(Not "give me money", which many seem to think.
)
Day 11: Vientiane to Chiang Mai (overnight ride).
(Google Map link)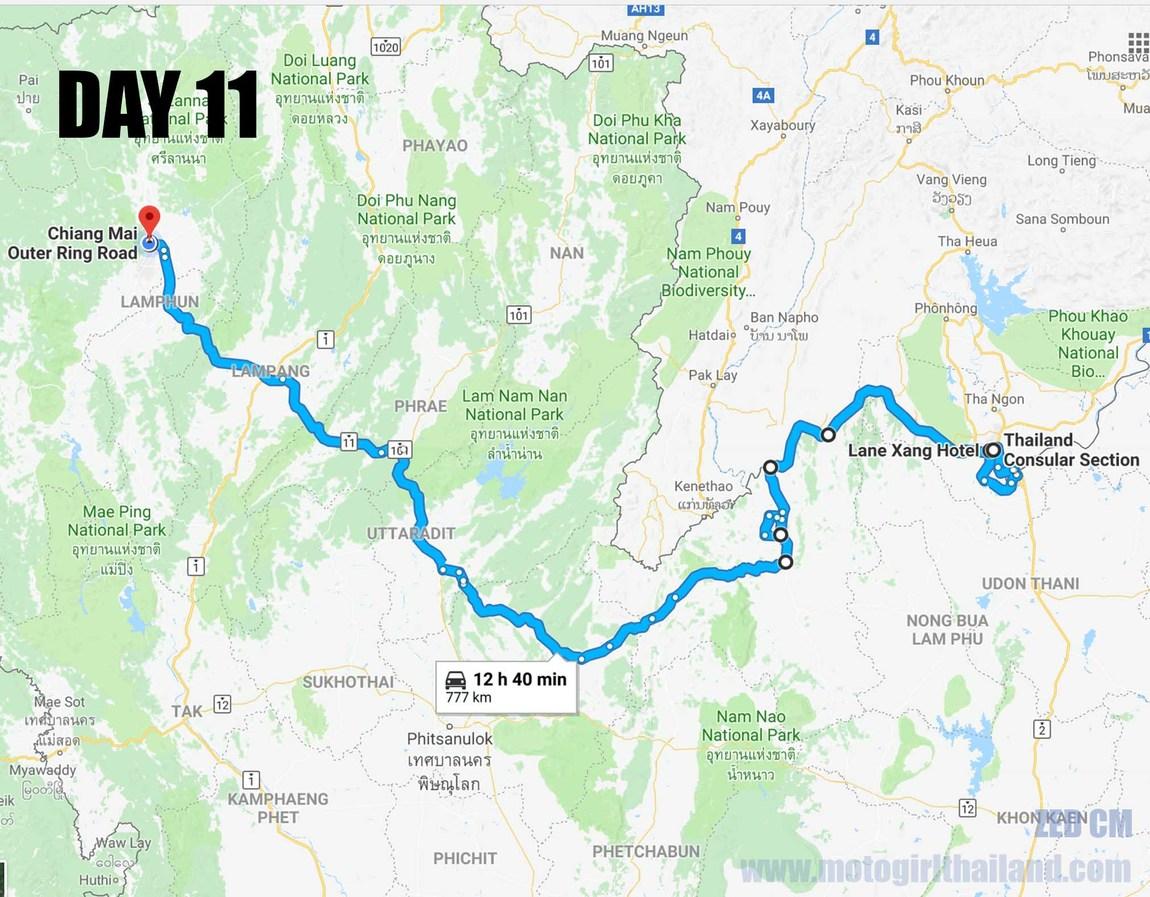 A slow morning that morning, which was mainly a waiting game to collect my passport and visa. The collection time was not until 1:30pm and there would be a queue, so i knew it would be a fair wait. When I arrived at the embassy the passports were handed out fairly quickly thankfully and I took off on my bike to the border.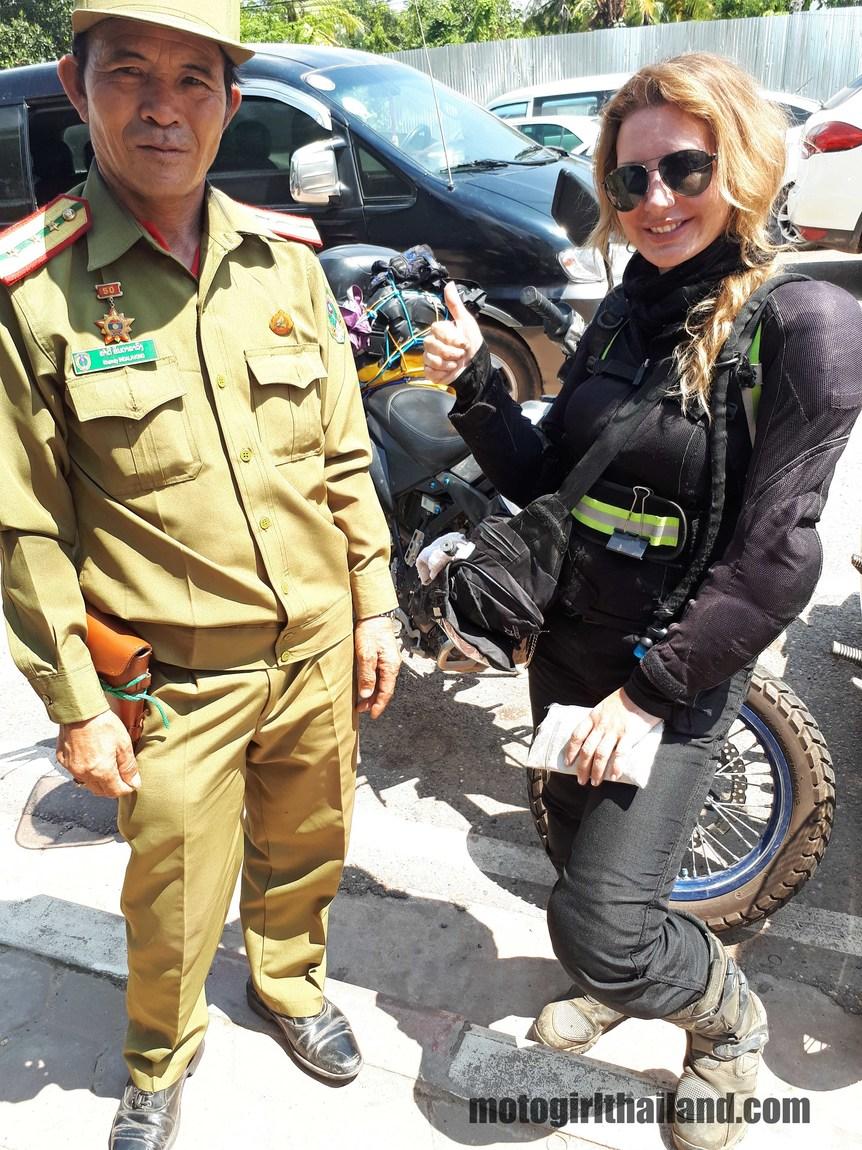 On the Laos side I got my paper work stamped and I headed over the Thai-Laos Friendship bridge, feeling a real victory moment.
However, this vitory moment didnt last long when I was informed that I did not have an exit stamp in my passport. So, had to go back over the Friendship Bridge to the Laos side to get one. Haha! Doh!
I got my exit stamp and arrived back over the Thai side where i got everything sorted and was finally official over and back on Thai soil.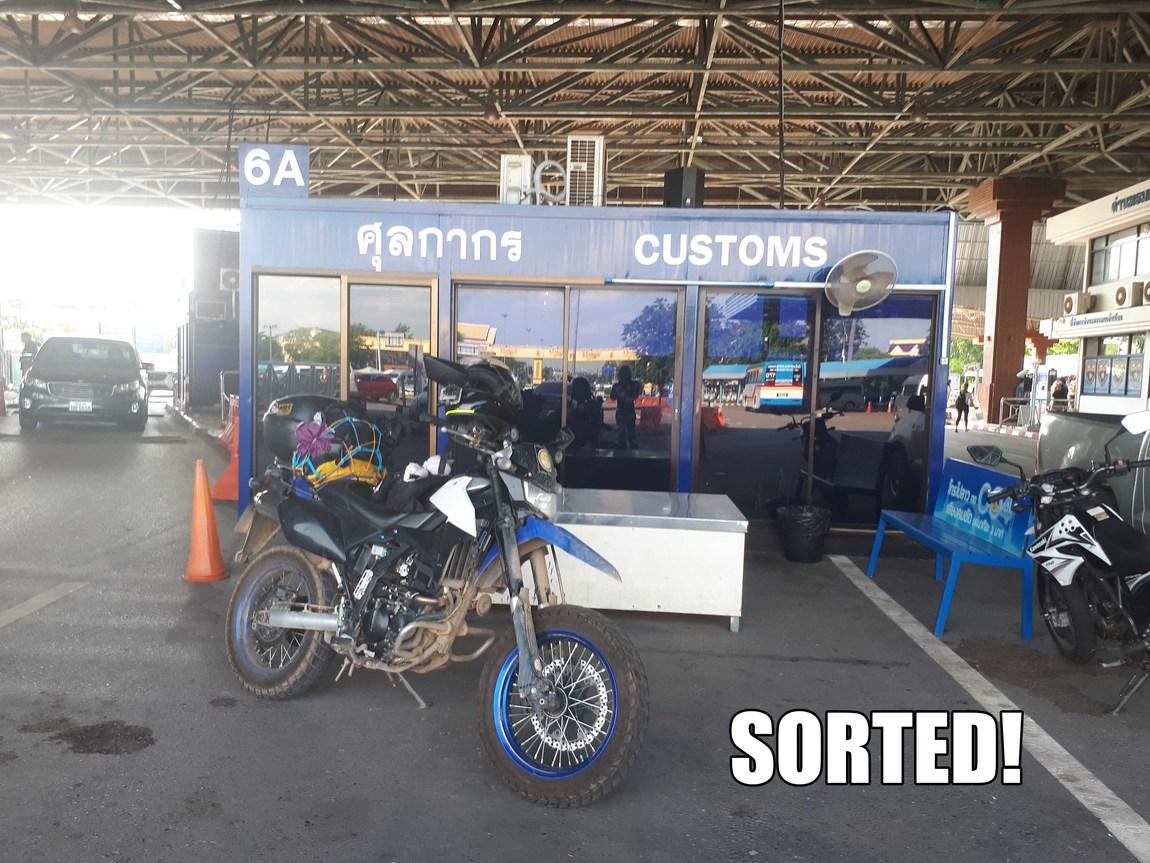 At the border entrance I pulled up my bike to take a photo and an officer kindly came over to offer to take a photo of me.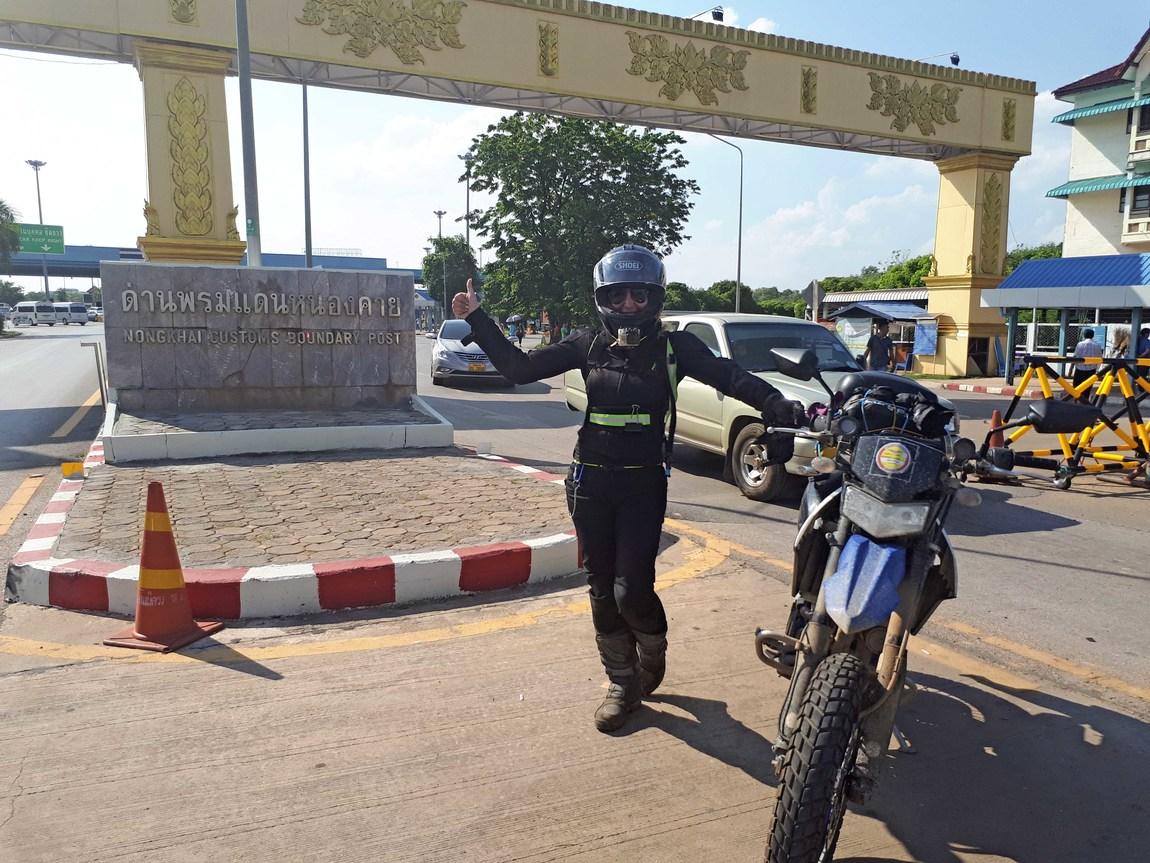 He then asked me about my trip and where I was going. He ended up giving me an escort down the wrong side of the road to the start of the R242 border road..haha!
He then told me where I need to go. I actually already knew where to go, but I was grateful for the kindness. I checked the time. Almost 4pm. Seemed everything took much longer than hoped…and I was on the Thai side later than hoped :/ No matter. At least I was back over!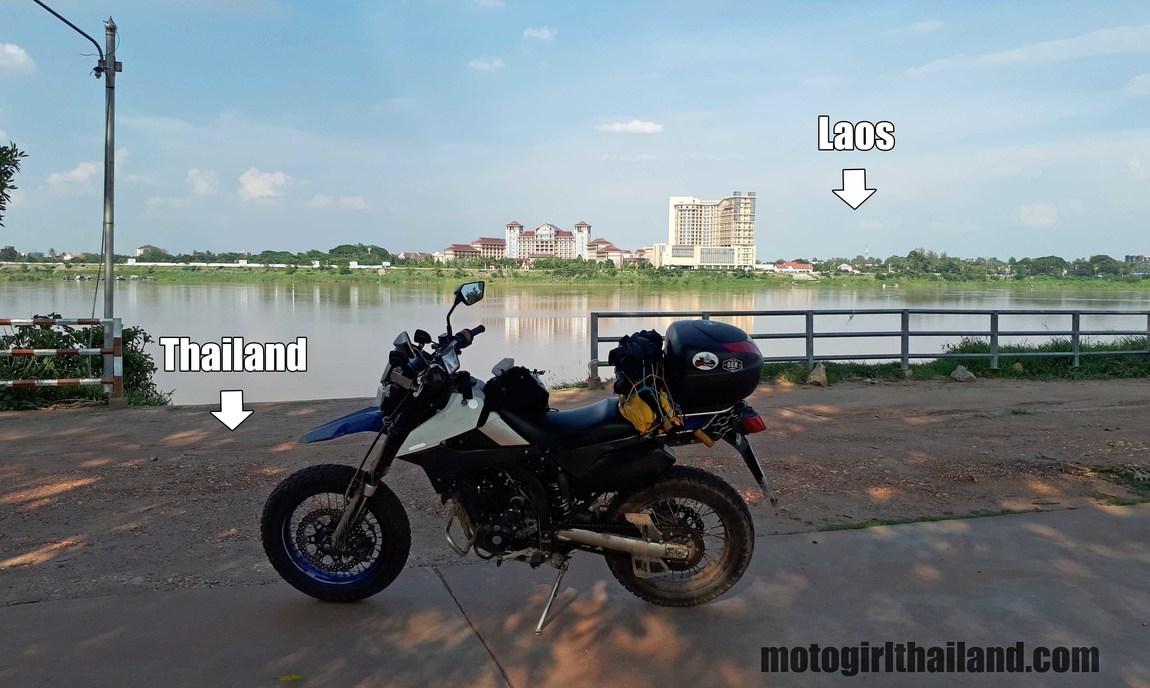 My original plan was to ride along the border road and stop in at Nam Pat region
(aiming for
Takayai Resort 2)
, then in the morning I would ride to
Sirikit Dam
and take the ferry across the river
(I had done this once before. See "5 days, 7 provinces" trip report)
.
As it got dark I somehow took a wrong route and ended up on a rutted dirt road, in the dark, with the sky lighting up ready for a thunderstorm! I rode along this route for a bit, wondering if the road would improve, but it only got worse. So I decided to backtrack. I didn't fancy getting stuck in a rutted dirt road in the dark in a thunderstorm!
It was then I just decided to change my plan. I began to crave home. I decided to instantly end my trip. Instead of heading back up onto the border road I headed down towards Loei (as I figured the main roads would be safer in the dark, and also if a thunderstorm hits).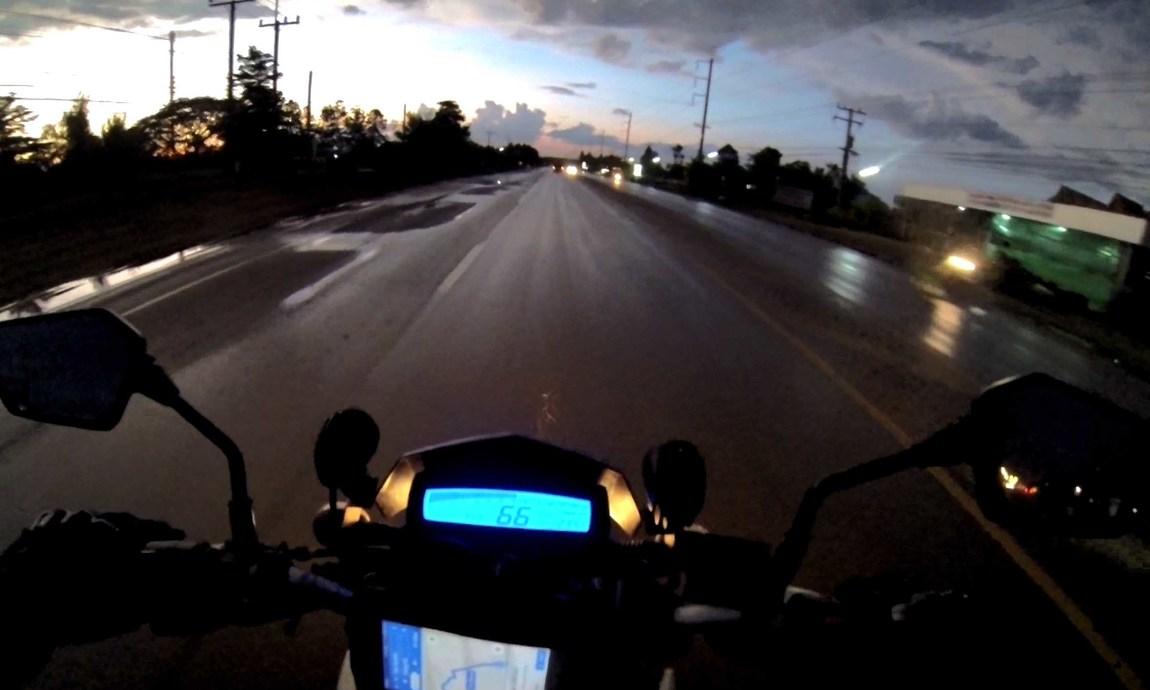 Wet and slippery
So, off I went towards Loei. I debated whether to drop in on the motorcycle crew at
Loei Saloon
(a popular rider hangout)
, but I just wanted to make tracks and get home.
(I also did not stop in at the Budapest Bistro in Vientiane. The owner is a rider. Seems to be highly recommended. So if you like Hungarian food, drop in!).
After Loei I headed along the R21. ..and this road gets dark. VERY dark. Pitch black dark! My LED spots burned out some months before and I was aiming to ride this road with the equivalent of a candle light torch, which is my pathetic front light. I handled this by either slowing right down and enjoying the stars and fireflies, or using any passing vehicle as a beacon. Most vehicles had great headlights so if I tailed them I could pick up speed. Usually the vehicles would turn off some place though, so the guide light never lasted too long. The road itself felt like it lasted forever. I was so very slow!
When I hit the main R11 the road had more intermittent spots of flash lit area. So was a little more easy. It also had clearer markings to follow and cats eyes.
As I approached
Lampang
(approx 100kms from Chiang Mai)
I was getting very weary, so pulled in at a garage and got myself some food. That's when I took a look at the time. It was almost 4am! I had no idea! The route had taken so long due to the lack of decent lights.

I had a short rest to judge how I was, and thankfully a little while later the rest and food had got me a burst of energy. So headed for Chiang Mai. This route is also better lit for the most part, so when I got back on the bike I was able to get a better pace.
When I pulled in at Chiang Mai and noticed the large city digital clock, it read 5:45am. A crazy long time for this ride, and my butt was hurting by now. Parked up and got myself home, where I was grateful to peel off the now disgusting bike clothes. Despite washing them every day, they had taken on a distinctive wet dog odour. Not pleasant.
I have no regrets at deciding to cut out the Thailand side of my trip. I think the Laos adventure was enough for me to chew on for now. I feel good that I achieved my first solo ride in Laos and out the other side ok.
Feeling good after this trip, and I cut it off at the right time. As now I am looking forward to the next adventure, rather than weary about it.
Thanks for reading.
Hope you enjoyed!
If you did, please consider subscribing ^.^
Facebook
Website
Youtube

FULL VIDEO COMPILATION OF THIS TRIP: