Date: 18-January-2008
Riders: Dave (Silverhawk) & Thim
Bike: 2006 Suzuki DR650
Route: Laos- Highway 3-Hwy 17B (Muang Sing)-Hwy 13B-Hwy 13 to 1C (Nong Kiew)- Hwy 13 to Vientiane.
There were about eight GT-Rider's traveling Laos around the same time. Some were, like my friends David and Mai, doing some out of the way adventure riding, others were on a schedule traveling many Kms in a short time.
This trip for me was with the Thai G/F who had made it clear "No racing or foot peg dragging, no mud and definitely no dusty dirt roads!"...... or no ???????? for me!. Ok! Ok!
Crossing from Chiang Khong into Huay Xai on Jan. 18 was fairly easy. I dropped off my paperwork at Thai Customs on the evening of the 17th so it would be ready in the morning. When I returned I was told "There is a problem". Never something I like to hear. As it turned out, and it was a good thing I had the G/F to translate, when I returned from the Hongsa Elephant Festival last year my bike paperwork wasn't entered in the computer as having returned to Thailand. It took about 45 minutes but we were able to clear it up as their error.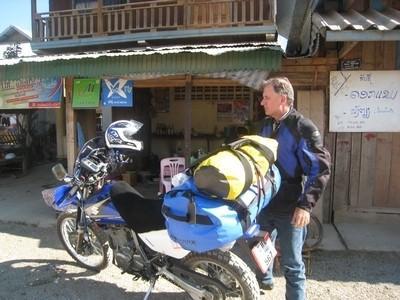 One overloaded DR650, but it later proved worthwhile
We crossed to Huay Xai, did our paperwork and insurance with no problem and hit the road. What a road! Route 3 from Huay Xai to Luang Nam Tha used to be called the "Jungle Road" and was avoided by most riders. Here are some photos from the two times I traversed it,
2004 and 2005
.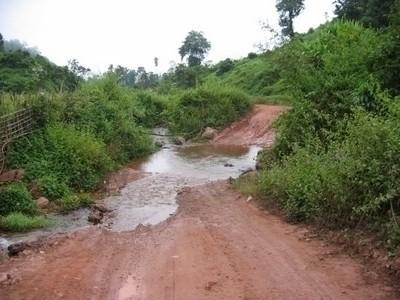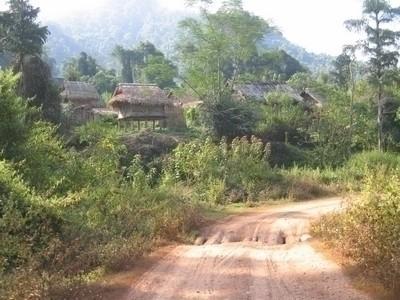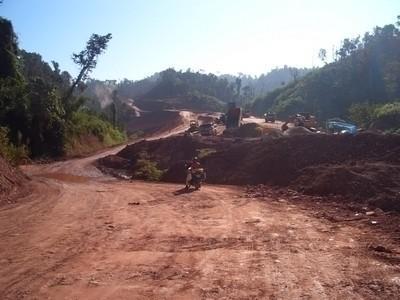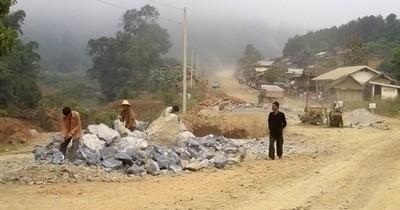 I think the other riders will post some more photos of the road, but all I can say is it is an amazing road now. Meant to be a trade route from the Boten border crossing on the Laos/China border to Thailand and the planned bridge from Xuay Xai to Chiang Khong it was now only a little more than 3 hours riding to Luang Nam Tha. Before it was an all day challenge.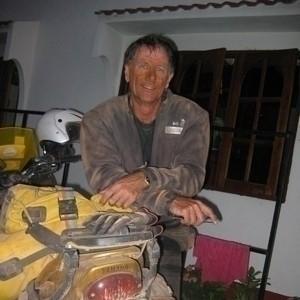 NOW,
it is a great ride and makes a whole new EZ way to get into Laos, but I am also glad that I had the chance to ride it when it was still the "Jungle Road".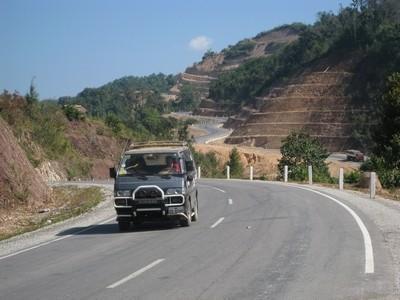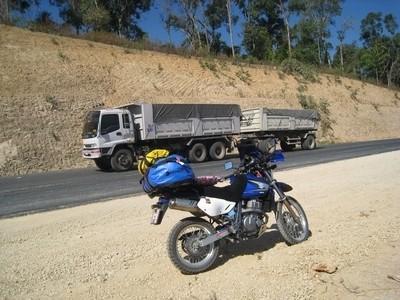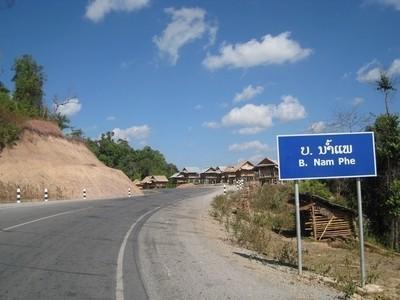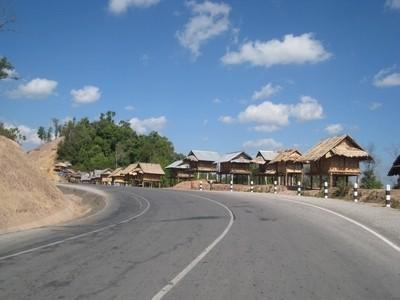 I wonder how the locals will adjust. I am sure they are happy the dust is gone, but I saw some near misses with the kids playing in the road
We went straight through LNT and on up toward Muang Sing. A windy asphalt road that was rather rough but no potholes or dirt. An hour ride brought us to a guesthouse I had seen in 2004 and said I would return and stay.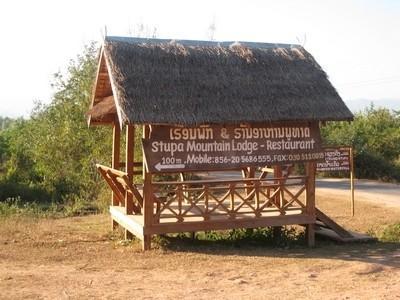 We checked in and found great friendly people and a Laos lady who loves to cook food recipes she picked up traveling the various countries in Asia. We stayed two nights.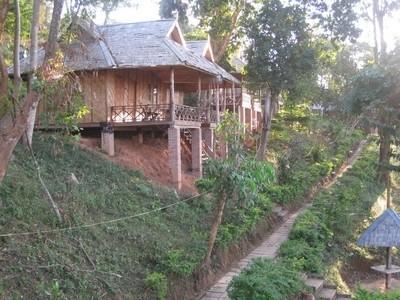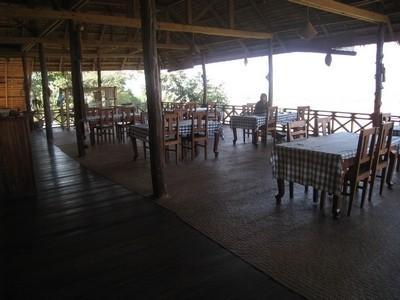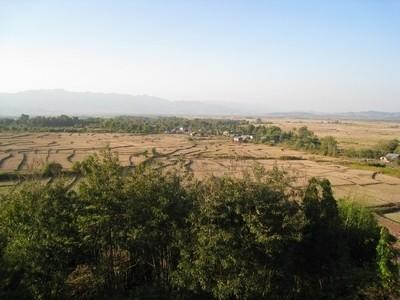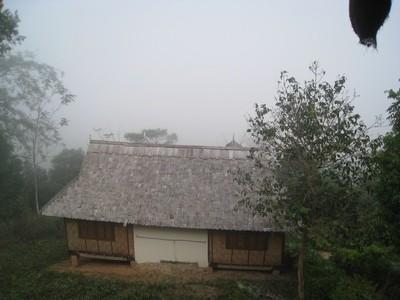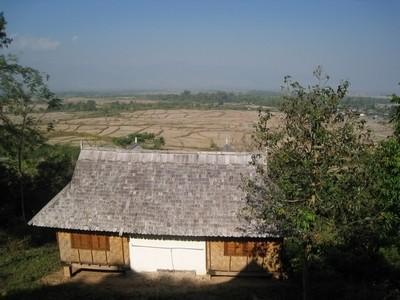 A great view from the restaurant and the rooms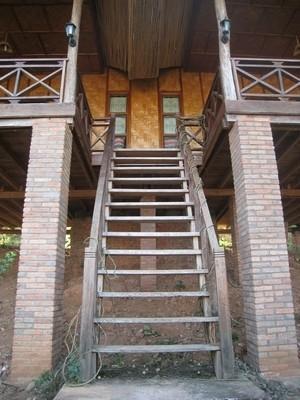 Killer steps
We did venture on the road to Xieng Khok, but it was extremely dusty and rough, remembering the initial G/F threat we returned after only about 45km and just relaxed. Photos from 2004 here
Hill Tribes of Luang Nam Tha
Next we went up to Boten to see what changes had been made along with the new road. A sleepy border crossing has now been turned into China in Laos.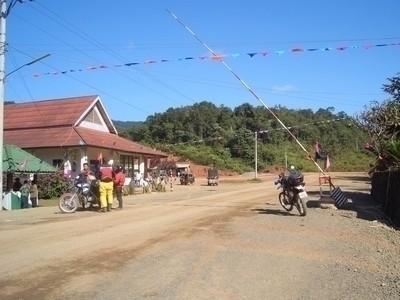 Boten Border Crossing 2005
A huge hotel and casino complex with more being built and supported by rows and rows of supporting shops. They wanted us to pay for drinks in Chinese Yuan and only spoke Mandarin in the new shops. We went over by the border crossing that still had bamboo huts and Lao people and had some Lao somtom and coffee Lao, payed in Kip.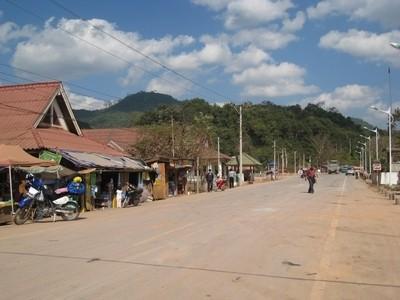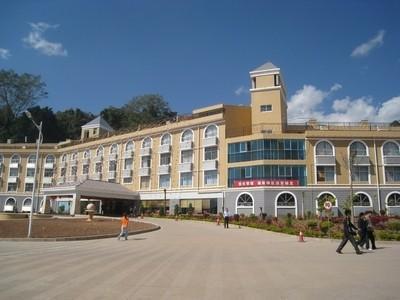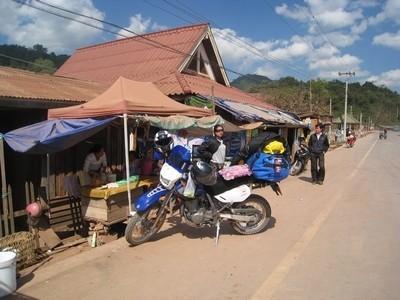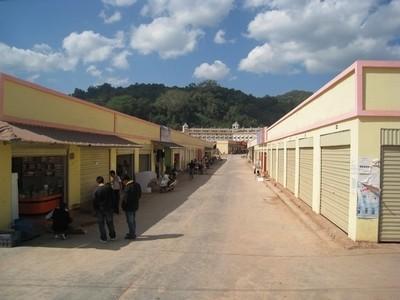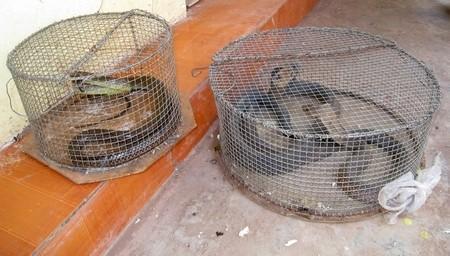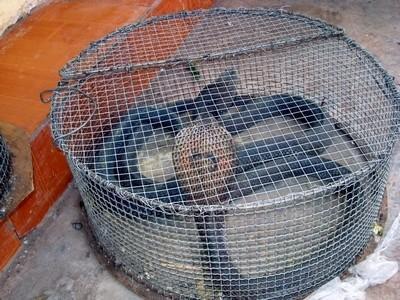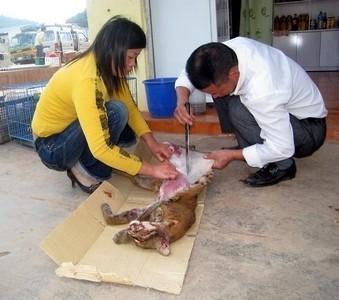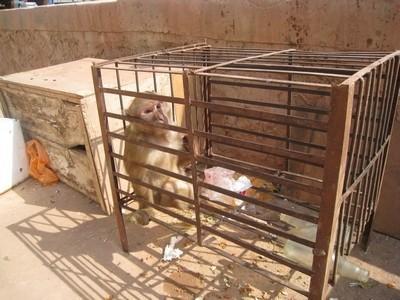 Of course where there are Chinese, the endangered species list is ignored and in danger!
I hope this area doesn't turn out like Mong La in Burma, See
Travel the Burma Road
The road from the Boten junction on to Oudomxay pretty much can be described as "terrible". Constant potholes and sections of pavement removed and filled in with rocks and stones it was pretty rough riding. I felt sorry for Snail on his Ducati who was a couple days behind us, but he later told me it was not that bad for him.
We overnighted in Oudamxai and then made a quick run to our main destination Nong Kiew on Hwy 1c.
On the way one couldn't help but be reminded that Laos is still a Communist country. It was their "National Day" holiday weekend and celebrations and FLAGS were abundant. On the road to Nong Kiew virtually every building and hut was flying a red flag.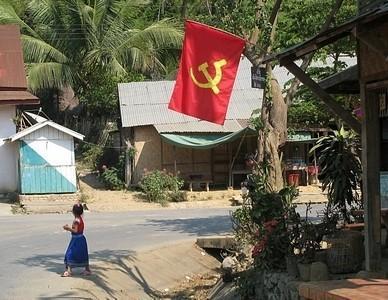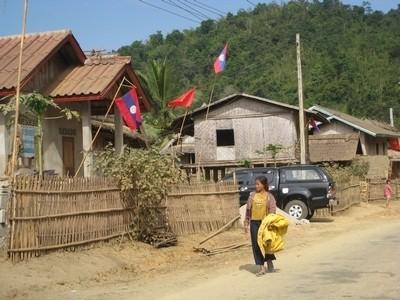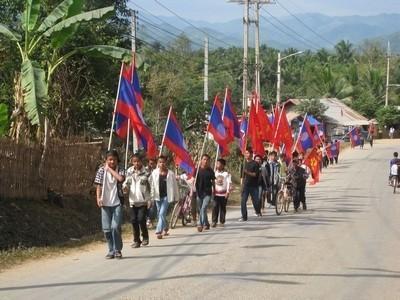 As we were told by a nice old couple who we chatted with while stopped for a break, "This is the day 40 years ago that we kicked out the enemy and the bad people!" History is written by the victors.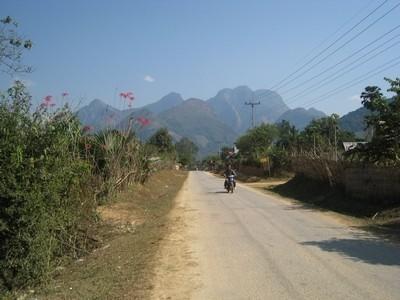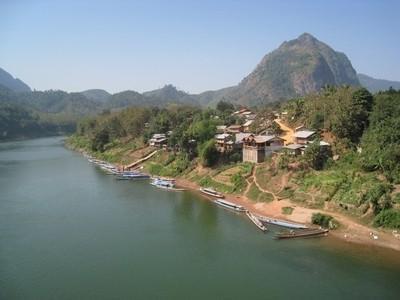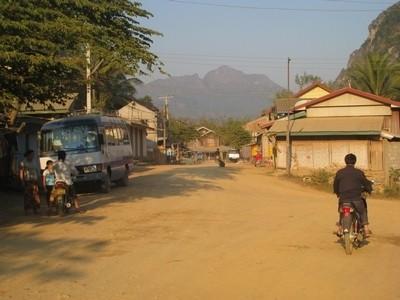 Nong Kiew is a sleepy little town with a few guesthouses and restaurants and is mainly a bus stop and layover for backpackers taking the slow boats up or down the Nam Xang River. It is also the source of stunning scenery, a relaxed atmosphere and clean air.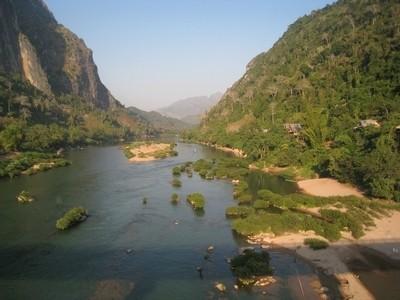 Nong Kiau River Side Resort on the right
We stayed at the recently finished Nong Kiau River Side Resort.
www.nongkiau.com
A little pricier than the other guesthouses in the area, it was worth it for the scalding hot shower and the great view alone. It even had electric blankets on the bed and broadband internet. 31 USD per night and an added discount for staying 3 nights. The nearby Chan-A-Mar guesthouse which is where I have stayed in the past is also nice at 20 USD. A number of other lower price backpacker places in the area of the bridge but I didn't price them and many were full.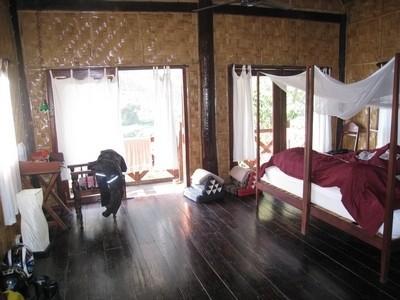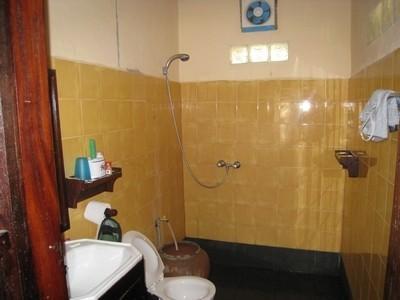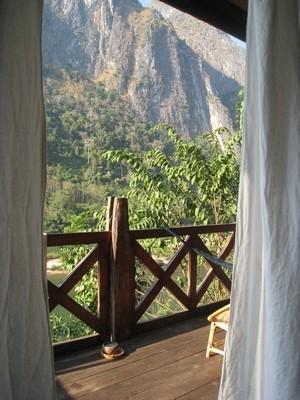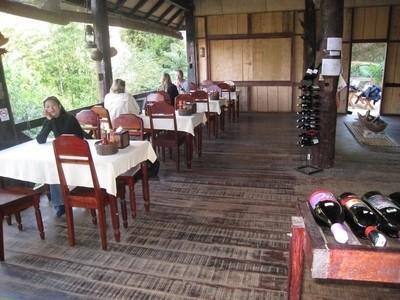 I had promised a boat ride to Mueng Gnoi and so we did. Previously they had fast and slow boats but they have now done away with the fast boats as they have in Huay Xai. A good move in my opinion. Although some of the "slow boats" are not exactly quiet it is much better than the roar of the fast boats.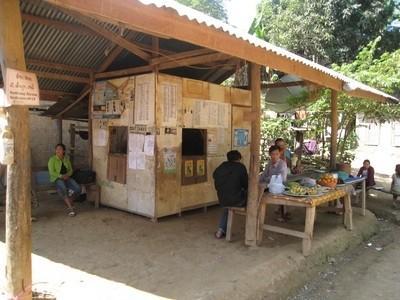 Ticket Office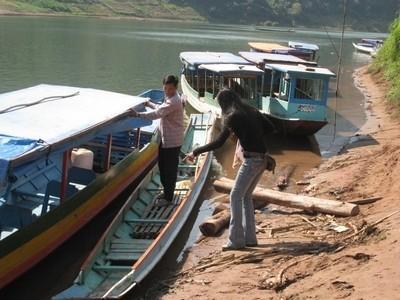 Step where?
They do have a "Catch 22" now however. The slow boat leaves around 11:00AM for Muang Gnoi but there is no return boat until early the next morning. Sooooo….you must overnight in Muang Gnoi which isn't much except for guesthouses, restaurants and the river. If you are into trekking and caving there is a lot offered.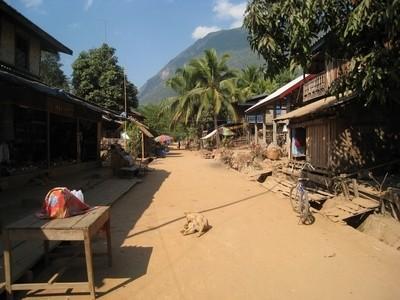 Muang Gnoi
Of course you can book boats on your own or get your own group together for a price, We chose to rent our own boat. They will wait for you at Mueng Gnoi until you are ready to leave and it is about 45 minutes each way. About 44 USD. Even though MG isn't much, the boat ride is gorgeous.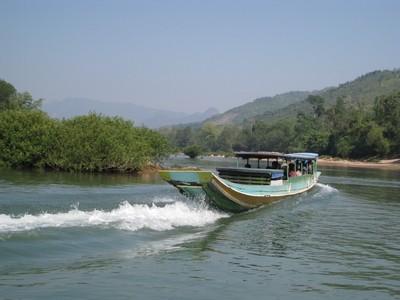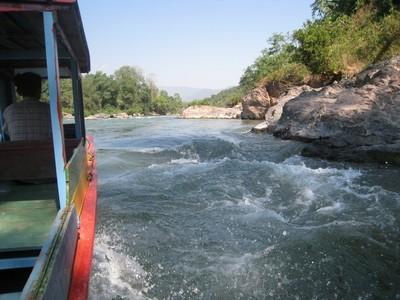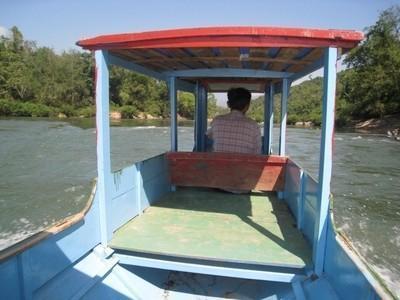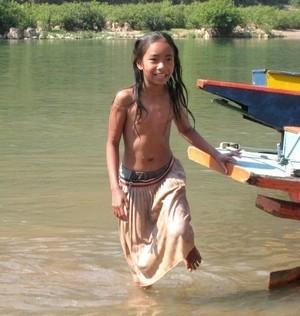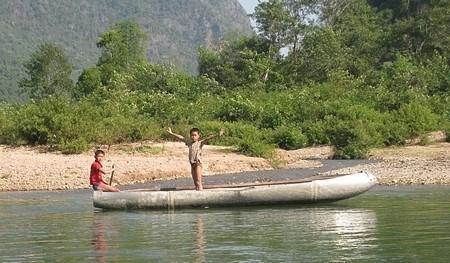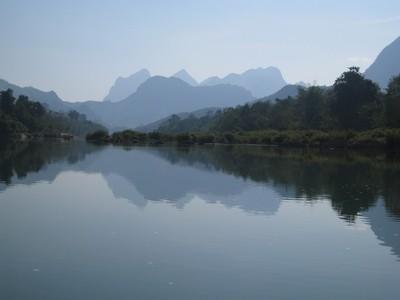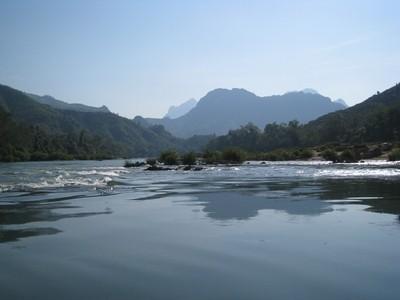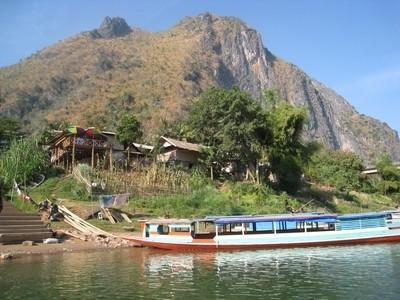 Just east of town is network of caves used in the war. I had seen part of one before, but this time there were guides who took you on a full tour. I had no idea the network was so large and similar to the caves near Xam Neua.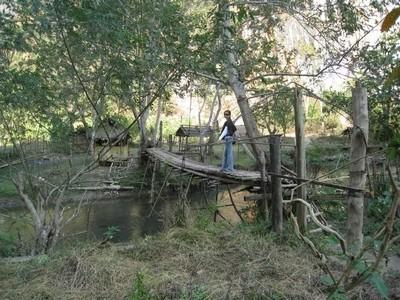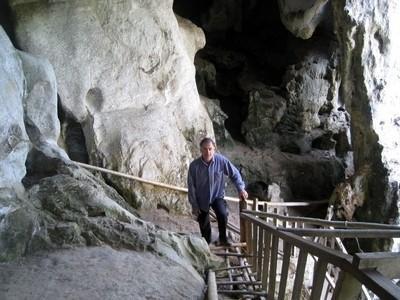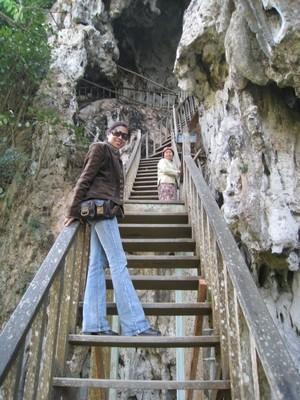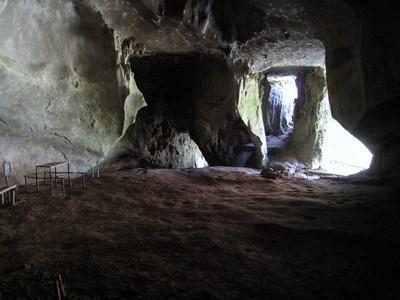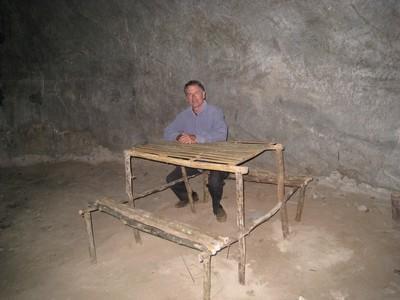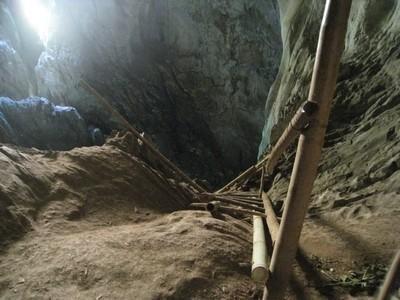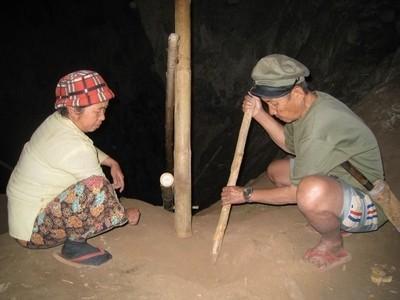 The guides said we could down here but the rail was broken. They would have it fixed in a minute. I said "Maybe next time" and went back the way I came.
The lady guide again told us with animated gestures how the Americans dropped many bombs trying to "Kill the Laos people" but more than 500 people hid in the caves. This was the local control center for the Pathet Lao.
Kids at play
.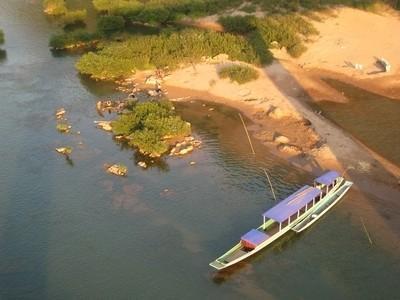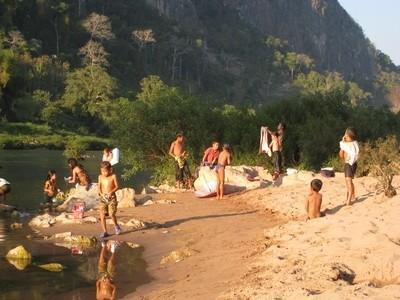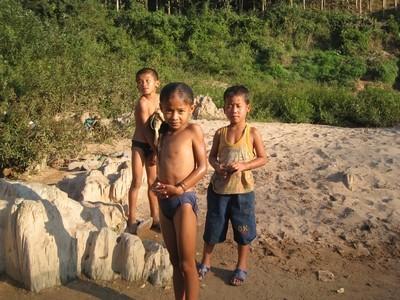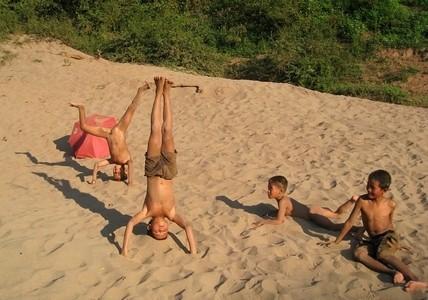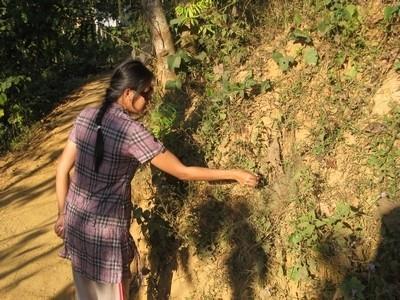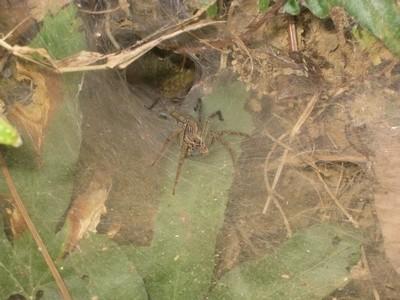 "Did you know that if you touch the spiderweb with a piece of grass one of these runs out?" Like I said, kids at play.
Reluctantly we checked out and headed for Luang Prabang. Personally I would have preferred to go back the way we had came. For me LPB doesn't hold much interest after having been there quite a few times, and the ride from Vientiane back to CNX is long.
In this case we were meeting Snail (David Lek) and his girlfriend so it added some incentive. We had a nice dinner and some night market shopping.
We stayed one night at the Sabadee Guesthouse which was Ok except for the fact that our room was just swarming with mosquitoes. Before we went out to dinner I closed everything I could and sprayed the hell out of the room with mosquito killer.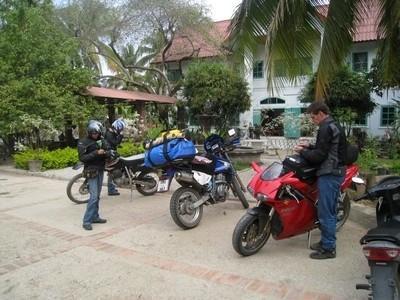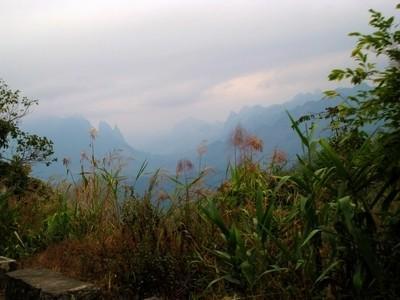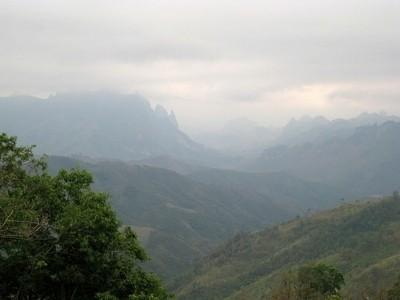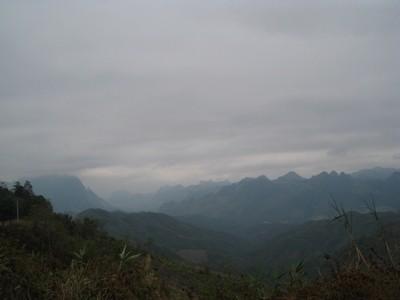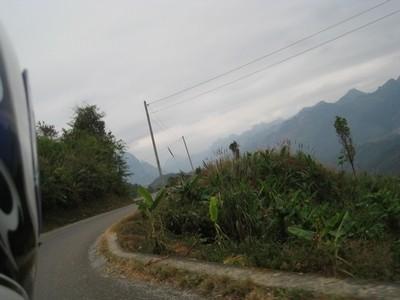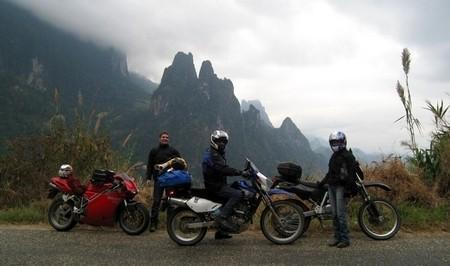 We continued on to Vang Vieng following Snail and the Japanese GF. She was riding David's XR250 and was quite impressive. As I tried to follow for the first 30k or so I was soon getting jabs in the side from my pillion and agreed to slow down. We met up again near VV.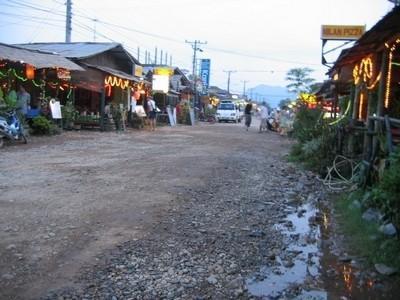 Vang Vieng 2004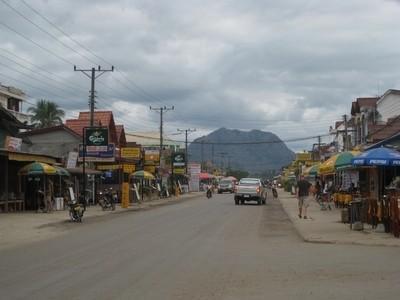 Now
As anticipated V. Vieng was "swarming" with people. We got the only rooms available at the Vansana Hotel but could only stay one night as they were booked. Thim and I then moved to the quite nice Elephant Crossing Guesthouse.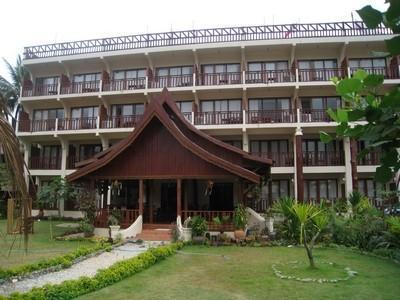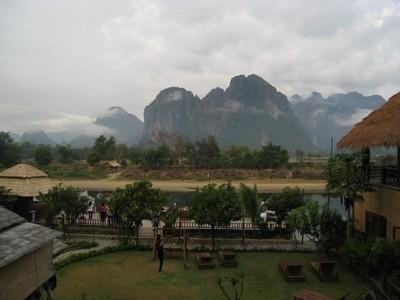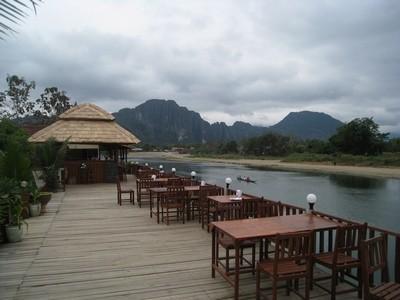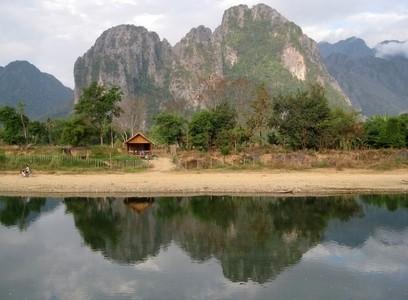 I never really explored much in VV before. If you go across a wooden toll bridge there is a dirt road that leads to many caves and trekking areas. Actually, there are many different turnoffs to the caves and they are posted as different names, but they all lead to the same mountain, crossing a large rice field with the different routes marked by "flags" (plastic bags on sticks). We enjoyed just playing around in the rice fields and skipped the caves.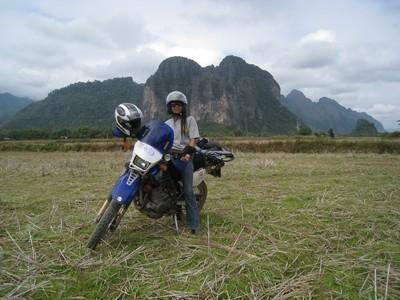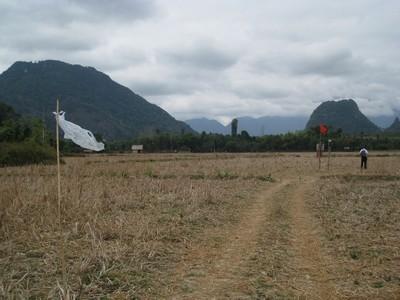 From there we headed home through Vientiane and a stopover in Loei. Overcast skies threatened all the way but kept the temperatures cool and comfortable.
As we climbed the mountains near Den Chai in it started to rain. I thought this was just due to the mountains but as we came down into Lampang it poured. We were on the trailing edge of rain, with mostly intermittent showers and wet pavement all the way into Chiang Mai. My "over packing" paid off as we did have sufficient rain and warm weather gear with us to stay comfortable. Not so lucky some of the other riders still trailing us, David and David????
NOTE: :shock: Only one real drama, The dreaded wave turning in front of you. As we neared Vientiane I was riding fairly conservatively and fortunately not overly fast. I thought I was being careful passing slower traffic when suddenly a lady on Honda Wave turned from the shoulder of the road straight across in front of us without any indication or even a turn of the head. Thim had only enough time to let out a scream and I only had time to dive across the road for the opposite shoulder and hope my brain calculated those vectors right. My geometry teacher would be proud, I missed the front wheel of the wave by what seemed like centimeters and hung on for an impact into the back of my bike as I tried to negotiate the oncoming traffic both on and off the shoulder. I have no idea how we survived this one. I cannot not think of another time where I was so sure that I was crashing, sometimes luck is with us!
So anyway, while I enjoy an "adventure ride" as much as the next guys, sometimes the EZ way isn't all bad either……….Enjoy whatever riding you do.
I just added (05-Feb) what I think is a fascinating follow up to the above info on Nong Kiew. Check it out.......
Nong Kiew Bomb Strikes!
:arrow: