Dec 9, 2008
1,070
829
113
It was December and time for our 2021 LICME winter rally.
The Lanna Independent Classic Motorbike Endeavour was meeting in Na Haeo, Loei province.
Various preparations were being made.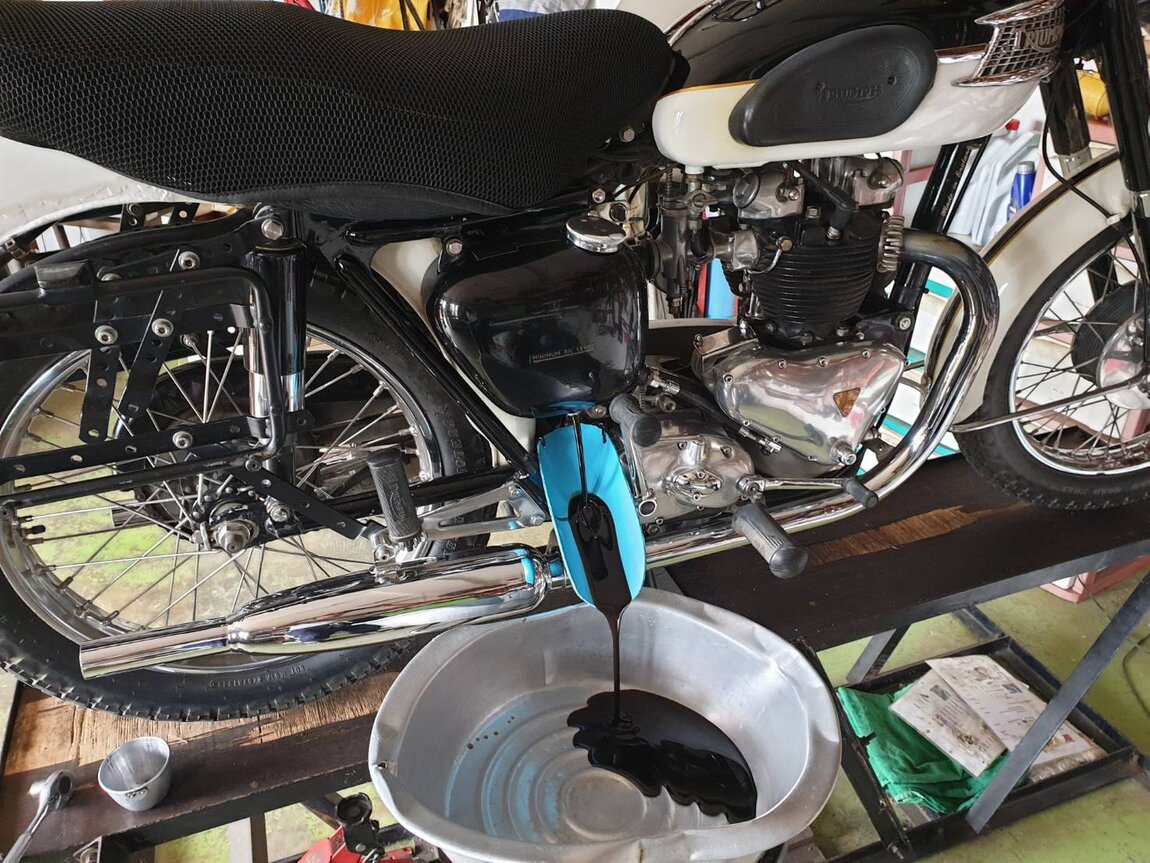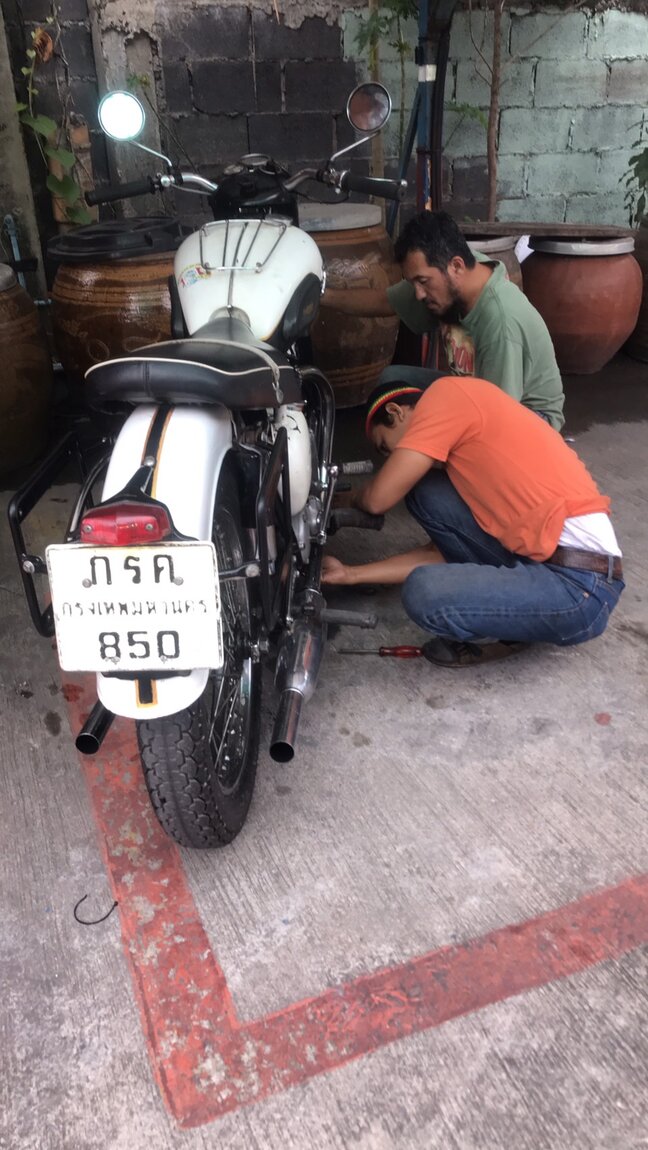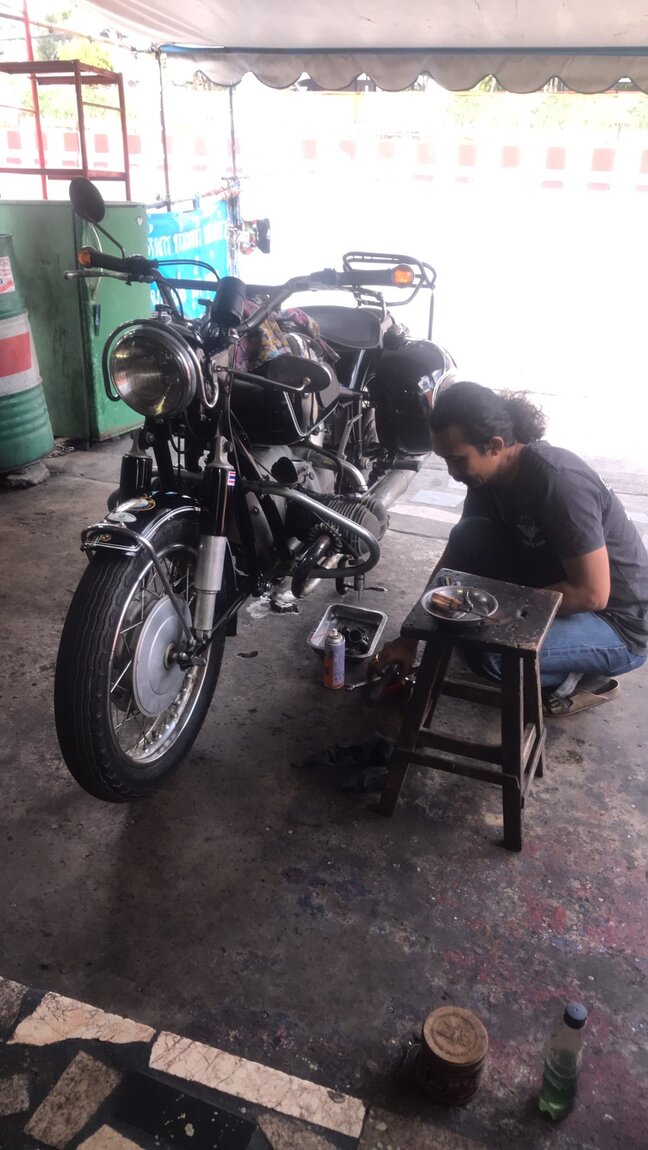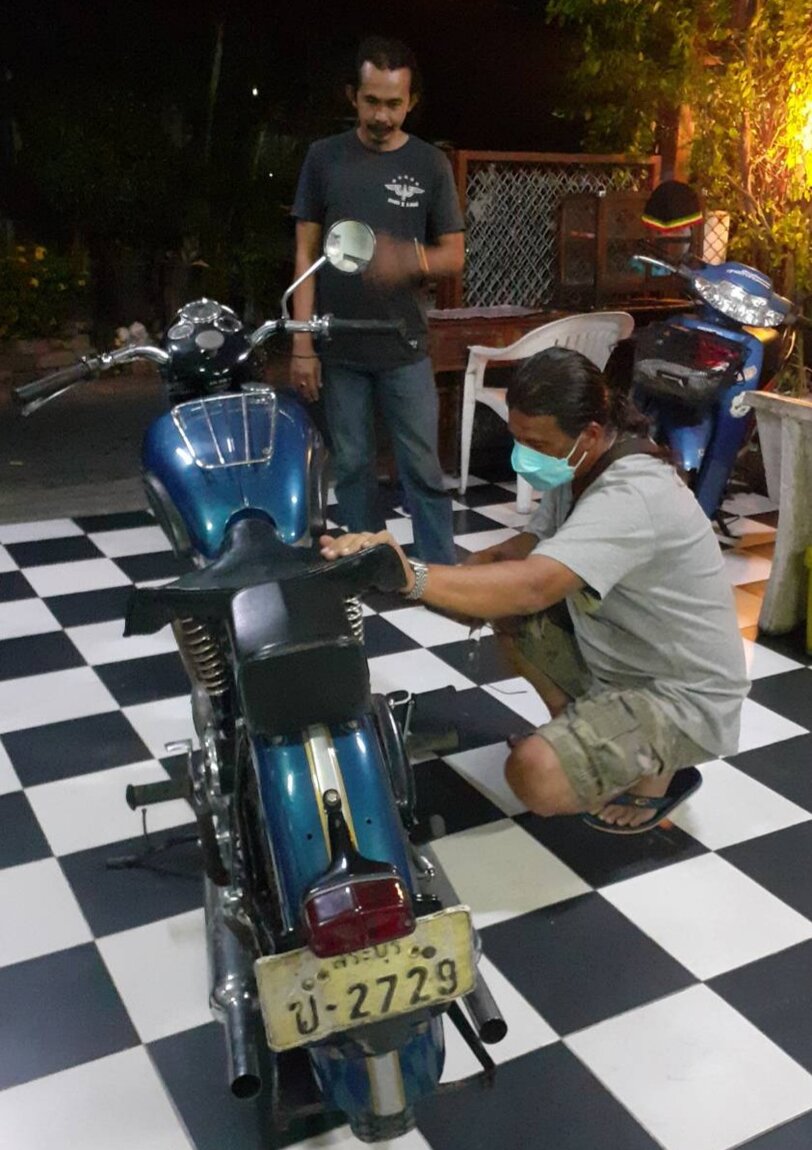 I decided to take a couple of days to get to Loei, 550 klms from home.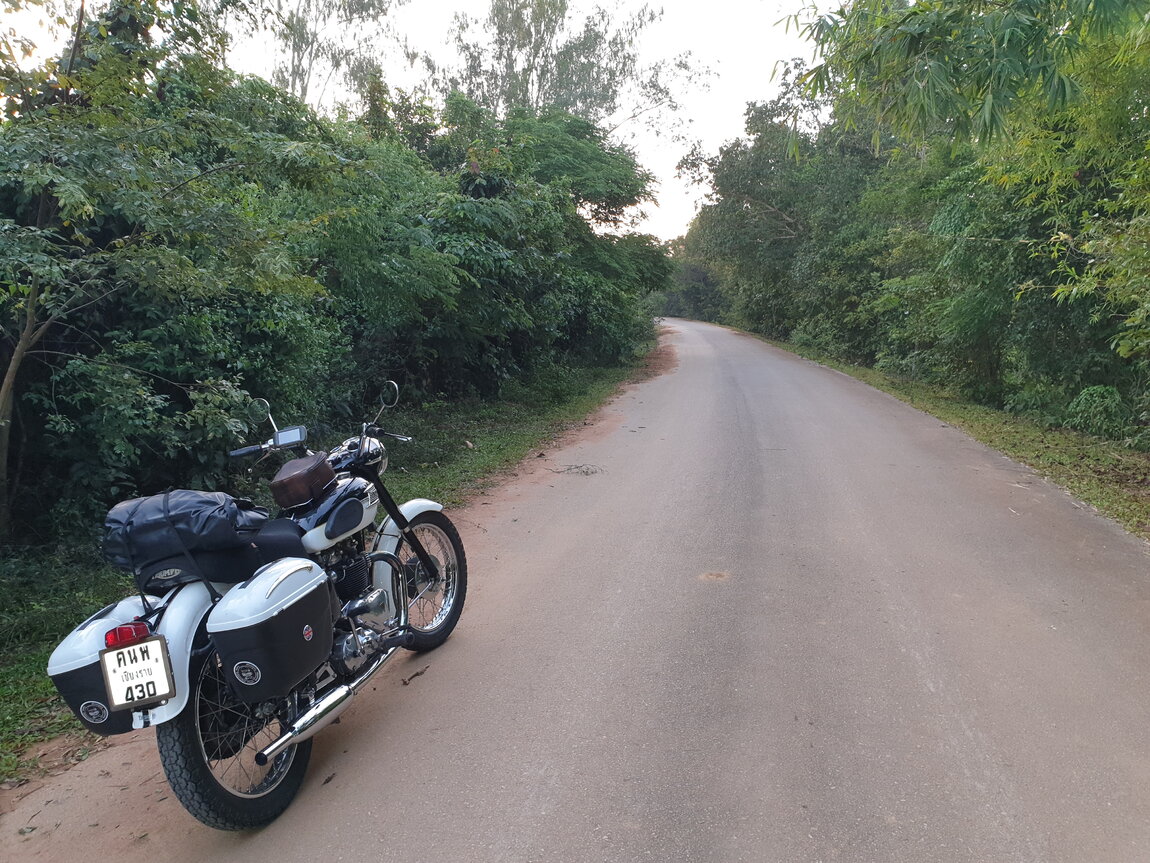 06:00 and a chilly morning.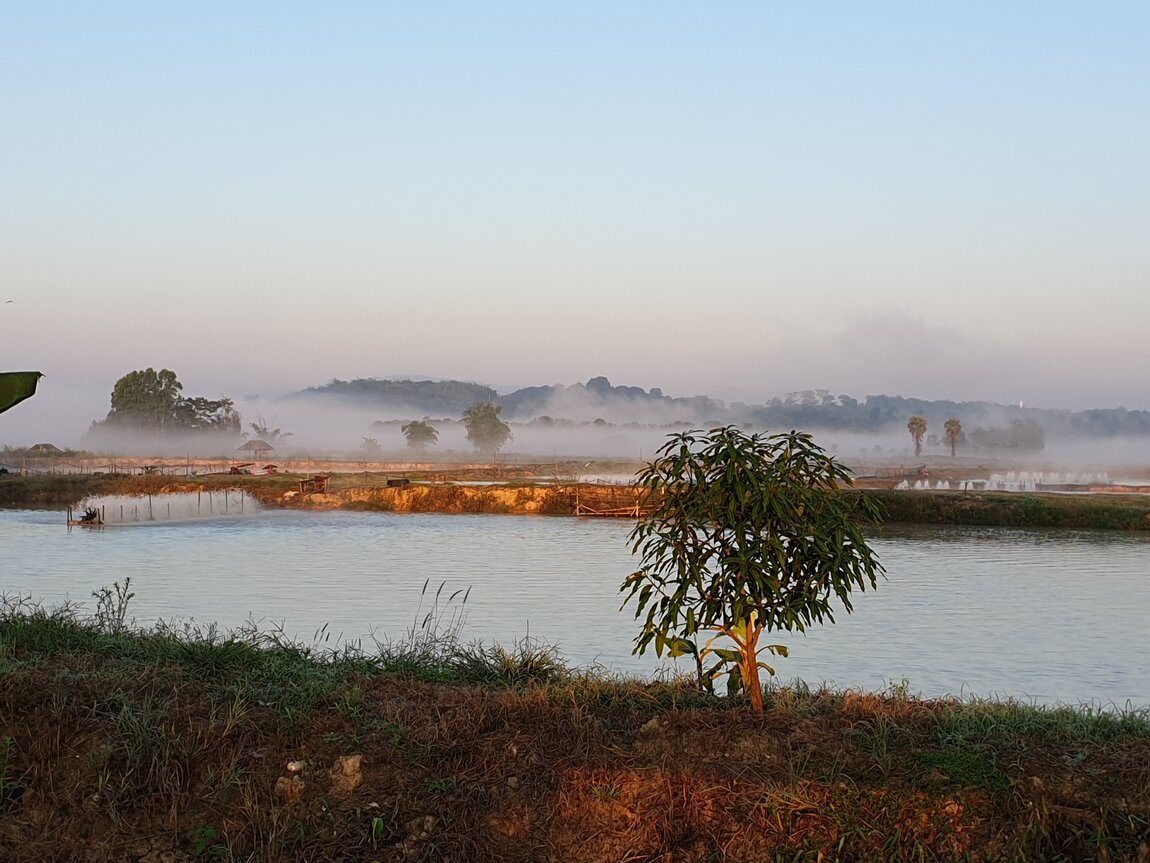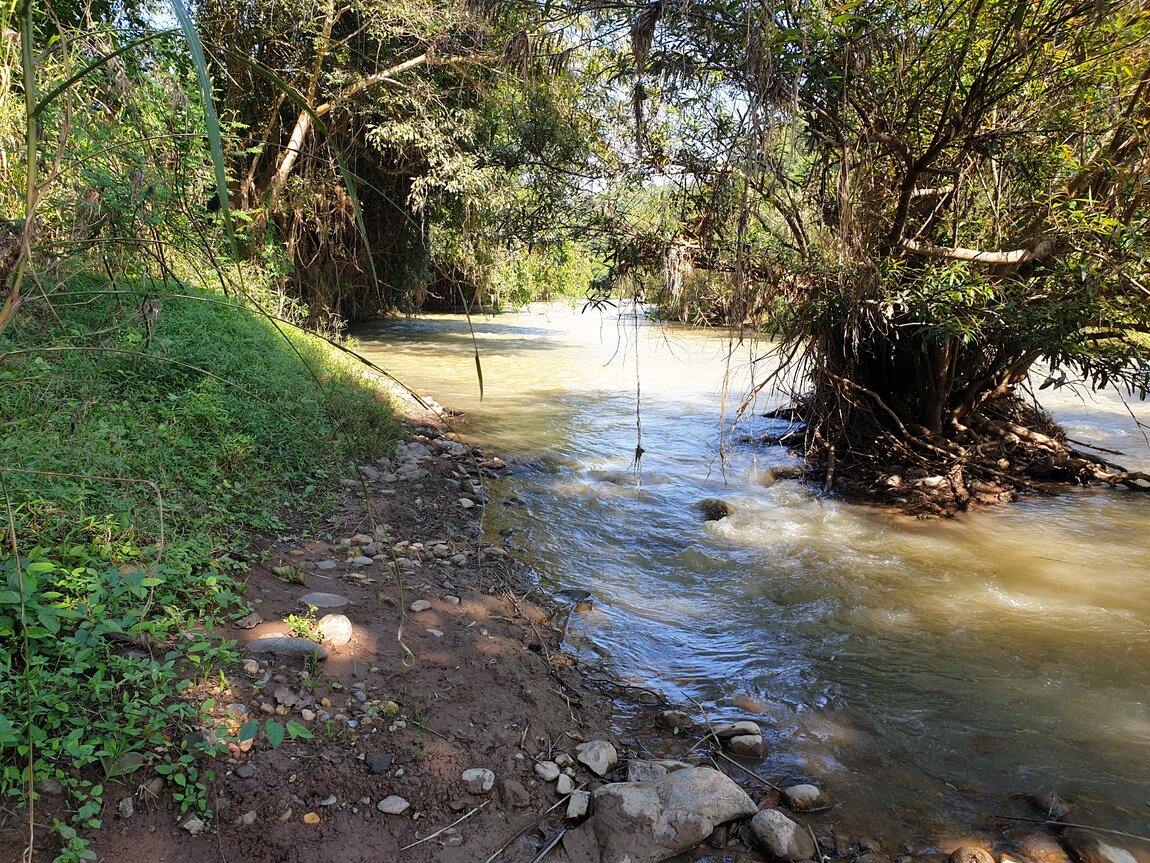 On the road between Pong and Chiang Muan, a side road leads down to a picnic area and beach by the Yom River.
In NaNoi and checked in to the HueanWadkian Resort. Very Comfortable and 700 Baht a night.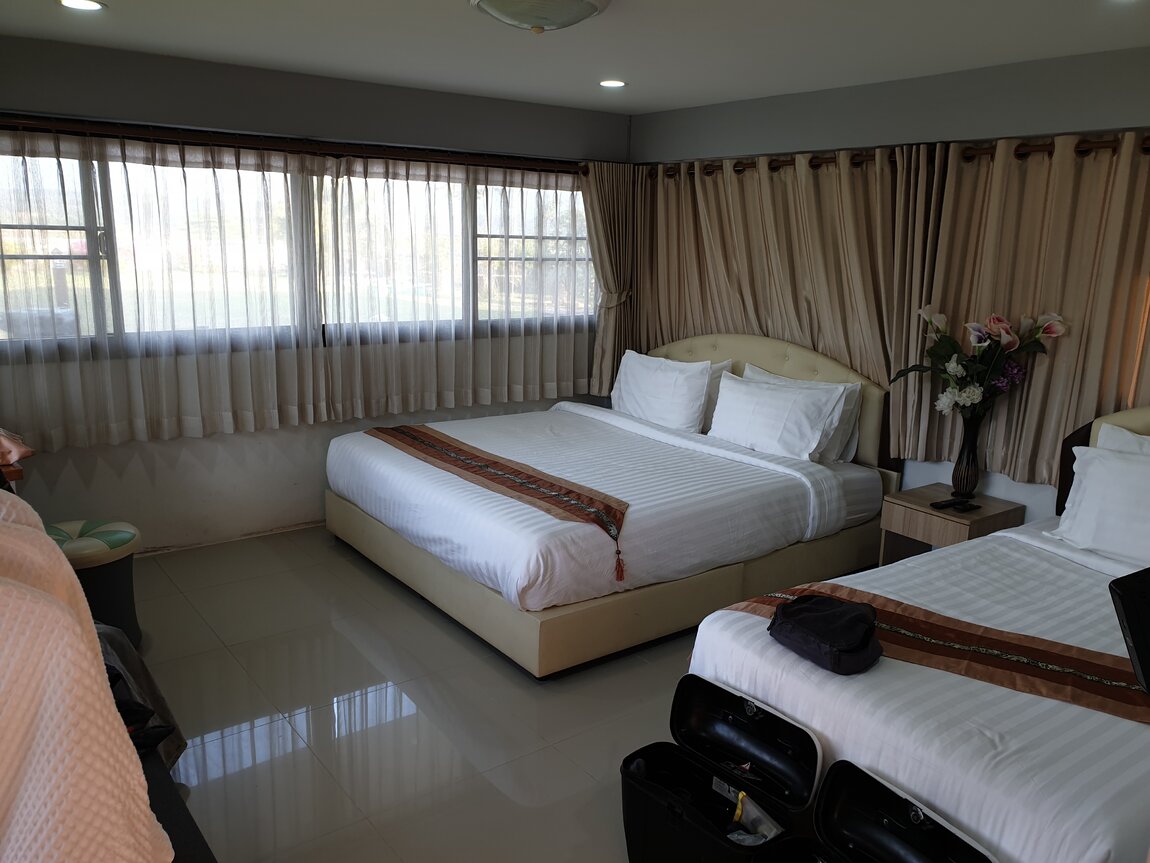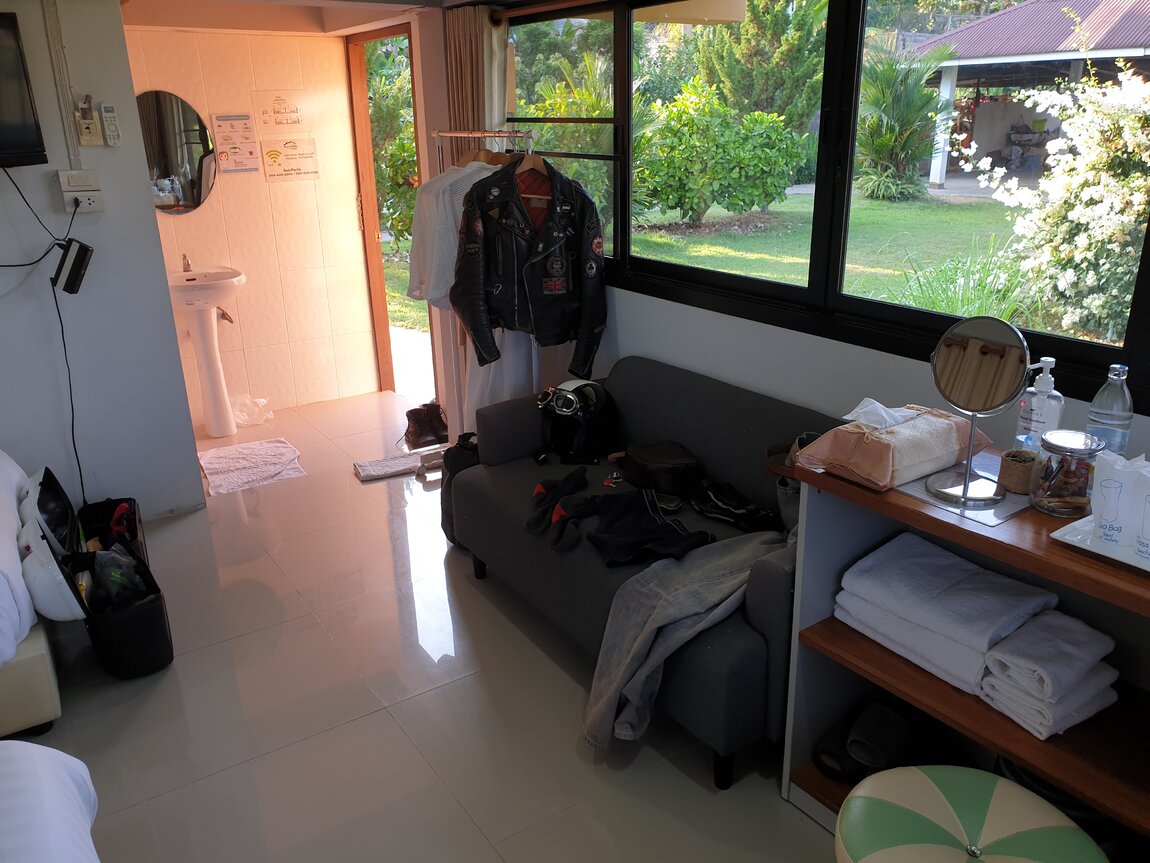 I had parked on the grass right outside the room and next morning the mountains had disappeared in the mist.
But a couple of hours later I was enjoying the super 1339 south from Na Muen.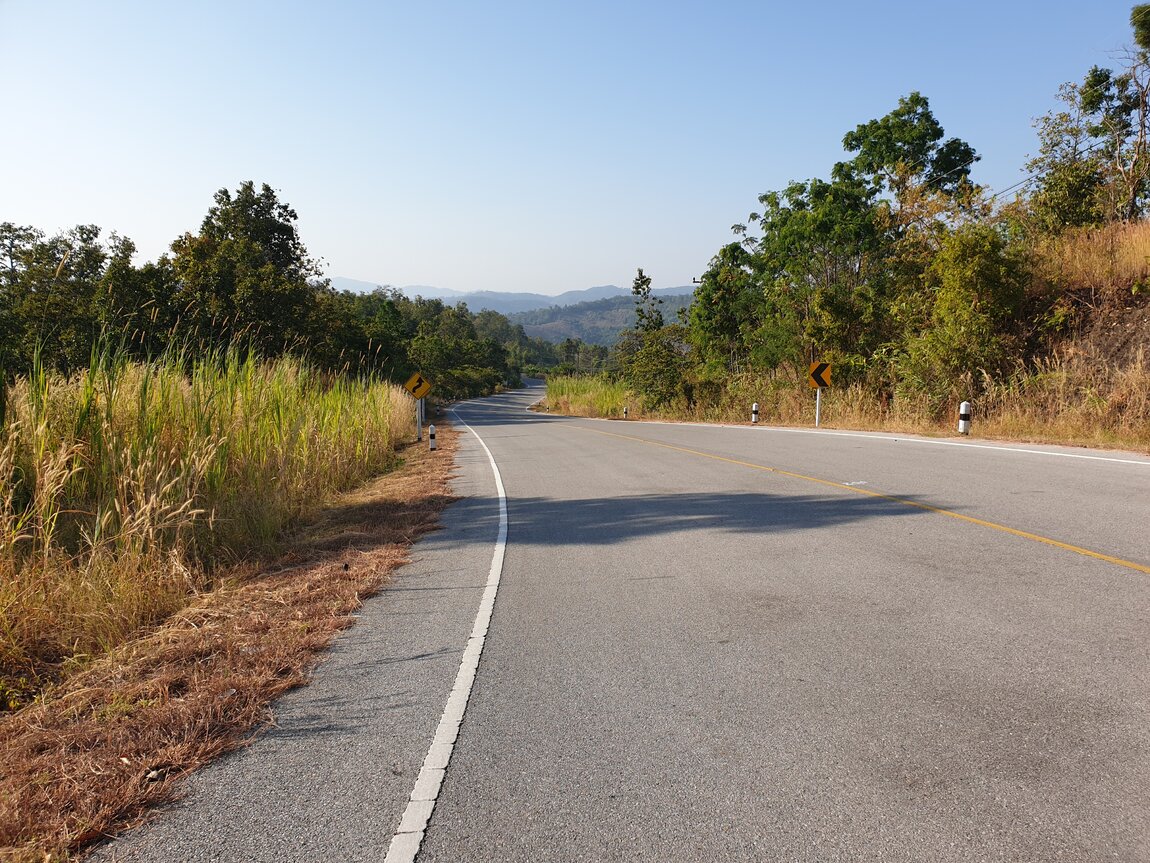 There was virtually no traffic and it was superb riding.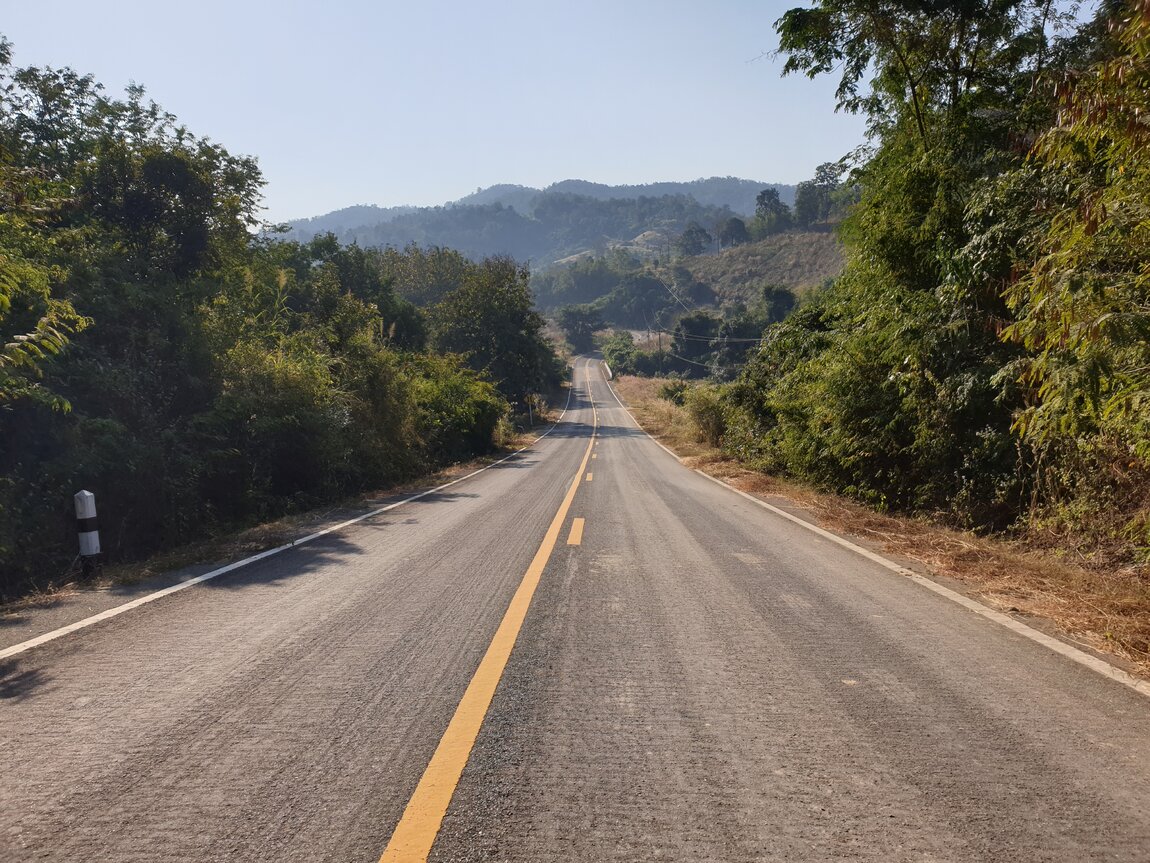 By 09:00, I got the first view of the Queen Sirikit Reservoir, glinting in the sunshine.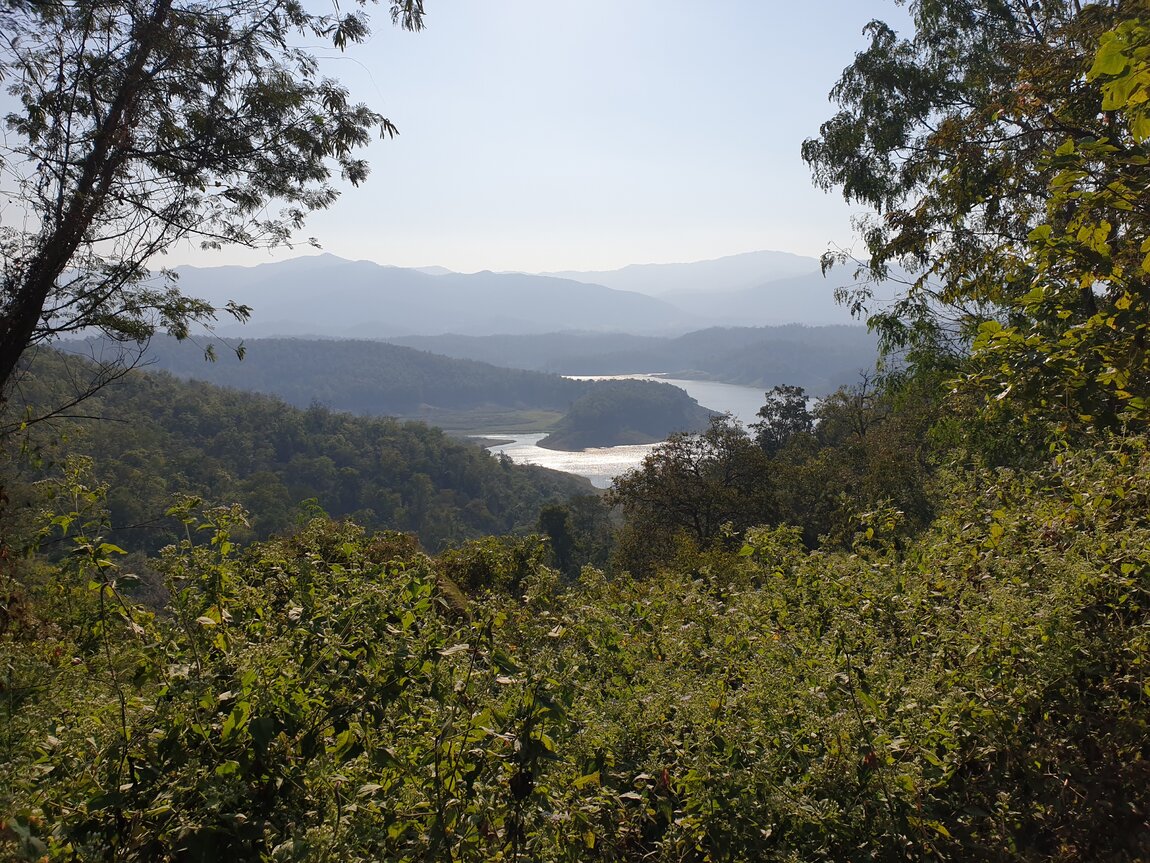 Meanwhile, back in Bangkok, the rest of the guys had got on the road.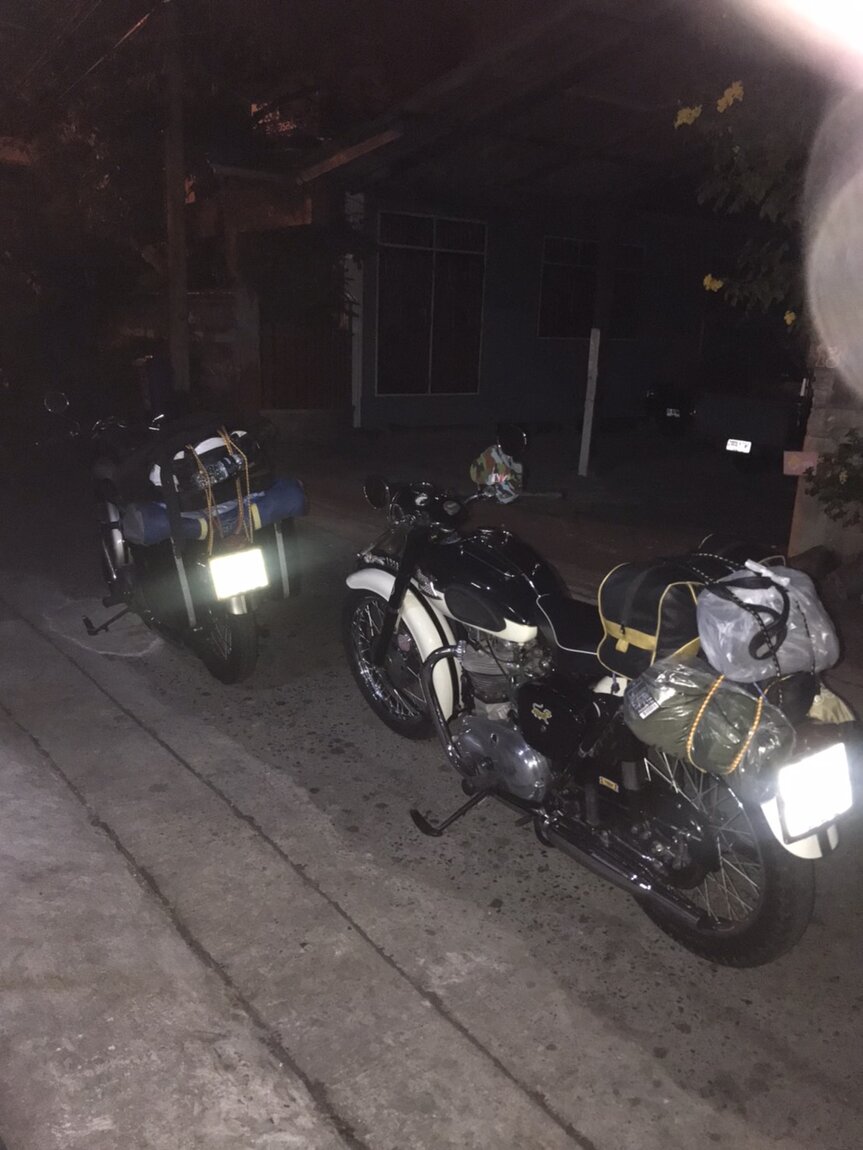 They had made a very early start, around 04:00 and had a 500 klm ride that day.
Khun Manas's '56 Thunderbird, now with windscreen.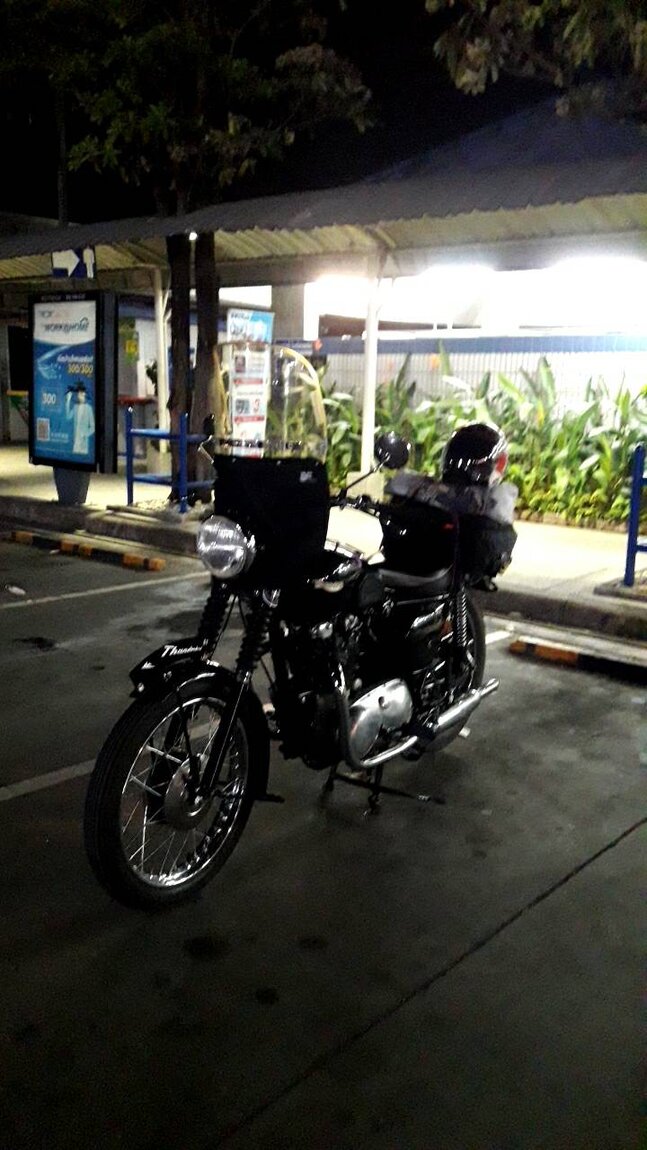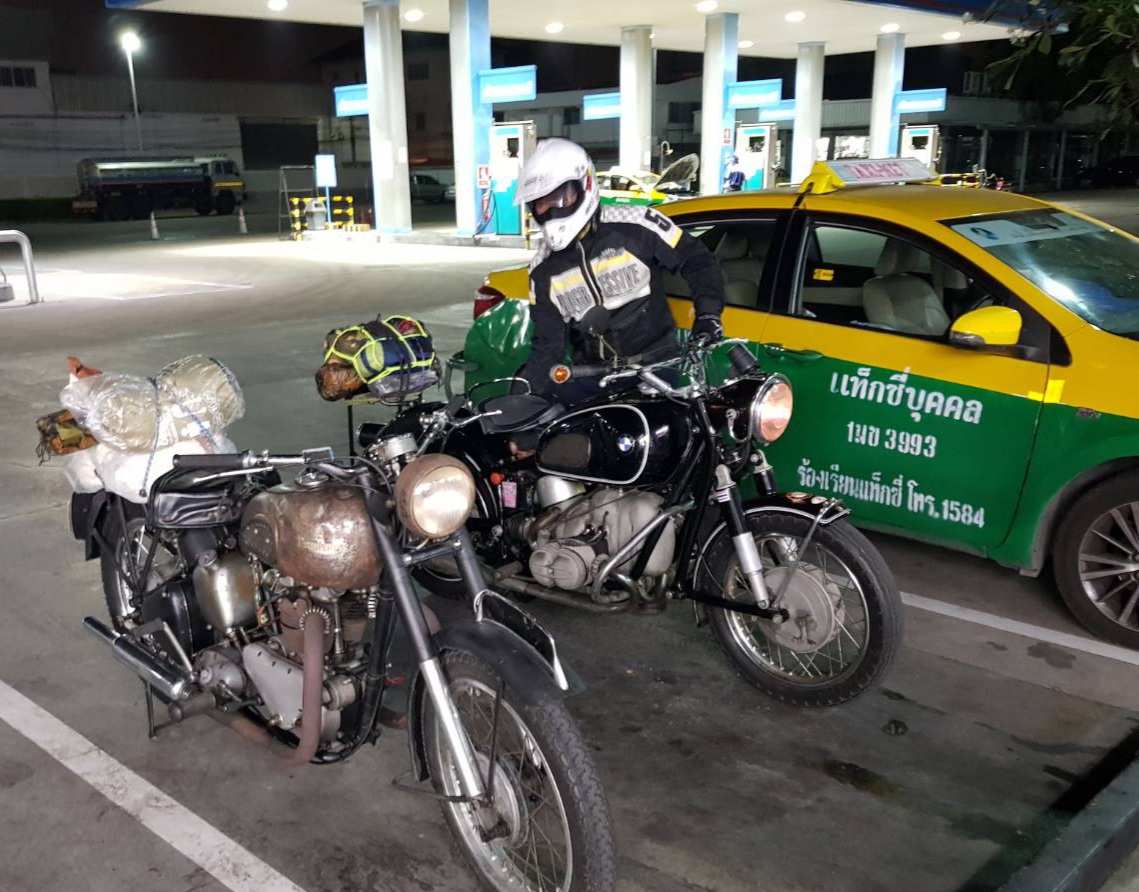 No doubt, happy to be out of the city and on holiday, they were all enjoying the ride north.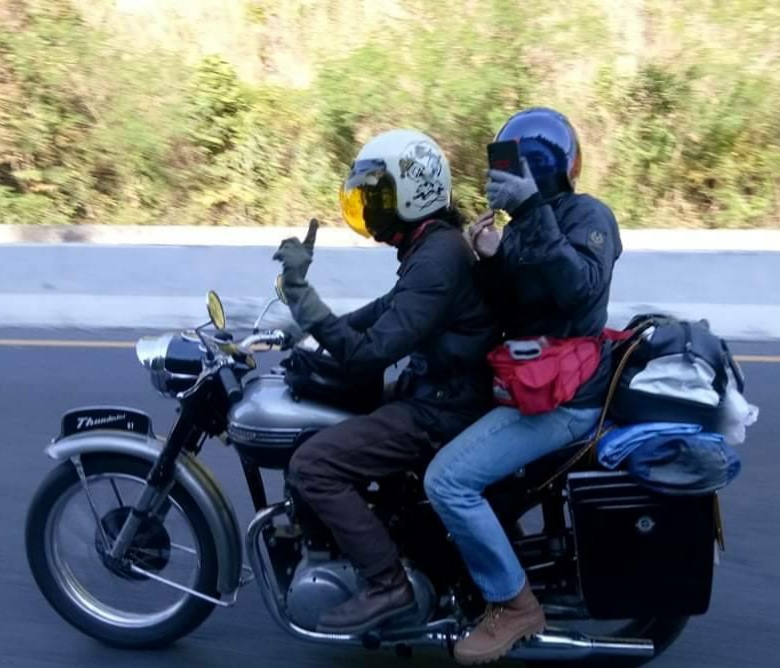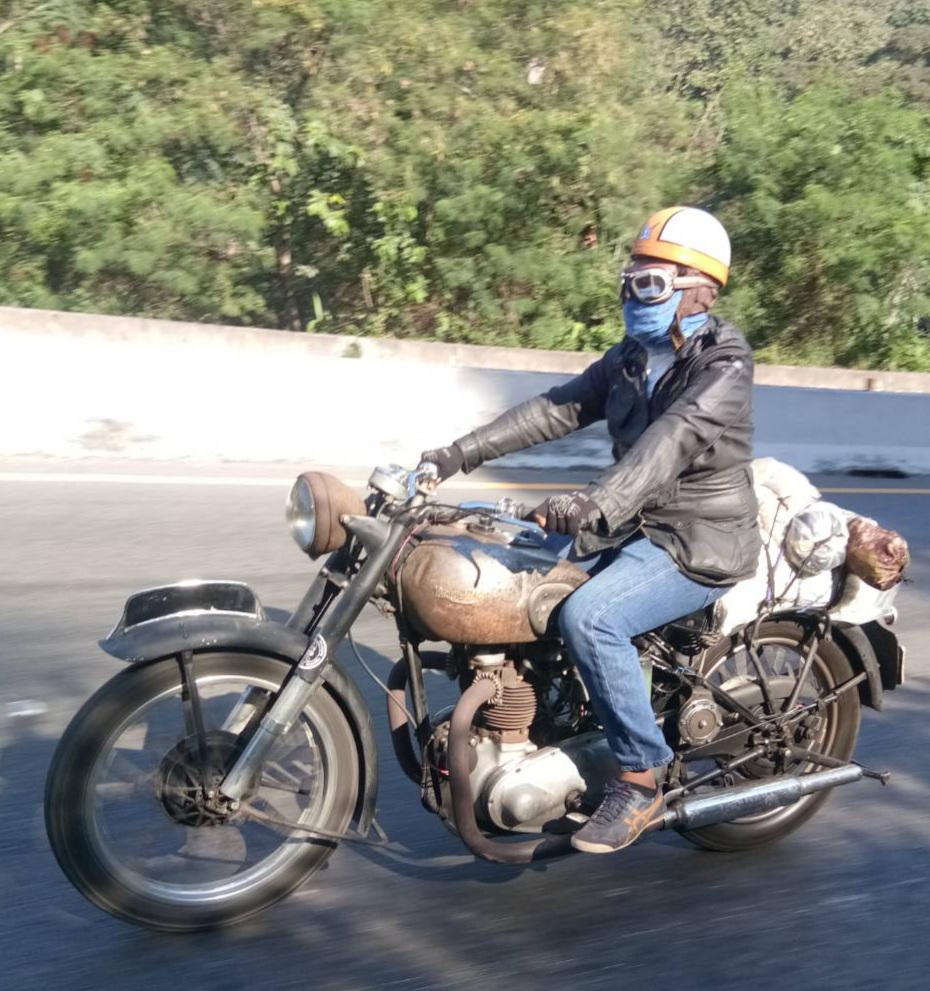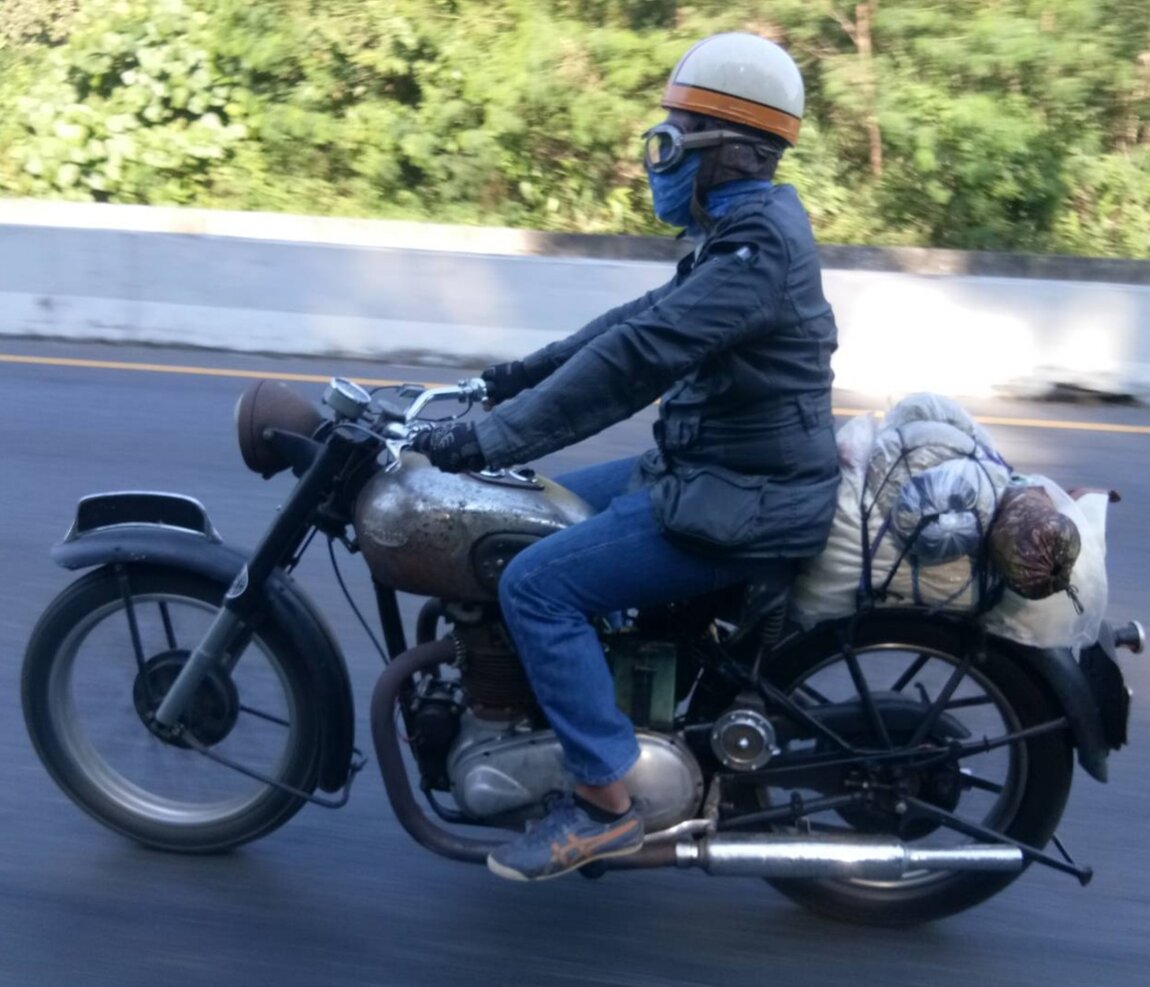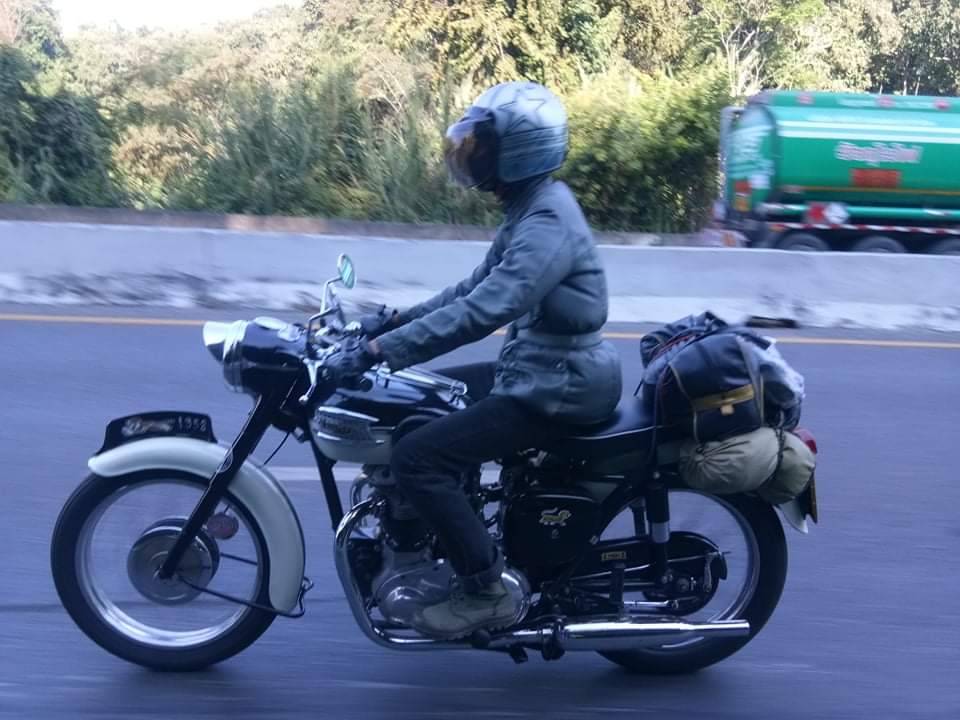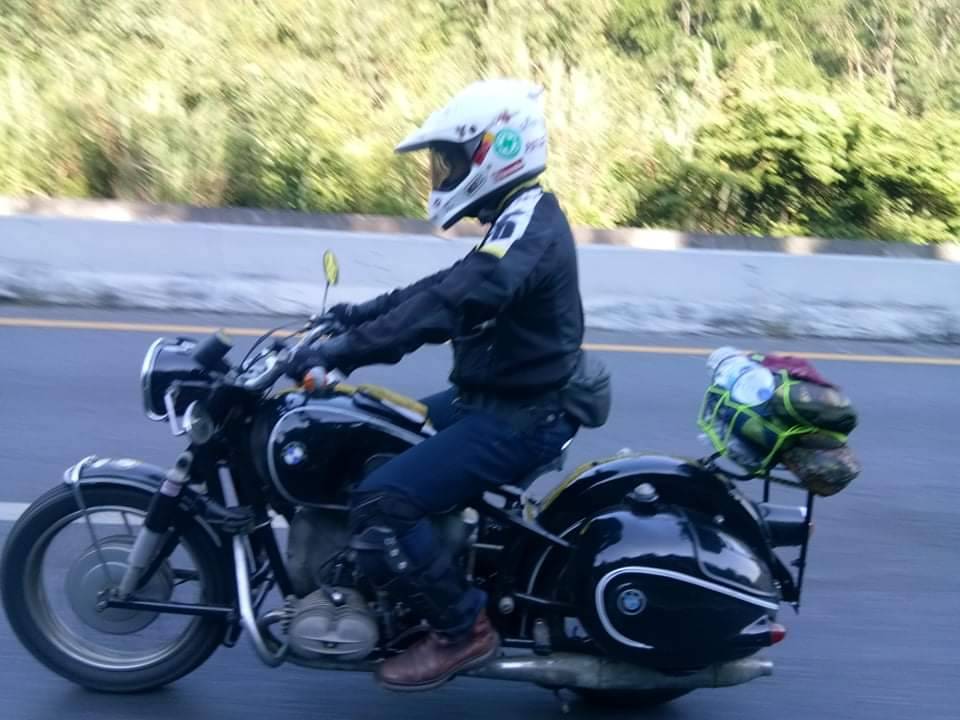 There were the usual sorts of issues when you ride 60+ year old bikes for long distances.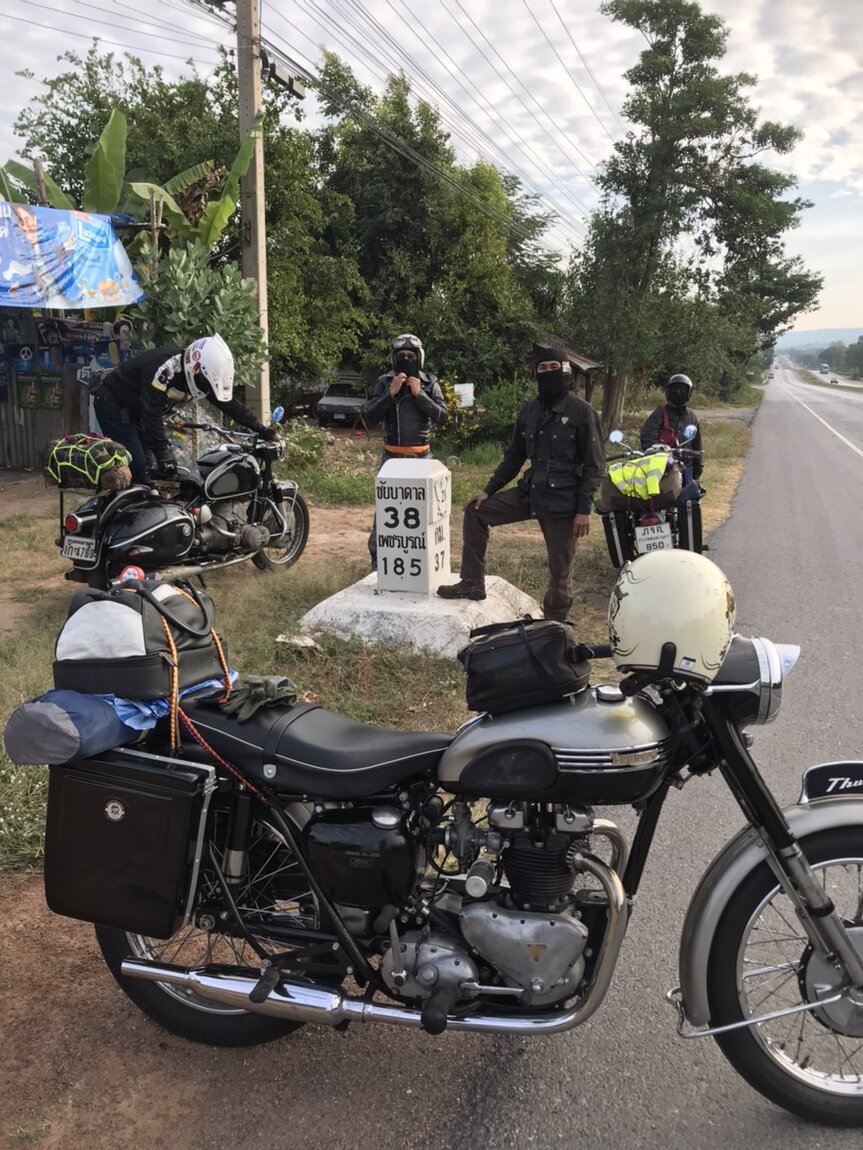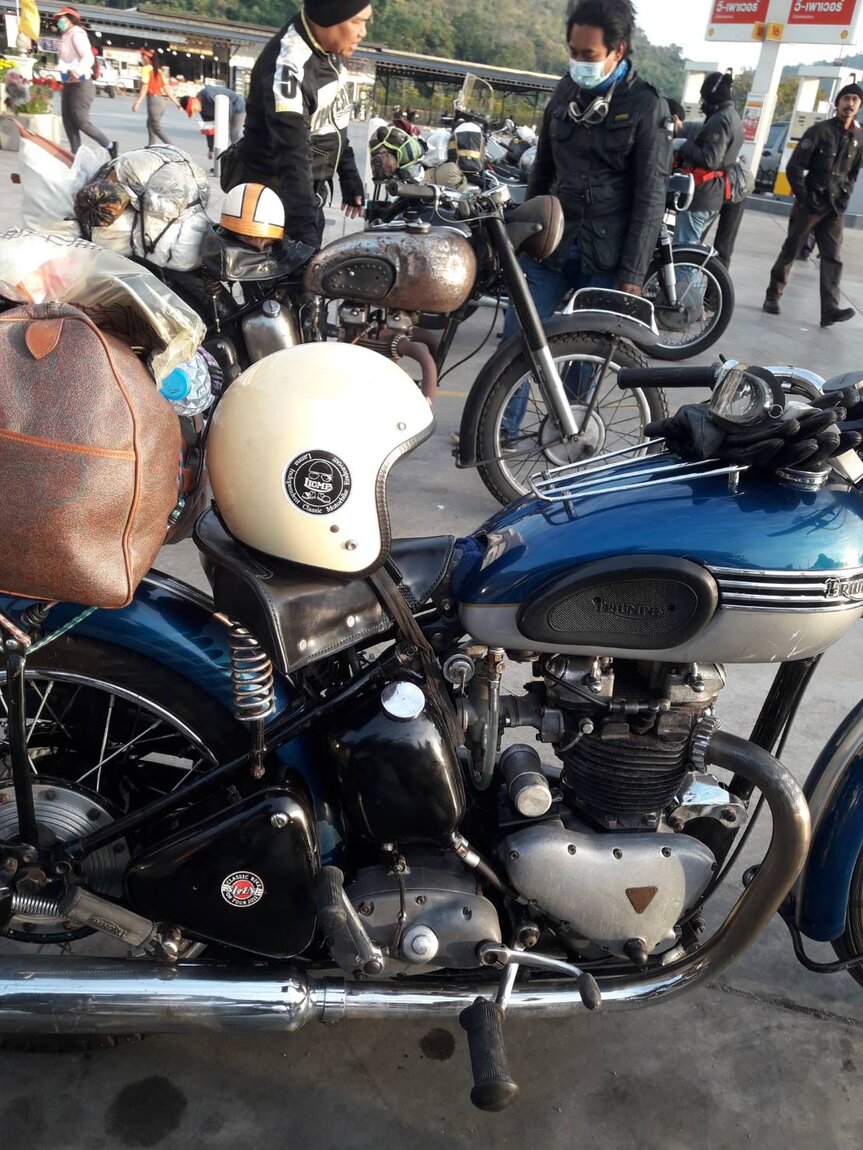 Lewis Leathers, Barbour and Belstaff riding attire is always popular.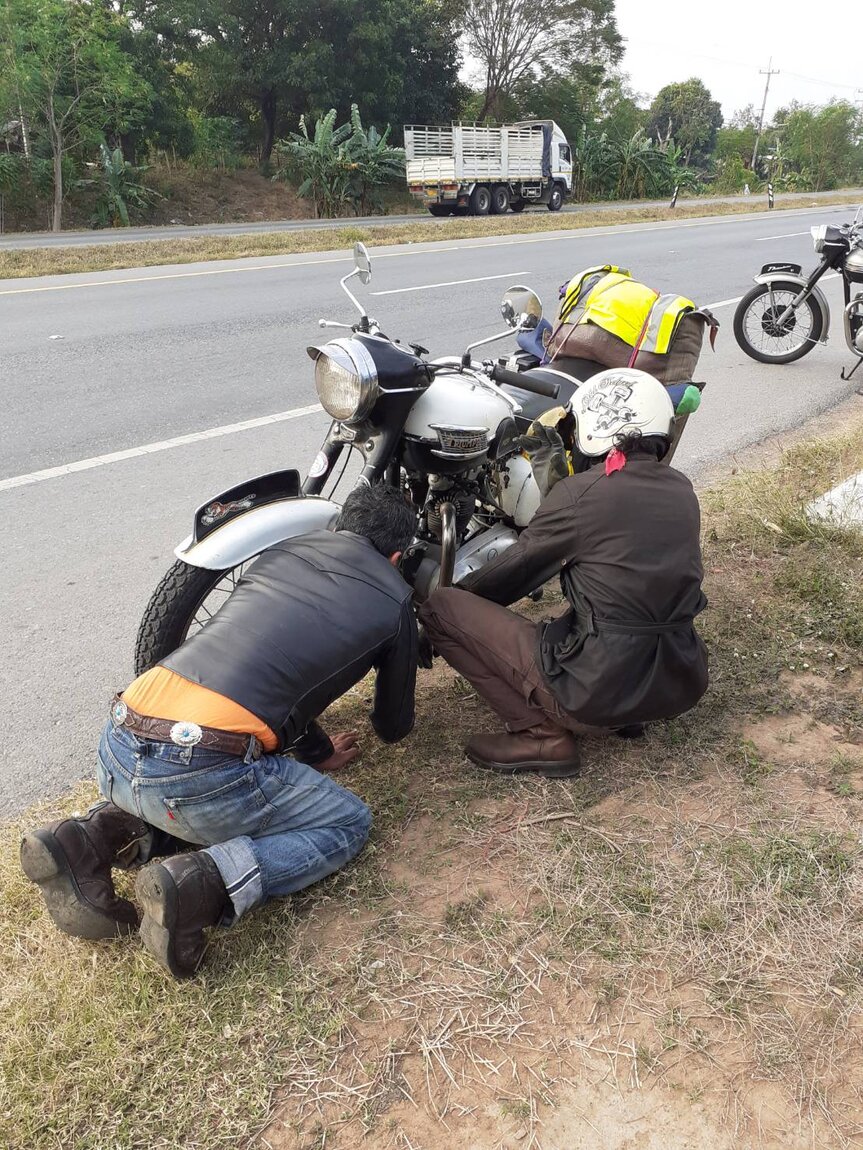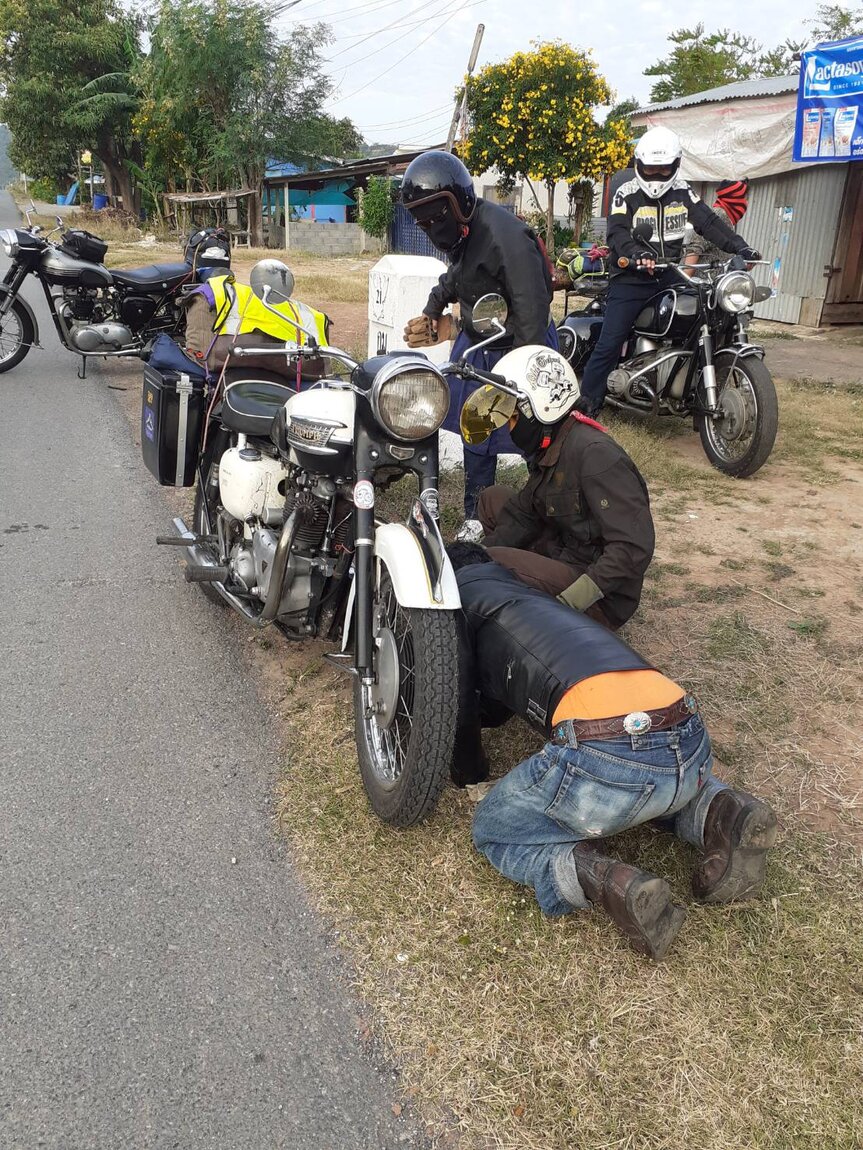 Good to see some of the ladies enjoying the ride too.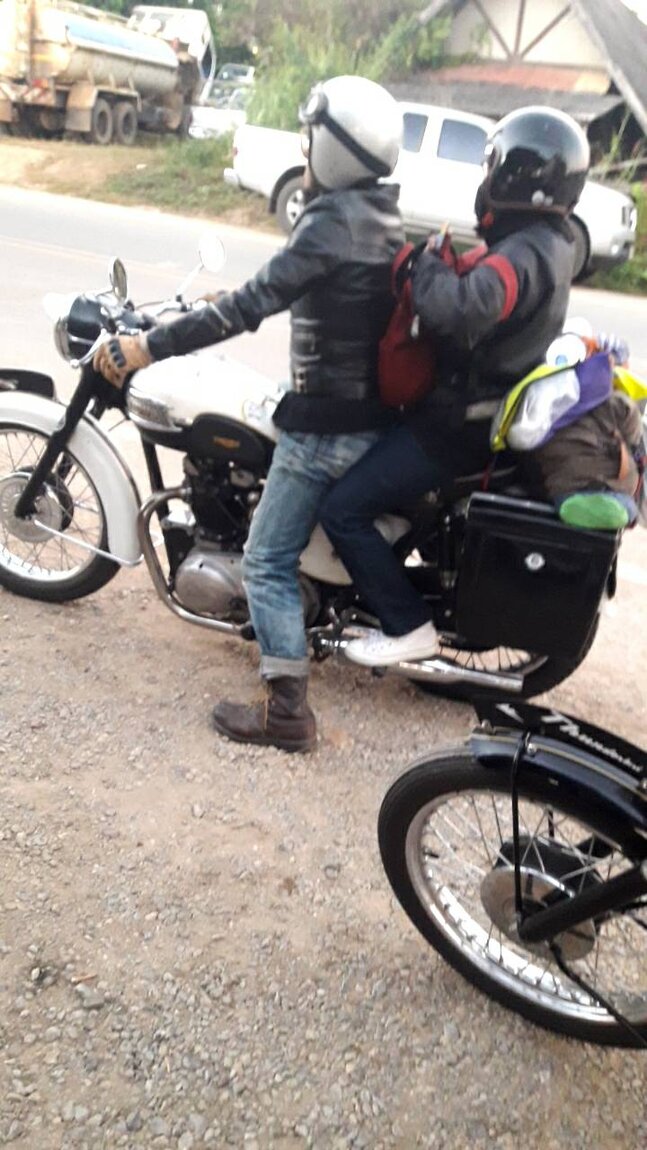 I had reached the fishing village of Pak Nai and it was good to see the water level high. 2021 had given us plenty of rain, compared to the previous two years.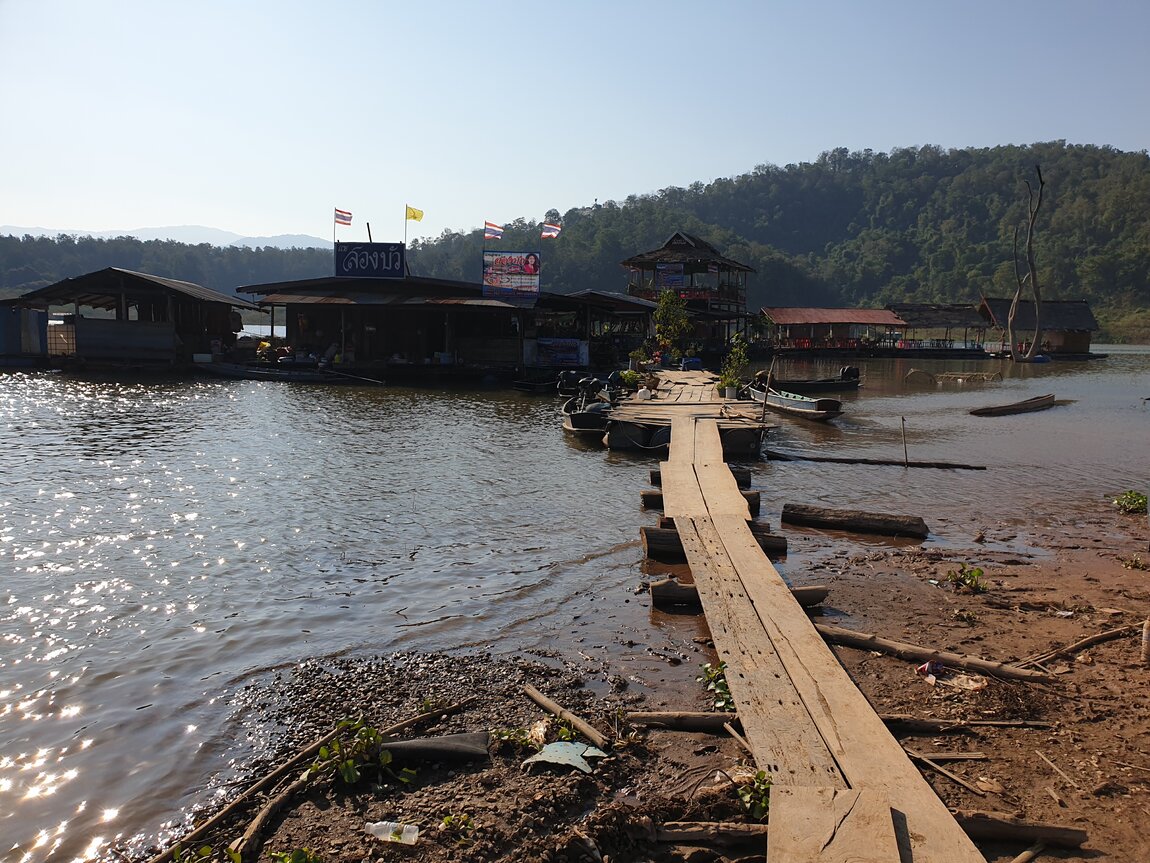 I got on the ferry with a few other vehicles, going south, including a girl returning to Bangkok after a month touring the north on her own, on a scooter.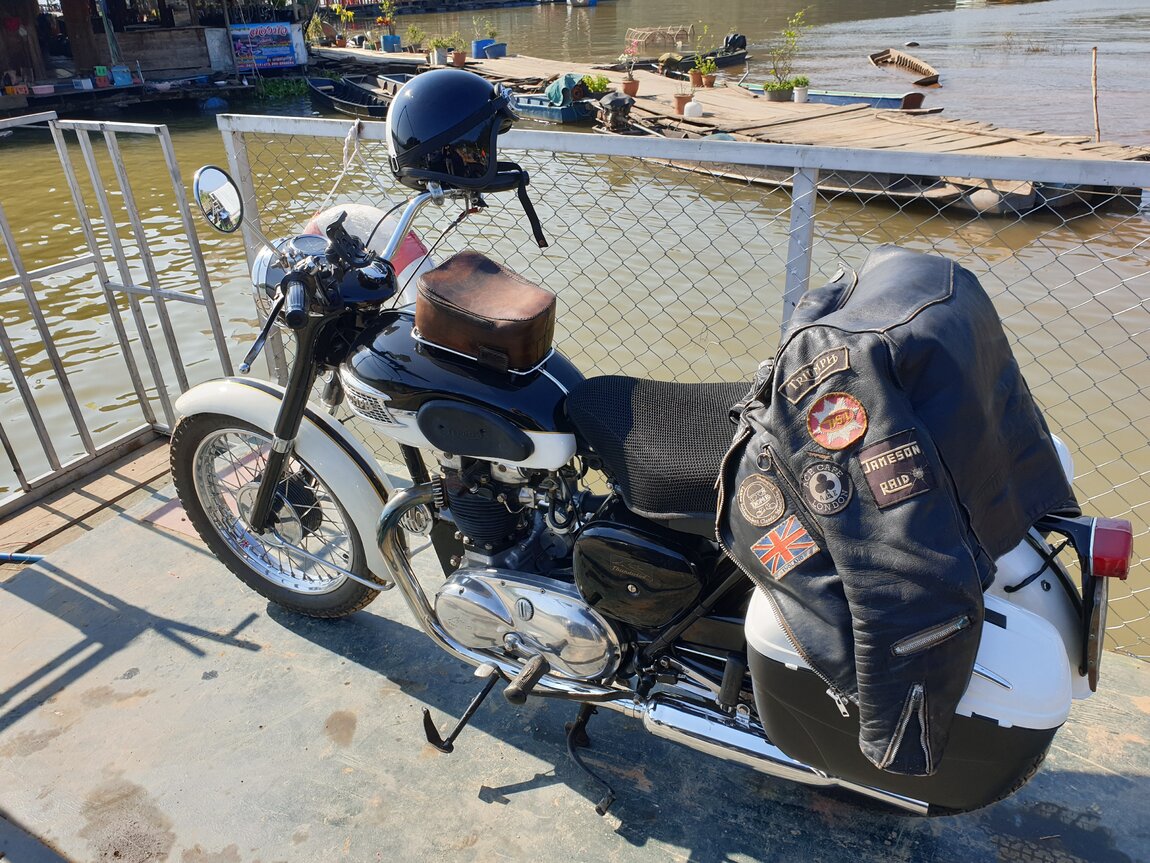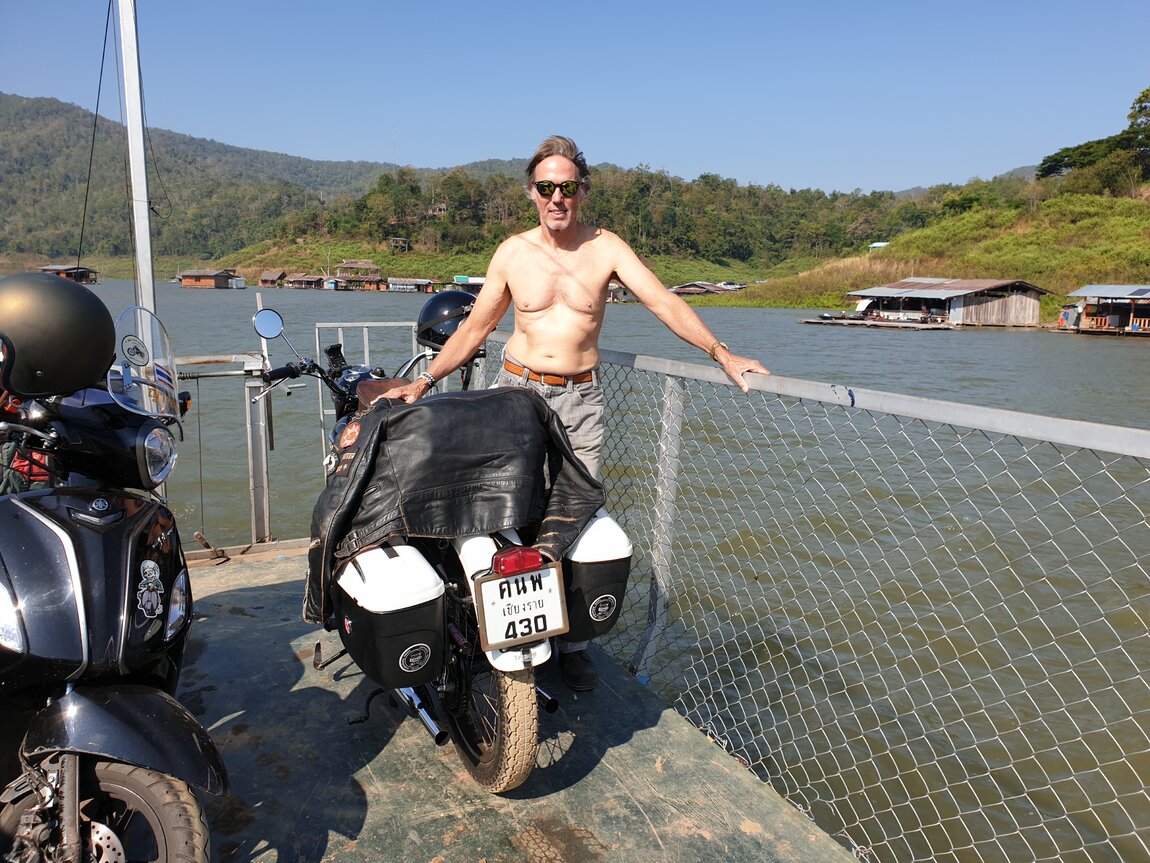 The riders heading north, were going well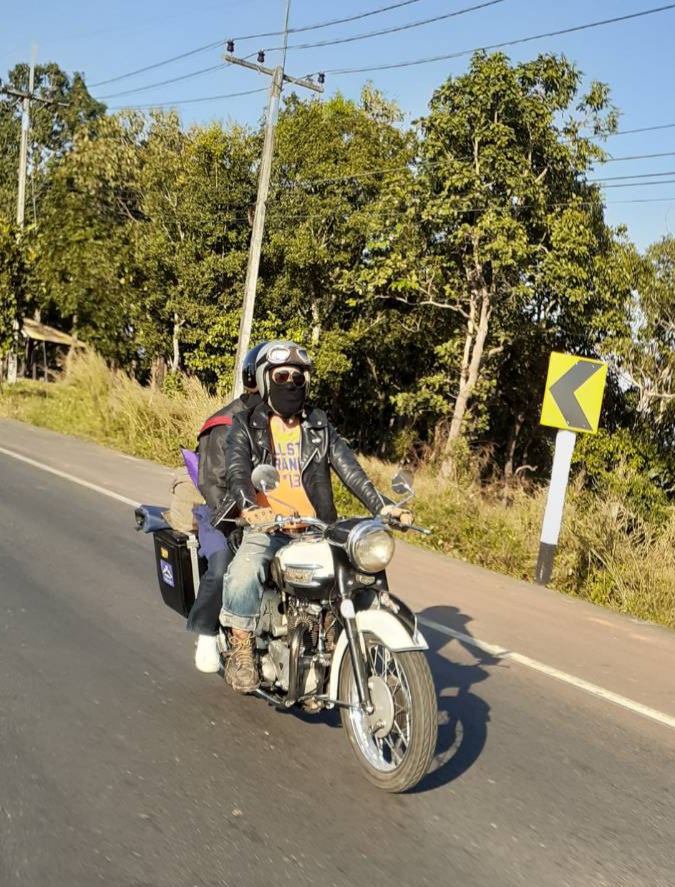 Mountains ahead.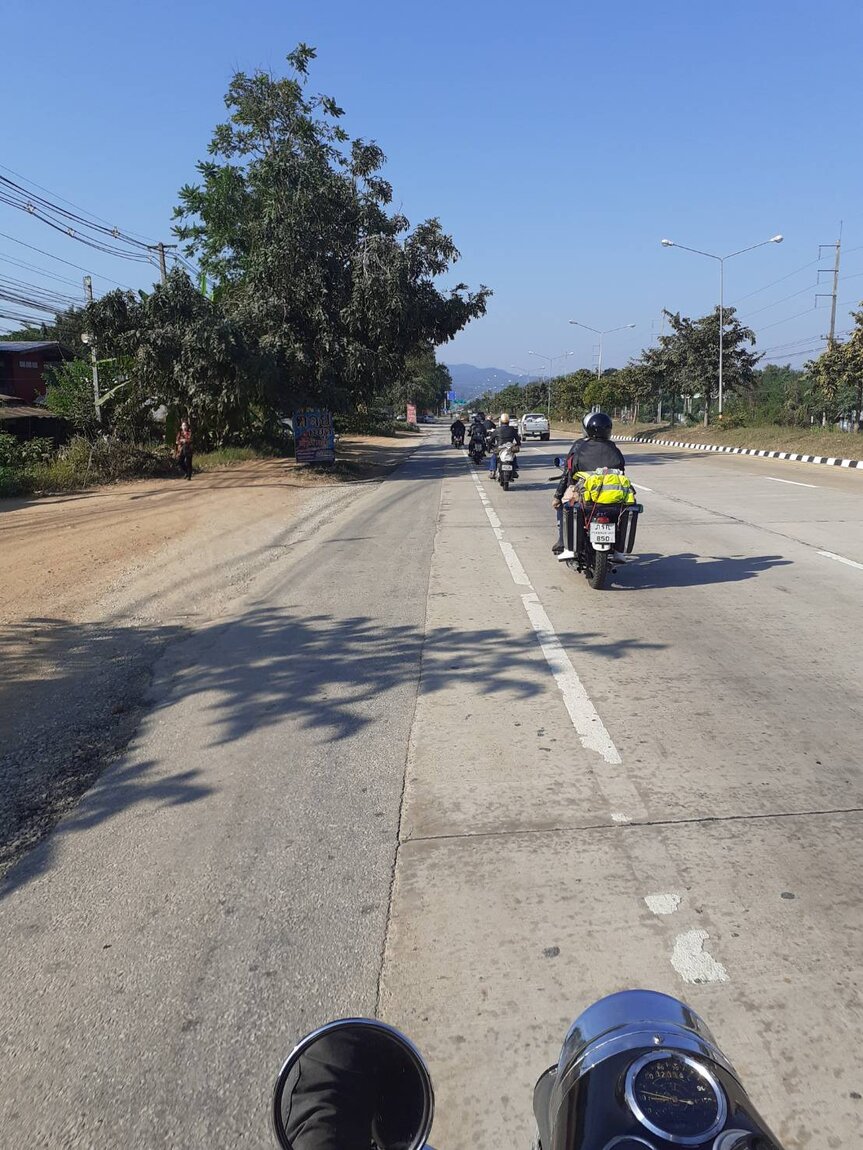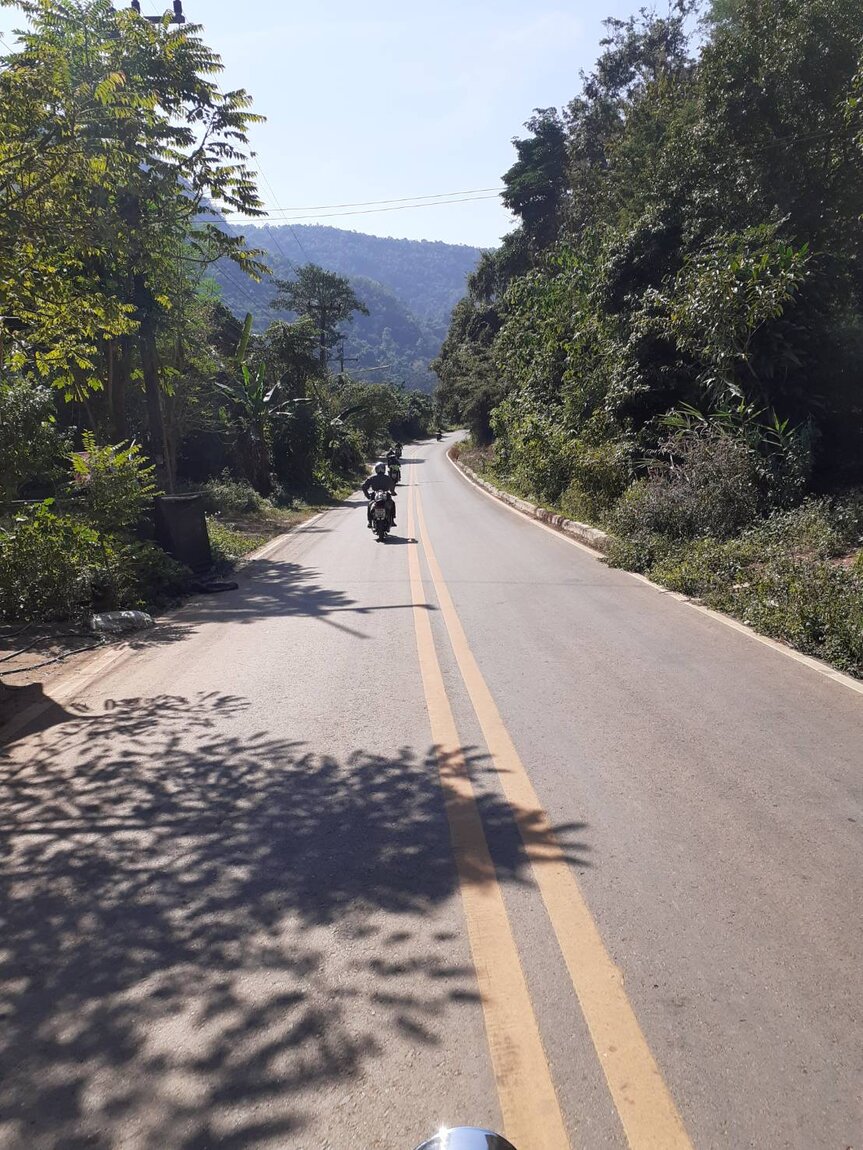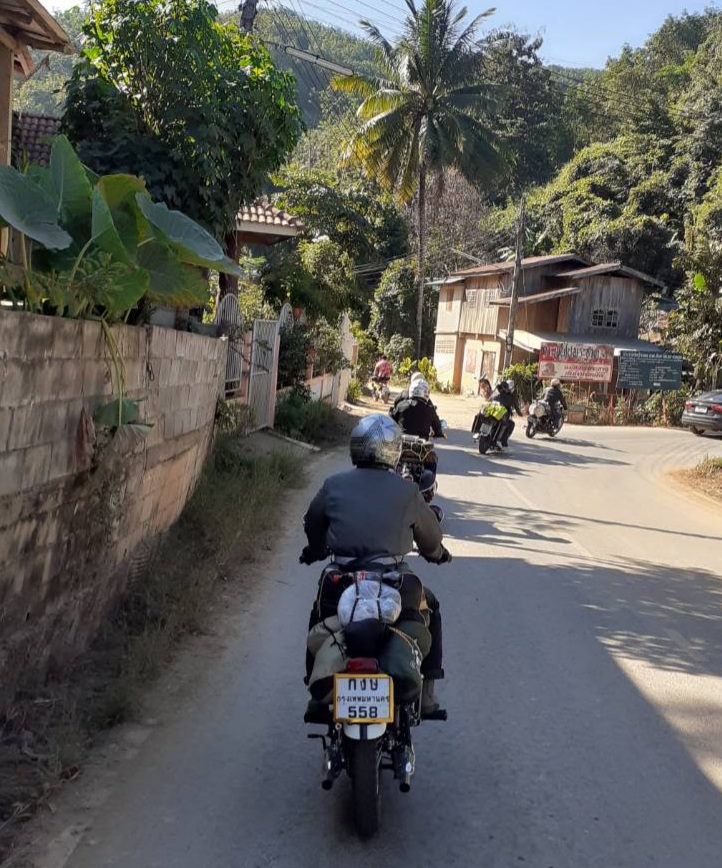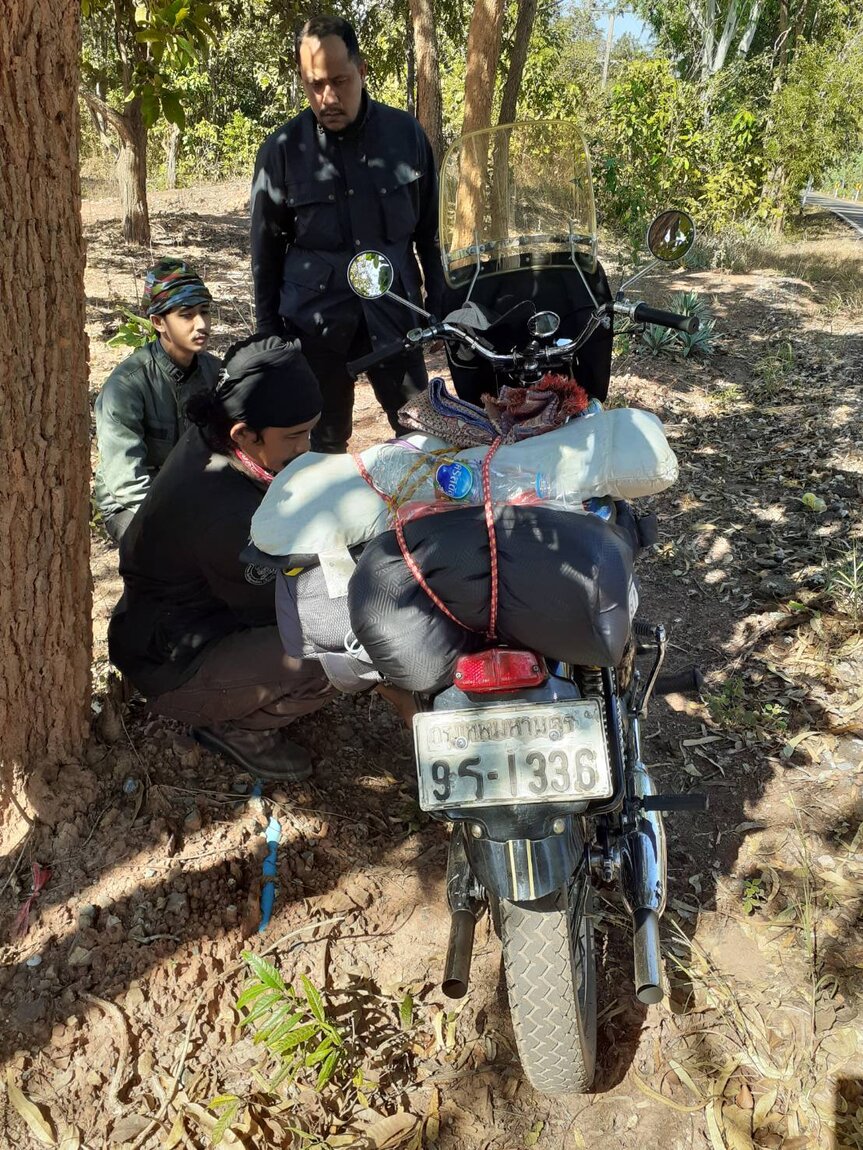 Ah, someone needs more juice.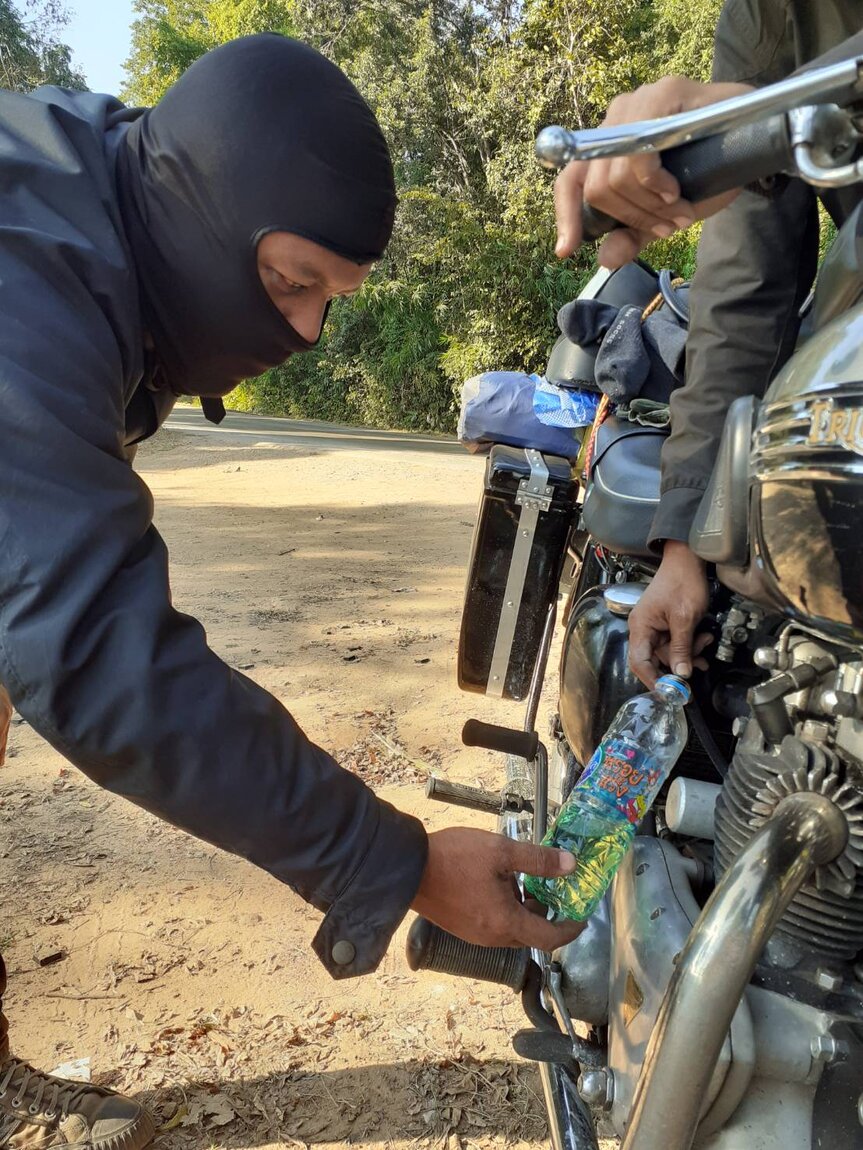 So easy to share petrol on old bikes, just pull a hose off the carburettor.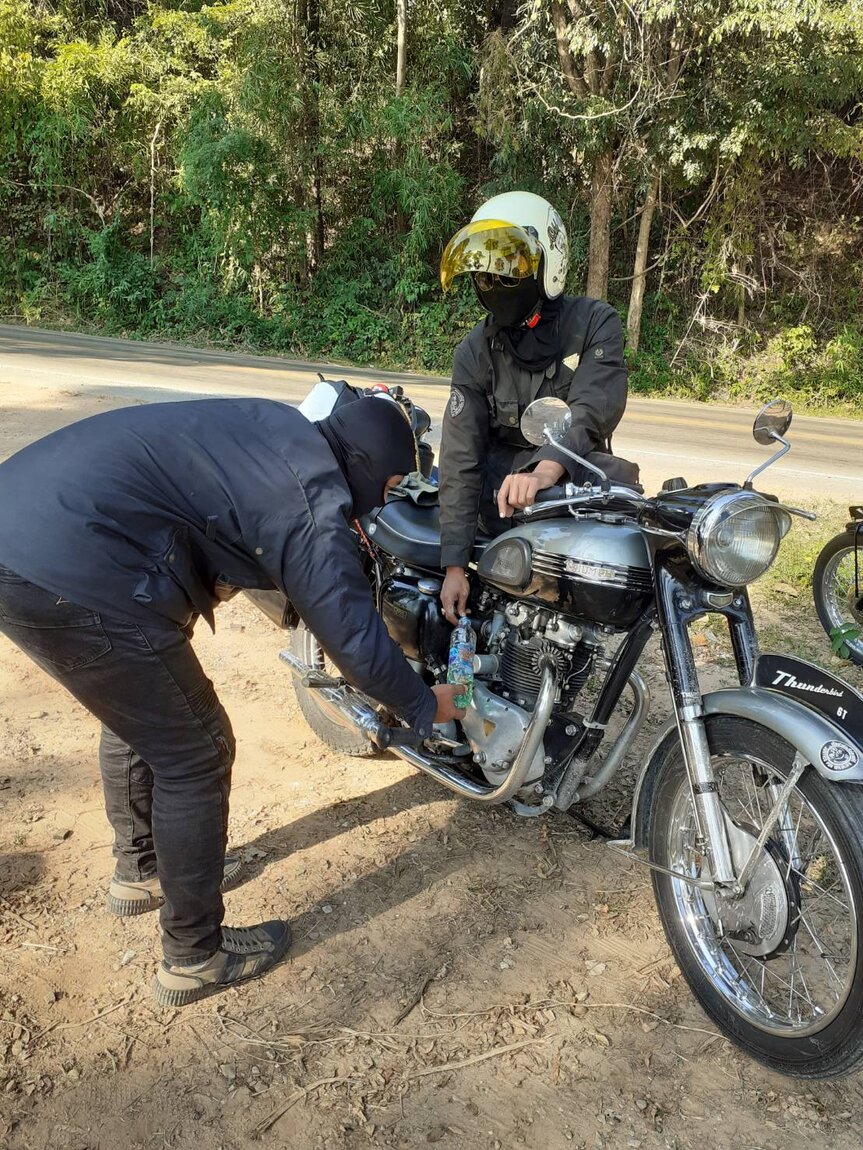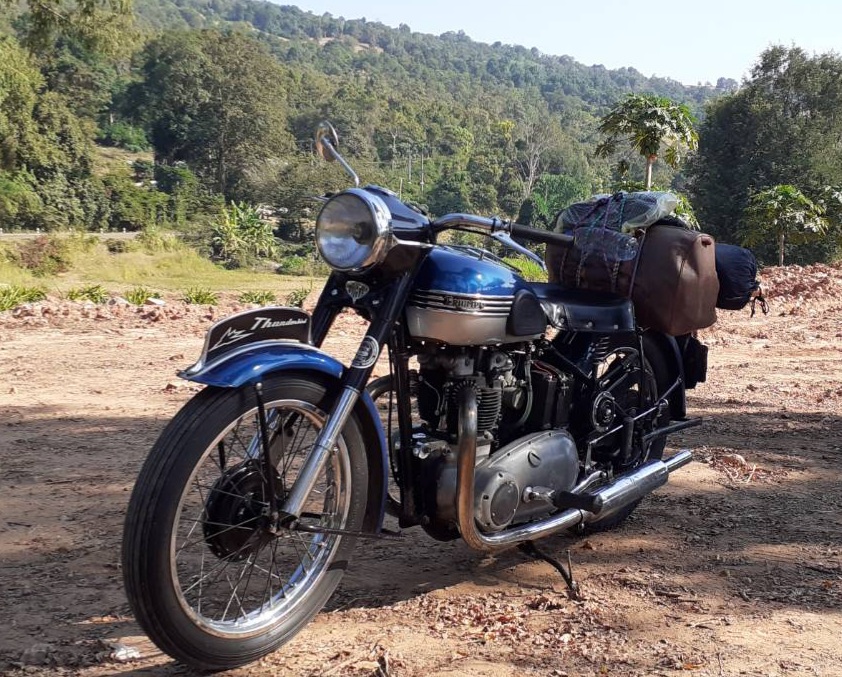 I was heading past Phu Soi Dao and it was great riding with no traffic on a beautiful day.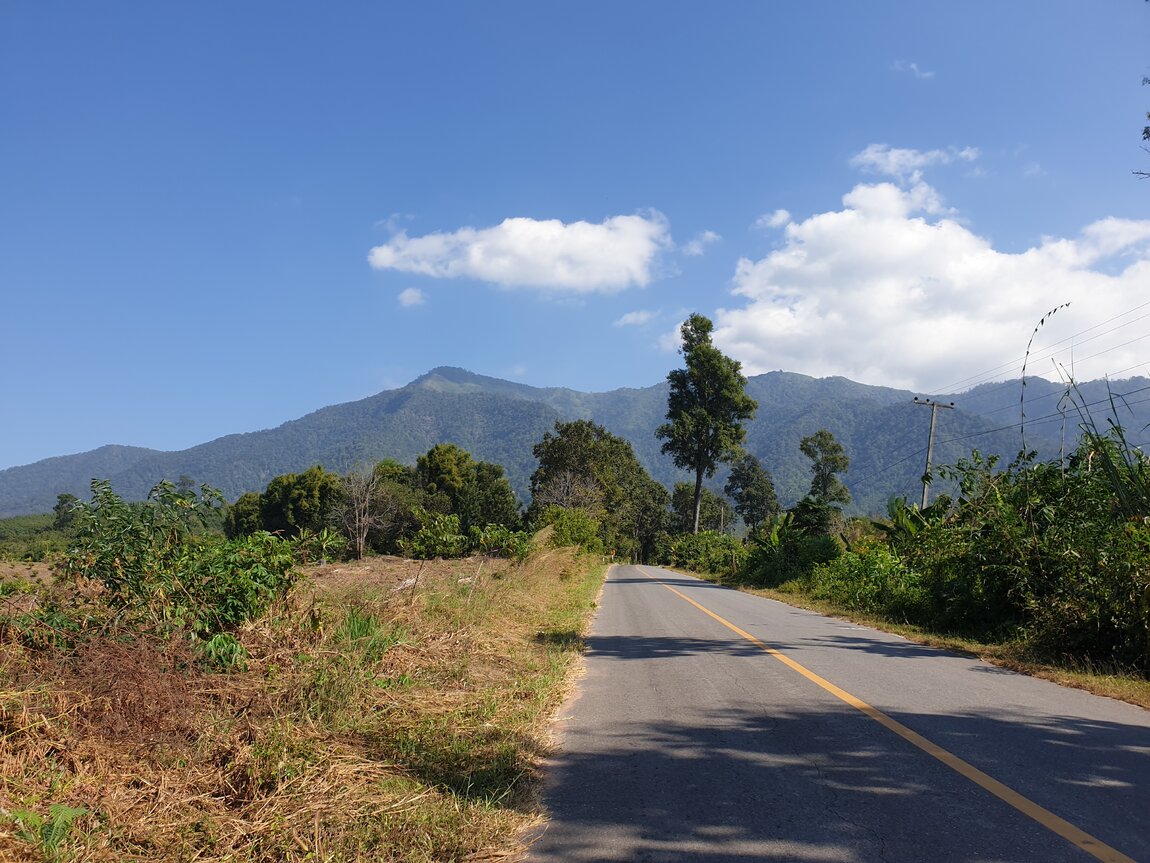 53 klms to the RP.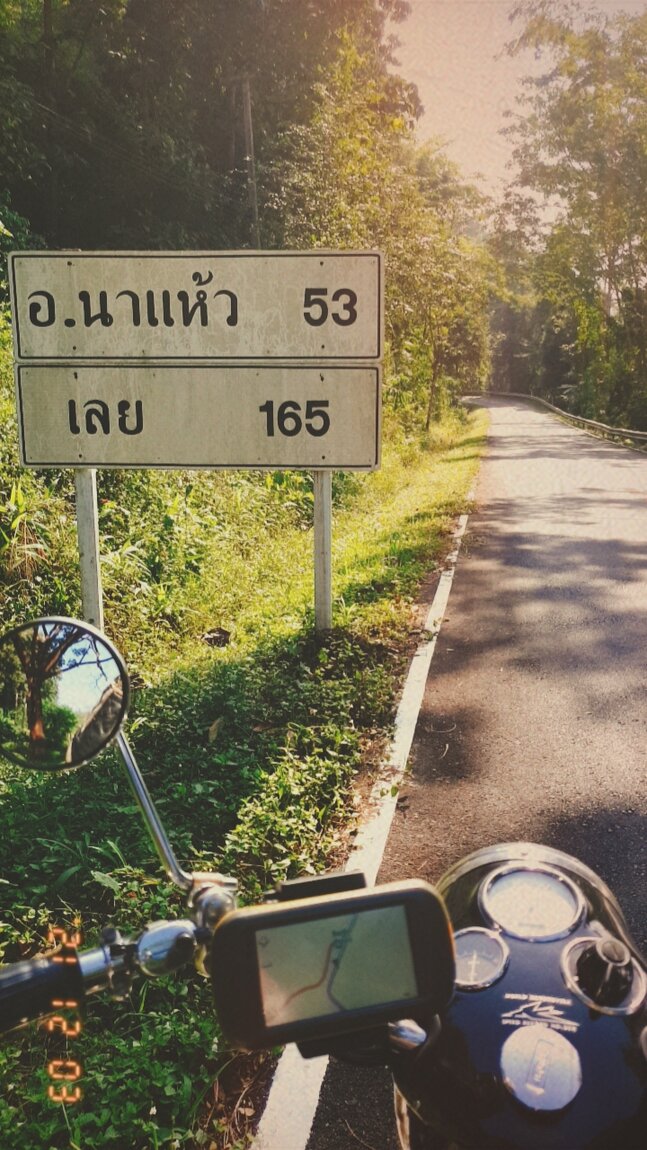 I got to the Na Haeo Resort by mid afternoon and set up the tiny tent.
Just to the south, the Bangkok team had met the twisties coming up to Na Haeo.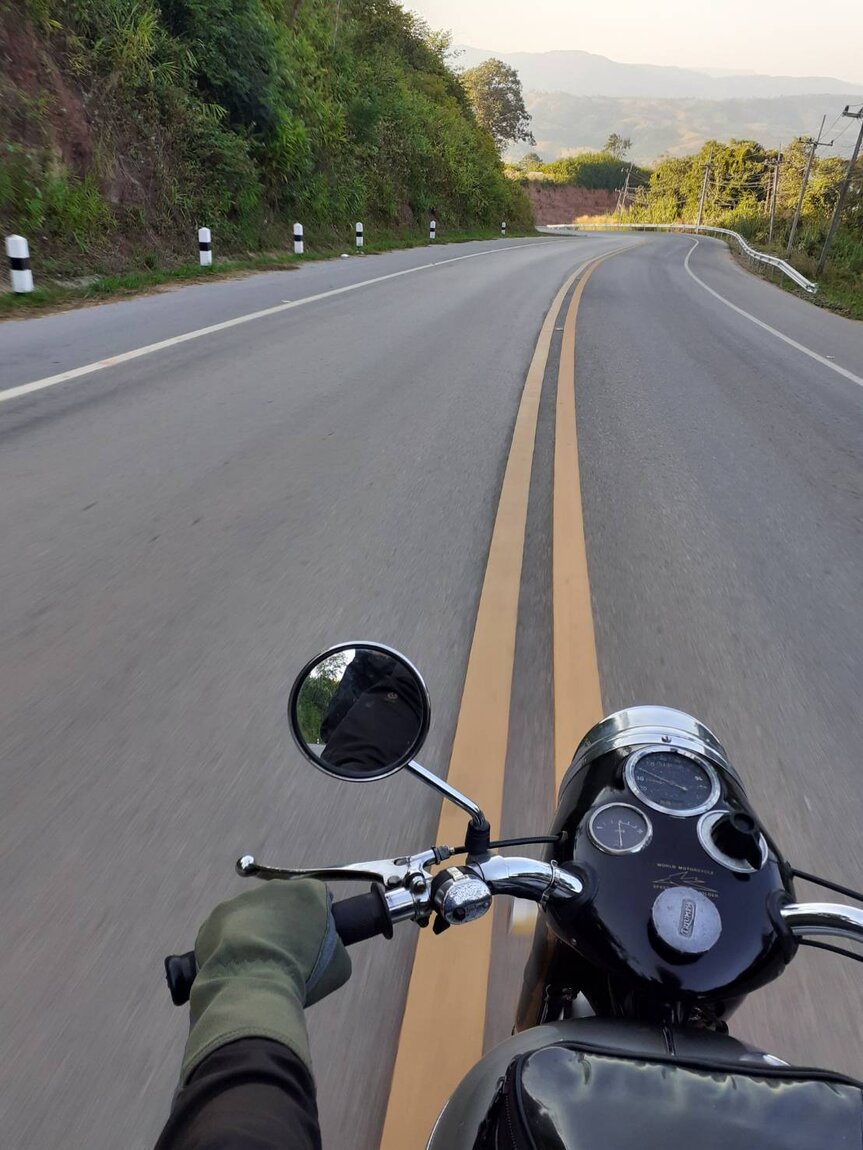 Wow, that looks pretty extreme!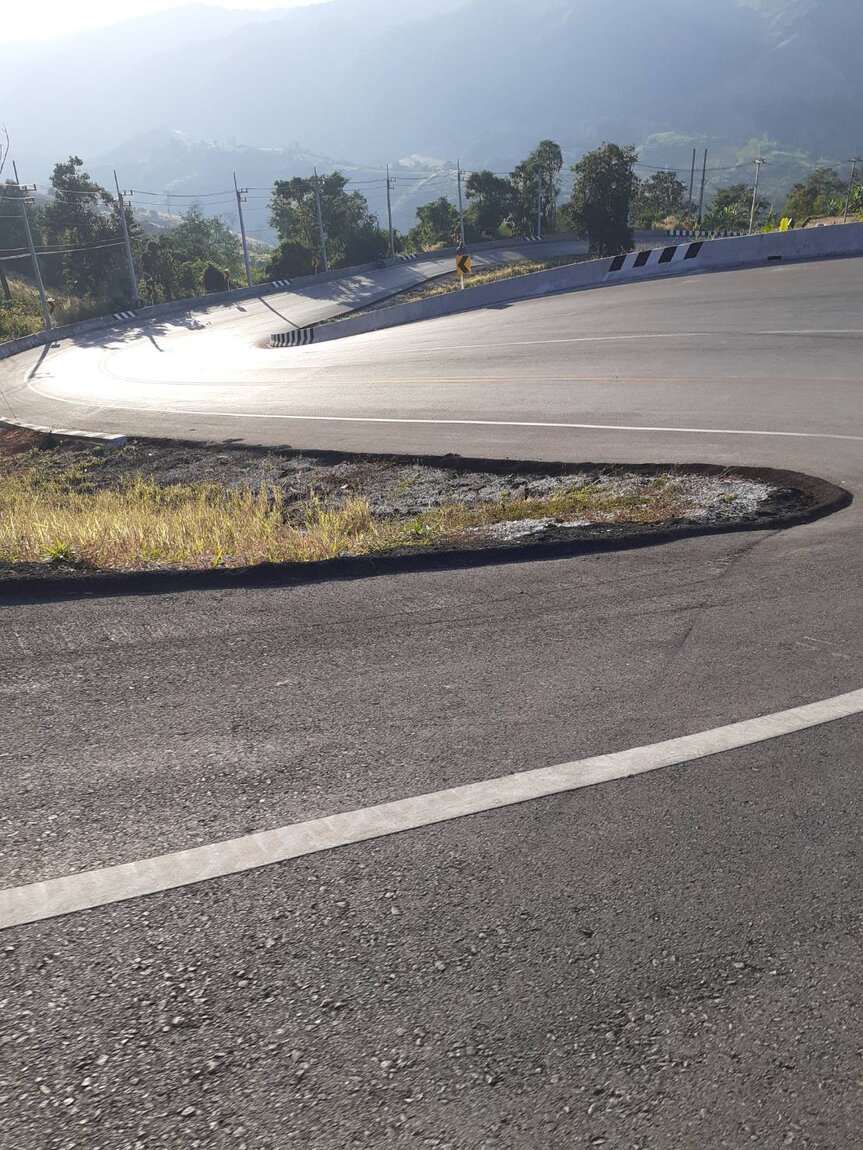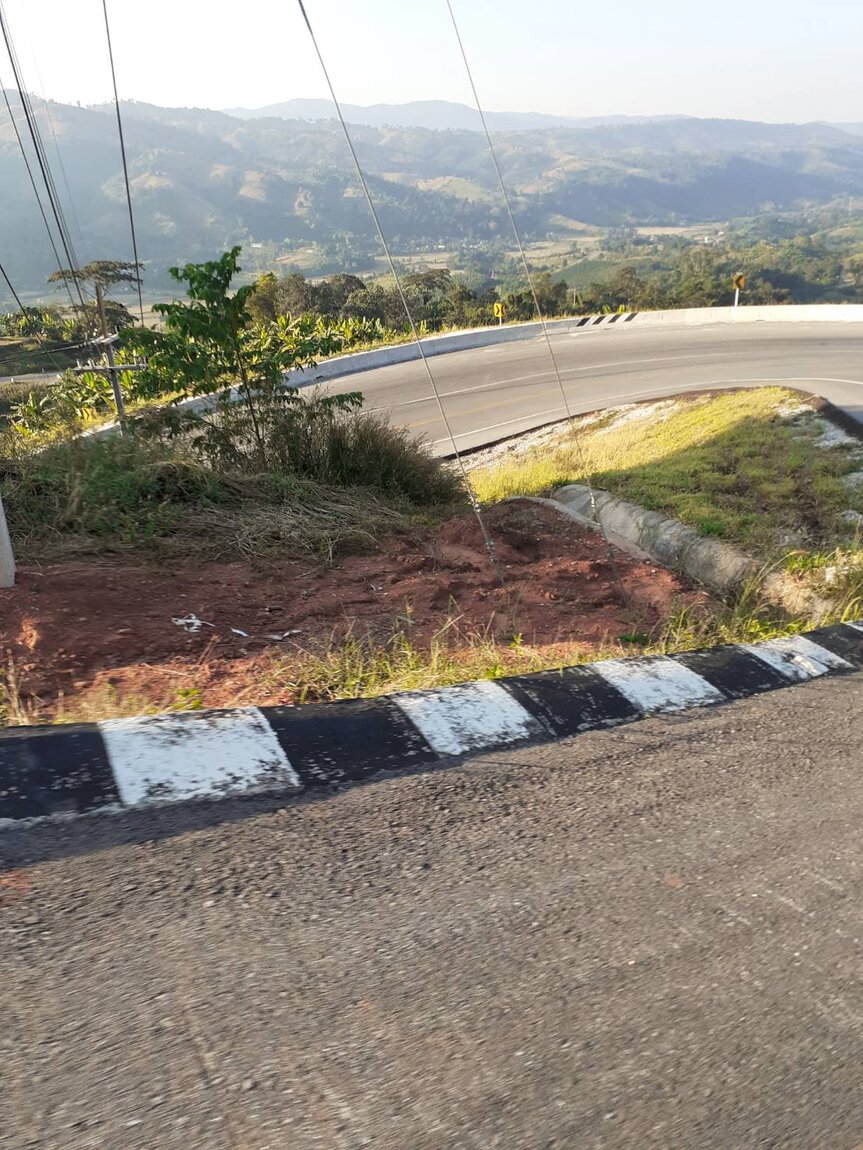 A little later, the guys arrived at the resort.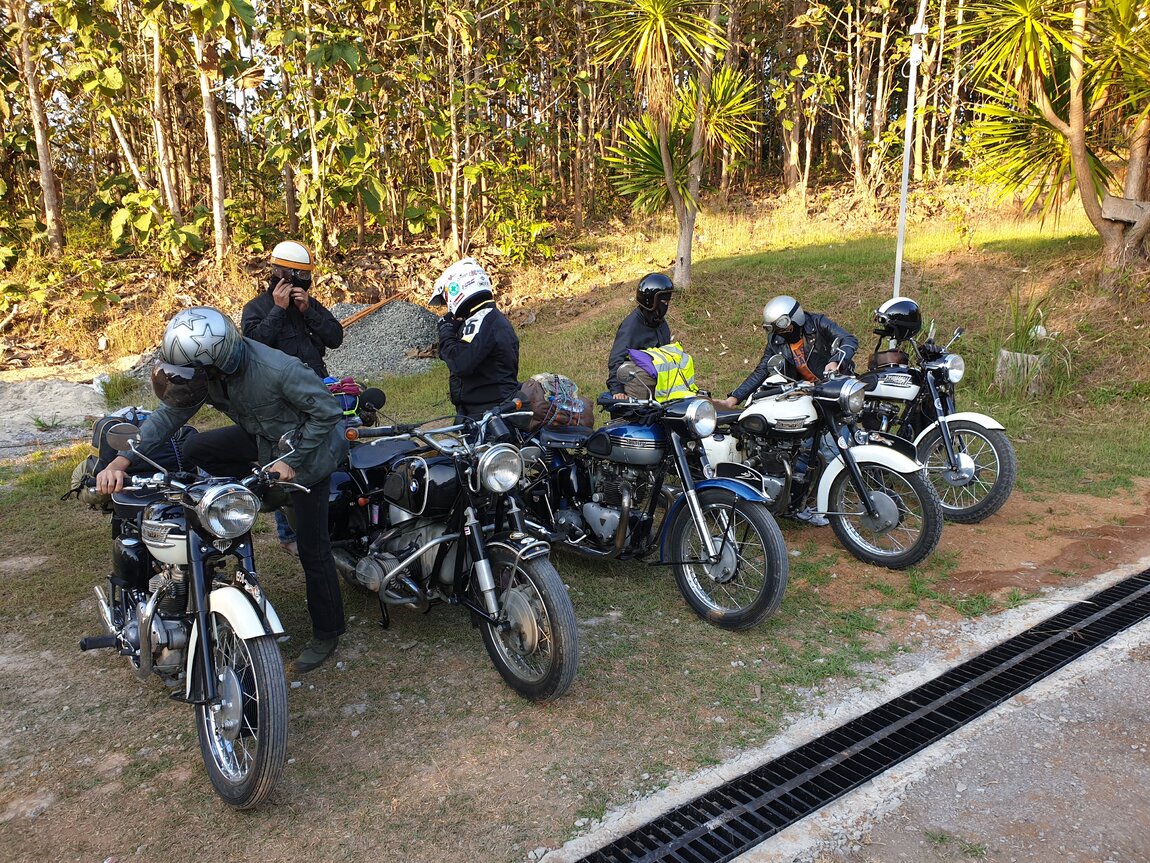 This '58 Tiger T110 is a rare bike in Thailand, ridden by Khun Sanee, Khun Berm's son.
Great to see a new rider, Khun Anon, on his well restored and smooth running mid Sixties R69.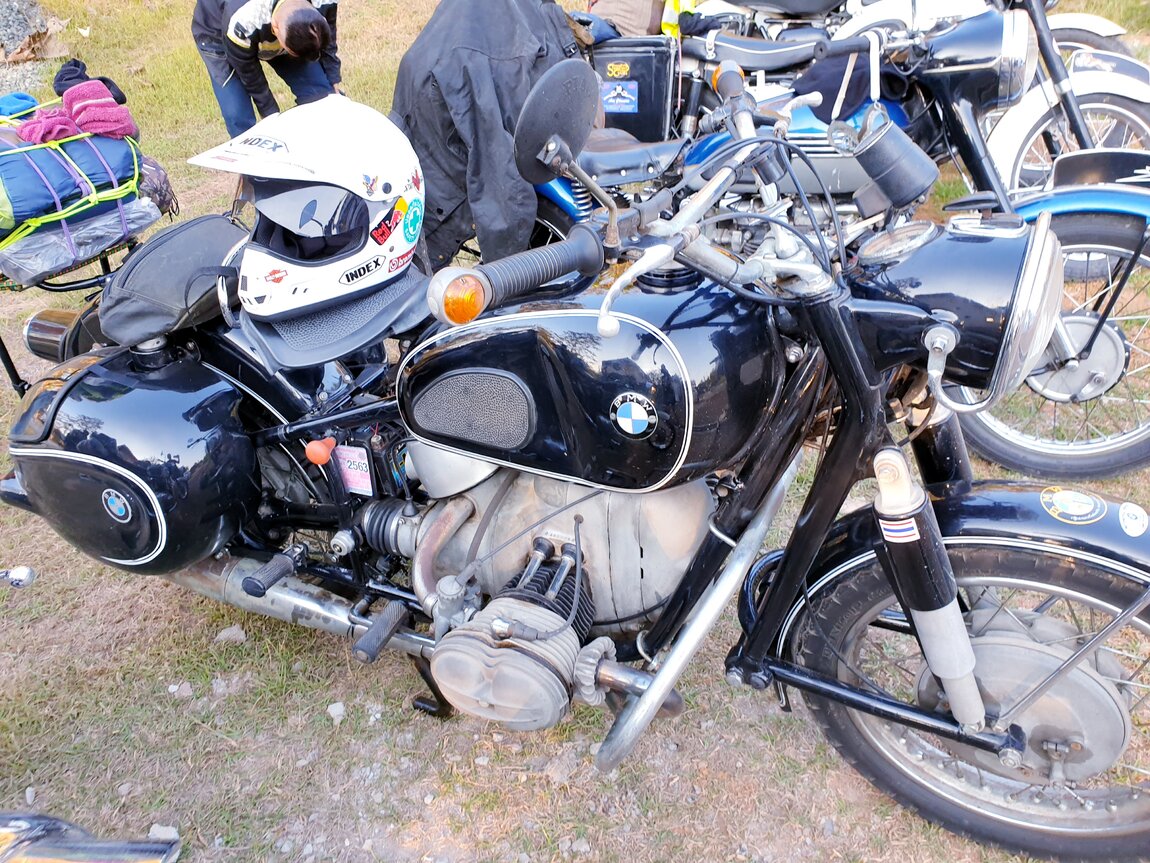 Khun Somchai had come on his beautiful, rigid frame, sprung hub '51 Thunderbird.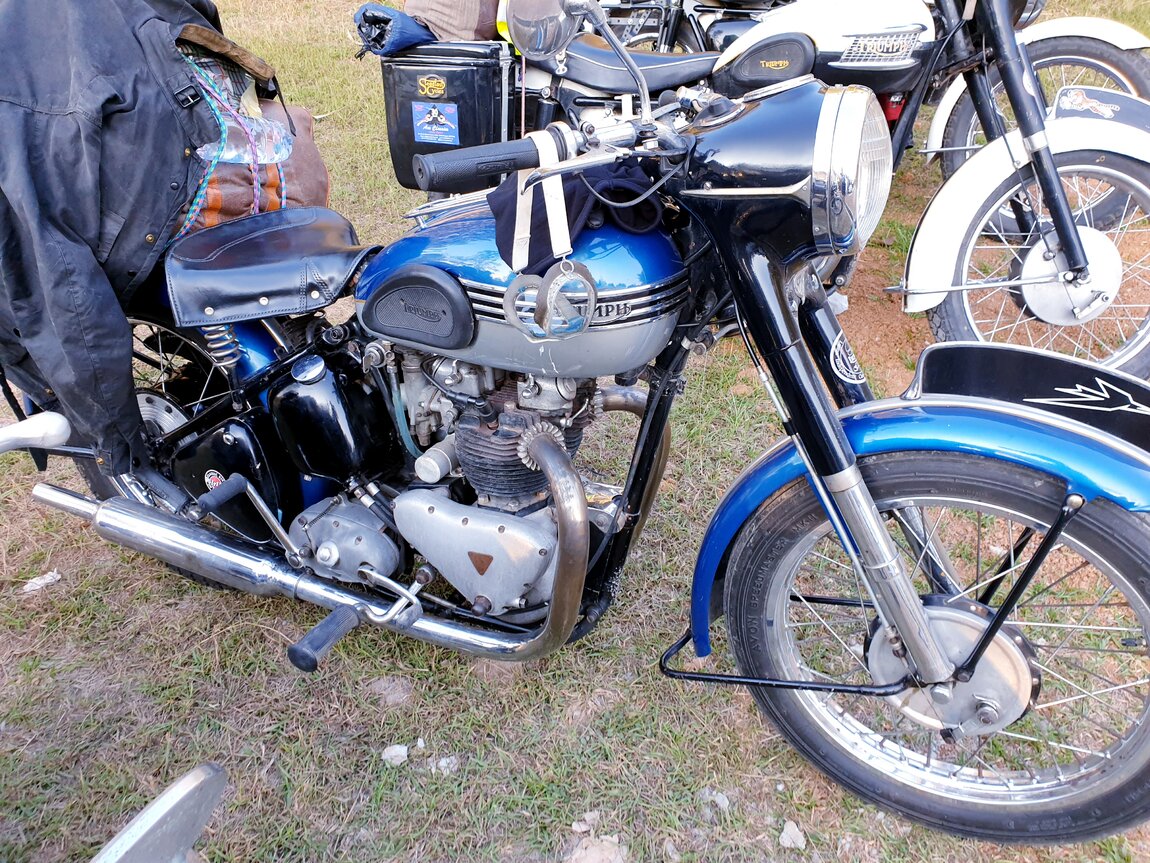 Khun Ming was on his '58 Thunderbird.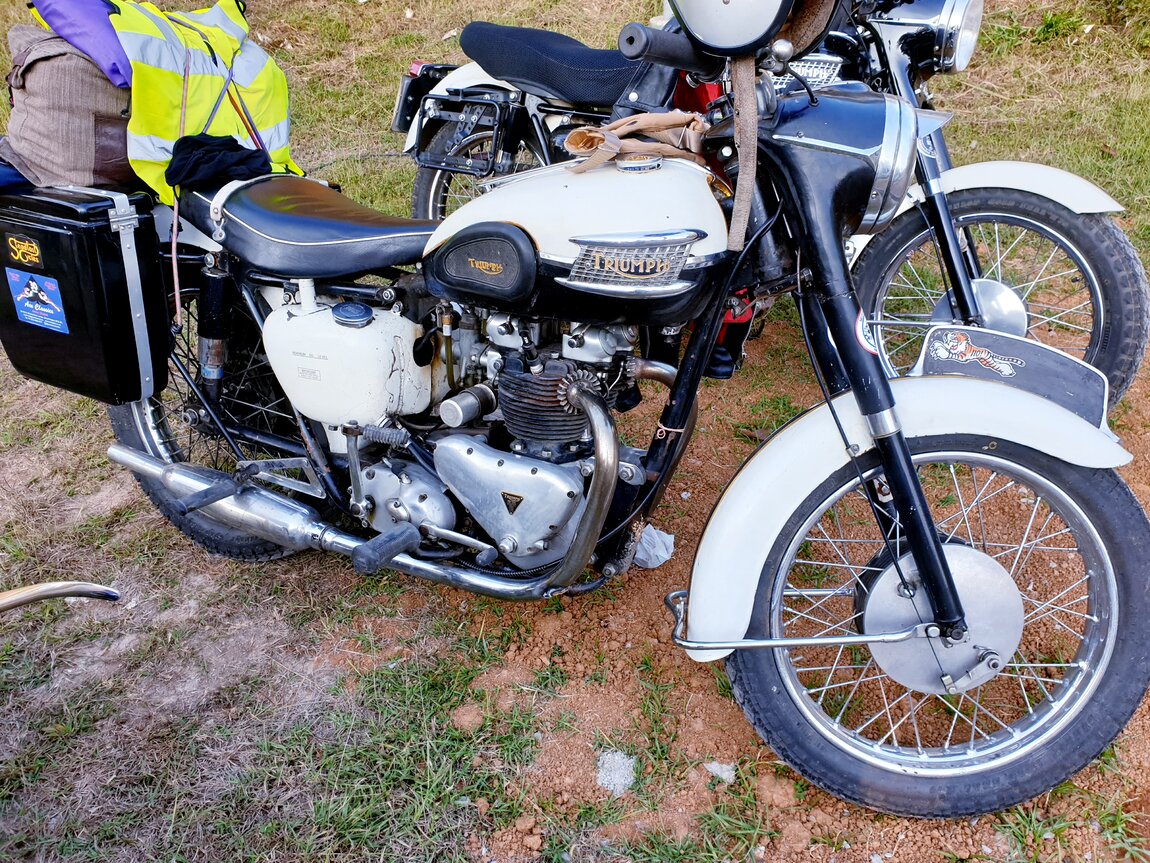 Mr Ian's '59 Thunderbird.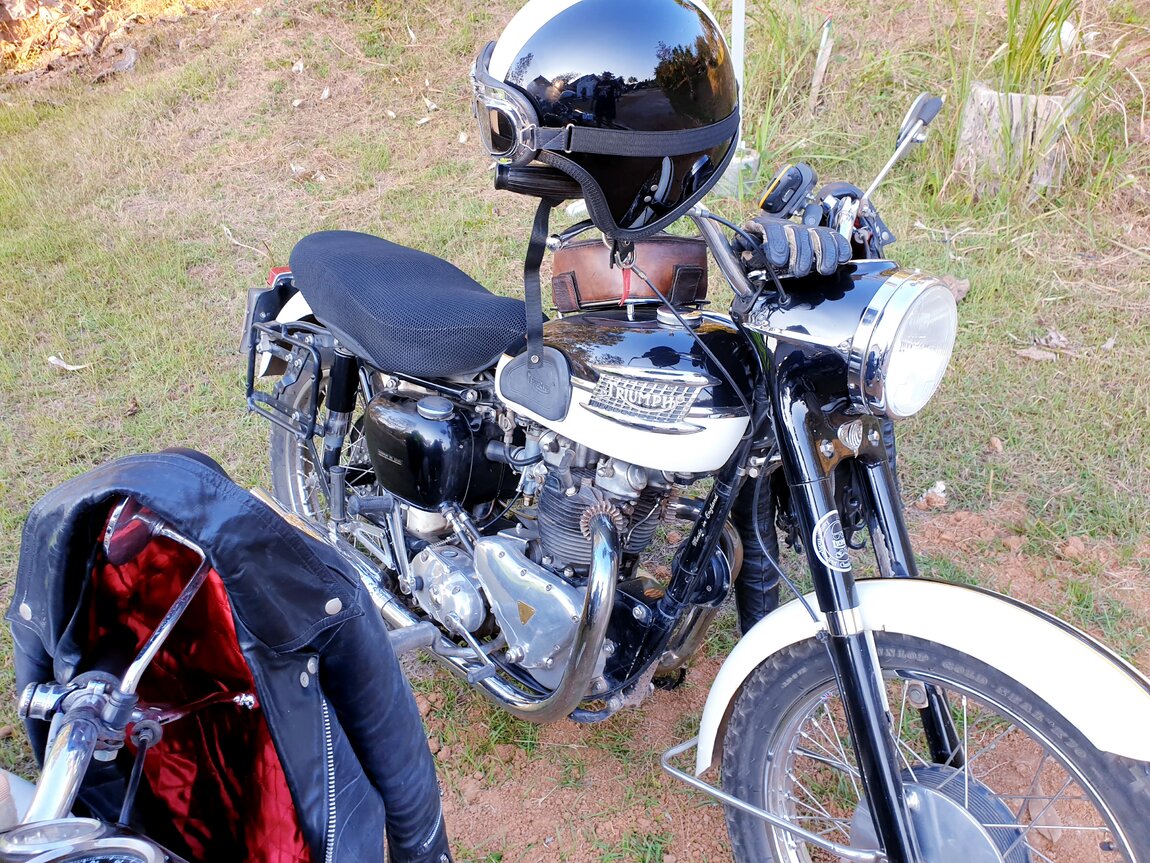 Another new rider, Khun Ton, was on his amazing '47 Tiger.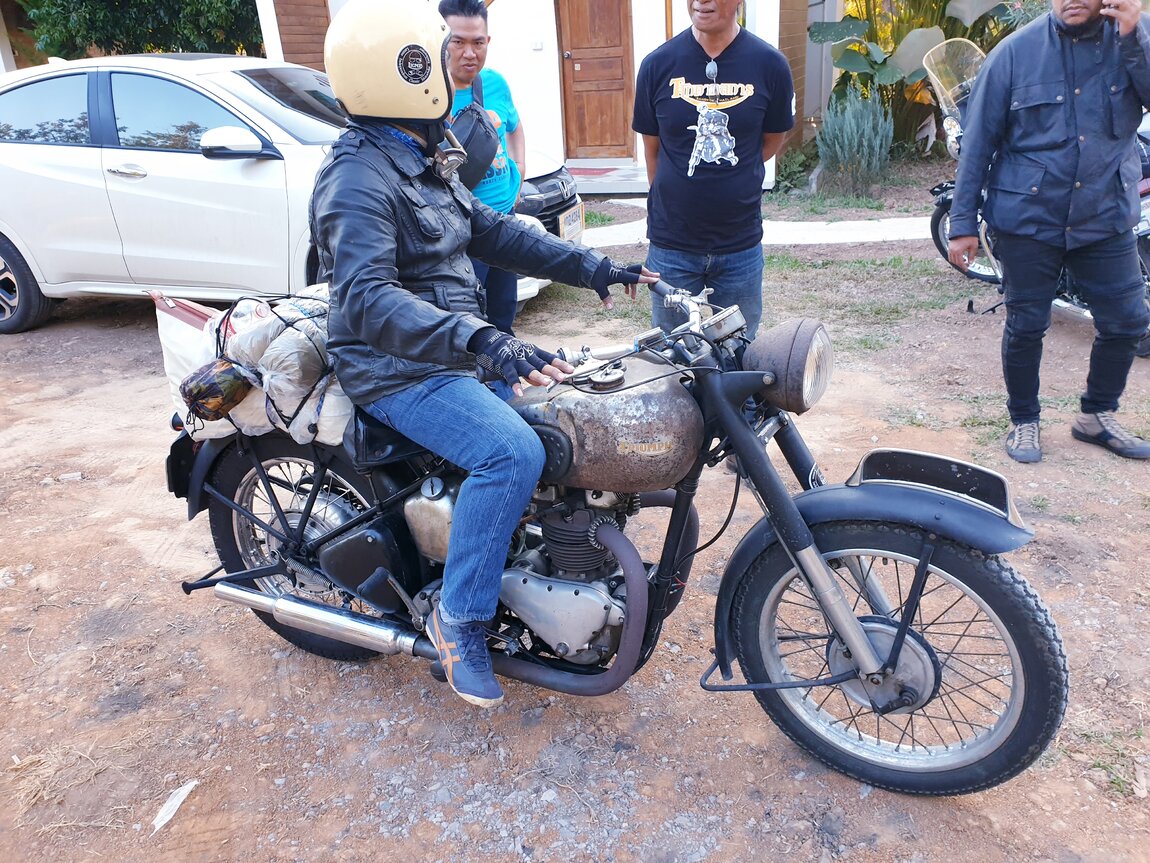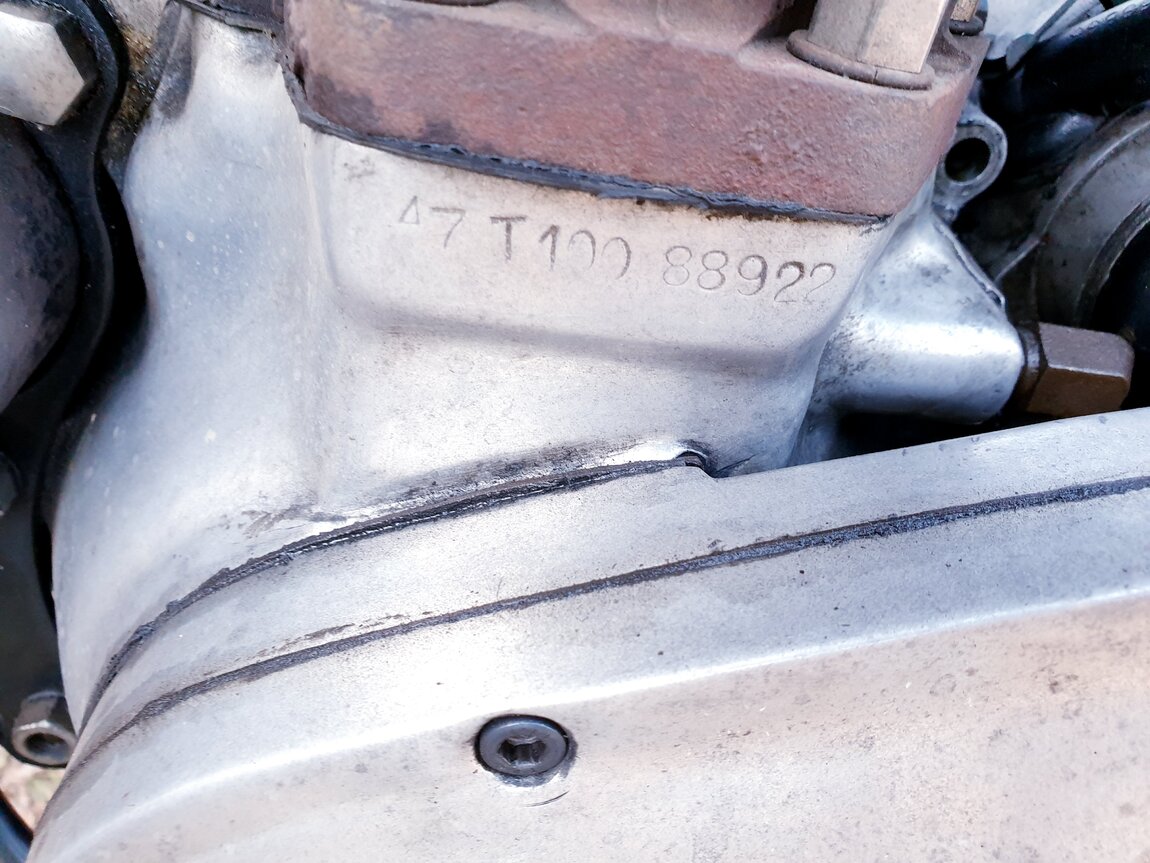 Khun Ton had dropped his bike on one of those extreme bends just to the south. His drive side footpeg had taken the impact and broken off.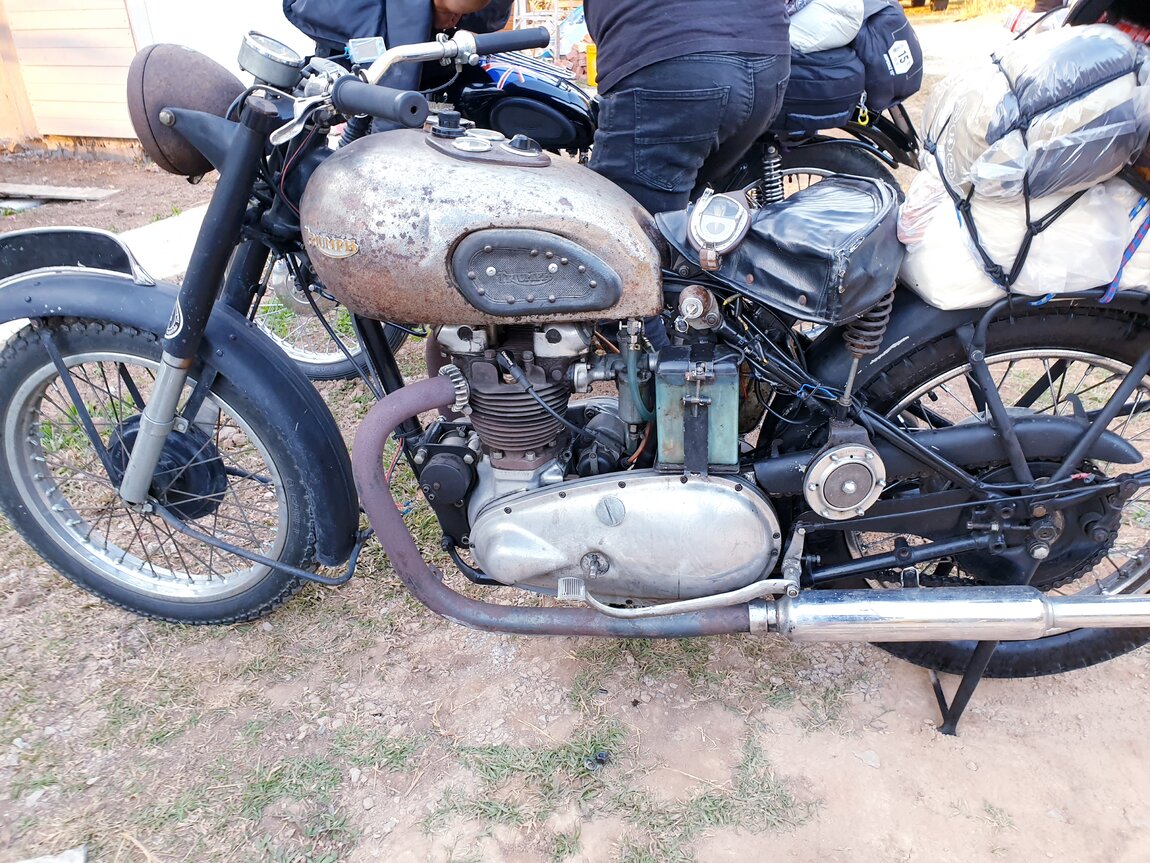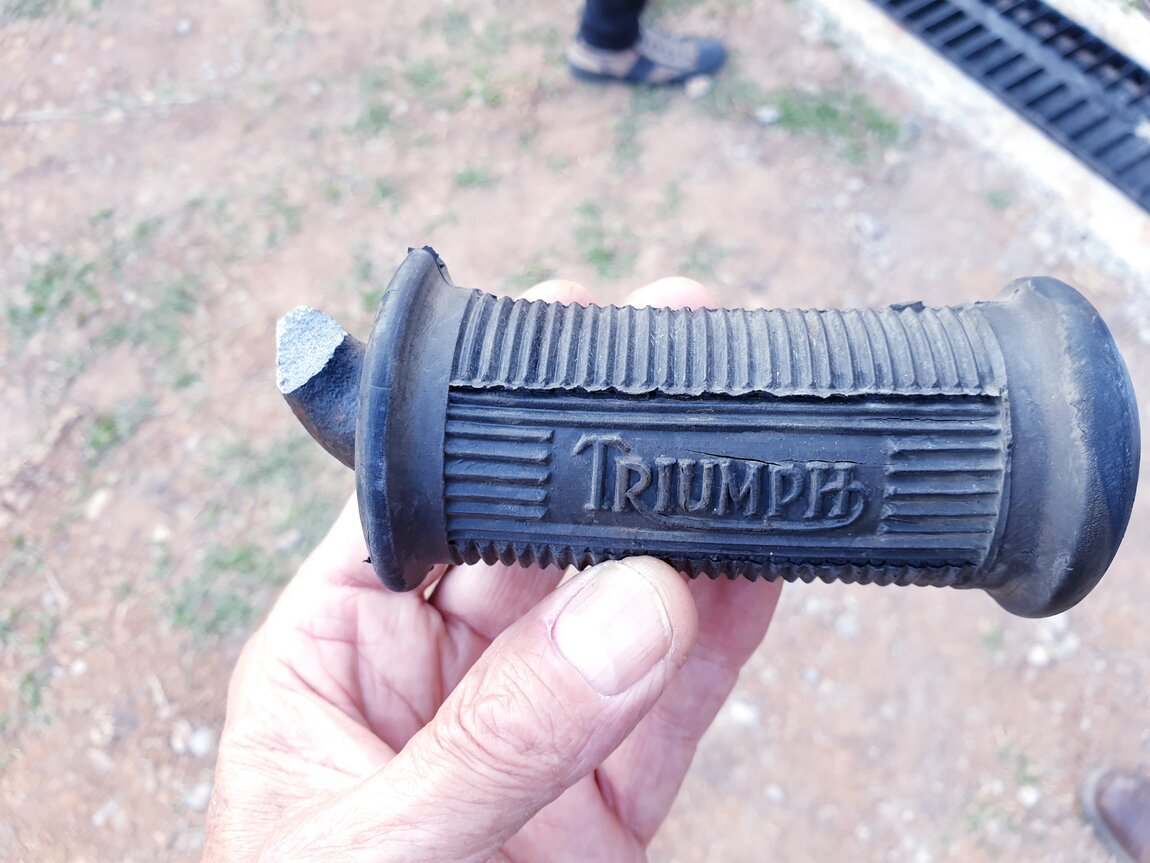 Luckily, some guys who were building a new bungalow at the resort, had a welding machine, so the footpeg was repaired in 20 minutes.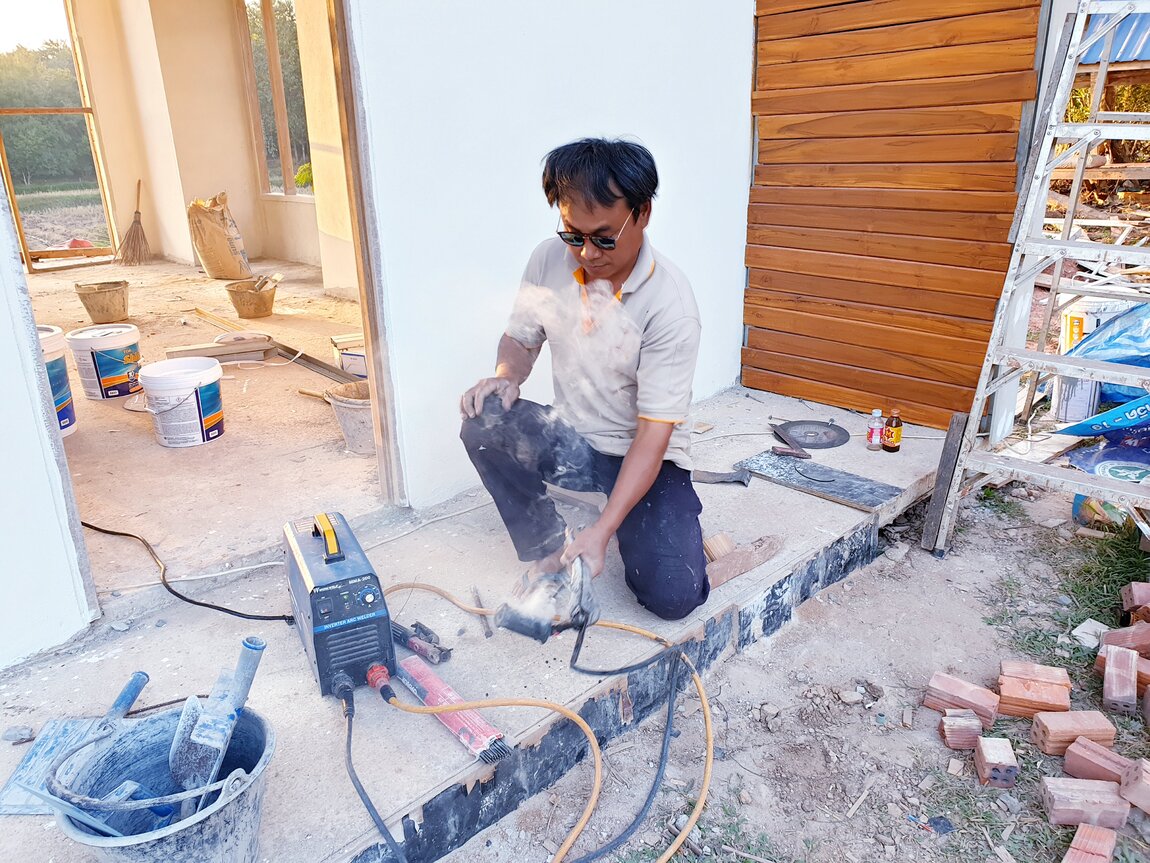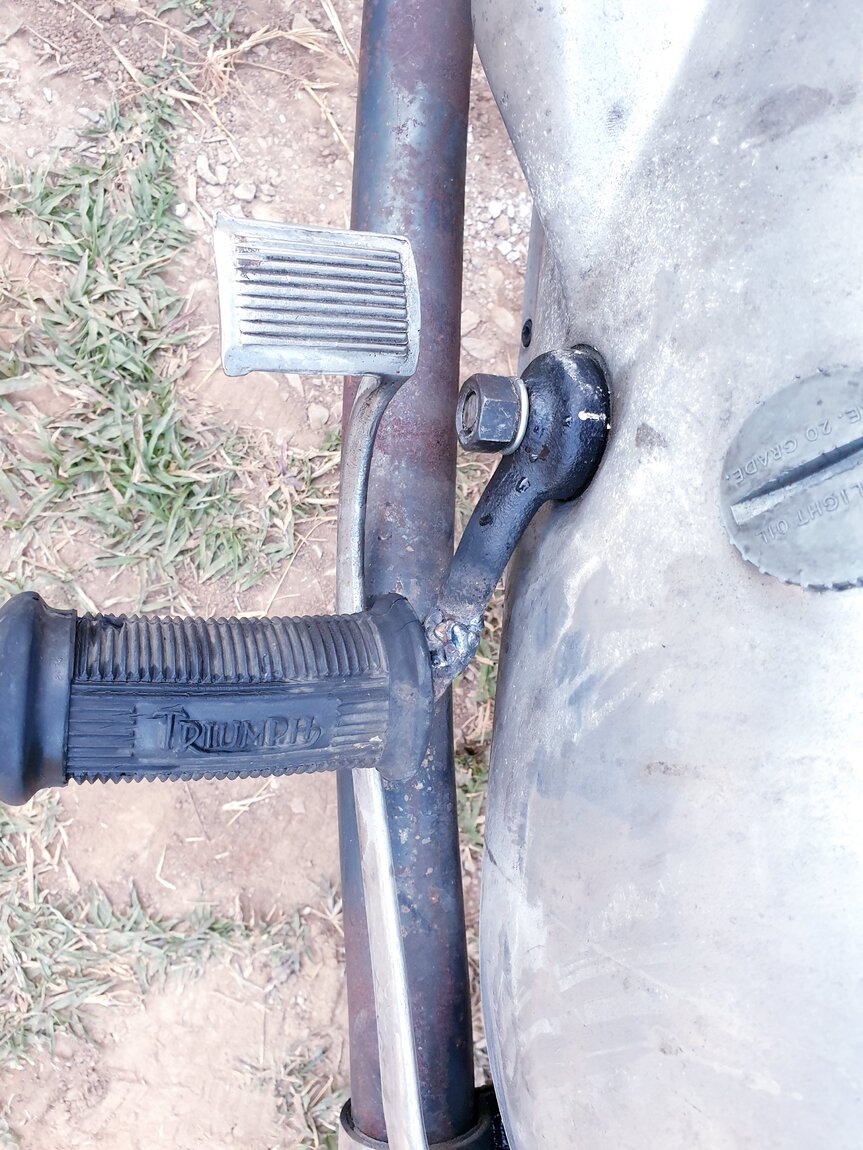 So, we had 8 classic bikes on this ride. Fantastic.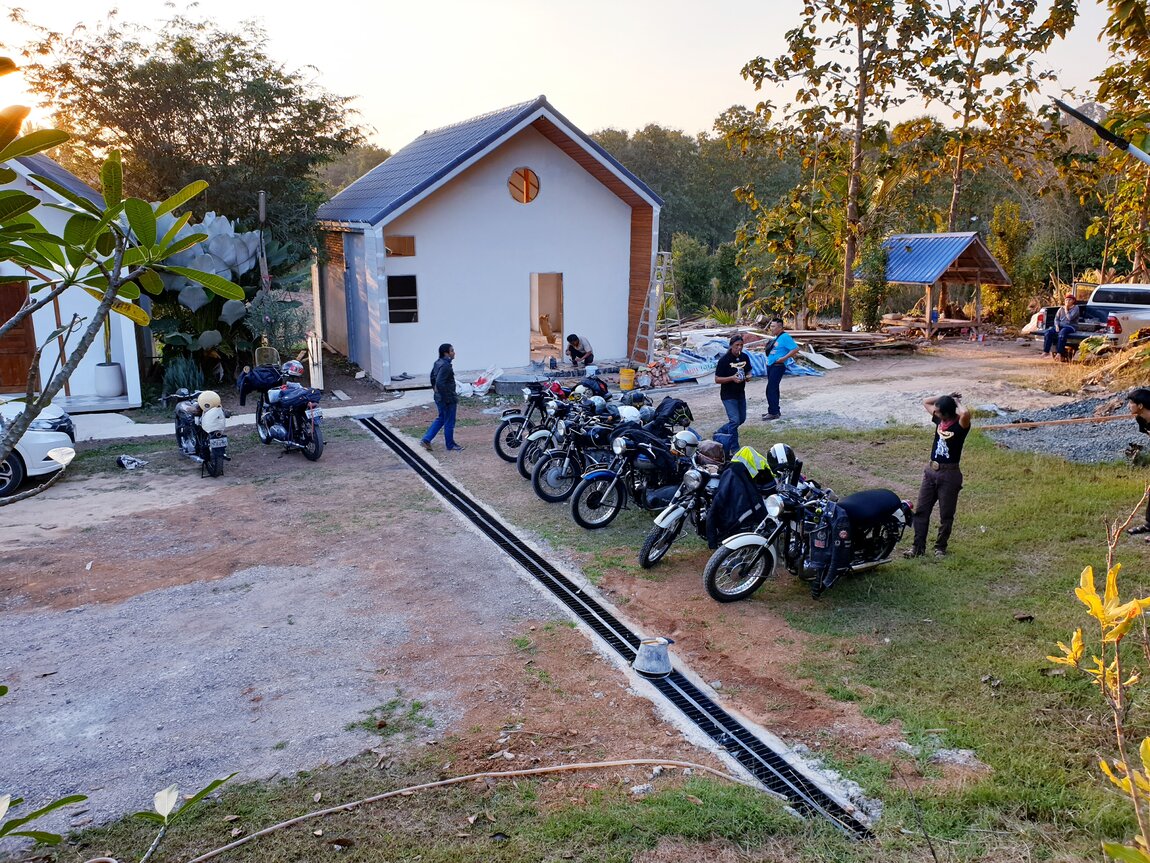 Prayer time for some.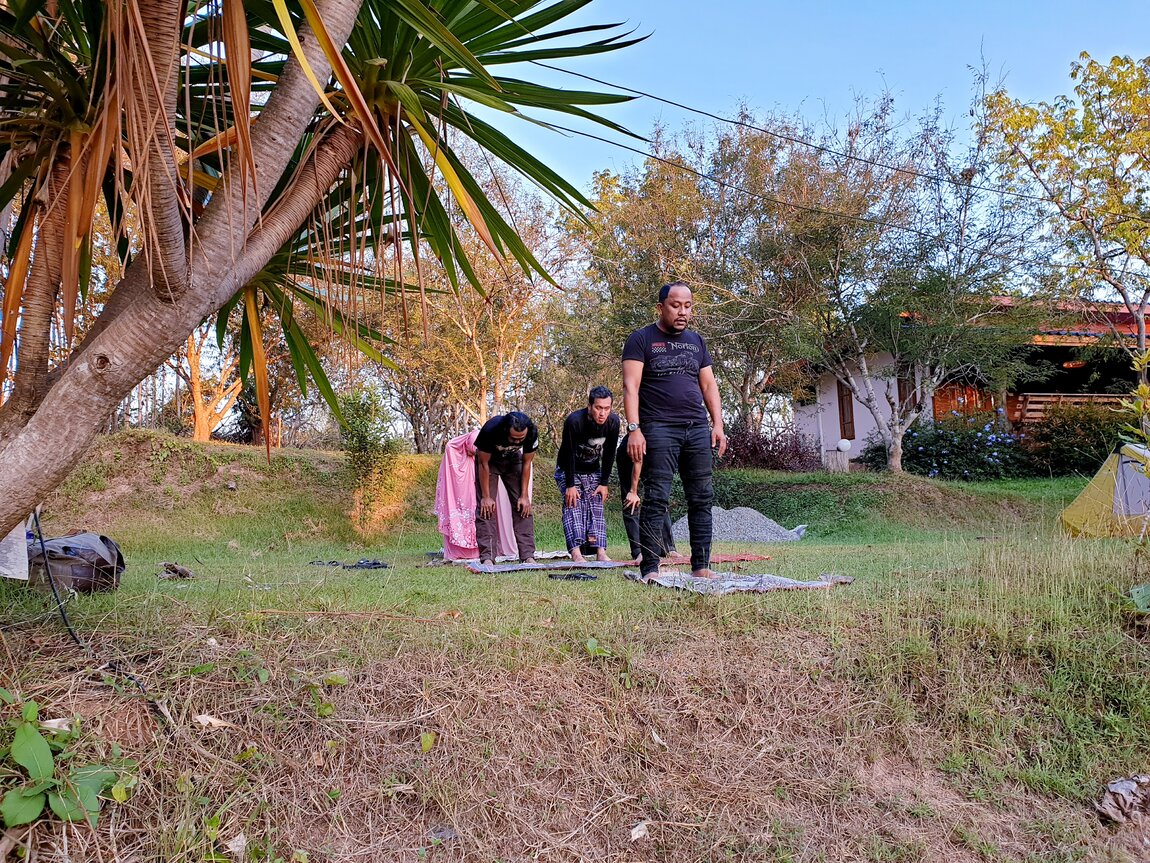 Later, we had the "Golden Kickstart" award. This year presented to Khun Manas, mainly because of his amazing ride 2 years earlier, on the 1936 Harley Davidson WL side valve engined machine. This bike needed fuel every 80 klms and he rode it 800 miles from Nan to Bangkok in a very long day!
I recall his footwear was tennis shoes with no socks.!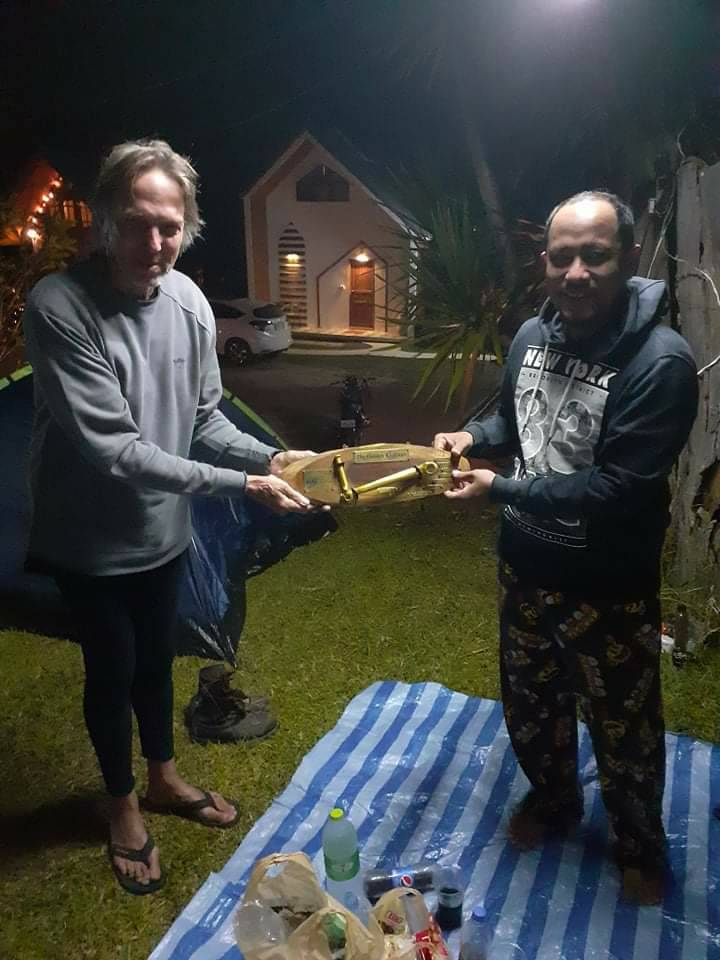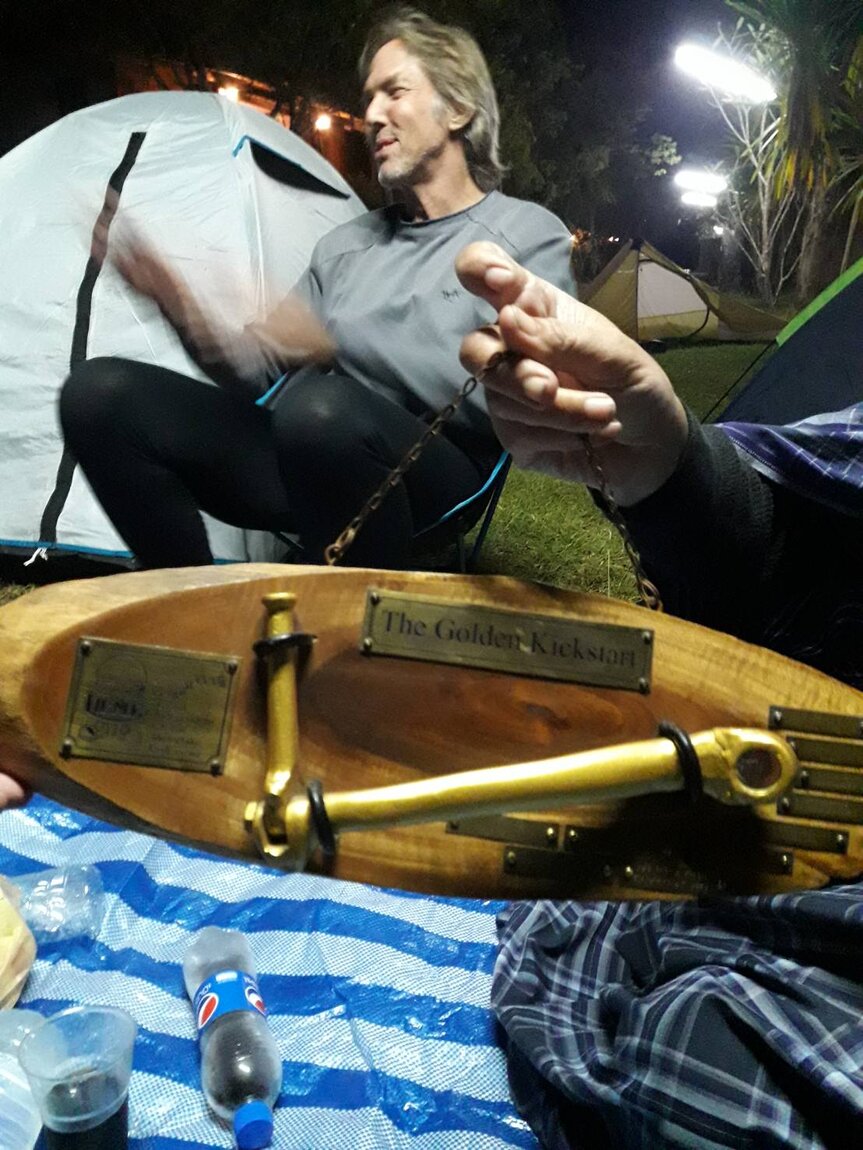 The next morning, after a cold night in tents.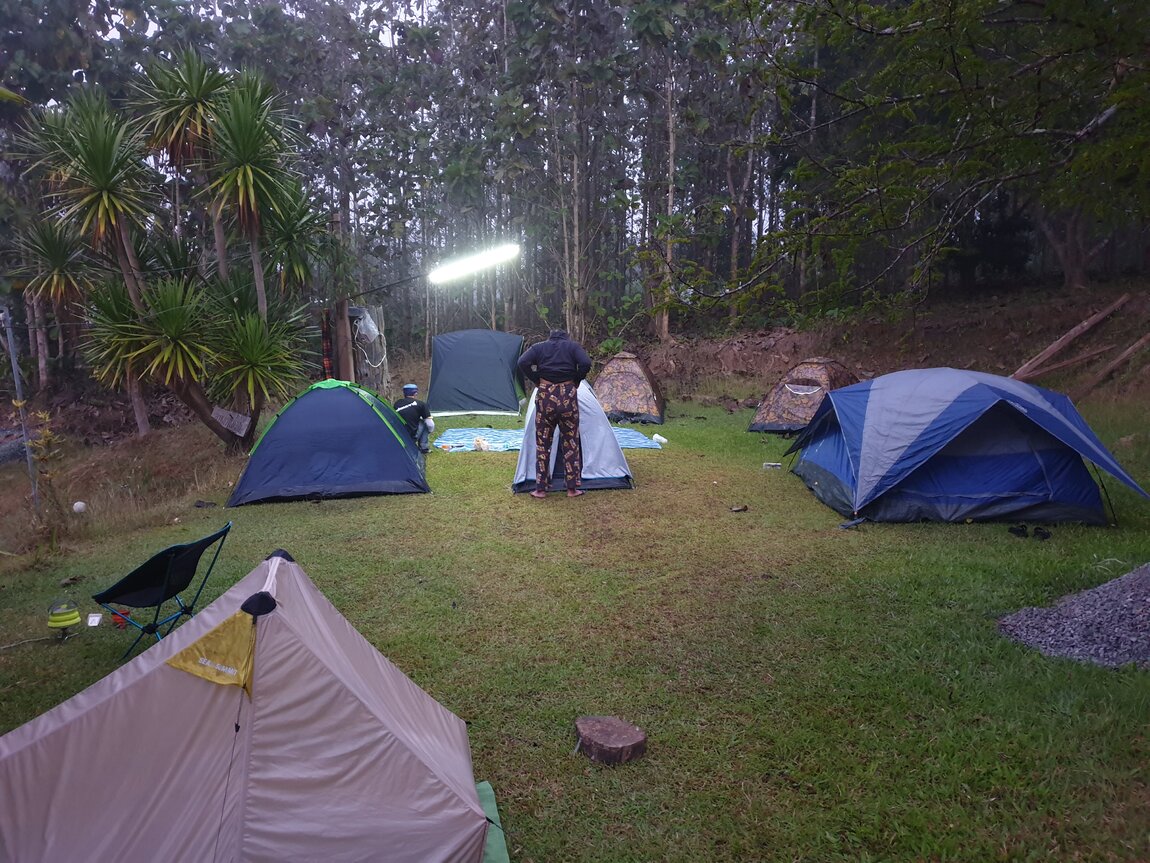 Is this a tricky modification or just a petrol leak?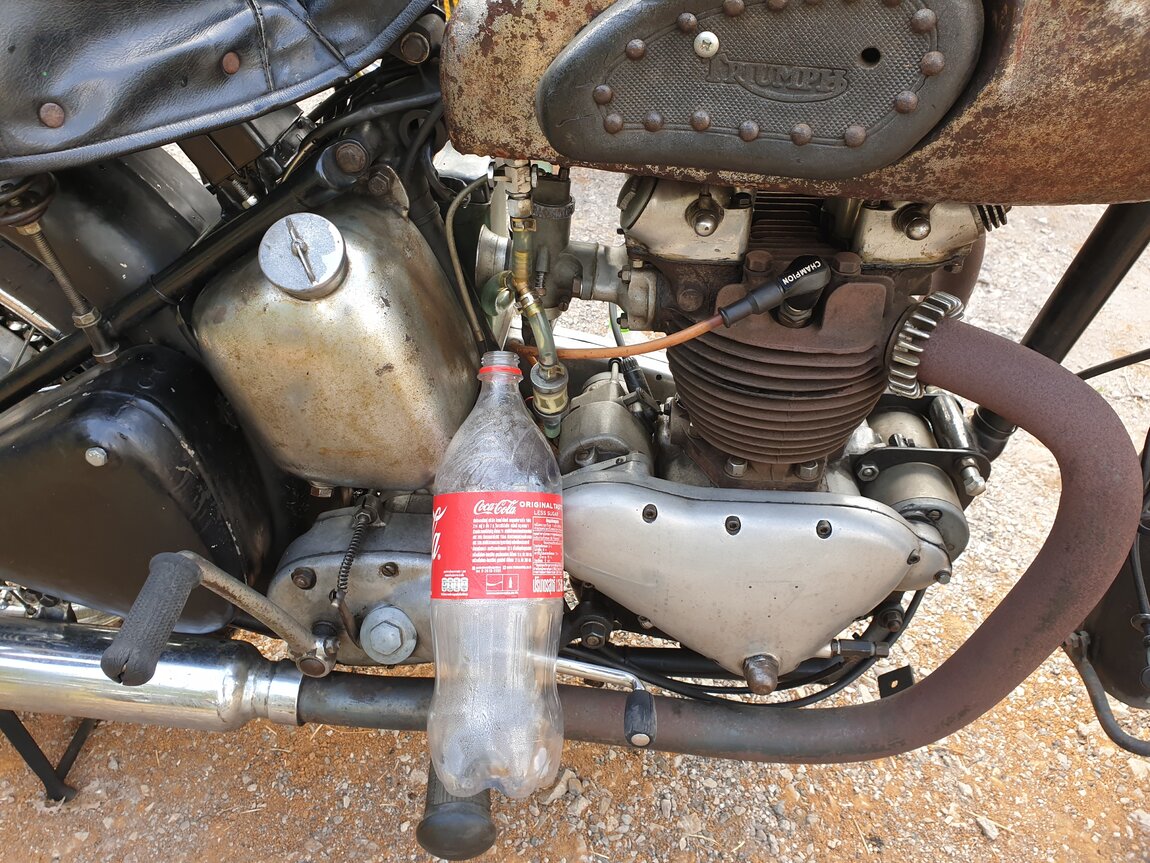 A truly astonishing machine. This bike would win the "Finest Patina" award. An original Lucas 5" headlamp.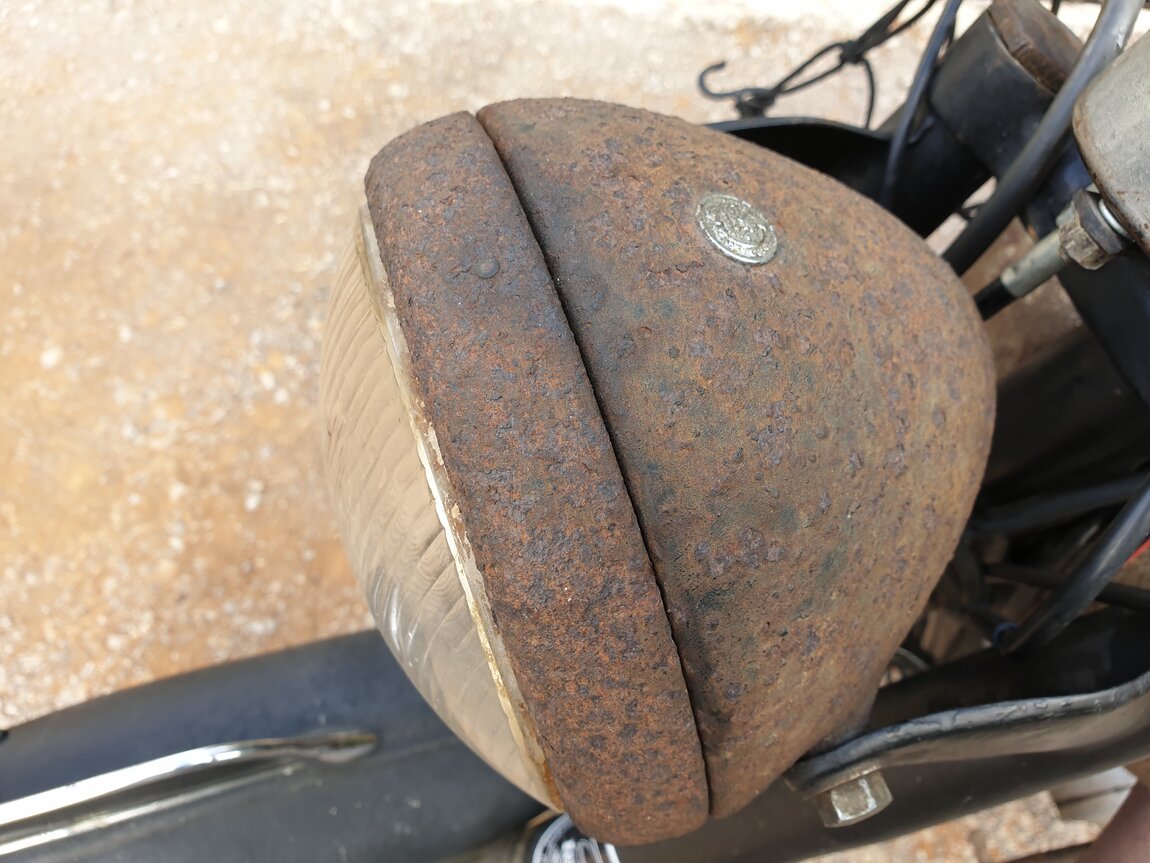 The original Triumph panel tank oil pressure gauges are hard to find.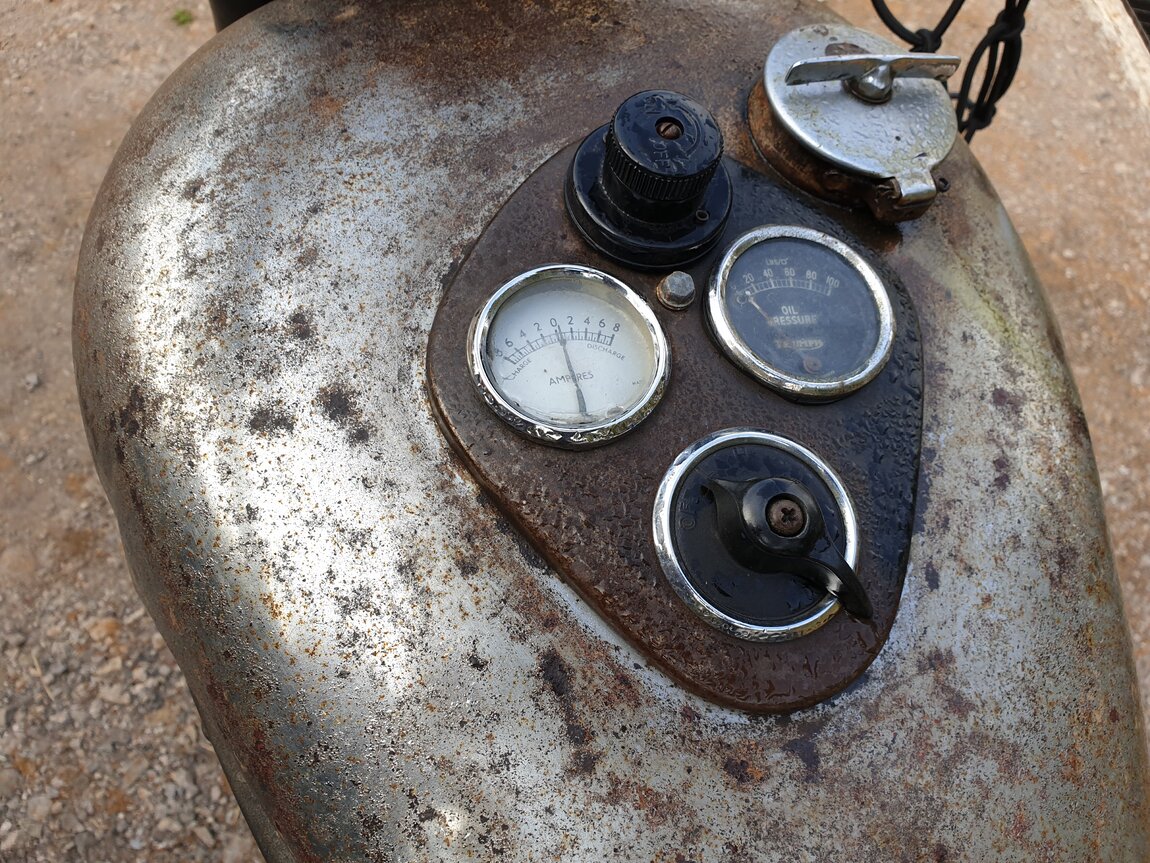 Khun Ton should also get the "Iron Butt" award.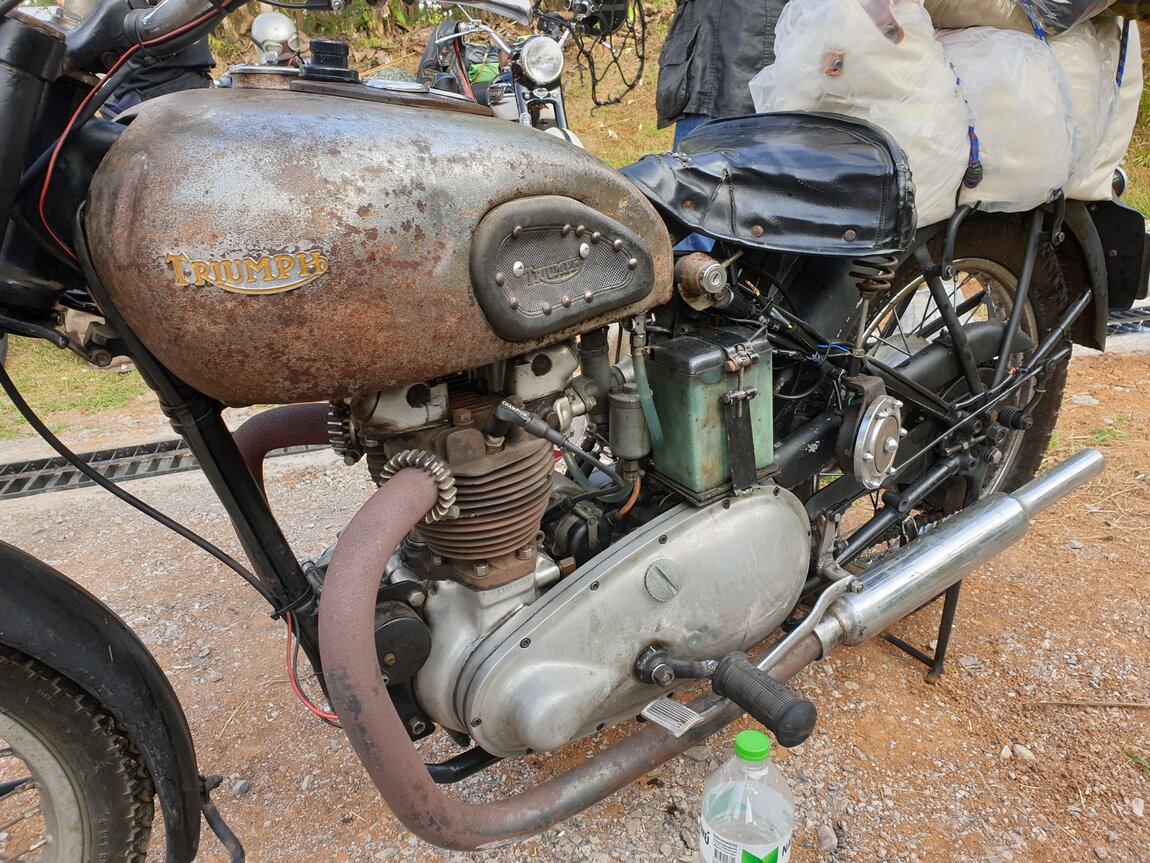 Getting ready to head out north.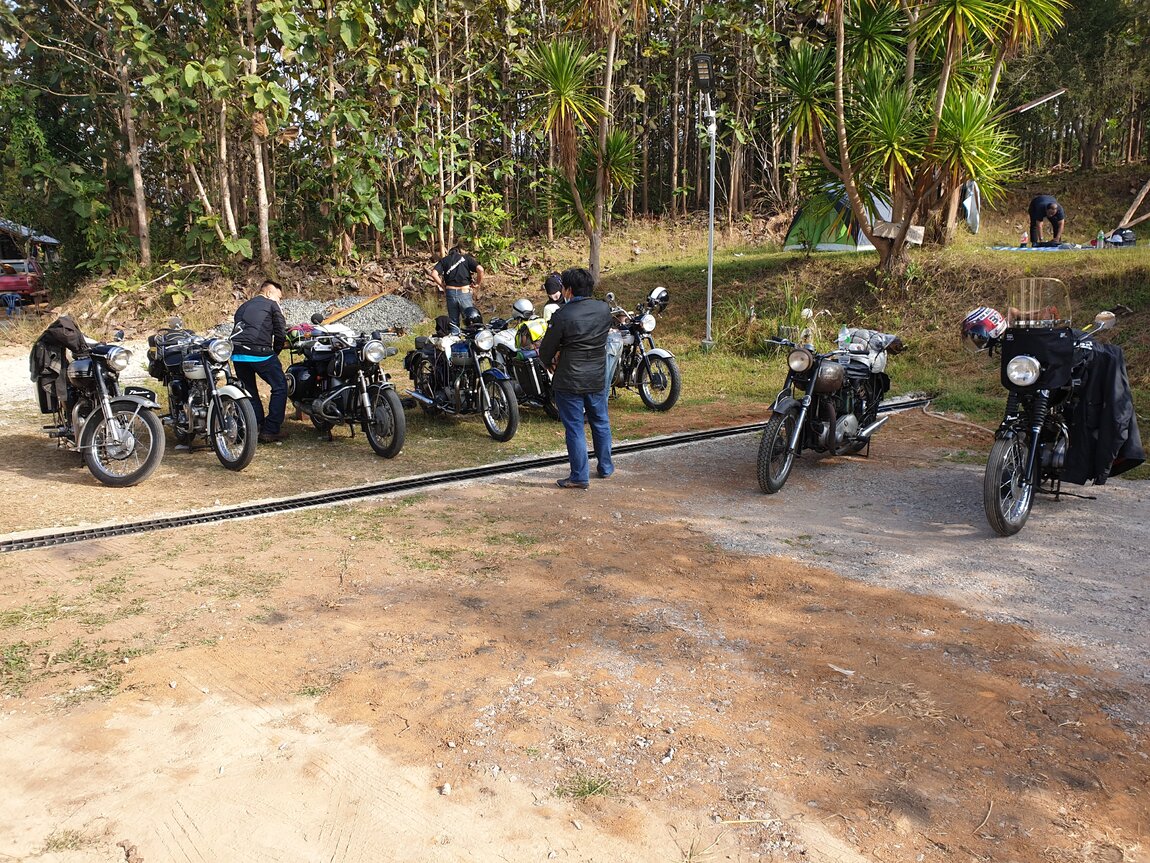 First stop was the wonderful temple of Wat Sri Pho Chai, just west of NaHaeo, which is over 400 years old.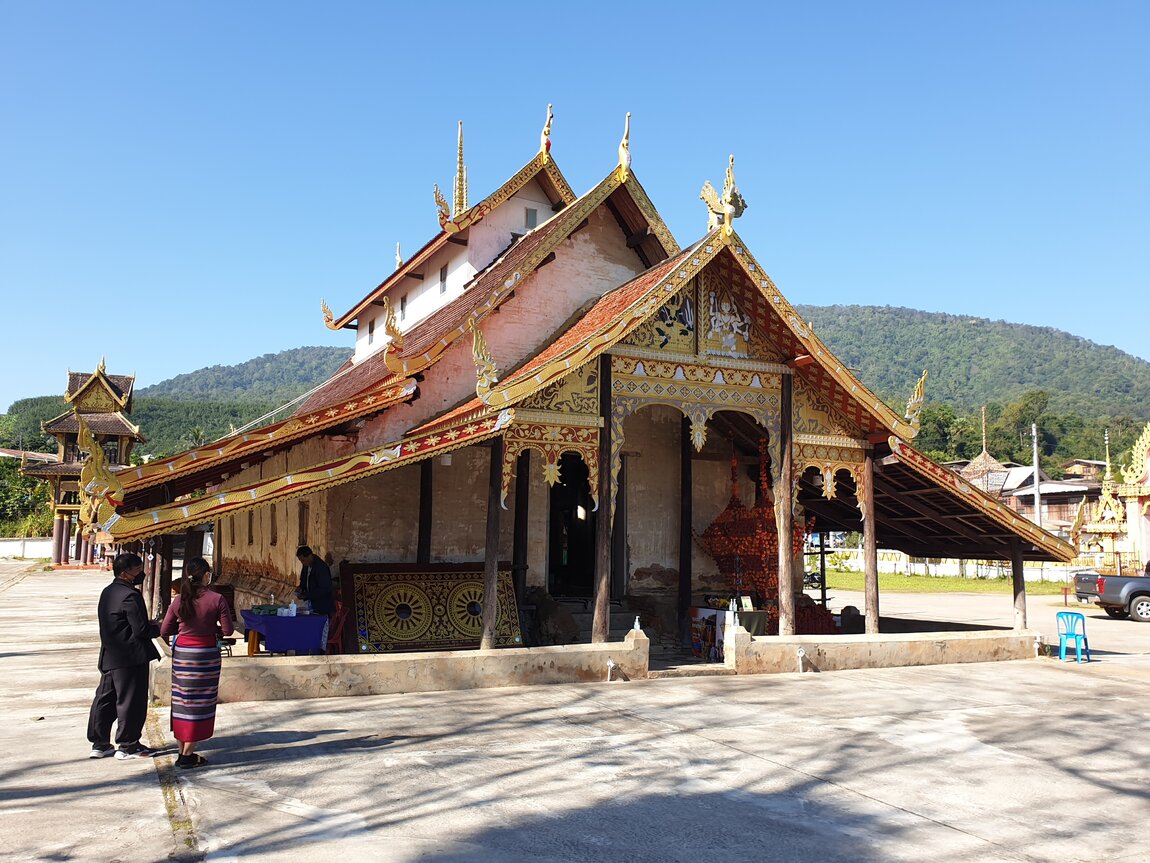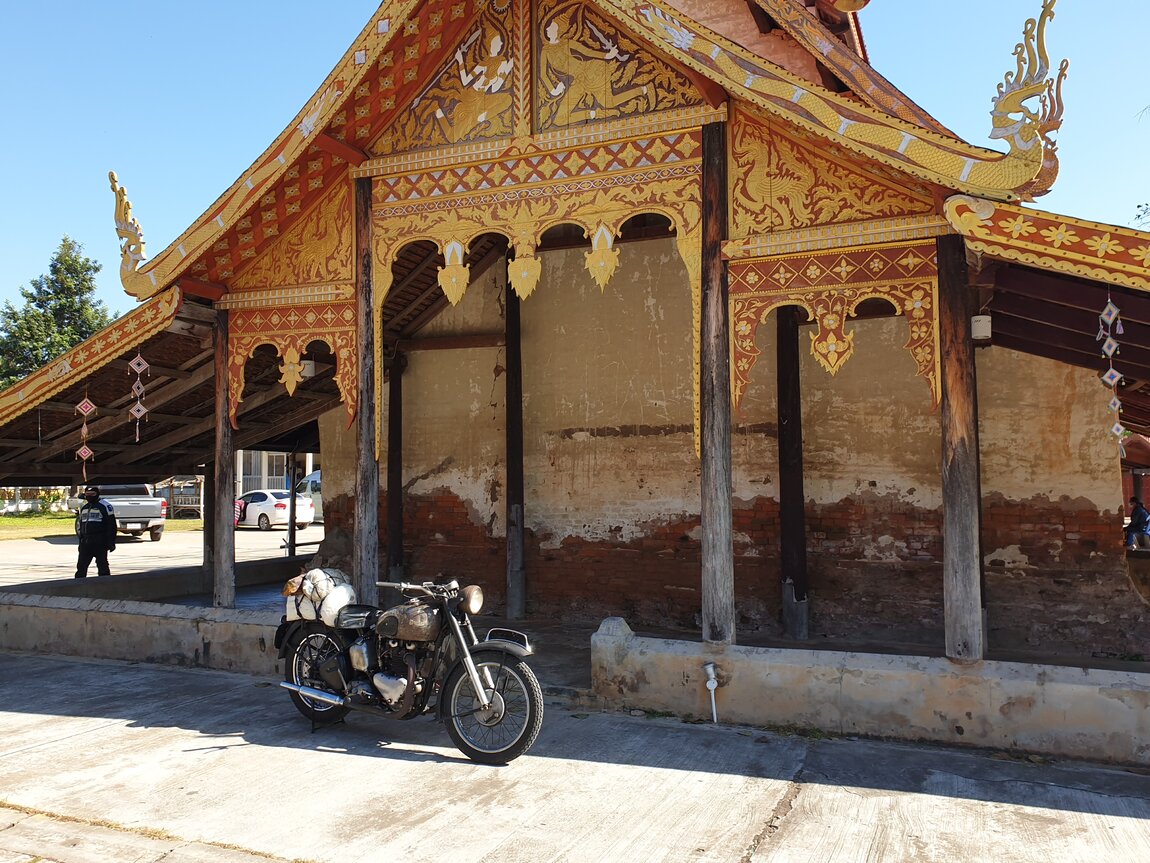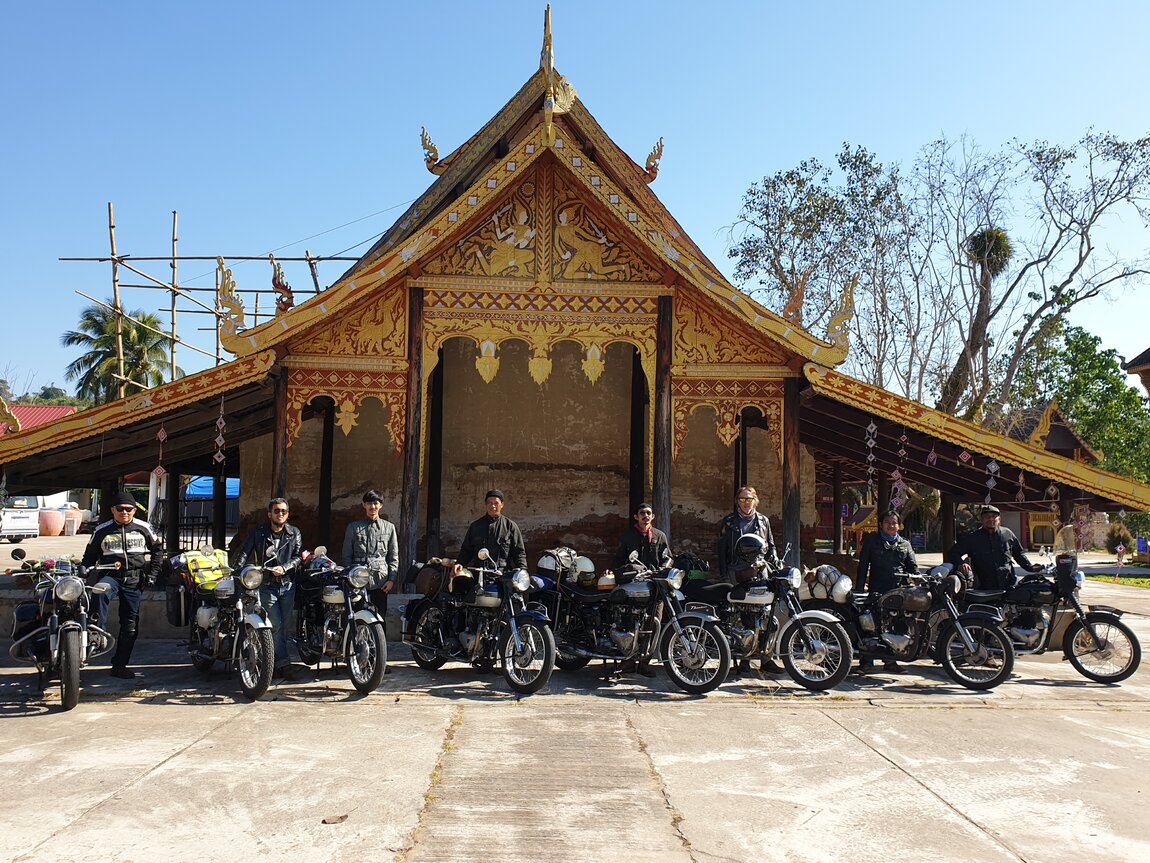 Then on north into Phitsanulok, to Phu Soi Dao waterfall.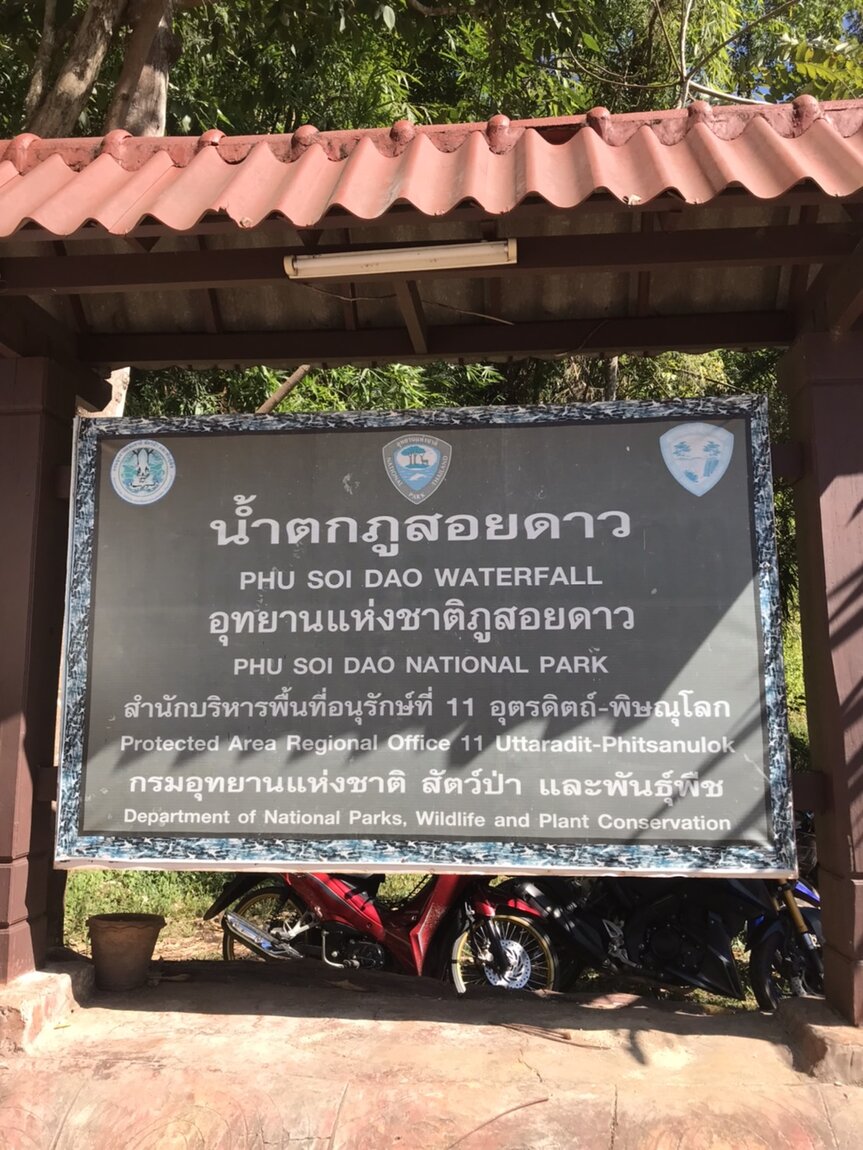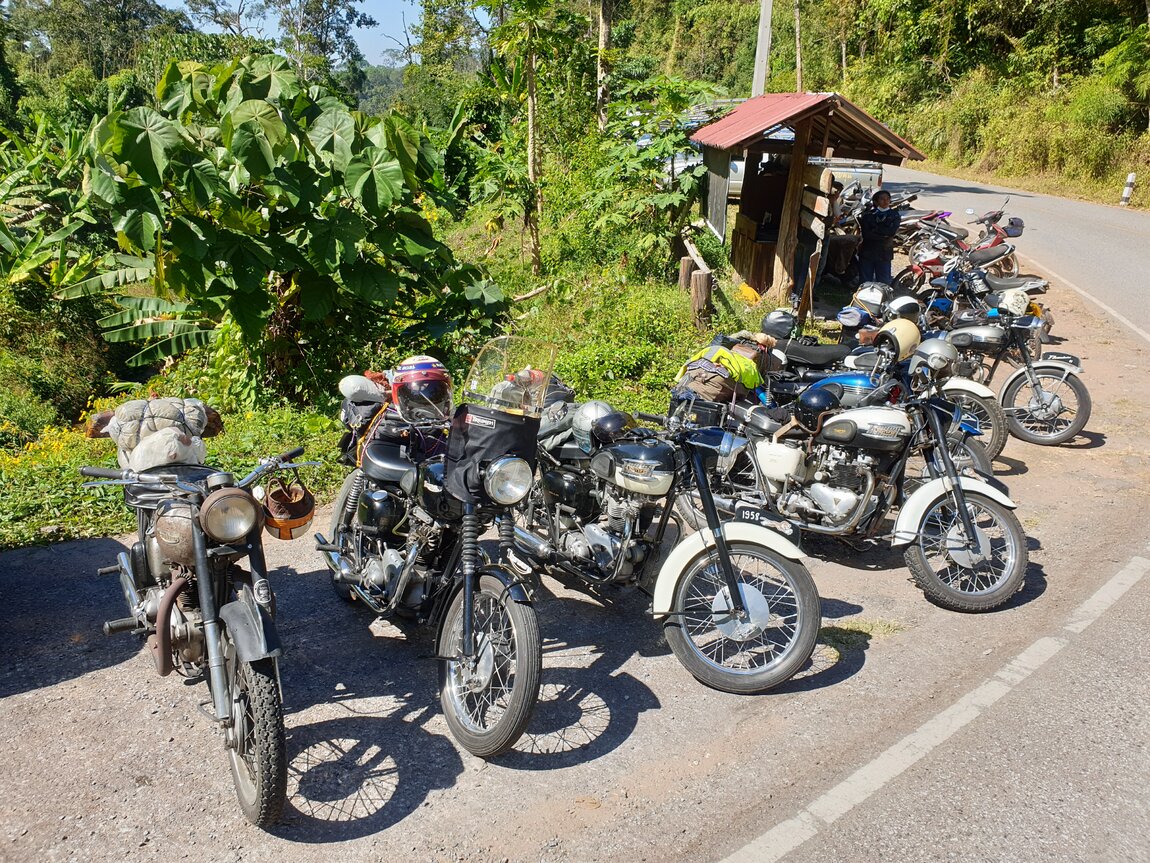 If you have time and energy, it is a 3 day hike up and down the mountain, 4th highest in the country. I was lucky to have done it a couple of years ago.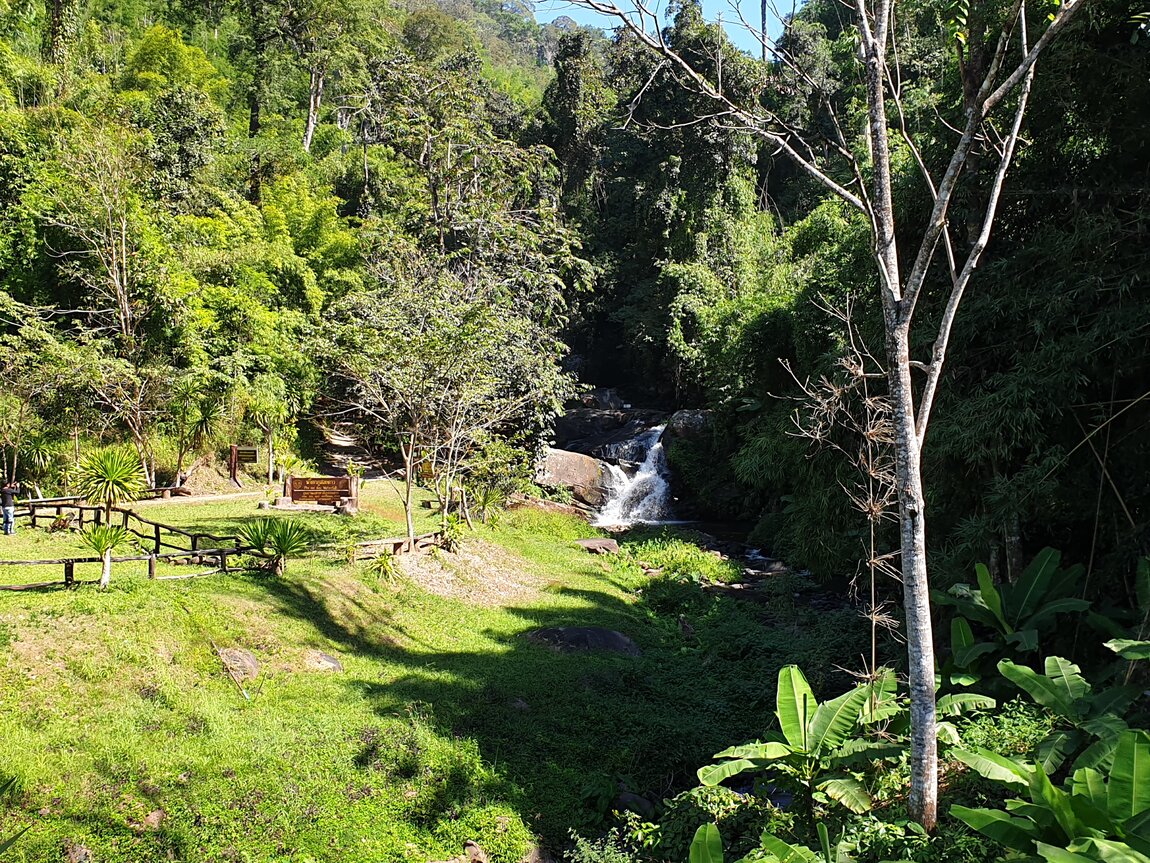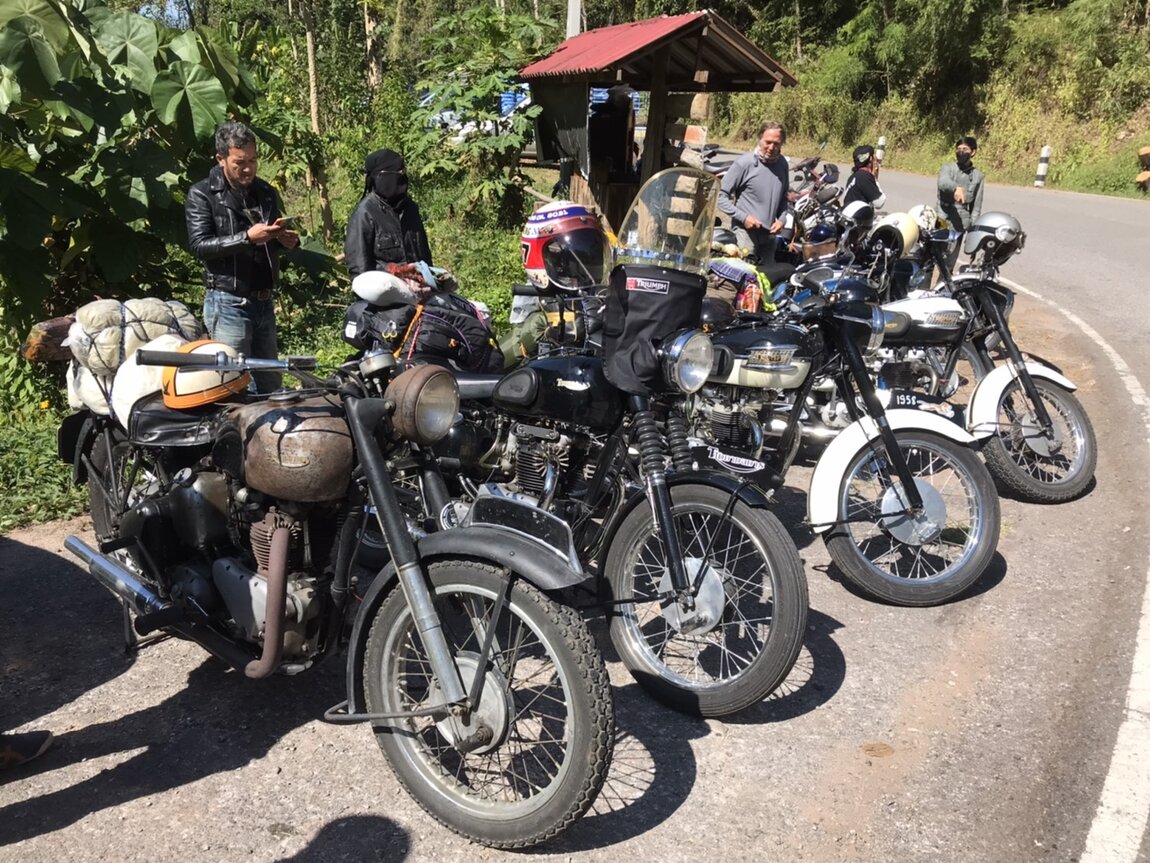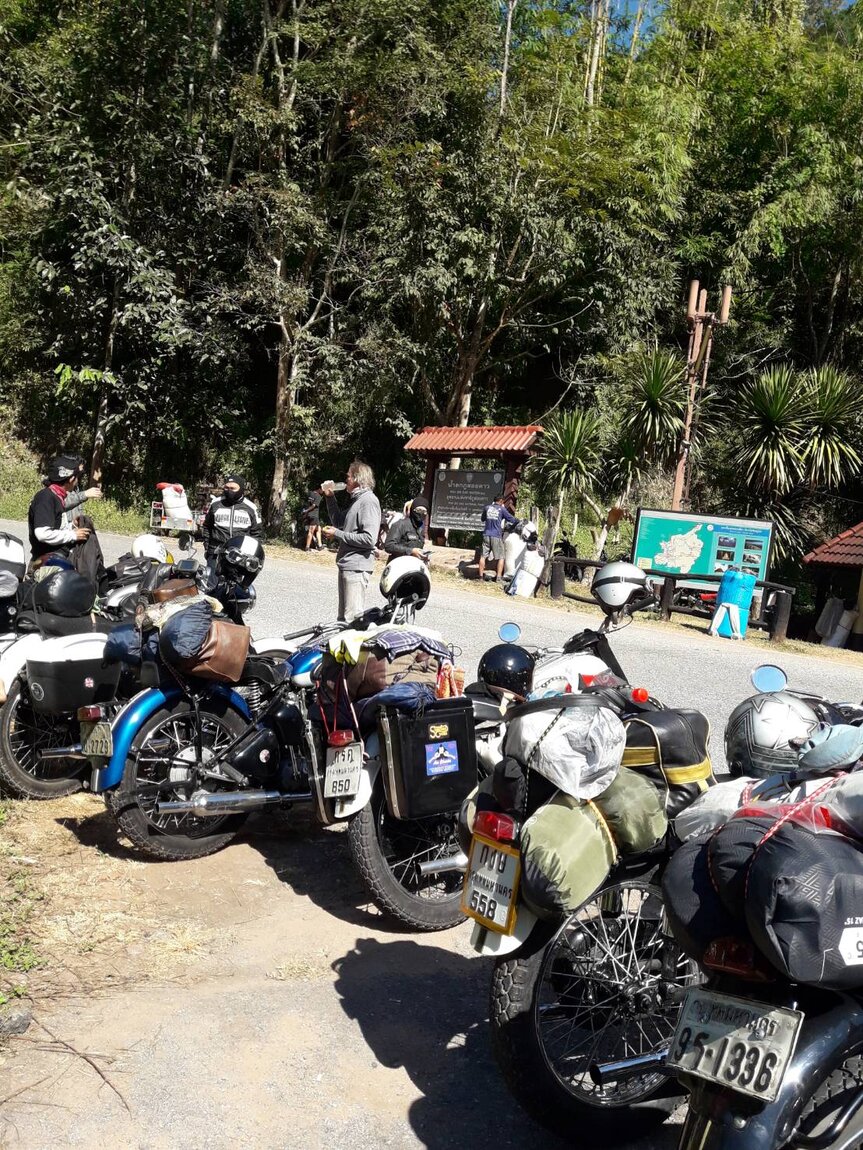 It is fantastic riding on quiet windy roads, up the 1268 through Uttaradit and Bahn Koke, along the eastern border with Laos.
The cows weren't sure about all the ancient bikes and didn't want to cross the bridge!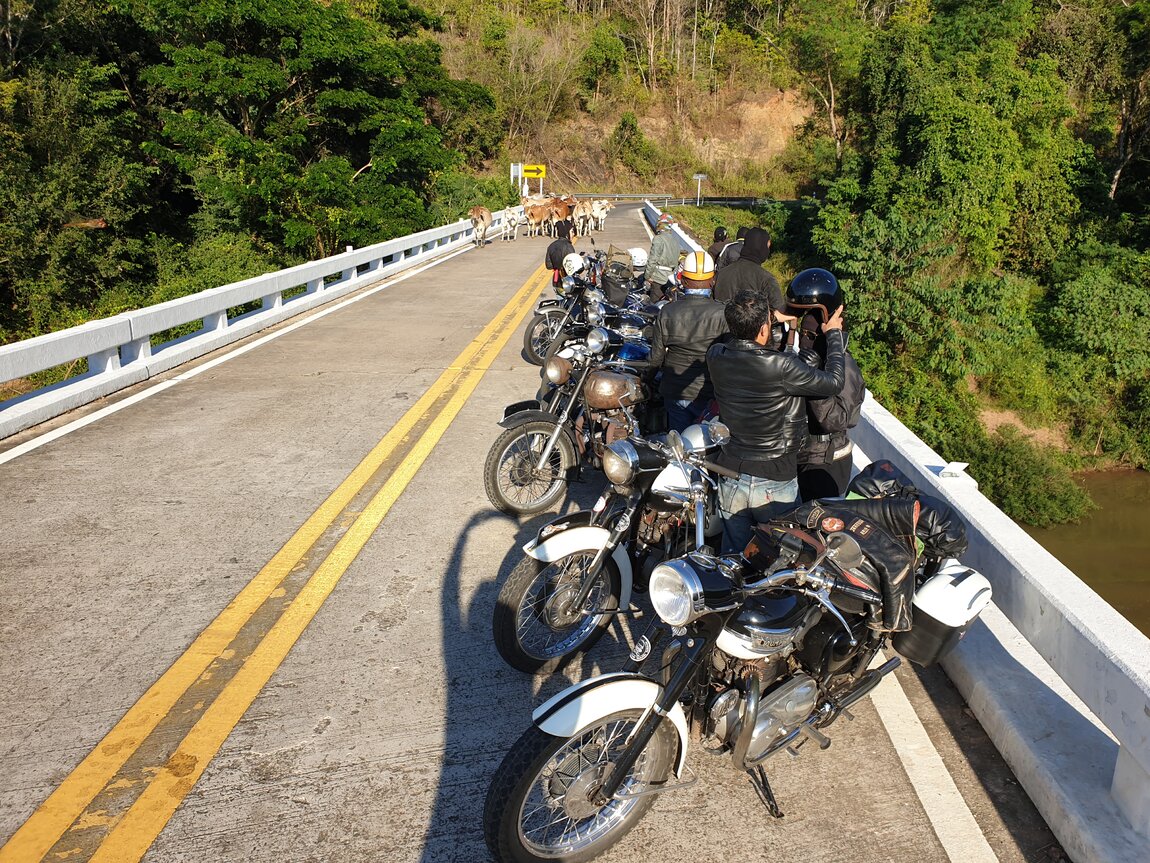 We had stopped for a break on the bridge over the Nan river, heading into Nan province.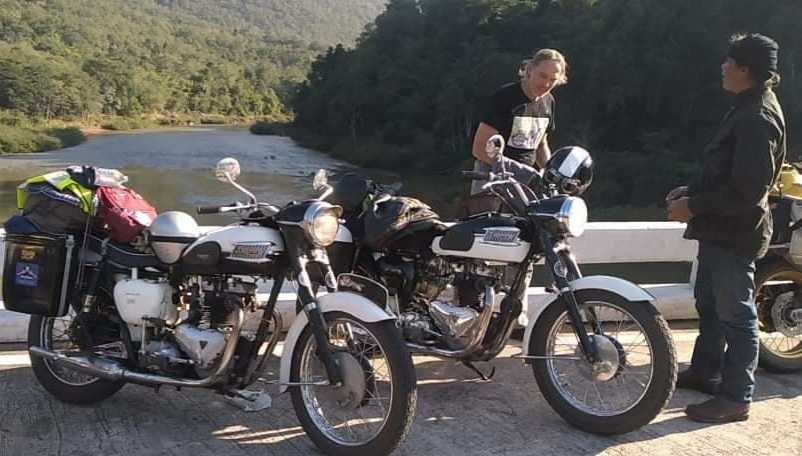 Khun Manas looks happy and I think he has socks on this year.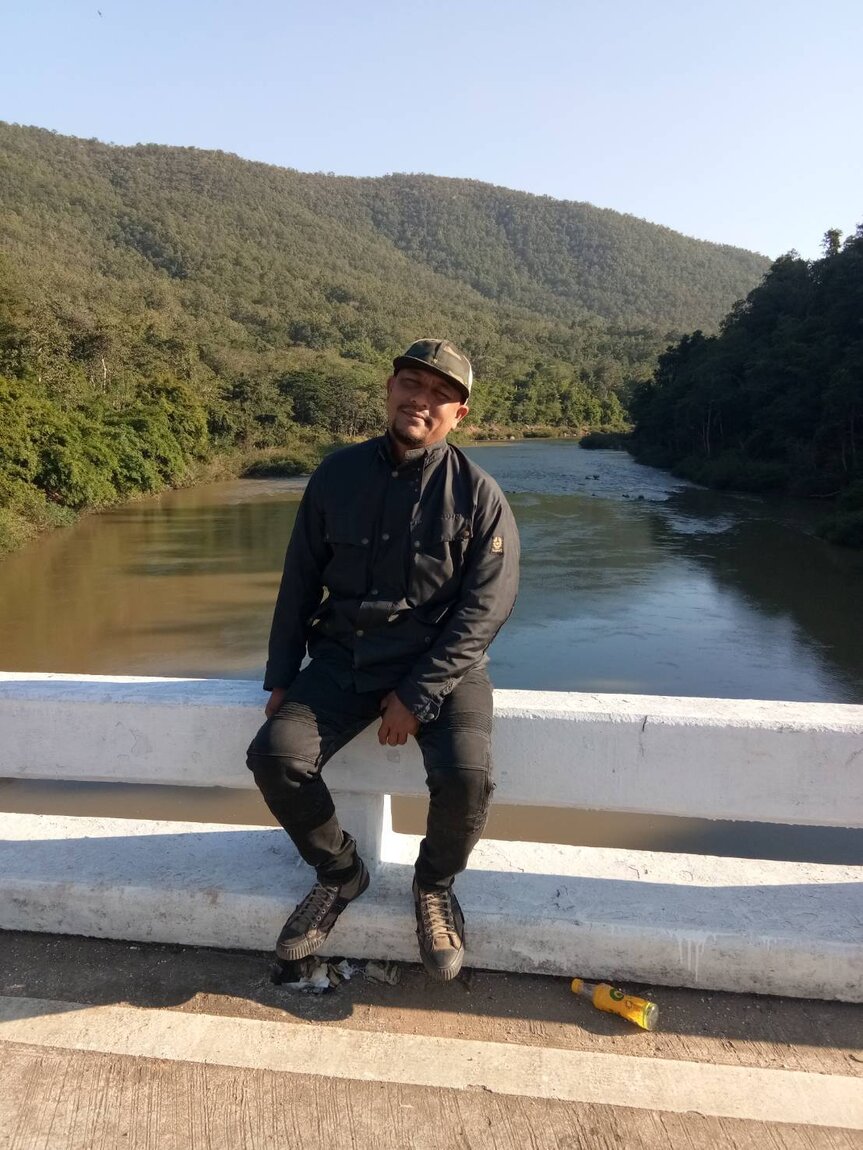 Mr & Mrs Berm. Khun Berm is our expert mechanic, so we always need him to be on the ride!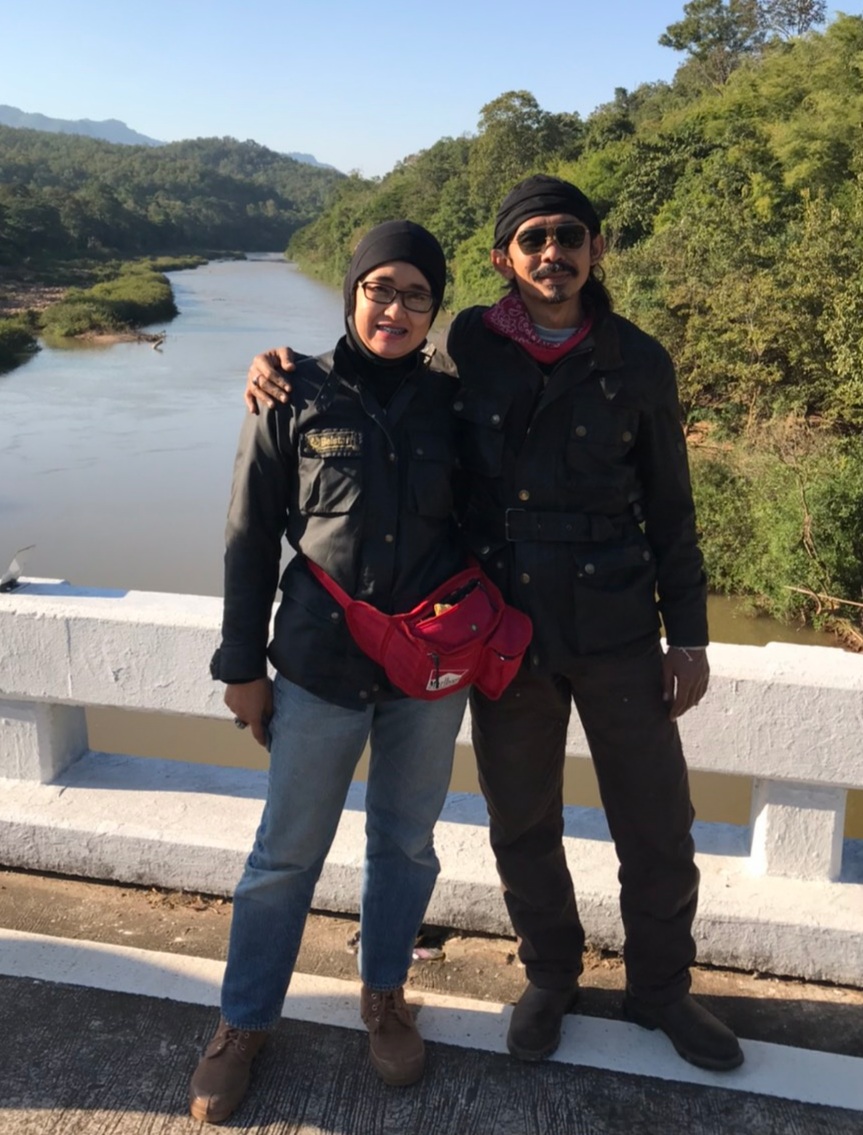 We went up to Samoerdao and Pha Chu for camping, but it was extremely cold at the top of the mountain, as well as crowded and we had issues with the National Park people wanting to see vaccine apps. So, we blew that off and rode down the mountain to NaNoi and camped on the grass at the HueanWadKian Resort. A better option as it tuned out.
Mr & Mrs Ming having a good time on the ride.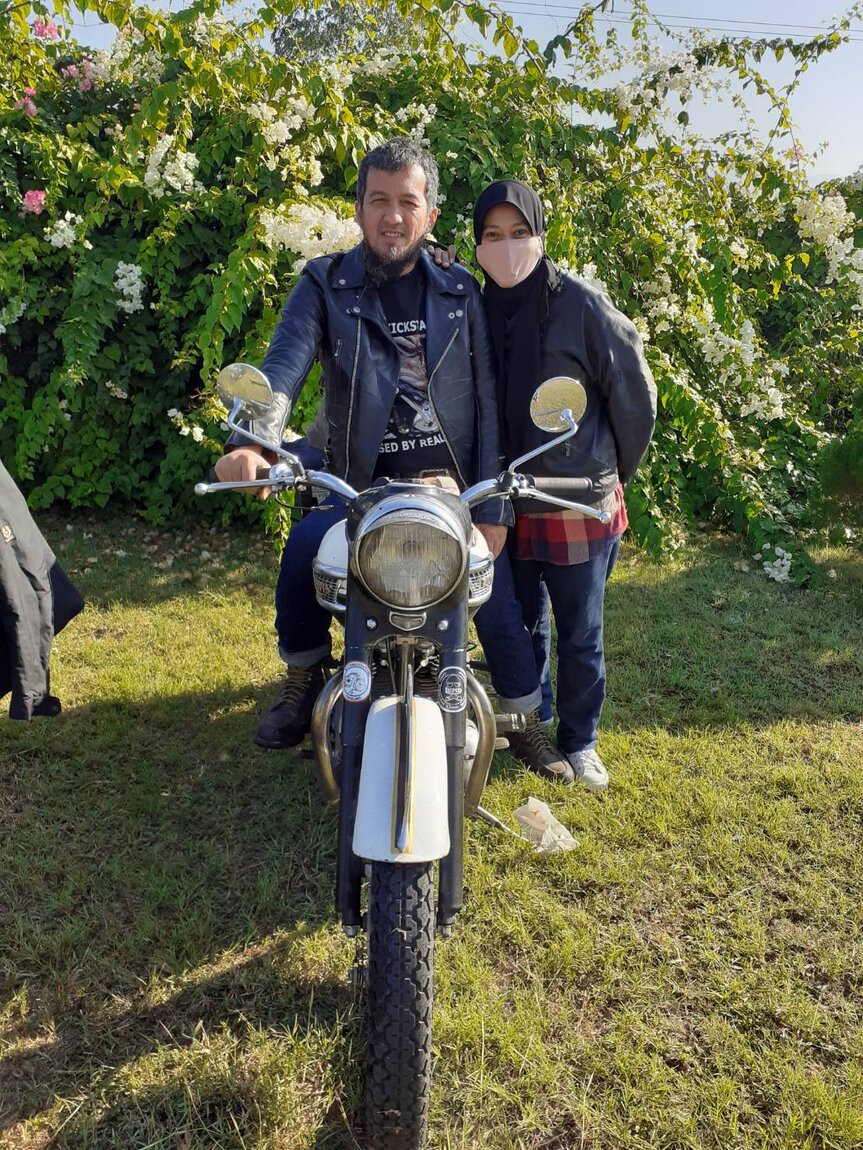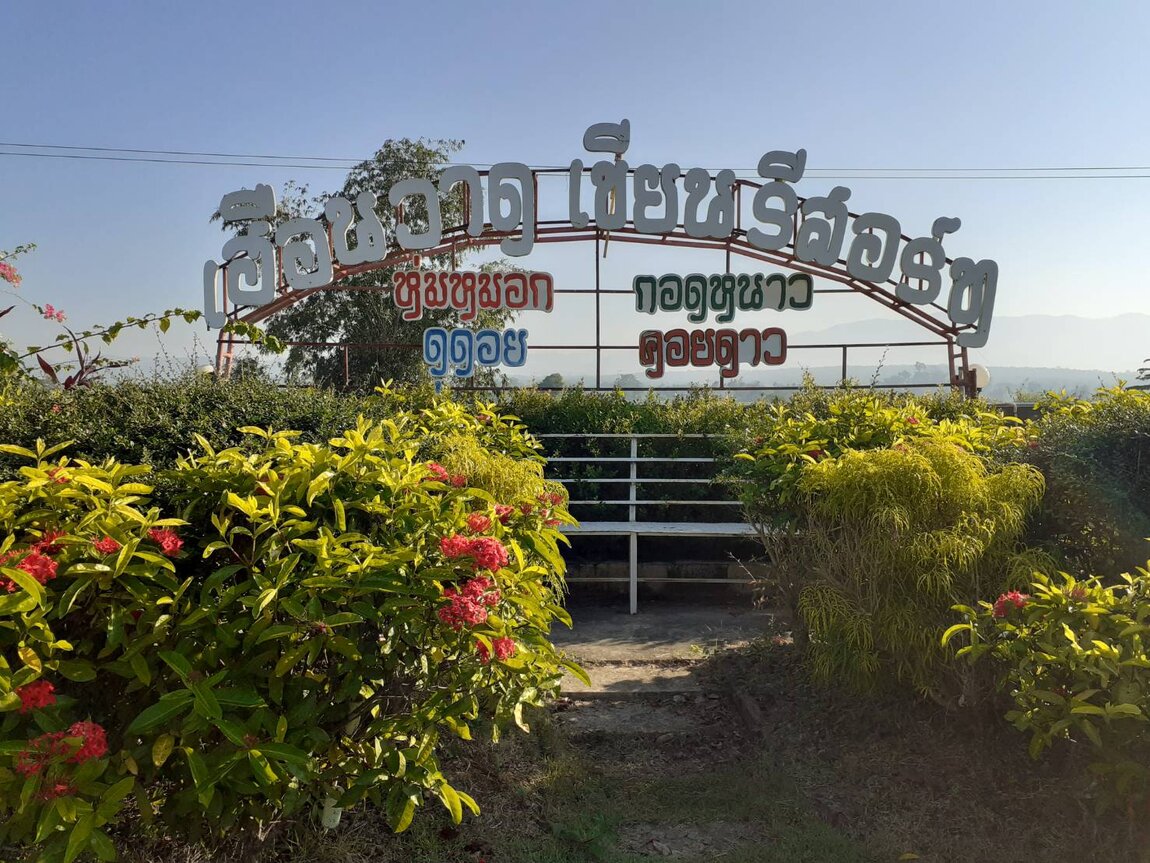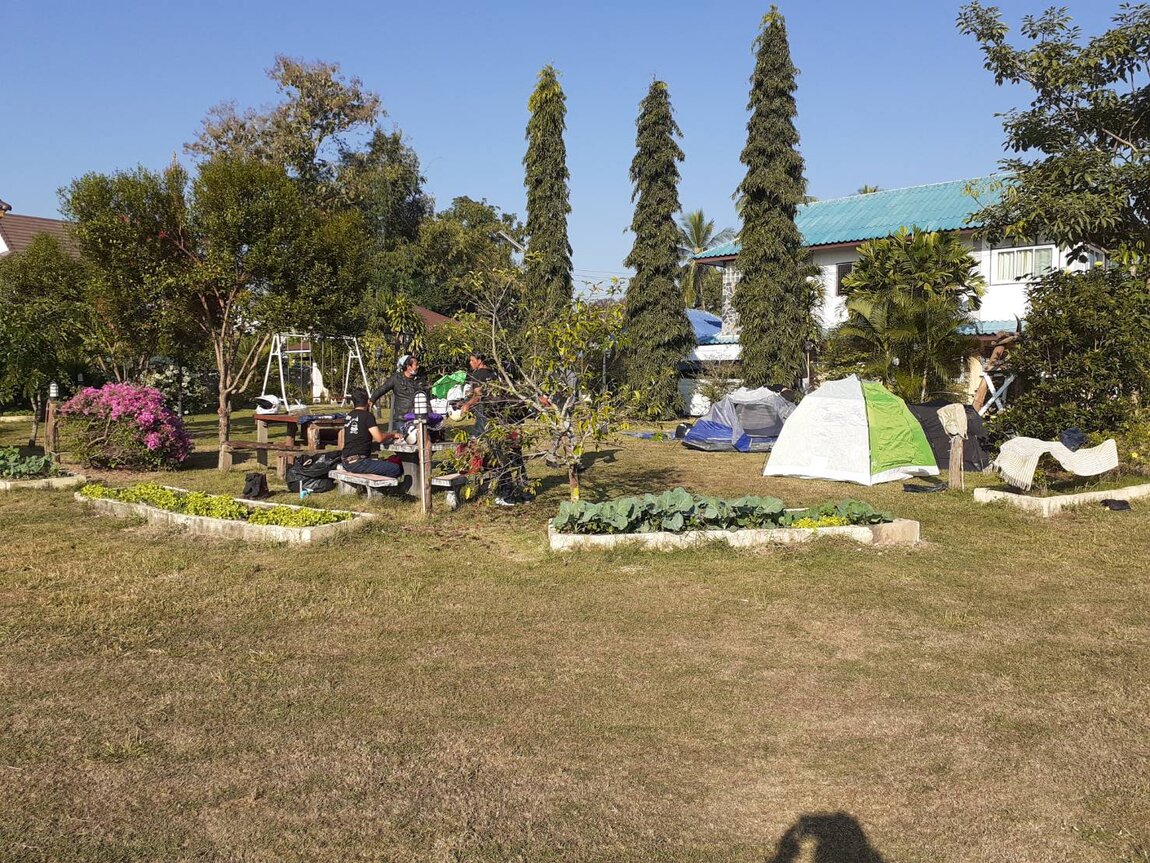 Next day, we rode out of NaNoi and up over the Khun Sathan National Park. Wonderful scenery.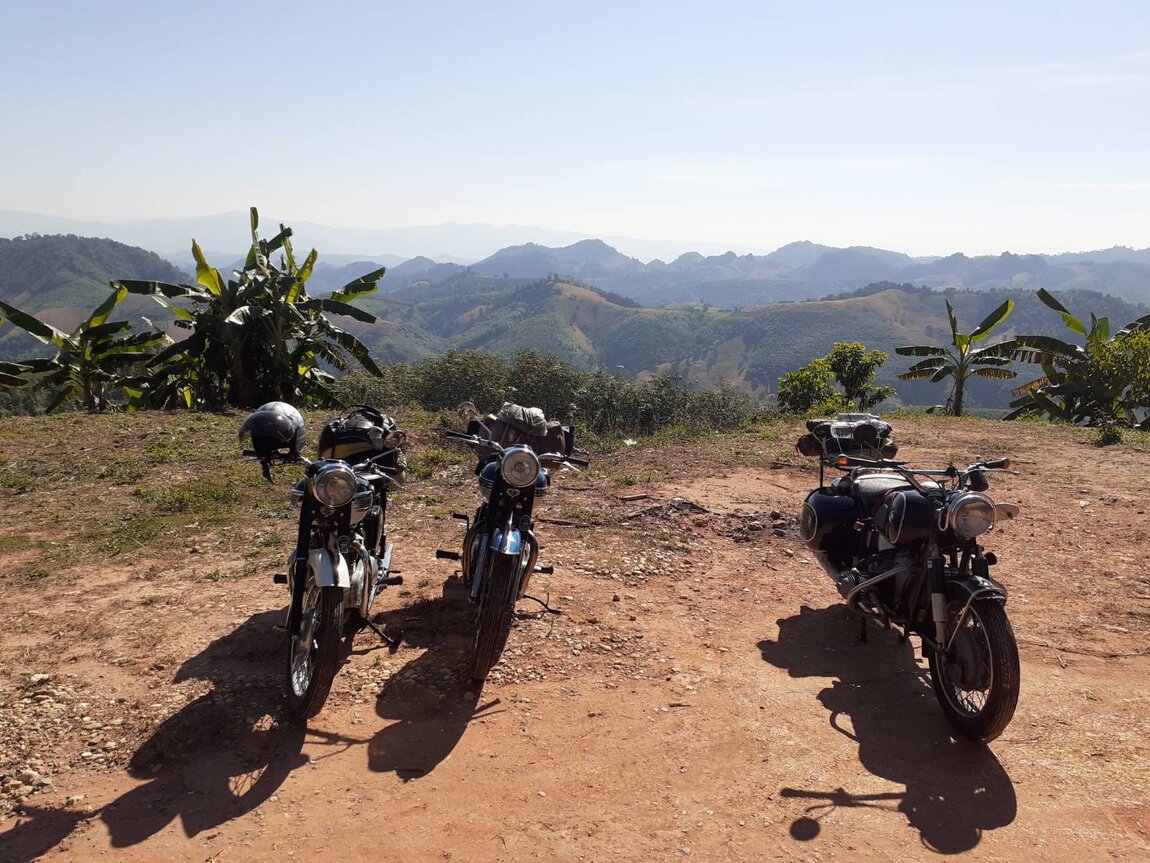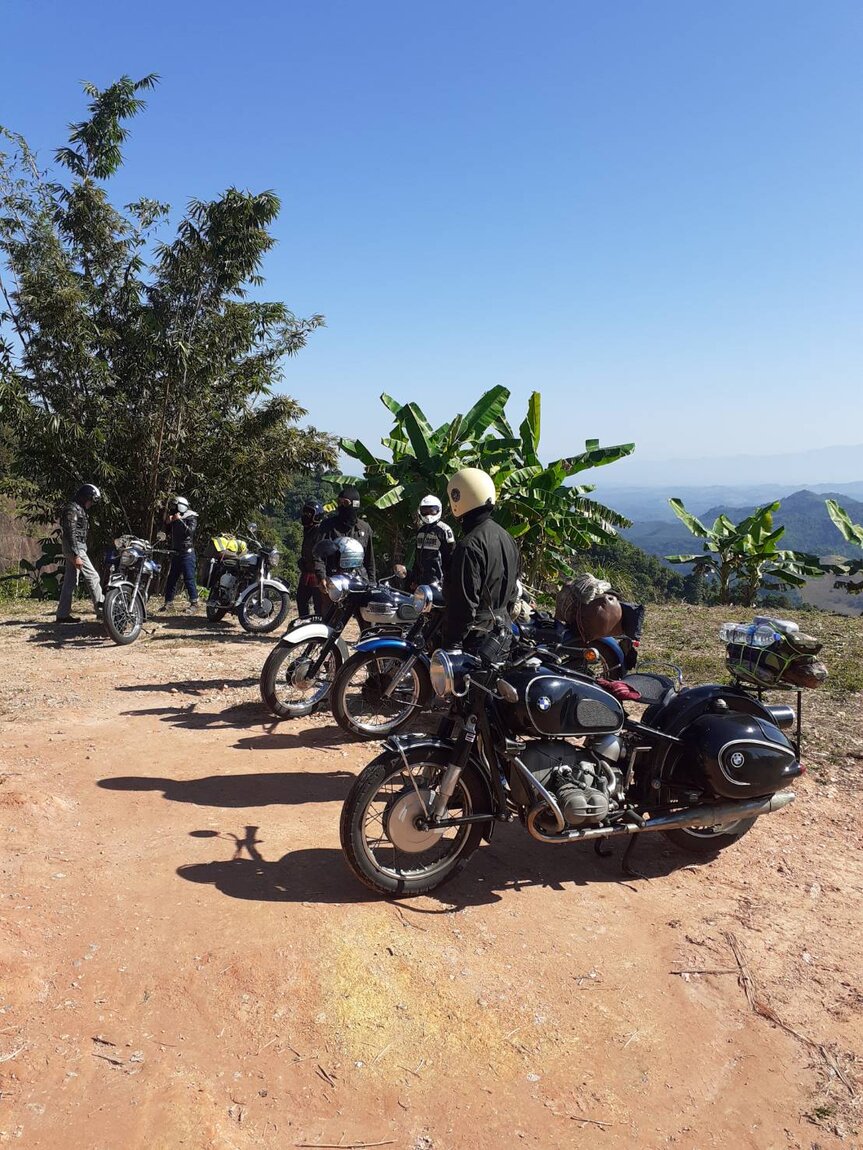 Khun Berm's '54 Thunderbird is his trusty steed,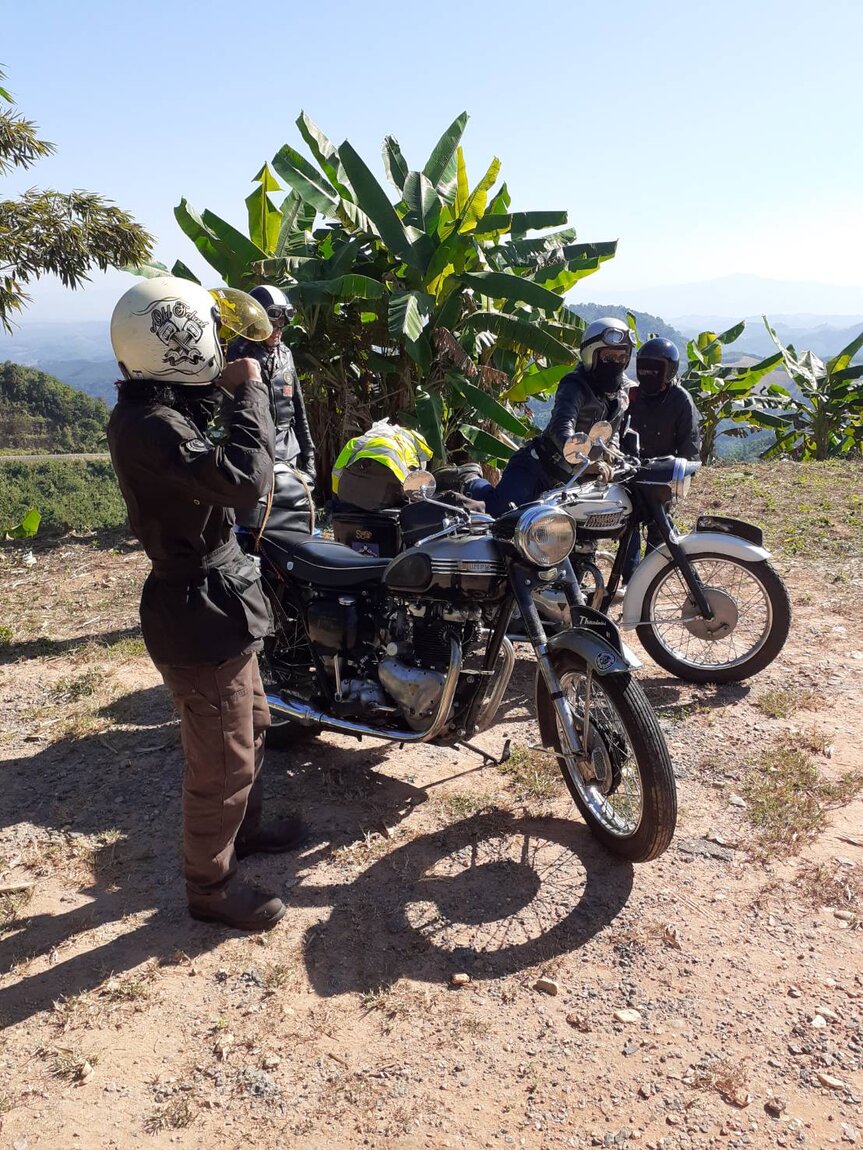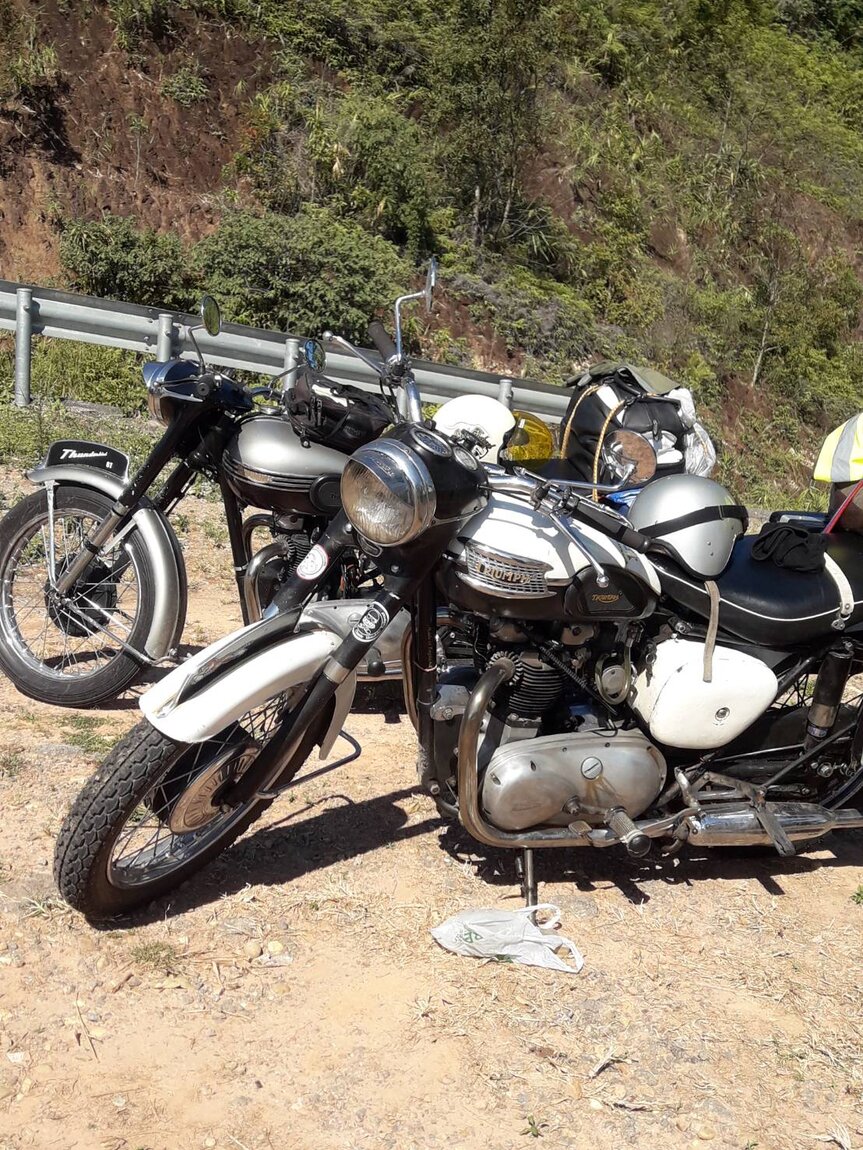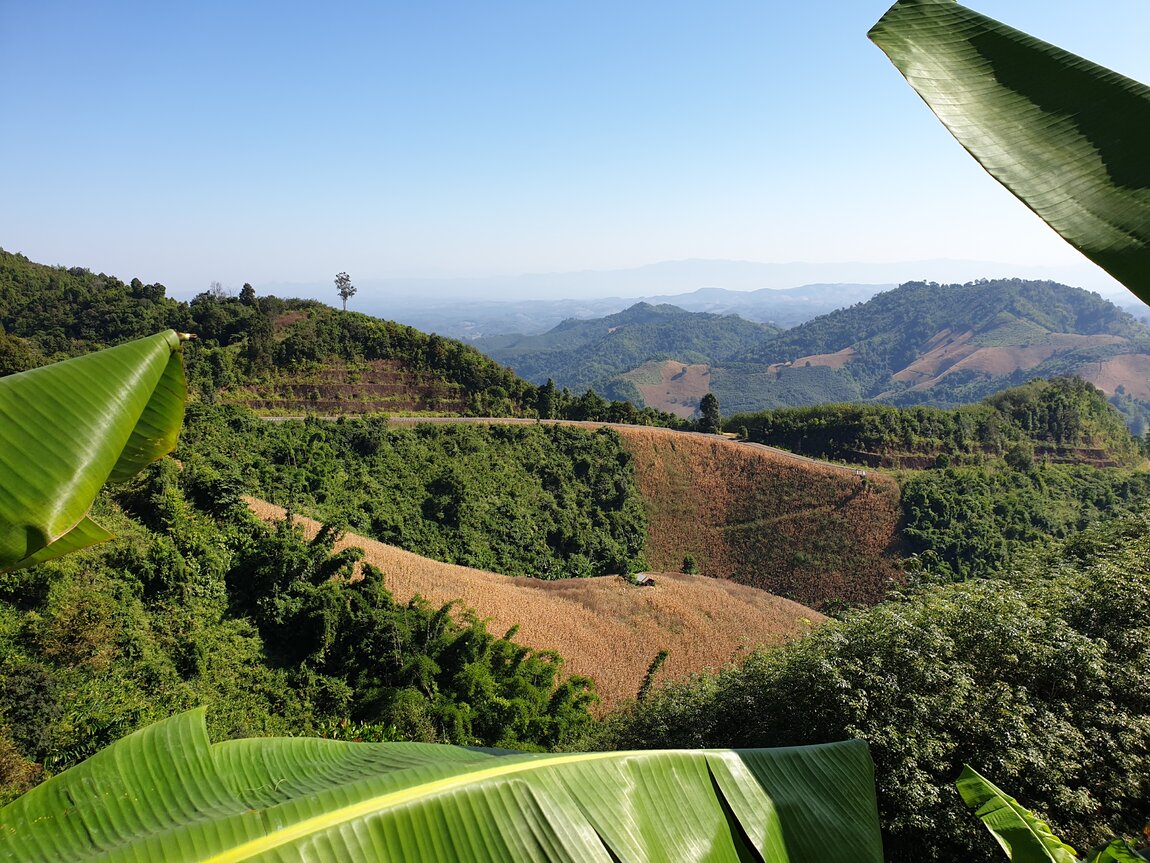 Riding down the mountain, we stopped for coffee.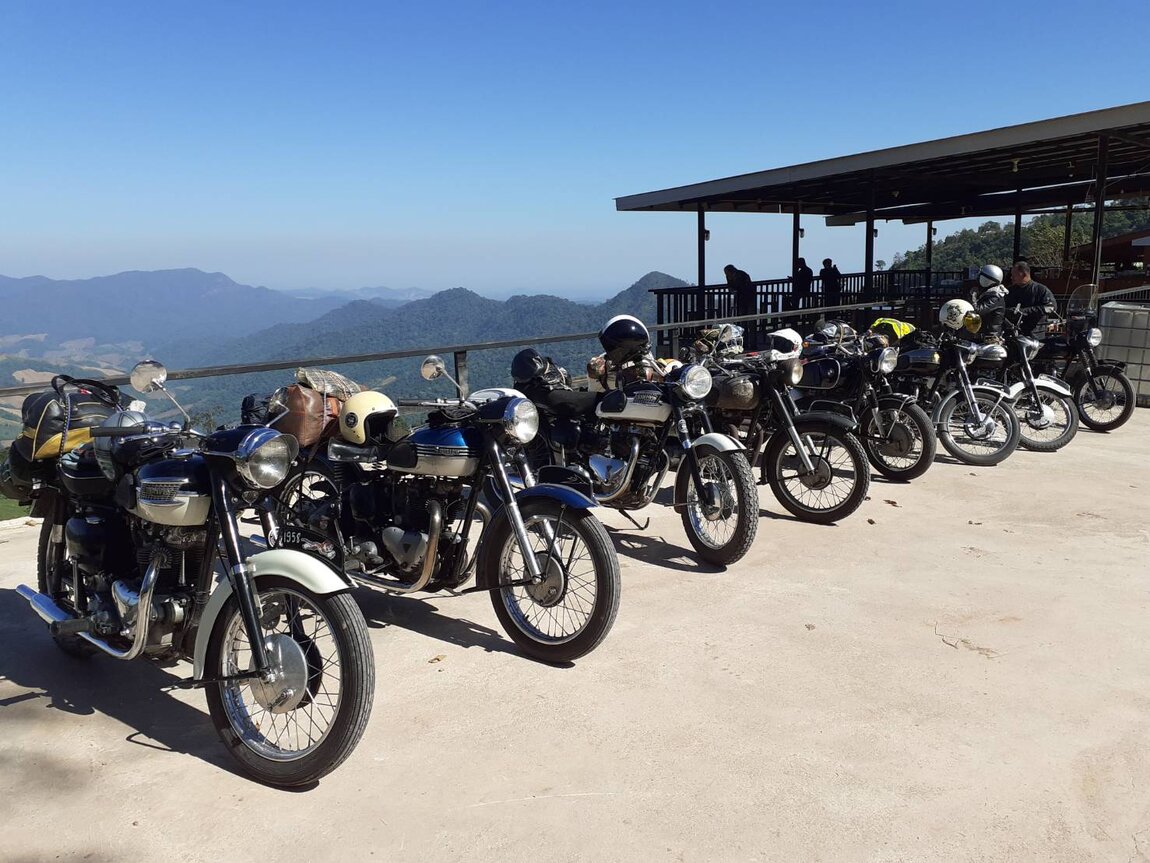 Does Khun Ton win the prize for "Best Dressed Rider" as well?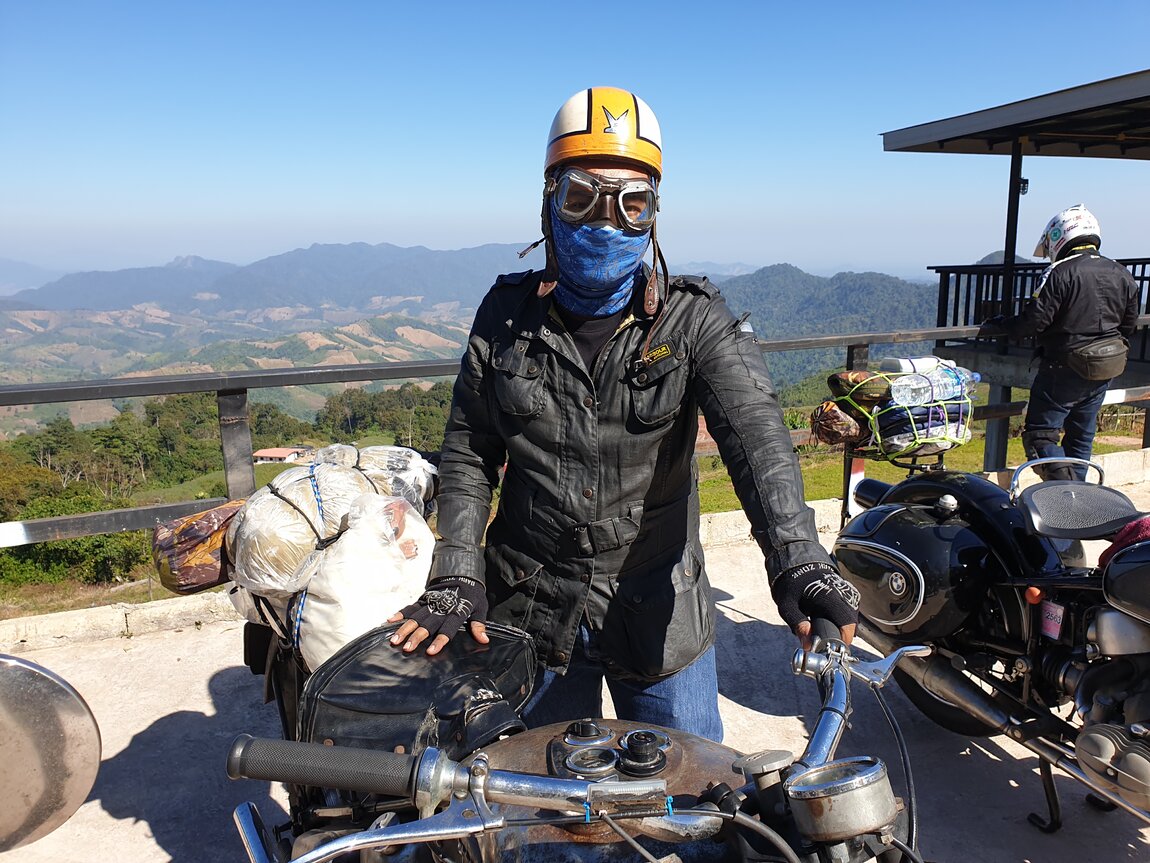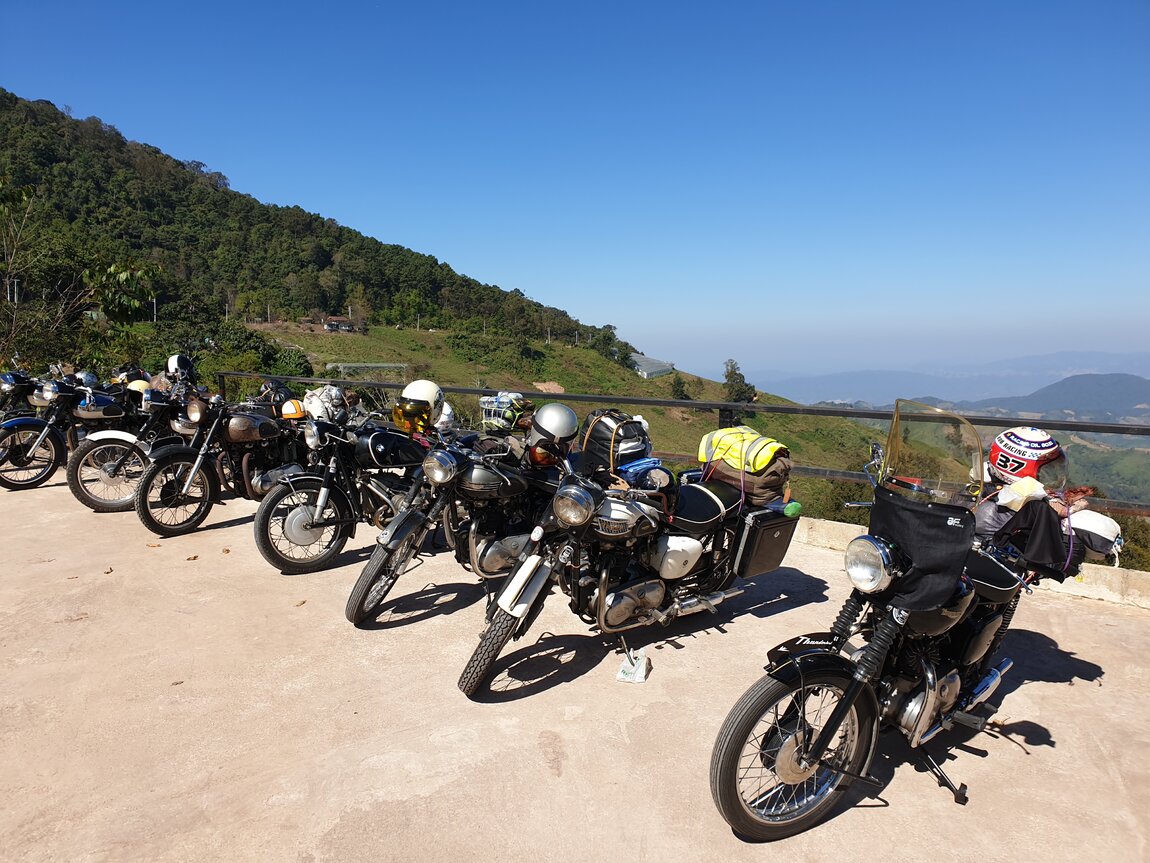 We were then riding through Phrae province and more small mountain roads.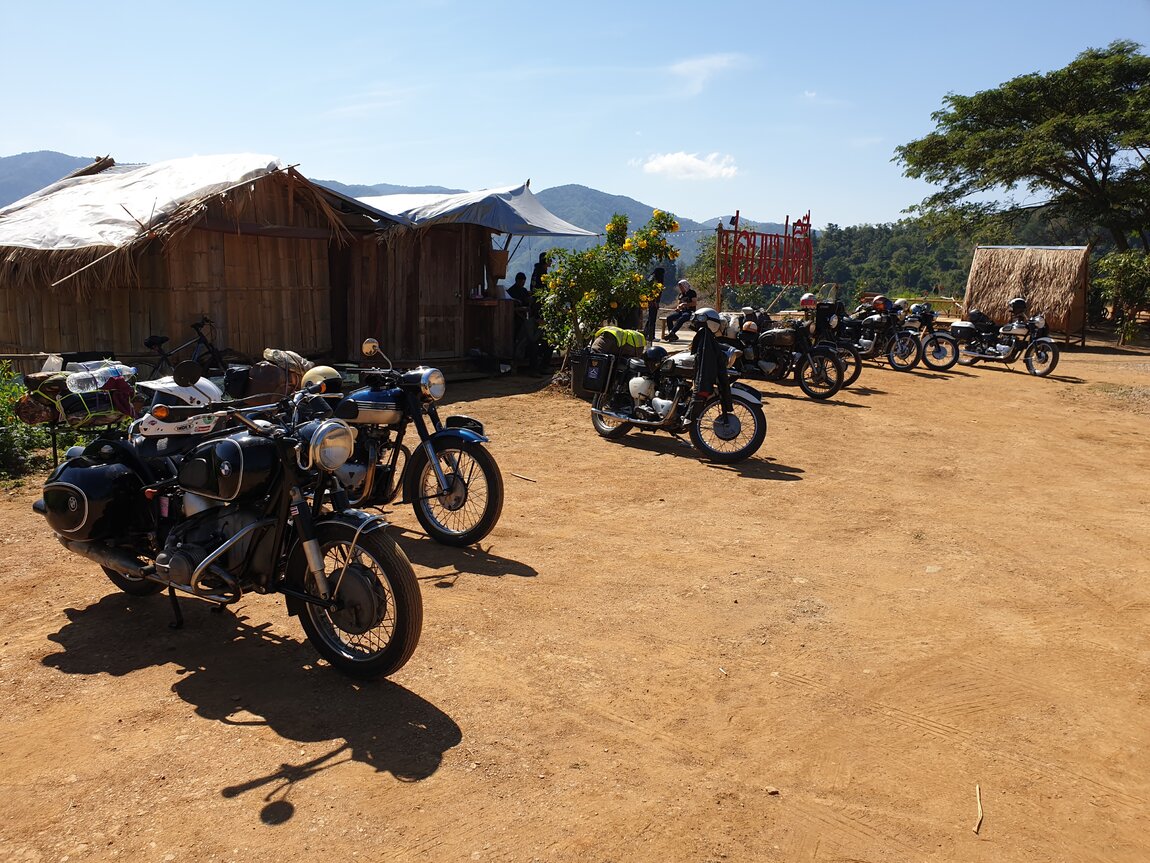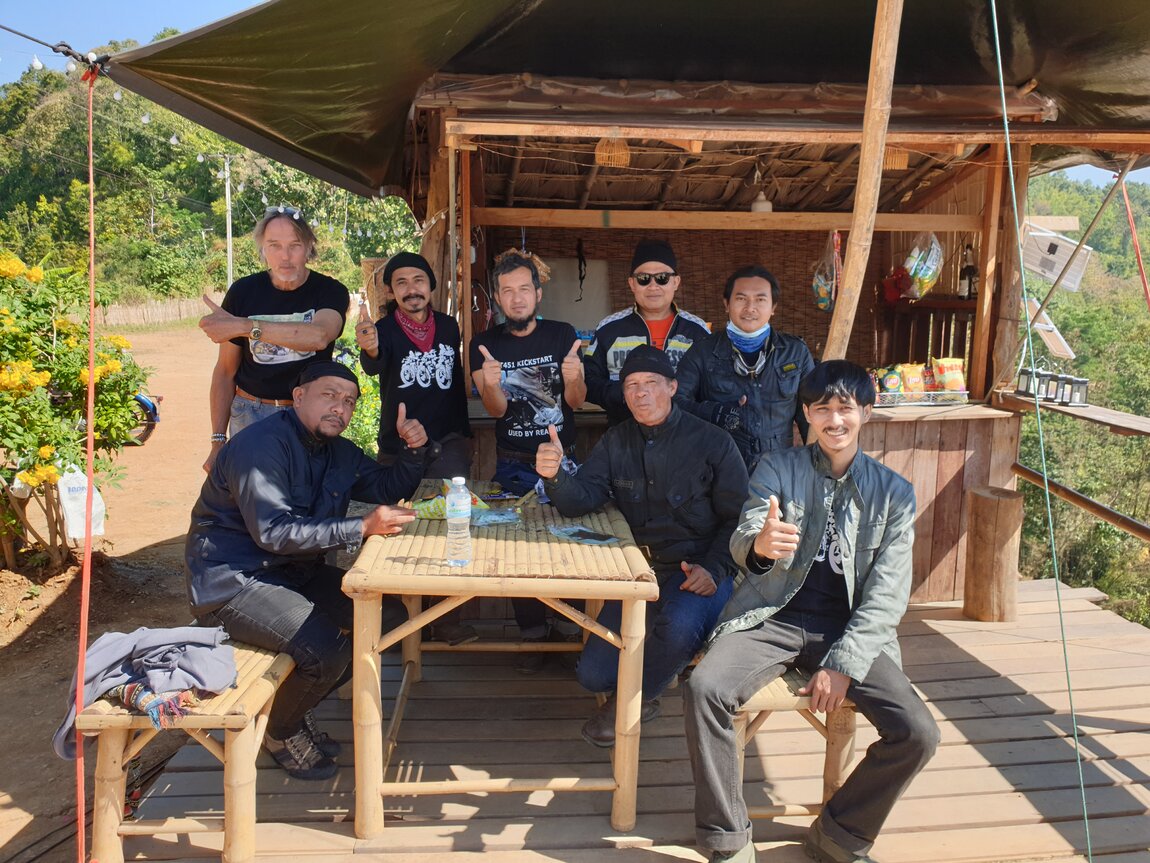 Oh Dear. Man (and woman) Down!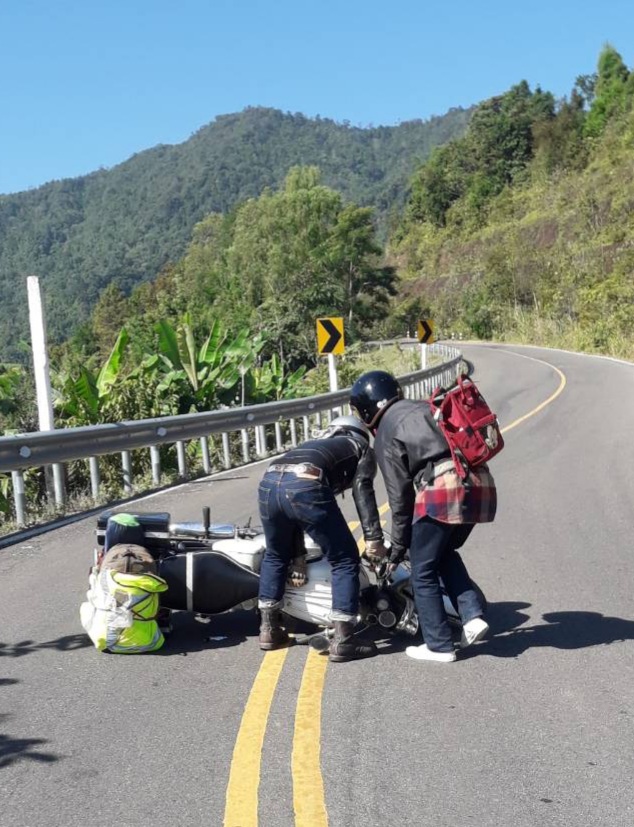 Luckily, no injuries or damage.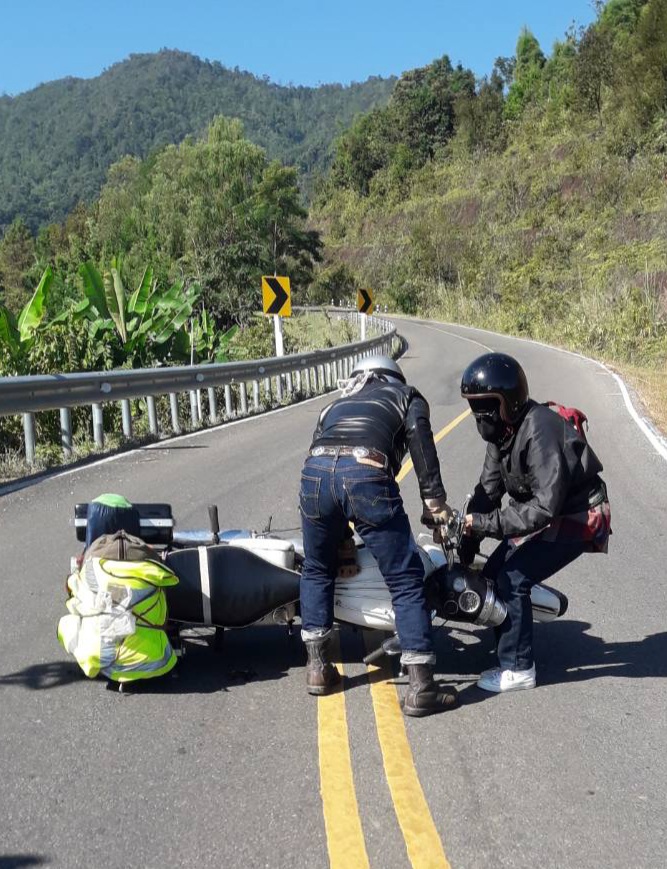 There is a wonderful tree, close to Wat Inkwan, Golden Rock., just east of Phrae city.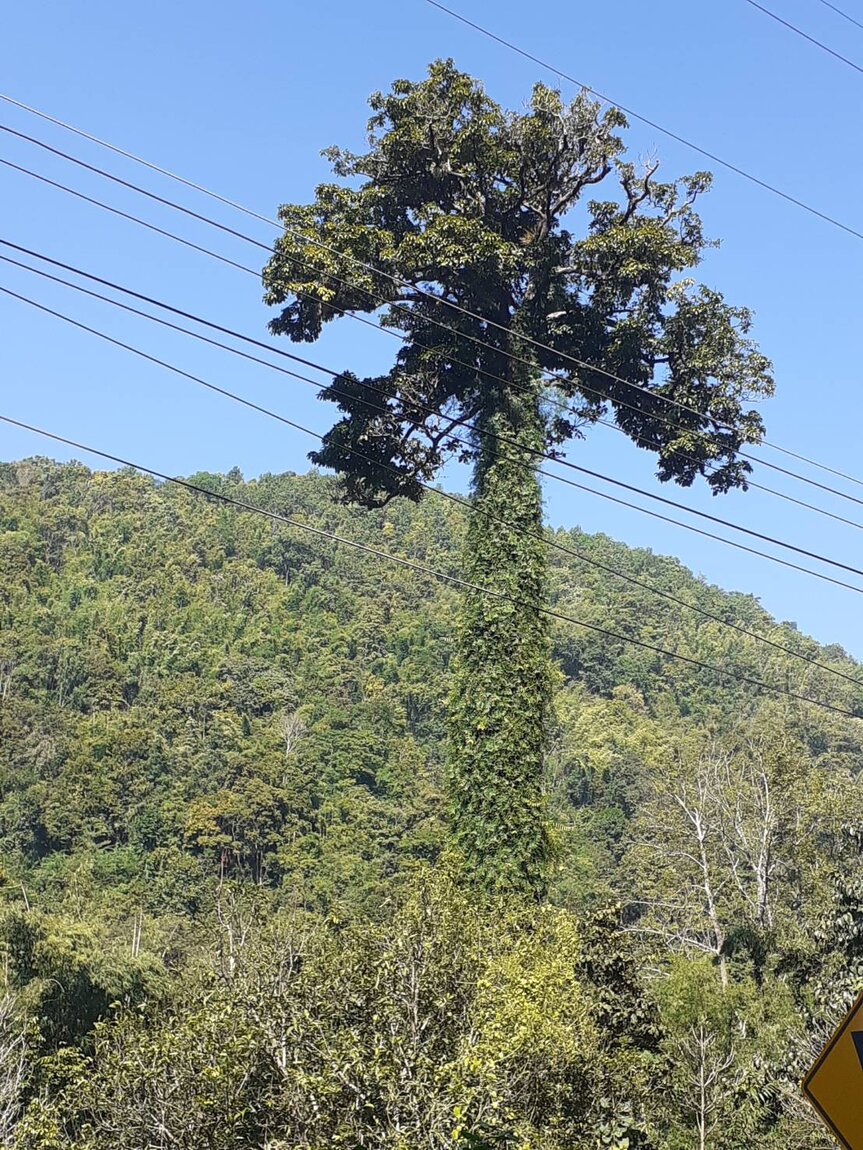 We then rode into the city to see our friend Khun Tinagorn, who didn't come on the ride, this time.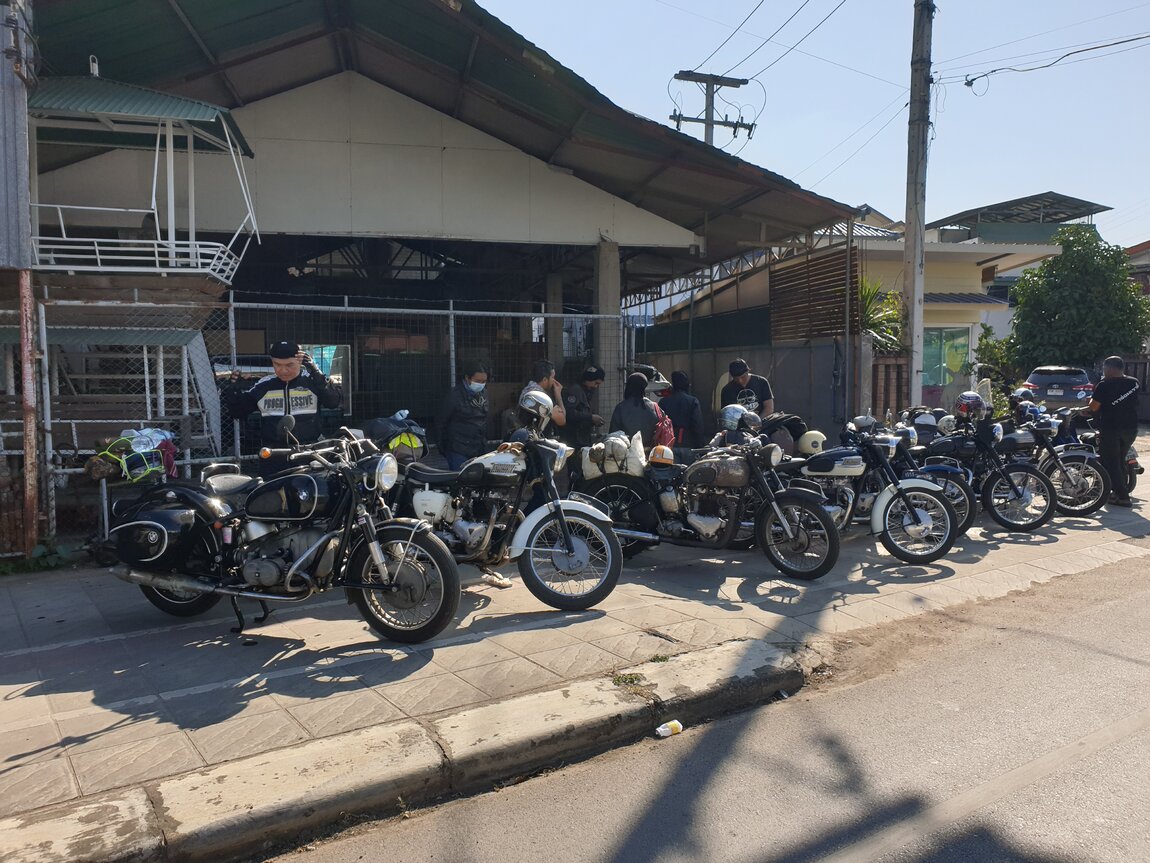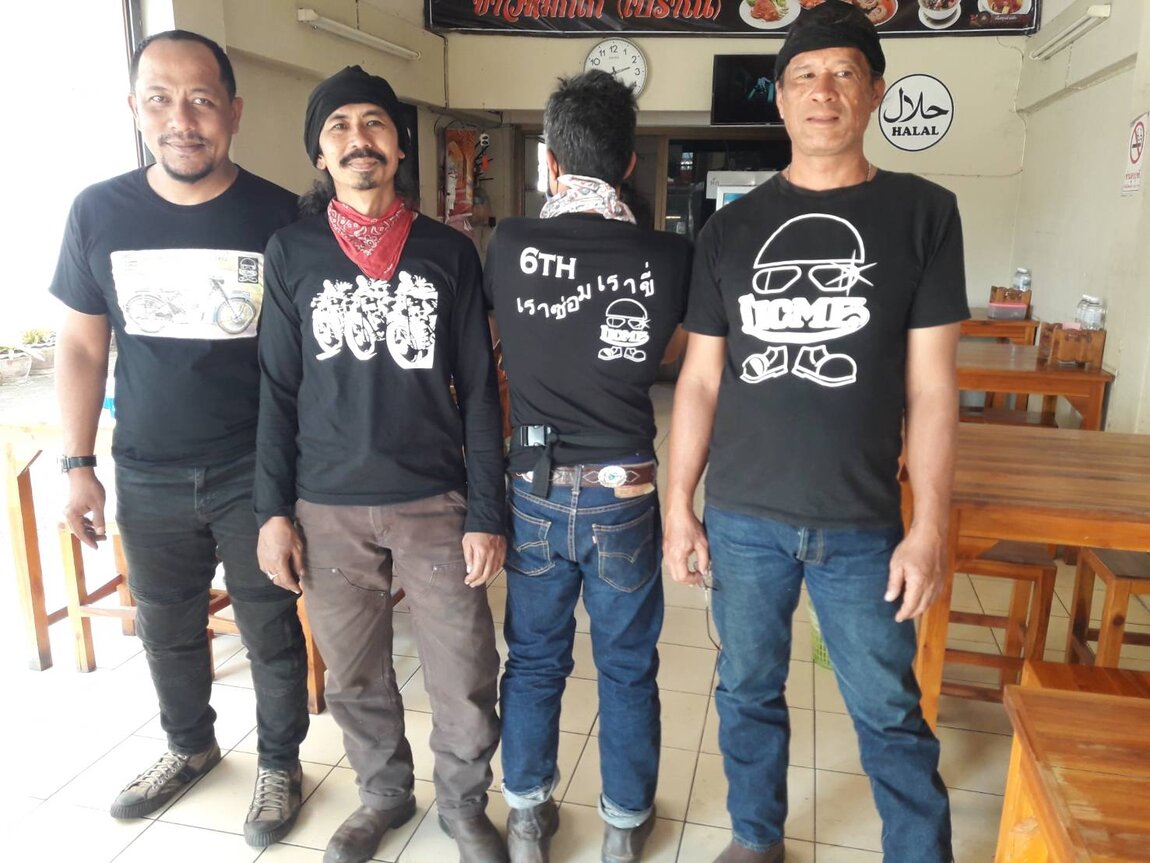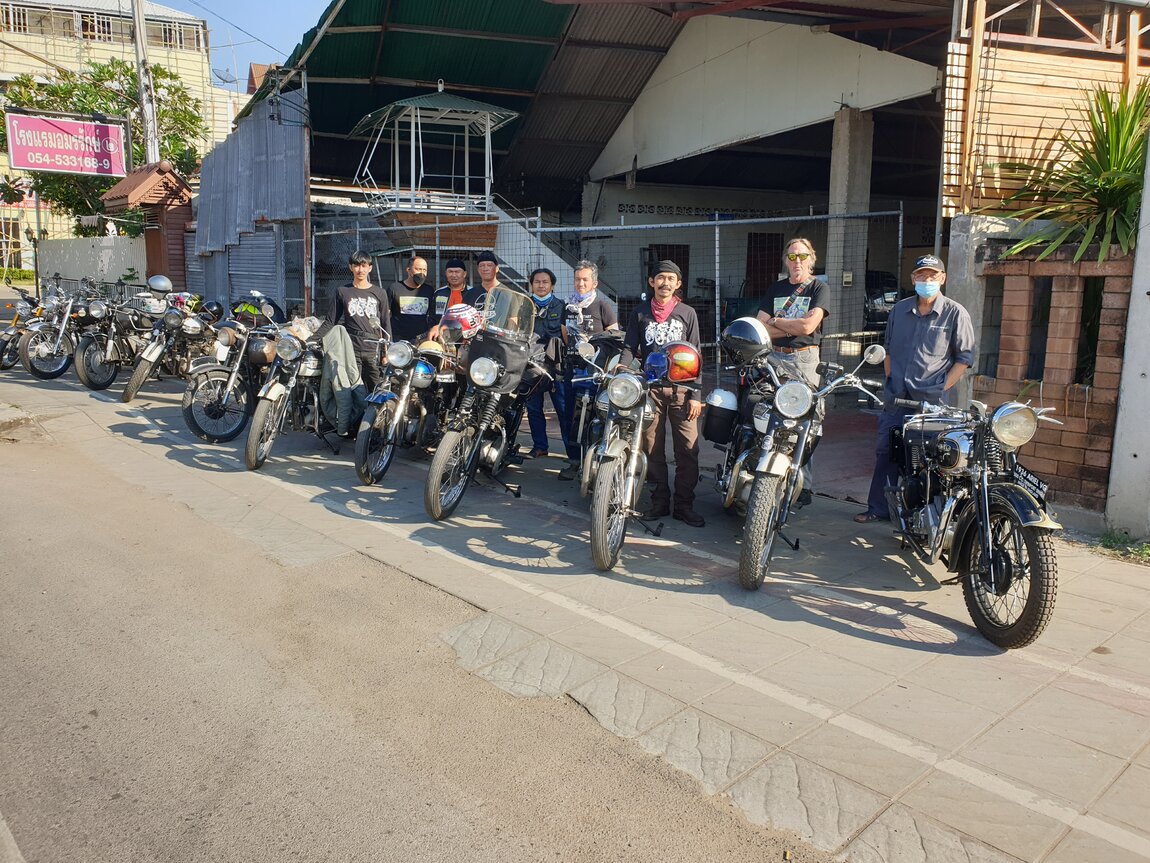 We added Khun Tinagorn's bikes to the line-up; a '65 Velcette Venom and a 1936 Ariel VG500.
Then we all rode to the Menu Plah Restaurant, just down the road, for a fish supper.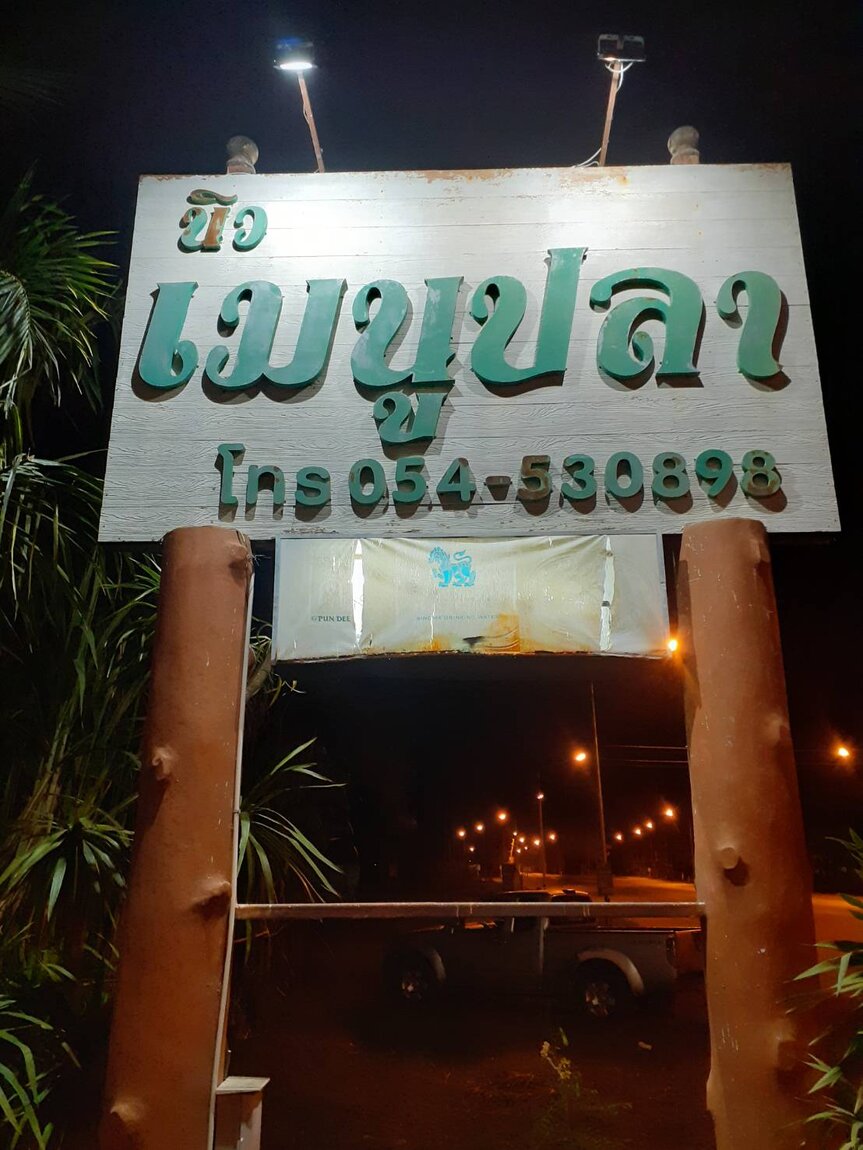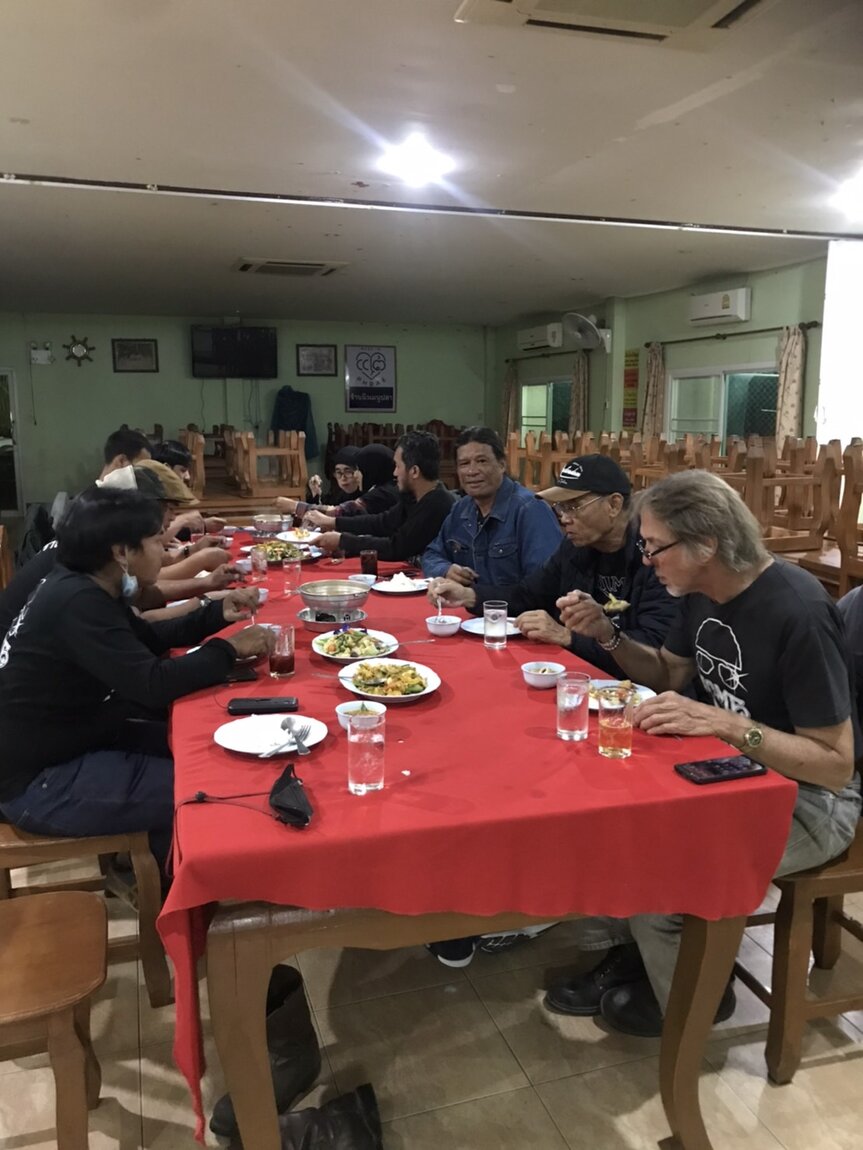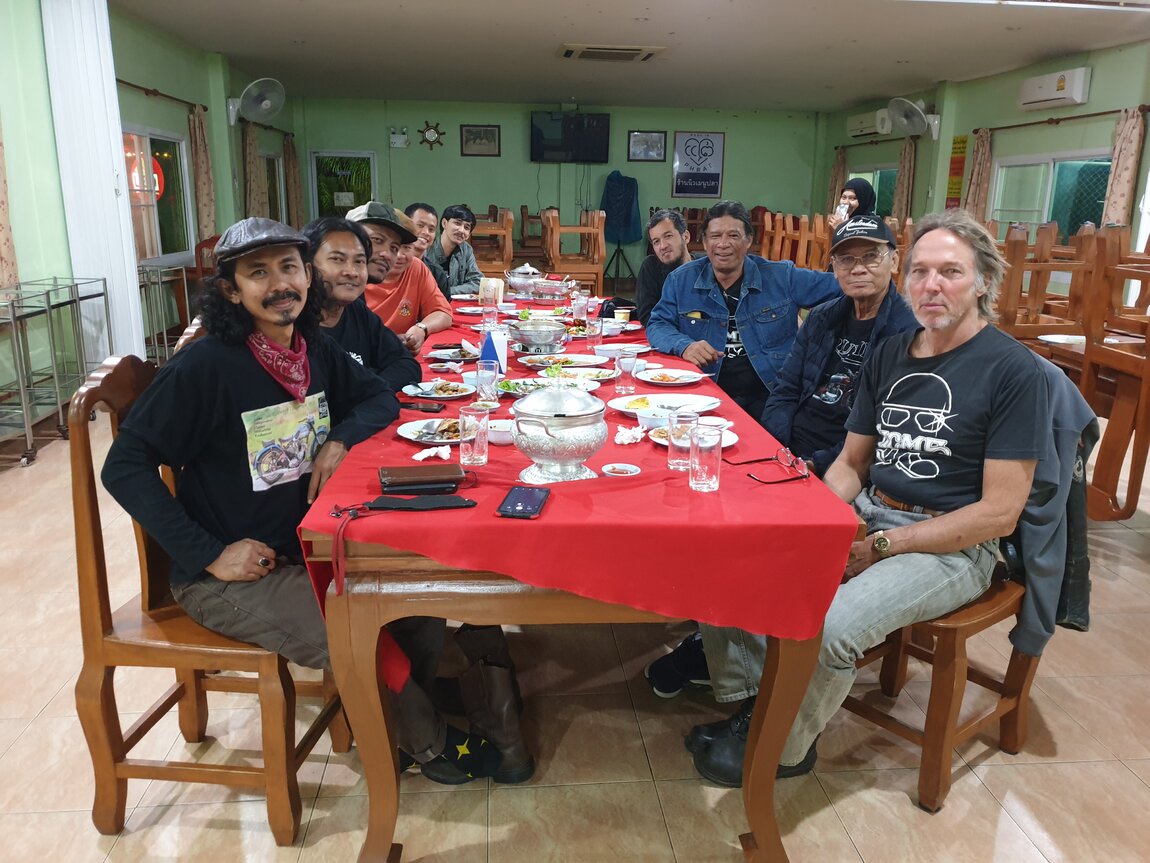 The Amal 276 Pre-Monobloc carburettor on Khun Ton's bike was suffering from a leaky float, so it would not shut the fuel off when the float bowl was full.
The brass float was replaced with a cask bottle cork, which worked a treat.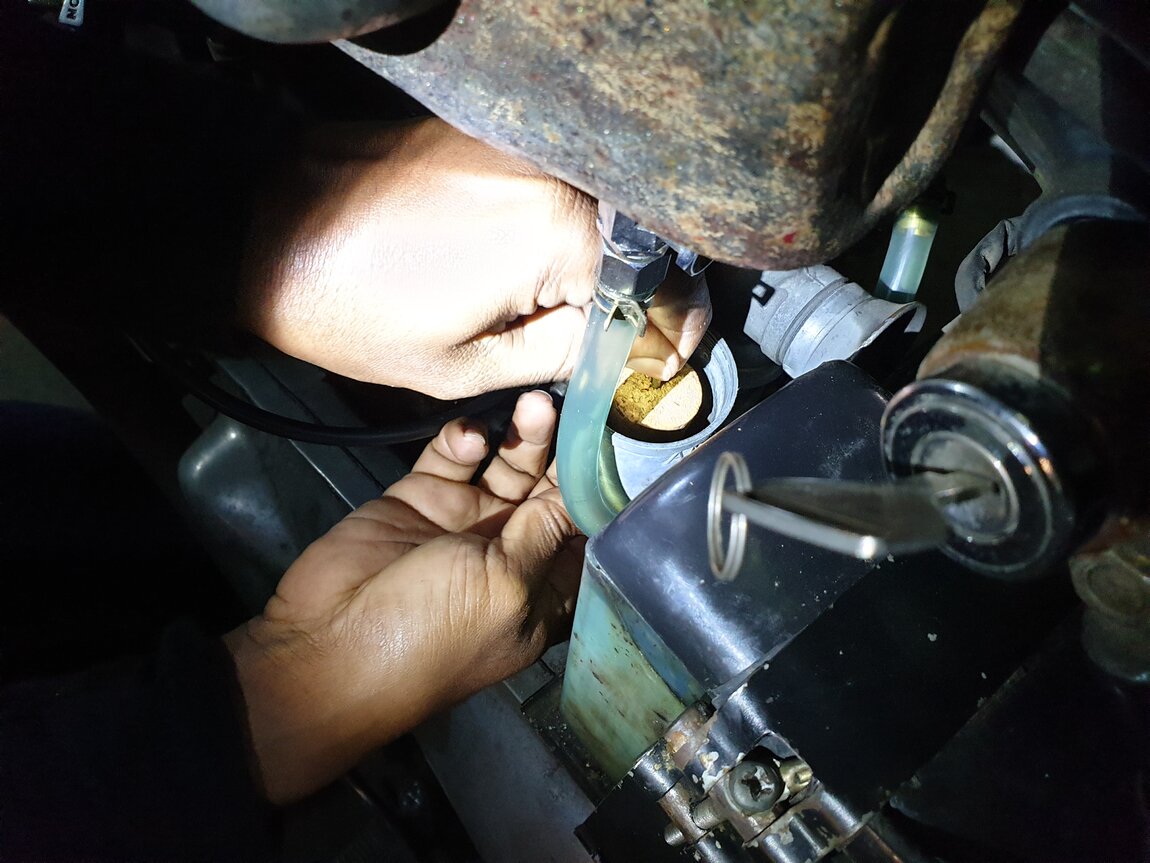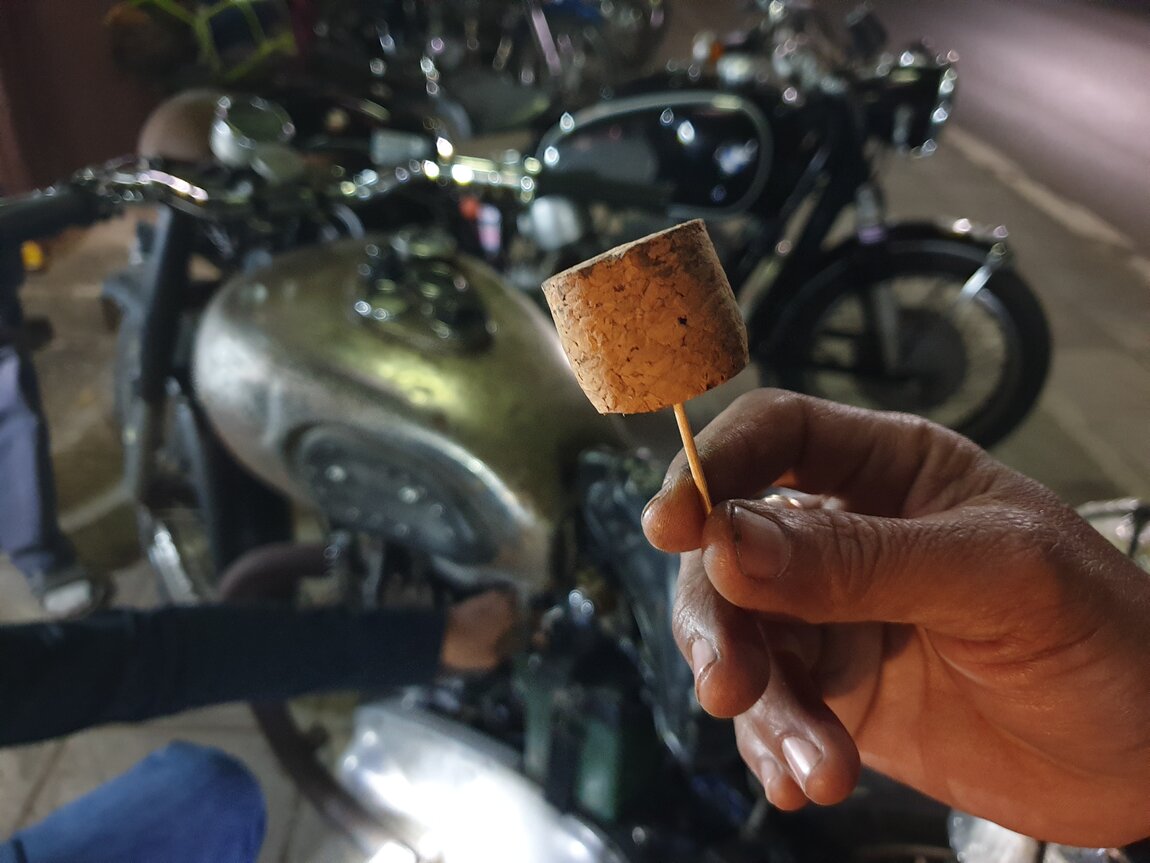 Next morning, Khun Tinagorn's son, Edison, took the '36 Ariel out for a spin. Great to see the bike running and great to see young people getting into classic bikes (although Edison normally rides a new Triumph Thruxton, a rather different machine).
Then it was time to say Goodbye. I was heading north back to Chiang Rai and the rest of the guys were returning to Bangkok.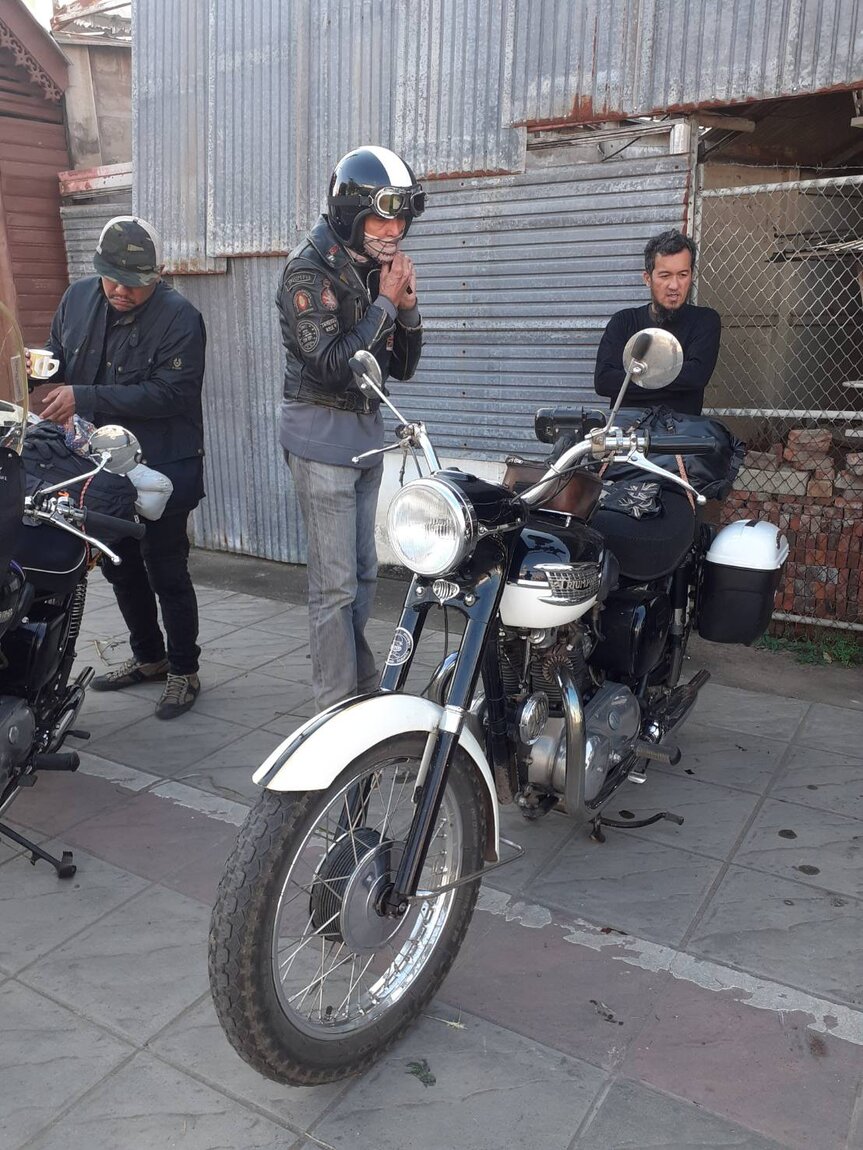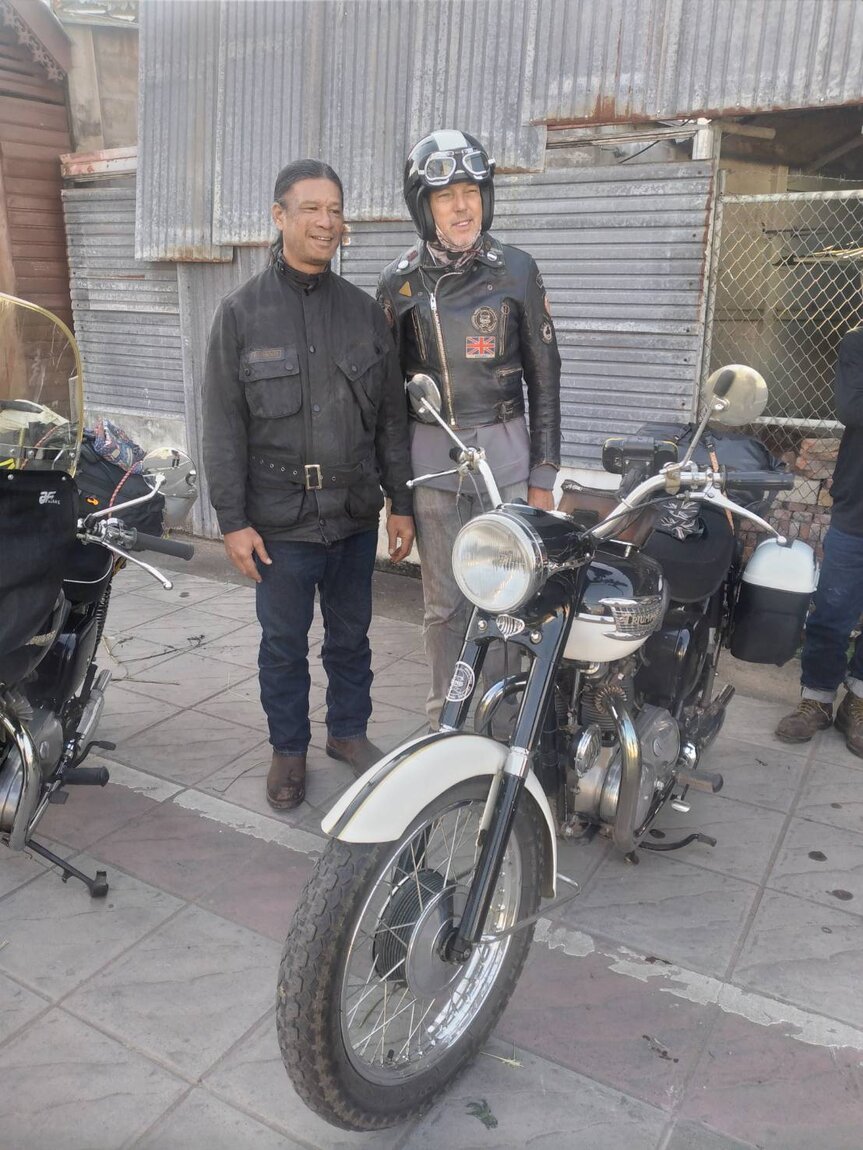 We plan to meet again in May 2022, for another LICME ride together.
This was a wonderful meeting, to have so many old bikes on the ride. Everyone enjoyed themselves and I think the old machines enjoyed riding together as well!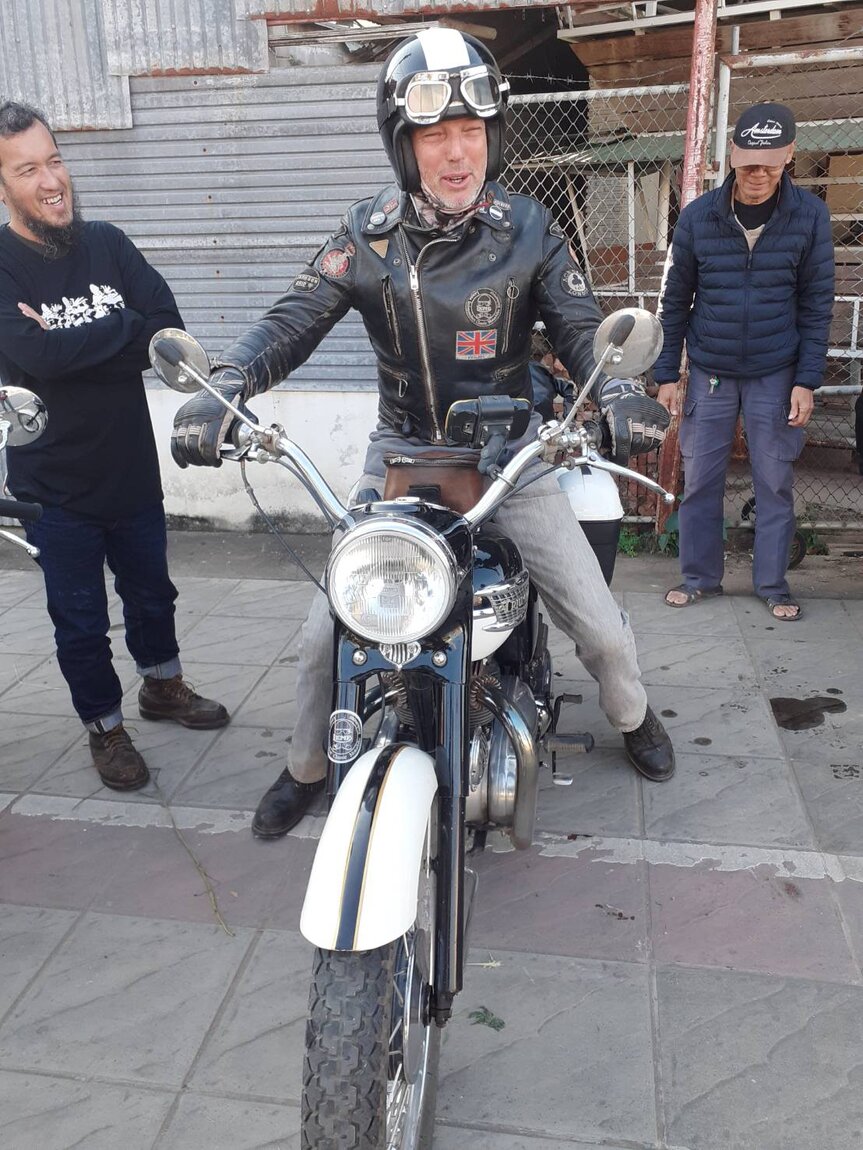 From Phrae, I rode across to Ngao, Phayao and then Wiang Papao, to the Thung Thewi Hot Springs.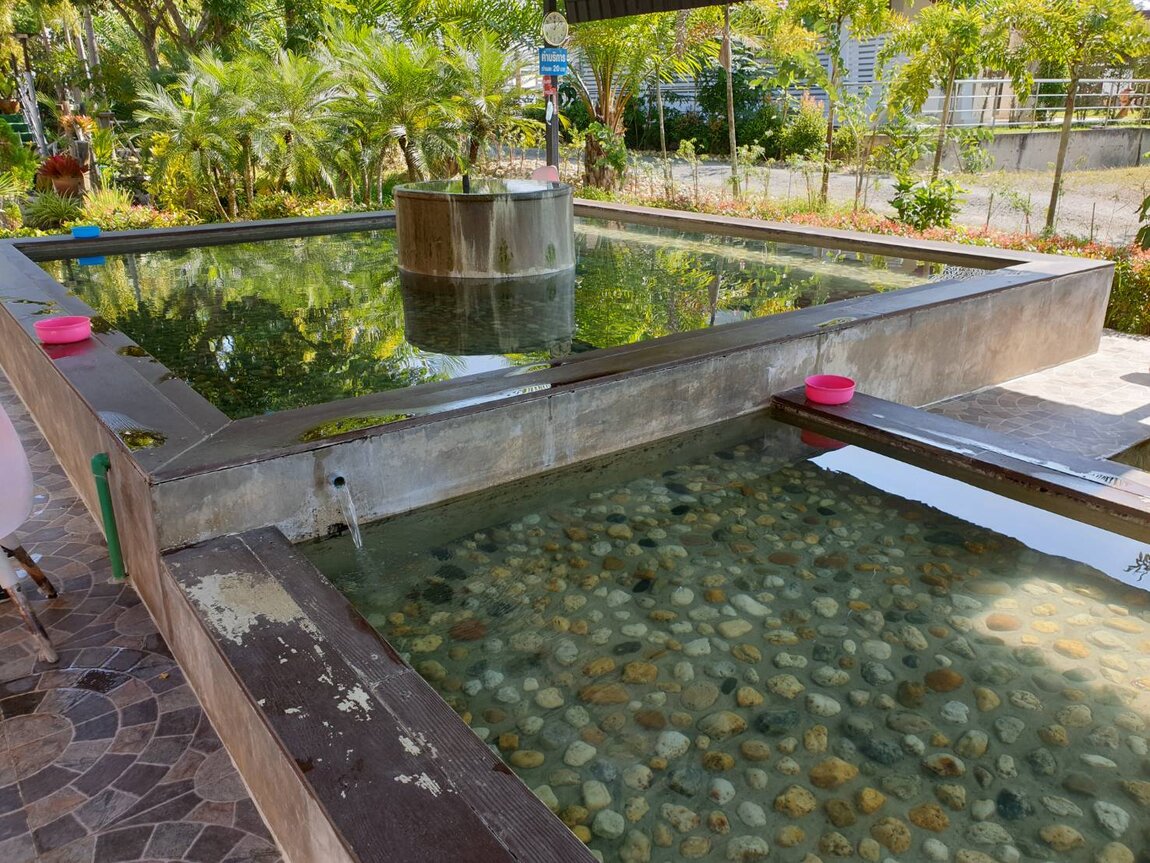 Great to fully warm up after a few days of cold riding.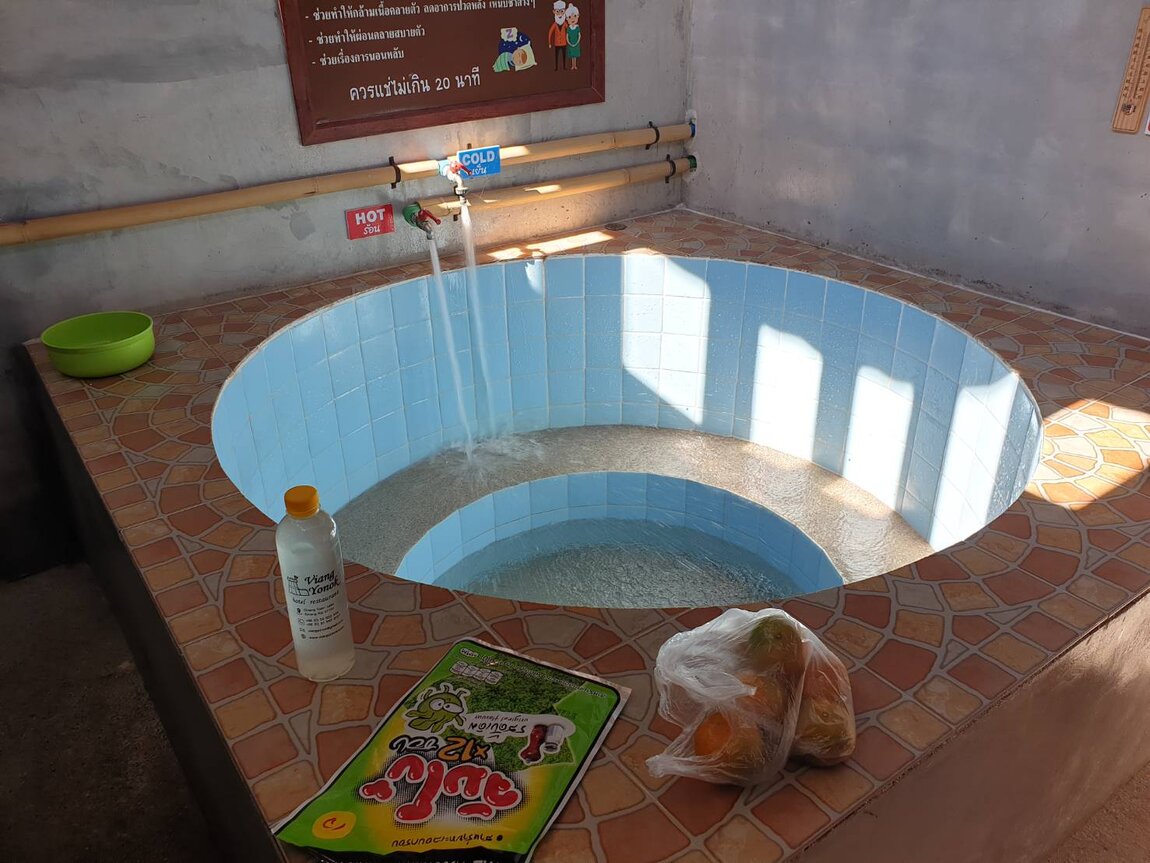 By the time I got home, I had ridden 860 miles in 5 days, without any mechanical issues. Happy days indeed. Well done, Trevor the Triumph!
The rest of the guys rode all day and into the evening to get home.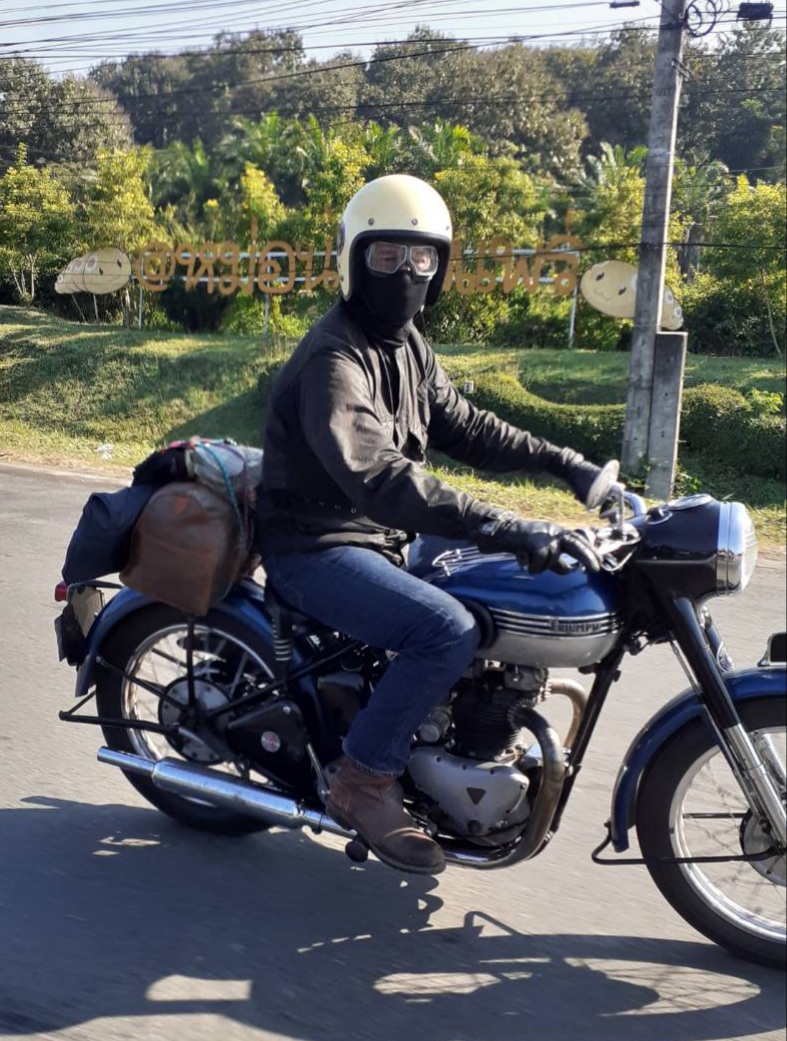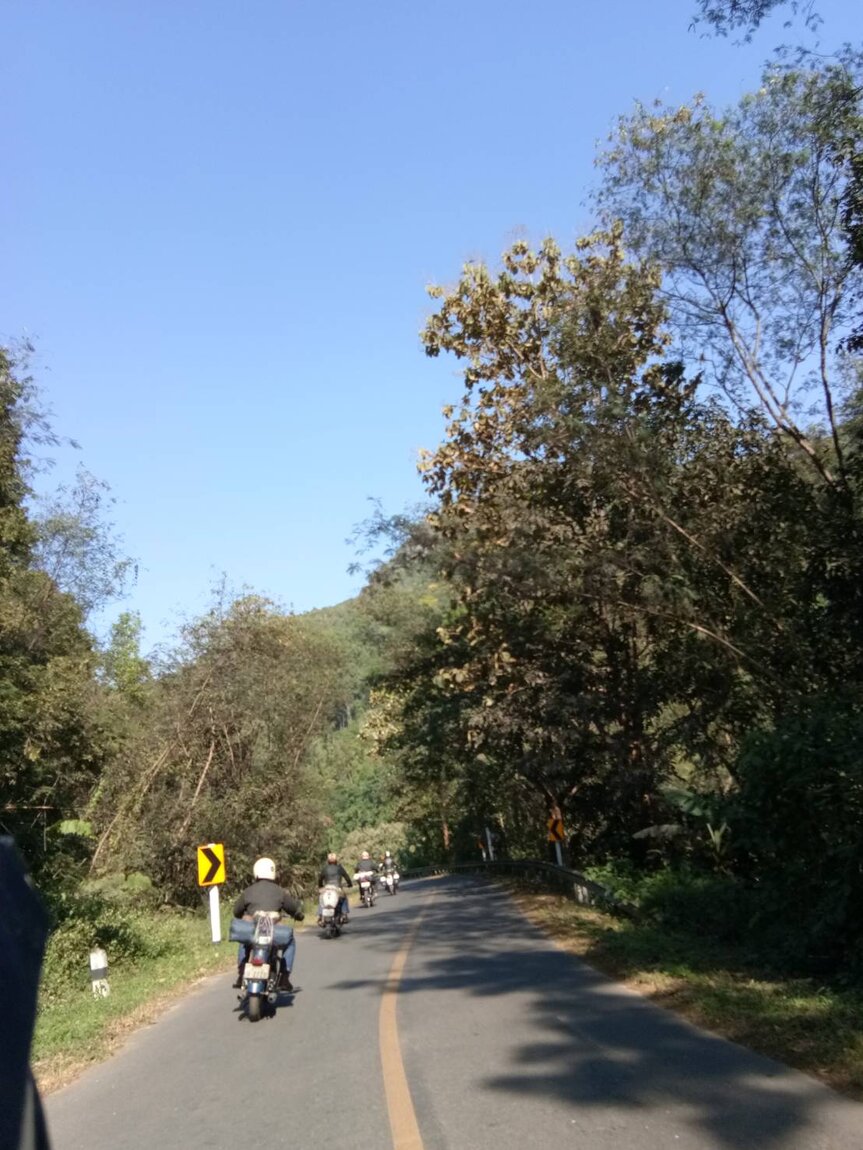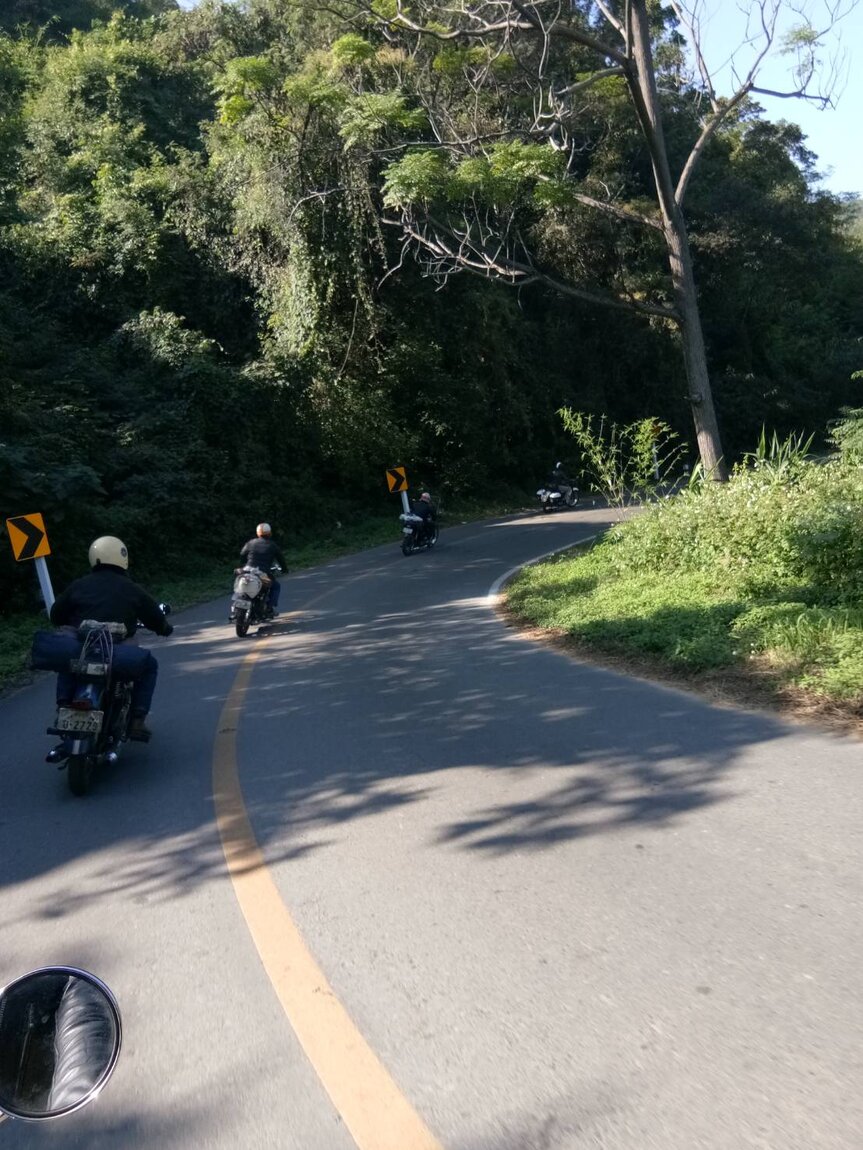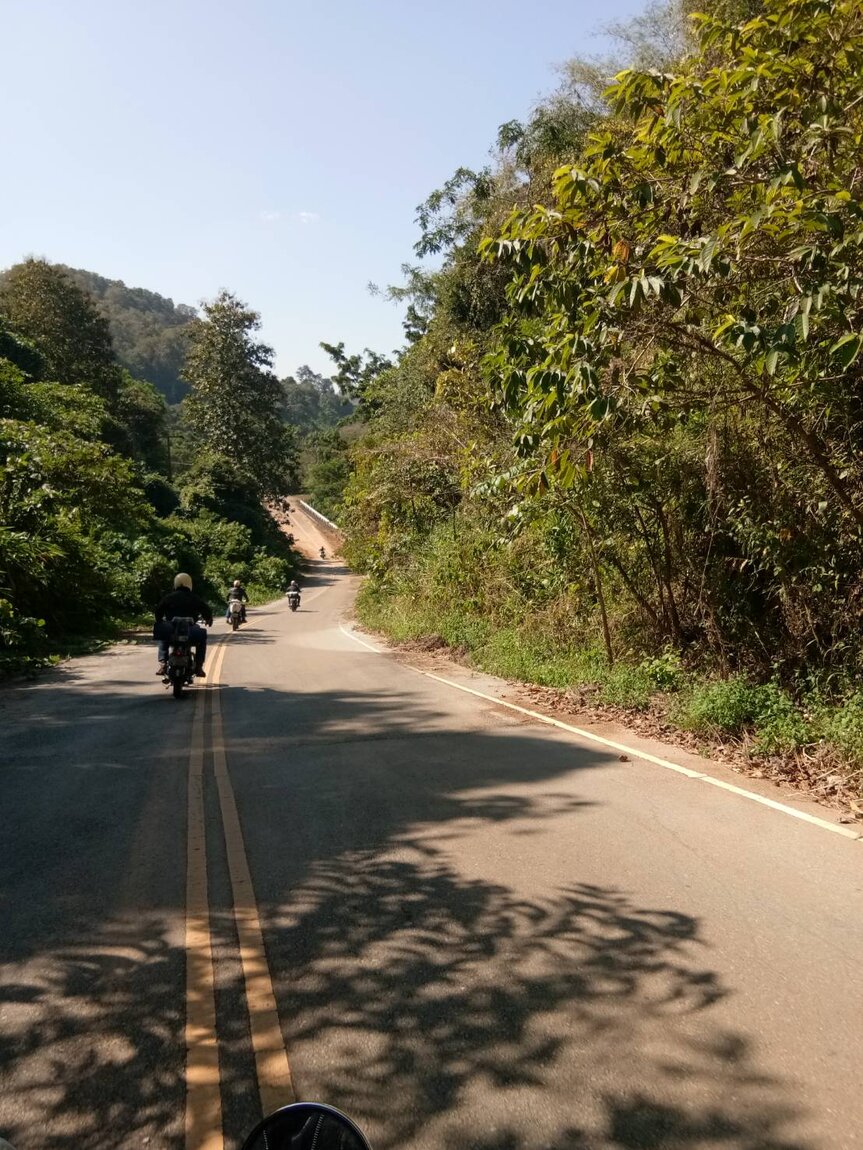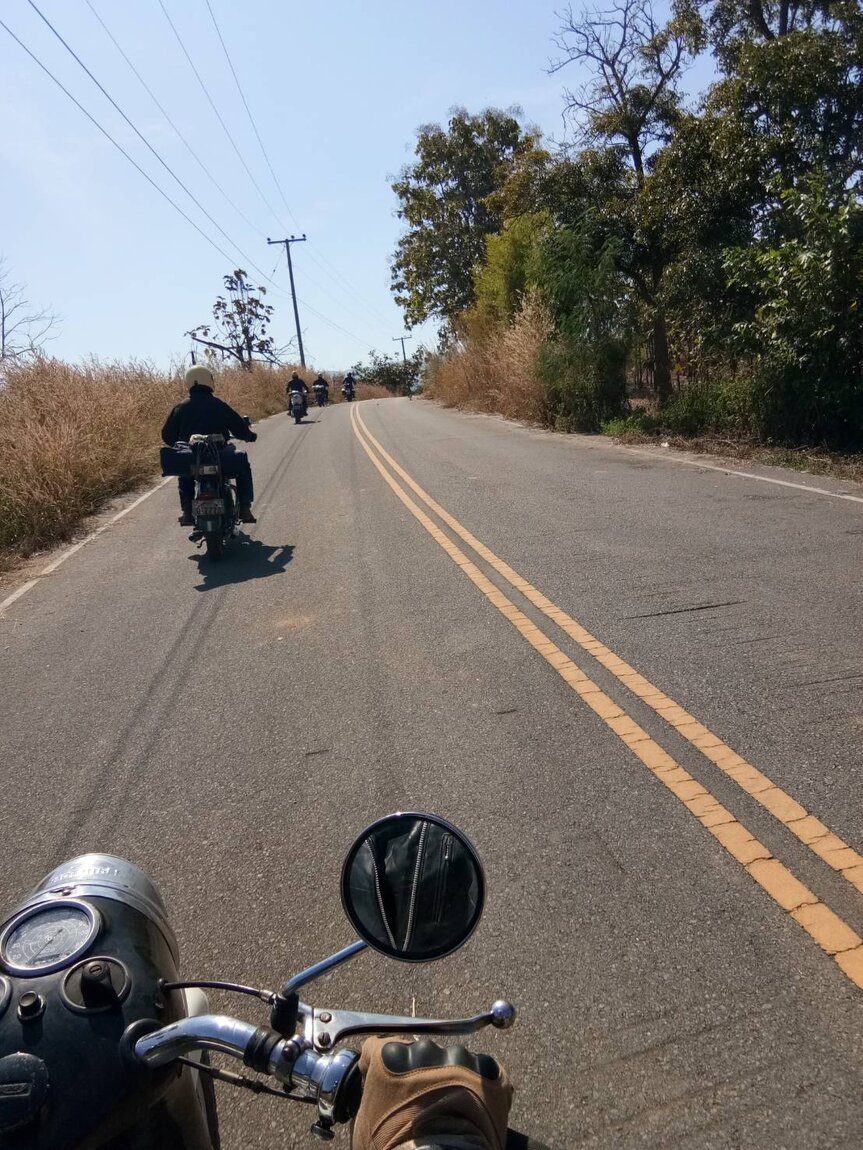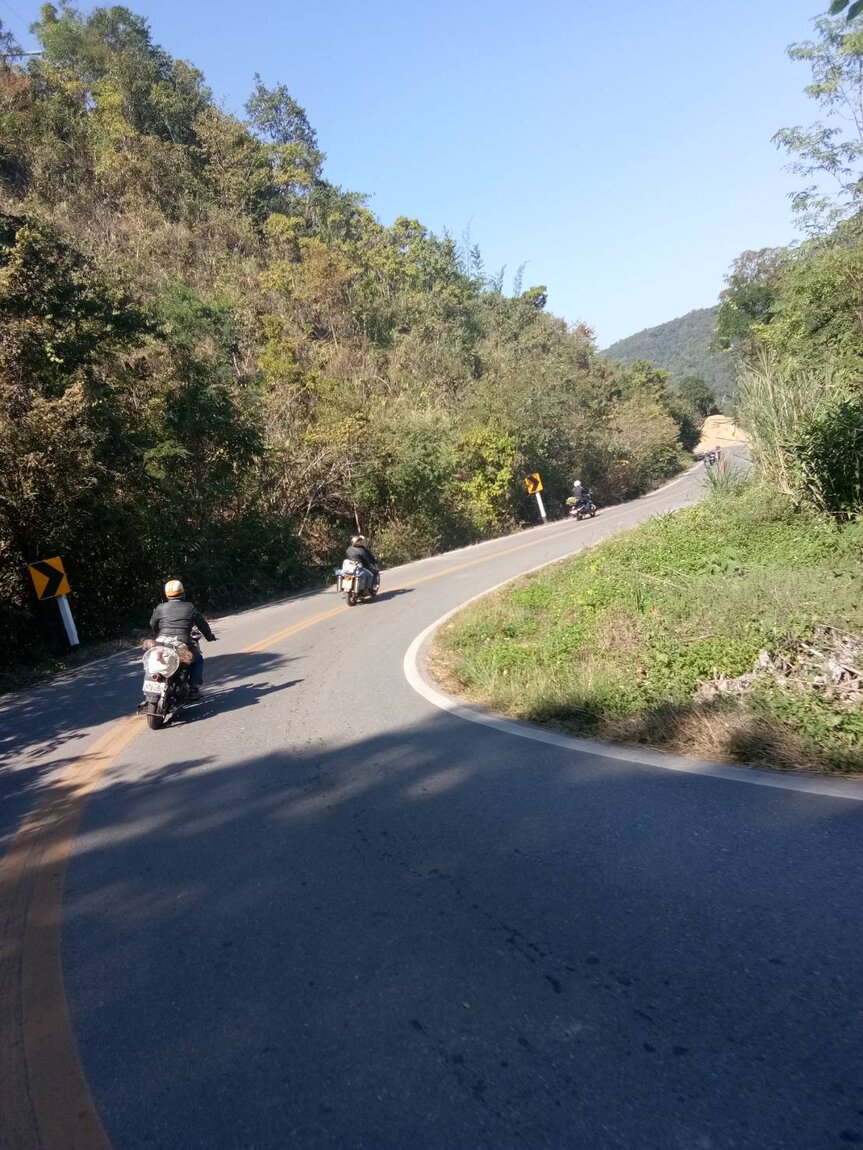 It seems things were pretty normal on the ride back.
That is our LICME motto; "We Ride Em, We Fix Em"!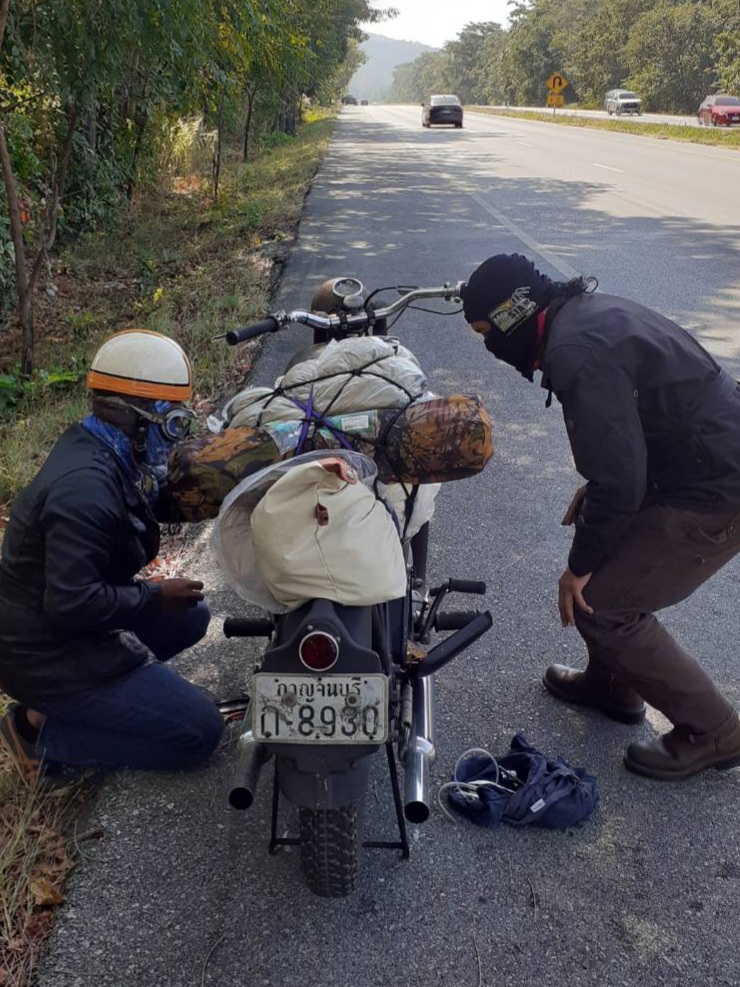 Thank you to Everyone, for the wonderful ride together. I am already looking forward to the next one.!
ขอบคุณมากครับ เจอกันคราวหน้า
Last edited: