When I was invited to ride along on the 2006 GT-Rider Mekong Boat and Bike trip it didn't take me long to say yes. I'd never ridden in Laos before and was waiting for an opportunity to tag along on a trip to learn the ropes. Although there were a few trials and tribulations before our departure there were four of us who left Chiang Mai on February 9, DavidFL, Robert H., Robert D. from the BKK Post and myself, BarryBBQ, the former Size15. Dr. G. rode along with us to Chiang Khong but didn't cross the border to Laos. Me thinks he had a different mission that day.
For me, the ride to Chiang Khong was a little boring. I've done that route several times in the last year and that day we were taking it very easy because our guest of honor, Robert Davis from the Bangkok Post was riding a well used and somewhat uncomfortable Honda 750 from Mr. Mechanic. I think it was the same bike my Swiss friend rented in November with the same non-existent rear suspension. Mai pen rai, you get what you pay for. The best part of the ride to Chiang Khong was stopping at the Charin Garden for pie and coffee.
From the day one, I knew this was going to be an expensive trip. On the way to Chiang Mai, I melted two of the three hard cases on my GS. I was, as they say, Smokin in Hang Dong, Link removed . Luckily that little mishap didn't stop me from going to Laos. I had plenty of time to shop for new underwear, t-shirts, toiletries and various other expensive items. I went to Pai for an overnight trip before getting ready to depart Chiang Mai on the 9th.
The 2006 GT-Rider sticker is more like a danged poster. Everywhere we stopped we pasted one of these huge stickers on the wall, they're 10 inches wide! I felt like a poster child in the Special Olympics or something. Laos people got a kick out our form of graffiti.
In Chiang Khong three of us stayed at the new Nam Khong Riverside Hotel, while DavidFL stayed at his favorite bungalow. Since the Nam Khong was relatively new, we got to enjoy some nice fluffy towels and lofty bedding. I'll bet the towels will see-through 5 years from now.
We ate dinner across the street at some place I can't remember the name of and met some lady friends and one katoey (who took an immediate liking to Dr. G.) who invited us to a temple fund raiser. It sounded interesting so we jumped on our bikes and followed them about 10 km out of town to the middle of a rice paddy. Out here, in the middle of nowhere, there was a carnival raising funds for a temple. Right smack dab in the middle of the dry rice paddy there was a disco that cost 30B to enter. Inside, it was somewhat amazing to see that the crowd was about 50% gay teenage boys. Robert H. and I were both asked to dance several times and after a beer we decided to visit the Madam pub. We closed the Madam pub and got a late start the next morning for Huay Sai.
We completed the customs paperwork for the temporary export of our Thai bikes to Laos and got stamped out of TH before having lunch. Right after lunch we loaded the bikes on the barge and crossed the mighty Mekong.
One of the reasons I was glad to tag along with the GT boys on this trip was that things aren't documented or signed very well when entering Laos. Upon landing in Laos, I followed Robert H. into town where we parked our bikes and walked down to the riverfront and cleared immigration. With that out of the way, we went back to customs and processed paperwork for the bikes. I'm not sure I would have ever found those places on my own.
Once the paperwork was completed it was time to load the bikes on the boat for the 6:00 Am departure the next day. A little man power was all it took.
Checked into the guesthouse and took a little nap before heading out for dinner. We ate at a restaurant with a good view that was hosting a wedding reception that night so our menu choices were limited. DavidFL joined us later as he had some "business" to attend to, something about selling maps although I noticed that when he's out selling maps he always returns with something else. I think I'm in the wrong business. This restaurant is where we suspect the GT group was poisoned with bad food. Of the four of us that ate there that night I was the only who didn't get the squirts. That in itself is amazing because I almost always am the first to show those symptoms.
After dinner it was decided that we would venture back towards town and visit a karaoke bar. It was interesting but was a little too small and way too smoky for me, especially since I had just quit smoking a few weeks earlier. I decided to get some fresh air and thought that I had either been locked inside or that the door was stuck closed. When I pushed on the handle the bottom of the door moved easily but the top seemed stuck. So, I did what any other red blooded man would do and pushed the door harder. Danged if the glass in the door didn't break and ruin everyone's party for the night.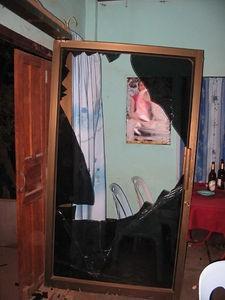 Money changed hands and all was better. Turns out the door was a slider and wasn't hinged after all. I thought my bad luck was over for this trip but was mistaken again.
We got up early the next morning and collected our day's ration of baguettes before getting on the boat. Comments were made about how British colonies were left with infrastructure, the French colonies were left with good coffee and baguettes.
The boat trip was COLD but amazing.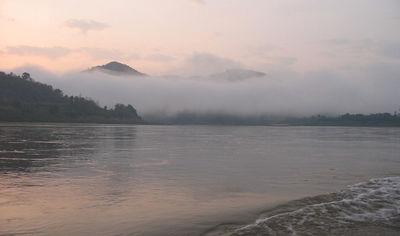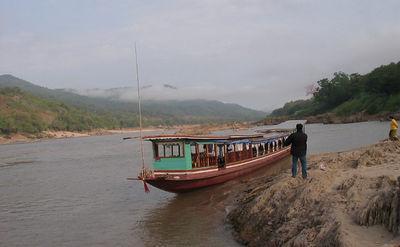 I had never seen the Mekong south of Chiang Khong and was amazed that this was the same river that passes through the Golden Triangle. The views were amazingly beautiful as the river weaved through the mountains on both sides. If it weren't for the gasoline motors on the villager's boats, I would hazard a guess that things haven't changed on the river in 1000's of years.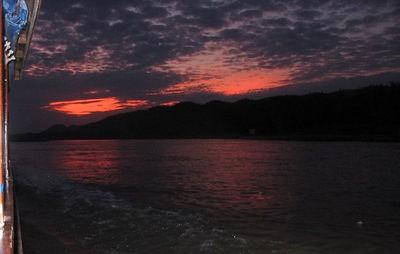 We landed in Luang Prabang after dark and had to unload the bikes onto the sandy banks.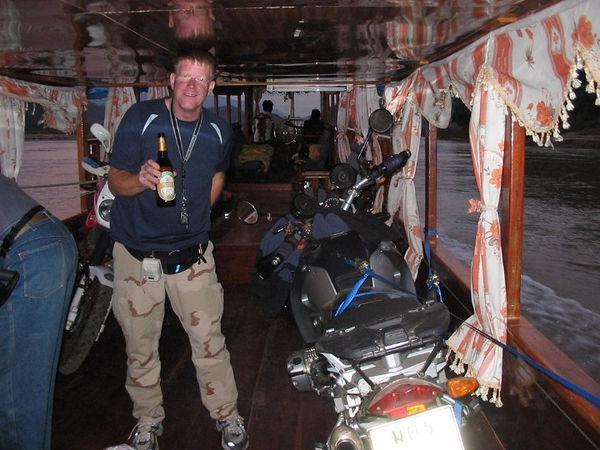 Above: it was an enjoyable happy hour on the boat on the way down the 'Khong.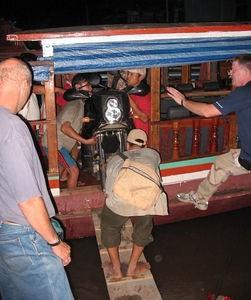 Again, brute force was used to get the bikes off the boat and we headed off to our guesthouse for the night. We showered and met up with Craypot for dinner at a French place on the main drag.
I was lucky to have parked under the roof of the entrance to our guesthouse that night because it rained hard while we slept. The next day was spent touring the city and taking photos.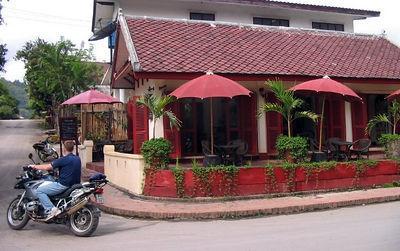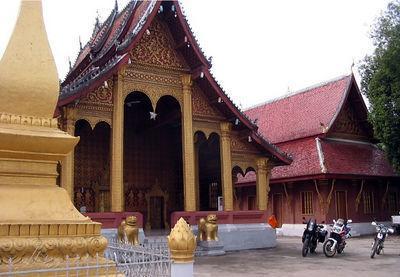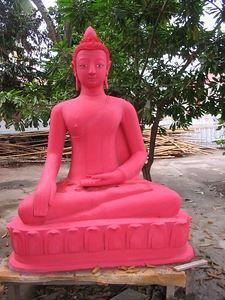 In the afternoon Robert H. and I went for a 2 hour massage, I left more satisfied than him. DavidFL was down for the count with intestinal distress and didn't join us for dinner on the river.
The overnight rain ended up being somewhat of a blessing as it washed the roads for the next leg of our trip to Vang Vieng. Highway 13 is a great road to ride, even though you have to keep your wits about you at every turn. Rather than tell you how great the road was, here are some photos.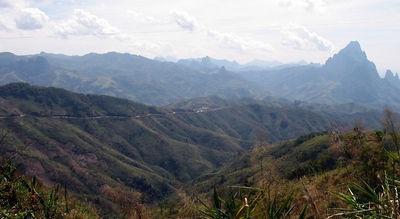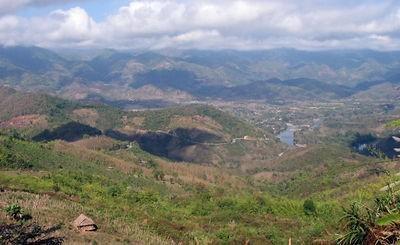 DavidFL and Robert H. tell me that this was the clearest they have ever seen this huge valley we rode through. Fantastic views…
We arrived at our riverside resort in Vang Vieng and checked in for the night.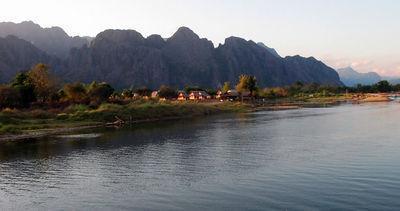 Robert D. was kind enough to buy beer at the riverside bar while he interviewed us for his Bangkok Post article. For dinner we walked into town and found another farang restaurant that had very good food. The whole town of V. V. was under construction. They were putting in storm drains and repaving the streets when we parked our bikes at the guesthouse we rode over some planks to enter the parking lot. When we woke up in the morning and got ready to leave we discovered that they removed the planks and we had to wait for them to build a "bridge" for us to ride over.
My impressions of Vang Vieng? Too many people with dreadlocks and chin studs. I respect everyone's right to live their own life, as long as I don't have to smell how they live it.
After crossing our makeshift bridge, we left for Vientiane. It struck me as we were riding to VTE that the Laos kids were just too danged cute. Every time we rode into a village, the little kids would hear our bikes and coming running out of their house (hut) waving both hands and screaming. Robert H. almost ran over one that got a little too excited and ran into the road a little too far. We stopped several times trying to get a picture of them but as soon as they realized that we weren't moving any more they froze in their tracks and then ran away scared. Cute as hell, but I think the only way to get their picture would be to have passenger photographer.
Robert H. and I traded bikes for a few hours. I call his black KTM-950 the "death star" Lots of raw power, but for me it wasn't all that comfortable. I noticed more vibration in the saddle, foot pegs and handlebars. I was happy that I was going to ride the GS1200 back to BKK.
In VTE we checked into the Laos-Paris hotel. It was Valentine's Day, the international day of love. Valentine's is a much bigger holiday in SEA than it ever was for me in the USA. We ended up at the KopChaiDeu and I spent a little time looking for love but alas, love was not to be had that night.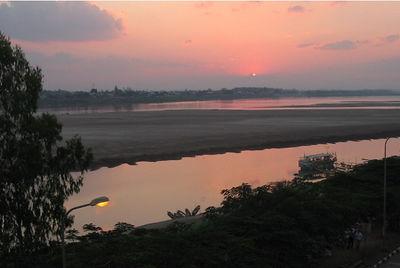 Robert H. and DavidFL both wanted to stay in VTE for a few days while I decided that I couldn't sit still for that long. Maybe it has something to do with my adult onset of ADHD? I woke up early and headed for the border. Luckily they were still allowing Thai bikes out of Laos. I was still counting my blessings since my travel partners were still suffering one form or another of intestinal distress and I was holding my own. 7.5 hours (and a 15 minute power nap) later and I was back home in the city of angels.
Photos to follow...
Barry
If I wasn't doing this, I'd be doing something else.