Luang Prabang - Vieng Thong – Phonsavan – Pakxan.
Luang Prabang - Vieng Thong.
After a few days in Luang Prabang, I decided that riding the muddy, dusty tracks of Laos was far more important than the pursuit of a lovely angel with a good heart and sweet smile……what was I thinking that day.
I packed the bike and headed off towards Vieng Thong, going north up hwy13 to the Pak Xeng turn off about 20km on the right from Luang Prabang.
Jimoi recommended this road in he's Jimoi spills information on Laos - 8/9 day Northern Loop report.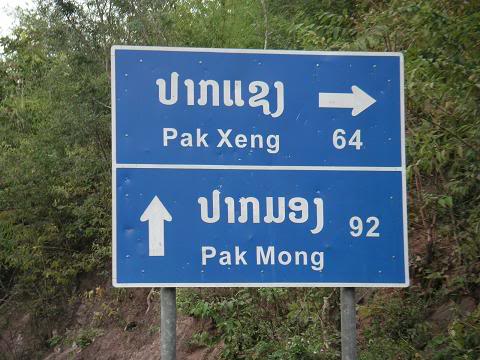 The road is dirt from the beginning and fellows a river before climbing into the mountains, the scenery is also great from the beginning.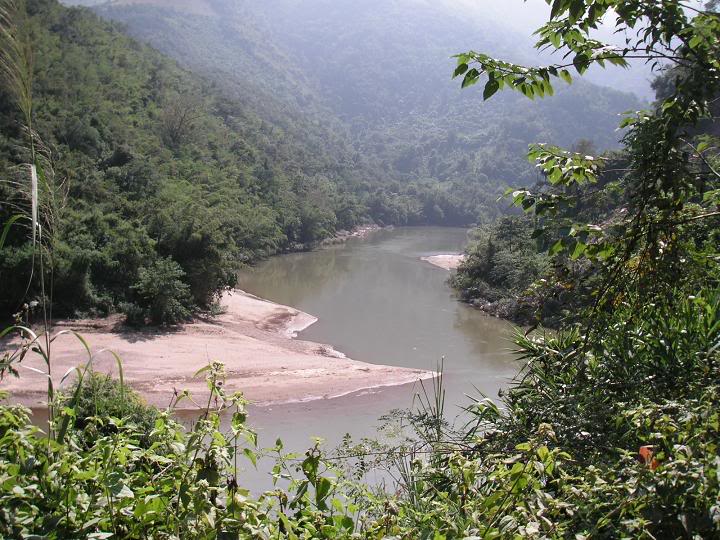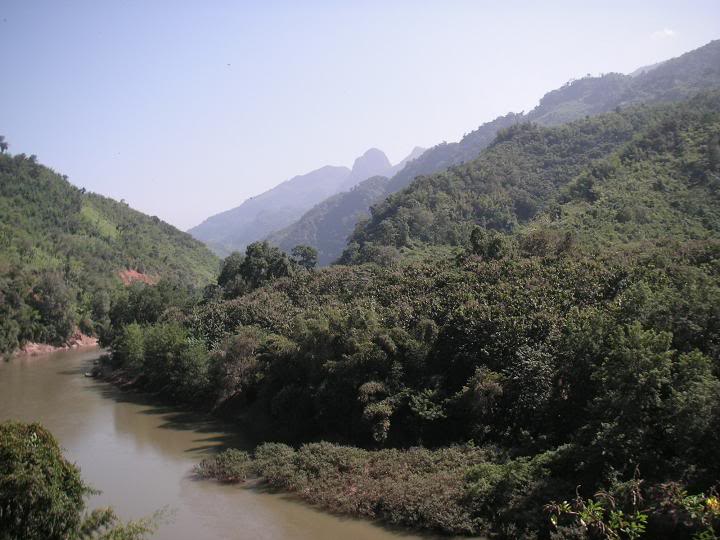 Theres heaps of villages along the way.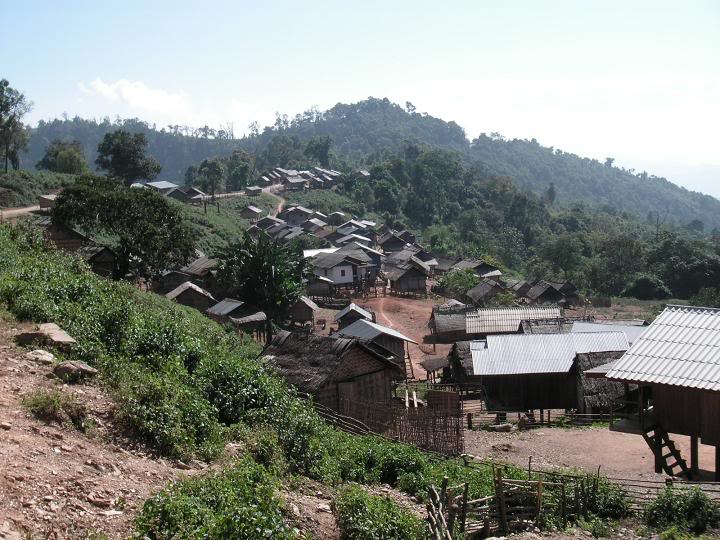 Lots of friendly kids every were, by the end of the day I had a sore arm from waving back to them.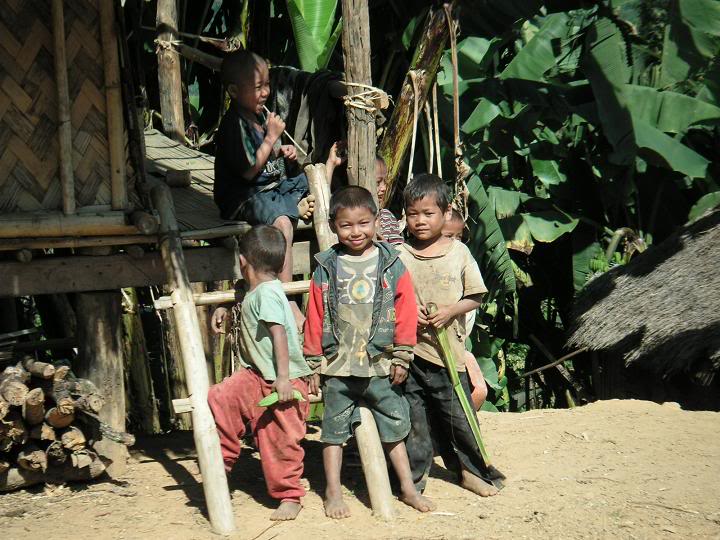 The road becomes a little narrower after a while, and the jungle thickens.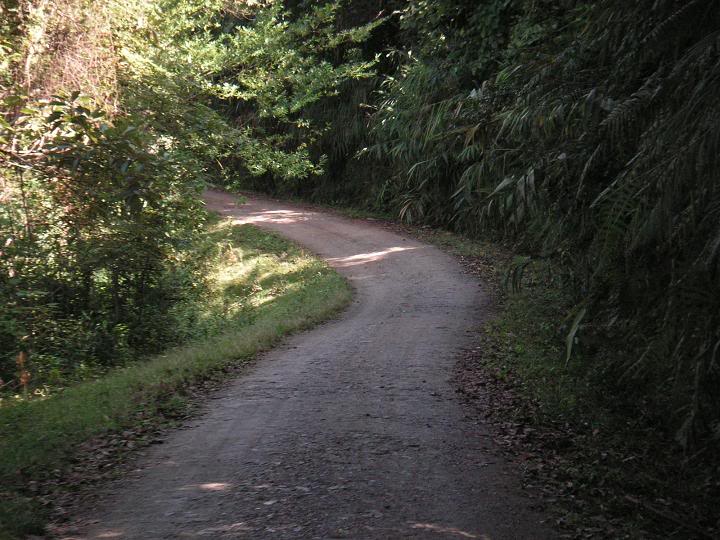 Then you begin to climb for about 25kms, along a mountain ridge, it just kept going up and up. The riding here was fantastic.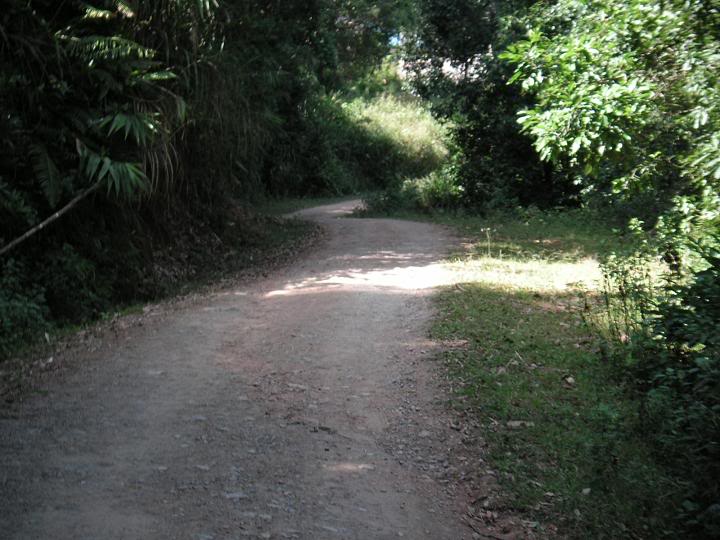 This little piggy went to market……but it was closed on this day. So piggy rode on.
Came the Y in the road,and decided to go right to Vieng Thong. (Jimoi photo)
Some more villages along the way.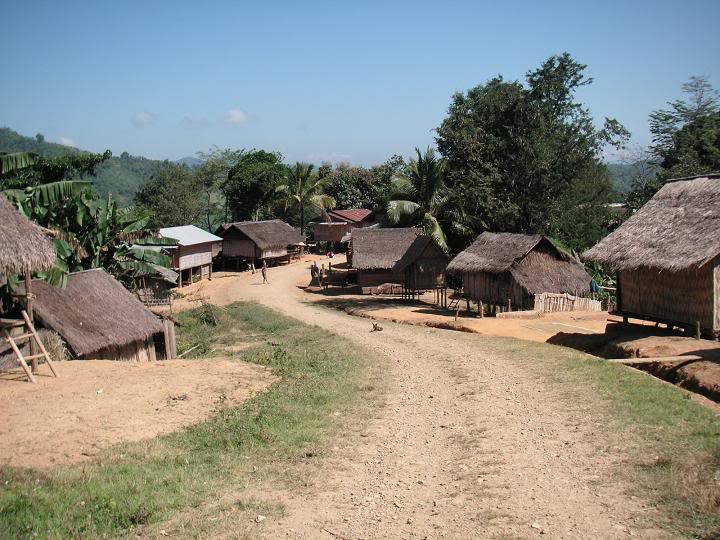 As you can see the road was getting narrower the further I went on.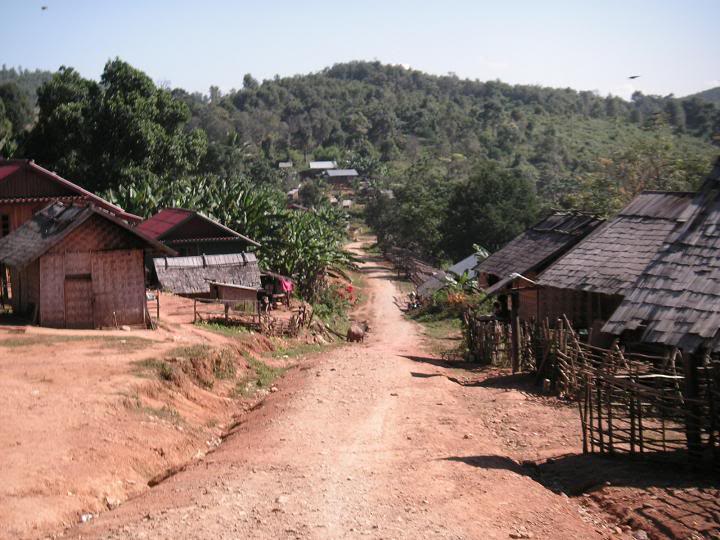 After about 20 km passed the "Y" in the road, the track seemed to come to a dead end expect for a small goat trail. I asked some kids if this was the track to Vieng Thong, they said no….but I wasn't sure if no meant "no I don't understand" or " no it's not that way". As inviting as the goats trail looked, I started to think I must have made a wrong turn or missed a turn off or something, so I back tracked, and ended up back at the "Y" in the road. So decided to turn right this time and ride the 11km to Sam Soun, fill with petrol, and ride the 98 km's to Vieng Thong on the tar road which is riddled with pot holes for the first 40km but after that a good surface that winds its way down to Vieng Thong though some great jungle areas.
I quickly stopped and took this photo, and prayed I didn't have bike problems before Vieng Thong.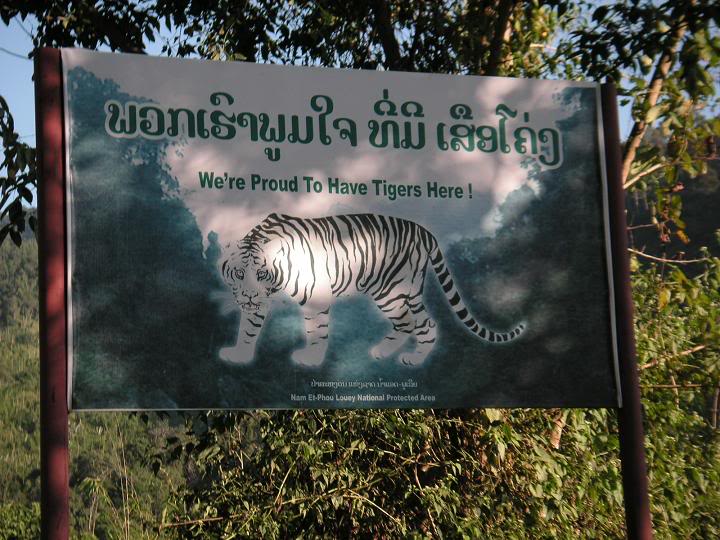 Finally got to Vieng Thong without being mauled by a big cat, and was flagged down by a lovely Vietnamese bird, who ran a guest house. Guesthouse was called Souksakone. They lock my bike up in the shop at night. Nice place, 50,000 kip (jimoi was right) and was a few doors up from the only restaurant in town. The food was good, and the beer icy cold (coldest in Laos by at least 5.5 degrees). If you ever go there check out the kitchen, amazing place.
Not much happens after 7pm in the thriving metropolis of Vieng Thong.
Souksakone Guest House.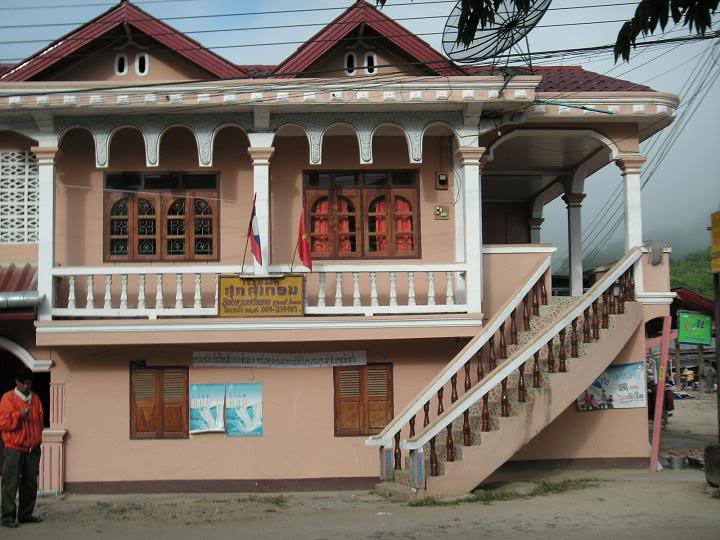 All in all…..brilliant days riding, good scenery and great tracks. I can see why Jimoi says this is one of he's favorite rides in Laos. If you read this Jimoi, can you give me some insight on turning right after the "Y" in the road, so Ill know were to go next time.
Vieng Thong - Phonsavan.
Rode the 58km's to Phou Lao on hwy 6 then turned right.
The next few km's are great as the weaves down hill to the beautiful town of Nam Neun. From there its all up hill for the next 50km's, and rode in amongst the clouds for quiet a few km's, and believe me it was freezing cold.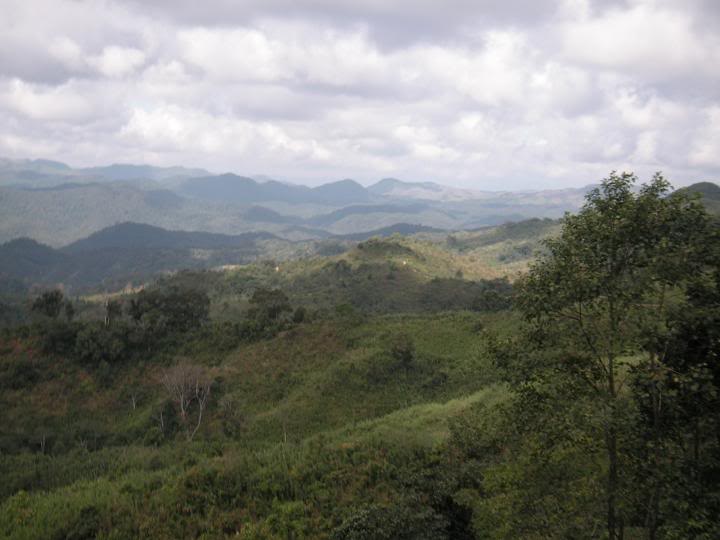 Uphill soon become down hill and as I slowly thawed out, a big valley appeared which the road went though all the way to Phonsavan.
Check inn to the "nice Guest house" which I would recommended to anyone.
A few doors up on a corner is a great place to eat.
Had a ride around town, and gave the bike an oil change, then had a few beers.
Phonsavan - Pakxan.
Headed south on hwy 10 which is tar until you get to Mouang Khoune to were the dirt starts.
Straight off the scenery is impressive.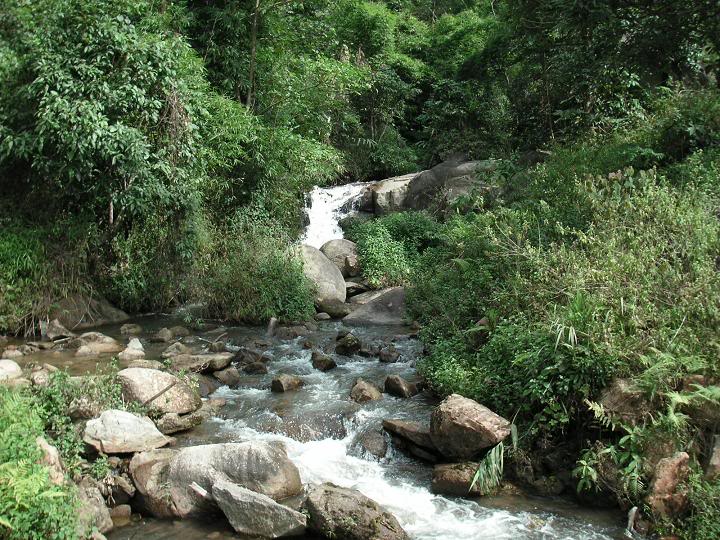 Villages perched on a hill.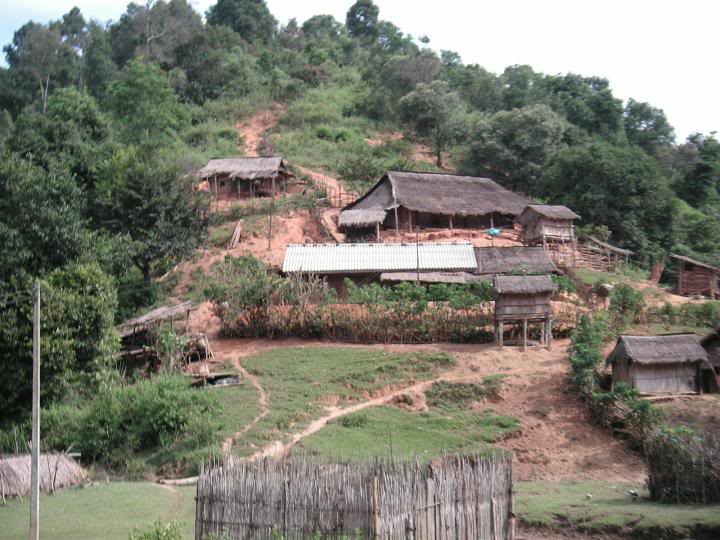 How would this be in the middle of the wet season?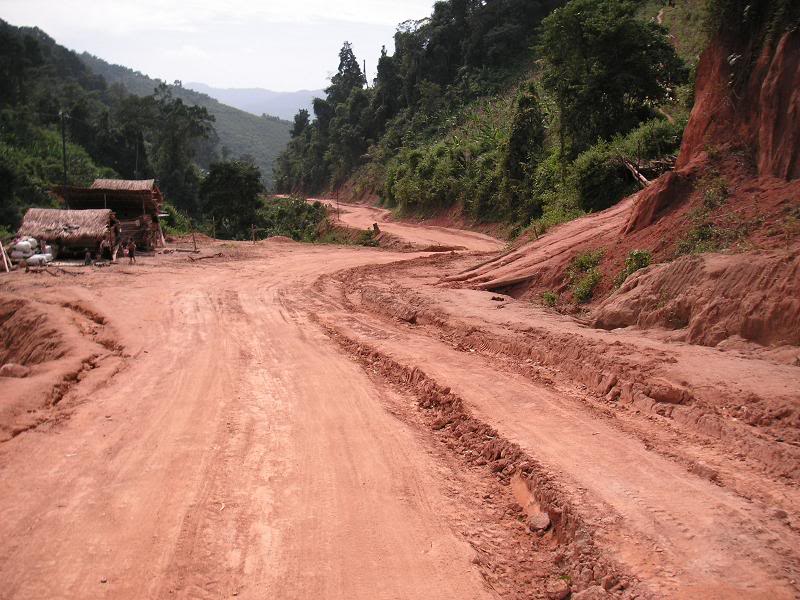 The local baby sitting service.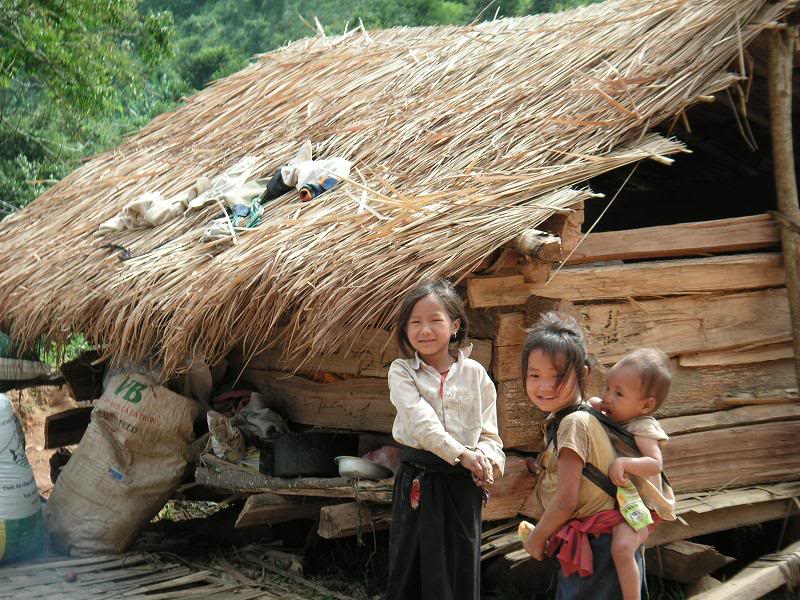 The water in the rivers in this area where crystal clear.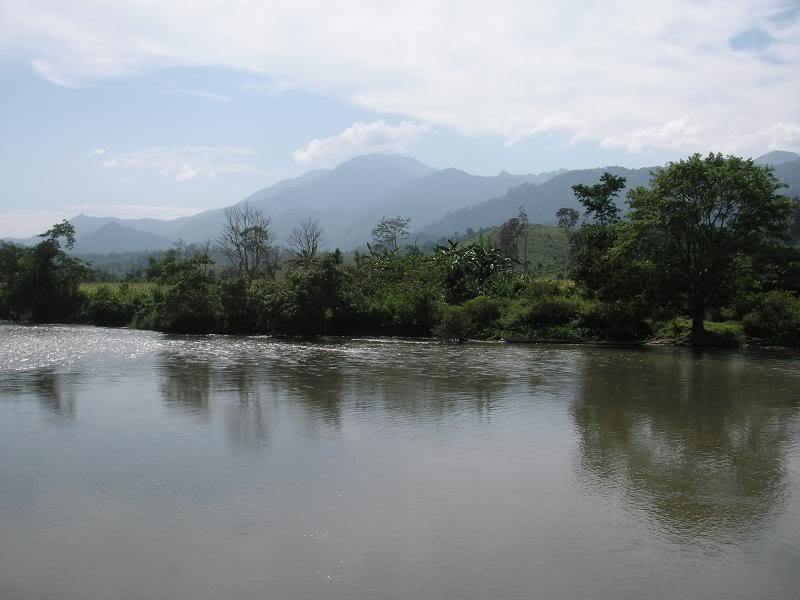 This was the first of about 10 river crossings, the deepest was about 70cm.
Wasn't sure which line to take though this one so asked the older sister of these 3 kids to walk towards me, she got to middle and I didn't see her again…….so I gave that line a miss.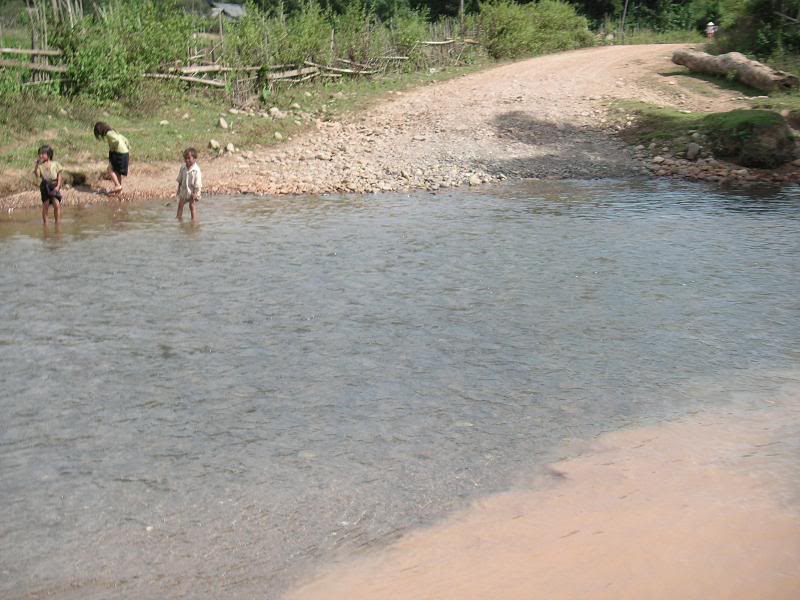 Got to Tha Viang and topped up the gas just in case. It is here that I want to go to Vang Vieng via Xaysomboune next time if its possible.
Does anyone have any info on this route?
This is the bridge that heads that way.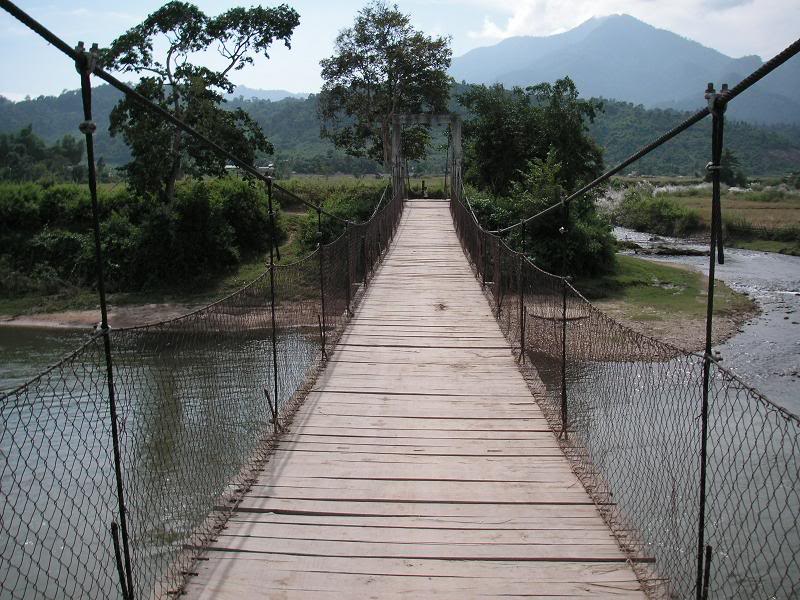 The first 8 km's or so the road out of Tha Viang is one of those roads, apart from being dry, dusty and super slippery, that make your eye sockets work over time just trying to keep your eyes balls from bouncing out. Felt like the KLX had been replaced by a 126 kilo vibrator.
Wasn't much fun this bit, cant see why the girls are so impressed.
But after that, the road is just great. A lot of sections like the photos below.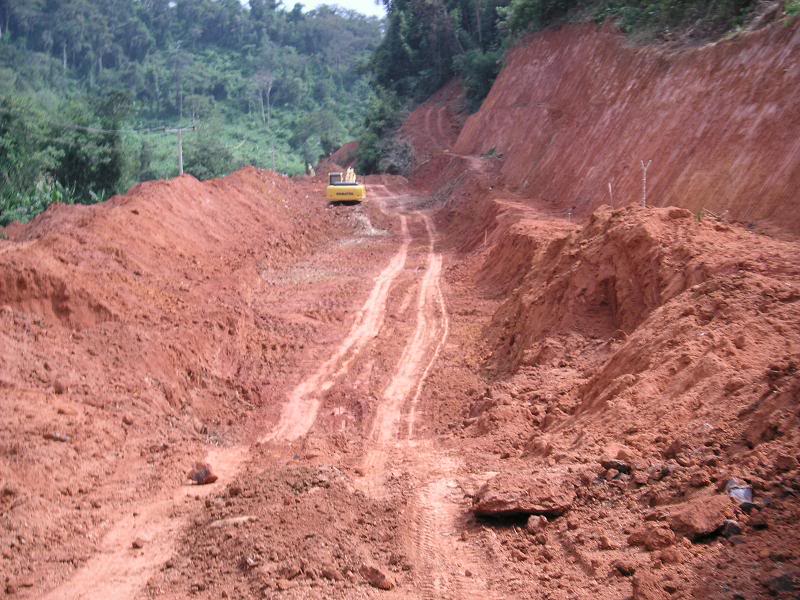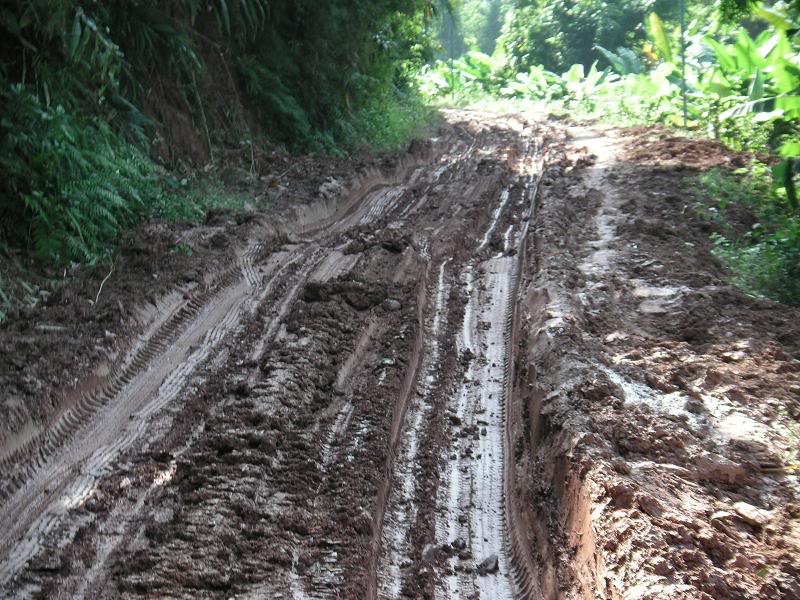 The tar road starts about 15km's from Pakxan, and it was probley the first time I was happy to see a smooth road. I was stuffed.
I arrived in Pakxan with a dirty bike, a sore arse, and suicidal thirst.
All in all another great day in the jungle, what great part of the world Laos is.
Check into a hotel, got myself organized, and headed out to rectify my dehydration situation.
Rode around town until I seen a place that looked ok, and was greeted by a cute looking girl…mmm could this be love I thought. I ordered a beer and soon the bird returned with a bottle of lao beer. I couldn't help but notice the large hands, and vice like grip on the bottle as she filled my glass. Instantly my initial enthusiasm for her was now put on hold as looked for any tell tale signs that things may not be as they appear. In the end, the only romance was that of a thirsty rider, and a couple of bottles beer, and decided to head back to the hotel on my own, leaving the waitress of "questionable gender" to find love some were else.
Rex